The stairs can be the toughest area to clean in your home if you don't have the right tool for it. Especially if you have steep and wide stairs, just looking at it can be a daunting task. To think this area typically receives high traffic, which also means it can get dirty easily. That's why the right vacuum cleaner can provide a huge help when it comes to lessening your cleaning tasks.
For your stairs, you shouldn't be careless when getting a vacuum to keep it tidy. Getting such products is an investment of money and time, which is why you must be wise when choosing the best model. If you're asking, what is the best vacuum for stairs, you came to the right place. In this section, we're offering a guide on how to get the best vacuum cleaner for you.
Recommended for you: Best Cordless Vacuum Cleaners for Stairs | Efficient Vacuum Cleaners to Make Your Life Easier
Steps on Choosing the Right Vacuum for Stairs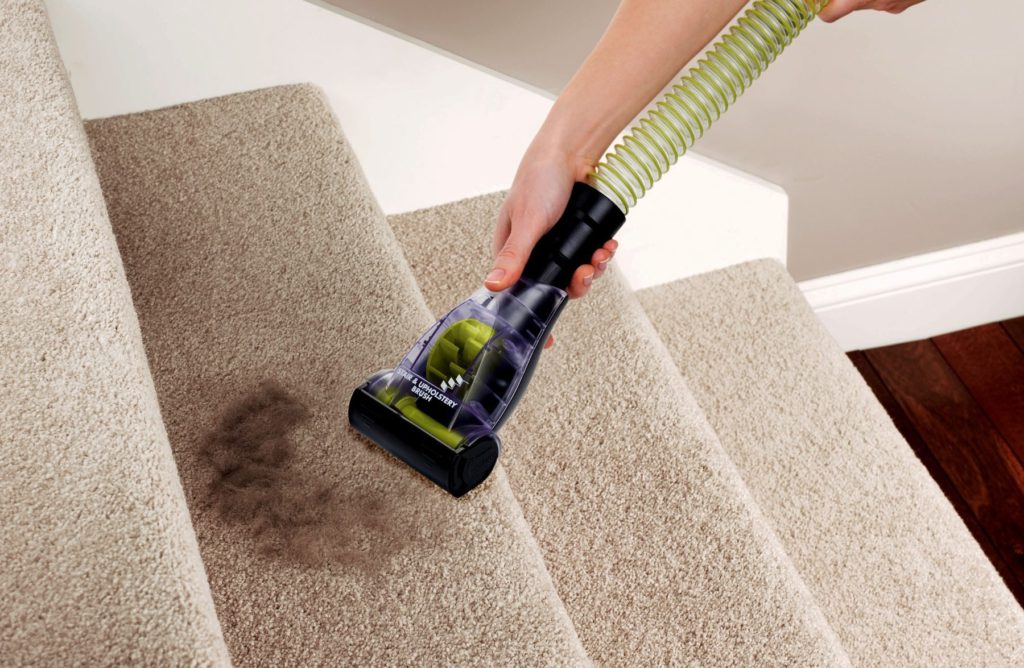 Before we move on to the features to consider in a vacuum cleaner for stairs, there are steps you must first do before jumping into picking a product. Below are a few things you must carry out to make sure you're getting the right vacuum cleaner for your needs.
Consider the type of stairs
There are different kinds of stairs. The dimensions and type of stairs you have at home will determine what kind of vacuum cleaner you should get and the important features you must not miss to check when getting a product. Do you have carpeted stairs? Is it steep? How about the width of the steps? These characteristics are just a few points you must notice before you pick a vacuum cleaner.
If you have carpeted stairs, you should consider a product that has the right tools that allow it to clean this surface type. The width of the steps will be your guide on the size of the vacuum cleaner you're getting which must fit the step's dimensions. Moreover, if you have steep stairs, you should think if you're getting a corded or a cordless model. This is the first step in getting the right vacuum cleaner. Survey your home and the areas where you will use the product, so you would know what kind of model you should get.
Vacuum Types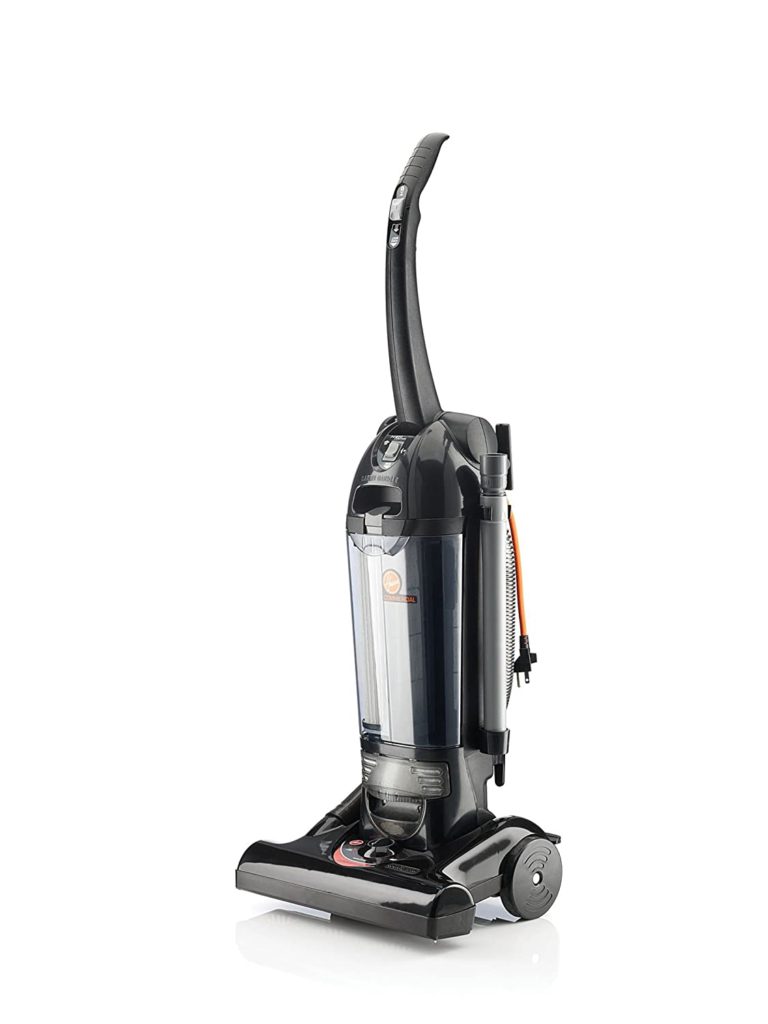 There are different types of vacuum cleaners that you can find in the market. There are upright vacuum cleaners, canister, handheld, sticks, and central vacuum types. The kind of vacuum you want to get must be fitting to the type of stairs you have at home. Usually, people with larger and bigger stairs would opt for big vacuum models to get the cleaning done faster. You can consider that, too. However, if the vacuum cleaner you'll eventually get doesn't offer great suction power, then the size doesn't matter at all.
Most people prefer getting a cordless handheld vacuum as these models are easy to carry, and you wouldn't have to worry if the cord is long enough to reach the top of the stairs. Basically, this is how you will choose the type of vacuum cleaner that you will get for your stairs. It should meet your preference, the dimensions of your stairs, efficiency, and comfort.
Budget
For people with a limited budget, clearly, the price of the vacuum cleaner is a crucial factor when buying this kind of machine. The cost varies depending on the type of vacuum cleaner. For instance, compact models are cheaper than upright vacuums. Cordless, handheld vacs also come in a wide range of prices. However, you can't assume that the more expensive the model is, the better its cleaning quality.
There are some cases where cheaper models offer more perks than their costly counterparts. The brand of the vacuum sometimes has to do with the price tag. The best way to make sure you're getting a product that's a bang for your buck, is first, to set your budget. Then, choose among the models that fit your budget, and pick the ones with the best qualities.
Features
It's important to check the features of the vacuum cleaner before you buy the product. You can't just purchase a model blindly without knowing if it can clean efficiently. How the product works well depends on the features it offers. For instance, the vacuum's suction power must be great enough to work on different surface types.
If you're getting a cordless handheld vacuum cleaner, you should take note of the model's battery life, and if it can clean your entire staircase. The accessories, technologies equipped, weight are just a few of the factors you should consider for you to get the best product for your needs. We will discuss more of these features to check in the coming section.
Recommended for you: Best Handheld Vacuum Cleaners for High Pile Thick Carpets | 7 Affordable Models You Can Find in the Market
Features to Consider
Before deciding on purchasing a particular product, we always want to be sure if we're getting the right one. A vacuum cleaner is an investment, and like anything you invest in, you'd want to be certain you're not wasting money and effort on it. One way to at least have an idea of what to expect with the vacuum cleaner you're getting is to check the features. Below are some of the most crucial factors to consider when buying a vacuum for your stairs.
Suction Power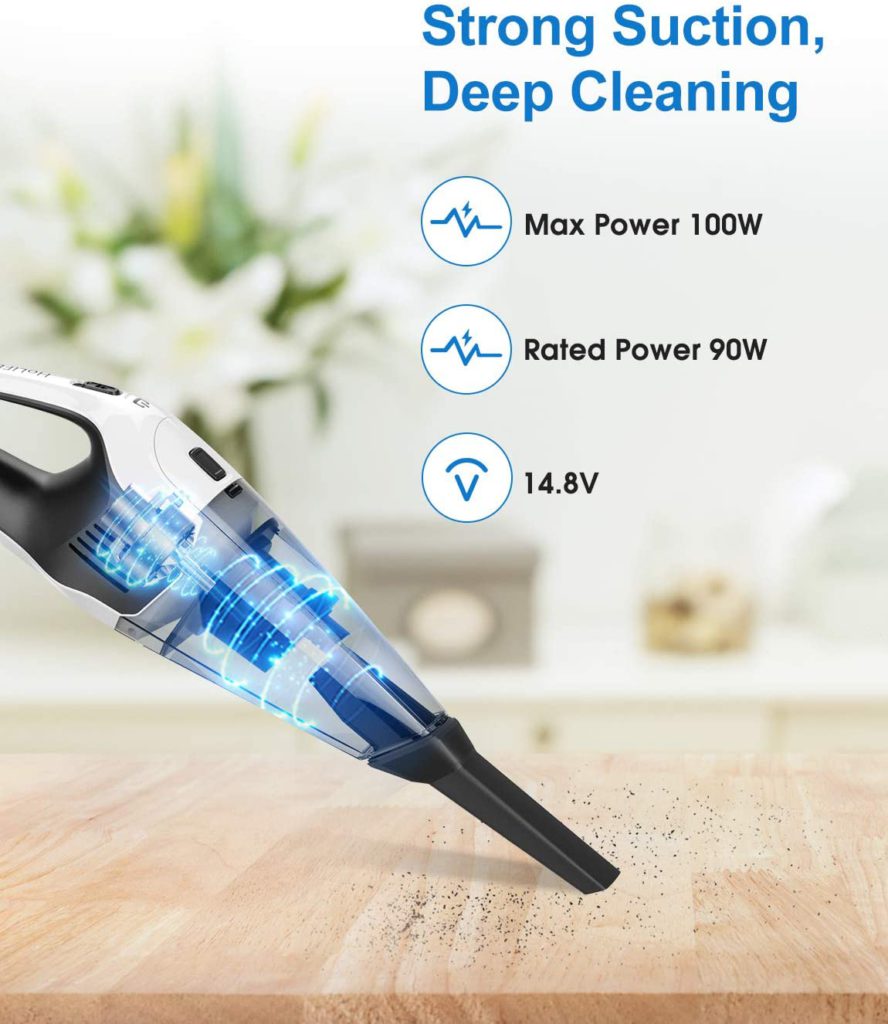 Suction power is one of the most important features to look at the vacuum cleaner you're getting. This feature determines how efficient the product you're getting. It may also indicate the cleaning speed of the vacuum. Not all models provide the same suction power. Usually, corded units offer more stable and powerful suction than cordless vacuum cleaners.
With additional technologies, many models can support consistent suction power all through-out cleaning. There are instances where some models provide fluctuating suction during use, which can be a drawback. With a weak and inconsistent suction power, you will need to go over the area you're cleaning multiple times, which of course, will take more effort.
Battery Life
If you're getting a cordless vacuum cleaner, checking the battery life is highly important. Especially if you're going to use it to clean your stairs, the vacuum must last for at least more than 5 minutes. There are different kinds of batteries that cordless vacuum cleaners use.
The performance of the product may depend on the kind of battery it has. For instance, lithium-ion batteries have a good reputation for providing a long and consistent run-time. So, in case, you see this type of power source being used by a model, it could be a good factor. If you're opting for a corded vacuum cleaner, check the power source. Models with cords differ in the wattage or voltage as their power source. Sometimes, the higher the voltage, the stronger the suction power of the vacuum cleaner you're going to get.
Durability
Vacuum cleaners are made with different materials. You will want a product that can last a long time to protect your investment. Especially if you're opting for the expensive models, you must be certain the vacuum cleaner will last working well for years. Looking for a warranty is also a wise move when getting a vacuum.
Most products offer security in terms of the warranty, where some companies assure a product replacement if it gets damaged within the provided warranty. Typically, you won't find information about the vacuum's durability in the product description. You can know about it by reading reviews as well as feedback from customers about the vacuum cleaner.
Recommended for you: Bissell Handheld Vacuum Pet Hair Eraser 1782 Review | A Compact Vacuum Cleaner with Multiple Potentials
Technologies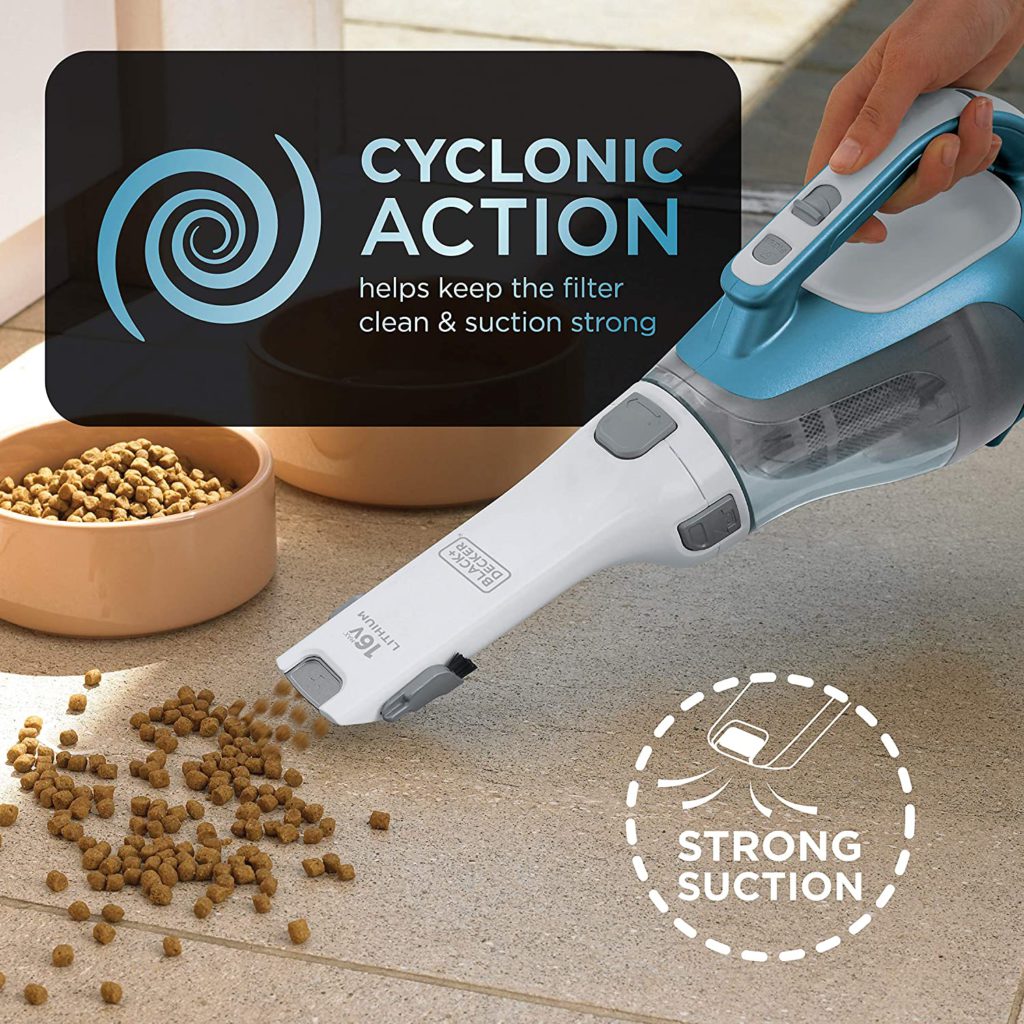 With the modern world that we're living today, various technologies have been added to cleaning machines including vacuum cleaners. These technologies improve the product's efficiency and in some cases support convenience. Some of the technologies you will find among the vacuum cleaners in the market are Dual-Action Filtration System, Cyclonic Action Technology, Cyclonic Suction Power, and more.
You will find more details about these features in the product description. Most of the time, having technologies equipped in the models mean they are more efficient than simpler models. However, having technologies added may also mean the price tag of the products can go higher.
Accessories
Most vacuum cleaners come with added accessories apart from the unit. If you're going to use the vacuum cleaner especially for cleaning the stairs, you must look for accessories or attachment tools that can work great on the kind of stairs that you have. Some accessories that you will find are a crevice tool, an upholstery tool, a brush, or a multi-purpose tool. So, if you have carpeted stairs, you must look for a tool that can clean dirt and hair on this kind of surface.
A brush tool typically works great for this kind of situation. A crevice tool will be of great help for cleaning the corners and crannies of your stairs, while an extended hose can be handy as well, so you won't have to bend over when cleaning the stairs if you're using a handheld vacuum.
Weight and Size
The weight and size of the vacuum cleaner you're getting also matter on your purchase. Because you're going to use it to clean the stairs, which means you will have to climb and carry the machine, the vacuum cleaner must be lightweight. On the other hand, the size of the model you're getting is also important as it must be fitting to the dimensions of the stair steps. The size also should complement your storage area. If you have a small home, it's just wise to get a model that won't take a lot of space in your storage.
Conclusion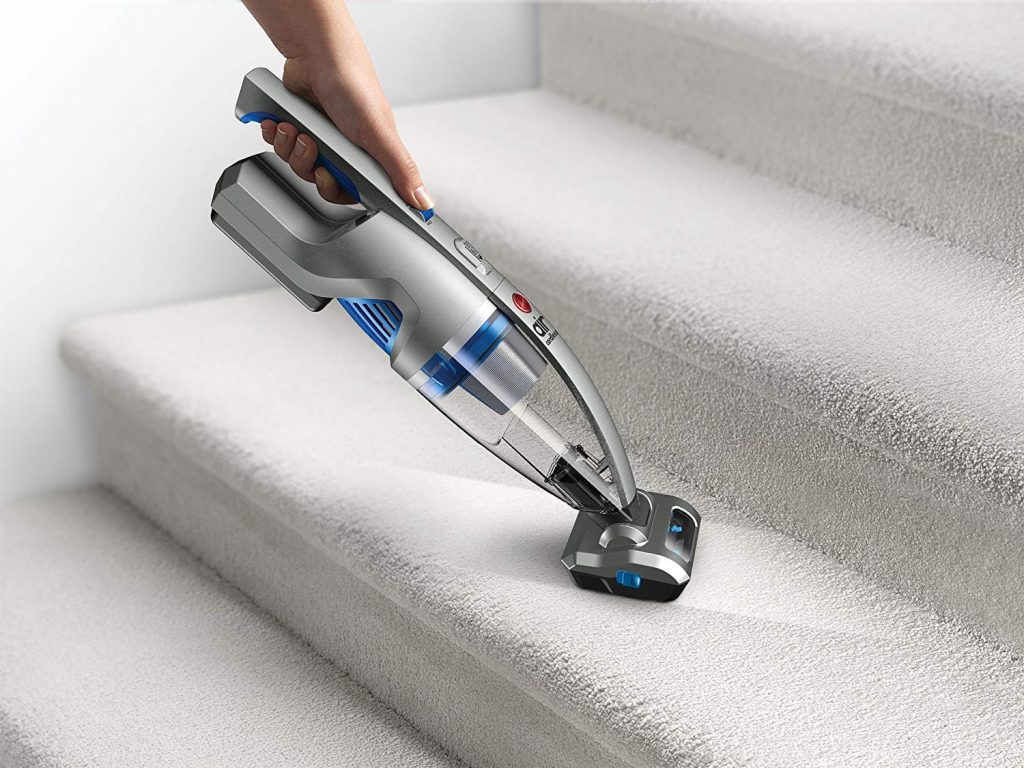 We hope we have provided valuable insights on choosing what is the best vacuum for stairs. It's better to be safe than sorry, especially if you plan on getting a product on the expensive side, doing a bit of research before your purchase won't hurt. If you liked the information you found here, please let us know in the comment section below. We'd love to hear from you!
Recommended for you: Holife Handheld Cordless Vacuum HM036BW Review | Compact and Versatile Cleaning Machine