The Hoover Linx BH50010 cordless stick vacuum still continues to be the best option for customers looking for a cordless stick vacuum, considering its age. A light variant of an upright vacuum cleaner is this stick vacuum cleaner.
These vacuum cleaners are easy to place and use, which is why they are still favored by many individuals.
Hoover produces all types of cleaning devices, from uprights, carpet cleaners, and robots to sticks. Today, we're looking at one of Hoover's most famous Linx Signature cordless stick vacuums: the Hoover Linx BH50010.
You will see further in this review that this cleaning system blends versatility with strength. But when you first see the Hoover Linx Signature, it is the sleek style that draws your attention.
This vacuum has matching features and is one of the most finely designed vacuums on the market. To learn what this cordless stick has to offer, read on.
Hoover Linx BH50010 Features

The Hoover LINX BH50010 Cordless Stick Vacuum is based on Hoover's WindTunnel Technology and is one of the best cordless and bagless stick vacuum cleaner Hoover has produced. Fade-free power is provided by the lithium-ion battery for maximum cleaning efficiency.
We will discuss the Hoover Linx Stick vacuum review today, see its technical specifications and functions, and understand its performance.
Cleaning Suction Capacity
The Linx Signature including the Hoover Linx BH50010, given it's a cordless vacuum, is very strong. Although the manufacturer does not provide suction values, some reviews demonstrate that it achieves an airflow of 31 CFM. That's quite cleaning strength which ensures that the vacuum will easily lift dirt and debris away.
The vacuum also uses a special suction technology, called WindTunnel by the manufacturer. It defines suction channels and increases the capacity of the cleaning head to extract embedded debris. In addition, the Hoover Linx BH50010 has a big suction port that allows both large and small debris to be picked up with no hassle.
This boosts the capabilities of the vacuum, combined with the broad 11′′ cleaning head.
Dirt Capacity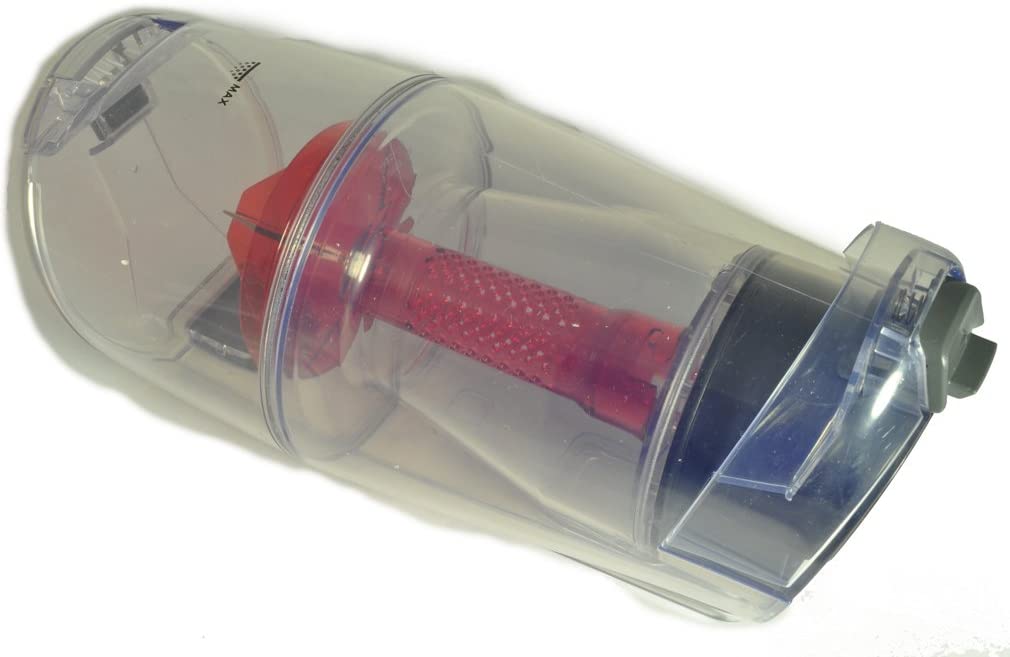 A 0.132-gallon (about 17 oz) dust cup is included in the Hoover Linx Signature BH50010. That's around 0.5 liters, and this vacuum type has an average capacity. One feature that can
impress you about the dirt collection of this unit is the process of removing or emptying the bin.
The dust compartment detaches from the main device at the click of a carefully placed release lever. When you want to empty the contents, it opens in a comparable way, then downwards.
There's no full-bin symbol in the vacuum that some versions come with. The dust cup, however, is made from a translucent substance. It helps you to see the interior of the bin. Thus, as it fills up with dust, you do not need any signal to warn you.
The transparent architecture also helps you to view the vacuum's performance as you clean multiple surfaces.
Bagless
What we like about this vacuum is, you don't need to buy replacements on a regular basis. A big improvement for certain stick vacuum cleaners is that even though there are pets in the home, the dust bin can be washed without touching dirt with hands or something.
Hoover LINX Battery Repair Replacement
The included Lithium-Ion battery helps you to monitor your charge with fade-free technology while continuously providing maximum power. A blue LED indicator strip is included in the battery charger so that you can track the charge status, which is usually done in less than four hours.
The battery can be separated from the charger and retained in the vacuum cleaner after charging-the battery would not lose its charge when in the vacuum cleaner, such as older NiCd or related batteries.
The battery comes with a warranty of two years and recharges very quickly. If you also clean bigger places, you may need to consider getting a second battery.
Fade-Free Battery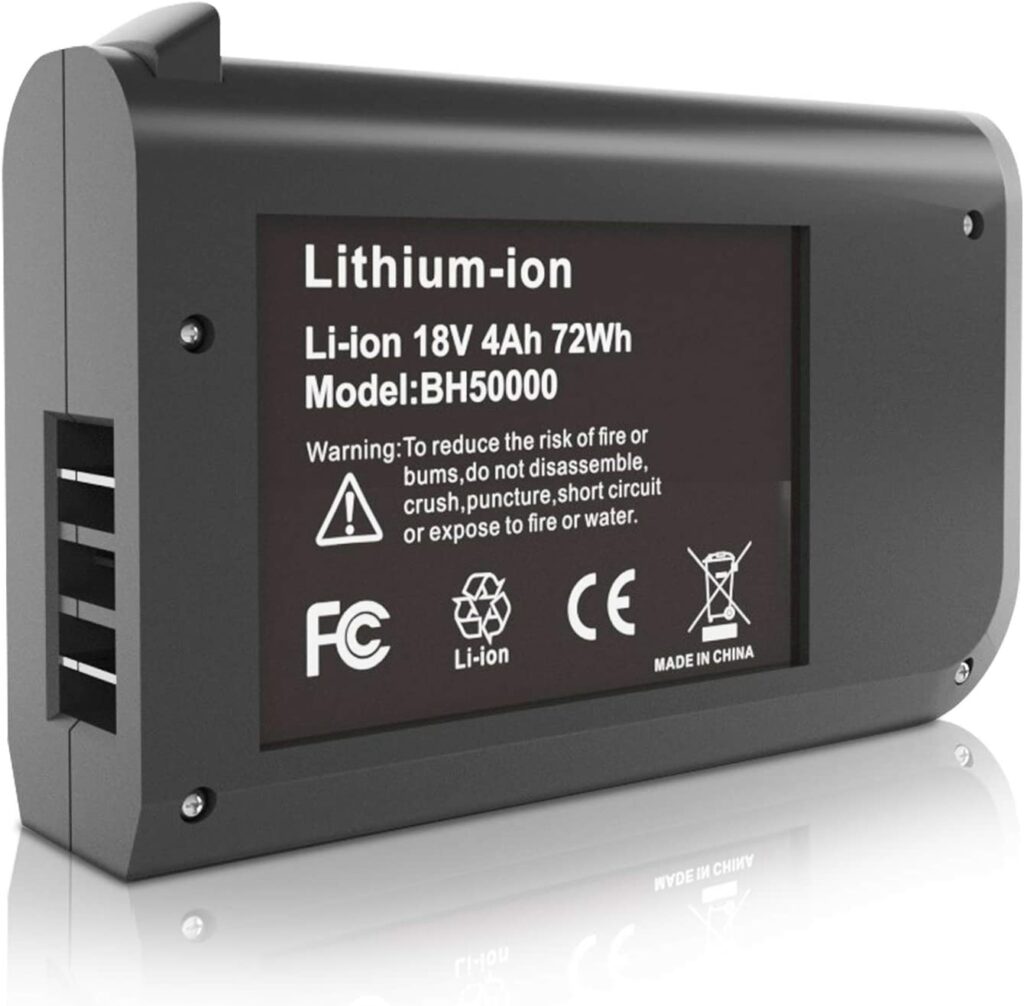 In addition to its excellent cleaning capacity, a fade-free lithium-ion battery comes with the Hoover Linx BH50010. This indicates that it maintains the device's cleaning performance throughout your vacuuming activities.
When the battery is about to die, you do not get the irritating loss of suction. The battery has an average working time for cleaning, but you can extend it by getting a spare one.
Hoover's WindTunnel Technology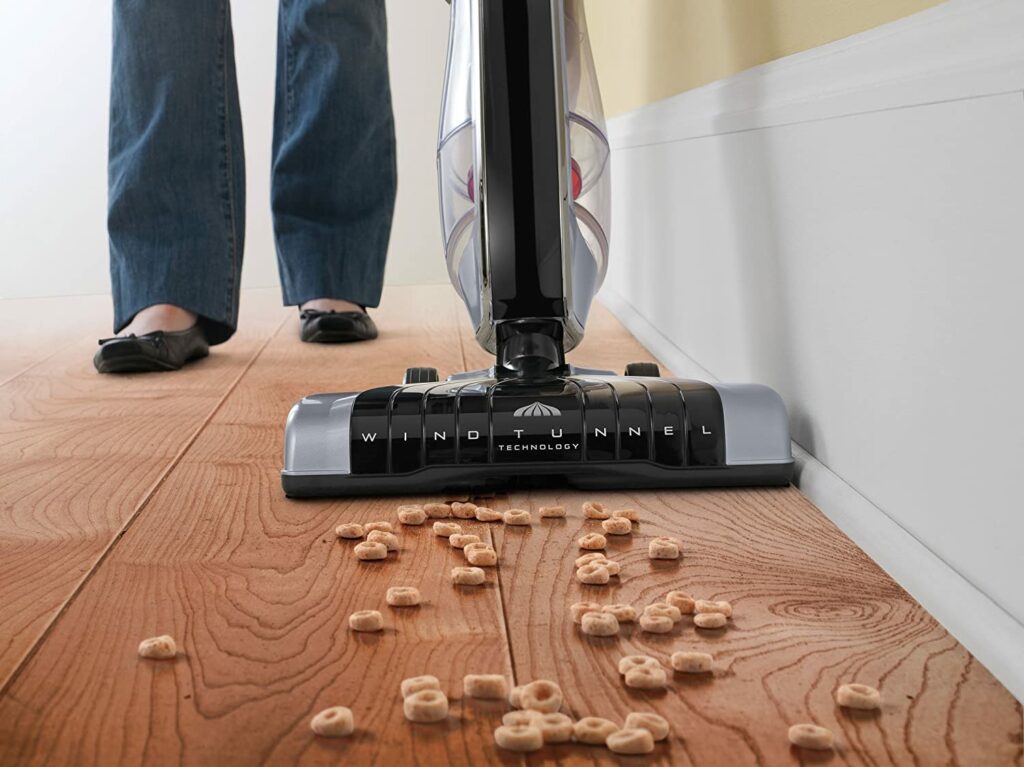 This is a unique feature of Hoover vacuums. It refers to the use of suction channels to maximize the vacuum's ability to scoop up debris. The WindTunnel technology illustrates the advanced cleaning power of the Linx Signature model in addition to the other characteristics.
When the soil is trapped, the vacuum cleans superbly when vacuuming carpet floors and surface rugs. This is one of the reasons why it operates well on different surfaces and with multiple kinds of debris.
Cordless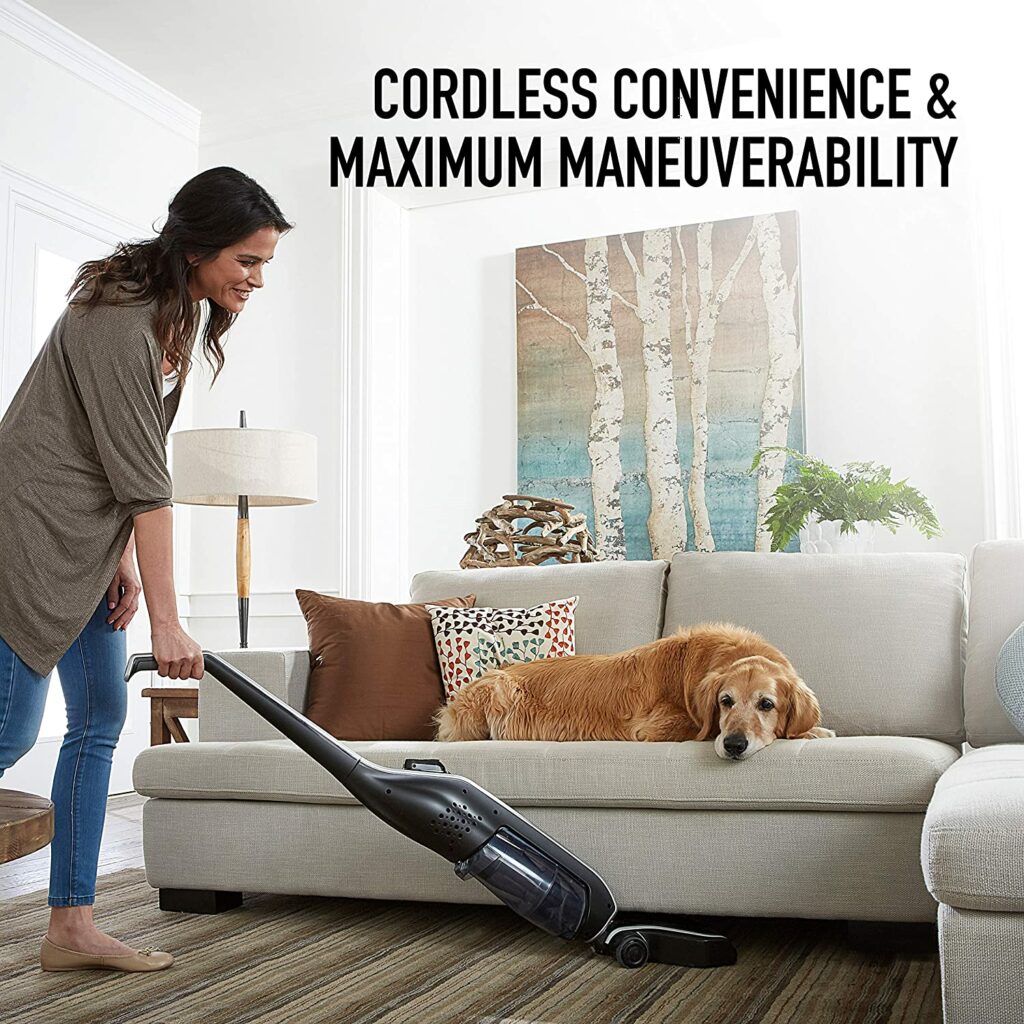 You can easily clean from room to room with no worries. A single battery charge can operate in 15-20 minutes. With that, it can really clean a wider area with a big nozzle and motorized brush. In smaller houses, you can also use it as the main vacuum cleaner.
Noise Level
Its noise level, which perceived to be average, is 75dB. You can probably hear it because of its strong performance and its spinning brush, but it is doubtful that the noise level will disturb you too much.
Filtration Efficiency
Hoover Linx vacuum cleaner utilizes cyclonic filtration and a regular foam filter. Although the company suggests that the filtration device eliminates allergens from the exhaust air, it does not do so as well as HEPA does. This can be a challenge for sufferers with allergies. The body sealing of the vacuum is also average and does not provide absolute protection against allergens.
The foam filter is washable. It's advisable that you clean this filter regularly to ensure that the vacuum does not lose suction. Washing it in lukewarm water and without using any soap is recommended. You will have to wait at least 24 hours before re-installing the Linx Signature filter after cleaning, as with any foam filter.
How does the Hoover Cordless Stick Vacuum BH50010 work?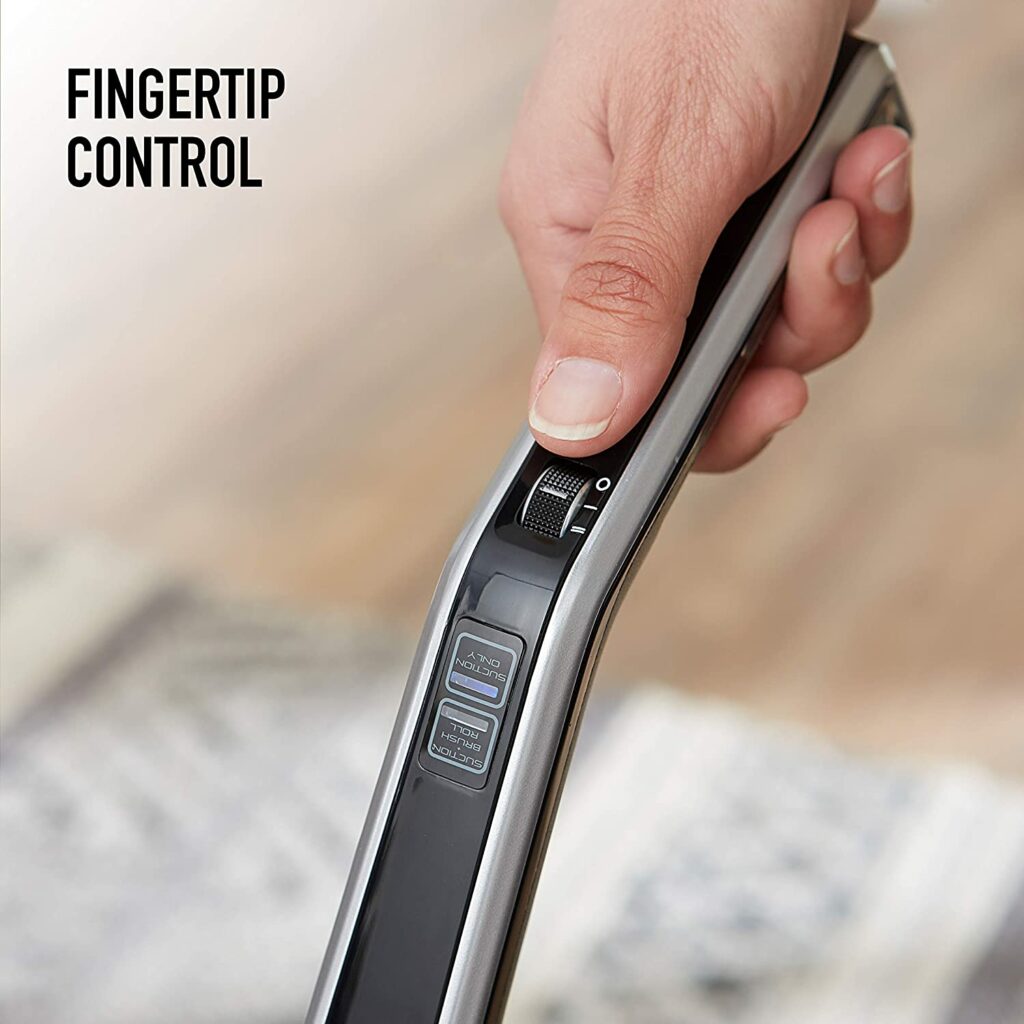 For bare-floor cleaning, you can turn easily off and on the motorized power brush with just a flip of a switch. In collecting pet hair and other debris from rugs and carpets, the motorized brush does an outstanding job.
However, it requires extra power and reduces running time on a single battery charge slightly. The Hoover LINX cordless vacuum also comes with auto height adjustment for better cleaning of multiple surfaces. It is very easy to change from bare floors to low and medium-pile carpets and rugs.
Specifications:
Bagless
Lithium-Ion Battery
18 Volts Battery
Brushed Edge Cleaning
Brushroll Shutoff
Standard Bumper Type
11 inches Cleaning Path
Cordless
Center Dirt Path
Dry Nozzle Brush Type
Motorized Brushroll
Replaceable and Washable Filters
Standard Grip Handle
Fixed Handle
Plastic Handle
Automatic Height Adjustment
Lightweight
2 Yrs Motor Warranty
Multi Floor On & Off
11 inches Nozzle Width
Standard Sealed Allergen System
Allergen Filtration
Windtunnel Technology
Weight: 7.3 (w/battery) Lbs
10.3 Product Shipping Weight
Dimensions: 10.63 x 8 x 25 inches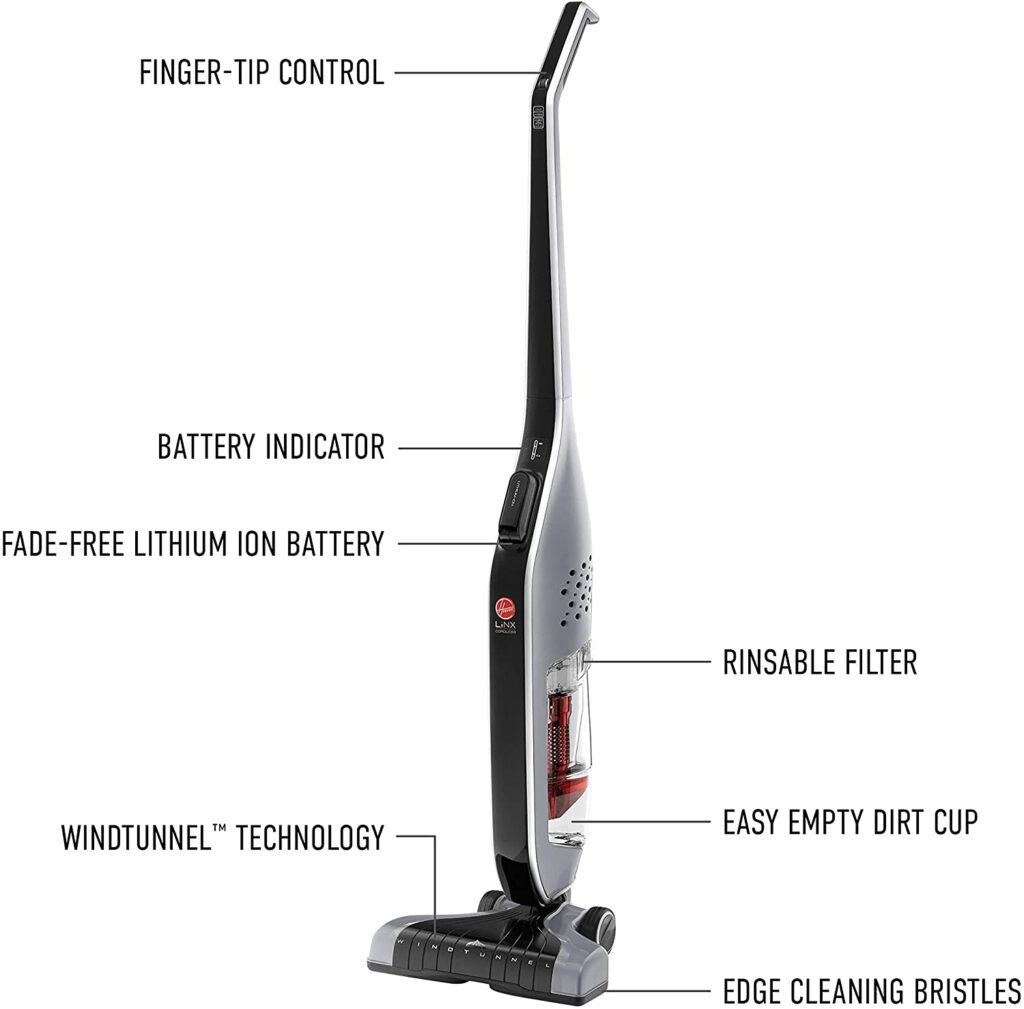 What we love about this vacuum
Its powerful suction helps the vacuum to clean various floors, including low-pike carpets or rugs.
A multi-floor cleaning head that efficiently and securely cleans both bare and carpeted areas.
WindTunnel technology separates the vacuum from others by its capacity to gather dirt efficiently.
The fade-free battery provides continuous cleaning power during cleaning tasks.
The bin is easy to empty and its filter is reusable.
The handle reclines deep down to allow low lying areas to be cleaned and the base is low-profile enough to quickly go under furniture.
The residual battery charge is indicated by a battery gauge, ensuring no surprise power loss during cleaning operations.
Pocket-friendly
What needs to be improved
The floor nozzle did not rotate much, limiting maneuverability.
Not HEPA filter
Quick Buyer's Guide
A stick vacuum can be your perfect tidy-up tool, depending on your style of flooring. Here's what you need to consider if you are looking for a vacuum cleaner.
Cordless vs Corded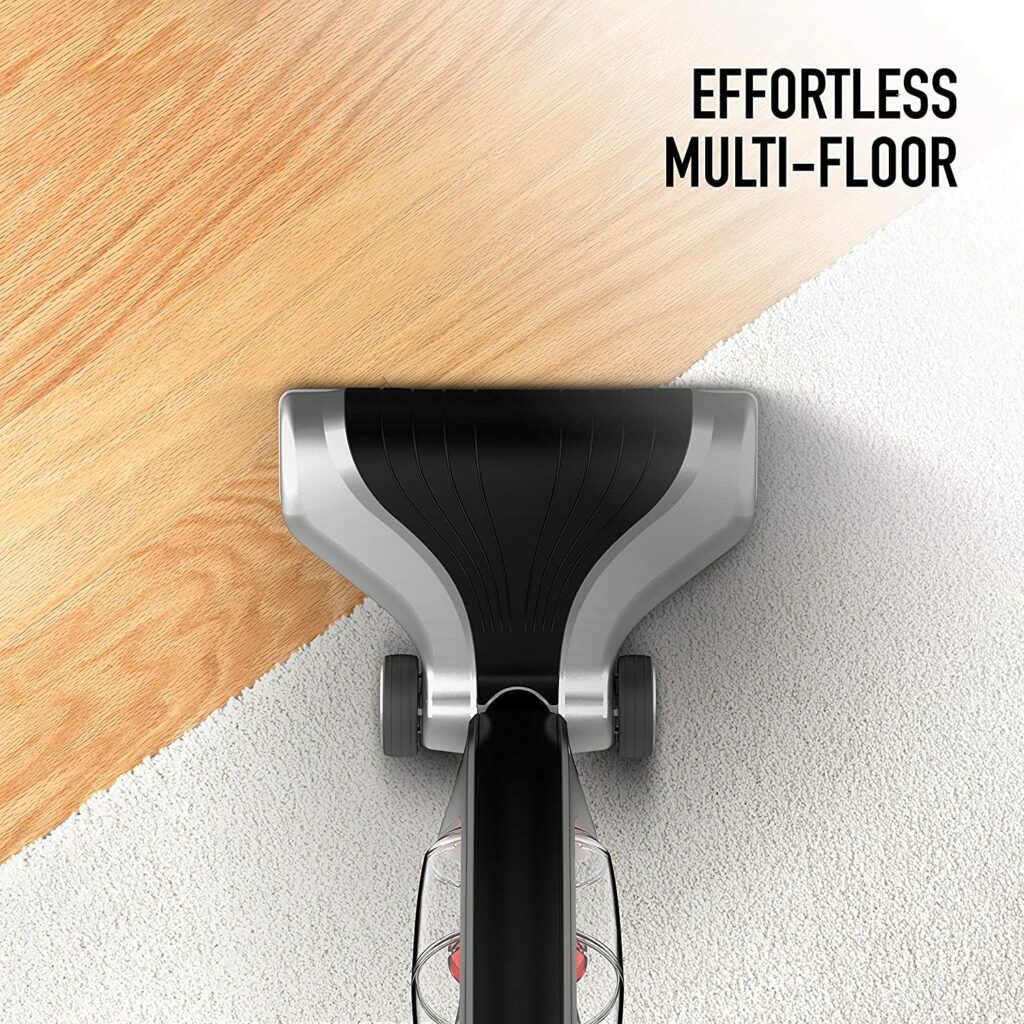 A stick vacuum with a cord produces a continuous, endless power source and non-stop suction. Cordless models will go everywhere, but when the battery drains, the suction level diminish; the cordless may need to recharge after 20 minutes.
Corded models tend to be the lightest, while stick vacuums typically weigh between five and seven pounds. That's worth considering, because when you reach up to remove curtains or cobwebs off a roof, an extra pound may feel pretty.
Generally, you want to consider cordless over corded if you don't want some cords lingering during your cleaning. Cordless vacuums are also convenient for quick clean-ups in high traffic spaces. So if your house has limited space, then this is the best type for you.
Suction Capacity
One of the features that you need to look for is the suction capacity. The force of suction is measured in terms of watts and also in air watts. The larger the vacuum engine, the better its power is.
There are stick vacuums that are great for sucking up dirt without getting your eardrums irritated. To simply put, you can also look for a vacuum with minimal operating noise.
Convenience
Stick vacuums feature a tube or cup to collect debris that is just about four inches in diameter, instead of a bulky bag or canister. Being so small makes it convenient to store them, a benefit for those with minimal space in the supply closet.
The Final Verdict
For small cleaning operations or emergency cases, the Hoover LINX Cordless Stick Vacuum Cleaner is a good vacuum cleaner that you can trust. The price is good and the ratings are outstanding.
Hoover Linx BH50010 cordless stick vacuum cleaner is a cleaning device with an excellent cleaning performance, apart from being very difficult to find on the market. This one does not disappoint either, like most Hoover vacuum cleaners.