If you don't already own a cordless vacuum, you need one in your life. Find the best stick vacuums cleaners for 2019 right here. These flexible little machines speed up cleaning times and allow you to access areas where a corded model would struggle reaching.
Portable batteries have evolved to the point where a cordless vacuum can virtually take the place of a plugin as the predominant domestic vacuum cleaner.
Manufacturers such as Hoover, Shark and Dyson are continuously improving their cordless vacuums and as a result, we are starting to see stronger suction and longer running times.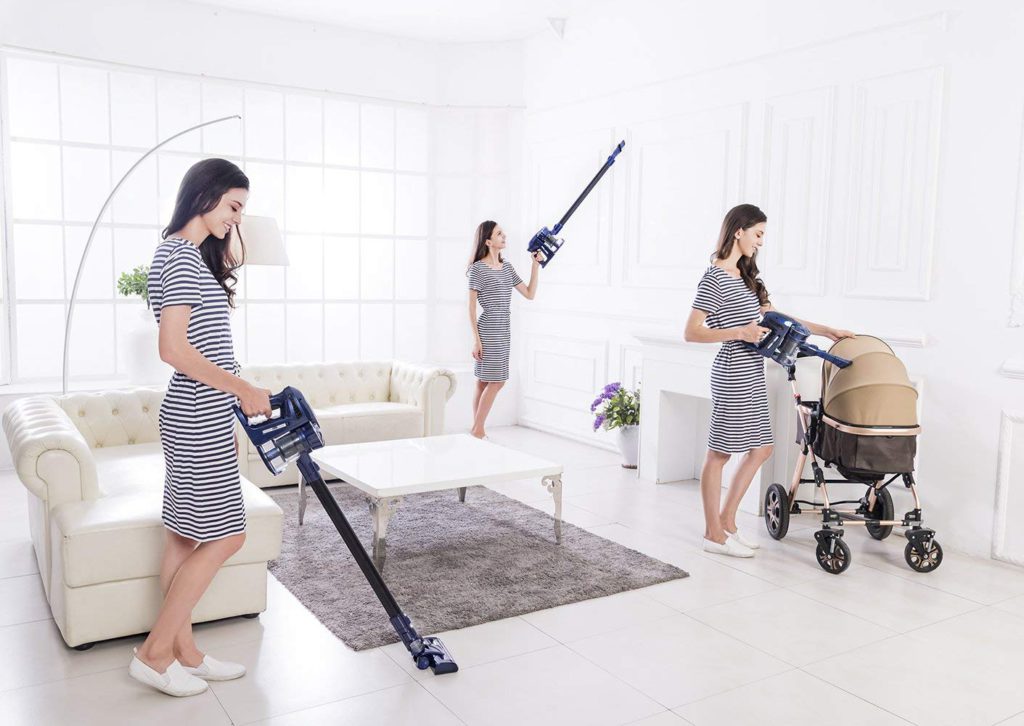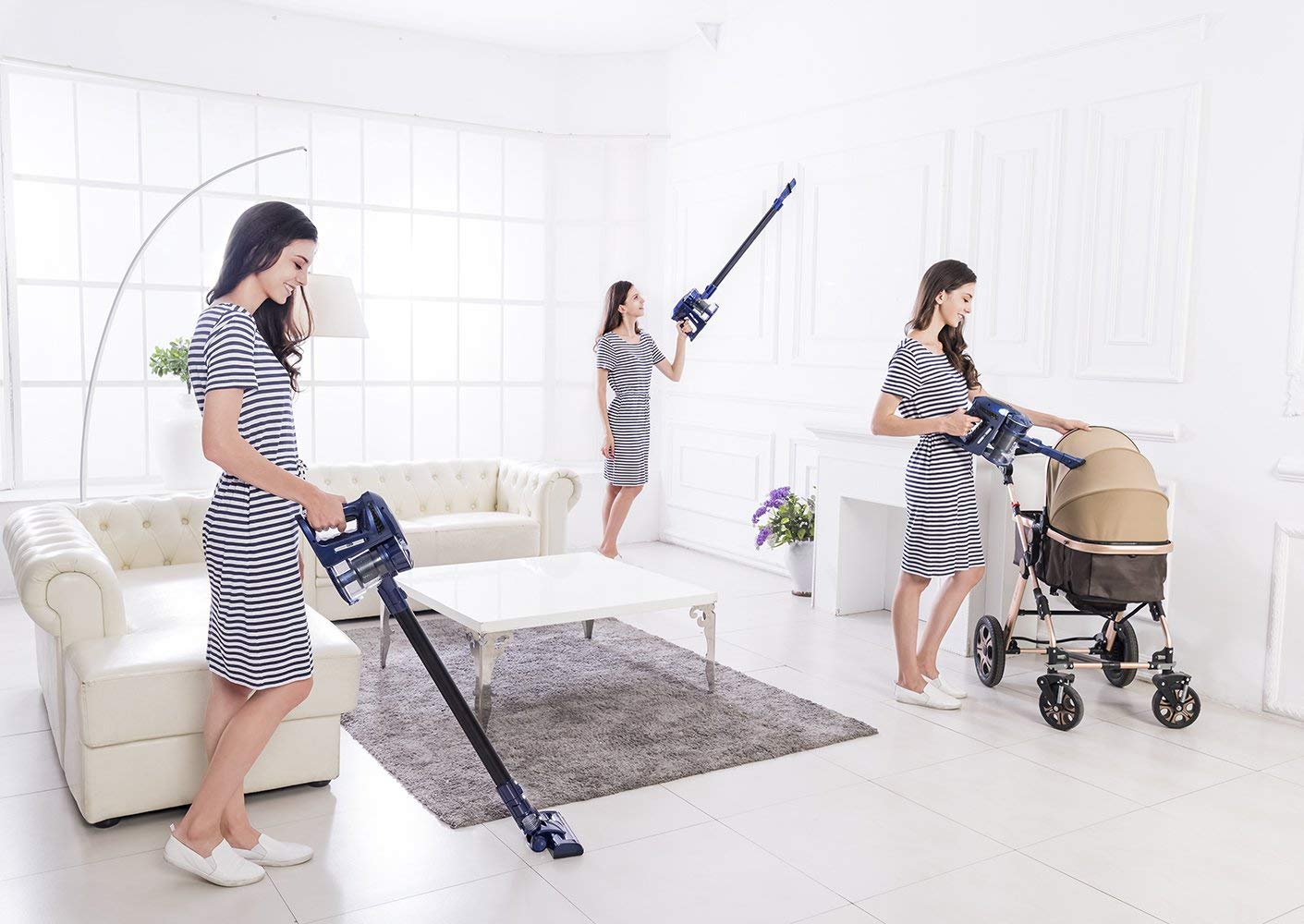 Choosing a Cordless Stick Vacuum
The cordless vacuum industry is a fast market. The options are endless and it seems like a new cordless is released each week. Generally, household names such as Dyson will bring out their latest offerings yearly to stay a step ahead of their rivals.
Though things move quickly, the benchmarks are mostly similar. Here are some important features to look out for and what they mean:


Features worth considering
Running Time- Battery times vary between models but as a rule of thumb you should get a cordless with a minimum run time of 20 minutes. Premium models can last for twice as long providing a remarkable 40 minutes or more of run time.
Exchangeable Accessories- Attachments turn your cordless into a versatile workhorse. Make sure you get a model with a good range of accessories such as a crevice tool, dusting and brush tools and turbo heads.
Lithium-ion battery- The benchmark for cordless batteries is 18-Volts, this should be adequate for most domestic scenarios. A battery with increased voltage doesn't always result in more power, however, it's a good gauge of the machine's performance. Stay away from models with NiCad batteries as these are not as good as Lithium-ion and take more time to charge.
Powered Brush- This feature is essential especially for carpeted homes. It's worth paying a bit more for a model with motorized brushes to help loosen stubborn dirt.
How long is the Warranty? If you're investing a bit of money into a cordless vacuum it should come with a 2-year warranty at the very least. Longer warranties give you the assurance that your machine is covered should anything go wrong.
Machine Power- A decent cordless vacuum should easily pick up dust and dirt from carpets and hard floors, however, some models do this better than others. We'll reveal the best choices further down.
Swivel– The cleaner head should swivel seamlessly whenever you turn or tilt the machine. Most manufacturers will employ clever designs to ensure the best agility as you move across your floors.
User-friendly– Good design and high-quality materials are the foundation of a cordless that is a joy to use. Bear in mind that this will be one of the most used domestic appliances, therefore, it should be comfortable to use for extended periods and effortless to move. A lightweight units goes a long way, our selections weigh less than 8 pounds. The bin should also be easy and hygienic to empty.
The pricing of a good cordless stick cleaner ranges from about $115 to $399. Cheaper models don't come with motorized brushes. It's possible to get lower-cost units for less than $90 but these tend to be very basic and are more suited to vacuuming the occasional spot of dirt rather than a deep clean.
If you decide to buy a cordless stick vacuum, from a reputable brand, and it costs more than $350 you should expect adequate suction power and running times of more than half an hour. Various models are supplied with unique tools made specifically for hard floors and carpets.
Best All-Inclusive Cordless
Hoover LiNX Cordless Stick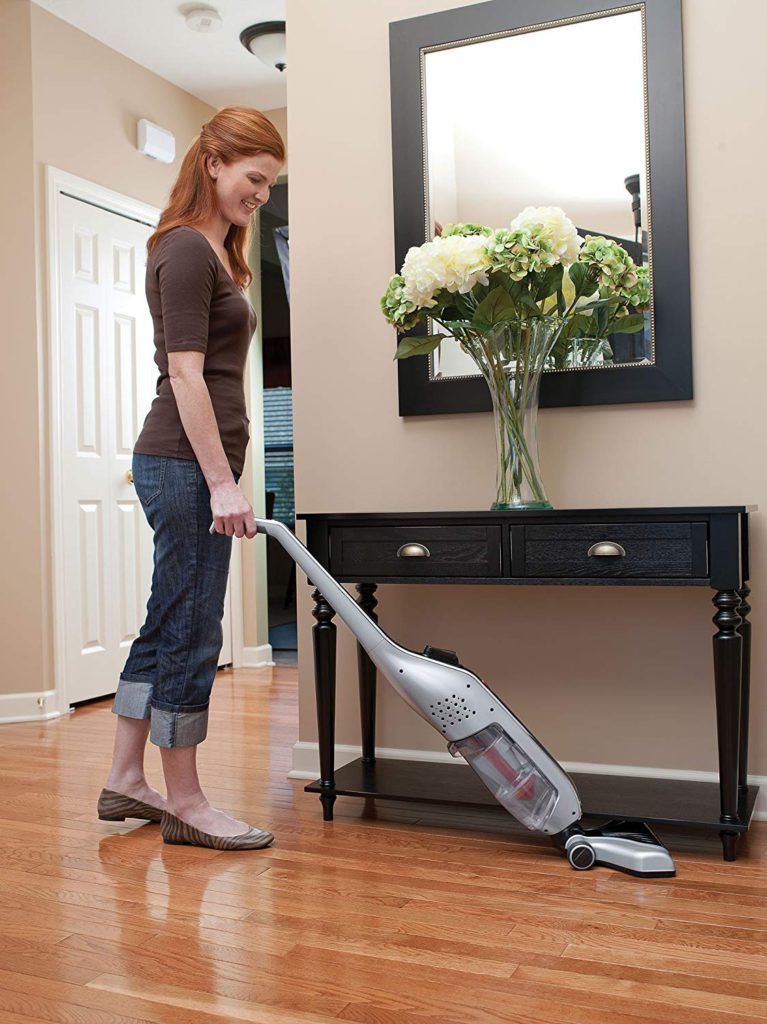 The Hoover LiNX cordless stick vacuum is slightly bigger and weightier than alternative models on our shortlist, however, it performs better than most of its rivals and it comes in at an affordable cost.
This model ticks virtually all the boxes and delivers all the convenience expected from a cordless vacuum. You get powerful suction at a decent price. The LiNX vacuum isn't a conventional stick design i.e. the primary unit is sat on top of a lengthy tube, however, it's a portable design when placed side by side with a standard upright. It also weighs 50% less than full-sized models.
The unit is very slim and it picks up debris better than most of the stick vacuums currently available. The bin detaches easily from the main body, therefore, you don't need the hassle of taking the whole machine with you to the bin.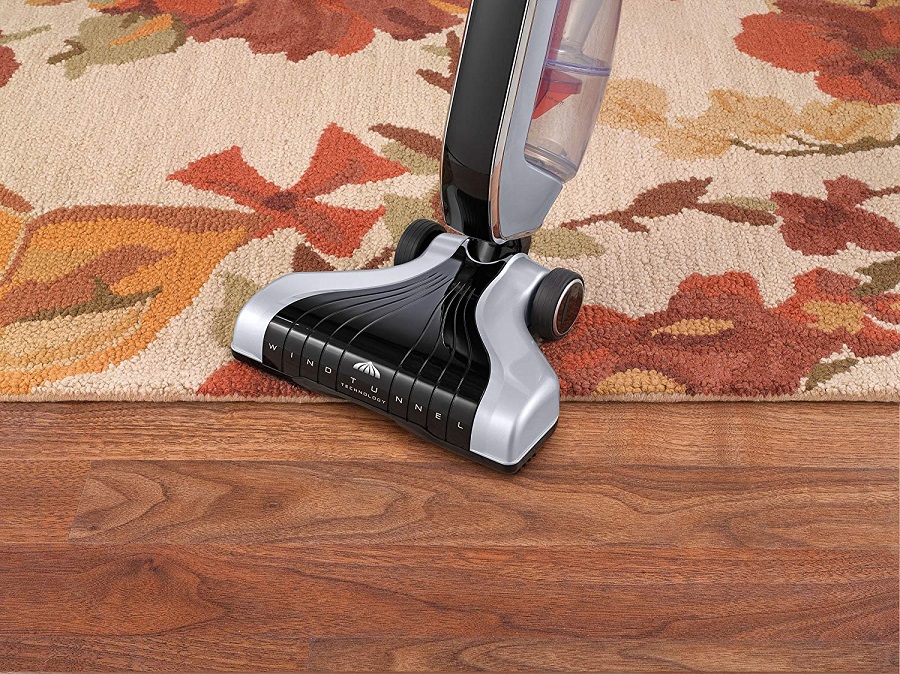 The 20-minute battery life is at the minimum threshold of running times, however, you can buy an additional battery to swap when the power fades. The bigger capacity dirt cup means that you get longer intervals between dirt disposal. The suction power is on par with models that cost more than double the price.
One of the drawbacks with the Hoover LiNX is that it doesn't perform as good on carpets as we would like. If your home is mainly carpeted then you are better off with an alternative model further down this list.
The most common use of a stick vacuum is for fast vacuuming usually in the kitchen to pick bread crumbs, cereals, dust and small bits of debris. The LiNX unit is ideal for this. It cleans quieter than costlier rival machines.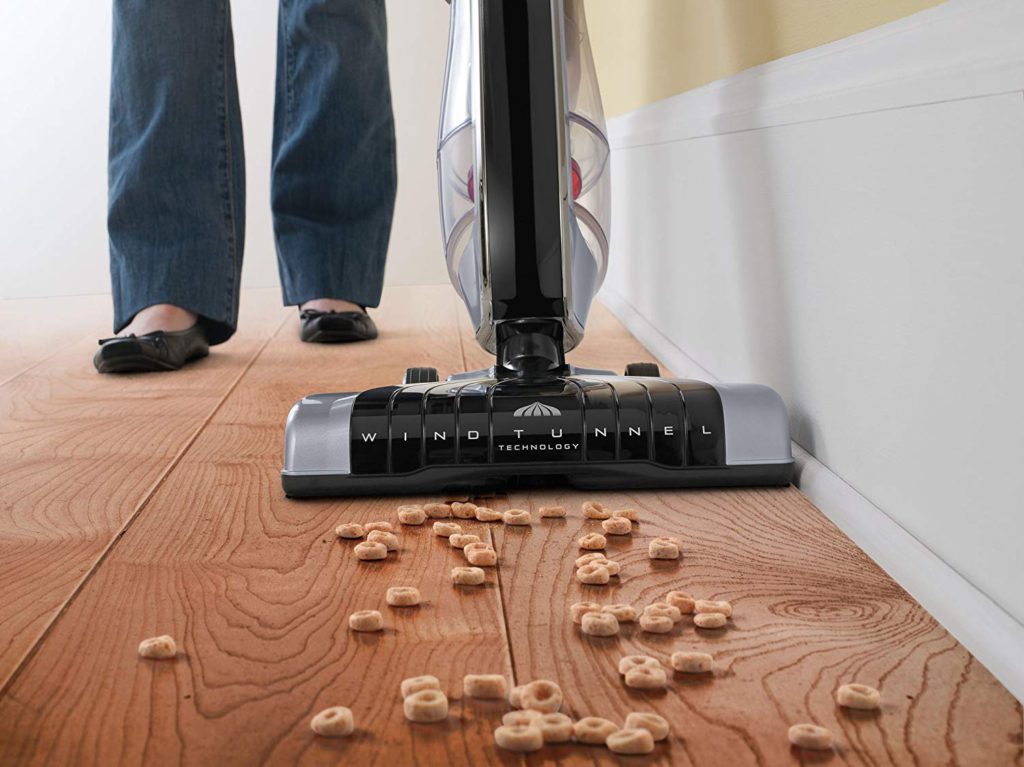 The LiNX vacuum is pleasantly lightweight and because of this, it can easily be lifted from one area to the other without causing strain. An advantage of using this model is that it can almost tilt horizontally to the floor, therefore, cleaning underneath furniture, bed frames, couches and tables isn't a problem.
Pros
Surprisingly powerful suction at a low cost. It excels at cleaning hard floors.
It can tilt practically horizontally to pick up dirt that's underneath furniture.
The LiNX vacuum is highly adaptable thanks to the cordless design and bigger dirt cup. You can get a lot done in a short timeframe.

Cons
Performance suffers on carpets.
Battery runtime could be longer.
There are better options for carpets.
There is no folding handle for compact storage.
Where can I buy the Hoover LiNX Cordless Vacuum Cleaner?
Check out the latest prices for the Hoover LiNX Cordless Vacuum Cleaner here.
Best Value
Shark Navigator Freestyle Vacuum Cleaner
The Shark Navigator Freestyle is bigger than standard stick vacuum cleaners, but it carries out all of the tasks that you'd expect from one and it can be picked up for less than a hundred bucks.
The Shark Freestyle vacuum is halfway between a stick vacuum and a standard upright. It's the heaviest unit on this list, however, it's still lighter and more compact than a full-sized vacuum. The Freestyle is a worthwhile model to consider as it still delivers the convenience that you'd want from a stick vacuum.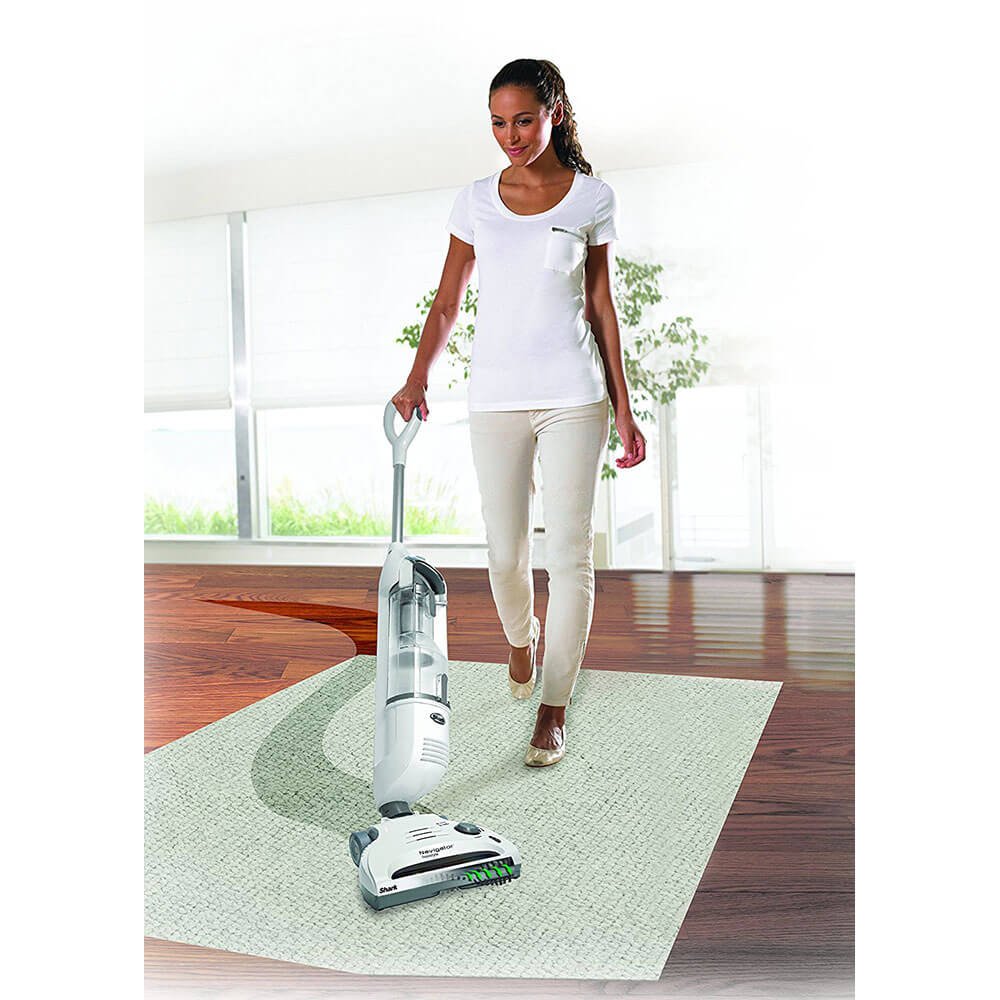 Let's put the weight to one side for a moment. The Shark stick vacuum earns its stripes for the cordless functionality and powerful suction. There's only one other model that performs with better suction (more on that later). If you're looking for a stick vacuum for cleaning carpets, the Shark Freestyle is highly recommended.
Hard floor cleaning performance could be better but at this price level, the Shark stick vacuum is still a worthwhile choice. The unit comes with a sizeable dirt bin, however, it doesn't come with the adaptable features that are seen in alternative sticks. The machine doesn't come with the ability to convert to a handheld cleaner and it isn't supplied with hand attachments or a hose- it's purely for vacuuming floors.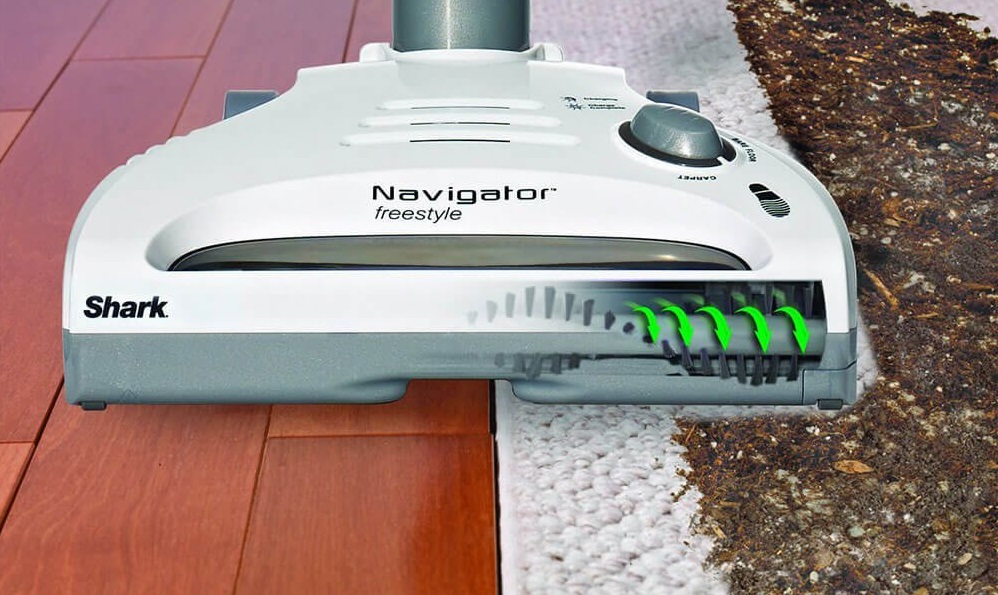 Pros
A very affordable option.
The Shark stick vacuum excels at carpet cleaning.
A big dirt cup and cordless capability mean that you can get more done.
Cons
This model is heavier and bigger than the competition.
It only comes with accessories for floor cleaning. Nothing else.
Where can I buy the Shark Navigator Freestyle Vacuum Cleaner?
Check out the latest prices for the Shark Navigator Freestyle Vacuum Cleaner here.