If you're looking for a steam cleaner you can count on for heaps of cleaning chores, the McCulloch mc1275 can be of an excellent choice. It boasts one of the longest running-time among its class of about 2 hours and more. The powerful steam can remove the toughest stains, residues even bacteria.
The efficiency of this steam cleaner can improve more using the added accessories for different surface types. It can strip away dirt and hardened soot on grills, as well as your entire garage. Now, it sounds like the McCulloch MC1275 heavy-duty steam cleaner is the perfect product among its class – but not so fast.
Though powerful, this machine comes with a few flaws, too. We'll discuss all the good and bad stuff about McCulloch mc1275 in this section. Know if this is the product you're looking for by reading on.
Recommended for you: Best Upholstery Steam Cleaners For Fabric Furniture and Drapes | Versatile Steam Cleaners for Deep-Cleaning
Summary of Features: McCulloch MC1275 Steam Cleaner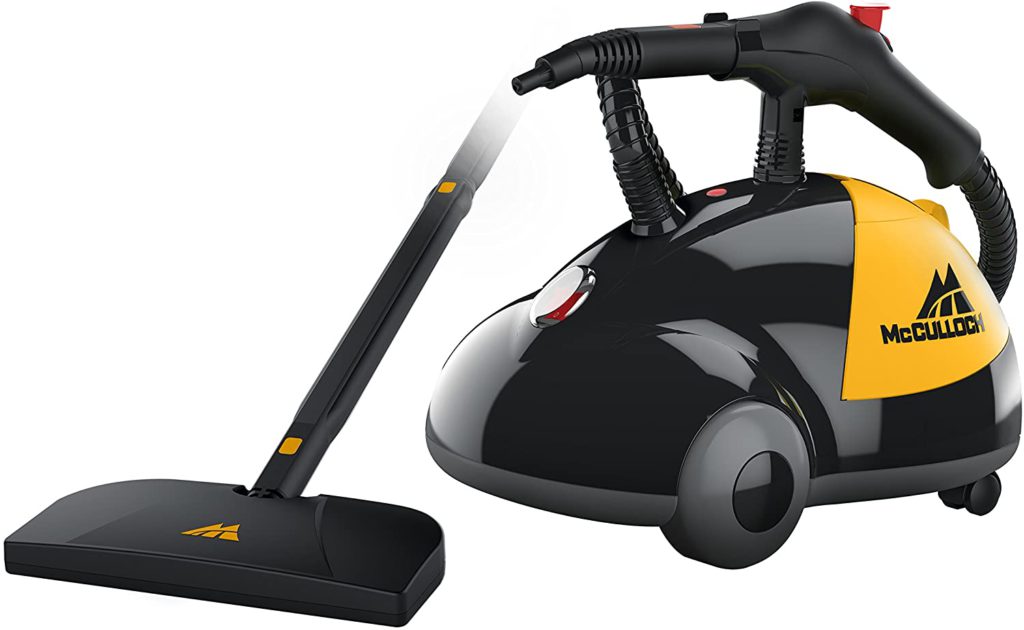 Steam lock switch. With a steam lock switch, you can continuously produce steam without holding a trigger. We liked this feature as it's a great help especially when cleaning large areas, or if you want to focus on a spot, or a surface and let the steam reach the deeper surface of the area you're working on such as sofas or any upholstery.
Added accessories. You will get an 18-piece accessory kit together with the McCulloch MC1275 unit. These accessories are either attachment tools or extra materials to make cleaning more efficient and convenient.
Long-running time. The best feature of McCulloch MC1275 is probably the length of its running time. For a compact and lightweight steam cleaner, this product perhaps offers the best run-time among its class. It can provide steam for about 2-3 hours, which is relatively way lengthier than the average.
48-ounce water tank. Although you will find other models with a bigger tank than the McCulloch MC1275, its 48-ounce reservoir is enough for you to complete a decent amount of tasks. Combine this water capacity to the steam cleaner's long-running time, and you can clean large areas like your garage.
Jet nozzle. One of the highlights of the McCulloch MC1275 is its powerful jet nozzle. It's especially useful for spot cleaning. If you stain your upholstery, you can use the jet nozzle and point it to the spot you need to clean, and it can quickly remove the stain.
Scrub pads. The scrub pads are also a noteworthy feature. You can use this tool to get rid of tough dirt in large areas. All you need is attach the pads to the steam hose, and use it on the surface that needs cleaning.
McCulloch MC1275 Steam Cleaner Review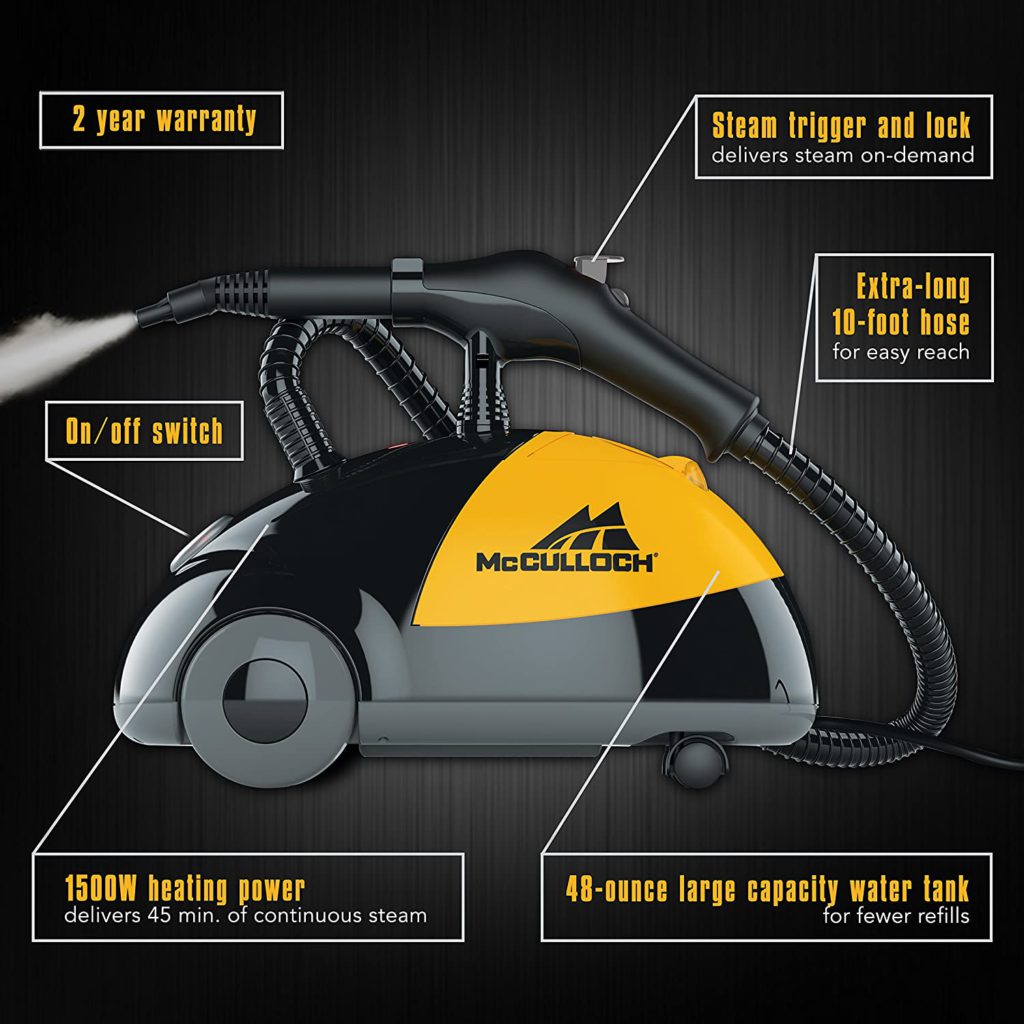 First, let's talk about the design of McCulloch MC1275. With colors yellow and black, we'd say it's a good choice for a palette. The machine looks high-quality, and the rollers allow easy portability. Weighing 12 pounds, the unit is not that heavy, thus easy to carry to different places. We also like the 15-foot power cord, which gives enough length to go around freely the areas you want to clean.
When it comes to steam pressure, the McCulloch MC1275 boasts 43 PSI. The steam is powerful enough to get rid of tough dirt and stain on different surface types. We will not forget to stress the long-running time this product offers. 2-3 hours will give you more than enough time to clean your entire home. When you use the added attachment tools, you can even complete your chores faster, as these accessories make cleaning more efficient.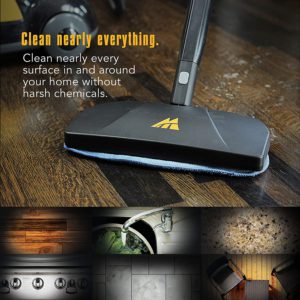 We'd also like to mention the 9-foot steam hose of the McCulloch MC1275, which allows you to clean hard-to-reach corners and nooks of your home. Together with the unit, you will get added tools like a mop head, a carrying handle, a steam jet nozzle, 2 extension wands, a triangle brush, 2 microfiber pad, 5 nylon utility brushes, a brass utility brush, a scrub pad, a water funnel, a squeegee and a measuring cup. These are wonderful accessories that make cleaning easier and convenient.
The heat-up time may not be the fastest compared to other competing models. You will have to wait about 7-8 minutes until the steam is ready at about 200F. Still, it's not a long waiting time in exchange for 2-3 hours of uninterrupted use of the steam cleaner.
The McCulloch MC1275 steam cleaner doesn't only make things shiny and sparkling on the surface, it can as well perform deep cleaning. Whether you need to sanitize your carpet, fabric, drapes, sofa, mattress, or upholstery, you can count on this product. It can kill bugs, bacteria, as well as eliminate molds, dust mites, and other allergens, which could trigger asthma and allergy attacks.
When it comes to drawbacks, we noticed the McCulloch MC1275 can be louder than other models. This product is also on the expensive side. Thus, if those factors are not a big deal to you, we'd say, the McCulloch MC1275 steam cleaner is worth a try.
Recommended for you: What Is The Best Steam Cleaner For Tile Floors & Killing Germs
Who Needs a McCulloch MC1275 Steam Cleaner
People with allergy. If you are suffering from allergies or asthma, the McCulloch MC1275 can help you prevent getting attacks. It's also for people who have a family member who suffers from such health issues. Using a steam cleaner, you can get rid of dust mites, molds, and other types of allergens.
Unlike vacuums, this cleaning tool won't blow away dust. You won't need to gather all the accumulated dirt in a bag and dispose of it. The product can safely clean dust using high pressured steam, and you can even take care of challenging surfaces to clean like fabric, carpet, or upholstery.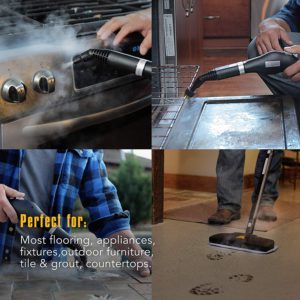 For deep-cleaning. As mentioned, the McCulloch MC1275 steam cleaner can perform deep-cleaning. Whether you'll be needing to clean sofas, upholstery or carpet, this product can help you get rid of soot, dust, even insects that are hiding underneath the surface. Using the special tools that come with the unit, you can wipe away dirt and sanitize your entire home.
Spot-cleaning. The McCulloch MC1275 steam cleaner is also an excellent choice for spot cleaning. With the use of its powerful jet nozzle, any stain or dirt on the surface of whichever you want to clean, it can do. This jet nozzle offers impressive pressure together with high-temperature steam, which you can focus on an area with a hard-to-remove stain, and make things tidy again.
Long-running time. We have mentioned about the McCulloch MC1275 steam cleaner's long-running time, and we'll discuss it again because we can't get over how great it is. 2-3 hours of continuous steaming is just amazing. The last thing you'd want to experience when using a steam cleaner is to get interrupted in the middle of your chore. Some models will even take time to cool off before you can use it again if ever it runs out of the water while you're using it — not with the McCulloch MC1275 steam cleaner. With a decent water capacity and long-running time, you'll get satisfaction and complete your tasks fast with no breaks.
Large areas. Due to McCulloch MC1275 steam cleaner's long-running time, you can clean large areas without interruption. The large water capacity also allows you to complete heavy-duty tasks. If you're particularly looking for a steam cleaner that can do a ton of tasks, the McCulloch MC1275 steam cleaner is a good choice.
McCulloch MC1275 Steam Cleaner Specs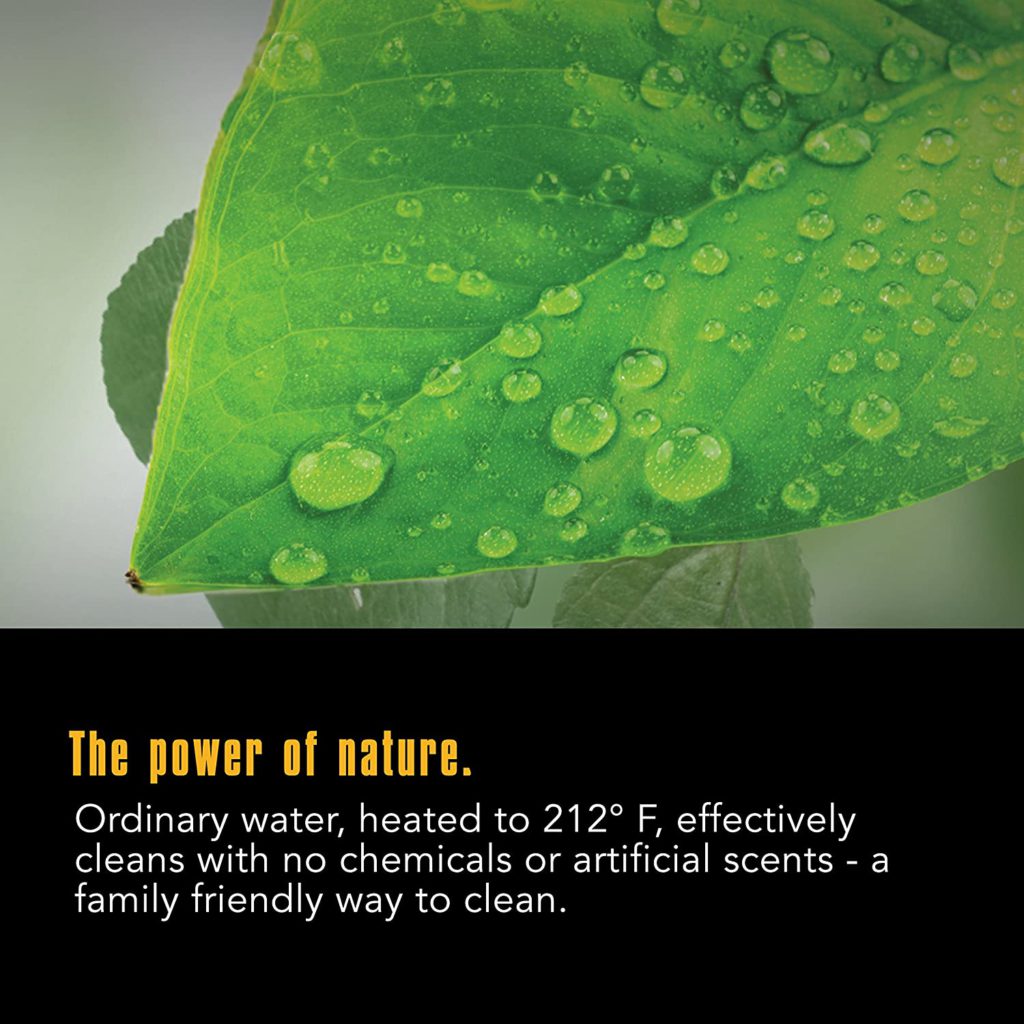 Weight: 12 pounds
Running time: 2-3 hours
Water capacity: 48 ounce
Accessories included: 18 pieces
Warranty: 2 years
Steam pressure: 43 PSI
Power cord length: 15 feet
Recommended for you: Best Handheld Steam Cleaners Guide – Don't Buy Before Reading This!
Below are the pros and cons of McCulloch MC1275 Steam Cleaner
Pros
Powerful
Easily portable
Versatile
Long-running time
Long power cord
Large water capacity
18 extra tools
Cons
Can be loud
Quite expensive
Conclusion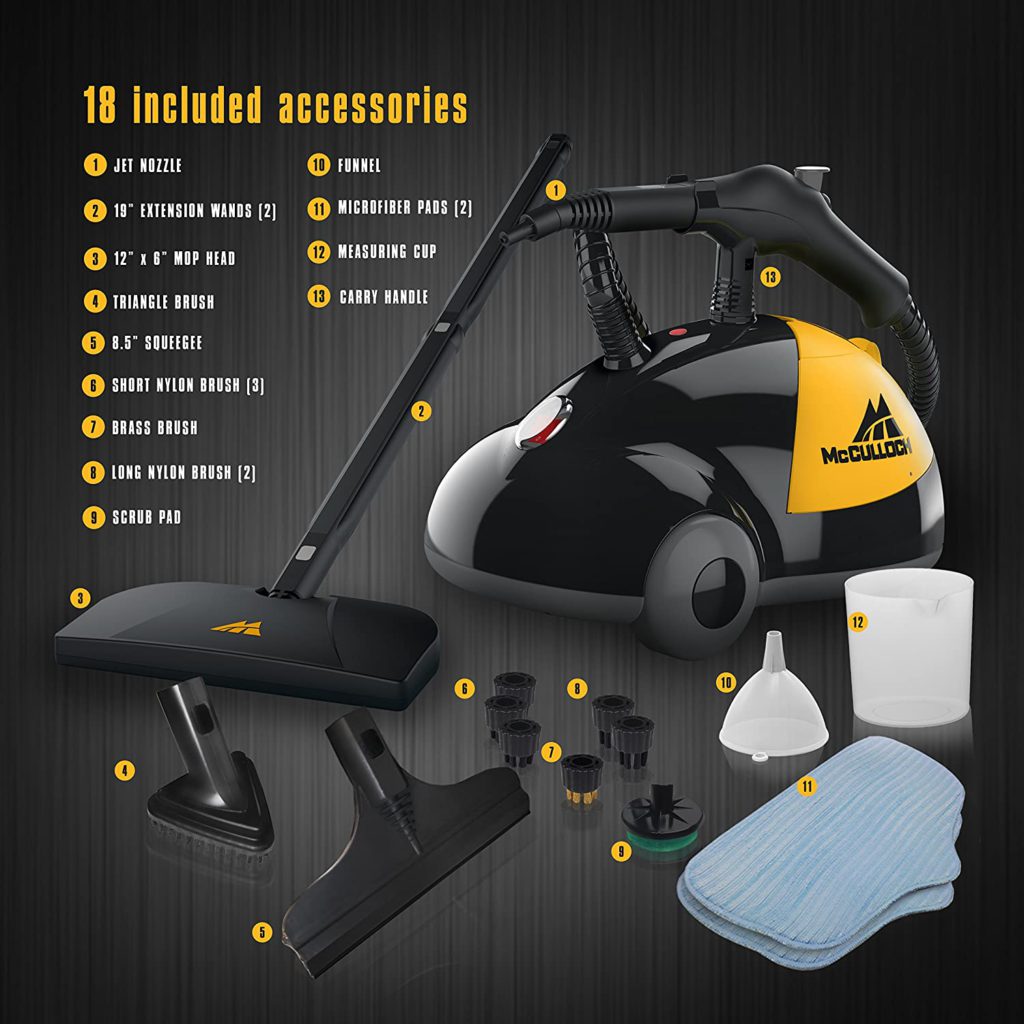 The McCulloch MC1275 steam cleaner is one of the most popular models in the market today. It boasts highlights, strengths, and features, but it also comes with a few drawbacks. Just like other steam cleaners, for you to know if this is the right product for you, you should know first your main purpose for buying.
This model is called the McCulloch mc1275 heavy duty steam cleaner because you can rely on it to do heavy-duty work. The only drawbacks are it can be loud and expensive. Other than that, this product surpassed our expectations. If you think this is the steam cleaner you're looking for, let us know in the comment section below! We'd love to hear from you!