Miele's CX1 Cat Dog Bagless Canister Vacuum, Miele's first bagless vacuum cleaner designed exclusively for homes with pets and allergies, will be reviewed today.
One of the most efficient ways to clear dust, dirt, mold spores, mites, pollen, pet dander, as well as other allergens from your home or company is to use a HEPA filter cleaner.
Vacuum cleaners with HEPA filters, or high-efficiency particulate air filters, can eliminate tiny microscopic allergens that conventional vacuums would leave behind.
How Does HEPA Vacuum Works?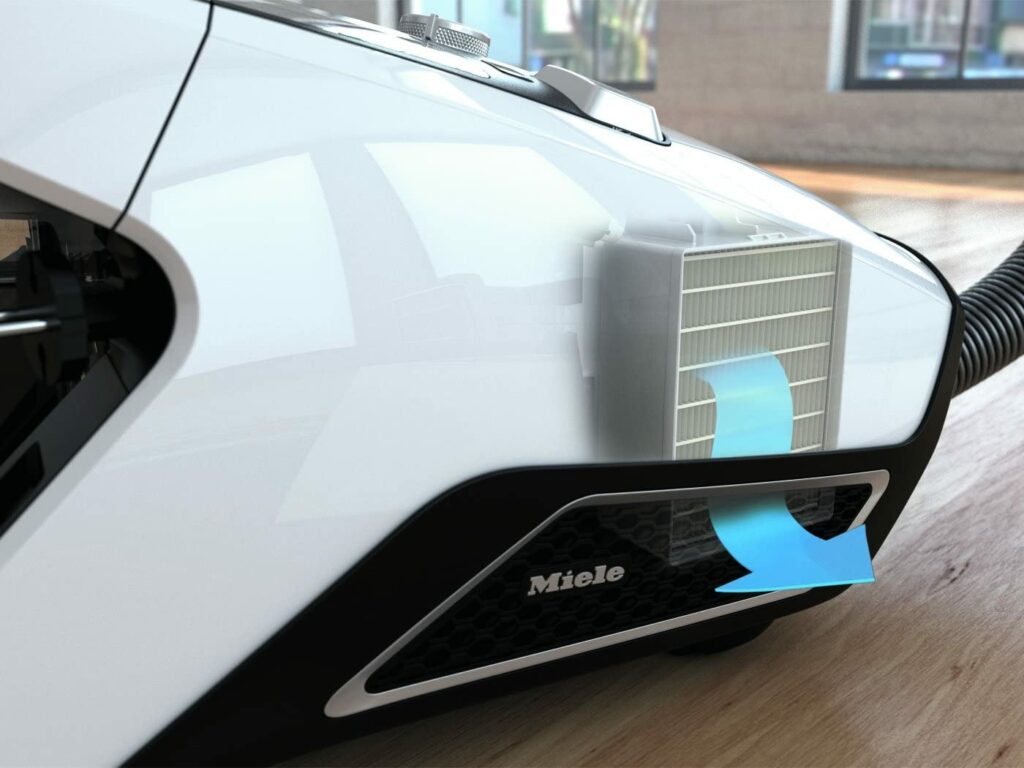 The acronym HEPA stands for "High-Efficiency Particulate Air," and it has since become a common term for high-efficiency filters. Smaller particulates are captured by HEPA vacuum that would otherwise go overlooked by your vacuum bags.
Allergy sufferers will benefit from this, and everybody will breathe healthier air. During the hours of use, the vacuum cleaner's user breathes heavily purified air that has been drained by the vacuum cleaner. It also helps customers who work in these cleaned environments afterward because pollutants aren't in the air.
HEPA filters capture tiny particles that can irritate allergy sufferers and other people with health issues. HEPA filters are also a vital component of a healthy home, workplace, or school if you have severe allergies, asthma, COPD, or other respiratory disorders.
A HEPA filter captures harmful particles by pushing air through a fine mesh. Commercial vacuums with HEPA filters trap 99.97 percent of airborne particles down to 0.3 microns, such as dust, animal dander, smoke, mold, and other allergens, thus enhancing air quality.
To bring 0.3 microns into perspective, consider that the average human hair is 50–150 microns in diameter, meaning that a HEPA filter is trapping dust hundreds of times smaller. A true HEPA filter is much more sanitary than a standard filter because it can filter out mold spores, bacteria, and even the tiniest viruses.
About Miele Blizzard CX1 Cat & Dog Bagless Canister Vacuum
Having a furry partner in your home means plenty of cuddles and emotional support, but removing all the hair that dogs and cats leave on your couch or carpet can be a real headache.
That shouldn't stop you from loving your pet because there are now simple and effective ways to get rid of the dirt that comes with having pets in the house.
Specialized vacuum cleaners are being developed that not only help you remove dust and other substances from your furnishings and floors, but also focus on pet hair.
The Miele Blizzard CX1 Cat and Dog PowerLine vacuum cleaner is one of the best products of pet-specific HEPA vacuum cleaners.
So don't sweat the small stuff any longer; read this Miele Blizzard CX1 review to learn everything there is to know about this versatile HEPA pet vacuum cleaner.
Miele Blizzard CX1 Features
If you have pets, the Miele Blizzard CX1 Cat and Dog PowerLine is a specialized vacuum cleaner that will help you get rid of all the stray hair in your home. It also comes with so many useful features.
ComfortClean Feature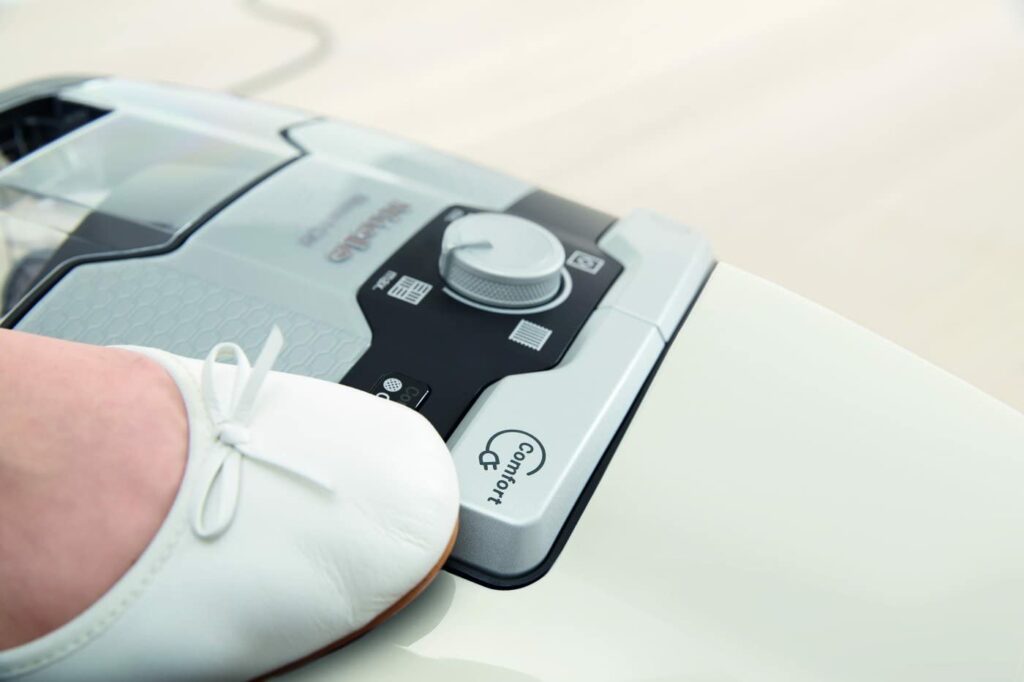 The smart sensors in this vacuum cleaner will measure the air efficiency of the Gore CleanStream fine dust filter.
The ComfortClean self-cleaning feature is automatically triggered if the system detects the need for it. The machine will shut down for around 20 seconds in order to make it happen. This mode can also be manually enabled for better cleaning results.
Click2Open
The Click2Open system in the vacuum cleaner's emptying container is one of the vacuum cleaner's most notable features. This causes the flap to open fully 180 degrees, allowing all coarse dust and dirt to fall into the bin. This reduces the risk of a fine dust cloud forming.
Power Control
The vacuum cleaner has four power settings that allow you to change the suction to your certain needs for the best performance.
Suction Control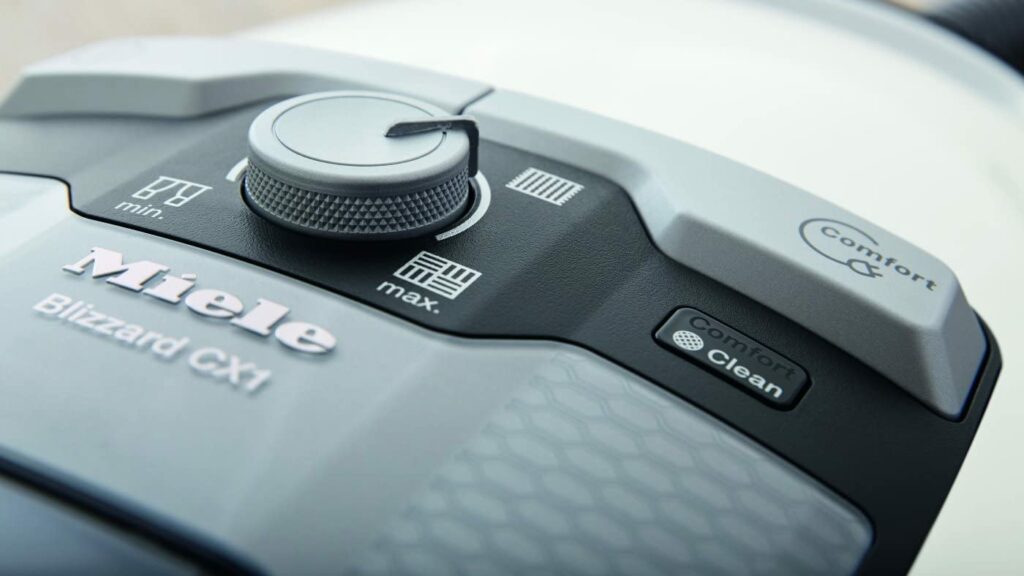 A rotary dial sets the suction power to your preferences, allowing you to clean intricate rugs and drapes with less power. By pressing on a switch on the back of the canister, you can quickly rewind the retractable cord. The vacuum can be easily carried up and down the stairs thanks to the carrying handle. The crush-proof hose provides durability, and the stainless steel telescoping wands are designed for long-term use.
Vortex Technology
The airflow of Miele's Blizzard CX1 reaches 100 km/h, ensuring that the equipment is capable of sucking up even the tiniest particles of fine dust and smaller substances. The vacuum cleaner's efficient floorhead, in combination with optimal airways and a powerful motor, results in an extremely high air throughput.
Integrated Tools
For added convenience, Miele's Blizzard CX1 comes with integrated tools such as an upholstery nozzle, crevice nozzle, and dusting brush.
Miele Blizzard CX1 Cat & Dog Accessories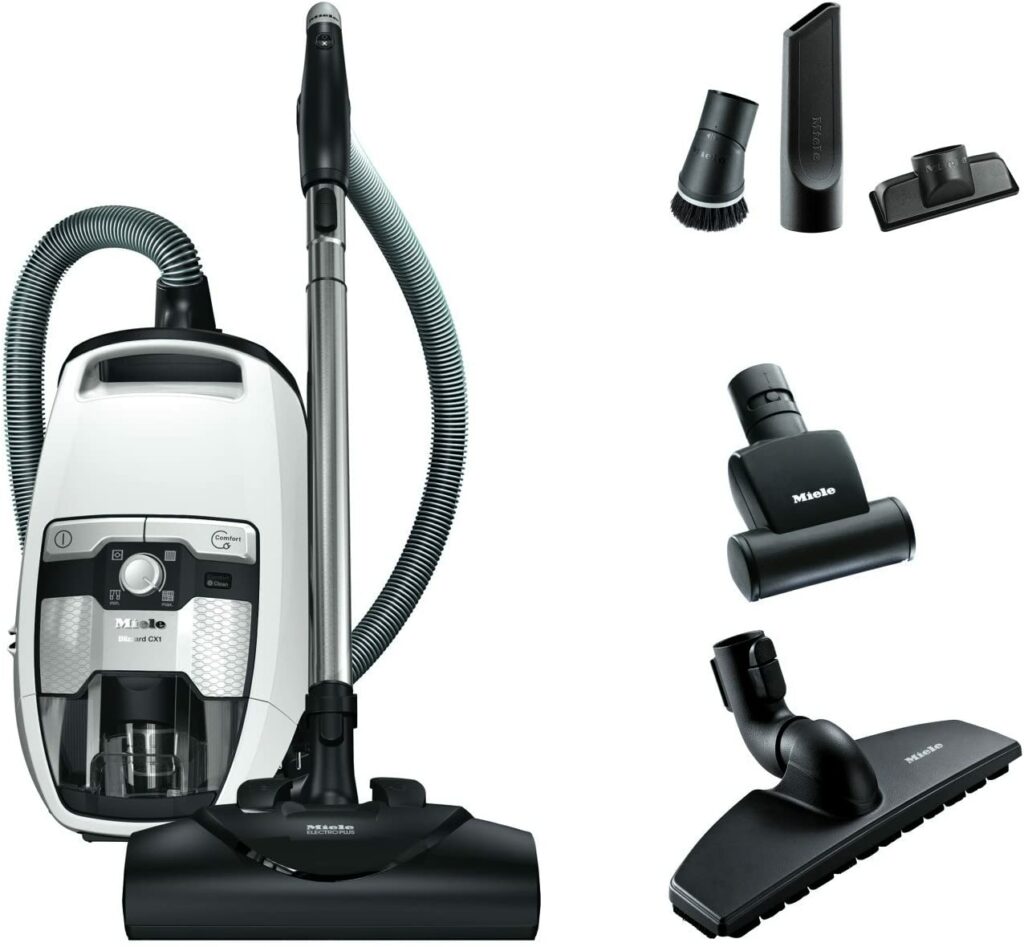 There are plenty of equipment and accessories included with the CX1 Cat & Dog. It brings the Cat & Dog floorhead to the Excellence model's toolset, leaving only the flagship Comfort model's giant Parquet head and electronic control handle out.
All of those tools, as well as the versatile hose and steel telescopic tubes, are well-made and long-lasting. The tubes, in particular, are sturdy, if not light, and stretch easily thanks to a wide collar that releases the clip mechanism.
ECOTEQ Floorhead
For overall cleaning tasks on hard floors and carpets, Miele's excellent EcoTeq floorhead is provided.
The curved handle on the CX1 allows the hose to exit beneath the handle and rotate. Both of these features are intended to alleviate wrist pressure. It comes with a large dusting brush that you can take off. It's a nice idea, but since the brush is integrated into the handle, it can't be used with the tubing for lengthy dusting.
You can do this with either the crevice tool or the compact upholstery brush, all of which are located on the cleaner's back end.
Product Specifications: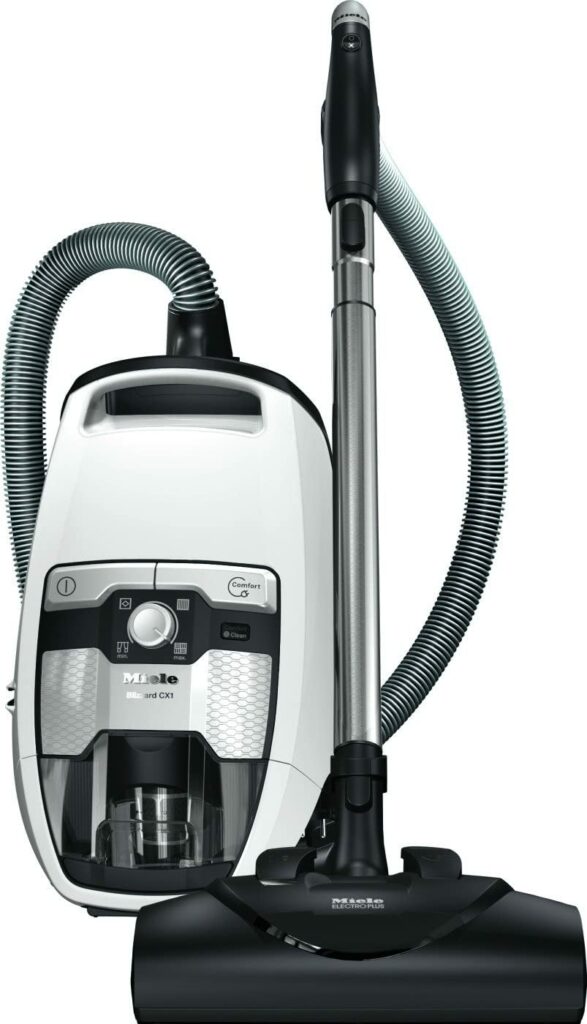 Vacuum Type: Canister with Power Nozzle
Amperage: 12-Amp
Suction Motor: Miele Vortex Motor (1200 Watts)
Revolving Brush: 12.5 inches wide with 2 rows of stiff bristles
Brush: Electric Motor in Power Nozzle
Bag Type: Bagless System
Overall System: HEPA 13 Filter Completely Sealed System
Hose: Wire Reinforced Electric Hose
Wand: Stainless Steel Direct Connect Telescopic Wand
Carpet Nozzle: Electro Plus Powerbrush
Bare Floor Nozzle.: Miele Parquet Floor Brush
Upholstery Tool: SEBO Hand Turbine Nozzle and Upholstery Tool
Dusting Brush: Miele SSP 10 Round Dusting Brush
Crevice Tool: Miele 6″ Crevice Tool
Storage Type: Crevice & Upholstery Nozzle on Vacuum
Vacuum Weight: 14.6 lbs.
Case Material: ABS Plastics
Cord Winder: Yes
Cord: 23′ Long 17/2
Power Control: Dial on Vacuum
Power Levels: Variable with 4 Click Stops
Wheels: 4 360° Swivel Wheels
What We Like About Miele Blizzard CX1
Advanced 900 W Motor: The package includes an innovative and efficient 900 W motor with fan blades that are specifically designed to reliably generate a strong airflow.
Long Operating Radius: Miele's Blizzard CX1 has a 10-meter operating radius, allowing you to travel from floor to floor without losing suction or strength.
Remarkable Floorhead: The product's floorhead is built specifically to be airtight, ensuring that dust does not remain in vacuumed areas.
High Air Flow and Velocity: The vacuum cleaner features Vortex technology, which generates airflow at over 100 km/h within the device.
Every part has been engineered to ensure that you get the best possible airflow and maximum air throughput.
Ideal for Pet-Friendly Homes: The appliance includes a TurboTeQ brush for removing all of the hair and fluff that comes with owning a cat. The HEPA Lifetime filter is designed to provide excellent cleaning results over time.
What We Didn't Like About Miele Blizzard CX1
A bit bulky: The vacuum cleaner seems to be a little bulky, which makes it difficult to store if you are short of space.
The product comes with an instruction manual that is somehow difficult to understand and navigate since it lists many different models. A separate instruction manual is included with the turbo brush.
Hose Reach: While the hose is shown to be 3.5 meters long, it can only realistically reach a distance of around 1.7 meters when used on the ground.
Tips To Maintain The Vacuum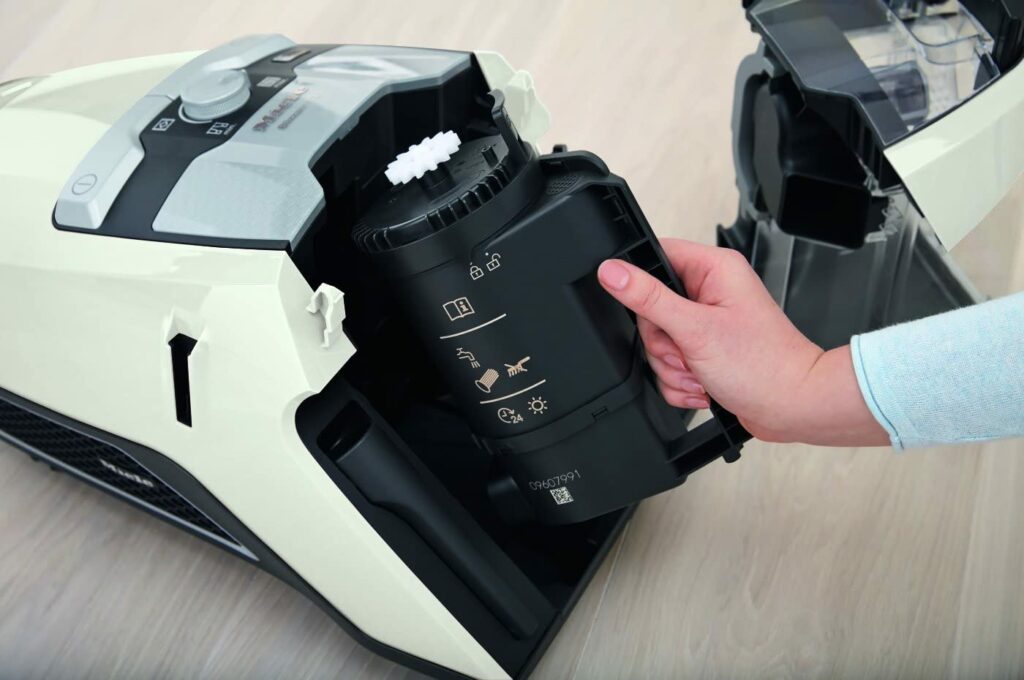 There are tips that can be employed for maintaining the Miele canister vacuum, as it turns out that Miele provides top-notch vacuums, the following list explains the methods used:
Turn the vacuum on and push the maximum button setting
You would lift the floor brush at the base of the vacuum, then if the marker indicates that the dust particles from the air are full, the dust bag has to be changed
Examine the ventilator indicator
This one is you basically attaching a floor brush for your vacuum cleaner which is normally tested. The function supplements the airflow indicator
Replace the exhaust filters as needed.
There are usually active HEPA exhaust filters, which are in contrast to the usual mid-air clean filtration and filtration fare need to it around you, just like the model.
Replace the Air Clean filtration
Avoid using several filters at the same time. Then, if the dust lid opens, open the filtration frame before the keys start to click, replace the used/dirty filtration with the clean dust lid, and close the filtration frame. You'll need to insert a new one after going through this phase.
Remove and replace the exhaust filter.
Remove the dust cover. Remove the old exhaust filter and replace it with a new one. The dust lid should then be closed.
Final Verdict
The Blizzard CX1 Cat & Dog PowerLine is obviously the most practical, flexible, and best-performing model in Miele's bagless cleaner range, thanks to the addition of Miele's pet-centric rotating brush bar Cat & Dog floorhead to the already outstanding tool lineup.
If you suffer from allergies and want to make a long-term investment, the Miele Blizzard CX1 Cat Dog Bagless Canister Vacuum is a perfect option that will pay for itself over time.