Everyone loves clean and soft carpets, but, it takes daily maintenance to keep them clean, particularly if you have pets and small kids. The mere idea of trying to pull and drive a powerful vacuum cleaner is often tiring. It's time to consider a self-propelled vacuum cleaner, like the Oreck Elevate Conquer, for this purpose.
Self-propelled vacuums, provide the finest suction and many functions and gadgets, are like any other cleaner. As these are much easy to use, the distinction is in maneuverability. Self-propelled vacuums can make everyday life even simpler. They will save users from a lot of stress and frustration.
What is a Self-Propelled Vacuum and How Does it Work?
As compared to a traditional vacuum cleaner, the easiest way to explain what a self-propelled vacuum is to discover what makes it different.
Most of the standard vacuums have weels, which means you have to drag them over the ground to drive them. And while this isn't always a concern, especially if the vacuum is strong, it's also tiring.
A self-propelled vacuum cleaner has a small motor system and a control system that automatically spins the wheels. You're definitely going to have to press it, so it's going to be much smoother in the whole process. In other words, to move a self-propelled vacuum cleaner, you don't have to use too much energy.
Even if it is on a heavier side, the whole system makes it much easier to control the vacuum. For people who vacuum regularly or are susceptible to back problems, this is particularly appropriate. This is a particularly important option for adults and persons with physical disabilities.
About Oreck Elevate Conquer Vacuum Cleaner

The Elevate ConquerTM from Oreck is designed for full maneuverability without compromising the strength needed for whole household cleaning. 
It is very light, but you really should think of it as a full-sized upright vacuum that can clean different types of surfaces, including tiles, wood flooring, linoleum, and carpeting, of course.
It is not filled with accessories but rather is designed with the necessities to give you what you need, either at or above floor level, for just about every surface.
Lightweight and Compact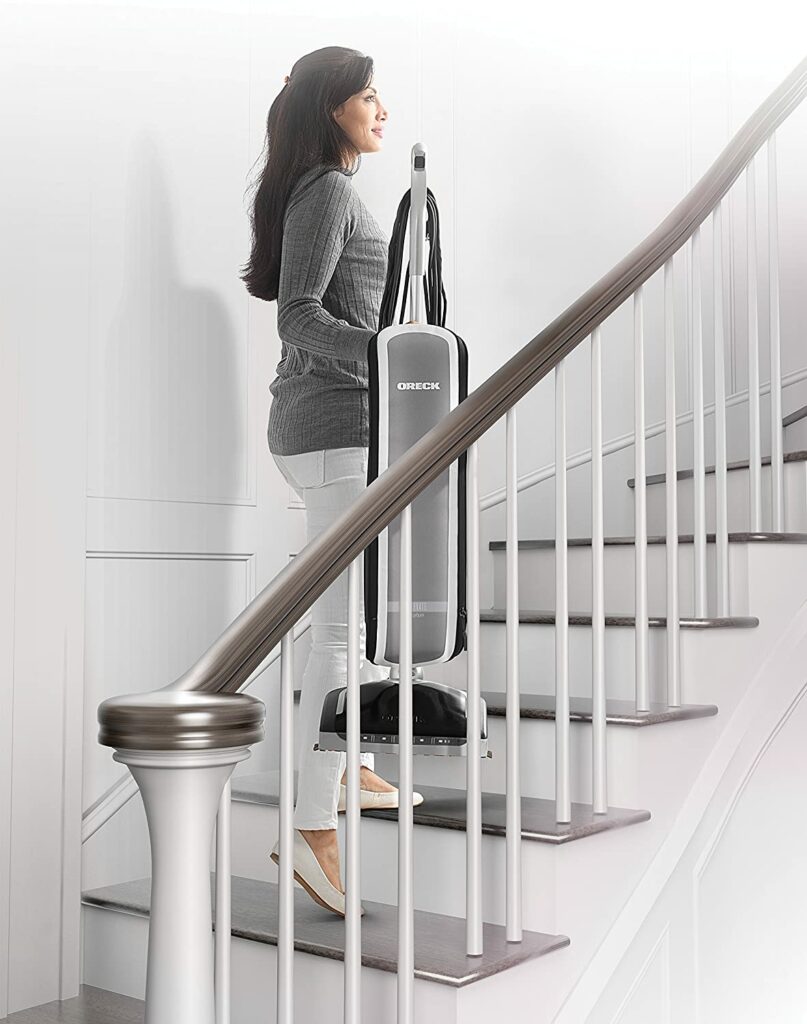 The best selling feature of The Elevate is its compact weight. The whole package is just 11 pounds, and you can lift it up and downstairs and from space to space and never break a sweat due to a comfortable handle on the back.
At the flick of the wrist, the Elevate swivels and bends around barriers on the ground and brings the entire vacuum along while it is engaged. To help you see and remove dirt on the dark floor and under beds, the front of the Elevate also has LED lights.
SlimSwivel™ Technology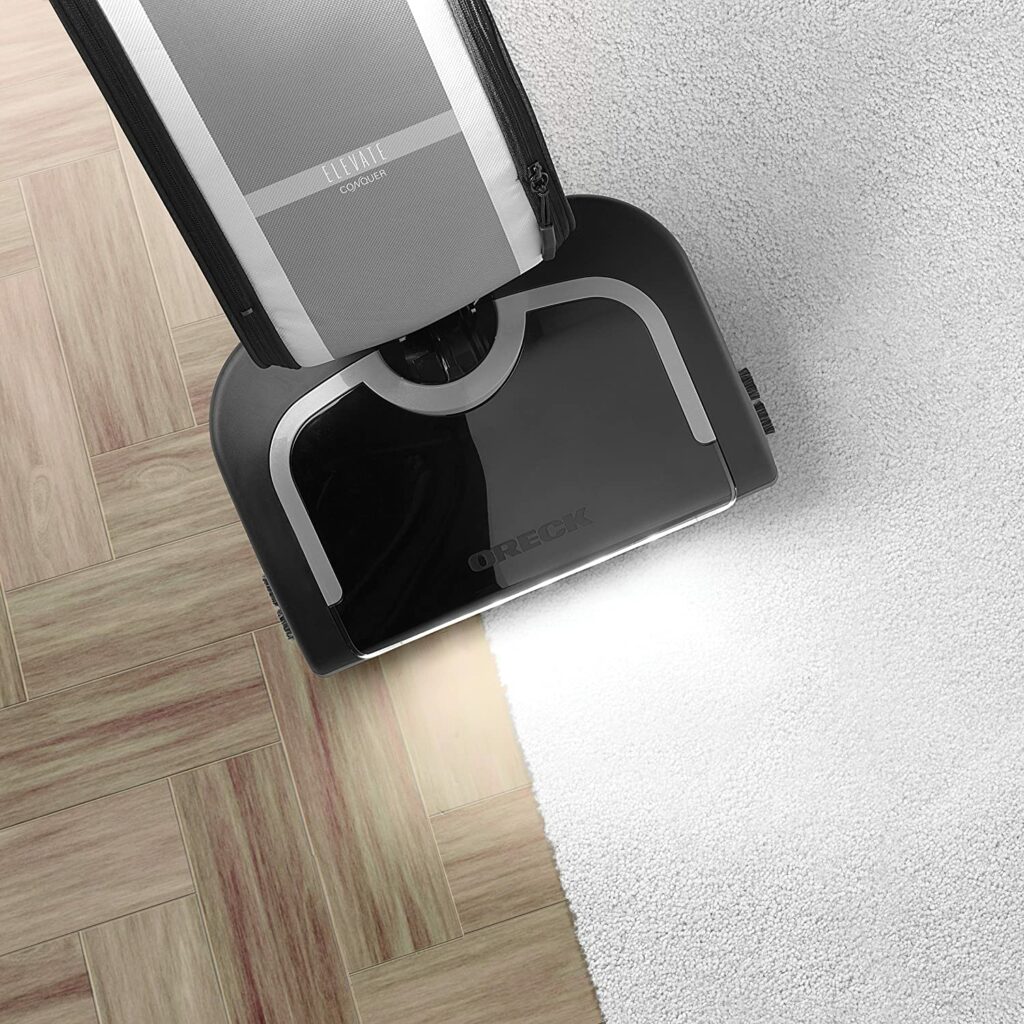 The first thing you'll recognize about the Conquer is what they call the SlimSwivel™ steering this is what makes the vacuum easier to move around your home. With larger upright vacuums, one of their biggest problems is that they can be hard to steer around furniture.
As you continually back it up and turn the wheels, which are usually fixed in a straight position, it is heavy and bulky. It doesn't lend itself well to simple steering when you combine that with a rigid neck.
Oreck makes an improvement by putting a pivot point in the neck that allows you to turn and pivot much easier around larger items. Through this, you can actually save time and effort by making fewer passes in each room.
Can Reach Under Your Furniture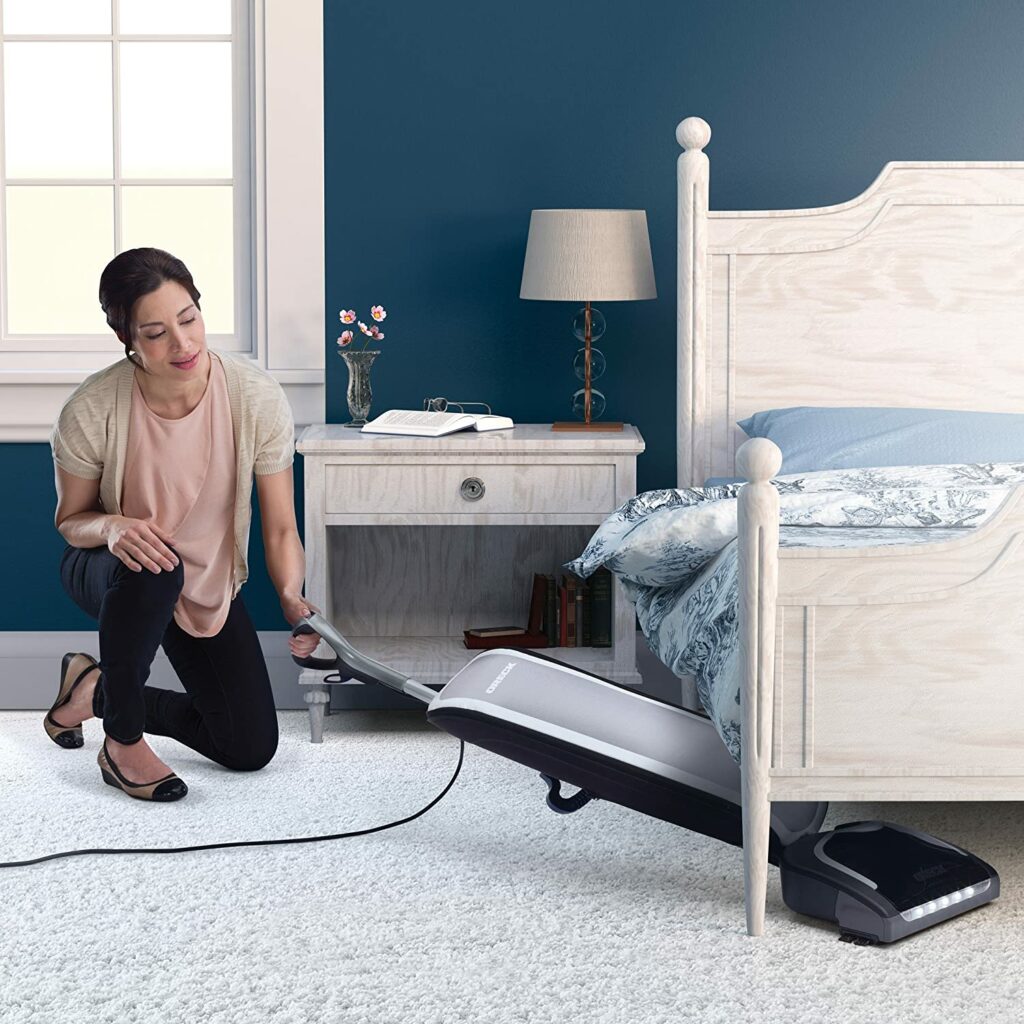 When still running at full suction capacity, this vacuum can still fold down almost entirely flat to the surface, enabling you to clean under many objects that were once off-limits in your house.
You can now vacuum underneath desks, chairs, and certain dressers without leaning over with difficult accessories that lack rotating brush rolls. And you'll see exactly what you're cleaning when you're using it this way since it comes with very bright front LED headlights.
You'll probably wonder why they don't come with all the vacuums while you are using them. This feature really sounds reasonable.
HEPA Filtration System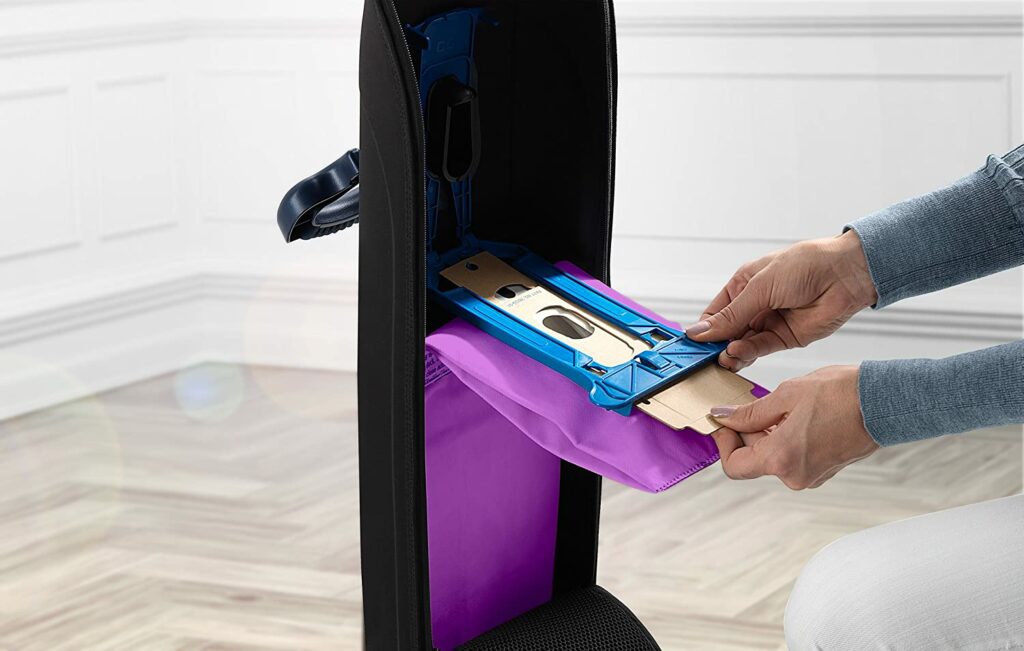 The Conquer is the only self-propelled upright vacuum cleaner with complete HEPA filtration in the Elevate series. To ensure that almost no soil or dust particles can get in, their Superior method comes with 5 separate layers of filtration. The layers are actually what makes this device so powerful as they are built at different levels to catch the various-sized debris. When removed, the SaniSeal™ bag closes completely so that nothing escapes at the time that you empty the unit. This is typically when much of the dust escape, particularly in bagless vacuums.
In terms of filtration, bagged versions such as the Oreck nearly always outperform them, and their large-sized bags typically only need to be replaced every few months.
The Conquest is also measured at 0.3-micron size to filter out at least 99.97 percent of allergens such as dust mites, pet hair, and pollen that can easily cause asthma or allergies.
Dirt Pickup
The Elevate performs pretty well for its size in terms of dirt pickup. In a single pass, it had about 38 percent of the dirt on a standard carpet. For most persons, two or three passes over a single spot are common, so this Oreck passes muster. When we moved to deep-pile carpet, the percentages fell, around 14 percent per pass, but given that this vacuum is half the size of other uprights, it still amazed us.
Any dirt picked up by the Elevate will certainly be caught. nThe charcoal-lined bag with five layers of HEPA-styled filtration is so efficient that not even the nastiest odors can escape.
Other Great Features
The fingertip controls allow you to change the speed to match the floor that you vacuum. Turn up the power for high pile carpets and way back down for hardwood.
The ultra-light 10-pound weight helps you to hold it in one hand up and downstairs. This is almost half the weight of traditional full-size upright vacuum cleaners.
To help catch debris, the unique side edge brushes stick out from both sides, leading to fewer passes in each room.
A free service tune-up package helps you to take the Elevate for a 9 point test and check-up into any certified Oreck store, allowing you to keep it going for a few more years as good as new.
The extra-large filtration bags can store almost 4 times as much dust and dirt compared to a standard bagless storage cup. Also, when you empty them, you won't see any dust floating about, because they seal up tightly upon removal.
Oreck Elevate Conquer Vacuum Pros:
Anyone who has mobility issues will find this vacuum a lifesaver.
The brush actually pulls the unit along while the motor is active, making it easy to clean the carpets with only one hand.
The five LED headlights can light dark corners and under furniture. The Oreck Elevate Conquer comes with a limited warranty of 1 year which is made to last.
For cleaner air, the vacuum uses plastic HEPA bags while you vacuum.
In the package, what goes in the bag remains. The bag-docking method of Saniseal makes changing the bag simple.
The brush roll will be immediately shut down by a Magnetic Jam Sensor if a jam is detected.
The lightweight style makes it easy to hold and easy to drive up and down the stairs.
The comfort-fit handles have received the Approval Seal of the Arthritis Foundation.
Oreck Elevate Conquer Vacuum Cons
One thing to remember about the Elevate is that there are no attachments included. The reason behind it is that the majority of individuals who vacuum only use their devices 1 to 2 times a month on a daily basis, and these gadgets are normally not effective at cleaning.
Oreck created a separate handheld cleaner called the Ultimate that can be purchased alongside the Conquer (or at a later time). Plus, onboard tools will bring quite a bit of weight to the vacuum device, and without compromising power, they decided to keep it as low as possible.
Product Specifications:

Speed Settings: 2-speed
Slim Swivel: Yes
Floor Type: Carpet & Hard Floors, Surface Area Carpet, Hard Flooring Surfaces
Weight Less than 10 lbs.*
Headlights: 5 Bright LED Headlights
Low-Profile Design: Yes
Self-Propelled: Yes
Cleaning Path: 13 inches
Filtration Type: SaniSeal® SUPERIOR HEPA Media Filtration
Cord Length: 35 ft.
Tuneups: 7
Warranty: 7-year Limited warranty
Maintenance
Changing /Adjusting the Brush Roll
The brush roll is placed in the "NEW" position comes with your Oreck unit. It can be modified for longer life as the brush roll wears.
To reach the powerhead nozzle, lay the device flat. Take the screws from the powerhead to remove the baseplate.
Inside the control head nozzle, detach the brush roll and its belt from the holding channels.
Rotate both plastic black endcaps at the ends of the brush roll when worn, to reveal a single "OLD" notch position. Place the control head nozzle back into its holding channels.
Changing the Filters
Fully unzip the Filtration Bag Case.
To separate the bag dock from the port, pull the cardboard collar downwards on the filtration tank.
To activate the SaniSeal® lock, carefully pull up the cardboard collar on the filtration bag and separate it from the bag dock.
Slip right a new filtration bag collar securely into the bag dock and ensure that the cardboard collar is placed into both hooks on the dock door.
Rotate the bag dock and press tightly at the specified points on the filtration bag until it clicks into place.
Completely zip up the filtration bag case.
The Final Verdict
All in all, the Oreck Elevate Conquer is among their top-of-the-line upright vacuums with plenty of capacity to deep clean every carpet. It is very lightweight and can be easy to maneuver, and if anything breaks on it, it comes with a 7-year warranty.
You'll have everything you need to clean all the areas in your home as you pair it with their Ultimate Handheld. And their overall price is compatible with equivalent uprights from the other top manufacturers.