If you've ever vacuumed, you understand how inconvenient it is to drag the canister behind you. It can scuff and scratch furniture and walls, leaving unsightly traces. It can also be a tripping hazard on your floors or, even worse, on the stairs. This is why a backpack vacuum like the Pro Team Super Coach Pro 10 backpack vacuum is so useful.
It helps you to carry the canister on your back instead of stumbling over it or risking a back injury by awkwardly picking it up and carrying it around the building. A vacuum backpack allocates the weight of the canister and the debris it contains uniformly throughout the entire body, freeing up both hands to operate the vacuum hose and attachment head.
Why You Should Choose Backpack Vacuums for Your Business
Keeping a business clean is one of the most critical aspects of running a successful business. Have you ever walked into a dirty store, restaurant, or hotel and said to yourself, "I want to keep doing business with this place." No, you most likely haven't. Your business's sanitation is a direct reflection of how much you care about it.
Are you considering purchasing a new commercial vacuum cleaner? Here's why you should choose a backpack vacuum cleaner over a standard floor model.
More Convenient than Traditional Upright Vacuums
What is the most inconvenient aspect of using an upright vacuum? We're constantly attempting to maneuver it in the appropriate manner while avoiding tripping over the power cord. A backpack vacuum cleaner, on the other hand, allows you to carry the lightweight machine on your back, giving you more freedom of movement and allowing the cord to dangle behind you, out of the way.
Cleaners that use backpack vacuums are actually more effective when cleaning because of their increased mobility. The fact that the hose can be lifted quickly from the ground also helps the user to use it for dusting. With a traditional upright vacuum, you can clean about 2,875 square feet of floor in an hour.
However, with a backpack vacuum, the amount nearly triples to 7,407 square feet. That's a significant increase in quality.
Saves You Money
One of the most obvious ways a backpack vacuum saves you money as a company owner is by eliminating the labor costs associated with using an unreliable upright vacuum. If it takes nearly three times as long for your employees to clean the same place, using a backpack vacuum can save you money in the long run.
If you are struggling to choose the best commercial backpack vacuums in the market, today we will be reviewing the ProTeam Super Coach Pro 10 Backpack Vacuum.
About ProTeam Backpack Vacuums
Backpack vacuum cleaners are typically thought of as more advanced cleaning equipment for industrial environments, but they are certainly not out of the question for use at home. We recommend the ProTeam SuperCoach Vac to you if you're looking for a good backpack vacuum? Any vacuuming job will be a breeze with this ultra-versatile cleaning unit.
Noise Output of 66 dBa
You'll have to search elsewhere if you're searching for a quiet backpack vacuum cleaner. When the motor is working, the ProTeam produces a steady 66-dBa of noise, which isn't very noisy by vacuum cleaner standards. Wearing earphones and listening to music while working will help to block out the irritating buzz.
Harness with a Comfortable Fit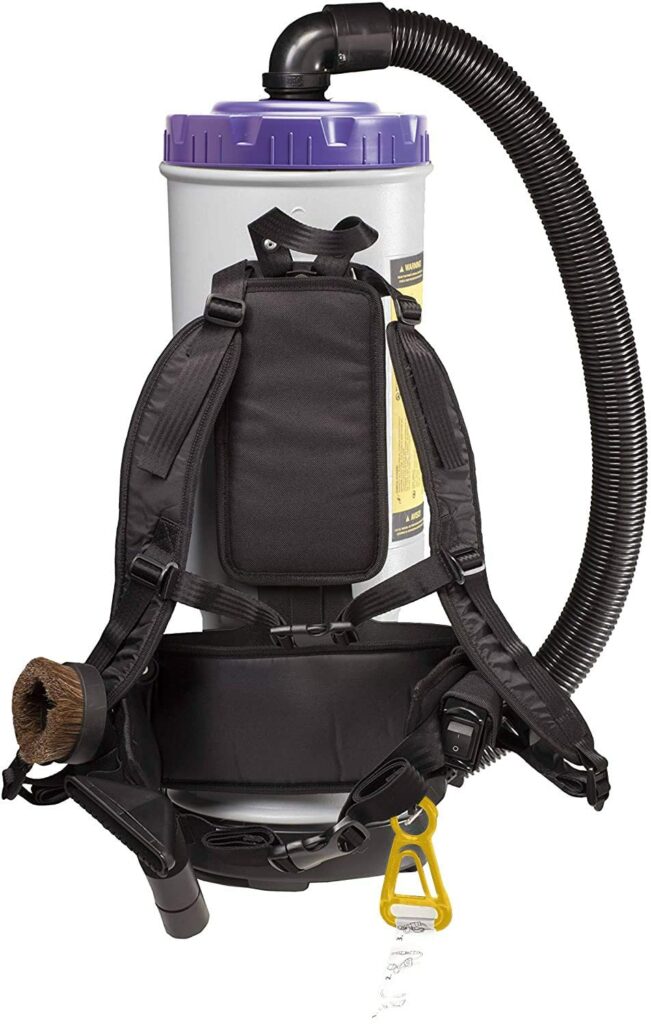 Backpack vacuums are infamous for being inconvenient to use due to two factors: the harnesses and the exhaust outlet. ProTeam, on the other hand, has built this backpack with full comfort in mind.
The harness has thick padding that won't dig into your shoulders, and the back layer is built with an open-weave fabric that will help you stay cool after a long vacuuming session.
The hip strap, or rather what you can do with it, is even cooler about the belt. The hip belt not only keeps the unit upright on your back, but it also has many loops to carry the unit's numerous cleaning tools (more on this in a later section). Anything you'll need to clean your floors and ceilings is still within arm's reach.
4-Stage Filtration Using HEPA Media
Vacuum cleaners are just as strong as their filters, and ProTeam's multi-level filtration system makes it an extremely dependable tool. You won't have to worry about leaks or dust pouring out of the exhaust and falling back on your floors thanks to four HEPA media filters that prevent debris as small as 0.3 microns from going through. We had not even mentioned how fantastic the filter bags are!
Bags with Micro-Filters
All suctioned debris is stored in disposable 10-quart micro-filter bags by the ProTeam.This bagged system simplifies cleaning and reduces spillage, but it does necessitate the purchasing of additional bags over time.
Power Cord (50 Feet)
An ultra-long power cord comes with an ultra-convenient vacuum cleaner. The ProTeam's cord is 50 feet long, which is about twice as long as a "long-corded" upright vacuum.
The ultra-length power cord will allow you to clean large areas and even several rooms with fewer interruptions, whether you're wearing this backpack in commercial warehouses or at home. In other words, you'll spend less time cleaning a large radius around each wall outlet.
Cleaning Tool Kit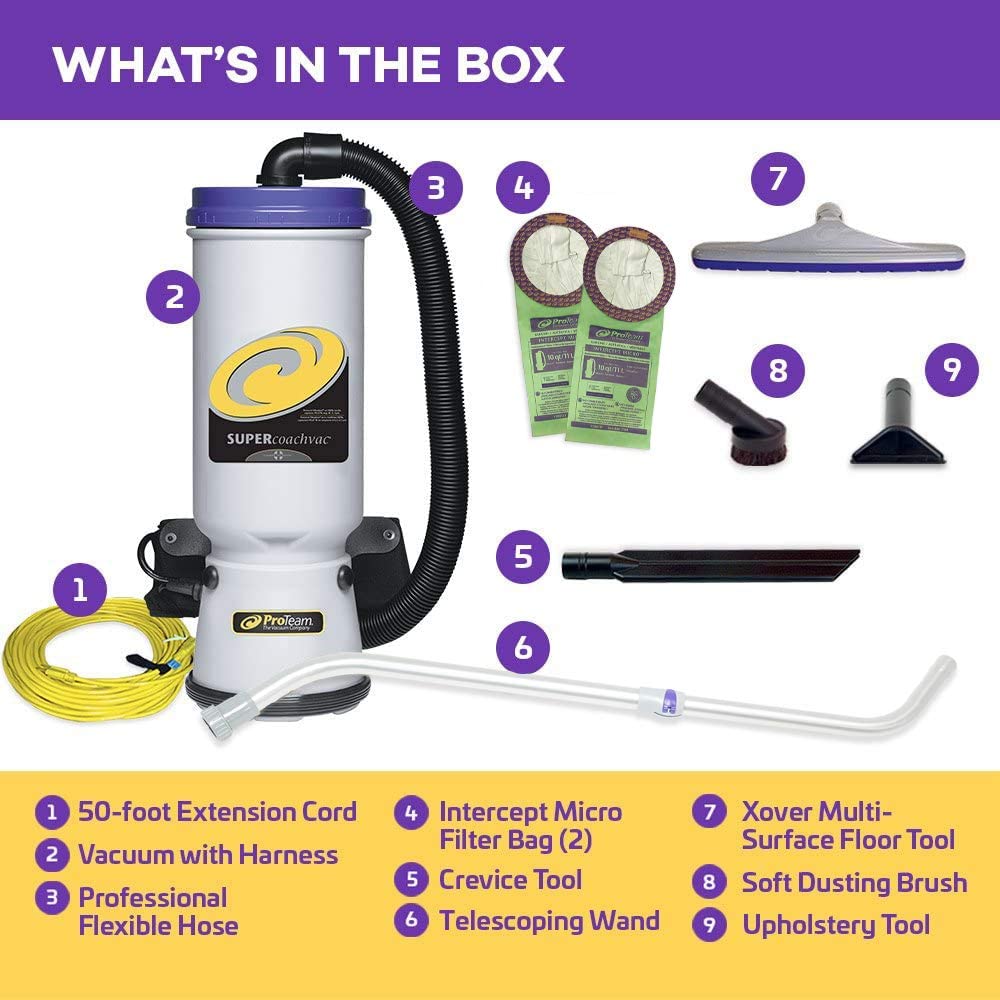 Let's take a moment to appreciate the fantastic cleaning tools that come with the ProTeam. The vacuum's main floor-cleaning weapon is the 14-inch Xover Floor Tool, a brush roll-free vacuum head that takes advantage of the powerful motor's 150-CFM airflow.
It won't even be able to deep-clean shaggy carpets without using brushes, but it does very well at scooping up surface dust and dirt from low- and medium-pile carpets, not to mention sealed hard floors.
A 5-inch upholstery tool, a 17-inch crevice tool, a 3-inch dust brush, a 48-inch rigid suction hose, a telescoping wand, and two microfiber dust collection bags round out the cleaning tools.
Cleaning Kit Includes:
Super CoachVac HEPA Vacuum and hose
14 inches Xover floor tool
42 to 59 inches aluminum telescoping wand
17 inches crevice tool
3 inches dust brush with reducer
5 inches upholstery tool
2 micro filter bags
50 feet extension cord
Literature kit
9.9-amp Motor
This backpack vacuum cleaner from ProTeam has a lot of power under the hood. It has a powerful 9.9-amp motor that can push 150 CFM of air. Despite the fact that this isn't hurricane-force suction, it's quite enough to clear debris from flat floors, grout lines, and even medium-pile carpets.
Product Specifications: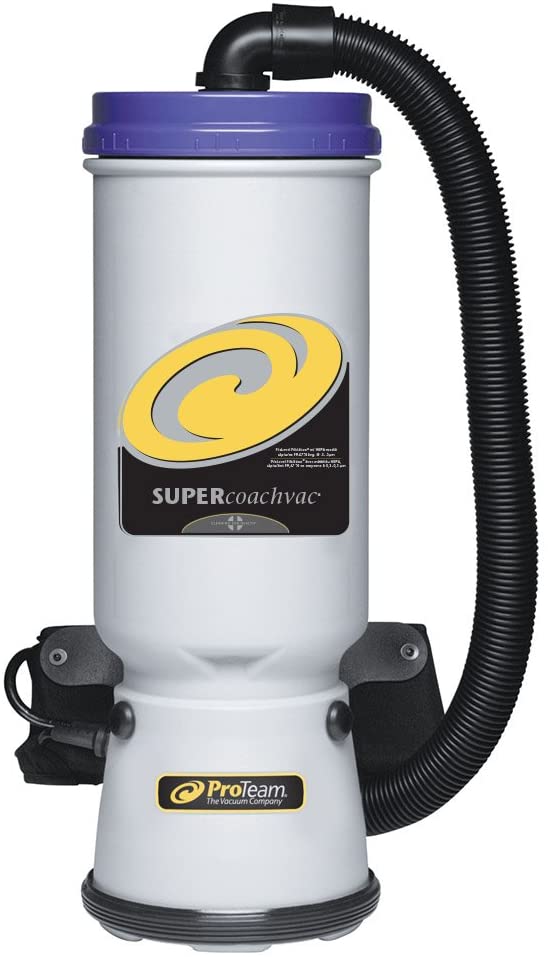 Product Weight: 11 lbs
Static Lift: in100
Motor: 1188 W
Capacity: 10 qt.
Hose Length: 48 inches
Item Dimensions: 8.5″x8.5″x25″
Cord Length: 50 Feet
Amps: 9.9 Amps
Voltage: 120 Volts
Wattage: 1,188 Watts
Airflow Rating: 150 CFM
Features: HEPA Filtration
Noise Level: 66 dB
Power Type: Corded
Static Lift: 100 Inches
Style: Bagged
Type: Backpack Vacuums
What We Like About ProTeam Super Coach Pro 10 Backpack Vacuum
Super CoachVac Backpack Vacuum by ProTeam – 10-quart size, 12-pound weight, convenient carry, easy-to-use equipment, and adjustable straps so you can save time.
Convenient – Includes a 50-foot extension cord and impressive capacity. That's exactly 1 foot longer than most upright vacuums!
Filtration – HEPA filtration is one of four stages of filtration. It's like getting a squad of allergy assassins by your side.
This vacuum is ergonomically built to disperse weight around the hips for ultimate comfort, plus the motor is protected from overheating by a thermal protector shut-off switch.
What We Don't Like About ProTeam Super Coach Pro 10 Backpack Vacuum
The price is a little high for the residential market, but it's a fraction of what many commercial vacuum cost.
Accessories don't always remain connected to the telescoping wand.
It can be difficult to maneuver in tight spaces.
Backpack Filter Maintenance
Before and after each vacuuming session, empty and inspect the Intercept Micro Filter. If needed, replace it. Filters that are clogged or dirty block airflow, resulting in decreased suction and overheating.
Replace the Intercept Micro Filter by sliding it into the Cloth Filter and vacuuming it.
Hand or machine wash the Cloth Filter once a month, or as required, air dries it. DO NOT PUT THE DRYER WITH IT.
Clean the Dome Filter every week or as needed.
Remove the Intercept Micro Filter and the Cloth Filter first.
Take the top piece of the Dome Filter out of the vacuum body and detach the foam media.
Shake it out, clean it, and air dry it completely.
Replace and securely snap the upper piece of the Dome Filter into place until it has dried.
NOTE: If you're replacing the foam media with a high-filtration disc, check it every two or three weeks. Replace the disc with a new one as it becomes discolored. The Intercept Micro Filter and Cloth Filter's usage and care will determine how long the high filtration disc lasts.
HEPA MODEL: Change pleated dome filter after 6 months for best quality.
Clean the exhaust diffuser once a month (or more frequently if necessary). Rinse, air dry, and replace the foam filter diffuser under the motor at the bottom of the vacuum.
The only way to extend the life of the vacuum is to follow the above directions. The LineVacer HEPA, ULPA, and QuietPro BP Exhaust Filters should not be washed or vacuumed. The filter media will be fractured as a result, and its effectiveness will be significantly reduced. HEPA and ULPA filters can be softly shaken out EXCEPT when hazardous materials have been vacuumed and must remain sealed.
Final Verdict – Rating
The ProTeam Super Coach Pro 10 Backpack Vacuum, as you can see, has it all: a strong motor, plenty of dust storage, many useful cleaning tools, and a 50-foot power cord. The only slight criticism we have is that this backpack vacuum cleaner is a bagged vacuum cleaner, so you'll have to factor in the expense of replacement bags. Apart from that, we believe that this powerhouse of a vacuum will support everyone in both commercial and residential environments.
After this thorough review, we decided to give this product an 8.5/10 rating.