Proscenic P10 Cordless Vacuum Cleaner
The principle of centrifugal separation vacuuming has been known since at least the 1920s, but James Dyson, who presented his first unit in 1979, was responsible for the most recent trend toward this technology, and the bagless vacuum.
They were popular in the 1990s, and other major vacuum manufacturers, like Hoover and Shark, quickly adopted instances of the technology.
What makes a bagless vacuum is a good choice?
Most bagless vacuums offer many of the same features as bagged vacuums, such as motorized brushes, all of the extensions and add-ons, and running lights, but also have a few unique features.
We've looked at the advantages that bagless vacuum cleaners offer over their bagged counterparts below.
Reduces Suction Loss
When you're vacuuming along, really making a dent in the home cleaning, and you realize dirt particles aren't sticking in the vacuum, you get that sinking feeling. As you pass over it, it sucks away a kernel of popcorn, only to spew it out seconds later.
You pull the hose and place your hand against the end, but the delightful slurp and high whine of adequate suction are nowhere to be seen.
Bagless Vacuums Are Environmentally-friendly
Vacuum cleaners without bags are better for the environment. Every bag necessitates the use of resources to manufacture and transport to the store where you will purchase it.
Every bag you use and discard ends up in a landfill. It may seem insignificant, but when attempting to live a greener lifestyle, the simple things add up.
You are not contributing to the use of those resources by using a bagless vacuum, and the only thing you are throwing away is the dust and other material vacuumed up from the floor.
Quick and Easy to Empty
Emptying bagless canisters is also a breeze. It usually requires a release from the vacuum body and a snap of the bottom or top canister lid . Because all the dust can easily turn into a large cloud if caution is not taken, you should do this over an outdoor trashcan and as close to the bottom as feasible.
Proscenic P10 Cordless Vacuum Cleaner Review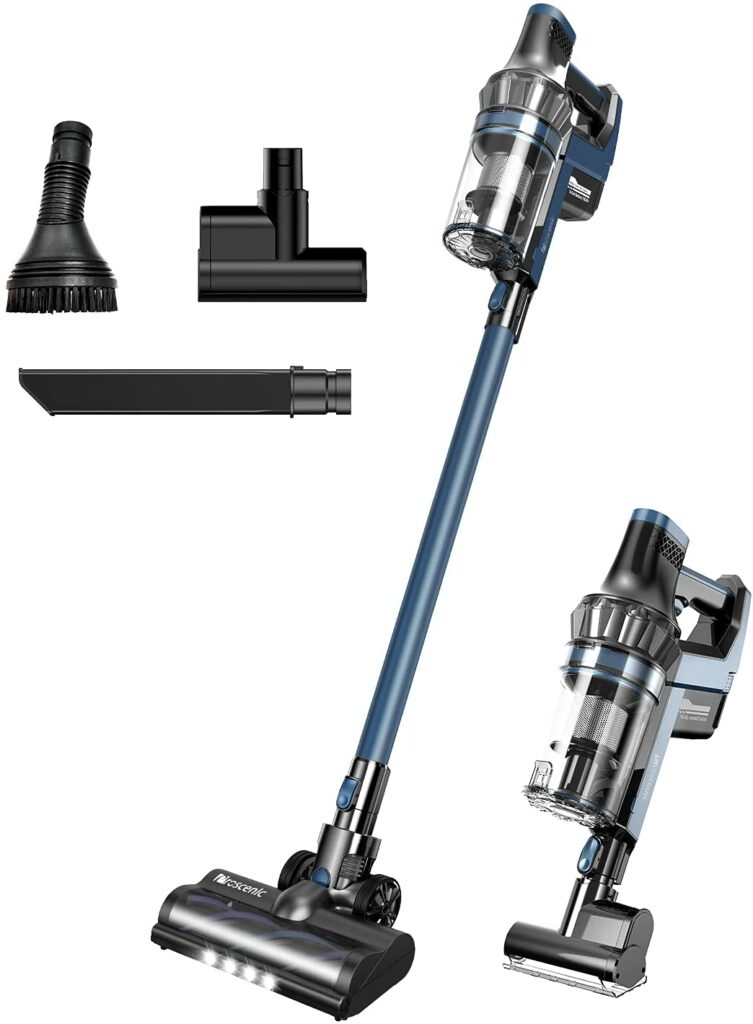 Tired of lugging around the dreaded family upright vacuum, that passes down through generations? Look no further than the Proscenic P10 Pro 4-in-1 Cordless Vacuum for lightweight convenience and versatility at a reasonable price.
Engineered to clean every surface in your home from top to bottom, it's finally time to retire the multi-generation Kirby, which produces more pollutants than it consumes.
In this article, we will see the review of the Proscenic P10 Pro. A cordless, powerful, cost-effective, and all-in-one vacuum cleaner… Will it be free of flaws as well? Let's see what we can find out together!
If you didn't know about Proscenic before, you probably did now thanks to TechGameWorld.com's reviews of the Proscenic S1 car vacuum cleaner and the 850T vacuum/floor cleaning robot. We complete the circle with a "traditional" cordless vacuum cleaner in this new review.
Design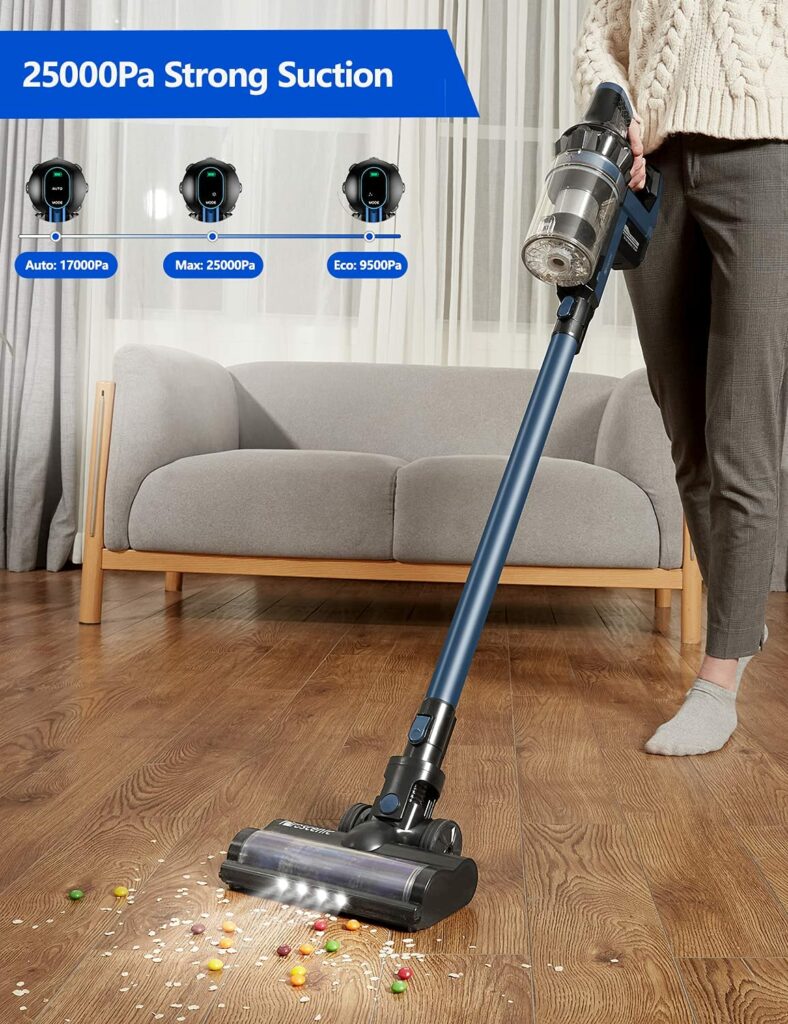 The Proscenic P10 Cordless Vacuum Cleaner is a stylish vacuum cleaner with a compact design. The motor is on the backside, while the dust bin is on the front. It has a pistol grip. The positioning of the rear motor allows for some weight balancing while keeping the front significantly heavier.
The vacuum weighs 4.4 pounds in total, which is approximately average for a device of this size. The pistol grip is 10 inches tall and 8.6 inches broad, including the battery and dust bin. It measures 47 inches in length with the extension tube attached.
This is the perfect size for a portable vacuum. It's long enough to use comfortably while standing, but not too long that it adds too much weight.
LCD Display
An LCD touchscreen display is located on the back of the pistol grip. Although the display is simple, it nevertheless provides a lot of functionality. A battery meter is located at the very top. It features a three-bar design in a lovely green color. There are three trouble code lights beneath it.
These lights are generally turned off, however, they will turn on if there is a jam or other problem. There are four fan speed lights at the bottom. To select a specific fan speed, simply tap the light.
You can vary the pressure from a low of 6,500 Pascals (Pa) to a high of 22,000Pa. When you don't require full power, you can save batteries by adjusting the motor speed.
Battery Life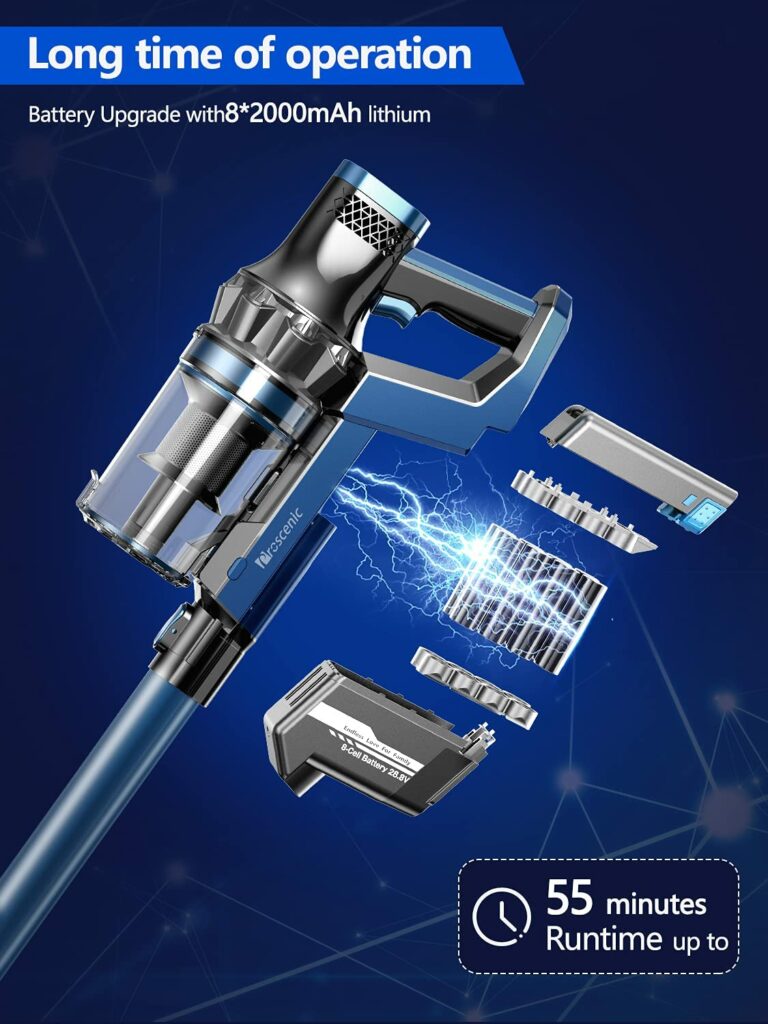 The battery life of most stick vacuums is a simple parameter to calculate. However, due to the P10's variable-speed motor, battery life might vary greatly. You may expect roughly 45 minutes of use when using it on the lowest power setting.
The battery will deplete in around 10 minutes if you use the highest level. You should, of course, run on reduced power settings whenever possible.
This battery life is a little underwhelming. On a stick vacuum, you should expect around an hour of life, give or take. Proscenic does, however, sell a replacement battery. It uses the same charger as the vacuum, making it simple to use two batteries.
Simply replace them as needed to double your battery life.
Filtration System
The filtration system on the P10 is made up of two parts. First, there's the dust bin's own cyclonic action. In this way, it will collect a great majority of airborne particles. The air then passes through an accordion-style filter before returning to your room.
This filter can remove even larger bacteria, which will remove 99 percent of airborne pollutants. It's important to note that this is not a HEPA or medical-grade filter. A True HEPA filter removes 99.97% of pollutants from the air. However, for the vast majority of acceptable uses, 99 percent suffices.
Accessories & Cleaning
The brushless motor in the Proscenic P10 Cordless Vacuum rotates at a maximum of 110,000 RPM. This is extremely fast and provides a significant amount of power. It can deliver 22,000Pa of power at full speed.
To put that in context, the suction of a typical upright vacuum cleaner is around 14,000Pa. If you need to clean up the toughest messes, you've come to the right place. Deep pile carpets are easy to suck up dirt from.
Even large clumps of pet hair won't cause you any problems. Furthermore, because it has fewer wear and tear elements than a regular motor, the brushless motor is extremely dependable.
Build Using Long-Lasting Materials
The motor casing and handle are made of glossy black plastic. The dust bin attachment, the extension tubes, and the back of the motor housing are all-electric blue. The color design is eye-catching, and the outside of the vacuum is simple to clean.
Both sides of the motor have vents that allow for plenty of airflows. The rechargeable battery pack is mounted beneath the trigger housing, right in front of it. This is another good weight placement, with the weight being kept lower to the ground and only slightly forward.
The dust container is shaped like a cylinder and is relatively simple to empty. Simply click the release button to release it, pop it off, and pour it out. It's also translucent, so you can see how much room you have left. A similar push-button release is found on the extension tube.
It can be used for upright vacuuming or reaching hard-to-reach areas as needed. Simply remove the tube if you're cleaning upholstery or using the vacuum as a basic dust buster. The P10's modular design allows it to be used for a wide range of cleaning chores.
The tube is mainly spherical, while the bottom half is rectangular. Internal cables that supply electricity to the brush attachment can now be accommodated.
Proscenic P10 Cordless Vacuum Cleaner Specifications: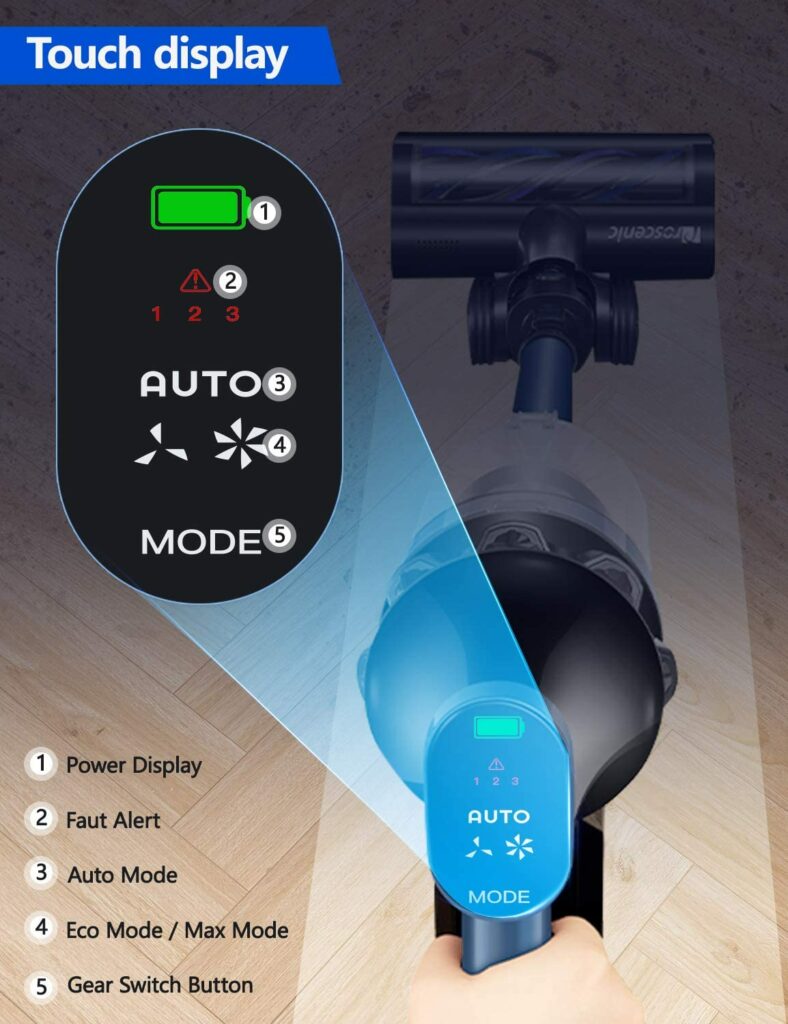 Product Dimensions: 29.21 x 12.01 x 5.98 inches
Item Weight: 8.2 lbs.
Manufacturer: Proscenic
Batteries: 1 Lithium-ion battery
Form Factor: Handheld
Batteries Required?: Yes
Included Components: Battery, HEPA Filter
Suction: Up to 25,000 Pa
Rated Power: 260W
Running Time: Up to 55 mins
Pros:
The suction is really strong.
It's simple to maintain clean.
Multiple batteries can be supported.
Touchscreen LCD that is easy to use.
Cons:
Battery life is limited.
Accessories cannot be attached to the wall mount.
Maintenance
The Proscenic P10 Pro is simple and quick to maintain. Simply use one of the two cleaning systems provided to clean this vacuum cleaner.
You can also open the compartment behind the filter and dump the dust directly into the garbage. In this manner, the dirt won't be able to get back into your lungs.
However, for a more thorough cleaning, we recommend disconnecting the complete tank and disassembling all of the separate components.
The operation will be simple from the start if you follow the directions (which are available on the tank). You'll also find a number of instructions and joints to aid you in the reassembly process, ensuring that you don't make any mistakes.
Furthermore, if something is not in its proper place, the vacuum cleaner will not perform a suction, making the problem obvious.
The P10 Pro's filter is entirely washable with just water. The only concern is to allow enough time for everything to dry completely. One thing to keep in mind is that something could get stuck in the extension tube, so be cautious about what you suck.
Should You Buy the Proscenic P10 Pro?
Finally, we would like to recommend the Proscenic P10 Pro to anyone looking for a cordless vacuum cleaner but have been putting it off owing to high prices. But keep in mind that saving does not always imply earning. Fortunately, with this model, you will be safe.
While not without defects, this vacuum cleaner stays in a more than reasonable price range, with (nearly) nothing to envy from its much more well-known direct competitors.