Rollibot Rollicool Portable Air Conditioner Review
Are you looking for a quick and energy-efficient solution to refresh your room? Do you feel like wasting money on your central air conditioner just to make one room cooler? Are you trying to dehumidify the weather while cooling it down? Do you need your RV, travel trailer, or pop-up camper with an alternate and portable cooling solution?
If you replied yes to all of these questions, then a portable air conditioner might be the answer to all of these.
A portable air conditioner will save the day as the weather continues to warm up. These helpful units help to cool down rooms and living areas in a short amount of time, leaving you and your family with a much more comfortable environment to enjoy.
Plus, you can switch them around and enjoy their cooling powers wherever you choose, because they're fully compact.
Portable Air Conditioner Cools and Dehumidifies at the Same Time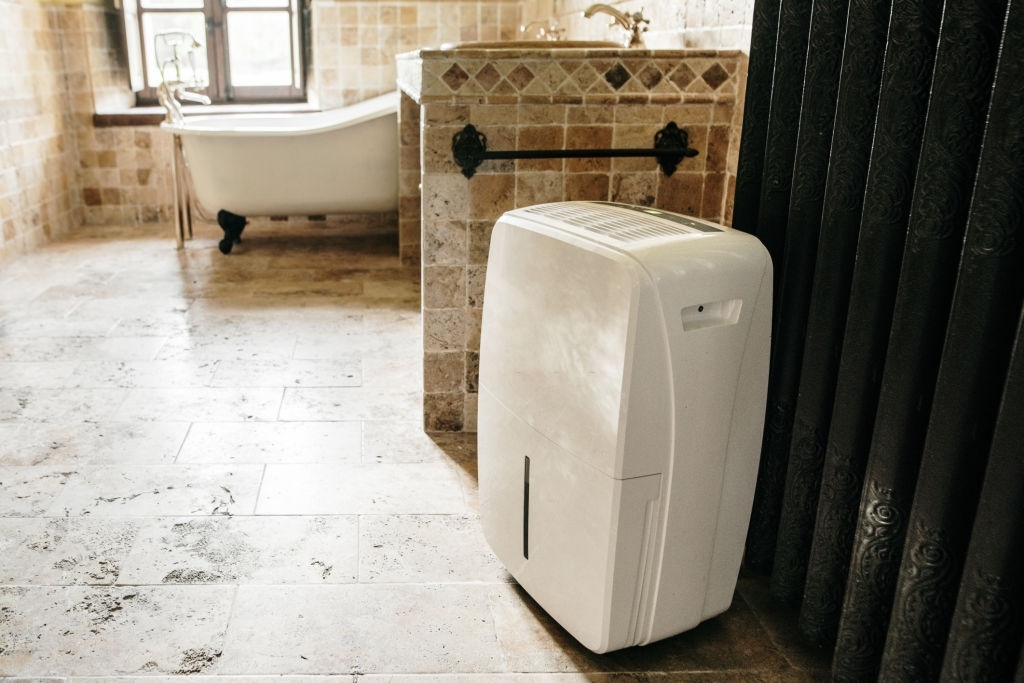 Not only do some portable air conditioners cool the air, but they also dehumidify it, making the room cool as well as dry. It's critical for the relative humidity to stay low if you suffer from allergies.
You may realize that moisture can be almost as oppressive and uncomfortable as heat when you reside in an environment of high humidity. The pair of them create an incredibly awkward living situation. Portable air conditioners are essentially two units in one, concurrently getting rid of both humidity and heat in the air.
Many models have a Dehumidify-Only feature, which can help to eliminate moisture without cooling as well if the humidity happens to last further than the heat.
About RolliBot App-Enabled RolliCool Portable Air Conditioner
Portable air conditioners are gaining popularity more than ever before. If the advantages of owning one are recognized by more and more people, their success can only keep growing.
Remember that a portable air conditioner might be just what you need when considering your cooling options.
If you are looking for an air conditioner that is easy to run, compact, and inexpensive with the new technology, then you are looking at the right one here in the RolliBot Rollicool Portable Air Conditioner. This 2-in-1 air conditioner and dehumidifier is a versatile unit that helps you to enjoy cool nights during the warm summer months and uninterrupted sleep.
Thanks to the humidifier that brings moisture to the atmosphere, you never have to spend another humid day again.
Rollibot Rollicool Features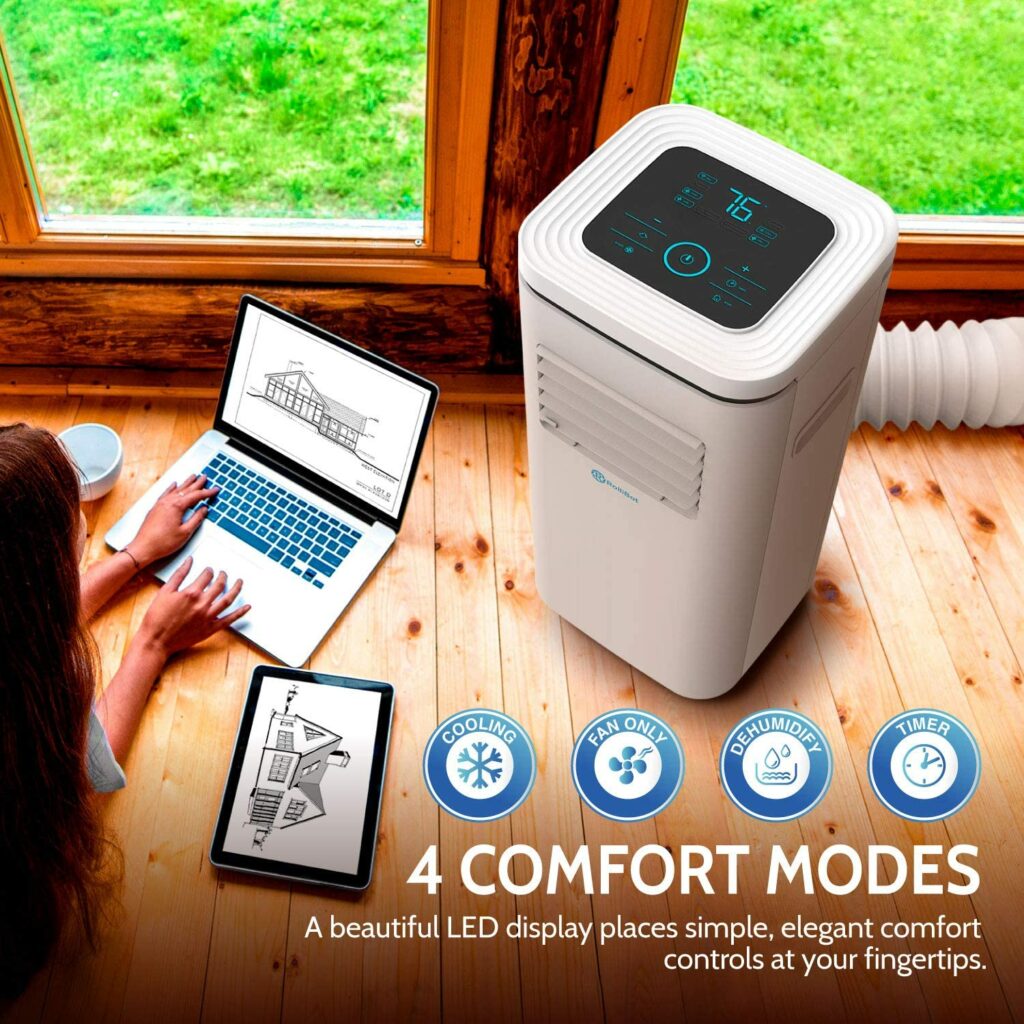 And at 72 pounds, wherever you go, take this compact air conditioner/humidifier with you! For office settings, bedrooms, living quarters, and dining rooms, this compact air conditioner is great. Yes, that's the simplicity of this machine.
Washable Filter
Many air conditioners today do not come fitted with dust filters that are reusable and washable. But not this Rollibot Portable Air Conditioner, however. It came equipped with a dust filter which is reusable and quickly washable. You never have to think about using a dust bag or re-circulating dust in the air that induces allergies.
If you live in an environment that's dusty or windy or have pets that shed feathers, this is also extremely important.
The RolliBot is great in that it helps you to clean the model quickly without going through enough trouble. All you have to do is just remove the filter from the mud, clean it with some warm water with soap and give it a nice dry pat, or just let it air dry, and it will look fresh and new.
It also keeps costs down so you don't need to order new filters.
Easy Installation
Because of how basic the system is, installing and assembling this Portable Air Conditioner does not provide you with any issues.
Only plugging the exhaust pipe into the attachment socket is all it takes, and that's it! You can switch to the settings you want and lay back, relax, and enjoy your new humidifier/air conditioner.
Also, the user manual that comes with this model is easy to understand and read and it's not full of technical terms that go over the head. You can find where to call to get more information and assistance if you run into any difficulties during the installation.
Before you order, make sure to ask for a guarantee and check to see what is included in the warranty when you buy this unit.
Carbon Air Filter
Given the way cities are full of air contaminants and pollution these days, it is an excellent way to clean out a lot of dirt and debris that can collect in the air by using a Portable Air Conditioner at home.
In the RolliBot, the carbon air filter ensures that any harmful emissions in your household are removed from the air, leaving you with nothing but fresh, clean, non-toxic air.
For people who suffer from lung problems such as asthma, allergies, or are
vulnerable to dust attacks, this unit is particularly important.
Modern App Control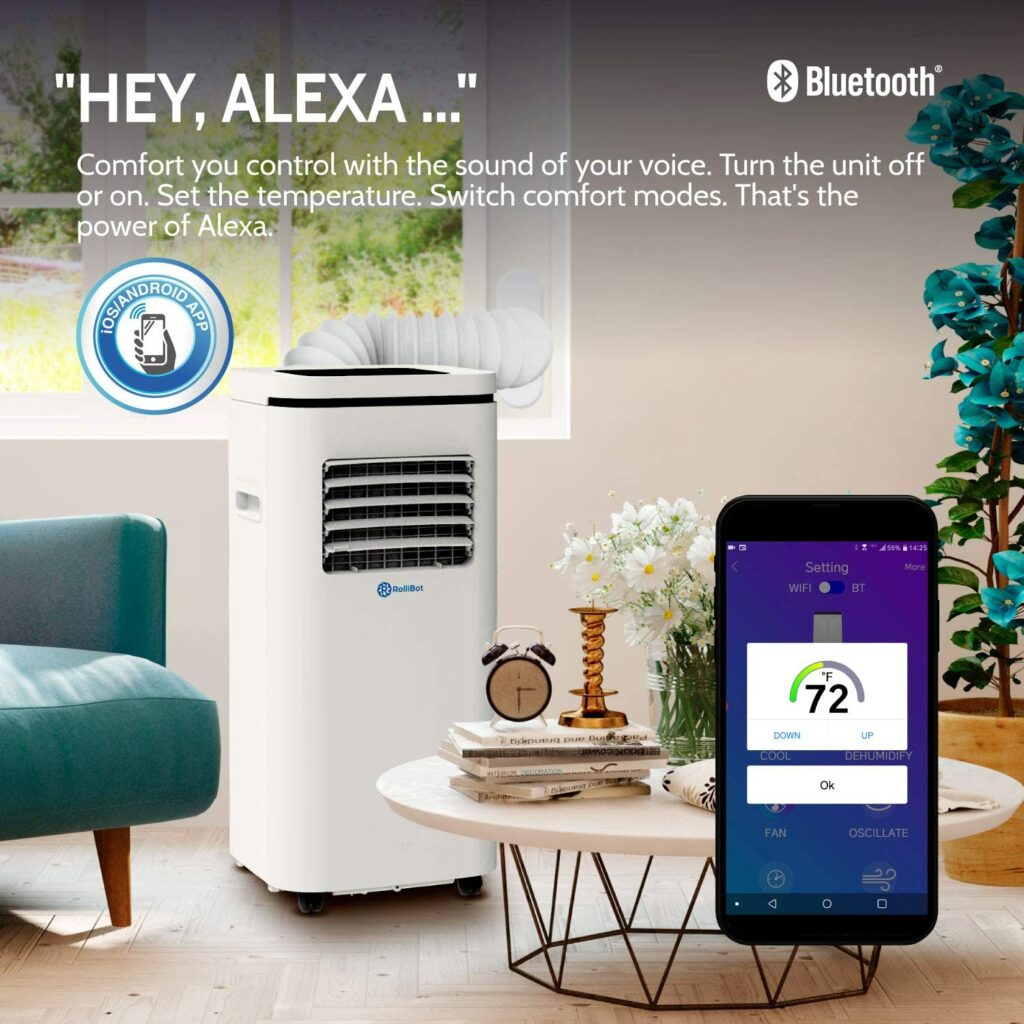 Today, technology controls the way we work. The maker of RolliBot is well conscious of this, and it is for this purpose that they have come out of their way to build this helpful RolliBot app.
You first need to connect and link them via a WiFi network before you can coordinate the operation of the app and the device. After that, from anywhere in the room, you can comfortably run and monitor the RolliBot.
This is what feels like comfort. You don't need to worry yourself with a remote control either. You can power this Portable Air Conditioner so long as you have your smartphone.
Up to 0.6 Gallons/hour dehumidifier
Sitting for a prolonged amount of time in an air-conditioned space (say, a normal workday) can cause dry skin.
If you have skin disorders already, air conditioning will make them worse, sending the normal moisture balance of the skin out of whack. But this is not the case with Rollibot's dehumidifying features.
This RolliBot Air Conditioner is the unit for you if you live in an environment that's dry and you need moisture in the atmosphere. Dehumidifying at an amazing 0.6 gallons of water per hour, you will never have to think about the sun or the dryness of the weather for another second.
Monitor and control how much moisture you like by simply adjusting using the free software on the humidifier itself. Sleep well in the evening and enjoy your summer days thanks to this RolliBot.
Alexa-Enabled Unit
This activated room air conditioner with Wi-Fi-enabled voice will toggle mode, set temperature, and set a timer. Small air conditioners cool and dehumidify up to 275 sq. of space.
It operates not only with Alexa but also on iOS or Android with our own user-friendly ROLLICOOL application. The compact, lightweight style with 360-degree caster wheels and simple installation make it convenient to drive around. Ideal for house, office or garage, RVs, cabins, outdoor shelters, tailgating, and more.
Pros & Cons of Rollibot App-Enabled Air Conditioner
Those suffering from allergies will notice how cleaner the air was after using the Rollibot Rollicool Portable Air Conditioner. With that being said, it is also worth remembering that this unit is the best model for moving around an office, a home, or an apartment at 72 pounds.
The only downside we can see on this air conditioner is that its quite loud for some users.
Product Specifications: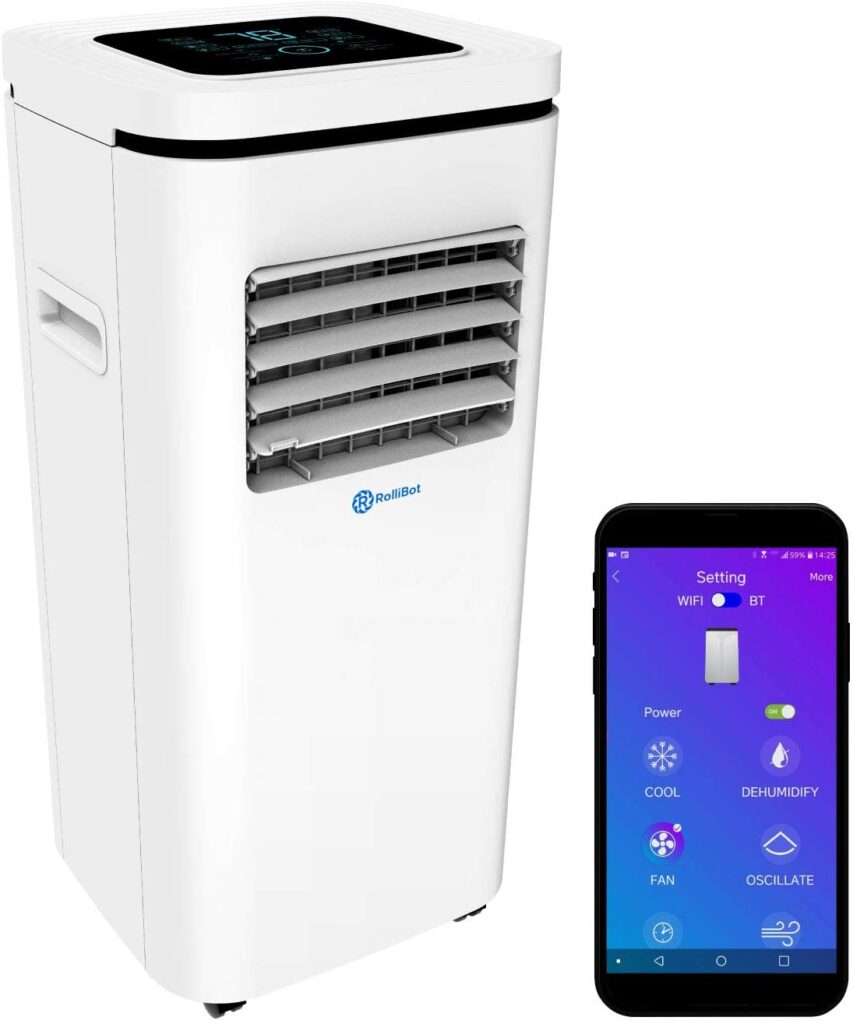 Manufacturer: Rollibot
Part Number: COOL310-19
Item Weight: 62 pounds
Product Dimensions: 16.5 x 14.2 x 28.4 inches
Item Model Number: COOL310-19
Size: 12,000 BTU
Voltage: 120 volts
Wattage: 1300 watts
Noise Level: 52 dB
Functions: Cooling, Heating, Dehumidifying, Fan, and Sleep
Volume: ~54 dB
Temperature: 61-88°F (16-31°C) I C/F/ Switching
Dehumidifier: 6.9 Gallons/day
App Setup: Wi-Fi, Bluetooth
App: Android or iOS
App Functionality: Cooling, Heating, Switch Between Modes, Adjust Fan Direction, Change Speeds
Alexa: Turning RolliCool On/Off, Adjusting Temperature
Wheel Type: 4 x 360° Castor Wheels
Filters: 2x High-Efficiency Filters, 1x Carbon Filter
Sleep Mode: Dims Panel Lights and Circulates Air
Rollibot Maintenance Tips
Proper care can help increase the efficiency of your RolliCool. The RolliCool will require its filters cleaned regularly so the filters should be washed at least twice a month for optimum efficiency.
Cleaning the Filters
Before doing some sort of maintenance, please always make sure your AC unit is fully turned off.
Do not scratch the air filters as damage can be sustained.
To clean the filters, a hand vacuum or a low-powered vacuum or vacuum mode can be used.
After cleaning, replace the filters, and do not use the Rollicool Air Conditioner without the filters/
Do NOT wash or allow some kind of water or liquid to come into contact with the carbon filter (the black filter one).
If any filter has been cleaned with water, ensure that it is completely dry before reinstallation. Do NOT dry the filters in direct sunlight.
How to Drain the Machine
The AC machine would not need drainage in most instances. If this is required in certain special situations, the device will sound a warning and the monitor will show the symbol showing that the water reservoir inside is full.
Before doing some sort of repair, please make sure your AC unit is fully turned off.
If the unit is relocated before draining, gently transfer it so as not to leak the water within the tank.
Ensure that the drainage pipe has ample space underneath for drainage. If the Lower Drainage Opening is used, ensure that an appropriate water runoff area is available.
Fetch a bucket for water runoff while using the upper drainage gate, before you connect the pipe.
When not draining the unit, leave the drainage cover and the water plug on at all times.
Don't allow the Power Cord to make contact with water while draining the unit.
The machine may be rotated slightly sideways during draining, in order to facilitate faster drainage.
Bear in mind that the device will carry more water than expected. Do not use a small tub or take care of outside drainage if you use a container.
Final Thoughts
It will be tough to find a more reliable, energy-efficient, compact air conditioner/humidifier at such a price. Thankfully, the Rollibot AC gives you all the benefits of an efficient portable air conditioner.
We appreciate the concept of the integrated app and how it made it easy for them to remotely control their conditioner.
With that being said, the Rollibot Portable is truly worth every of your penny.