Shark Vacuum LA502 Review
Allergies, asthma, and COPD are no laughing matter for individuals who suffer from them. While the appropriate vacuum might provide great comfort, the wrong vacuum can introduce more allergens into your home, exacerbating your symptoms.
The most important thing is to choose the correct product for the job. A vacuum that employs multi-layered/hygienic bags and provides HEPA filtration in a sealed system isn't simply a buy; it's an investment in your health.
Most typical vacuum cleaners are incapable of capturing the microscopic particles that cause allergic responses. Before returning to your air, air travels through these vacuums as well as the dust and debris that has gathered.
Leaks in the vacuum cleaner's casing also allow allergens to escape. Is there any way to get some relief?
Taking a Look at HEPA Vacuum
HEPA vacuum filters function by forcing air through specifically designed and constructed media that is tightly woven and organized to capture and hold 99.97 percent of particles as small as 0.3 microns, such as dust, pollen, and pet dander. In comparison, 0.3 microns is over 300 times smaller than the diameter of a human hair.
What is the Importance of HEPA Vacuums?
Air enters the vacuum through the powerhead, depositing debris and dust in the collection bin or dust bag. It then exits the vacuum by the exhaust vent, which is normally found in the rear or underneath the vacuum.
Fine dust and allergens such as pollen, germs, and dander flow right out with it and back into your interior air without proper filtration. Vacuums without HEPA filtration can reintroduce dirt as small as 50 microns into your home's air.
HEPA Vacuum and Why Does It Matter?
High-Efficiency Particulate Air or HEPA is an air filter made out of a mat of dense fibres folded into a tiny mesh that is supposed to catch at least 99.97% of airborne particles according to government regulations. 
High-Efficiency Particulate Air filters the air by forcing it through a mesh filter, trapping dangerous particles. It is a type of filter that is found in vacuum cleaners and air filters.
It's crucial to understand the difference between a HEPA and a Sealed HEPA. To be truly functional, the vacuum cleaner must be built so that all of the air pulled into the suction is expelled via the filter, with no air leaking beyond it.
About Shark HEPA Vacuum
The Shark Rotator ADV LA502 is one of the most recent Shark upright vacuums. So, whether you have bare floors, carpet, or mixed floors, you can expect exceptional performance from this powerful vacuum.
As you can see, the Shark Rotator ADV LA502 model has a lot to offer. It's not only a terrific vacuum for dust, dirt, debris, and pet hair, but it's also a great improvement for anyone wishing to replace their present vacuum.
Main Features of the Shark Rotator ADV LA502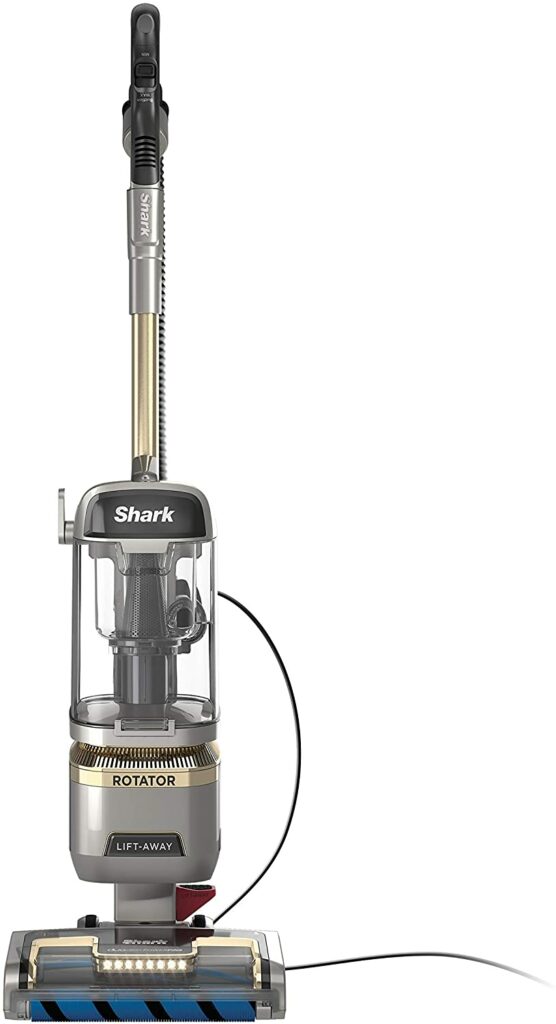 To fully comprehend what you receive with this amazing vacuum, we must first examine all of the technologies that contribute to its performance. You'll be able to comprehend what technical phrases like PowerFins mean as we go over the features.
DuoClean Technology Multi-floor Cleaner
If you have a mixture of bare and carpeted floors, be careful not to purchase a vacuum that is only designed for hard surfaces. Fortunately, the Shark Rotator ADV LA502 is an excellent choice for both.
The DuoClean name comes from the fact that the floor nozzle has two brushrolls. One brushroll has soft bristles and is designed to clean bare floors, while the other ensures that carpets and rugs receive the deep cleaning they deserve.
Furthermore, innovative swivel steering lets you effortlessly avoid obstructions while vacuuming the floor. It's also lighter than other upright vacuum cleaners.
Brushroll by PowerFins
A soft roller and a second roller with strong bristles were used in previous Shark vacuums with DuoClean technology. These bristles, on the other hand, may cause hair tangling, especially in models without Zero-M anti-hair wrap technology. They may harm delicate floors as well.
Shark vacuums now offer a PowerFins brushroll, which contains delicate 'fins' instead of strong bristles, to solve this problem. These fins eliminate the need to untangle knotted hair from the brushroll.
As a result, unlike other vacuums, expect to find a lot of long and short human and pet hair in the dirt canister. This vacuum is unquestionably great for pet owners and individuals who shed a lot of hair.
Lift Away Technology
You may separate the canister from the wand for easier above-floor vacuuming with lift-away technology. It also makes it easier to reach beneath furniture, which is difficult with upright vacuums. Vacuuming stairwells and other above-ground places is also a breeze.
However, unlike the Shark Vertex AZ2002, the lift-away feature is not motorized. This implies that once you separate the pod, no electricity is provided to the floor nozzle.
On the plus side, the pod is lighter than the majority of previous models. As a result, the vacuum is more appealing to small people as well as older people.
Source of Power
This vacuum, like the majority of its counterparts, is corded. So, before you start vacuuming, plug it into the nearest power source. The benefit is that you aren't restricted by a battery and can vacuum for as long as there isn't a power outage.
The 25-foot power cord is long enough to comfortably vacuum medium to large spaces. However, if you live in a small flat, it can be difficult. Furthermore, the lack of automatic cord rewind makes storage difficult.
Suction
Even though Shark vacuums rarely disappoint, we must discuss this feature. They're regarded as some of the most effective cleaning equipment available. The Shark Rotator ADV is no different.
This upright vacuum cleaner is unafraid of dust, filth, pet hair, dander, and debris. Expect to be astounded by what you see in the dirt can when cleaning carpets, bare floors, rugs, furniture, or upholstery.
When you vacuum carpets, the vacuum is so powerful that it pulls itself forward. As a result, you won't have to use much force to move it along the floor. When you're dragging the vacuum backward, though, this can be difficult.
Filtration
A decent vacuum cleaner is an excellent complement for removing contaminants from your indoor air. While ordinary filters are adequate, HEPA filters are the most effective. Particles as small as 0.3 microns in diameter are trapped.
Attachments
This apartment doesn't come with a lot of extras, but whatever you get will suffice for your above-floor requirements. With the vacuum, Shark includes a crevice tool, a pet multi-tool, and a self-cleaning pet power brush, allowing you to effortlessly clean upholstery, furniture, curtains, baseboards, stairs, and other surfaces.
The self-cleaning pet power brush, in particular, is excellent at removing pet hair and dander from carpets, cushions, stairs, and upholstery.
Waste Disposal
This Shark upright is bagless, as are all Shark uprights. As a result, you won't have to pay extra for vacuum bags.
Shark Vacuum LA502 Specifications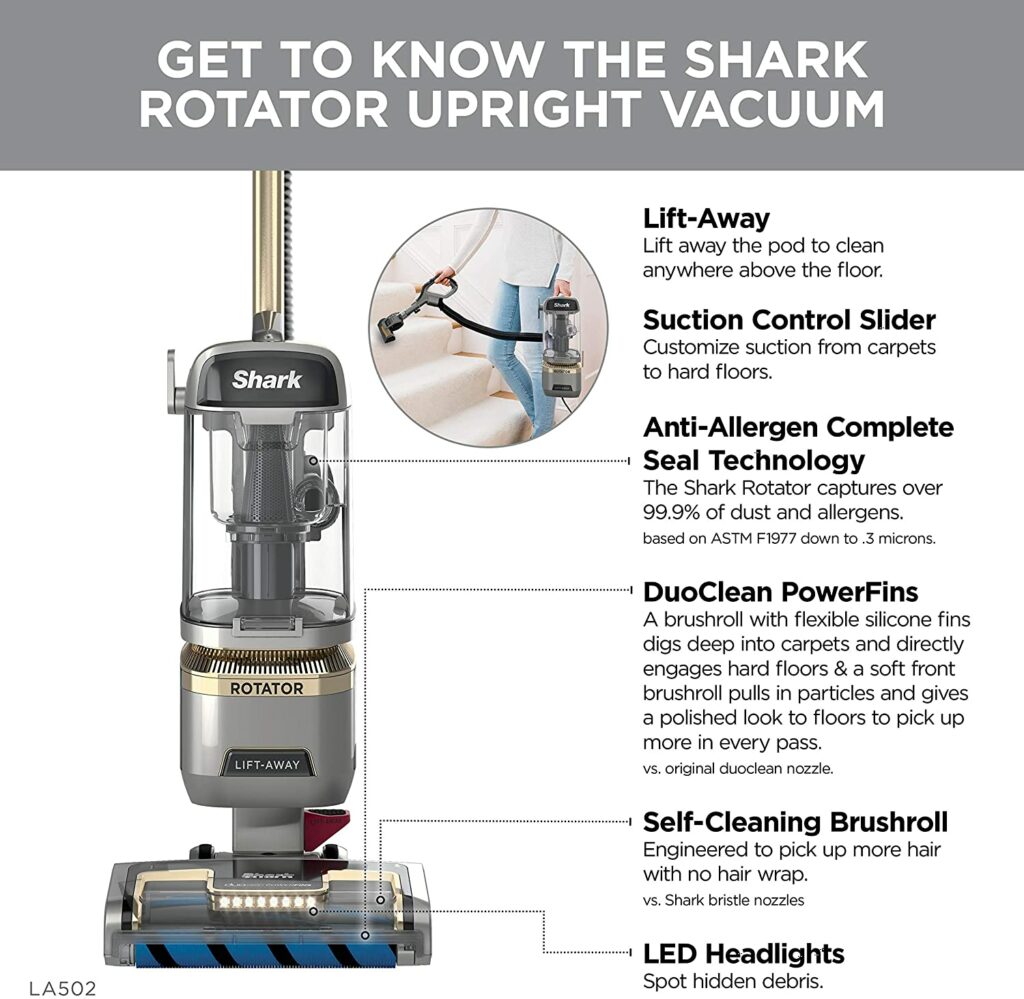 Cleaning Path Width: 9.5 inches
Vacuum Type: Upright Vacuum
Bin Capacity: 0.89 gallons
Bagless: Yes
Compatible Floor Type: Carpet, Laminate
Amperage: 10 amperes
Corded/Cordless: Corded
Wattage: 910 watts
Cord Length: 25 feet
Filter Type: HEPA
Hypoallergenic: Yes
Multi Surface: Yes
Shark Rotator ADV LA502 Pros:
It is suitable for use on bare floors, rugs, and carpets.
Brushroll hair tangling is a thing of the past, thanks to the excellent filtration system.
It is not costly.
Takes on pet and human hair with aplomb.
It's simple to put together and use.
It is light in comparison to other uprights.
LED lights aid in the illumination of gloomy areas.
It's simple to go past barriers.
Attachments for vacuuming above the floor are included.
It comes with a large dirt cup that is simple to empty and clean.
Lift-away technology allows you to get to hard-to-reach places such as under furniture.
Limited guarantee of 5 years
Shark Rotator ADV LA502 Cons:
The lift-away mechanism is not powered, so when you disconnect the pod, the brush roll stops running.
For vacuuming large spaces, a 30-foot power cord would be preferable.
On carpets, the vacuum nearly pulls itself ahead. While this is a positive development, it may need a little more effort to reverse it.
To see the current pricing, go here.
Cleaning a Shark Vacuum
There are multiple Shark versions on the market, and the replaceable components are likely to be situated in various locations. As a result, you'll need to refer to your model's manual to figure out where to look for these pieces and how to remove them.
Regardless, the cleaning procedure is the same for most models. Let's get this party started.
Remove any Obvious Obstacles.
Remove any noticeable obstacles after you've disassembled the vacuum. This includes long hair, dust bunnies, threads, gravel fragments, and other similar items.
These impediments may be preventing the vacuum from moving. As a result, getting them out is critical. Leave these impediments alone if they are coiled around anything like the roller brush. You'll come back to it later.
Remove the dirt canister and empty it.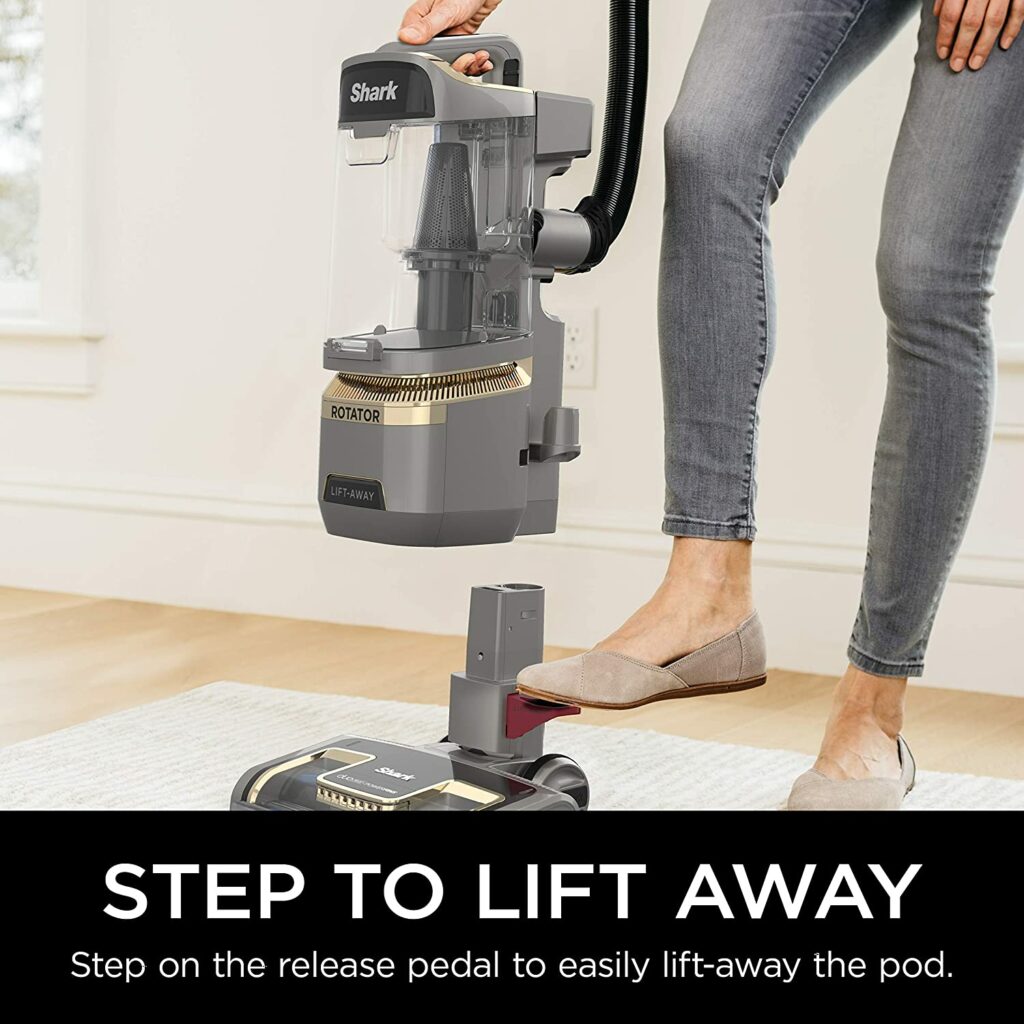 The dirt canister must also be emptied. This is a simple process, but make sure you dispose of the waste in a disposable bag. You don't want the dirt and trash to spread all over the place.
After that, soak the canister in warm soapy water for a few minutes. If the canister's sides are caked with dirt, soak it in water for at least 10 to 15 minutes.
After that, wipe the canister with a soft cloth to remove any remaining dirt. After rinsing the cartridge with cold water, place it in a well-ventilated area. Before putting the canister back in the vacuum, make sure it is totally dry.
Clean or Replace Filters
It's now time to apply the filters. The filters should be visible now that the canister has been removed. However, before you get rid of them, make sure you know what kind of filters you have. Filters are either felt or foam in Shark vacuums.
Follow these three steps to make foam filters:
Soak the filters in soapy water for a few minutes.
Thoroughly scrub them.
Rinse the soap off and dry them in a well-ventilated location.
Felt filters are easily damaged and should not be washed. Instead, lightly tap them with a brush and wipe away the debris that emerges.
Final Verdict – Should you buy the Shark Vacuum LA502?
Taking everything into account, this vacuum has a lot to offer. It has high suction, cleans all sorts of floors, and is simple to move when vacuuming. Furthermore, given that it is a relatively new model, the price is appealing. It's also great for vacuuming pet hair because it gets it up all without tangling.
However, the advantages significantly outnumber the disadvantages. As a result, we recommend this vacuum to anyone searching for a reliable cleaning partner for their floors, walls, ceilings, fans, stairs, upholstery, baseboards, and other surfaces. The Shark Rotator ADV LA502 can vacuum in virtually any location.