Snow Joe SJ627E Snow Blower Review
Snowblowers are widespread in locations that get a lot of snow in the winter. Snowblowers differ in many ways, but they are all devices that are propelled through snow and ice, dislodging the snow as they go and then discharging it into a chute.
As they work, their goal is to clear a route. They may be used to clear walks, roads, steps, porches, decks, and any other area we desire to use during the winter months. A power supply is required to operate all snow blowers.
How Single-Stage Snow Blowers Works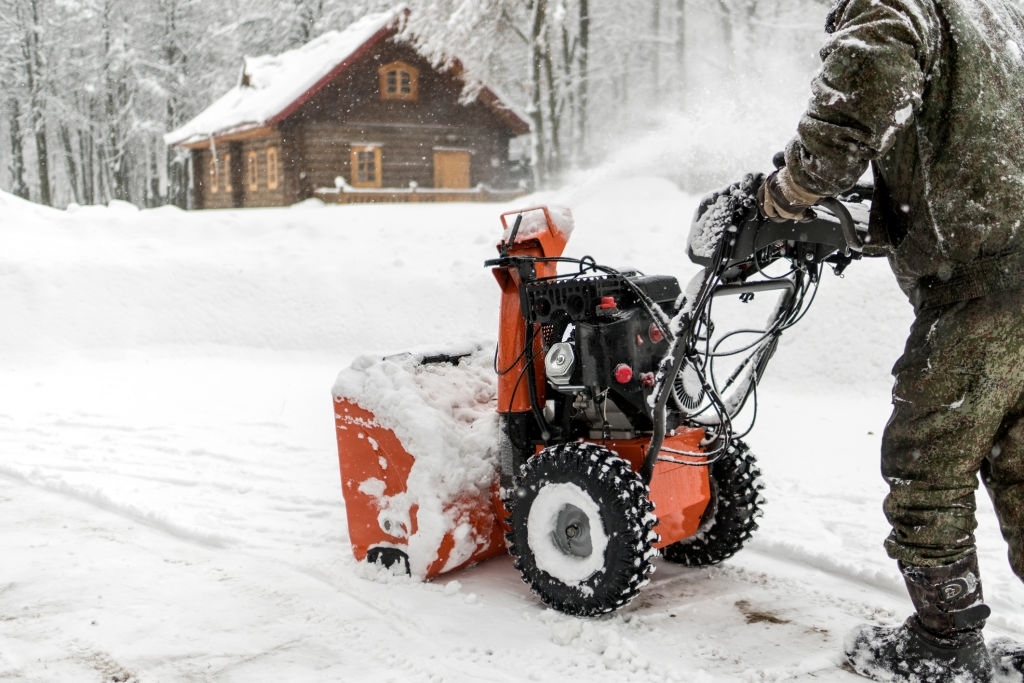 Single-stage snowblowers have one auger whereas 2 stage snow blowers have the main auger, and then an additional rotating auger in the discharge chute to move snow through faster and to throw it farther.
These are the cheapest and simplest of all the snow blowers. Single-stage snowblowers use the auger to lift the snow, break it up and then fling it up through the chute in a single action. Because the auger literally throws the snow out of the machine, these can also be referred to as snow throwers.
The single-stage action of these machines makes them the least effective and is, therefore, only suitable for light to medium snow. A single-stage snow blower will generally be a smaller machine that doesn't clear a path that is too deep or wide.
The clearing path of these snow blowers is usually between 13″ and 21″. They rarely clear a route that is more than 6 inches deep. They don't dump the snow as far out from the chute as the others because the auger is employed to discharge the snow. Snow will be deposited roughly 10-20 feet from a single-stage snowblower.
About Snow Joe Snow Blower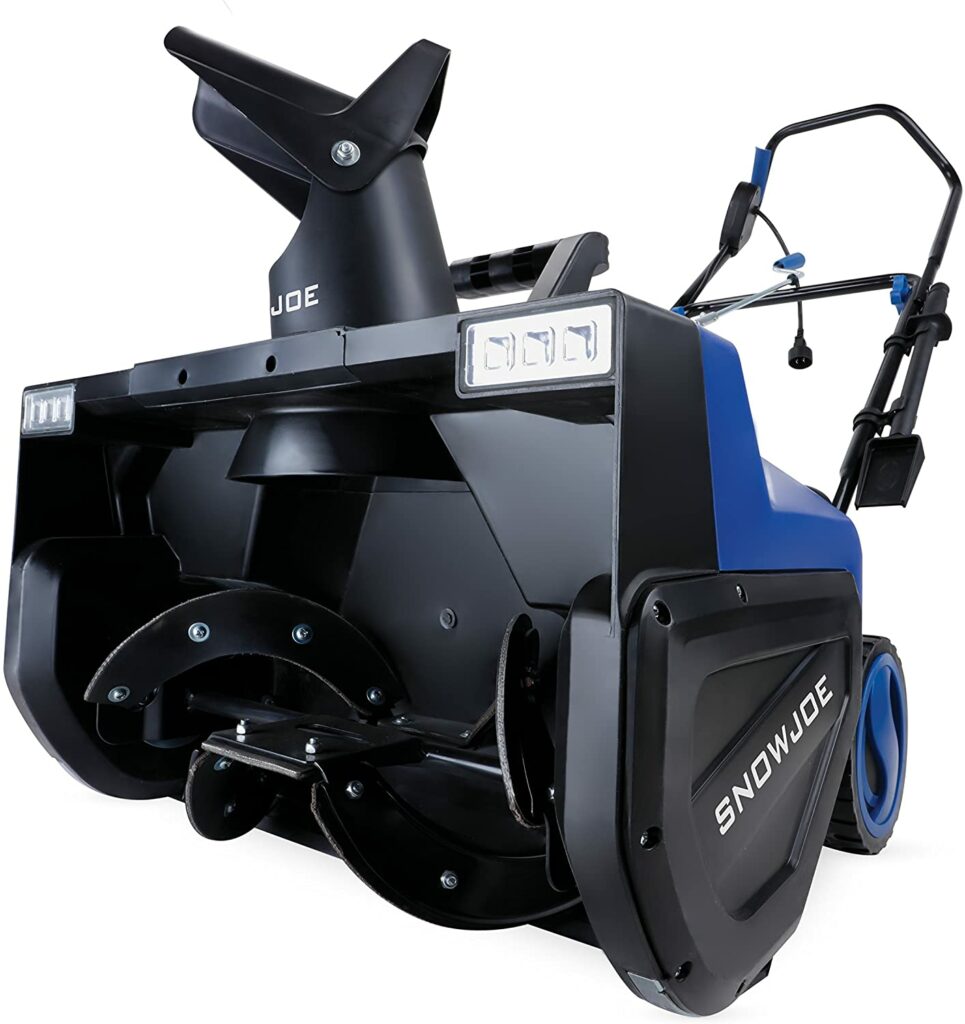 Snow Joe has swiftly become one of the most well-known electric snowblower manufacturers on the market. With so many corded models to choose from, it might be difficult to know which one is ideal for you. 
That's where I'd like to pitch in and assist. For individuals who want to test the boundaries of what an electric snow blower can do, we recommend the Snow Joe SJ625E.
15 Amp Motor
The 15 amp engine found within the SJ625E is the most powerful in North America. Snow Joe, on the other hand, does an excellent job of extracting every ounce of power possible from this motor. In most snowy circumstances, there is adequate torque to prevent slowing down.
The only exception is when there is a lot of wet snow, which slows it down a little. There's always the fear that if you push too hard in the thicker snow, the motor will burn out.
In terms of distance, I'd estimate it to be around 15 feet on average. It costs a little less than the SJ623E, which is 18 inches. This is most likely due to the width of this model, which uses the same motor.
However, an 800-pound-per-minute plowing capacity is rather astounding. In the Ryobi corded snow thrower, you can expect twice as much. This motor is silent and runs on an extension cord.
It needs to be plugged into a 15 amp outlet at the very least (1800 watts). Because it's electric, it doesn't require oil maintenance, fuel, or any of the other headaches that come with a gas-powered snowblower. It is a low-maintenance and environmentally friendly alternative.
Steel Auger is an Excellent Addition
Typically, plastic augers are used with electric snow blowers. Snow Joe, on the other hand, has made a habit of utilizing steel augers. Although the steel is thin, it is better than others in this price bracket.
It should be able to withstand the test of time. The auger blades are composed of a tough rubber material. When the original blades wear out, Snow Joe supplies replacement blades. Regrettably, they're a headache to replace.
The dimensions of the housing are 21 inches broad by 12 inches deep. You should be able to remove up to 10 inches with a light powder.
It particularly shines when it comes to the fluffier snow. It's a different thing when there's a lot of snow. With a modest throwing distance, you'll be able to reach a maximum of 4-5 inches. To avoid clogging, you must travel at a considerably slower pace.
Snow Scraping Performance
Rubber paddles scrape the surface and are best used on flat surfaces. This is designed for asphalt and concrete driveways. This will also work wonders on wooden decks. The rubber minimizes scuffing and can reach all the way down to the ground.
Even slightly compacted snow can be dugout. You should avoid using this on gravel or uneven surfaces because the paddles touch the ground. It will toss boulders on gravel, and the paddles will quickly wear out on uneven surfaces.
LED Headlight (3 Watts)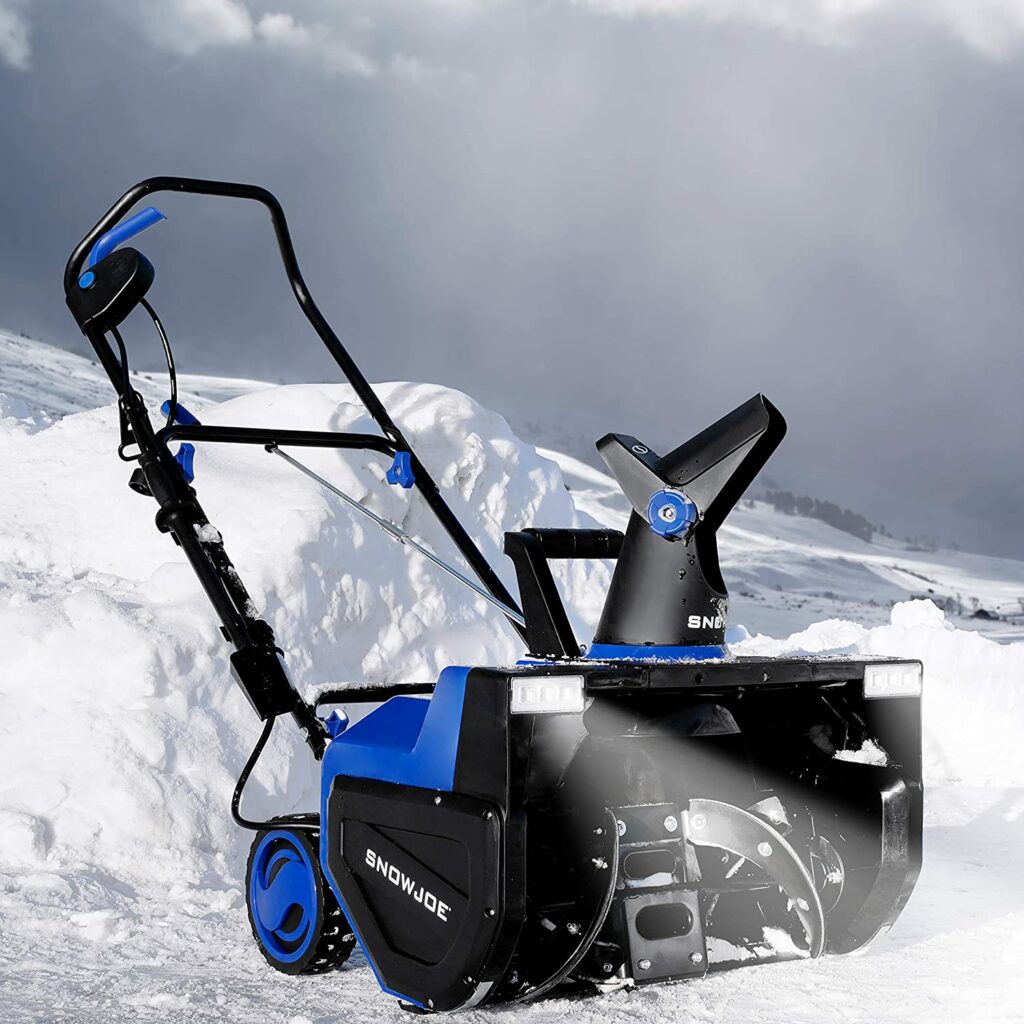 A headlight is one of my favorite features, not just for the user's vision, but also for the safety of other drivers in the vicinity. The Snow Joe SJ625E has a 3-watt LED headlight that functions as a flashlight. This is attached to the handlebars via a clip. It's not quite as nice as the SJ623E's dash light.
Snow Joe secures the extension cord with a handy clip to keep you from tripping. Some 12-gauge cords, however, will not fit. They recommend a 12-gauge instead of a 14-gauge, which is an odd design mistake.
Easy to Use
This Snow Joe thrower handles really well if you can get around the extension cord. There's no power steering or self-propelled transmission, but it's light enough that it doesn't matter. It glides smoothly forward and turns with ease.
8-inch tires help provide some traction, although not enough to handle steep slopes on icy days. The handles feel a bit flimsy so you'll want to be careful.
Not only is the handle adjustable, but it can fold down. This makes it easy to store and has a minimal footprint in your garage. In fact, you could easily store this in a basement or cellar since it's only 45 pounds.
What We Don't Like About Snow Joe
Plastic Chute is a Little Stiff
Snow is discharged through a heavy-duty plastic chute. On the chute, you can adjust the height at which you want the snow to fly. A hand crank comes below the handlebars allowing you to adjust without moving. The 180-degree turning radius works fine, but I find the crank a little stiff going from one position to the next.
This is a small irritation, but something to keep in mind if you plan to shift your position frequently while traveling.
Rather than sending snow in a stream, the chute scatters it. Due to their limited power, this is a regular problem with electric snow blowers. Light snow glides effortlessly through the chute.
Clogging is more likely in wet snow, especially if the chute is positioned to the left or right. In saturated snow, having the chute blow straight ahead is preferable.
The cord is not included.
This model does not come with an extension cord, according to Snow Joe. As I've noted in previous electric snowblower evaluations, getting the right cord is crucial. Buying the wrong one can result in a safety issue or insufficient power for the engine.
Product Specifications: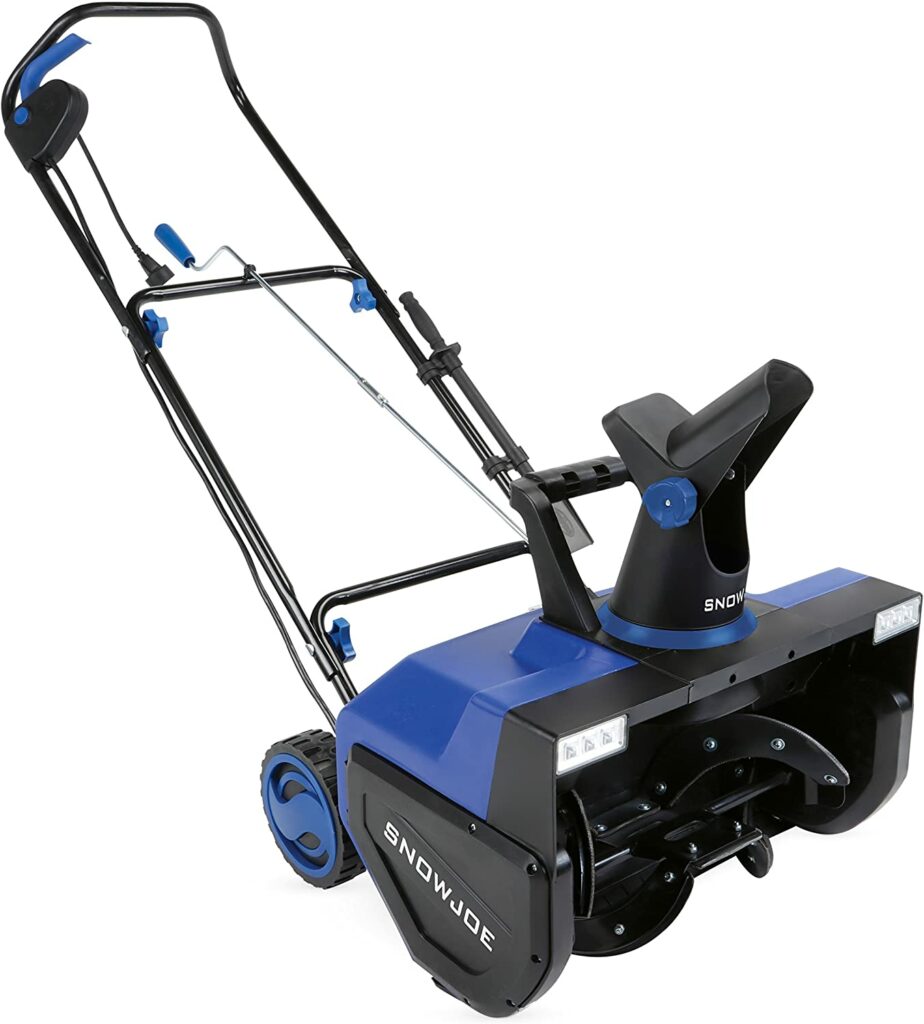 Type: Cordless electric
Motor: 15 Amp
Clearing Width: 22 inches
Throw Distance: 25 feet
Plowing Capacity: 840 lbs/min.
Weight: 34.6 lbs
Dimensions: 23.4 x 22 x 26 inches.
Snow Blower Maintenance
It's pointless to own a snowblower if it's not properly maintained. Snowblowers, like any outdoor power equipment, require routine maintenance to ensure that they continue to work at their best and clear driveways for years to come. 
Snowblowers that aren't properly maintained can result in high maintenance costs, uncomfortable trips to the junkyard, and wasted time shoveling out after the next snowstorm.
Check out the Auger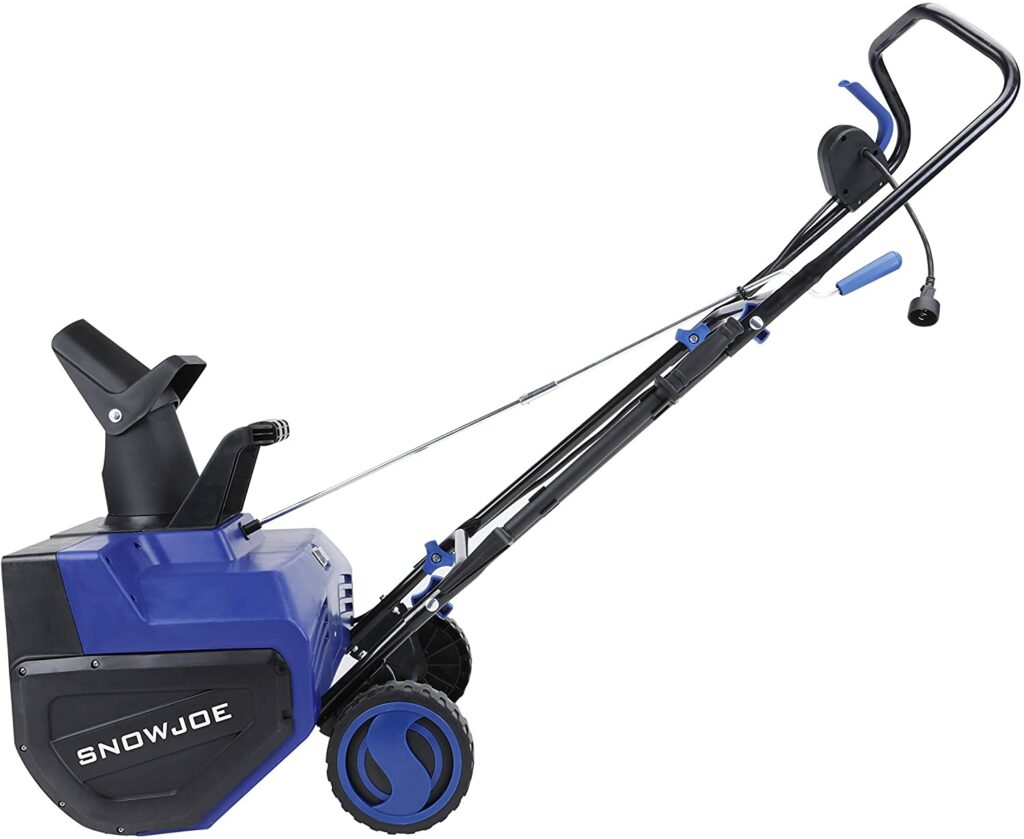 The augers are the rotating blades or paddles inside the snowblower housing. Rubber paddles are used in single-stage snowblower augers. These paddles scrape the ground, so they wear out faster than two-stage snow blowers.
Wear indication holes can be found in most rubber paddles. It's time to replace the rubber paddles when they've worn down to the holes.
Anyone with an auger paddle replacement kit and the existing hardware can easily change single-stage snowblower auger paddles — all it takes is a few minutes and the correct sized wrenches.
Replace the Shave Plate
Shave plates, also known as scraper blades, are mounted to the bottom of single-stage and two-stage snow blower housings to help scrape snow and remove it from clearing surfaces.
A snowblower scraper blade should be replaced every few seasons, if not more, depending on how much it wears and how often it is used. On single-stage snowblowers, scraper blades are commonly made of plastic or composite material.
Replace the Oil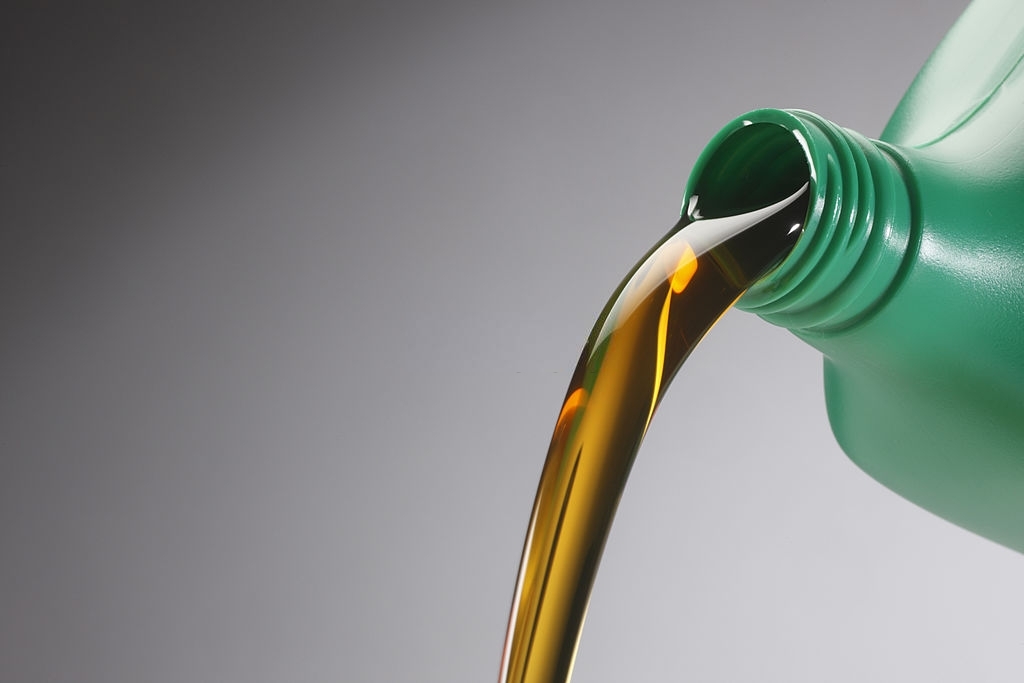 Because oil degrades with each usage, snowblower oil should be changed at least once per season. Your snow blower's oil will deteriorate and become less effective in protecting its engine, regardless of whether it is utilized in heavy or mild load situations. 
Operating an engine with old oil can cause harm to the engine and reduce its lifespan significantly compared to an engine with regular oil changes.
Snowblower oil should be changed at least once a season, and probably more often if utilized in places or conditions where a snowblower is often used. Oil changes, despite their appearance, are simple and can be completed by anybody with a few hand tools. Begin by starting the engine and running it for a few minutes.
Final Thoughts
This electric snow blower is one of the best on the market. A simple, lightweight machine that arrives at your door virtually fully completed. Its width is ideal for those who want to test the boundaries of what an electric vehicle can do. For those who can't afford a single-stage gas snowblower right now, this is a good compromise.
In places with mild to moderate snowfall totals, you'll get the most out of this equipment. The less snow there is, the better. Its performance with wet snow may frustrate those in the East or in lake effect zones.