Affiliate Disclosure:
I am grateful to be of service and to bring you content free of charge. In order to do this, please note that when you click links and purchase items, in most cases I receive referral commissions. Eventually, I may earn enough to buy a beer or two ?
Winter storms that coat your home with snow can look pretty, but it can be stressful to scrape off all that snow. The Best Gas Snow Blowers 2021 can be a good investment if you live in an environment that normally experiences heavy snowfall.
In one fast sweep, these machines help you clean off several inches of snow, protecting your back from hard shovel lifting and reducing the time you have to spend outdoors in freezing weather.
A quality snowblower can get you through various winters with ease, although they are a financial investment.
What is Snow Blowers?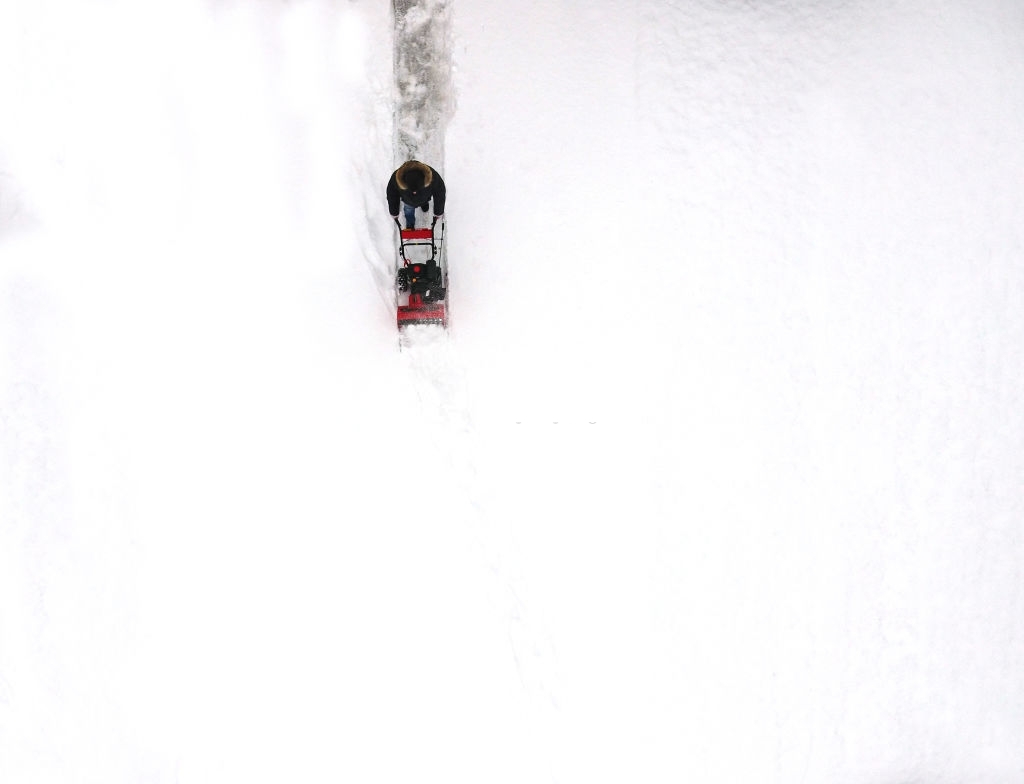 Before we tackle the best snow blowers available in the market today, we must know first what really is it and how it works to give you the best snow removal experience.
A snow blower is a machine that drives snow into a discharge chute using a rotating auger to be thrown to the side and out of the way. To clear snow from trails, roads, and driveways, snow blowers are the best gears.
Snow Blowers are an excellent option for clearing thick, heavy, and/or deep snow. It has an easily flexible chute deflector and power-driven wheels that can be detached to enable turning independently.
Why Choose a Gas Snow Blower?
Blowers powered by gas fall into two categories: a single or dual-stage system. This means that there are different options to choose from based on the amount of strength, and scale, of a snowblower machine you require for the job you have at hand.
This also suggests that you have a wide variation in availability since small, residential versions are just as easily accessible as bigger, more industrial choices.
While there are many reliable electric and cordless driven snow blowers on the market in your search for the right blower, there is a much wider range of gas blowers available to sift through.
They are robust devices that are specially designed to transfer vast volumes of snow to help you cut your workload and time in removing them.
There are many types of snow-mower machines you can find so we've narrow down the best ones for you.
#1 Best Features: Husqvarna ST224P Two-Stage Gas Snow Blower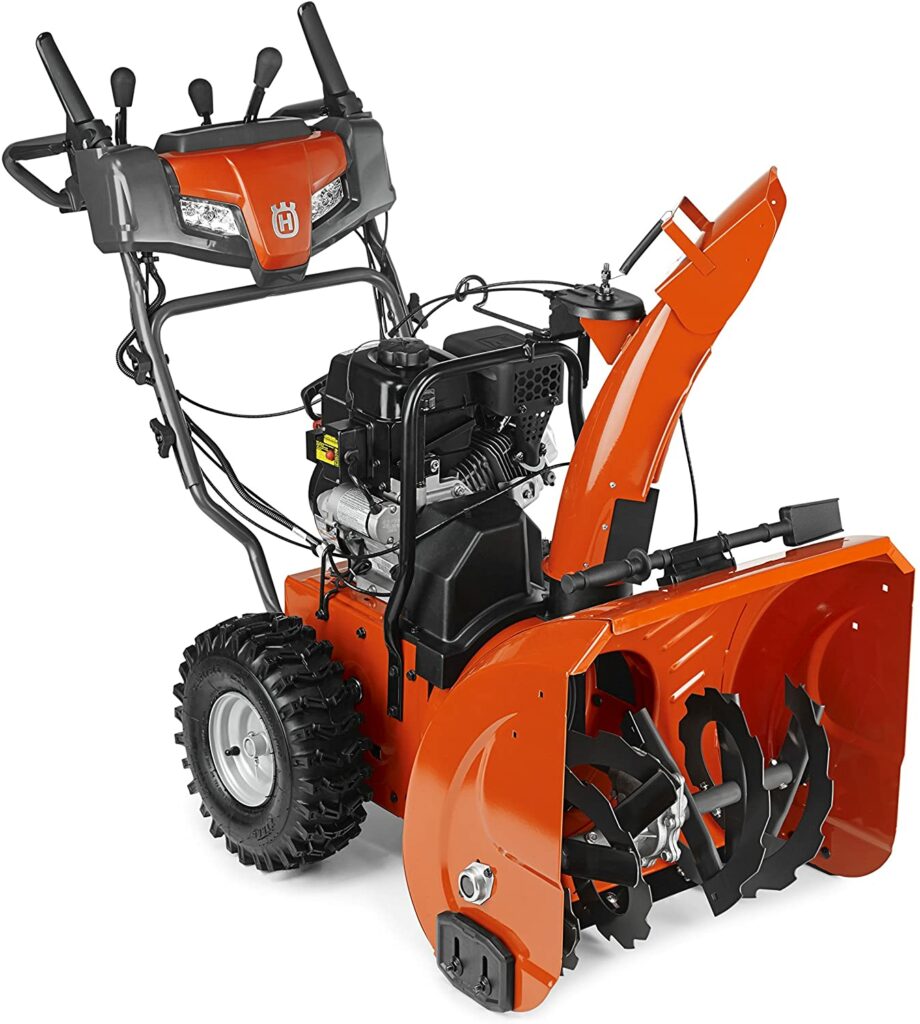 This Husqvarna two-stage snow blower is a versatile snow remover loaded with features such as a heavy-duty auger and heated handle grips that make snow removal in a driveway a little easier in the freezing weather.
Using the power steering of the vehicle, the 24-inch cutting width drives through the snow so that you can scoop and discharge huge volumes of snow with ease.
With a 208cc engine, this is a machine constructed for light to heavy snowfalls that can easily clear large areas. The adjustable skid shoes allow you to operate over non-flat surfaces, plus the 24-inch wide and 20-inch high housing can easily take on larger piles of snow.
To help get into thick snow, the auger is serrated, especially the kind left behind after the plow comes in, and is able to throw snow up to 30 feet or more to ensure that it is well out of the way.
Cuts Snow Efficiently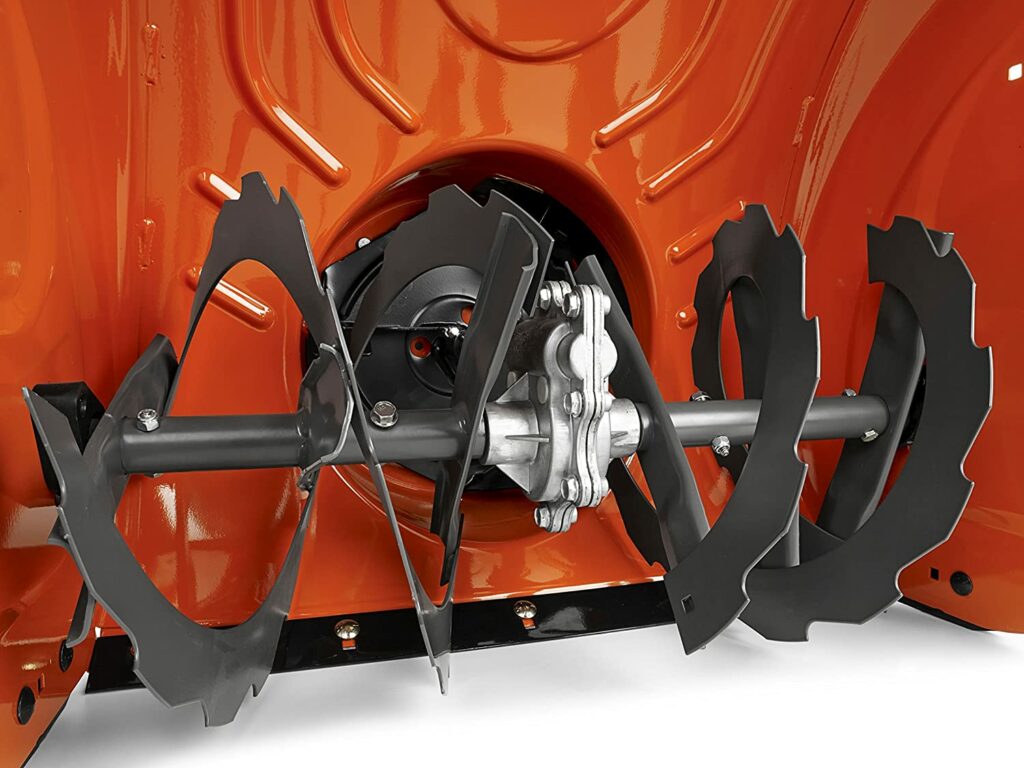 Husqvarna ST224 208cc gas now blower does a great job of throwing the snow out from your driveway. This model is able to cut a 24-inch-wide path and can quickly cut through 12-inch-high or more snow. That's enough snow clearing power, no matter where you live, for just about anyone's needs.
It is even able to throw the snow out of the way up to 50 ft, meaning you don't have to think about it all being blown out into the road.
Easy Maneuverability
One of the main challenges with bigger, expensive models is that they seem to be a bit heavy and difficult to move. This Husqvarna model deals with this challenge with a set of huge 15-inch tires that make it a snap to grip the ice and snow.
It is also self-propelled but it can be a bit on the heavy side, but when you actually use these features, that's not a big problem.
More Features:
LED Headlights that allow you to clear snow in the dark with ease.
Adjustable Shoes for easy adjustment of the space between the ground and the auger.
The Husqvarna ST224P is packed with heavy-duty 15×5-inch tires specially built with a tread to carry them through the toughest snowfall.
The engine is connected to the transmission by a friction disc coupling for more ease of use, which makes it ideal for the purpose.
Two-stage system
Specifications
Weight: 198.6 lbs.
Engine: CARB & EPA compliant 208 cc, 6.5 hp, two-cycle,
Gas-powered
Transmission, Speeds FWD/REV: Friction Disk, 6/1
2 stage
Ribbon Auger
Gas fuel: Regular unleaded, max ethanol content 10%
Clearing width: 24"
Snow depth capacity: 6 – 18"
Sound level at operator: 88.4 dB(A)
What we love about this product:
Electronic start button which helps the blower's engine turn on during high temperatures.
Equipped with all-day-round LED headlights
Steering Power
Unique 4-position handle adjustment
What needs to be improved:
Sometimes struggles with snowfalls over 18"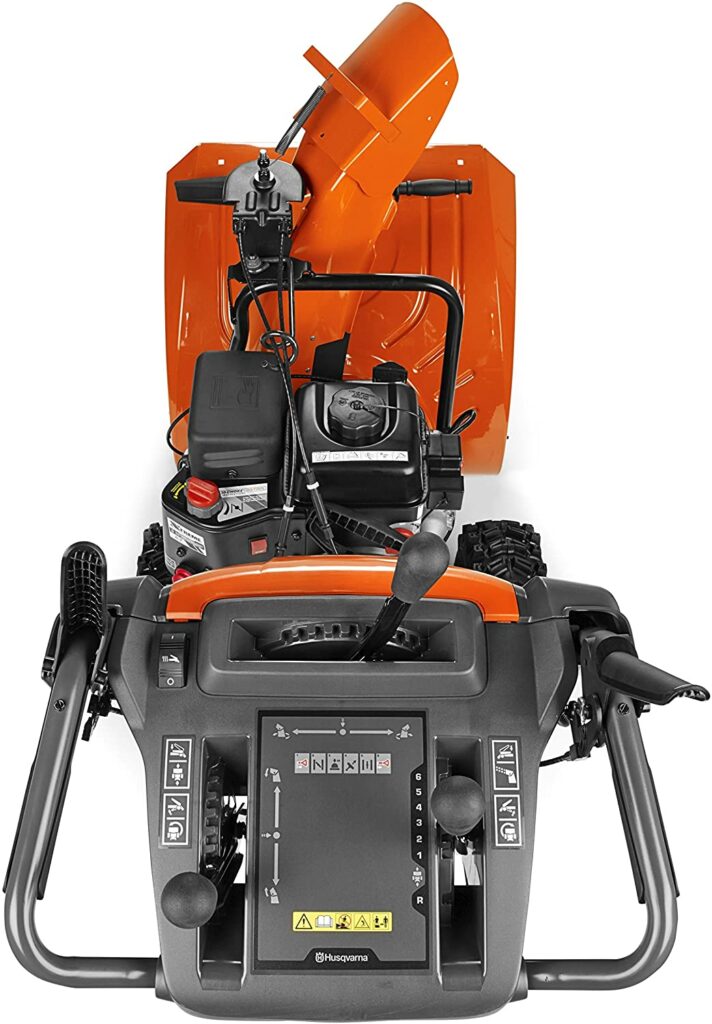 Where to buy Husqvarna ST224P Two-Stage Gas Snow Blower
#2 Best 2 Stage: PowerSmart PSS2240 Gas-Powered Snow Blower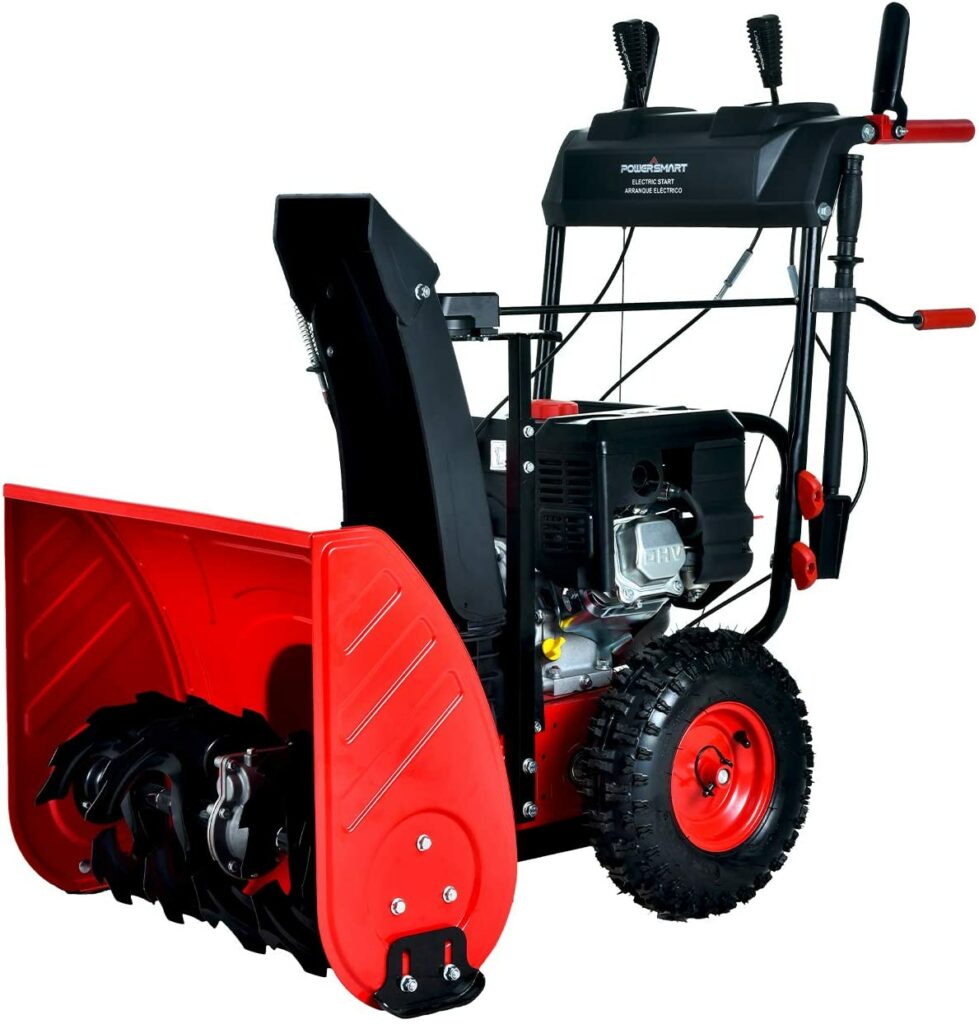 Are you living in an area experiencing heavy snowfall? Then the PowerSmart PSS2240 Two-Stage Snow Blower is the answer to your snow pile problems. It can work even in the harshest of winters with more than a foot of snow.
PowerSmart PSS2240-X is a 212cc gas-powered snowblower with a clearing width of 24 inches and a clearing path of 20 inches. It is self-propelled and has speeds of 6-forward and 2-backward.
The PowerSmart PSS2240-X features 13-inch inflatable tread tires that have a decent snow grip. The chute is rotatable at 180 degrees and height-adjustable metal skid shoes.
Snow Removing Capability and Power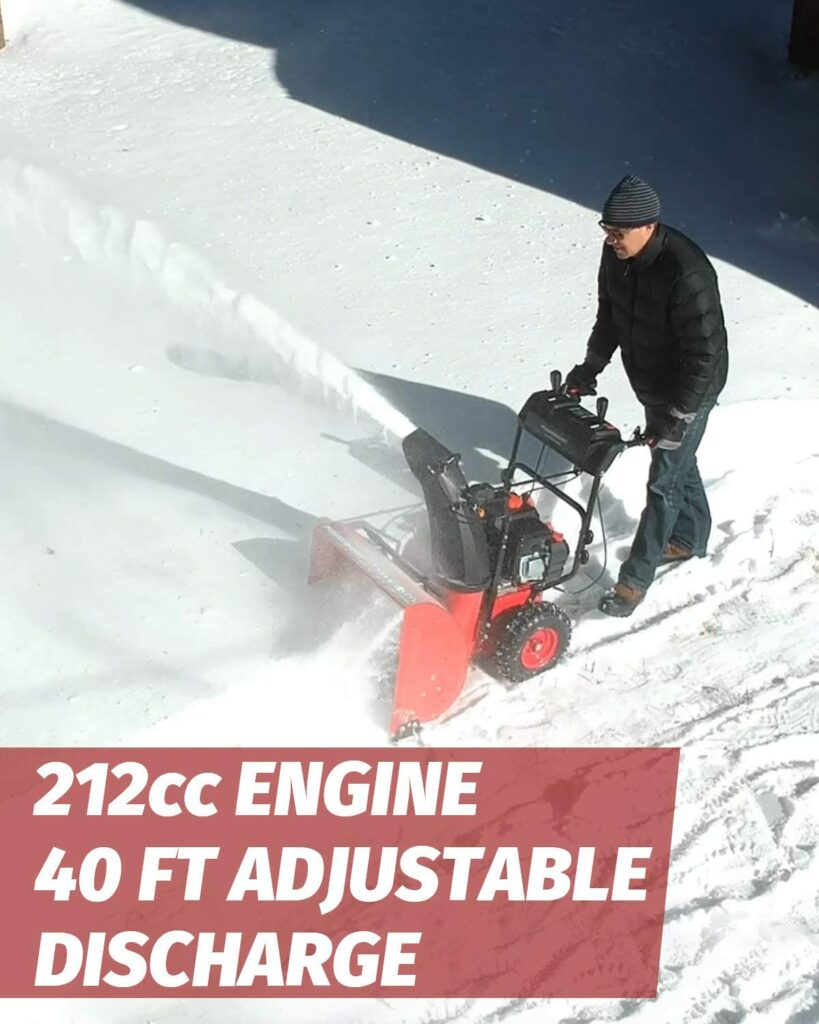 The PowerSmart PSS2240 is appropriate for the best regions with heavy snowfall. Its 212cc engine and 180-degree rotation of the chute give it the capacity to dig in through 20 inches of snow.
On the slippery ground, the inflatable track tires have full stability with few or no slides. Moreover, it promises a start-up of minus 20 degrees.
Easy to Use
The PSS2240-X weighs a weight of 160 pounds. It also features several configurations of the drive mechanism to satisfy the needs of all users. To manage snow in your driveway, use any of the six forward variations and the two backward speeds.
Therefore, you can use any of the two to get the machine going and ready to operate with both a push to start the electric button and a manual start. Its functionality makes it a great pick for all snow conditions
For various textures, the customizable metal skid shoes that come with this piece of equipment provide easy height adjustment.
Here are some unique characteristics that come with this snow blower, apart from the above features:
Inflatable Track Tyres 13 Inches
PowerSmart equipped this machine with these high grip inflatable tires to navigate through huge snow formation.
Chute Rotation of 180 Degrees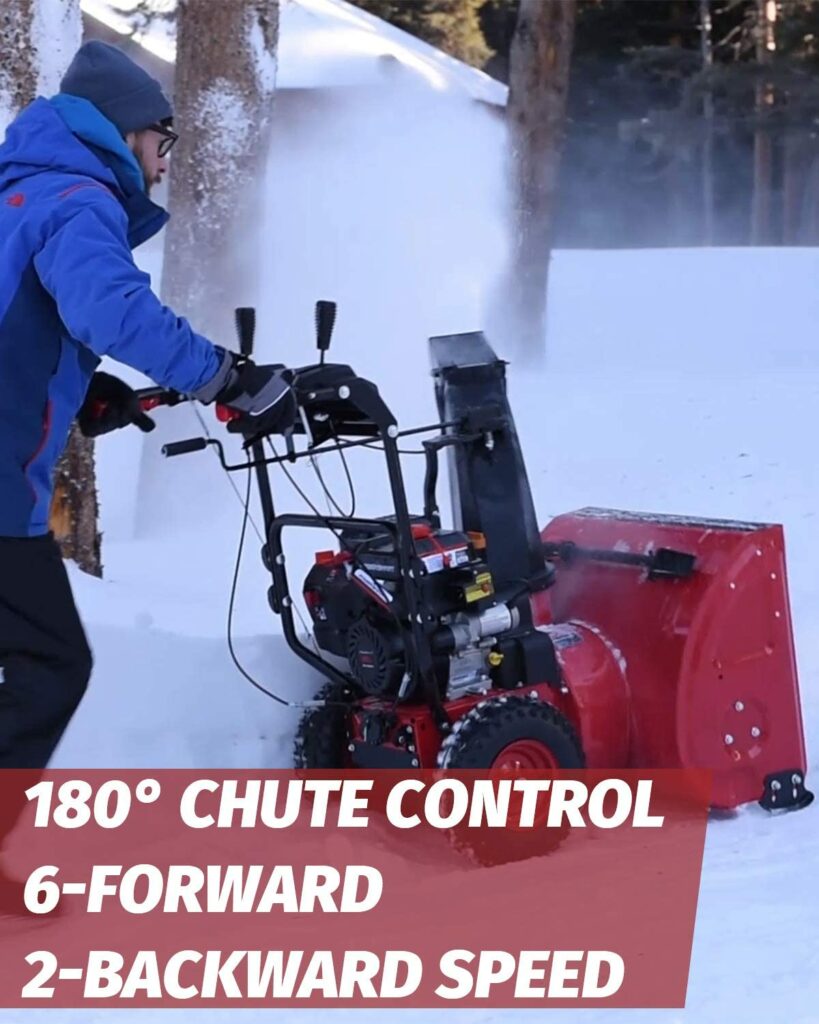 This suits a large driveway better or whether you have a more critical field to clear. On any rotation made, it helps to blow the snow quickly and easily.
Powerful Drive System
A major addition to the flexibility of this machine is the drive system. For a smooth driving experience, this facilitates 2 backward speeds and 6 forward variants.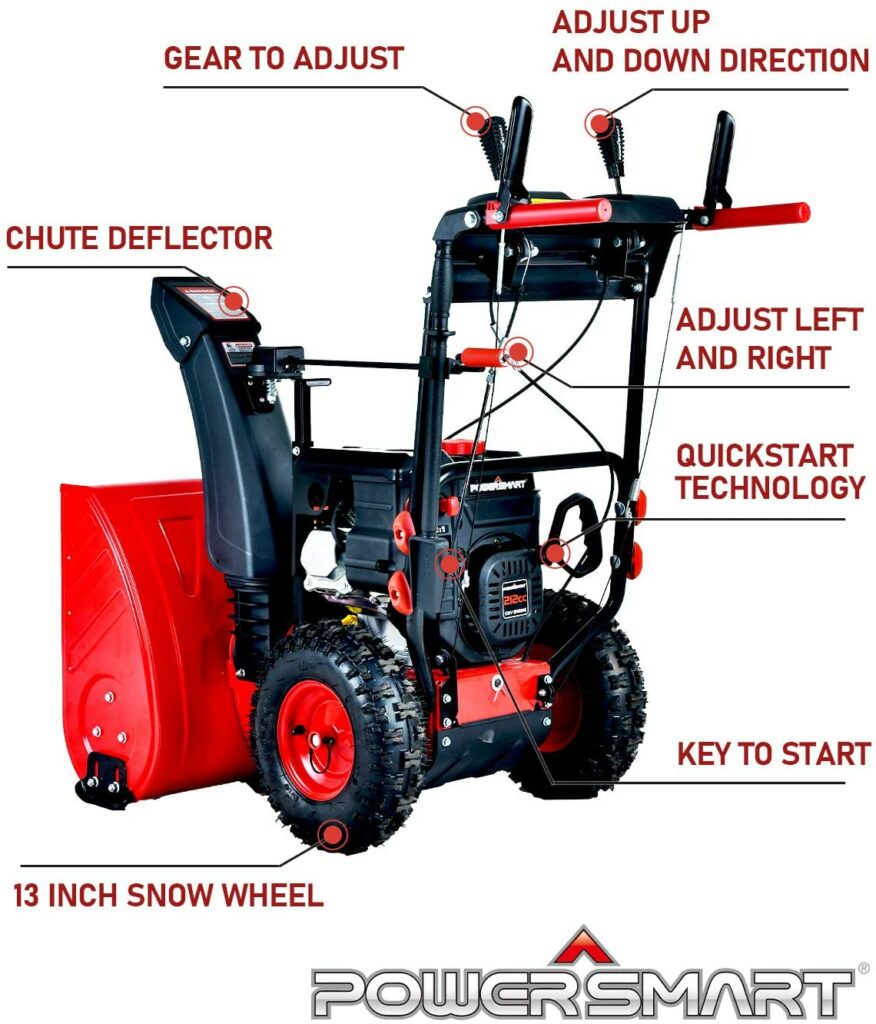 Full Specifications:
Model No/name PowerSmart Pss2240
Gas Powered
PowerSmart 212cc
Engine Power
In-line two-stages
24 inches clearing width
Ideal for 20 inches depth of snow
160 lbs product weight
Electric start
mechanism
Push-button electric or manual, SAE 5W30 oil type
What we like about this product:
Multiple speed variations for improved driving
Ease of Usage
Versatile
Cost-Friendly
Extremely durable
CARB compliant
What needs to be improved:
It takes time to determine the shift in speed that matches your pace.
A little straining for tall individuals
Where to buy PowerSmart PSS2240 Gas-Powered Snow Blower
#3 Best Value: Briggs & Stratton 1022E Single-Stage Gas Snow Blower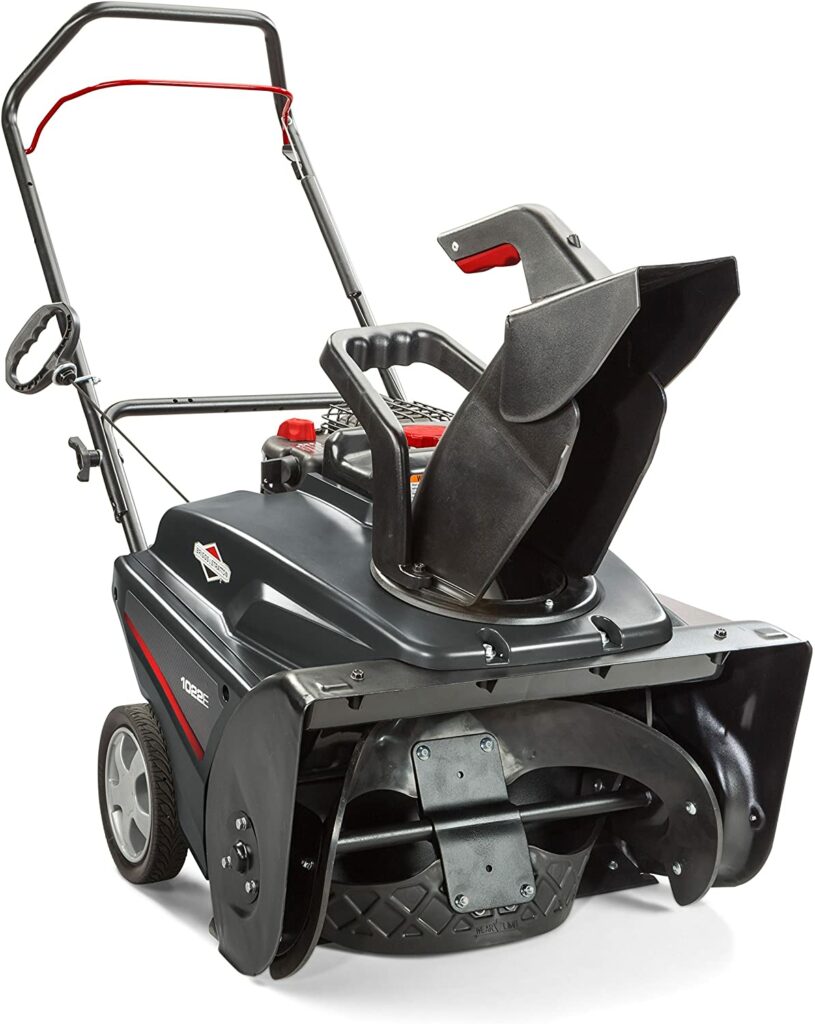 You need a Snow Fighter to keep the driveway and walkways safe. Another long-standing company that deals in both outdoor equipment and spare parts found in the industry are Briggs and Stratton.
Their brand of snow blowers is synonymous with reliable, long-lasting products, created to help customers get their yard cleared easily, regardless of whether you just get a little, or a lot, of snow per season.
The Briggs & Stratton 1022E moves with an auger-propelled drive system, as most single-stage gas snow blowers do. This just suggests that when you use it, the paddles will scrape the ground and softly direct the unit forward. With one hand, you can quickly move this forward and almost everyone should be able to manage this.
Among single-stage gas snow blowers, the Briggs & Stratton Gas Snow Blower is among those that offer the best value. This style of no-frills promises just enough power to cope with mild to medium snowfalls.
This is such a steal if you don't like the bells and whistles that most machines offer.
Features:
The Briggs and Stratton engine is uniquely built to start hard and provide the strength required to plow through the snow and features oversized controls to work safely with mittens.
The electric start push button makes it easy to start each time easily.
The 22-in clearing width and 12.5-in intake height make it quick and simple to work when throwing up to 30-ft of snow.
The sturdy steel frame, chute, and notched steel auger can quickly take on snow and ice, while the durable aluminum gearbox gives long life.
Includes reversible steel skid shoes to shield your machine from dirt and other loose materials that can come into contact with your snowblower.
The chute deflector does move smoothly and easily and there is next to no clogging.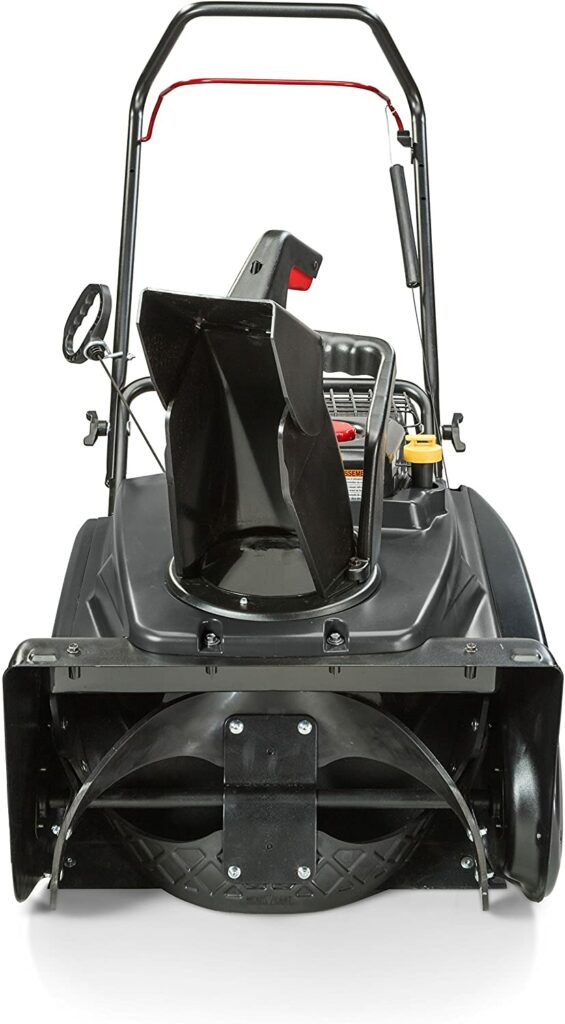 Specifications:
Recoil and electric start type
Self-propelled
22 in clearing width
Single-stage
93 lbs weight
Skid shoes
0.8 gallons of fuel capacity
10 in Auger diameter
Steel chute
18 in and above ideal snow depth
What we like about this product:
Incredibly easy to maneuver
Great for wet and heavy snowfall
Outstanding comfort features
Offers the best value for a single-stage
What needs to be improved:
The Auger is made out of durable plastic
Check out our individual product review for Briggs & Stratton Single-Stage Gas Snow Blower
Where to buy Briggs & Stratton Single-Stage Gas Snow Blower
#4 Craftsman Electric Start Single-Stage Gas Snow Blower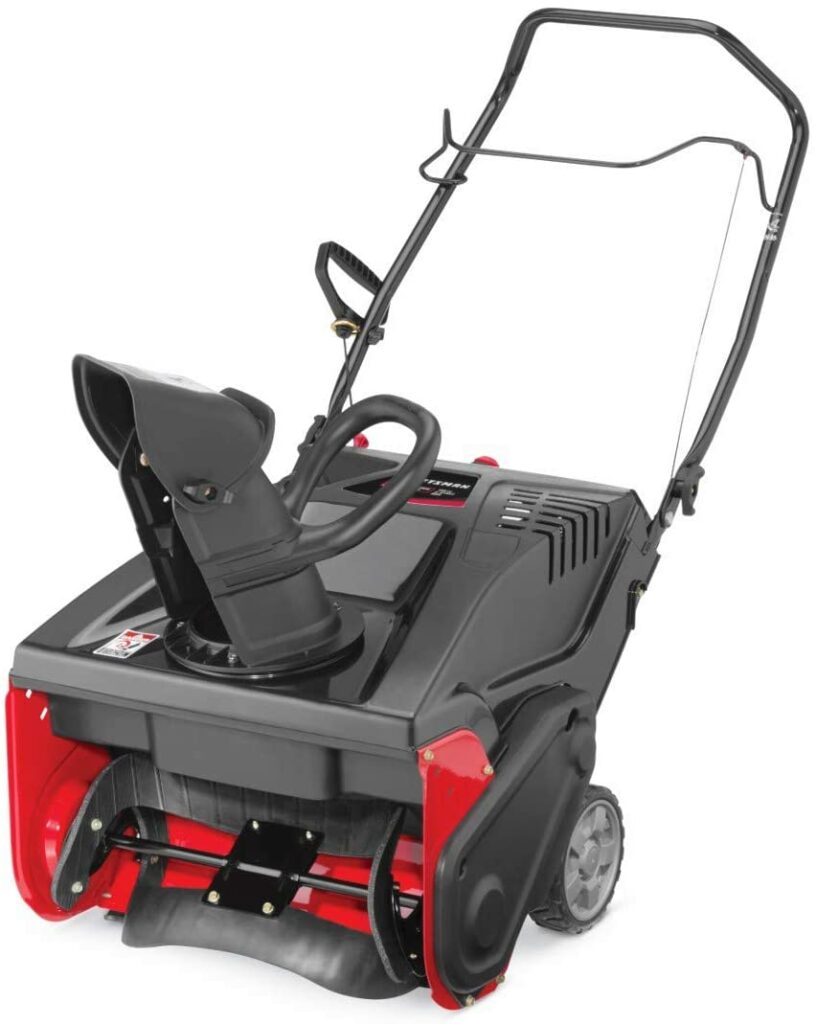 For almost 100 years, Craftsman has been designing devices for everyone, so they sort of know what they're doing. This shows in the kinds of tools they make, in reality.
Most single-stage throwers run on electricity, but for a compact machine, the Craftsman snow blower is gas-powered and has a powerful motor. It is one of the options that are most economical, which makes it a good deal.
However, it sacrifices slightly on results. It can be difficult to drive since it's self-propelled. Maybe that's got something to do with how light this unit is. Thanks to the electric push-button ignition, which is rare on single-stage systems, it is easy to start.
Product Features: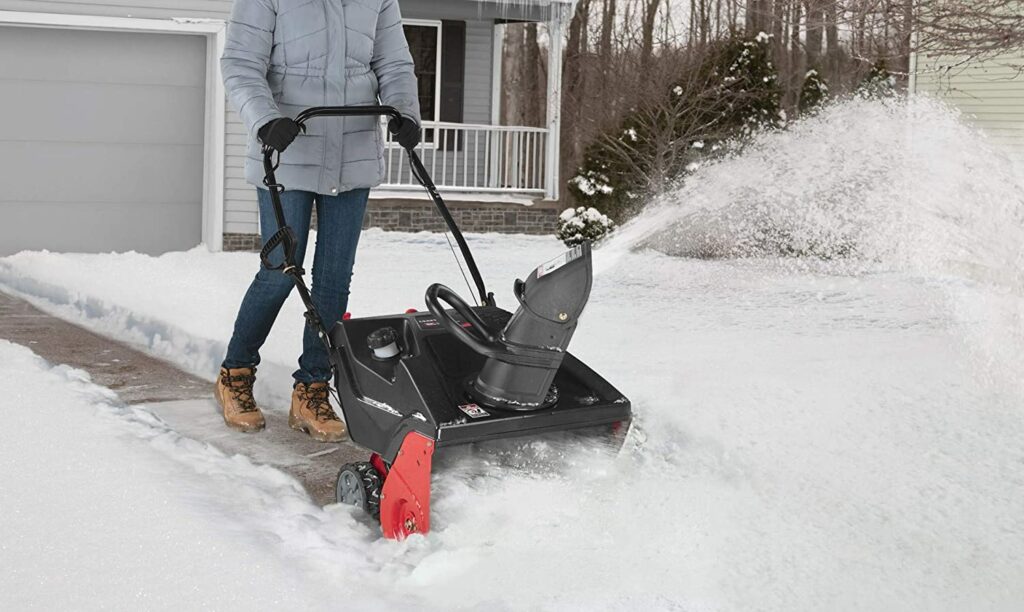 Snow is back in the season, but it shouldn't be your back pain. The self-propelled Craftsman 22″ snowblower brings an end to the long nights and days of clearing snow and freezing your cheeks off. This gas-powered snowblower helps driveways and sidewalks to work quickly, no matter how they look during the winter.
Thus, there is a swiveling chute for a dual-stage snowblower, making it easy to get snow out of the way and even launch an improvised snow war.
Self-propelled snowblower gas-powered with electric start
6 forward and 2 reverse speeds allow you to choose how fast you want the job to be done.
Horsepower of 179cc
A 12″ serrated steel auger and a 12″ impeller are used in a dual-stage snowblower.
Clears a snow path of 22′
Ideal for dirt, stone, and asphalt driveways and sidewalks, medium to wide
190 degrees chute rotation
10′ x 4′ Snow Hog tires give you extra traction in icy conditions.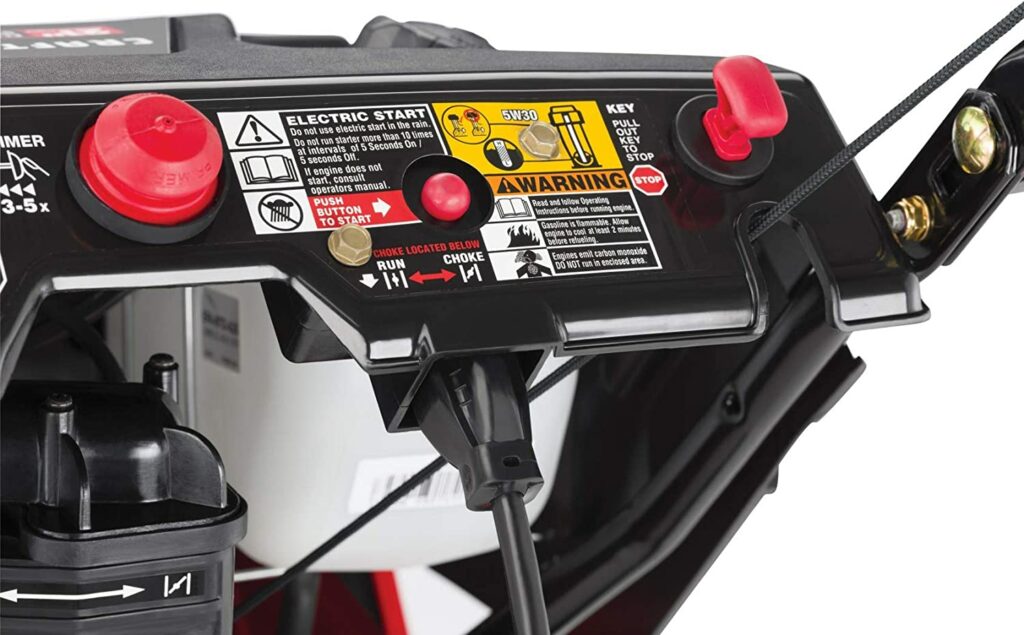 Specifications:
Included: Container of oil
CARB Compliant
Chute Polymer Material
180 deg Chute Rotation Turning Radius
21 in Clearing Width
30 in Depth
179 cc Engine Displacement
4 Cycle Engine Type
21.25 in Height
6 in Snow Depth
13 in Height
Single Stage
Electric Start
21 in Width
Gas Powered
What we like about this product:
Built-in big tyres have greater stability in uneven terrain
180 ° chute rotation allows greater control of snow-blowing
Electric starting features that guarantee instant start-ups
What needs to be improved:
Snow often sticks to the tires
Where to buy Craftsman Electric Start Single-Stage Gas Snow Blower
#5 Poulan Pro PR241 Gas Powered Snow Blower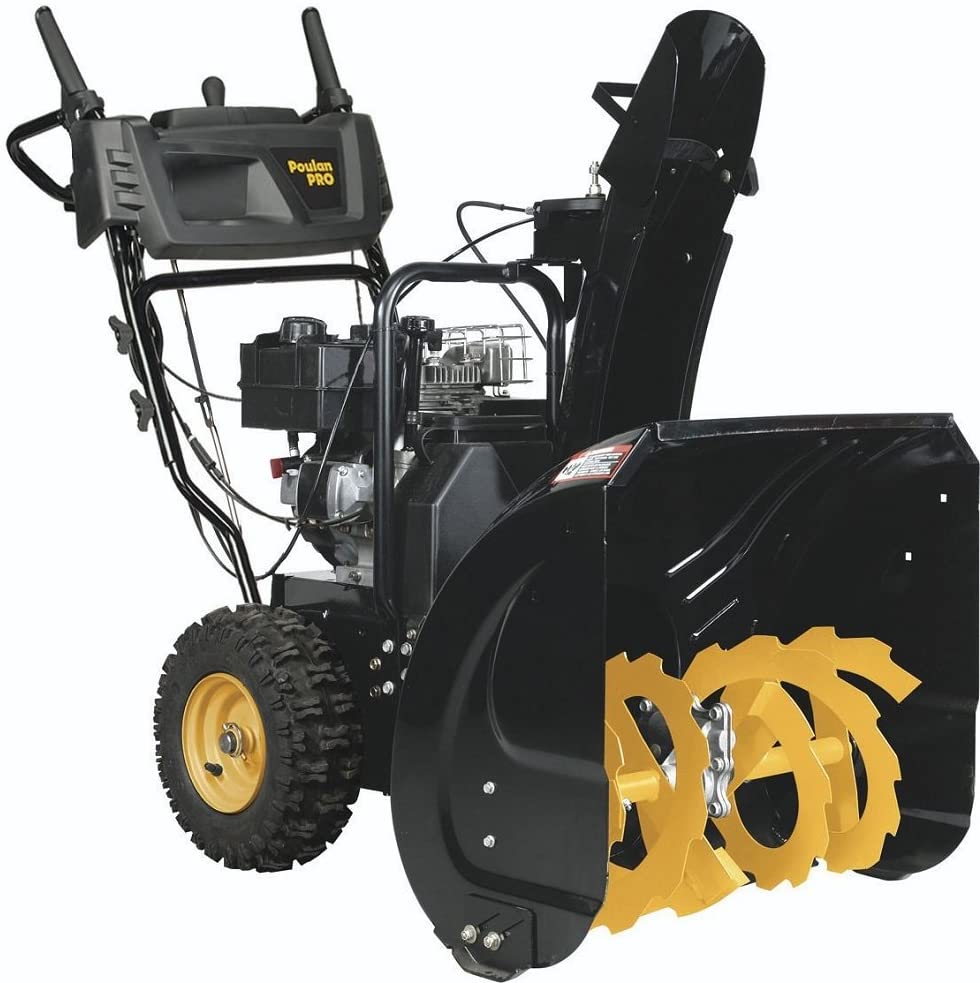 For over several decades, Poulan Pro has been providing reliable power machinery and equipment for outdoor use. They often have innovative models for customers and industrial use.
Poulan strives to make the best products for any customer, from mowers and hedge trimmers to chainsaws. That involves snow blowers that can really help clean things up so that you can drive around in the middle of winter.
One of the best snow blowers that they offer is the Poulan Pro PR241 Gas Powered Snow Blower
You must check out this if you're on the lookout for a balance between power and sturdiness. The 24-inch mouth is wide enough to make a single pass nearly every sidewalk. It also decreases the amount of passes you make on a large driveway, saving you time so that you can get to work quicker.
The electric start system means that you never have to think about the engine in order to get moving, even in brutally cold conditions.
You should be assured that this rig can bump along, gnawing away at major snow drifts with its 12-inch augers, a 12-inch impeller, and an intake height of 23 inches.
Let's talk about its Design
The PR241 comes pre-assembled, and the only material you would have to mount on your own is the discharge chute that sits on the control link, and with the help of only four bolts, this is done quickly and easily.
You will get the whole rig set up and ready to blow snow in merely half an hour, and if anything is vague, you can only use the explanatory instructions found in the owner's manual.
A redesigned control panel is included in the interface, which is much easier to use and much more intuitive. It also comes with a handle that is adjustable at four different levels of height, providing maximum convenience for the customer.
How to Start the Snow Blower PR241?
You can start it by pulling the pull-start handle until the motor roars into a mechanical life. You may also go for the electric start method.
Machine Power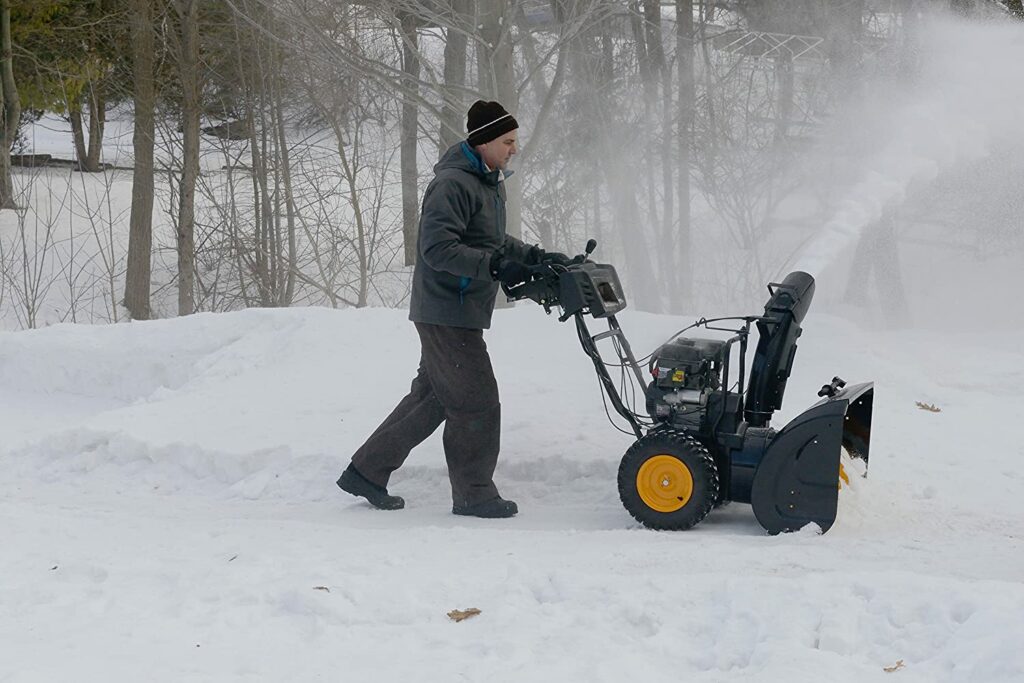 Snow throwers would either have a single-stage engine or a two-stage one. Single-stage motors will also move smaller and lighter volumes of snow. But to solve bigger work, it needs the strength of a 2-stage engine.
PR241 is packed with a 2-stage, 208cc, gas-powered engine with 9.5 feet-pound torque , which produces enough power for both the snow-throwing activity and the power-assisted wheels, giving you the power you need to blast even on steep hills through the snow and ice.
Snow Clearing Efficiency
The wider the clearing route is, the easier you'll be able to clean up all of the snow and ice. The intake clearance chute measures 24 inches, creating an incredible path through the snow. It is also 23 inches tall, so it won't have a problem tearing through several inches of snow at a time.
A 2-stage blowing system is used for the PR241 where the 12-inch auger blades tear into the snow, moving it to the 12-inch impeller blades where it is mixed with air until the chute is blown out. The combination of air and snow helps the machine to suck up the snow more easily and there are fewer clogs to deal with.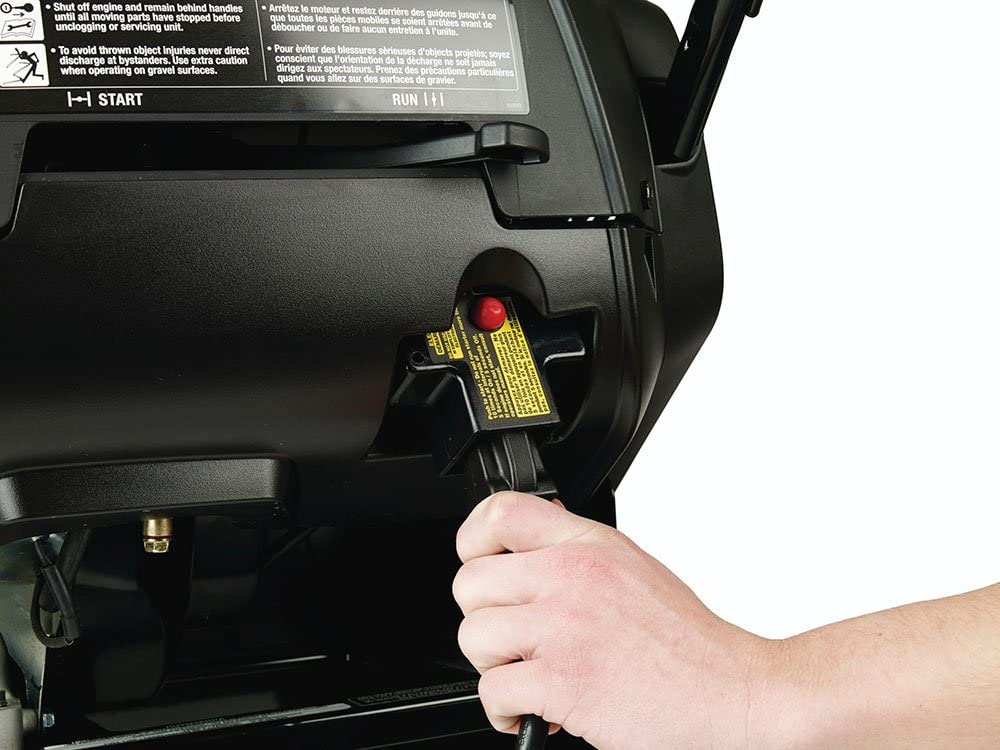 Specifications:
12 in Impeller Diameter
23 in Intake Height
13 in Tire size
208 cm³ Cylinder Displacement
0.71 gal (US) Fuel Tank Volume
2 Stage Blower Type
Electric Start
Remote Chute Rotation
Remote Deflector
Single Hand Interlock
Friction Disc Transmission
6 Forward Transmission Steps
1 Reverse Transmission Steps
What we like about this product:
Cuts through deep snow
Can work efficiently on gravel
Robust engine
Adjustable Grip
Simple to assemble
Electric Start
What needs to be improved:
Check out our individual product review for Poulan Pro PR241 Gas Powered Snow Blower
Where to buy Poulan Pro PR241 Gas Powered Snow Blower

#6 Honda HS720AS Single Stage Gas Snow Blower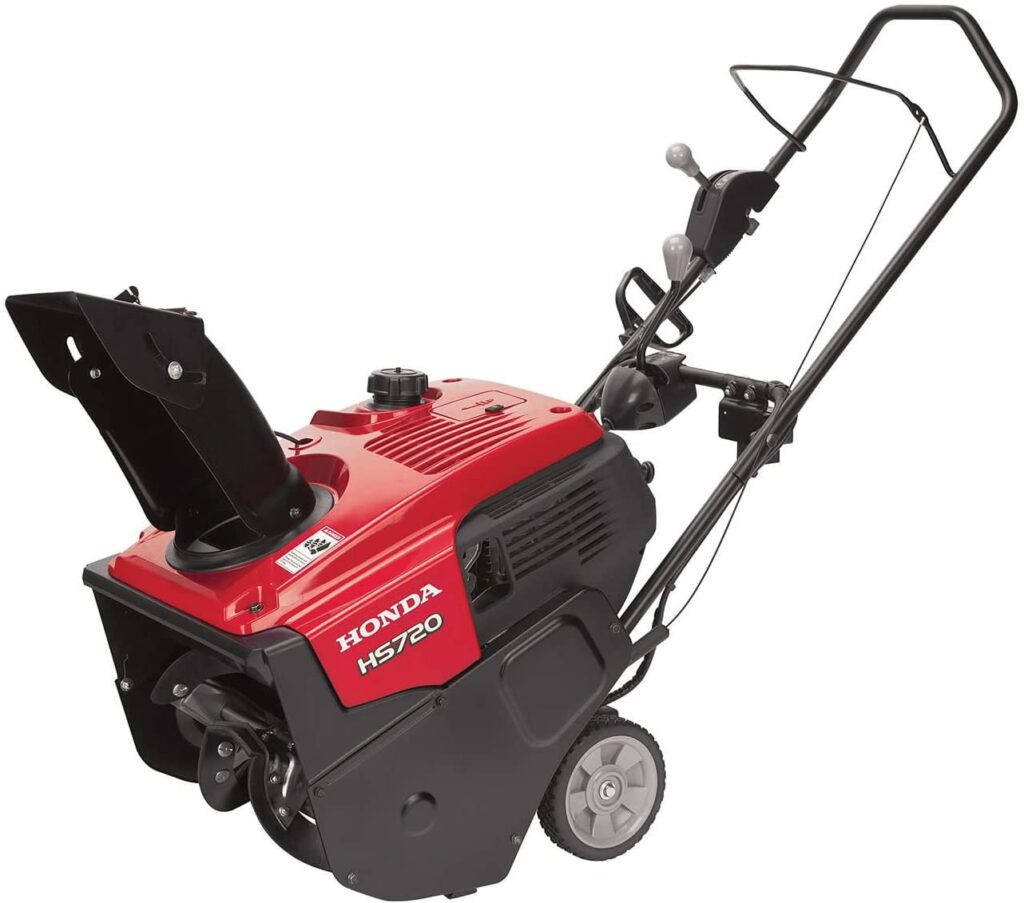 The Honda HS720AS snow blower is a lightweight unit that packs many great features. It is the brand's strongest single-stage product, designed on flatter surfaces for light to medium snow. The quality build you can get from Honda comes with it but at a hefty price.
The electric Start enables you to insert this snow blower into an extended cable, unplug, and go without pulling a string which is such a hassle.
To prevent bending, twisting, or leaving the operator position, control the direction and range the snow is being thrown with the Snow Director knob conveniently, located near the operator's handle.
With such plenty of power, this snow blower is no doubt the best here. It is hassle-free, easy to maintain, and slices through snow easily to get you through the hardest snow storm.
Easy Electric Start
By simply plugging in an extension cable, charging the blower and driving, the motor starts easily.
Honda GC190 Engine
With this powerful, easy to start and fuel-efficient 4-stroke Honda engine that offers up to 187cc, you can drive through snow easily.
Auger-Assist Drive
You can move quickly by applying a gentle upward pressure on the handle when the rubber-edged auger reaches the wall.
Snow Director Chute Control
Use the remote-operated chute to control the snow discharge route. You can also rotate the deflector up to 204°.
Clearing Width and Height
For complete snow removal, clear snow up to 20 inches wide and 12 inches high.
Capacity
Can throw out snow up to 33 feet and 55 tons per hour.
Large Wheels
Quicker and faster transportation is available.
Easy Maintenance
With an easy to reach engine and fuel drains and a conveniently placed spark plug, this snow blower is intended for hassle-free maintenance.
Innovative and Lightweight Design
Its lightweight and compact design allows maneuvering and storing this snowblower simple.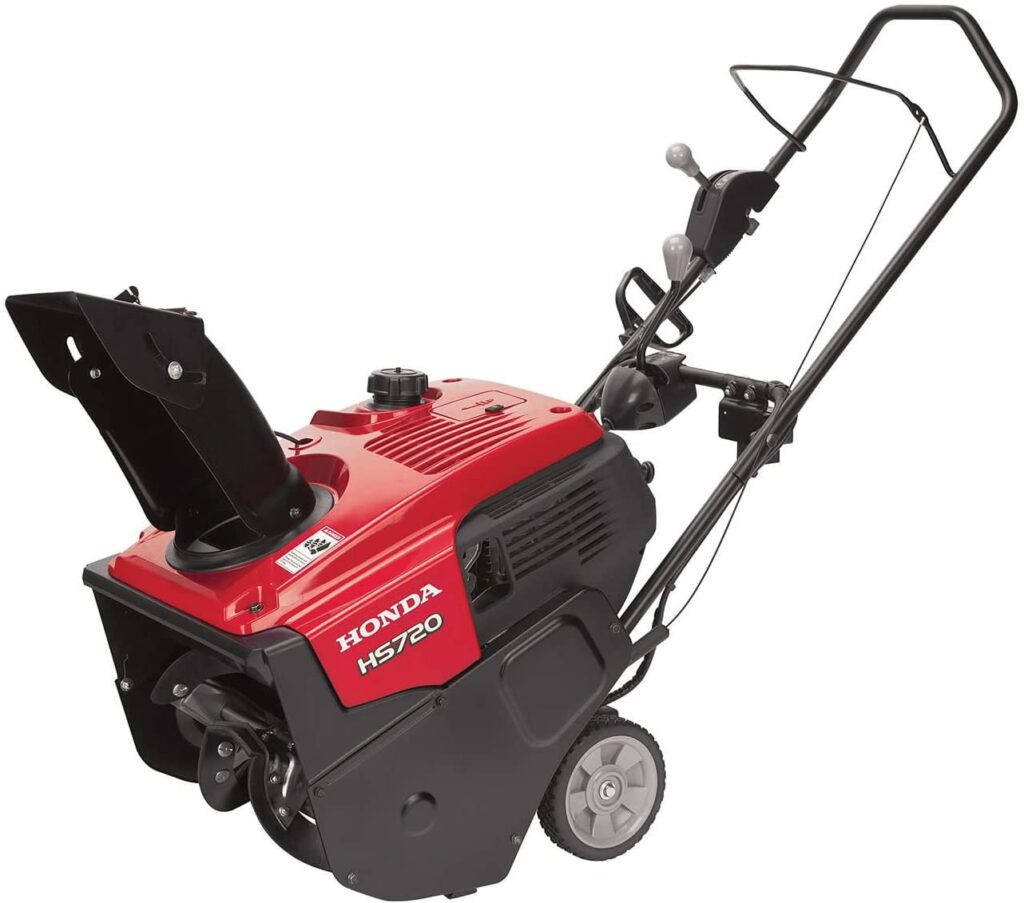 Honda HS720AS Specifications:
190cc engine displacement
Electric starting system
0.30 gallons fuel capacity
204° chute turning radius
20 in clearing width
12 in clearing height
33 ft auger system max throwing distance
What we like about this product:
Steel auger completely clears the surface
Reliable and high-quality engine inside
Electric start for cold weather
What needs to be improved:
Where to buy Honda HS720AS Single Stage Gas Snow Blower
#7 Ariens ST24LE Deluxe Gas Snow Blower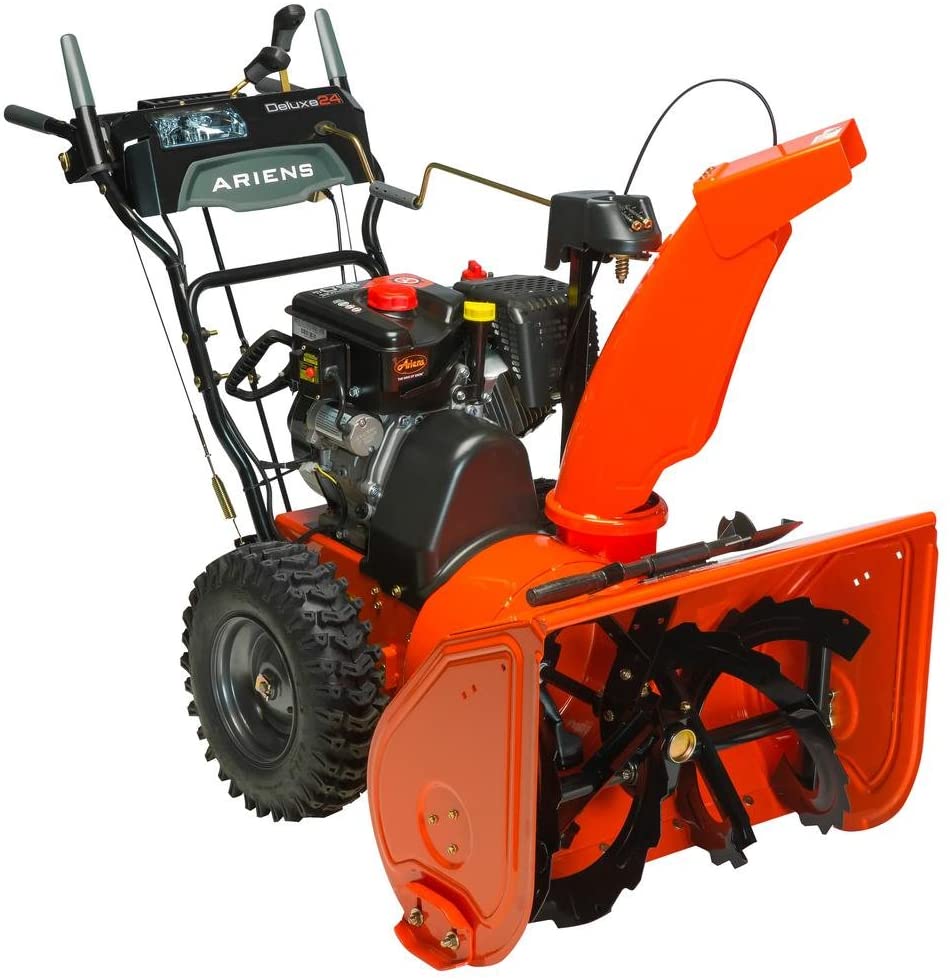 Winters can indeed be a magical time for everyone, especially the holiday season. But it can be an additional headache for someone who continuously has to dig off all the remaining sheets of snow from the yard and driveway.
And with powerful snow blowers like Ariens Deluxe 24 Two Stage Snow Blower, harsh winters are no longer a concern.
You don't have to waste much time on the snow with its 28-inch clearing diameter, and you can continue your work and get back to your schedule as fast as possible.
AX Engine 254cc
A powerful 254cc Ariens AX 4-cycle engine features the Ariens ST24LE Deluxe. The incredible 12.5 ft/lb torque allows it to chew up snow of all sorts.
Blowing Precision
Under varying conditions, a great snow blower is characterized by how consistent and flexible it is. And this is why Ariens has thought it fitting to equip the 921046 with a comfortable self-propelled drive system.
This system enables the blower to run at various speeds and forces.The Ariens snow blower is designed to be one of the most powerful snow blowing models on the current market with 6 variants in forward and 2 variations in reverse.
It also has an Auto-Turn Steering mounted within the blower's controls. This is what makes the machine much of its accuracy while making it even easier to use and control even in the toughest winter conditions at the same time.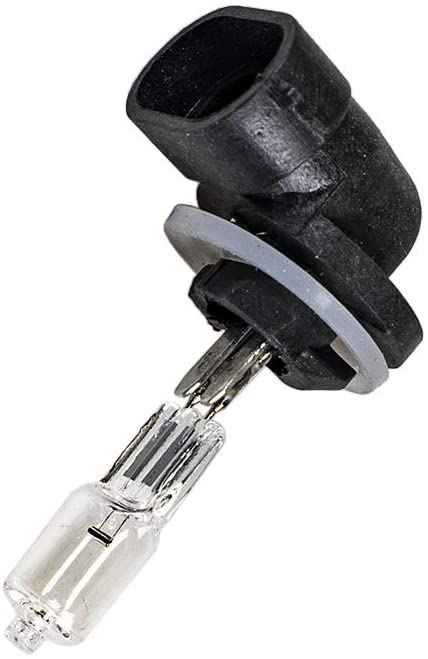 Specifications:
Two-stage gas
254cc 4-Cycle OHV engine
0.369 gallons fuel capacity
2060 lbs/min plowing capacity
24-inch clearing width
21-inch intake height
50 feet throwing distance
16 inch (5-inch width) tires
Weight: 245.5 pounds
Recommended Oil: SAE 5W30
Recoil and electric start
6 forward and 2 reverse speed
Power steering
Remote (Shift and Crank) chute adjustment
Halogen headlight
What we like about this product:
Features a powerful 254cc engine
Auto-turn Self-Propelled making it easy to handle
Made of high-quality steel Auger/Impeller
What needs to be improved:
Where to buy Ariens ST24LE Deluxe Gas Snow Blower
#8 YARDMAX YB5765 Two-Stage Gas Snow Blower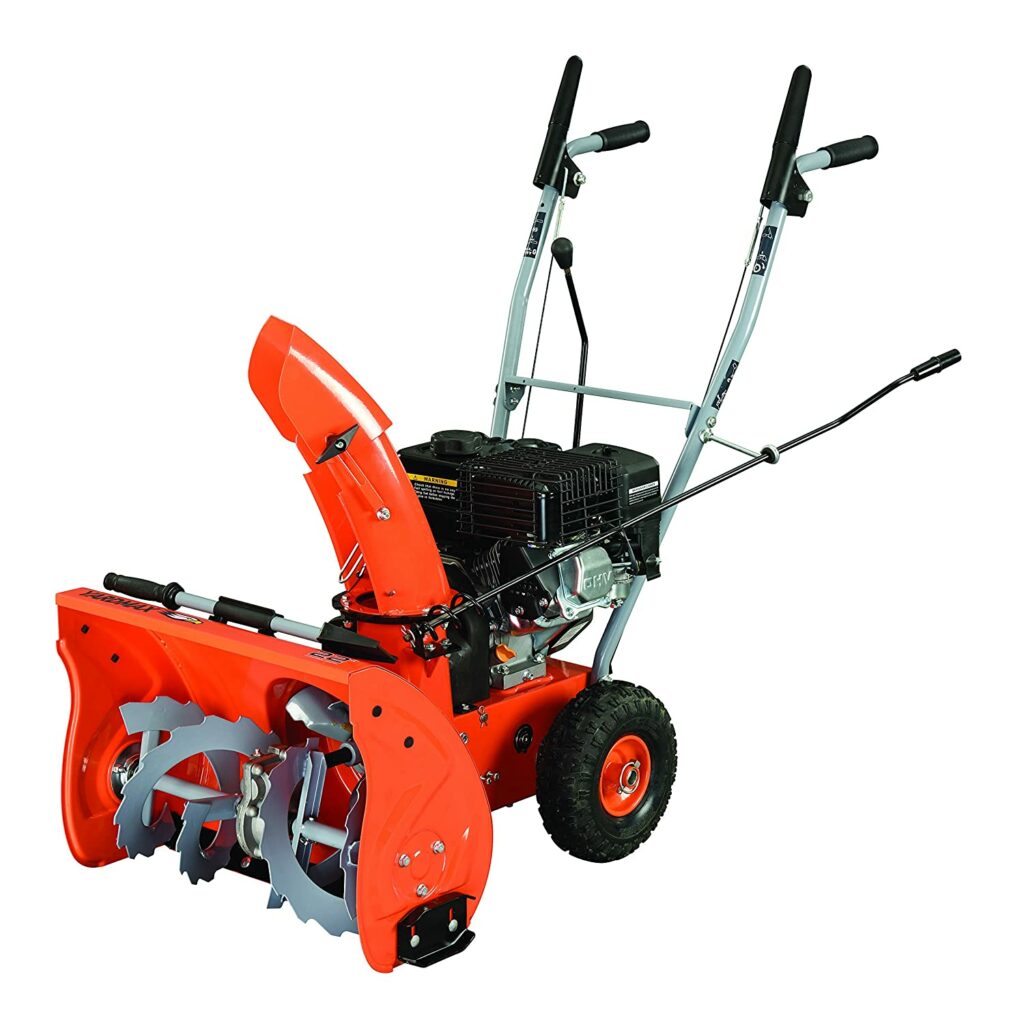 For homeowners who do not have to deal with a lot of snow, this snow blower is compact and lightweight and is a great pick. The YARDMAX YB5765 is a decent budget choice with a high-speed impeller, an extended chute, and several speeds.
Yes, in contrast to more costly snow blowers, the engine is not that powerful, but it does the job way better than the single-stage alternatives.
How about its performance?
The YARDMAX YB5765 does great when it comes to regular snow. It's strong and pretty quick to work with 20 inches of snow. However, it can struggle with wet snow as it gets trapped in the chute occasionally. But it performs pretty well overall for the price.
YARDMAX YB5765 also starts well—just prime it a couple times and it normally starts on the first pull.
Features
The YARDMAX YB5765 snow blower has 5 forward and 2 backward speeds and is self-propelled. The tires are small with only (13′′ x 4′′) and often fail in wet snow to find traction.
It has 9.5″ and 10″ impeller diameter serrated steel augers.
Assembly
You would need to do a very vigorous assembly process when you collect your YARDMAX YB5765. It won't be too much hassle if you're handy, and you can finish it in less than an hour.
But as most don't have a lot of practice building such machines, most end up taking 2-3 hours until they can actually start their unit.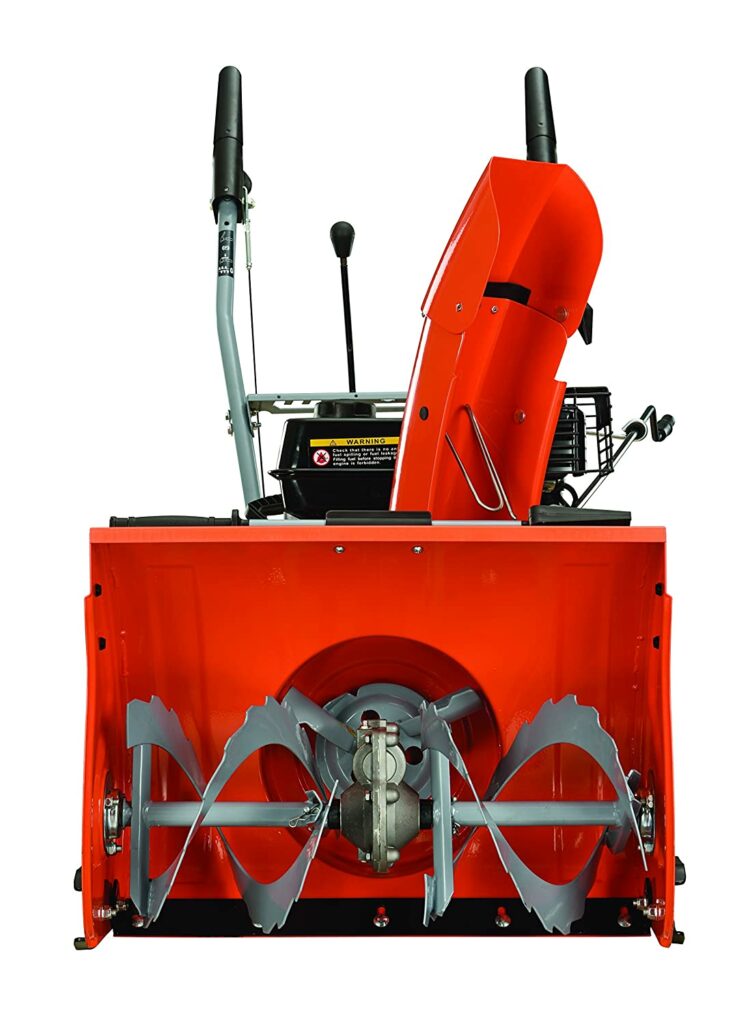 Specifications:
Two-Stage
22 inches clearing width
18 inches intake height
196 cc engine displacement
6.5 horsepower engine power output
Self propelled
5 forward speeds
2 backward speeds
Dimensions of assembled unit: (L x W x H) 47.2″ x 29.9″ x 42.9″
127 lbs assembled weight
What we like about this product:
Fairly priced for a great performing machine
Easy to start
Multiple speeds offered by self-propelled drive
The serrated steel augers quickly break through hard-packed snow and ice.
What needs to be improved:
LED headlights or electric starts do not come with this model.
Assembly can take time for some
Where to buy YARDMAX YB5765 Two-Stage Gas Snow Blower
Quick Buyer's Guide
You should have an idea of the best model to suit your yard work after reading our reviews on the best gas snow blower. To thoroughly determine what will be the right model for you, we have included some of these buyer's guides for you.
Gas Snow Blowers vs Electric Models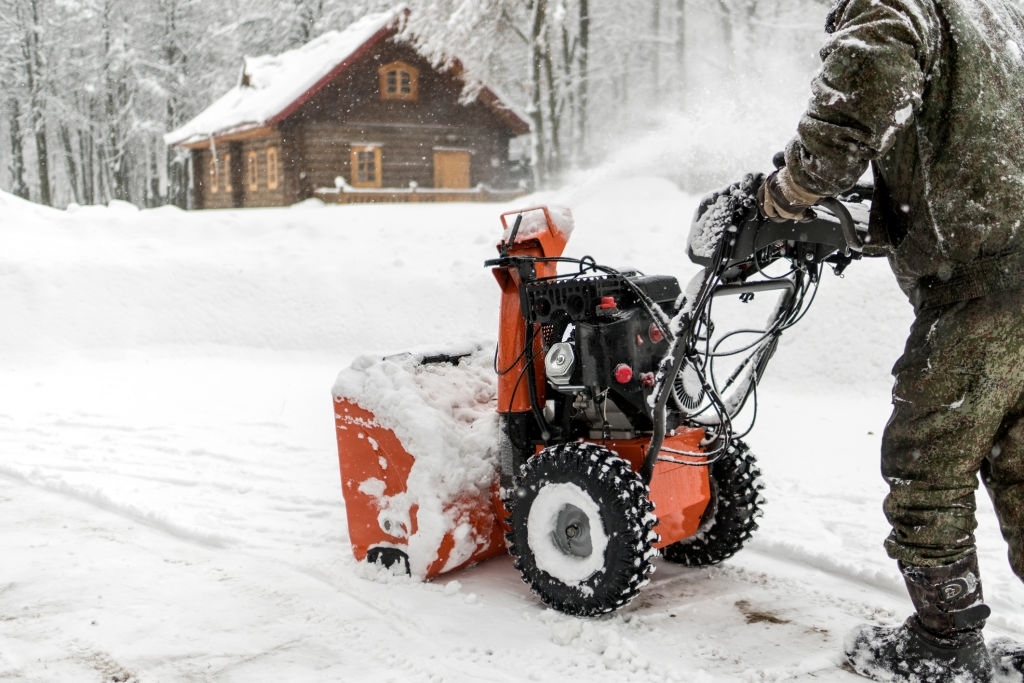 Electrical snow blowers usually come in corded and battery-powered versions. They lack the strength needed for heavy-duty clearing work.
If you live in an environment that gets lots of snowfall in the winter, you'll need to rely on a gas-powered snow blower to clear your yard.
Different engine capacities come with gas-powered vehicles, enabling them to clear wider areas than electric models.
Features to Look for in your Gas Snow Blower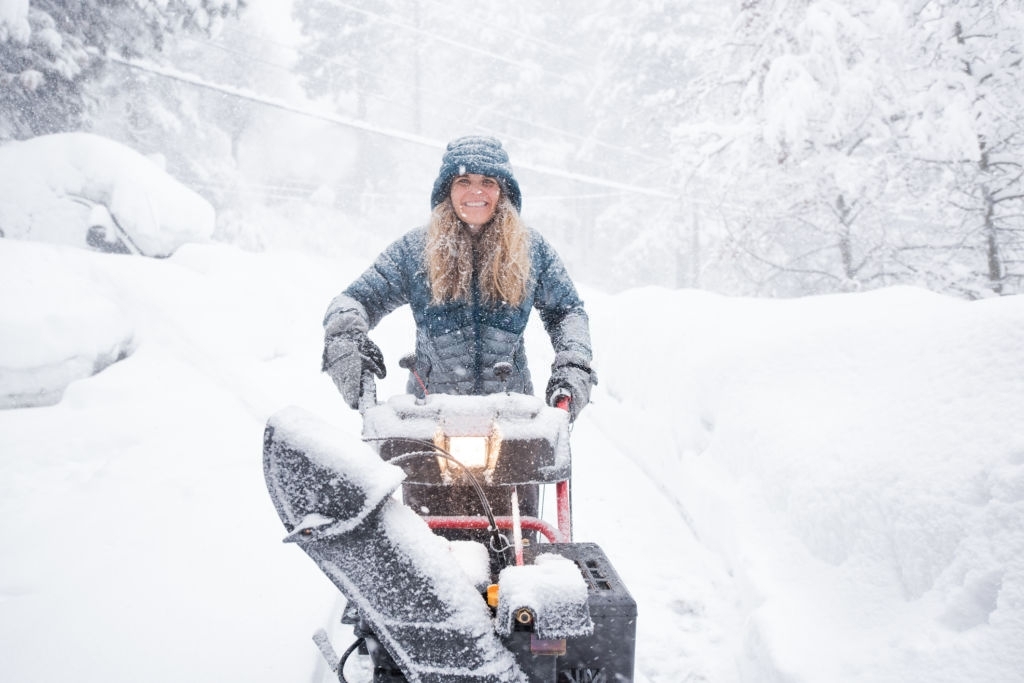 Start type – it's necessary to look for models featuring electric start type buttons.
Handle type – you need to look for a customizable or height-adjustable handle.
Headlight – a headlight is a must-have option in your gas snow blower if you need to do your sweeping in the early morning or at night.
Self-propelled movement – look for a model offering self-propulsion. A self-propelled gas snow blower is user-friendly.
To Sum This Up
You should now have a good idea of the best gas snow blower to suit your yard and your environmental conditions. So if you have trouble choosing the best gas snow blowers 2021, why not rely on our top picks?