In places where heavy snowfall is normal, gas-powered snowblowers can do much better. Gasoline engines can actually produce a lot of power, making it possible for manufacturers to sell machines with relative ease that cut wider paths and slice through deep snow.
The evident drawback to a snowblower powered by gas is that there would certainly be an effect on the environment and they need a bit more routine maintenance as well.
But, it is not unusual to be able to clear a 30-inch wide path in one pass through snow that is up to 2 feet thick with higher-end gas-powered snowblowers. This kind of snow removal power can significantly minimize the amount of time it takes to clear your driveway.
We will tackle today in this Briggs and Stratton snow blower review, how this powerful monster can bring you so much convenience when it comes to clearing up big piles of snow.
The Power of Single-Stage Snow Blowers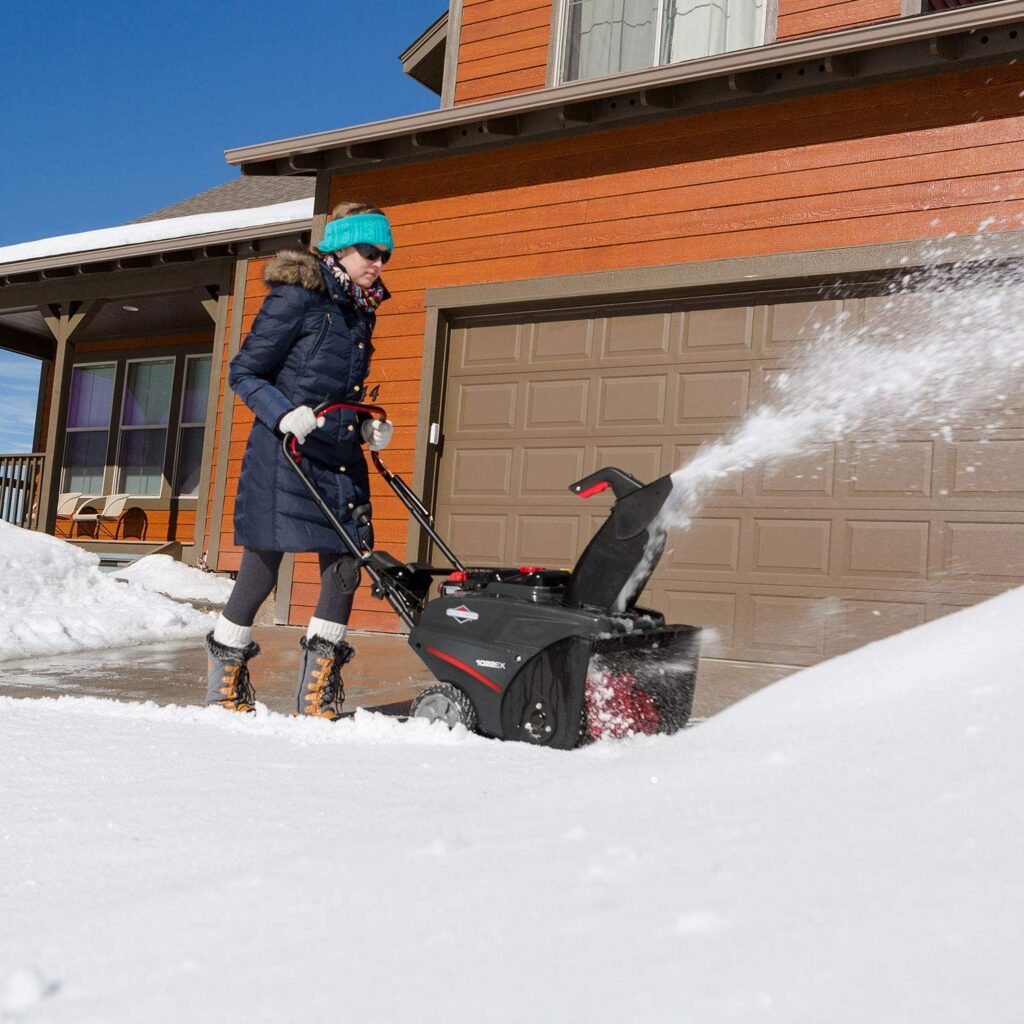 For smaller jobs, such as sidewalks, walkways, and short driveways, single-stage snow blowers are perfect for clearing up the snow. They are lighter, compact, and easier to handle than two-stage models, but they are only best suited if you get 8 inches or less of snow.
Single-stage snowblowers get their name from having just 1 auger. The auger (the blades you see in front of the blower) directs the snow straight into a discharge chute on a single-stage snowblower. The auger touches the area you are cleaning, so it can only be used on a paved surface.
Single-stage snowblowers can also toss snow up to 30 feet down, although they are not nearly as powerful as two-stage snow blowers. Plus, as they are lightweight and smaller, they are often simpler to move in tight spots such as narrow paths and driveways.
The front auger is also more flat on the ground, making the snow cleaning look flat and smooth while there would be no layer of snow left behind.
Not to mention, there are far more affordable single-stage snow blowers than two-stage ones like the Briggs & Stratton Snow Blower.
About Briggs & Stratton
Briggs & Stratton manufactures some of the market's most robust and powerful snow blowers that can plow through snow easily in no time. The 1022E model is one of them.
With a 950 Snow series 4-cycle 208 cc overhead valve (OHV) engine, it is one of the cheapest gas snow blowers that produces 9.5 ft-lb of torque that is twice the cost of the same efficiency as many units.
It has a 22-inch cutting path (which is good) and an intake height of 12.5 inches (more extreme two-stage units typically have an intake height of 20+ inches, which usually makes them better for heavy snowfalls).
With that being said, let's get to the Briggs & Stratton 1022E performance.
Briggs Stratton 1022E Features
Some snow blowers have many distinctive features and this is what the 1022E boast of. Being just a single-stage snow blower it has a lot of useful features that offer convenience.
The 208cc 950 Engine Snow Series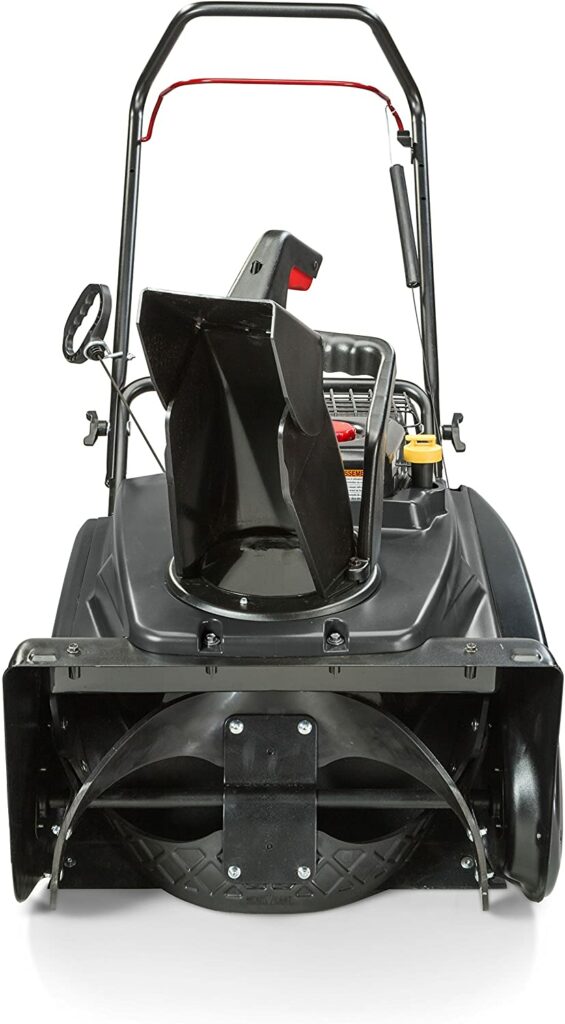 The 1022E model is powered by a Briggs & Stratton 950 Snow Series 208cc engine. This 4-cycle OHV engine produces a torque of 9.5 ft/b (estimated around 5.5 to 6 horsepower).
You don't need to mix oil and gas do not need to be combined. There are limitations to this engine, but it is sufficient enough for light to moderate snowfalls. It can produce some amazing strength until it reaches the peak of its torque curve.
It is very quiet and has minimal vibration, too.
Performance
It performs wonderfully when it comes to light snow. You can even clear 1 foot of snow without giving too much effort.
It also handles wet snow pretty well too although obviously not as well as the light, and fluffy type. It somehow struggles slightly with about 1 foot of wet snow but still does the job efficiently. If there is less than 1 foot of slushy snow, tackling it should not be challenging.
Electric and Recoil Starter
Since snow blowers are mostly used in cold weather, it does not function well with a battery. Therefore, it is important to plug it in to use the electric start. Electric starter snow blowers also come fitted with emergency recoil starters as a back-up.
The Briggs and Stratton 1022E comes with an electric start option. To get started, simply plug in an extension cord to an outlet and push the button.
This is an outstanding feature when temperatures get extremely cold, or if you're having trouble pulling the recoil cord manually to power the engine up.
Forward Speed Auger-Propelled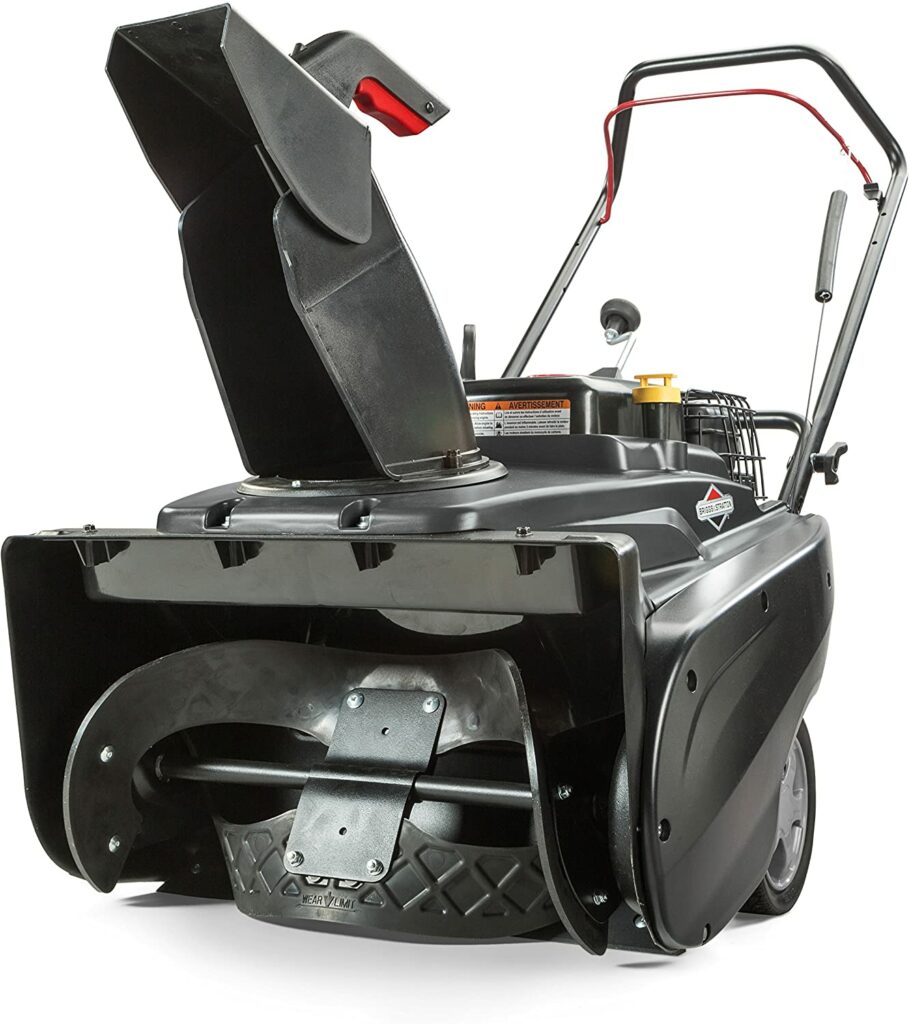 The Briggs & Stratton 1022E moves with an auger-propelled drive system as most single-stage gas snow blowers do. This means that when you use it, the paddles will scrape the ground and slowly guide the unit forward.
It's not as easy as a real machine that's self-propelled, but it works well. You can even simply move this forward with one hand.
Noise Level
There certainly isn't a gas-powered snowblower that you would call silent. The 1022E is quieter compared to other single-stage gas ones. In that way, you might call Briggs & Stratton 1022E somewhat quiet but it is still slightly louder than electrical units.
Powerful 10-inch Auger for Surface Cleaning
The 1022E features a heavy-duty plastic auger that can scrape the surface efficiently. It can clean right down to the pavement with light snow. It will somehow struggle with dense snow or ice, leaving a tiny layer behind it.
Regardless of being plastic, the auger can keep you up if you avoid gravel surfaces. The rubber-tipped paddles will bear the brunt of the wear. This is a good thing because you can easily replace them when worn instead of changing the whole auger assembly.
Maneuverability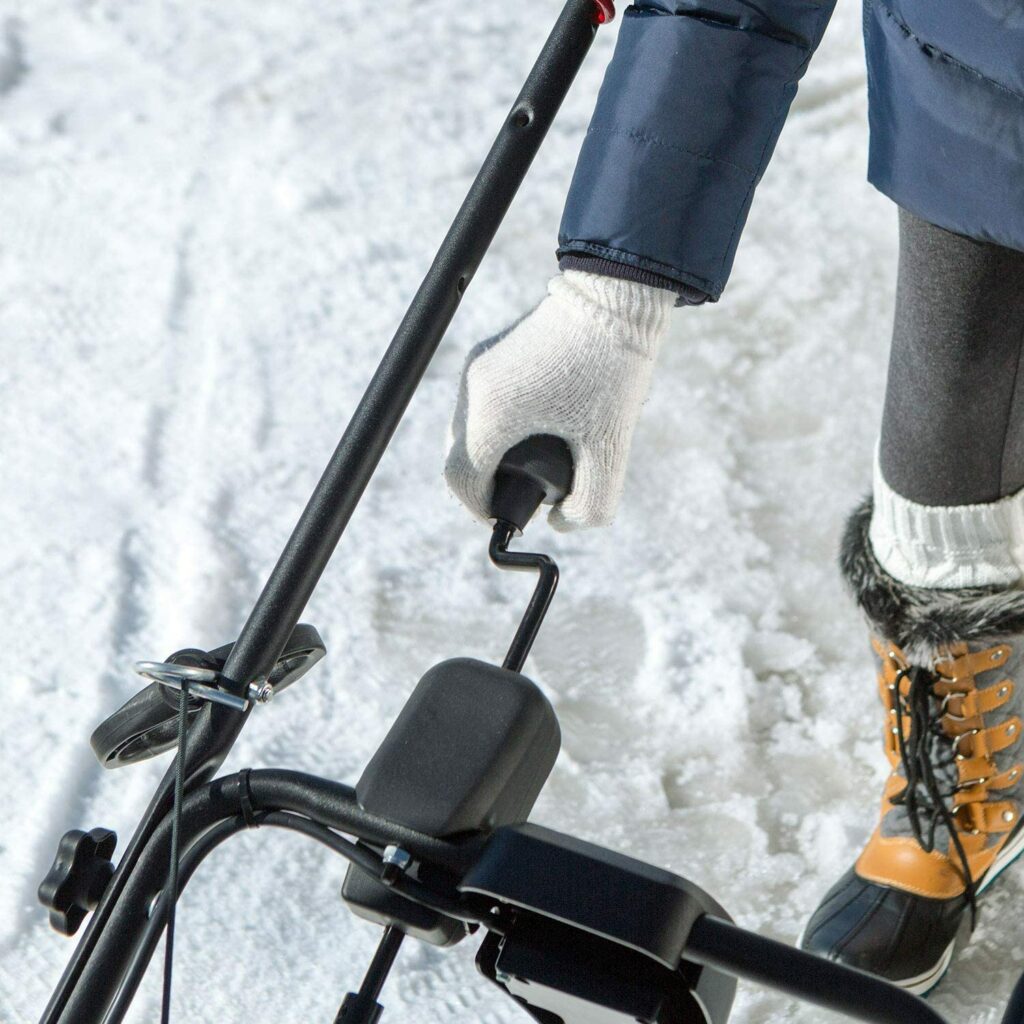 For a gas-powered snow blower, the Briggs and Stratton 1022E is very small and lightweight, making it much simpler to maneuver. Although it's not technically self-propelled, it still pulls it along with the auger-assist drive system slowly.
Chute-Handle Fitted
Unfortunately, the standard model does not have any remote chute controls. You have to walk around to adjust the direction or angle and do so manually.
How Much Snow Is Removed by the Briggs & Stratton 1022E?
This single-stage can accommodate 8-10 inches of soft snow easily, with its 22-inch clearing width and 12.5-inch intake height. It has a common throwing distance of around 25-30 feet, which makes it strong enough for a large 2-car driveway.
This model does a remarkably good job for wet snow too. It is safe to be used on decks made of wood.
It is at the end of the driveway where you see the limitations of this snowblower. It just doesn't have the capacity to effectively clear big piles. The heavier the snow gets, the less clearing is efficient.
This is the type of snowblower that you want to use right before the snow freezes up when the storm falls.
Maintenance
The 4-stroke engine of Briggs and Stratton 1022E ensures you do not need to blend oil with gas, making it simpler to maintain than 2-stroke engine units.
Briggs and Stratton 1022E Advantages
Best value for a single-stage snowblower
Deals remarkably well with wetter snow
The auger, the body, and the chute are all made out of thermal urethane plastic. That means the whole thing is lightweight, but very durable as well.
This Briggs and Stratton single-stage snow blower will last for years thanks to its material.
The user manual is completely clear and simple, so you can't be confused.
It is lightweight, making it not only easy to maneuver and manage, but also easy to store.
Thanks to the recoil starting system and the amazing 950 Series engine, it is easy to use in all situations.
You can manually adjust both the chute and the deflector, so it is convenient and easy to use.
Needs Improvement:
This one would need some repairs over time, just like any other gas-powered snowblower. Fortunately, maintenance isn't difficult, or dangerous, for this snowblower.
No remote chute controls
Briggs and Stratton 1022E Specifications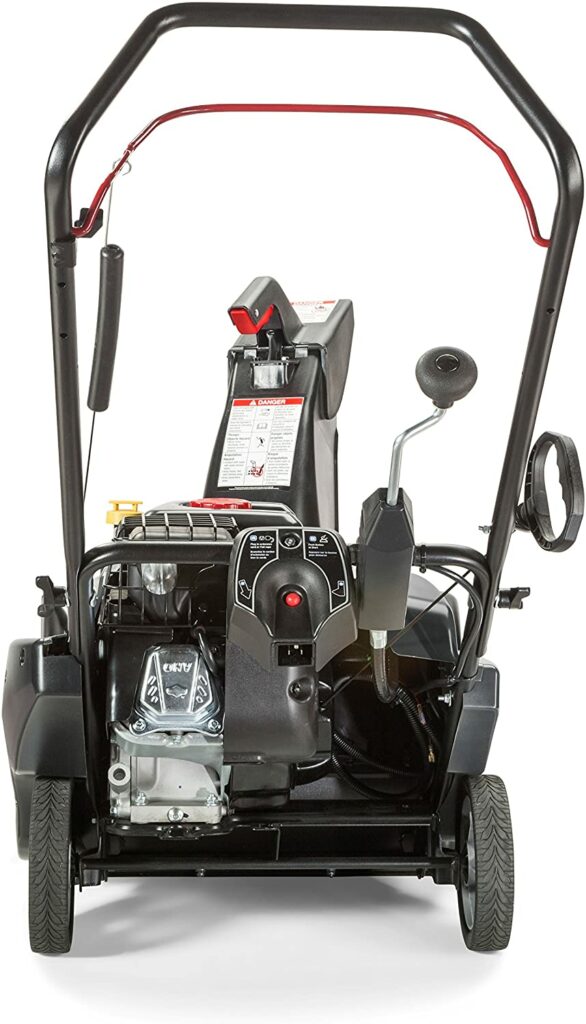 Assembled Depth: 47.8 in
Assembled Width: 23.1 in
Assembled Height: 40.7 in
Ideal Snow Depth: 12 in.
Clearing Width: 22 in
Intake Height: 12.5 in
Tire Width: 2 in
Auger Diameter: 10 in
Auger Material: Durable Plastic
CARB Compliant: Yes
Body Material: Plastic
Chute Material: Plastic
Chute Turning Radius: 200 Degrees
Engine Displacement: 208cc
Fuel Tank Capacity: 0.8 Gallons
Oil Capacity: 20oz
Plowing Capacity: 5 lbs/min
Start Type: Recoil/Electric
Stage Type: Single-Stage
Things You to Consider When Buying Briggs & Stratton Snow Blower
Operation- Some of the snow blowers can be powered by one hand, but it would take more time to run smaller push models.
Scale- It is true that the bigger the machine gets, the more capable it becomes. You may need to consider options for storage. The 1022E model is small but it does a great job like most of the bigger models.
Warranty- A nice thing for Briggs and Stratton is that they prefer to give their blowers, including their engines, the same warranty.
Starting- In cold weather, you may need the assistance of electric starters. On most models, Briggs and Stratton have a credible electric launch.
Final Thoughts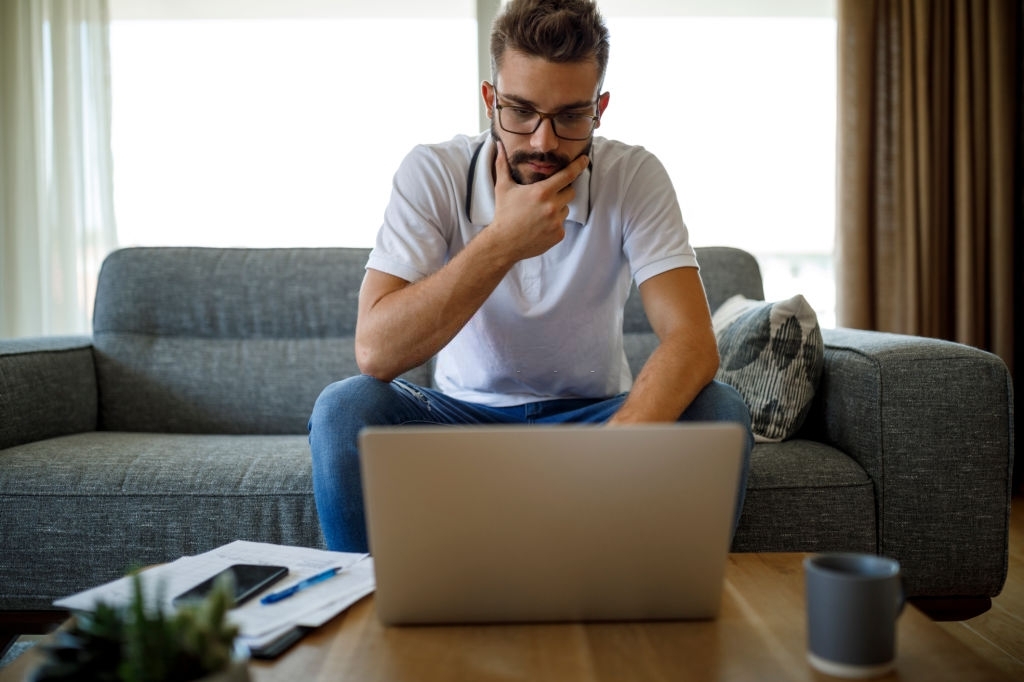 This is a perfect option if you're having trouble deciding if you need a snowblower, or whether your budget is tight. This has enough strength to tackle most less than a foot of snow which needs no huge spending.
Given its inexpensive price, the build quality is solid. You will be satisfied if you can live with some of its limitations.
It's a perfect machine that has enough capacity to clear the snow, while also being light enough to be handled by anybody, and compact enough to be kept easily. We will honestly give it a 4.8-star rating based on what we have on this Briggs and Stratton Snow Blower review.