Affiliate Disclosure: I am grateful to be of service and to bring you content free of charge. In order to do this, please note that when you click links and purchase items, in most cases I receive referral commissions. Eventually, I may earn enough to buy a beer or two 🙂
Let's Help You Find the Best Leaf Blower for Pine Needles (2021)
If pine needles and dead leaves are gathering up faster than you can get rid of them then it's time to find a more effective cleaning strategy for your garden or yard. Why struggle with a back-breaking rake when you can do the same job in a fraction of the time and with less effort.
A handheld leaf blower is the best way to keep your outdoor space tidy and free from dead leaves. It can do the same job as a rake, only 10 times quicker. A handheld leaf blower is perfect for an average-sized home and can cope with the demands involved with shifting large leaf piles and pine needles. Whether this is your first ever leaf blower or if you're looking to upgrade an older machine, we've got you covered.
Portable leaf blowers are usually designed to be either backpack units that you can strap onto your back to ease the load from your arms or you could choose a compact lightweight electric handheld model. There's no wrong choice here- it boils down to the size of your lawn or yard.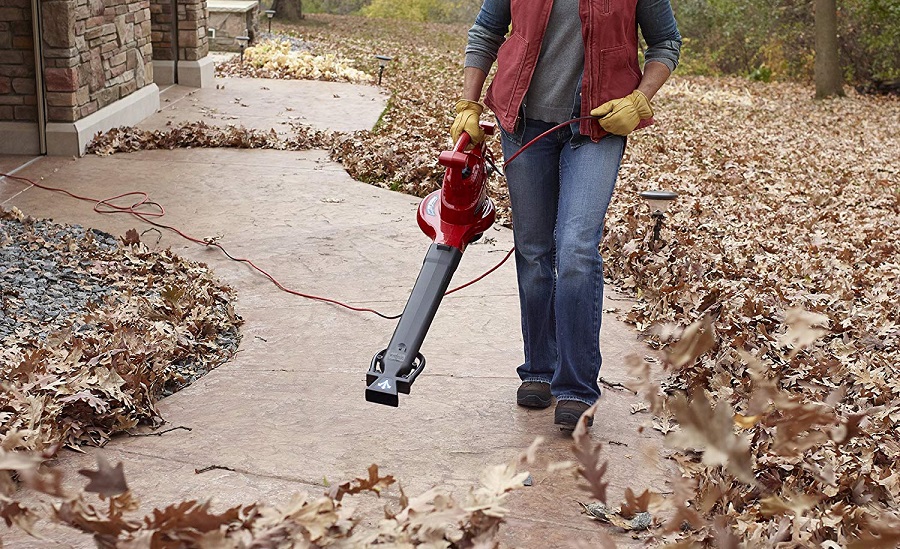 If your yard is smaller than 1 acre then you're better off with a handheld leaf blower. If you're cleaning a space larger than an acre then a backpack blower is best as it allows you to clean for an extended period of time. Below is a shortlist of recommended leaf blowers for pine needles and dead leaves.
#1. Top Choice- Hitachi Gas Powered 170 MPH Handheld Leaf Blower
There are few leaf blowers that can match the sheer performance of the Hitachi RB24EAP. It's our favourite leaf blower and there's a good reason why. The machine is equipped with an airflow of 441 CFM and expels air at a whopping 170 miles per hour.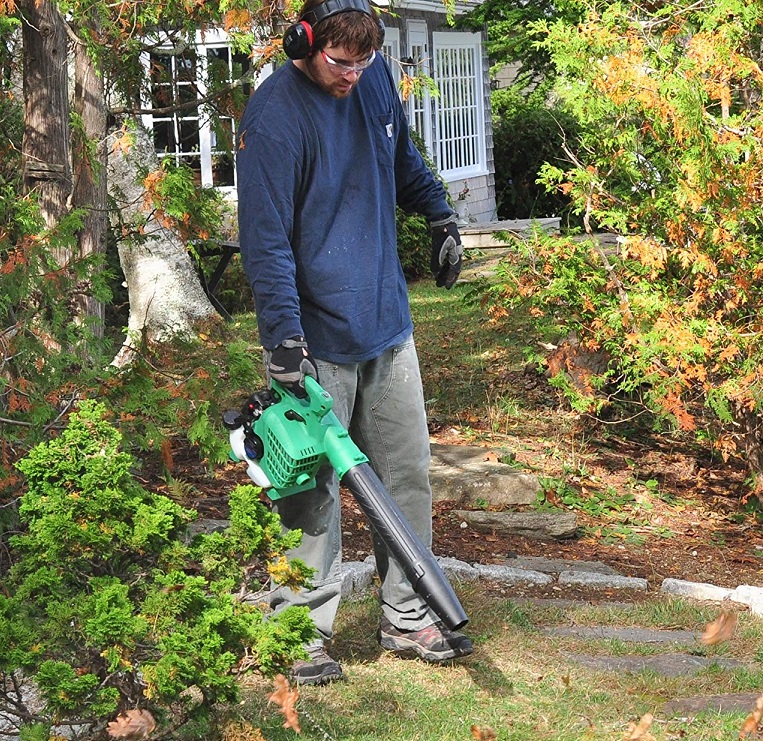 There's plenty of power to clear pine needles and dead leaves, however, if you're faced with the challenge of blowing away wet leaves or heavier objects such as twigs, the airflow is sufficient to tackle those jobs.
The Hitachi leaf blower is equipped with a 23.9 cc 2-stroke engine that is robust enough for industrial use. It produces plenty of torque and spins at blazing fast speeds. The unit is gas-powered but somehow the manufacturer has managed to keep the machine lightweight, weighing just 8.6 pounds. It handles well thanks to an evenly distributed weight.
Check out the full product review for the Hitachi RB24EAP leaf blower here.
The air nozzle focuses the large amounts of airflow into a steady stream that produces a consistently powerful jet of air to blow away debris, leaves and pine needles from all the areas they are not wanted. The Hitachi RB24EAP is made from high-grade materials and the manufacturer backs this machine with a lengthy 7-year warranty for domestic use.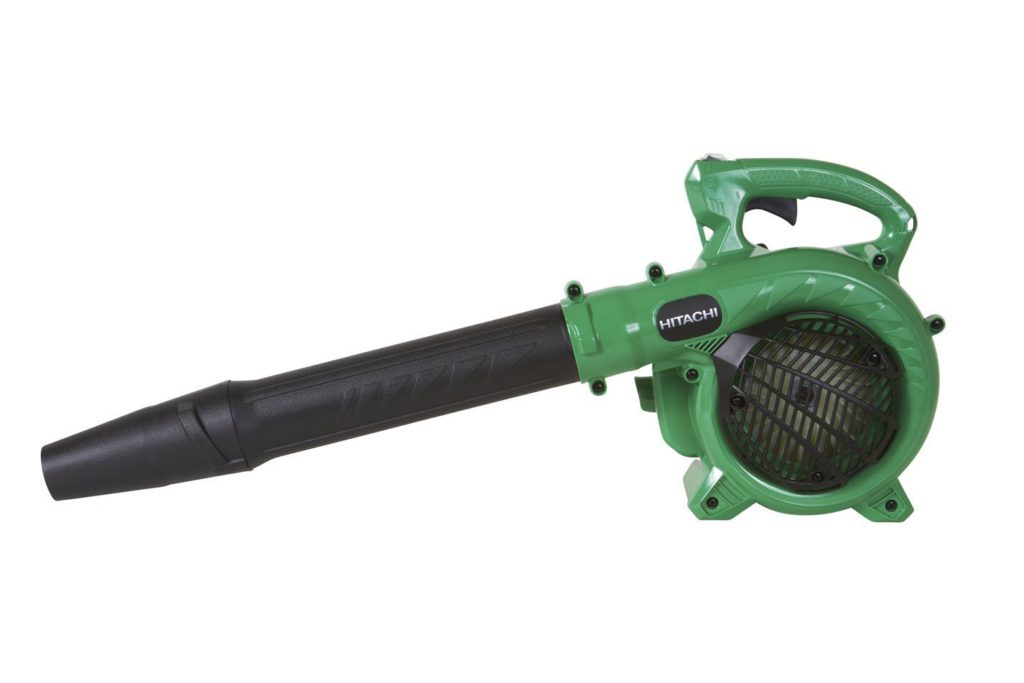 Where Can I Buy The Hitachi Gas Powered 170 MPH Handheld Leaf Blower
#2. Affordable Choice- Toro Corded Ultra Blower / Vacuum
Next up is the Toro Corded Ultra leaf blower. If you're looking for an affordable solution that still delivers the same reliability as a pricier model then you won't find a better option.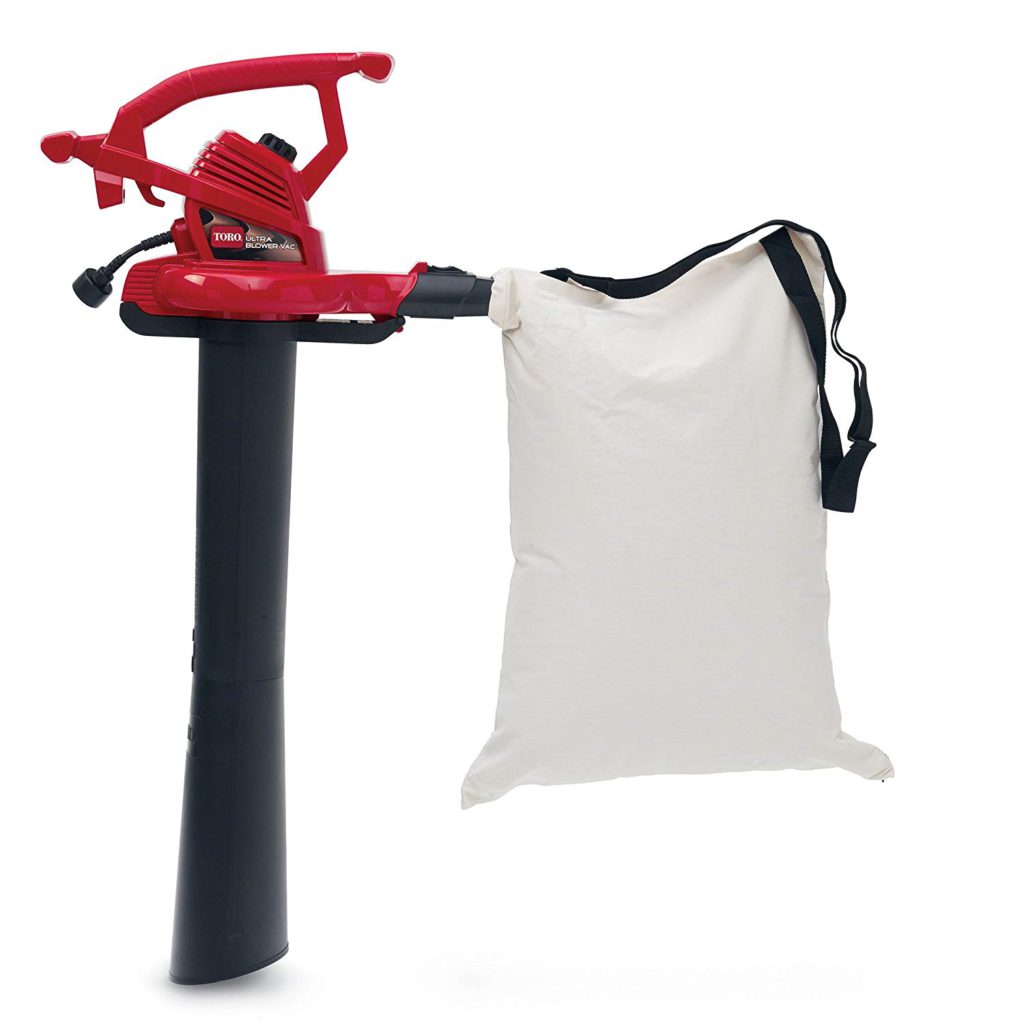 The Toro blower is fitted with a robust electric motor that expels air at faster speeds than costlier machines. You'll be pleased to know that it can achieve speeds of up to 250 mph, which is unheard of at this price level.
A huge benefit of using the Toro blower is its capability to change from a blower to a vacuum. This additional feature can be utilized by easily turning a button.
The Toro leaf blower comes with several attachments to help with shifting debris from tight spaces. It's also handy for blowing away dust and outdoor dirt that makes its way into your garage. Within the packaging, you will find a concentrator nozzle, a bottom zip bag, power insert, vacuum tube and a space-saving storage hook.
Additionally, you can transform the Toro leaf blower into a leaf mulcher thanks to the metal impeller and an adjustable speed setting that lets you control the power depending on the size of the task at hand.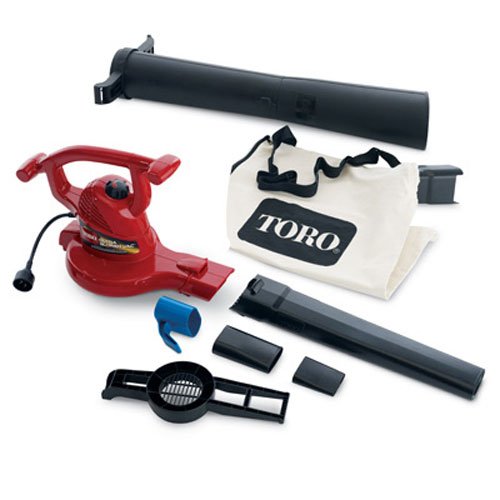 Shredding is made easy with the impeller that chops twigs and leaves to a tiny size of just 1/2″. The quick-release mechanism allows you to remove attachments from the primary unit in seconds.
Where Can I Buy The Toro Corded Ultra Blower Vacuum
#3. Worx Turbine Cordless Blower
If you're looking for a robust cordless leaf blower, the WORX WG591 is a powerful option. The unique design allows you to enjoy the conveniences of a portable machine yet it delivers the equivalent power of a larger leaf blower.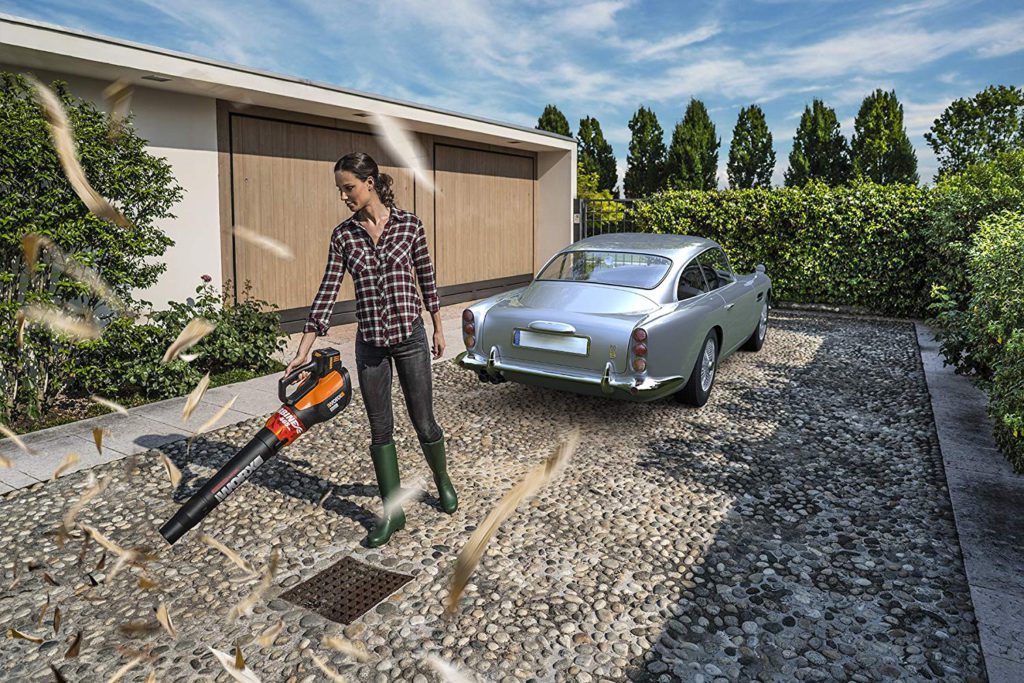 Surprisingly the team at Worx have managed to fit an incredibly powerful motor in the machine's enclosure that delivers a powerful airflow of 461 CFM. With this level of airflow at your disposal, you can clear away a large number of pine needles and dead leaves quicker than the competition.
This machine comes with a Boost function that ramps up the power of the machine. With this feature, you can supercharge the machine to use every bit of power that it can draw from the 56V lithium-ion power pack for short bursts.
The WORX WG591 is already a powerful leaf blower and I doubt that you'll ever need to use the extra power but it's good to know that it's there should it ever be required for mammoth tasks.

For smaller jobs such as clearing dust, soil, sand or dry leaves simply set the power to a minimum level using the adjustable variable-speed dial. The WORX WG591 is extremely lightweight and comes with a convenient handle that makes this nifty leaf blower one of the most user-friendly machines.
Where Can I Buy The Worx Turbine Cordless Blower
#4. Husqvarna Gas Powered Handheld Blower
The Husqvarna 952711925 is one of the most versatile leaf blowers that you can buy for domestic cleaning. It can be tailored for different tasks and gives you so much more than just speed adjustment.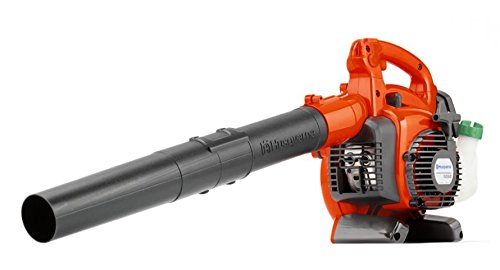 The Husqvarna leaf blower allows you to adjust the tube length for smoother handling. If you want to adjust the fan speed there's a dial for that. It's powered by a robust two-stroke gasoline engine to make light work of challenging tasks.
What I like about the Husqvarna leaf blower is its well-thought-out portable lightweight design that provides the best user-friendly experience when dealing with all manner of outdoor debris.
The machine can be tailored to virtually any situation and it takes the hassle out of clearing a yard cluttered with dead leaves and pine needles. The fan housing is cleverly positioned to keep the airflow aligned to the carrying handle and as a result, this minimises strain to your arms and wrists.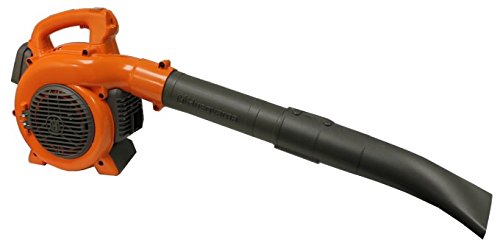 The Husqvarna leaf blower delivers a cleaning performance that sits up there with the best of them. The blower can achieve peak airspeeds of up to 170 miles per hour and can comfortably provide a consistent airflow of 450+ CFM.
Where Can I Buy The Husqvarna Gas Powered Handheld Blower
Buyers Guide for the Best Leaf Blower for Pine Needles
Electric handheld leaf blowers are a practical choice if you have outdoor power sockets conveniently positioned close to the areas that require regular cleaning or if you own a long outdoor extension lead. It's best to buy a lightweight leaf blower and preferably one with a vacuum mulcher function.
The vacuum feature is handy for sucking up outdoor debris such as pine needles and leaves into the collection bag. There are 2 important factors to take into account when buying a leaf blower, whether, you decide to buy a gas-powered, electric or battery appliance you need to look at the CFM (cubic feet per minute) and the airflow speed which will be shown either in Miles per hour or Kilometers per hour. Speed plays a vital role in determining how powerful your new machine will be.
A quicker airspeed will allow you to swift heavier debris such as wet leaves or small branches. If you intend to clear away heavy leaves then I would recommend buying a leaf blower with an airspeed no less than 150 miles per hour.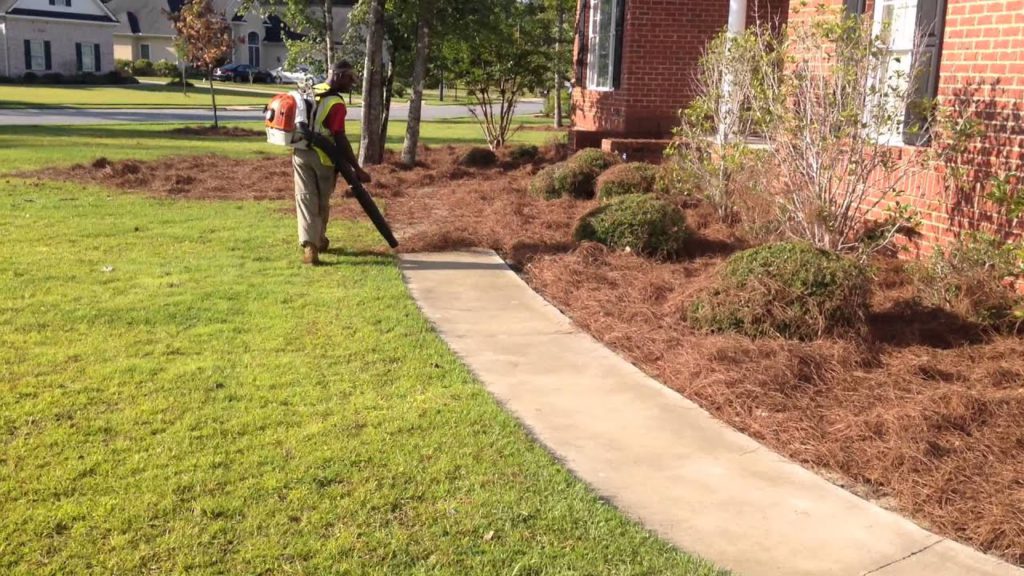 The CFM (cubic feet per minute) will regulate the volume of air expelled by the leaf blower at a given speed. You want an appliance that pumps out an airspeed with plenty of CFM, therefore, allowing you to shift more debris without increasing effort.
In summary, the airflow decides the number of leaves your leaf blower can shift per minute. The airspeed determines the heaviness and size of debris that your machine can cope with. It's also worth checking features such as battery life (for battery-operated leaf blowers), is it made from high-quality materials? How noisy is the machine?
Factors To Consider when buying a Garden Vacuum or Leaf Blower
I've included plenty of handy tips to consider when deciding which is the best leaf blower to buy. There are plenty of options, however, I've simplified the selection process and have shortlisted the machines that come highly recommended for performance, handling and shorter cleaning times.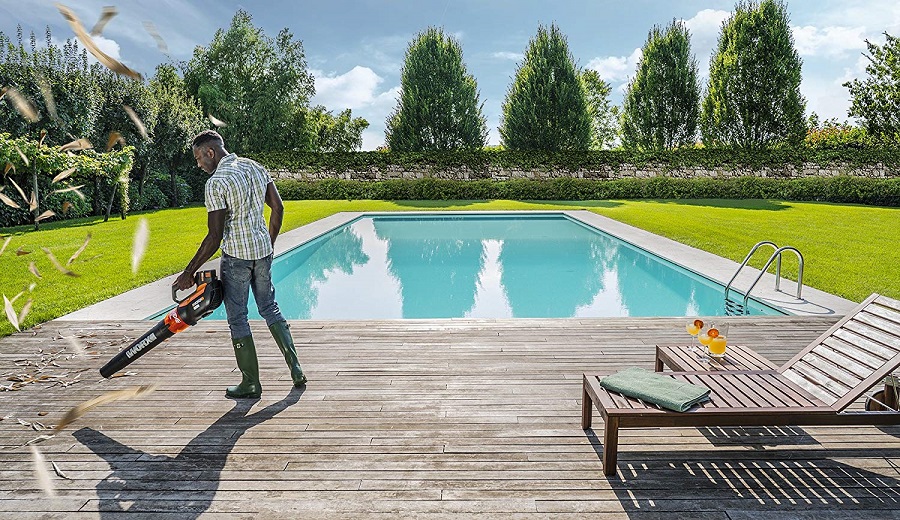 Best Uses for Garden Vacuums and Leaf Blowers
The benefits of a leaf blower are quickly realised from the moment you turn it on. This appliance makes light work of the mammoth job of removing leaves, pine needles and other dirt from your garden or yard.
Many of the modern appliances come with a vacuum and blower feature, however, the ultimate machine will also including a mulching function that shreds dead leaves into a fraction of their size- the end result can be recycled and used as compost. Removing leaves from your lawn is important to ensure that it stays healthy and is not deprived of light.
Leaf vacuum blowers should not be used to collect stones or large twigs to avoid breaking the appliance. If you need to collect leaves from pavements with pebbles or soil, then the best way to do this is to first blow them onto a clear patch of grass prior to vacuuming them.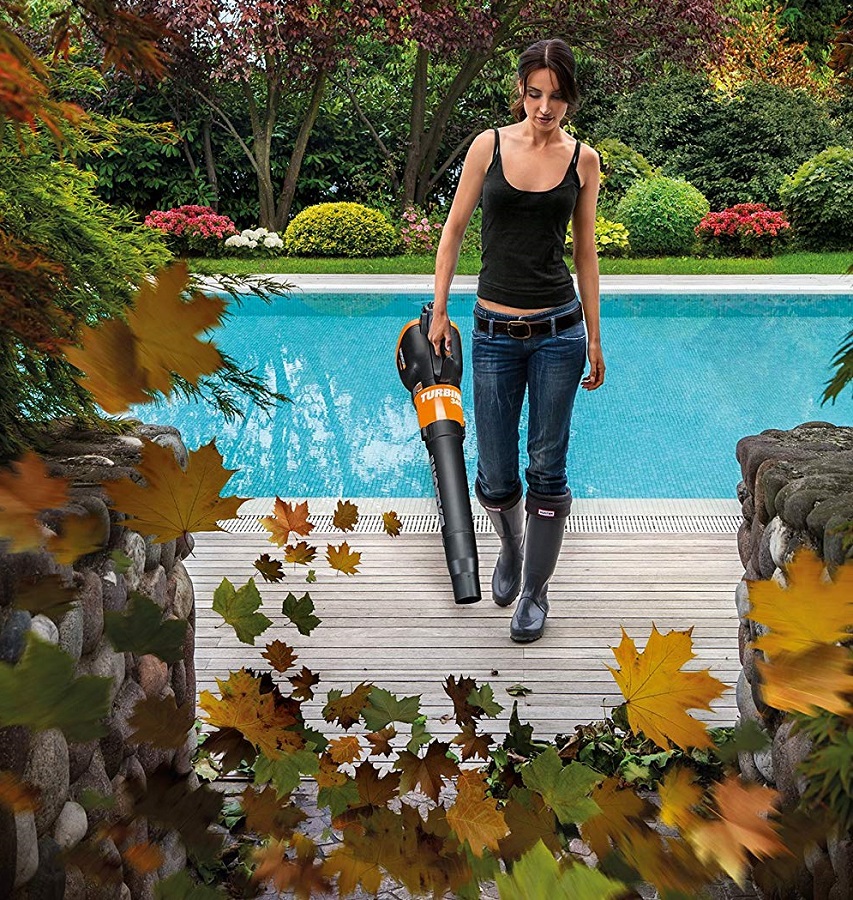 Things To Know Prior to Buying a Leaf Blower
Here are some of the questions you should be asking when considering the right type of leaf blower vacuum for your needs-
What is the size of the area you need to clear?
What type of debris are you shifting?
How heavy is the leaf blower and is it a weight you can comfortably carry around?
Can you cope with the noise it emits and the airflow power?
Would you be better off with a leaf blower vacuum mulcher or just a leaf blower?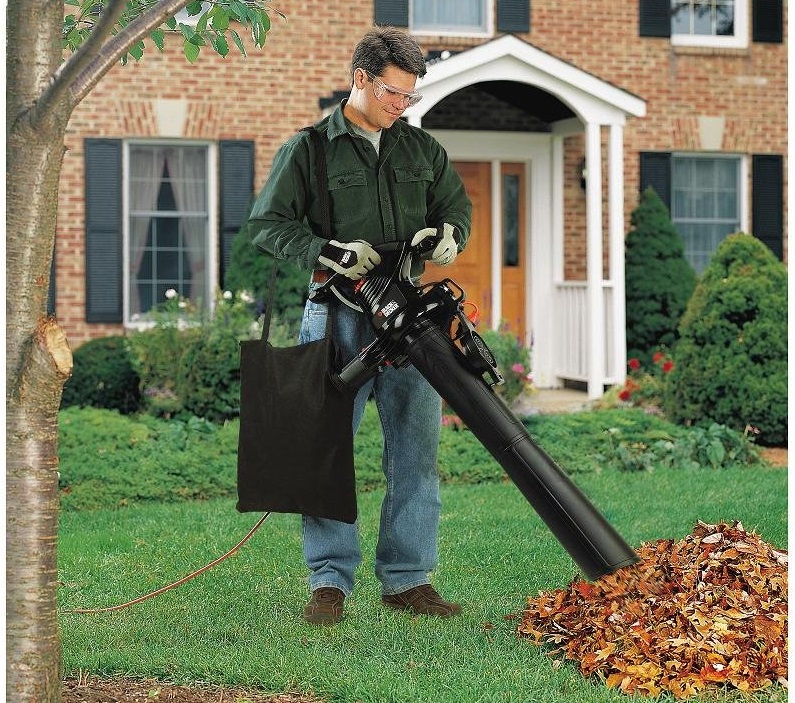 Garden or Lawn Size
Small Gardens or lawns
The ideal appliance for smaller gardens is a portable handheld electric or battery-powered blower vacuum. Always check that the cable length is sufficient to reach from the power socket to the areas that you need to clear.
If you decide to buy a battery-powered cordless leaf blower vacuum then you should check the running times. The best models will give you a running time of around 40 minutes and the lower end of the scale is around 15-20 minutes.
Bigger Gardens or Lawns
For a bigger lawn or garden area, you might want to consider a petrol leaf blower to take on challenging tasks. You will be provided with a higher level of power compared to electric handheld blowers.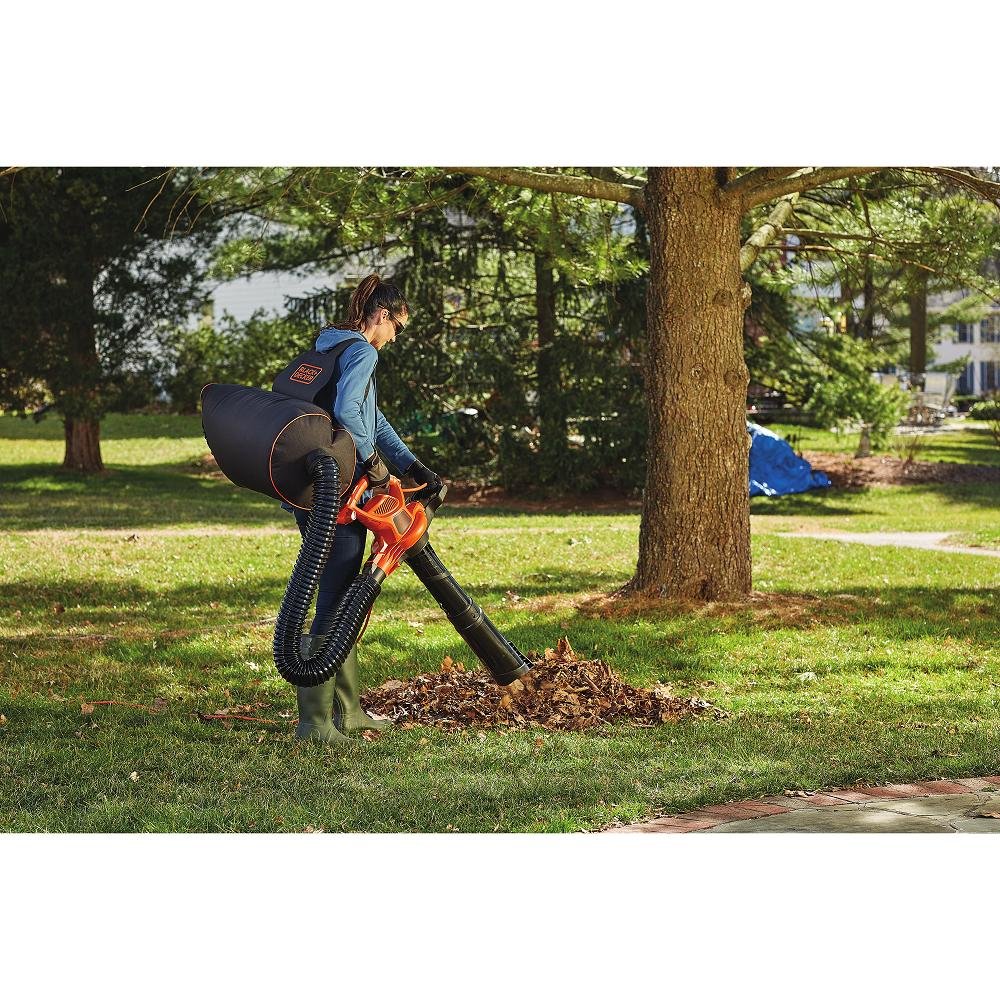 If you decide to buy a backpack leaf blower, there's the benefit of distributing the weight across your back. These models are fitted with comfortable shoulder straps that are usually padded to use the appliance for extended time periods.
Huge Gardens and Lawns
Huge lawns and garden spaces are best cleared off with push or wheeled leaf blower vacuums. They are designed to clean large amounts of debris and come with big collection bags with a capacity of up to 90 gallons.
If you already own a tractor then you might want to consider buying a towable lawn sweeper. All you need to do is attach the sweeper onto the rear of your ride-on and you're good to go. These appliances can cope with clearing dry leaves of mammoth proportions.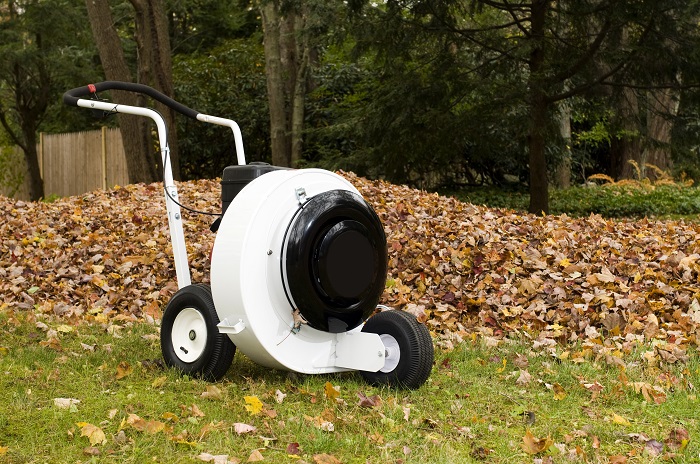 Types of Garden Vacuums & Leaf Blowers
Handheld Electric Models
Standard leaf blowers are generally electric handheld units designed to clear garden and lawns with their powerful airflow. The advantage is that leaves can be rapidly shifted into piles where they can be disposed of or moved into a compost bin.
Cordless Models
The latest leading cord-free leaf blowers are fitted with modern lithium-ion batteries which provide longer running times and the equivalent performance of many petrol models. The benefit of battery is that its kinder to the environment, you don't need to worry about buying fuel and it not as noisy as alternative machines. It's lightweight too.
Depending on the model that you get, batteries can be topped up in just half an hour. Some models can even use batteries from different machines of the same brand. It's worth checking whether batteries can be shared between appliances so that there is always a spare available.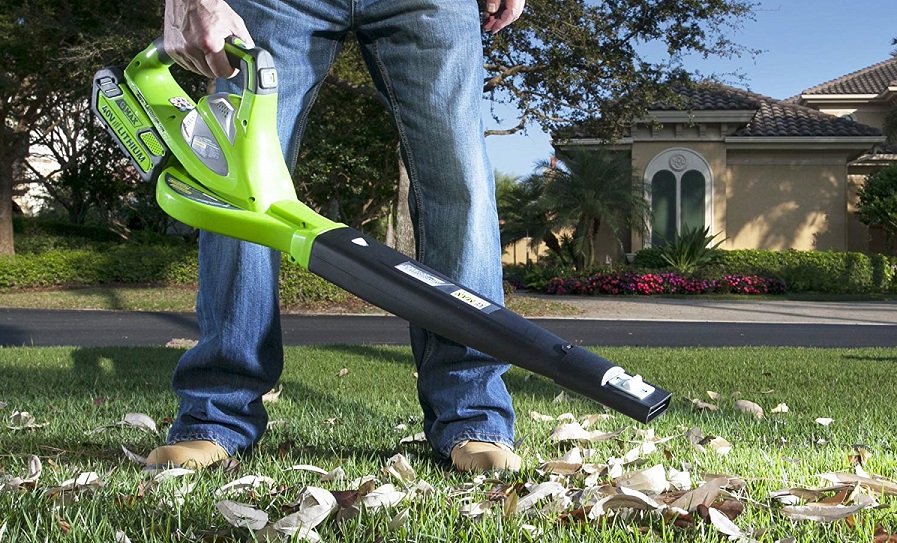 Handheld Petrol Models
Petrol models are one of the most powerful leaf blowers available. They can expel an airflow of over 350 cubic feet per minute which is plenty of power for large spaces, however, if you need an appliance that clear leaves, pine needles and other types of debris on an epic scale then you should look at buying a walk-behind or push leaf blower. This machine can expel a staggering 1800 cubic feet per minute of airflow and is the type of unit that can be used in public parks, stadiums and golf courses.
Garden Vacuum Blowers
For the ultimate convenience, you want to buy a leaf blower with a vacuum feature. This means that you can move leaves into a neat pile then vacuum and shred them up easier. The resulting waste can then be used as nutrient-rich compost. It's a good way to recycle and save money at the same time.
The best performing leaf blower vacuums allow you to switch between functions by simply pressing a button. These models usually come with a large nozzle that can be awkward to use in smaller spaces, however, the machines are often lightweight and easy to manoeuvre.
Backpack Models
We've already looked at backpack leaf blower but it's worth mentioning that you can get petrol versions that are perfect for bigger areas. The robust petrol motor is strapped to your back to ensure that the weight of the machine is evenly distributed, therefore, allowing you to work for longer.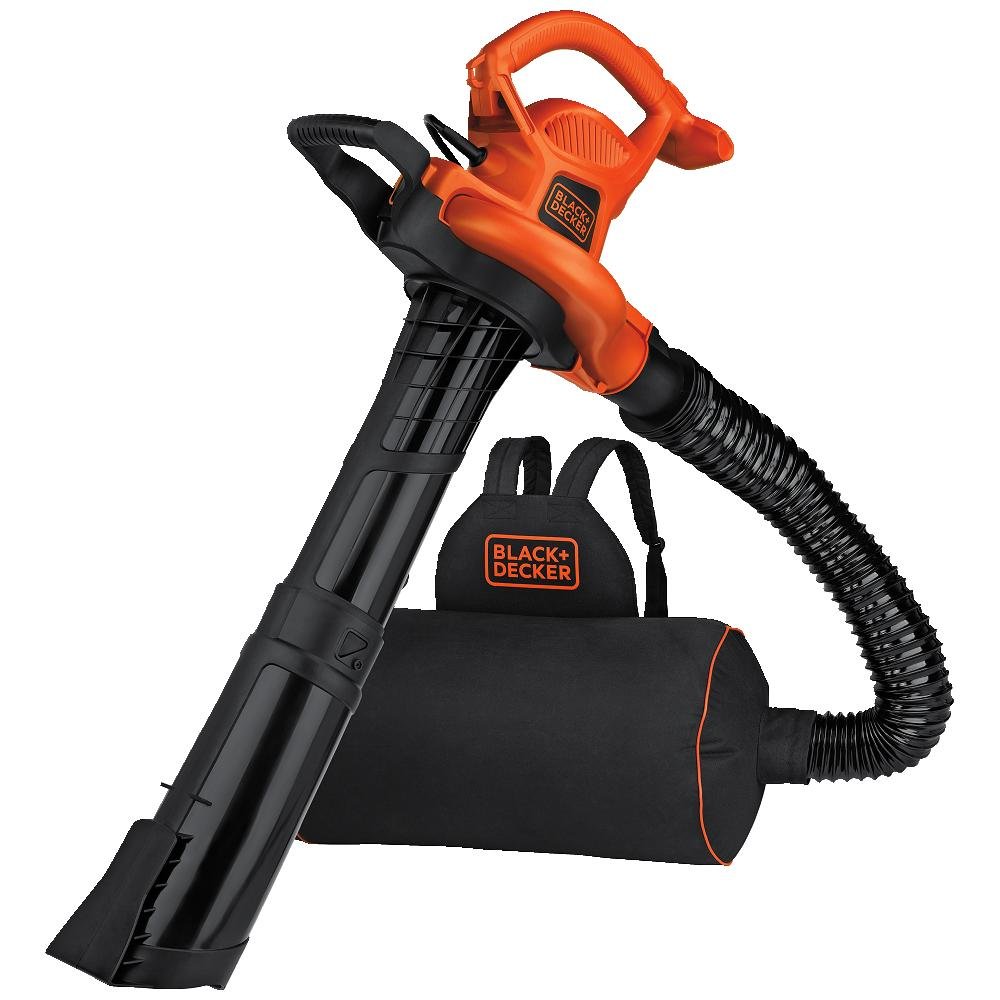 Wheeled Petrol Model
Wheeled petrol leaf blower vacuums are far too powerful for the average domestic dwelling, however, if you need an appliance for a very large area then this is the ideal solution. You'll find that these machines are used for commercial jobs such as clearing rubbish in a stadium after an event or clearing a huge number of dead leaves from a park.
What about Lawn Sweepers?
Lawn sweepers are manual appliances that can either be towed or pushed. While the wheels are in motion they drive a large brush which collects dirt. A brush that rotates quickly will improve the machine's sweeping capabilities. If you want to clear a large space quickly you should consider a lawn sweeper.
Can a Leaf Blower be used to Clear Your Gutters?
By now we've established that a leaf blower speeds up garden cleaning and the same applies to clearing gutters that are prone to getting clogged up by dead leaves.
Gutter cleaning requires a leaf blower that is lightweight and easy to lift towards high-reaching areas. A portable handheld leaf blower is the best machine for the task.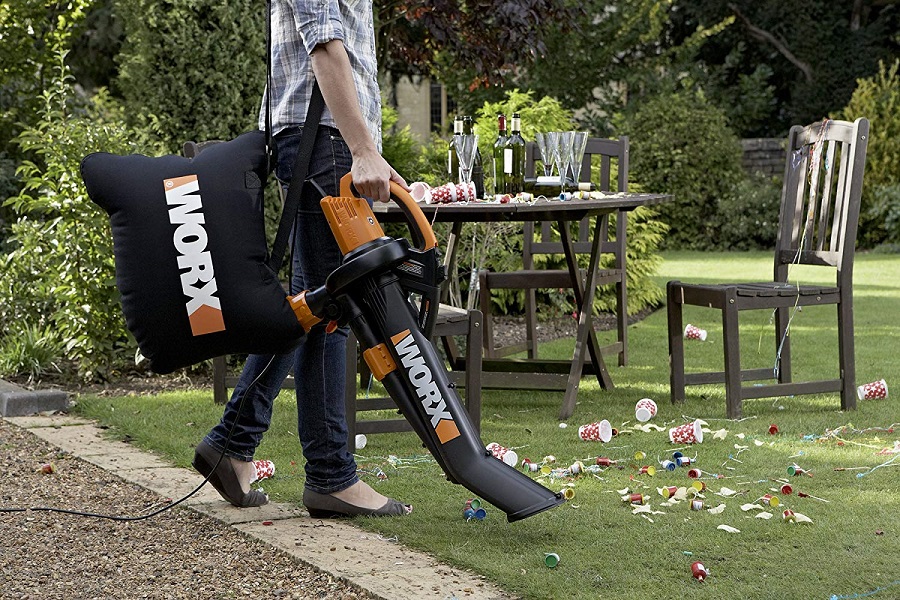 Stay Safe
Make sure you protect your ears from the noise of the machine especially when cleaning gutters. The noise produced by a leaf blower can be as high as 95 decibels which is about the same level of noise produced by an angle grinder. The appliance will be closer to your ears, therefore, it's best to invest in a pair of high-grade ear muffs.
When handling a powerful appliance such as a leaf blower, I'd recommend wearing a pair of goggles and a dust mask to protect your eyes and nose.
What is the Best Leaf Blower for Gutters?
Commercial gutter cleaning businesses tend to use The Husqvarna Gas Powered Handheld Blower Vacuum. This gadget provides a powerful jet flow yet it retains a portable body that is practical for dealing with the tricky task of clearing gutters at home.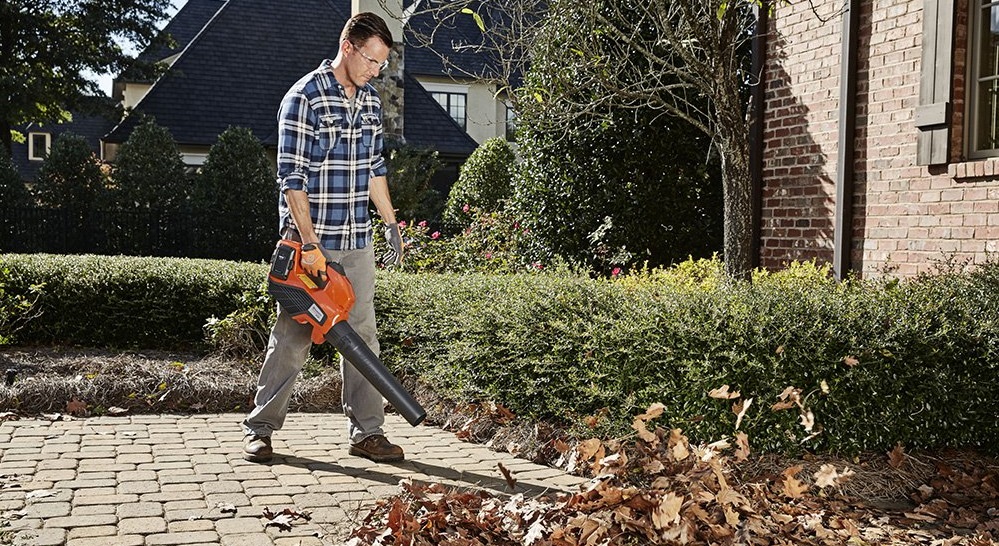 A gas-powered leaf blower is highly favoured because of its superiority over other models when it comes to delivering a powerful airflow from a small appliance.
Conclusion
That concludes our buyer's guide of the best leaf blower for pine needles. By now you should have a good idea about the type of appliance suitable for your specific requirements. As you can see there are plenty of options to meet the needs of your backyard whether it's small, medium or gargantuan!
You can choose a battery leaf blower, an electric model or maybe you need a more powerful petrol appliance. Either way, there's an option to suit your needs and lawn size.
Are you considering buying a leaf blower to clear pine needles or dead leaves in your garden or do you already own one? Maybe you also want a gadget that can shred leaves and convert them into mulch? If so, please leave your comments in the section below. I'd love to hear from you.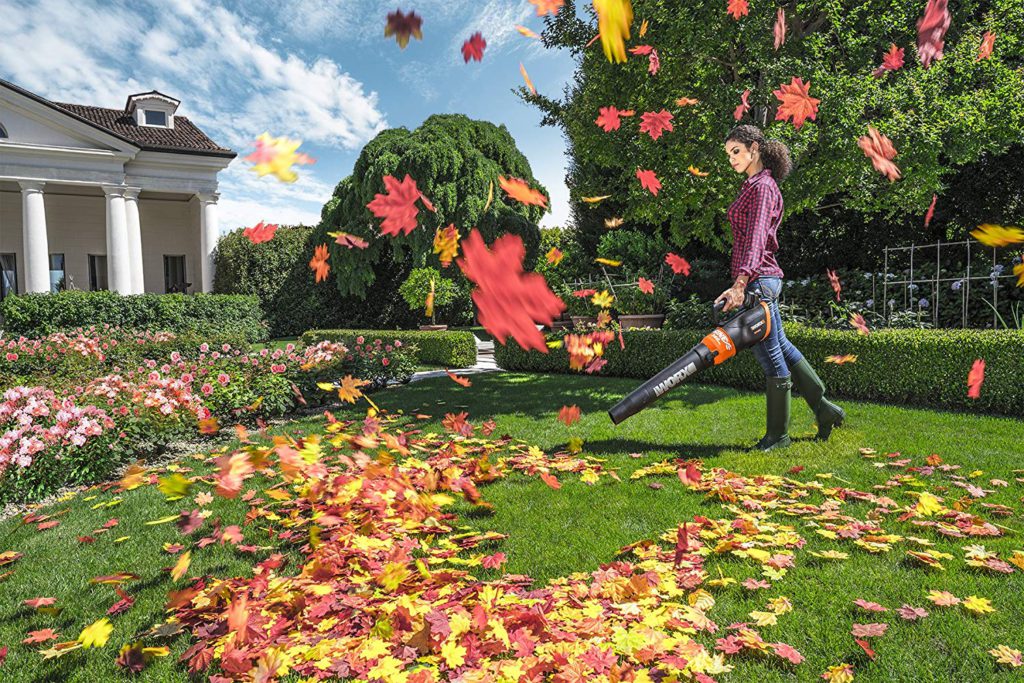 Our List of the Best Domestic Appliances