Affiliate Disclosure: I am grateful to be of service and to bring you content free of charge. In order to do this, please note that when you click links and purchase items, in most cases I receive referral commissions. Eventually, I may earn enough to buy a beer or two 🙂
It's hard work to keep your garden and lawn looking at their best which is why we've summarized 5 of the best commercial leaf blower vacuums to tackle dead leaves and debris in 2021. These lightweight garden gadgets simplify the mammoth task of getting rid of dead leaves that have taken refuge in your backyard throughout autumn.
Leaf blowers come in all shapes and sizes and are powered by electric, battery or gas. They are one of the best tools to maintain your backyard, garden and even the garage. Use one to blow out or vacuum debris from the areas mentioned above and it is much quicker to use instead of the time-consuming task of raking leaves.
In this review, I'll walk you through the leading commercial leaf blower vacuums currently available. We'll delve into the features and conveniences of each model as well as things you should be aware of before parting with your cash. I'll then provide you with a handy buyers guide at the end of the review.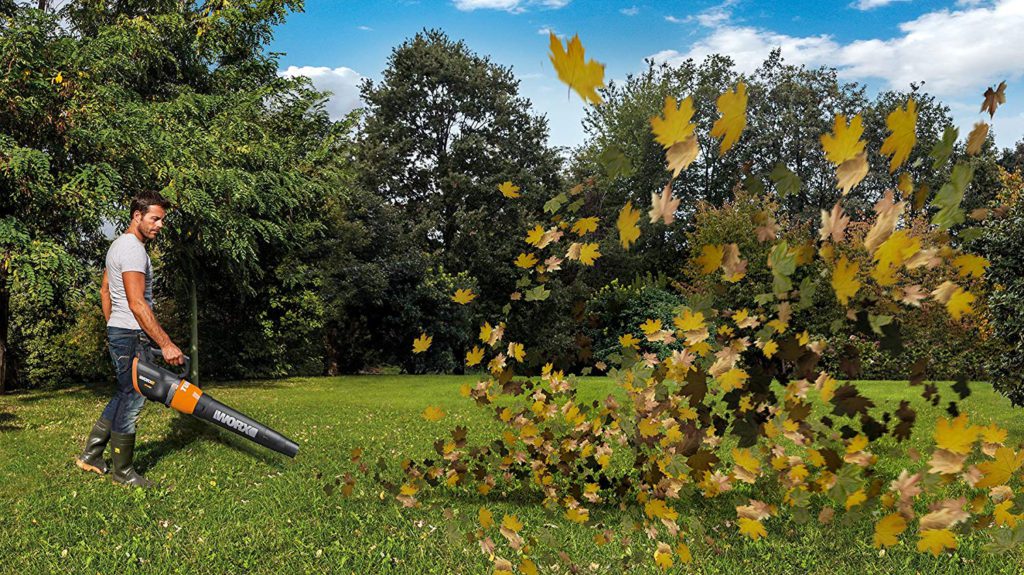 Best Commercial Leaf Blower Vacuums for 2020- Product Reviews
1. Toro 51621 UltraPlus Leaf Blower Vacuum
At the top of our list is the Toro 51621 UltraPlus, which is a high-performance leaf blower that delivers plenty of power and adaptability for most garden maintenance requirements. The model comes with variable speeds, thus, offering the flexibility to increase or lower the speed and the power to take care of both demanding and delicate tasks.
One of the best features you will find on the Toro 51621 is the tube that attaches to the machine to focus its power on specific areas, therefore, allowing you to shift or vacuum wet leaves easier. The range of power at your disposal is impressive and it goes all the way up to 250 miles per hour. With such power at your disposal, you can tackle any large or small jobs without worrying that your machine can't cope.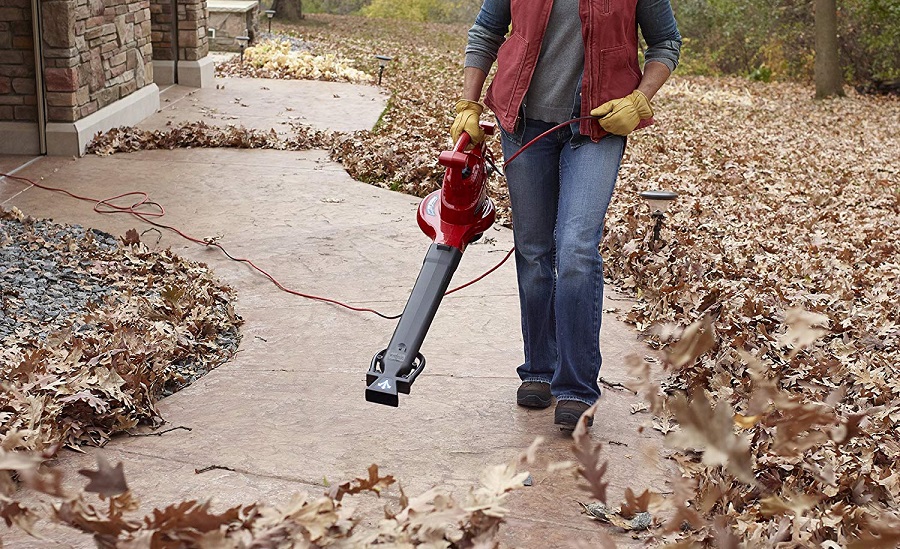 Pros
It achieves some of the best speeds that are found on a leaf blower. Enjoy up to 250 MPH speeds to deal with heavier damp debris such as soggy leaves.
The Toro UltraPlus is a highly capable machine that combines blowing, vacuuming and mulching abilities to give consistent performance throughout.
Leaf blowers that come with just one speed are limited to a few jobs. The Toro UltraPlus comes with the capability to vary the speed allowing you to control the power required for each job. This improves performance and provides the flexibility to work on tough tasks as well as delicate ones.
You get plenty of accessories. The Toro leaf blower includes a vacuum tube, a storage hook, zip bag, a time-saving oscillating tube and a shred-all shred ring.
You'll find a quick-release latch that lets you quickly adapt the machine from a leaf blower to a vacuum mulcher.
One thing that you will find highly useful is the blower tube that comes with the Toro UltraPlus. The tube concentrates the power to the exact location it's needed, therefore, making it much easier to blow away or suck up soggier leaves that are heavier than dry debris.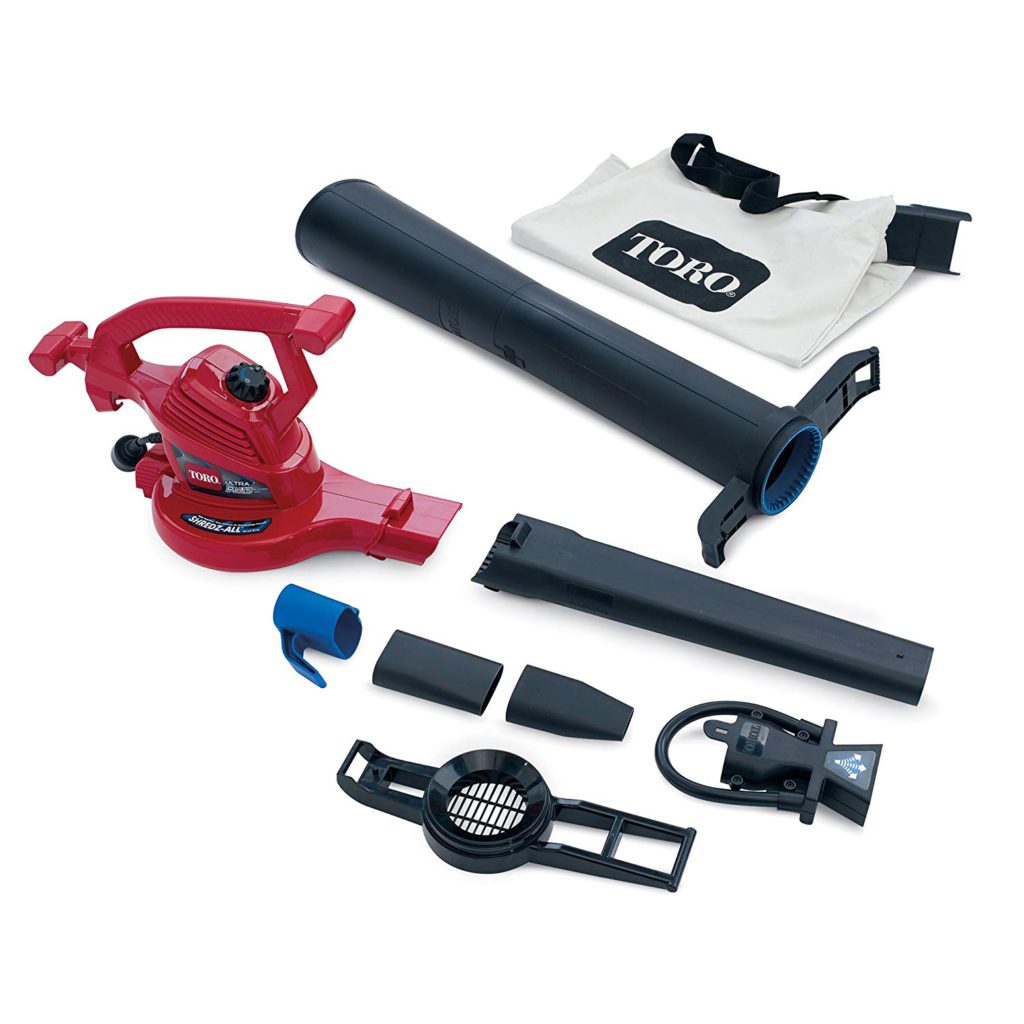 Cons
A slight drawback of the Toro UltraPlus is the power cord which isn't as long as the cords found on rival units. You'll need to invest in an outdoor extension cord if you don't already have one.
The blower tube is not the easiest accessory to use because of its long length.
Where can I buy the Toro 51621 UltraPlus Leaf Blower Vacuum?
2. Black & Decker BV6000 High-Performance Blower Vacuum
The Black & Decker BV6000 is a remarkable versatile garden appliance that can switch between a blower, vacuum or mulcher. With this unit, you get 2 interchangeable speed settings allowing you to change the power between 180 mph or 250 mph to tackle a variety of jobs.
Switching the power settings is a doddle and this nifty Black & Decker blower comes with a disposable bag feature to speed things up even more. It has one of the best mulching ratios that grinds 16 bags of debris into just 1 small bag. Clever huh?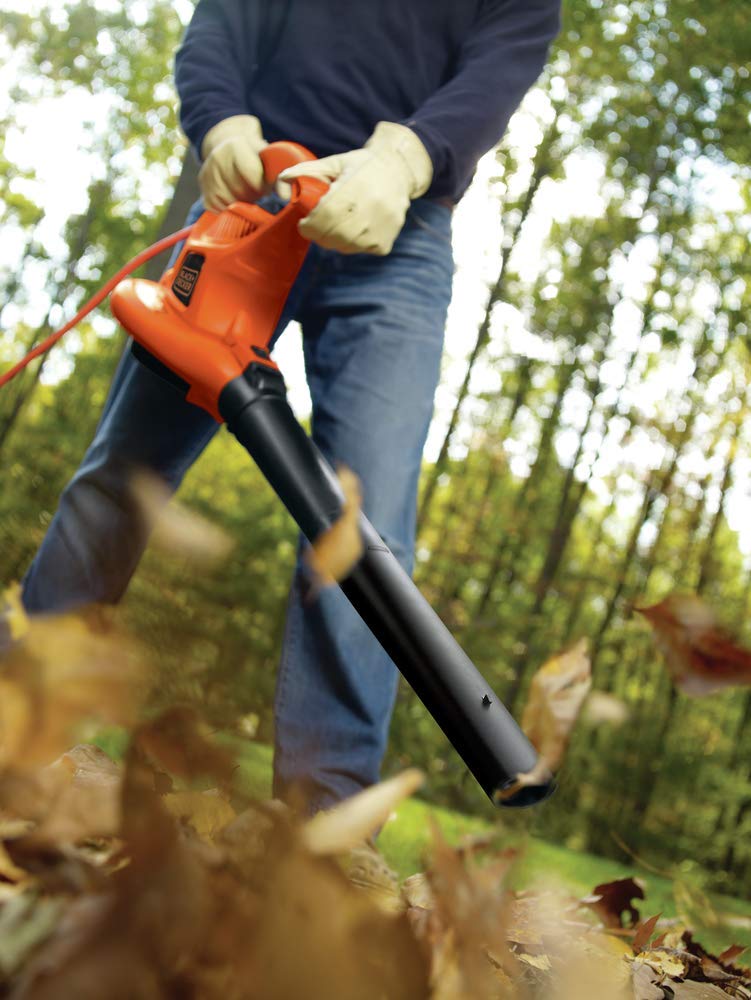 Pros
Similar to our leading recommendation, The BV6000 produces speeds of up to 250 mph and provides the capability to switch the speed to a lower speed to cater for different garden maintenance situations. Simply lower the speed down to 180 miles per hour for smaller jobs or ramp it up to 250 mph when extra power is required for bigger tasks.
A time-saving function of the Black and Decker BV6000 is the disposable leaf bag. This is the perfect solution if you don't have the time to clean out a reusable bag. All you need to do is chuck the bag into the trash when you're finished. Simple.
The Black and Decker machine handles each of its functions with a consistent level of power thanks to the 12 amp motor which ensures that the blower, mulcher and vacuum perform with vigour.
The mulcher function found on the BV6000 appliance is a sophisticated piece of kit that reduces a huge load of mulch into a fraction of its original size. It grinds 16 bags into just 1 bag to be exact. This is one of the best mulching ratios you will find on a mulcher and is hugely convenient for large jobs as you can reduce a huge pile of debris to a very small size. This saves time and money i.e. less time spent changing collection bags and less money spent on replacing them.
The machine is very user-friendly and is simple to switch between blower, mulcher and vacuum features.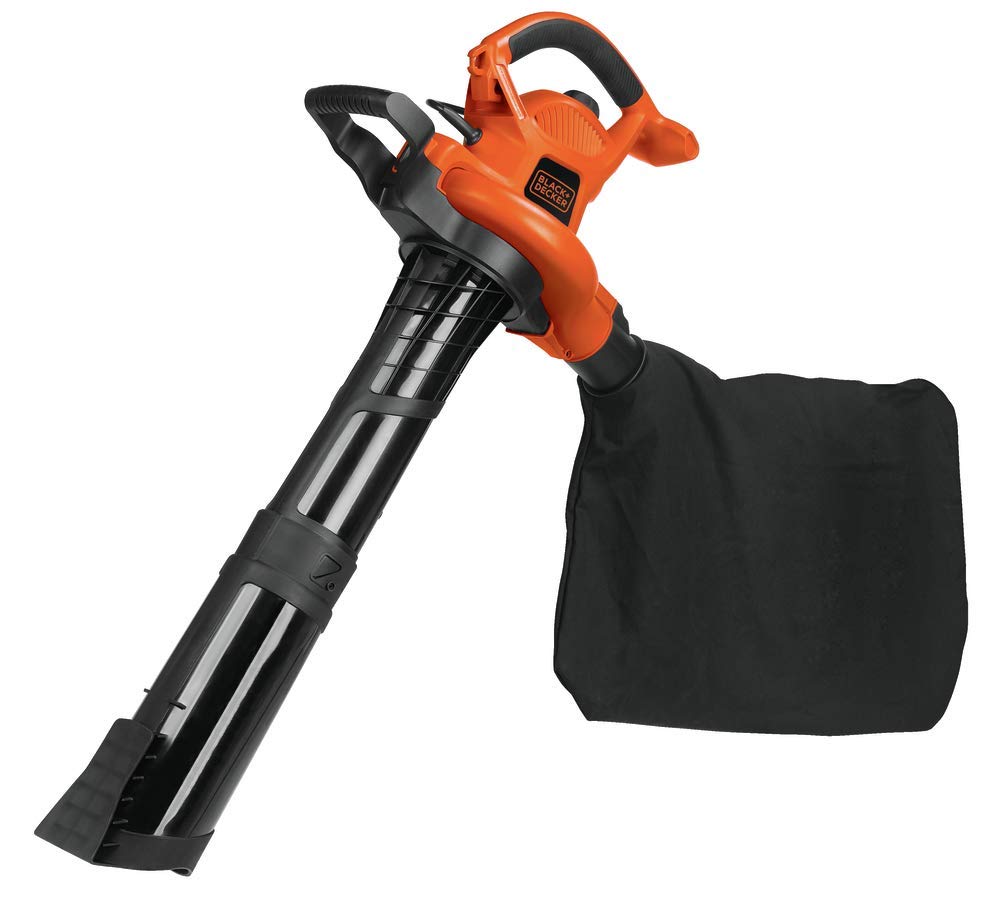 Cons
The Black and Decker BV6000 blows better than it vacuums. The vacuuming feature could do with delivering a bit more power especially when picking up wet leaves.
This model is heavier than some of the alternatives, therefore, you should ensure that the strap is fastened securely and comfortably to avoid straining your shoulders and back.
Where can I buy the Black & Decker BV6000 High-Performance Blower/Vacuum?
3. Worx WG507 12 Amp 2-Speed Electric Blower/Vacuum
The Worx WG507 is a dependable and powerful 2-speed electric leaf blower appliance. You can also use it for vacuuming and mulching leaves.
Similar to the BV6000 the Worx machine can switch between 2 different blowing speeds, however, the speeds are slightly slower at either 160 mph or 220 mph. The benefit of the WG507 is that it's not as heavy as the competition. It's incredibly easy to manoeuvre and use for extended periods.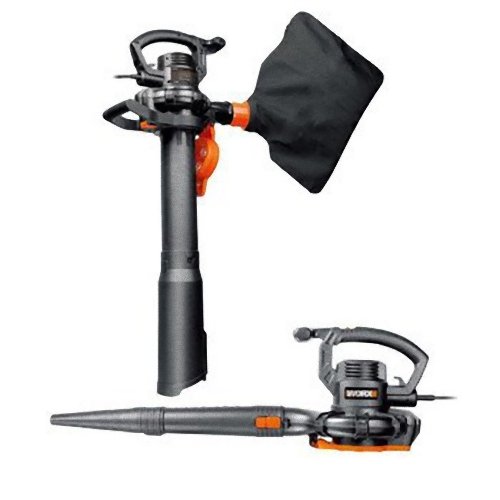 Pros
The Worx WG507 proves to be powerful and versatile maintenance tool equipped for blowing, vacuuming and mulching. The 12-amp motor provides the option to select 2 different speeds to cater for various tasks around the garden and tackle both dry and wet debris without causing you to break a sweat.
I like the handy feature that lets you change the machine from a blower to vacuum and vice versa in a matter of seconds. It simply requires you to press a button and the appliance does the rest.
You can easily change the speed from 160 miles per hour to 220 miles per hour and switch from one speed to the other whenever you move onto a different section of the yard.
With the Worx WG507, you get the advantage of using a lightweight unit that is portable to move around with, therefore, making tasks easier to handle.
This model also comes with a user-friendly handle that is made for comfort especially when operating the appliance for extended periods. It reduces the usual fatigue that comes with long use.
Another convenient aspect of the Worx WG507 is that it doesn't require complicated assembling. You can take it out of the box, clip it into place by hand and head straight to the garden. It couldn't be any easier.
You also get a disposable bag system that is easy to use and it conveniently reduces leaves and debris for quick disposal once the job is complete.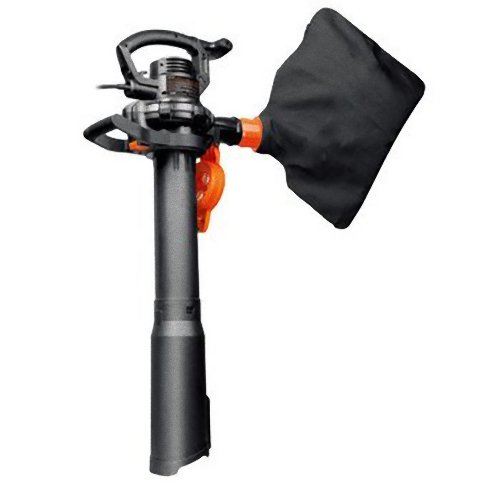 Cons
The Worx WG507 has lower speeds than our top 2 recommendations, however, it still delivers adequate performance.
A drawback of the unit is that it doesn't come with specific accesories for vacuuming, blowing or mulching. You get a single universal nozzle for all jobs.
Where can I buy the Worx WG507 12 Amp 2-Speed Electric Blower/Vacuum?
4. BLACK+DECKER BV5600 High Performance Blower/Vac
The Black and Decker BV5600 comes with a good set of features to help address demanding maintenance scenarios. The machine is equipped with mulching, vacuuming and blowing capabilities and is a handy appliance for avid gardeners.
Similar to its sibling, the BV5600 is designed to utilise a grinding mechanism that whittles down mulch from 16 bags to just 1. You can toggle the speed between 2 different settings and can enjoy speeds of up to 250 miles per hour. This is the perfect tool to clear and get rid of big piles of leaves and debris.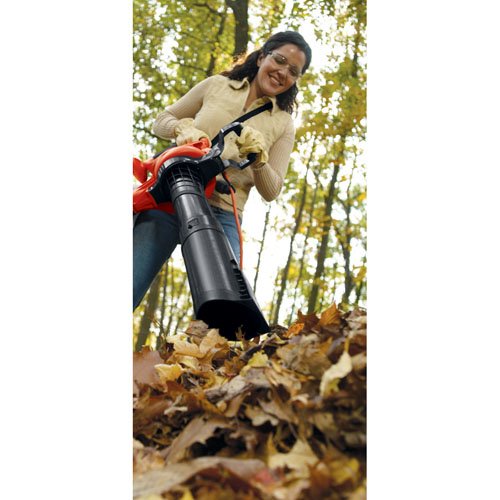 Pros
This leaf blower delivers a powerful blast of up to 250 miles per hour to move heavier wet leaves in less time.
Similar to its sibling, the Black and Decker BV5600 has a mulching feature that is incredibly effective. It comes with one of the highest mulching ratios of 16:1, therefore, it can reduce 16 large bags of leaves into a single bag thanks to the robust grinding system found inside this machine.
The Black & Decker BV5600 seamlessly converts between a blower, vacuum and mulcher to provide the ultimate level of adaptability to handle different-sized debris and a variety of cleaning scenarios.
You'll also appreciate the quietness of this Black and Decker leaf blower. It operates at a lower noise level than most of its rivals which means fewer disruptions to those around you especially the neighbours. Leaf blowers are generally very loud machines but with the BV5600 you get high-performance at a pleasantly lower noise level.
This model is equipped with disposable bags to get rid of waste much easier and saves on time that would be spent cleaning out a reusable bag after each use.
With the BV5600 you can effortlessly switch between each of its features. You can convert from a blower to vacuum or mulcher within a matter of seconds by simply flipping a switch and getting on with the job.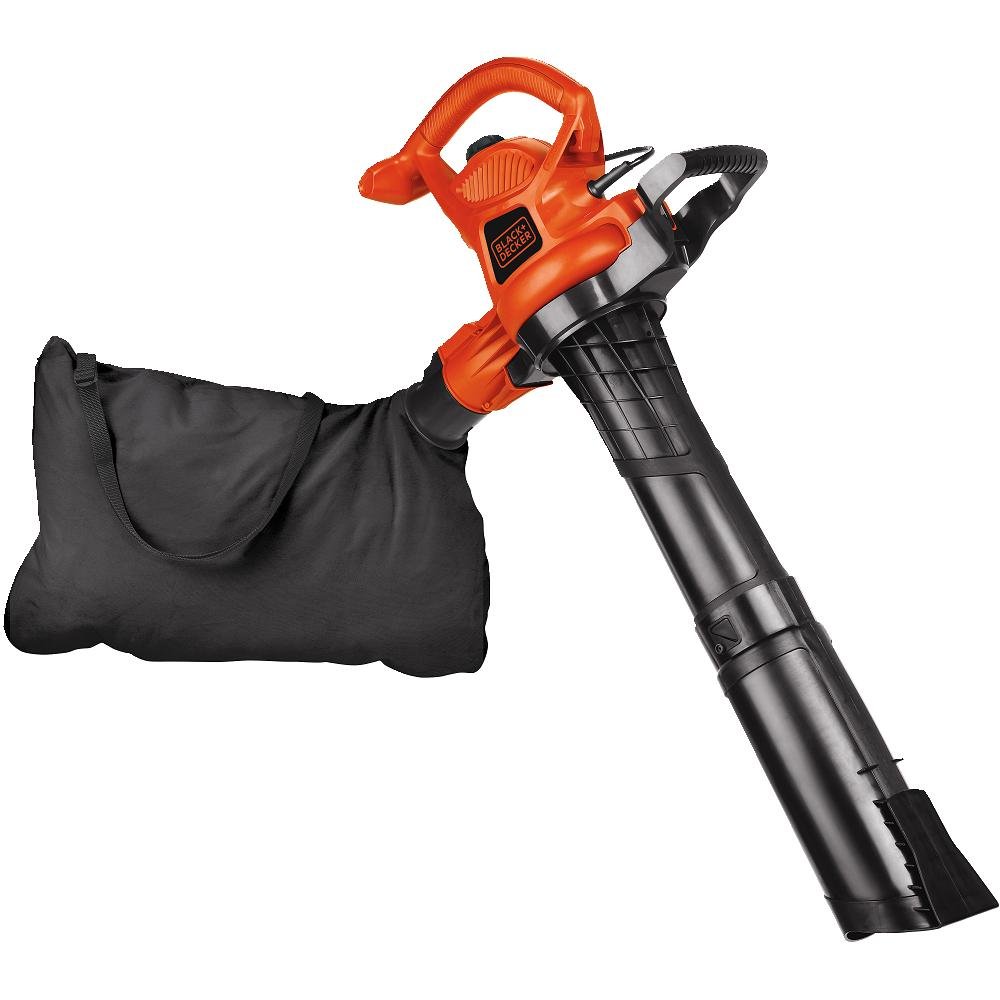 Cons
The vacuum tube is susceptible to clogging up, however, this depends on the volume and the type of leaves you are picking up i.e. are they dry or damp leaves?
Where can I buy the BLACK+DECKER BV5600 High-Performance Blower/Vac?
5. Toro 51619 Ultra Blower/Vacuum
Last but not least is the Toro 51619 Ultra blower vacuum which is equally as strong and adaptable as the competition. This multi-purpose garden appliance can transform from a blower to vacuum or mulcher. It comes with favourable reviews from plenty of satisfied owners and for good reason.
The Toro 51619 blower is a portable workhorse that blows away the most challenging types of debris thanks to the powerful motor that achieves airspeeds of up to 250 miles per hour. It is supplied with separate accessories for each task and when you're done, everything can be neatly stored away inside the convenient storage bag.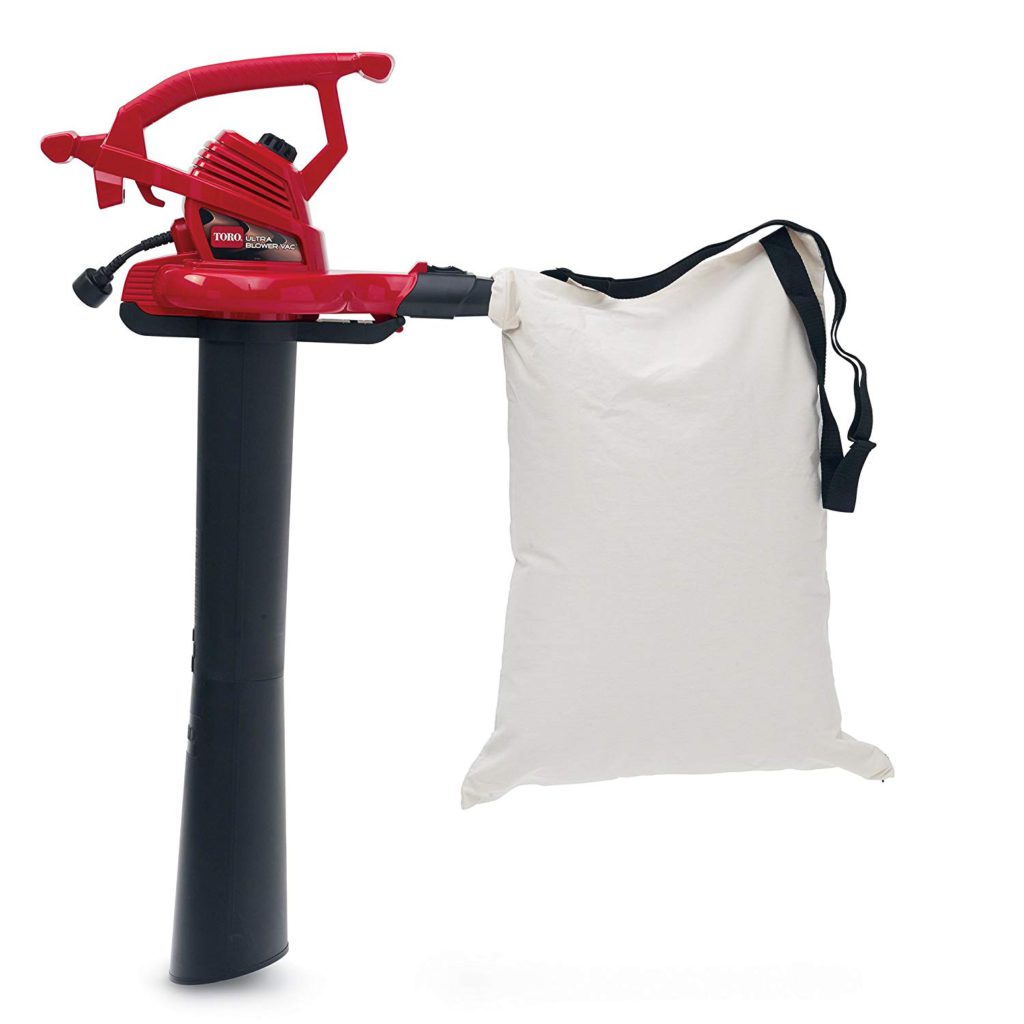 Pros
The Toro 51619 is a dependable machine that utilises a metal impeller to whittle down debris into the tiniest possible size. It scores top marks for durability because the impeller is made from metal instead of plastic, therefore, extending the machine's shelf life considerably longer than its rivals.
Similar to high-performing leaf blowers, the Toro 51619 can reach up to 250 miles per hour of airspeed.
This model is provided with a great range of accessories. Within the package, you will find a zip bag to store the machine and its bits, a cord storage hook, a vacuum tube, a blower tube, a power insert and a concentrator nozzle.
This nifty gadget is not only powerful, but it's also one of the easiest units to change between functions. You can transform from blower to vacuum to mulcher in very little time.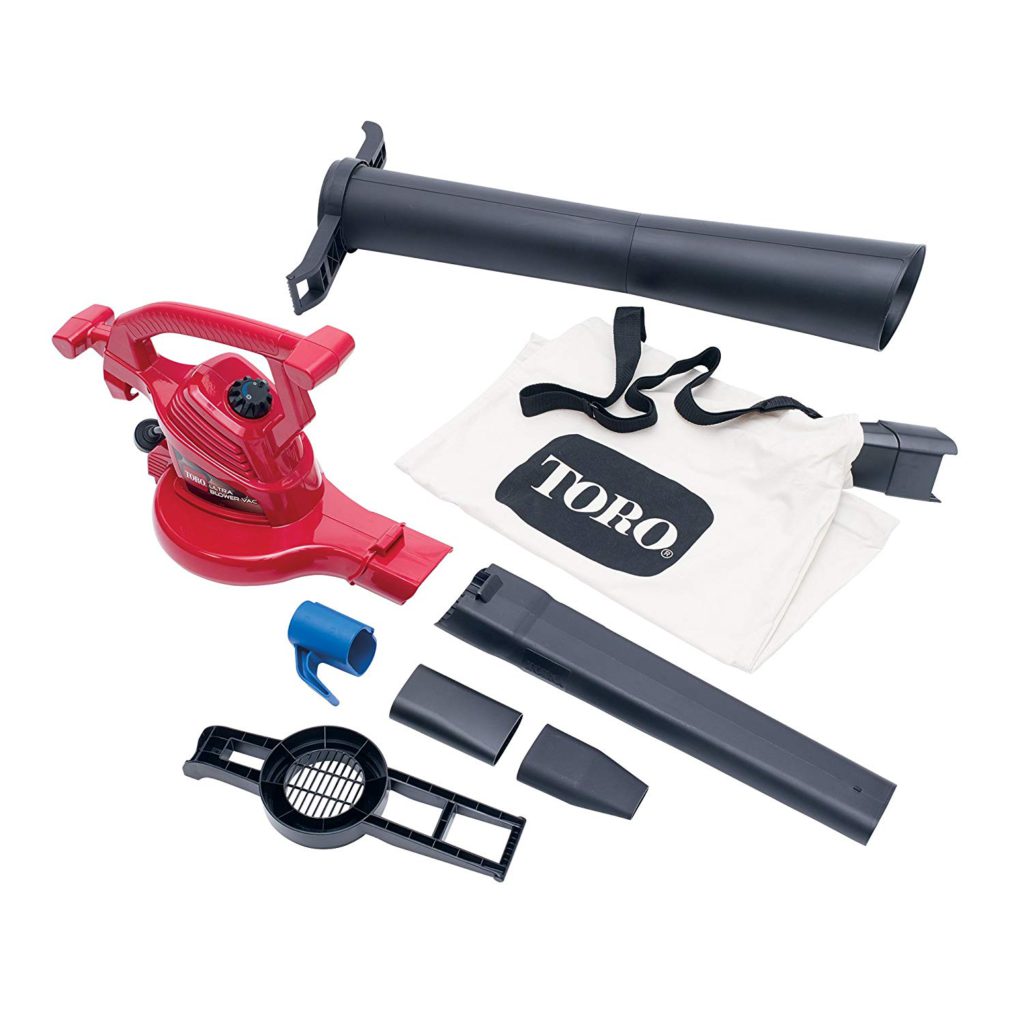 Cons
The power cord is not as long as alternative machines and this unit is not supplied with an extension cord. This isn't really a problem if you've got a small backyard/ garden or if you already own an outdoor extension cord otherwise you might have to purchase one separately.
Where can I buy the Toro 51619 Ultra Blower/Vacuum?
Leaf Blower Vacuum Buying Guide- Finding The Best Commercial Leaf Vacuum For Your Needs
When searching for a commercial-grade leaf blower, that vacuums and mulches, there a few features you need to consider to ensure that you get the best possible appliance to meet all of your maintenance requirements.
For starters, at the very least you need to assess the amount of power that the motor delivers. Although you might not use the unit's highest power setting all the time, you want to know that it's readily available when you are faced with a mammoth task (a huge pile of wet leaves!).
A powerful machine might cost a bit more but it will save you time in the long run. Bear in mind that not all machines come with an equal amount of peak power for the vacuum and blower features. This could make the difference between a high-performing machine and an average one.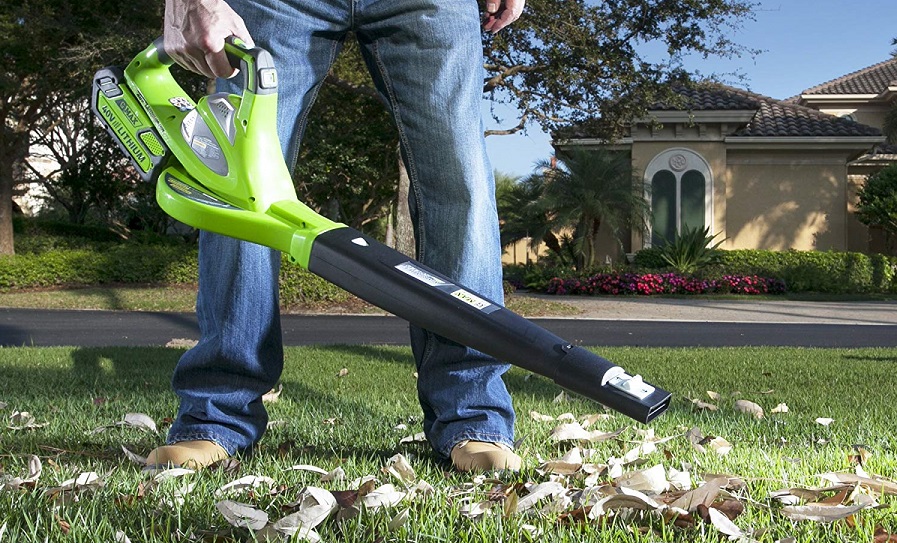 When looking for the ideal leaf blower you want to make sure that it's capable of switching between different power settings. Some users assume that a single power level is enough, however, they might not factor in different situations that might need less power such as when clearing leaves from areas with delicate flowers that could get destroyed by powerful airspeeds. Switching between higher and lower speeds is incredibly useful.
Another consideration that is often overlooked when searching for the best commercial leaf blower is the variety of accessories that are supplied with a chosen model. You want to get a machine that is supplied with a generous set of attachments such as separate tubes for the blower and vacuum, nozzles, impellers, storage kits and so on. A good range of accessories ensures that the job gets done easier and quicker.
What are the Strong Points of Leaf Blower Vacuum Mulcher?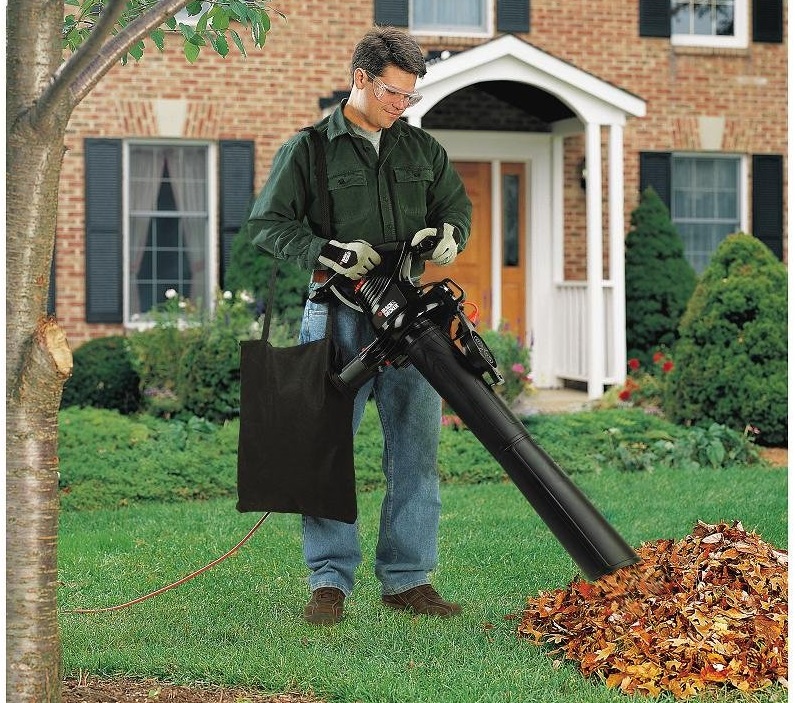 If you've never used a leaf blower vacuum mulcher you will notice that from the onset, this appliance vastly reduces the amount of time it takes to get rid of dead leaves and debris cluttering your garden.
If you are tired of manually raking leaves into garbage bags, you'll be surprised at how quick you can do the same job with a leaf blower vacuum in less time. Without one of these handy appliances, you are probably using up a lot more time to clear up your lawn and garden. Save yourself the time and hassle!
What are the Most Important Features to Consider When Buying a Leaf Blower Vacuum?
I've summarised a list of the most important features you should look out for when searching for the perfect leaf blowing appliance. You can refer to this list when looking at the product descriptions of potential machines: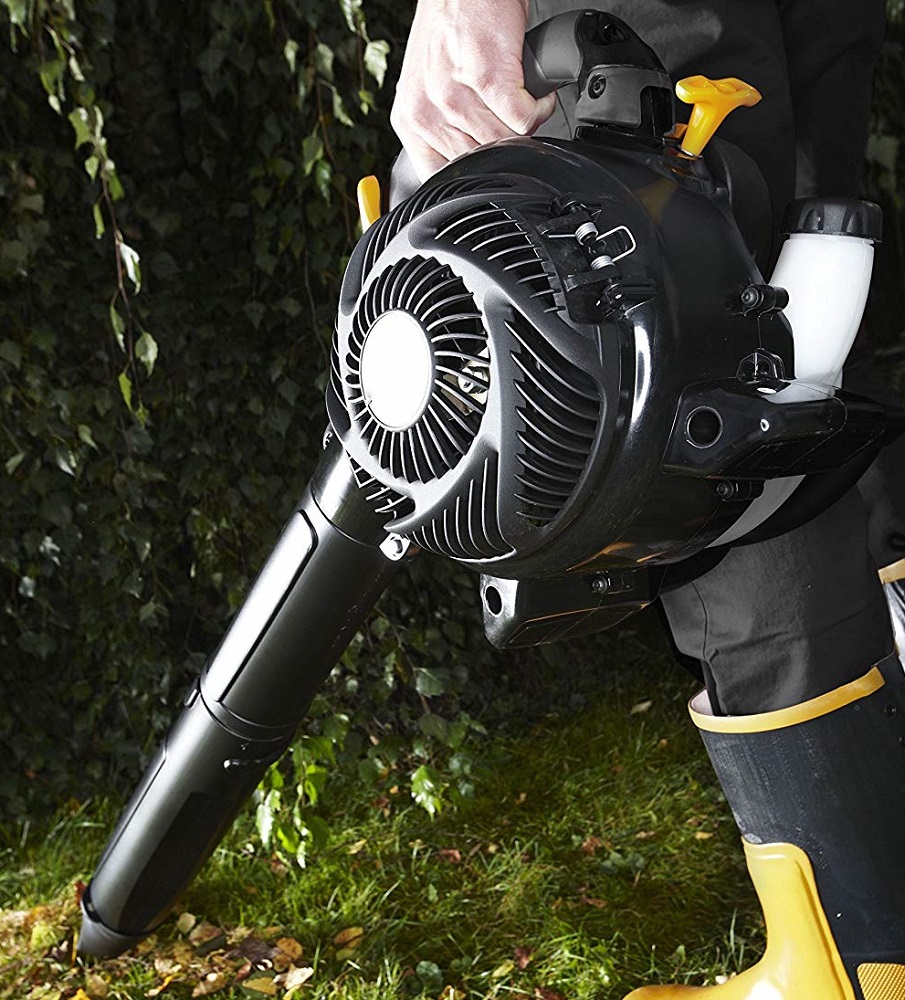 Always check the peak airspeed or horsepower. Higher speeds equate to higher performance.
Can the machine change between different airspeeds when using the blower feature? I'd always recommend getting a unit capable of this.
Does the machine come with time-saving disposable bags or the option to chose between a reusable or disposable bag?
Can you easily convert the machine from blower to vacuum and vice versa? The leading leaf blowers can do this by simply pressing a single button.
How heavy is the leaf blower? If you plan on using it for extended periods of time you should ensure that it comes with a shoulder strap to avoid straining your back and arms.
As mentioned previously, you want to buy a leaf blower that comes with a good set of accessories. The more the better.
Using Your New Leaf Blower Vacuum
It goes without saying that a leaf blower shifts dead leaves away from undesired areas, however, you can get so much more from these appliances if you choose wisely. Ideally, you want it to vacuum leaves up and the best case scenario is a unit that mulches the waste as well.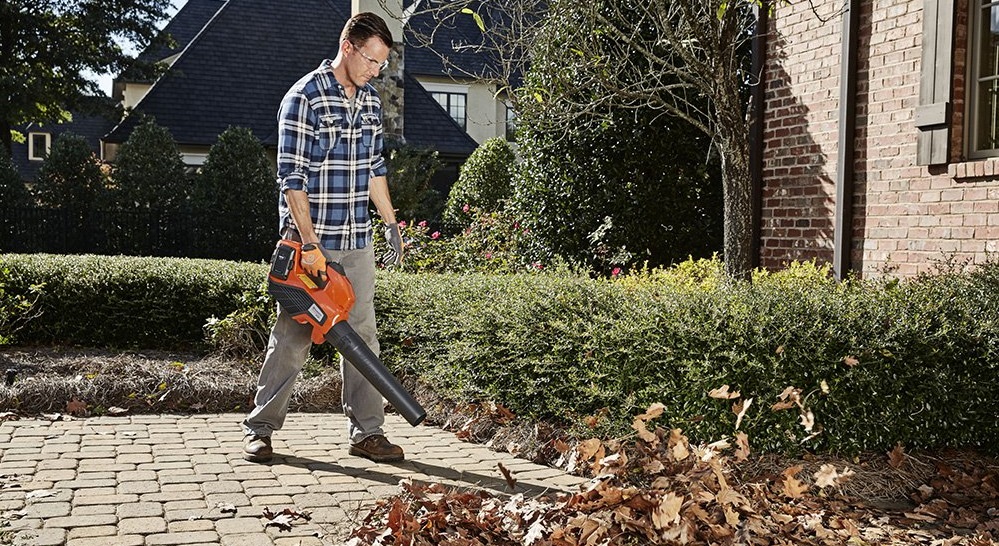 The advantage of a leaf blower with mulching abilities is that the waste takes up less space and it can be recycled into nutritious mulch, therefore saving you the cost of buying fertilizer.
Cleaning Range
If you are considering a corded leaf blower vacuum mulcher then you should check the length of the cord. Some cords are shorter depending on the machine you decide to buy, however, you can always buy an outdoor extension cable if required.
There's the option to buy a battery or gas-powered leaf blower for the ultimate movement freedom and convenience.
Conclusion
You've reached the end of our buyer's guide of the best commercial leaf blower vacuums for 2021. By now you should have a good idea of the type of appliance to go for.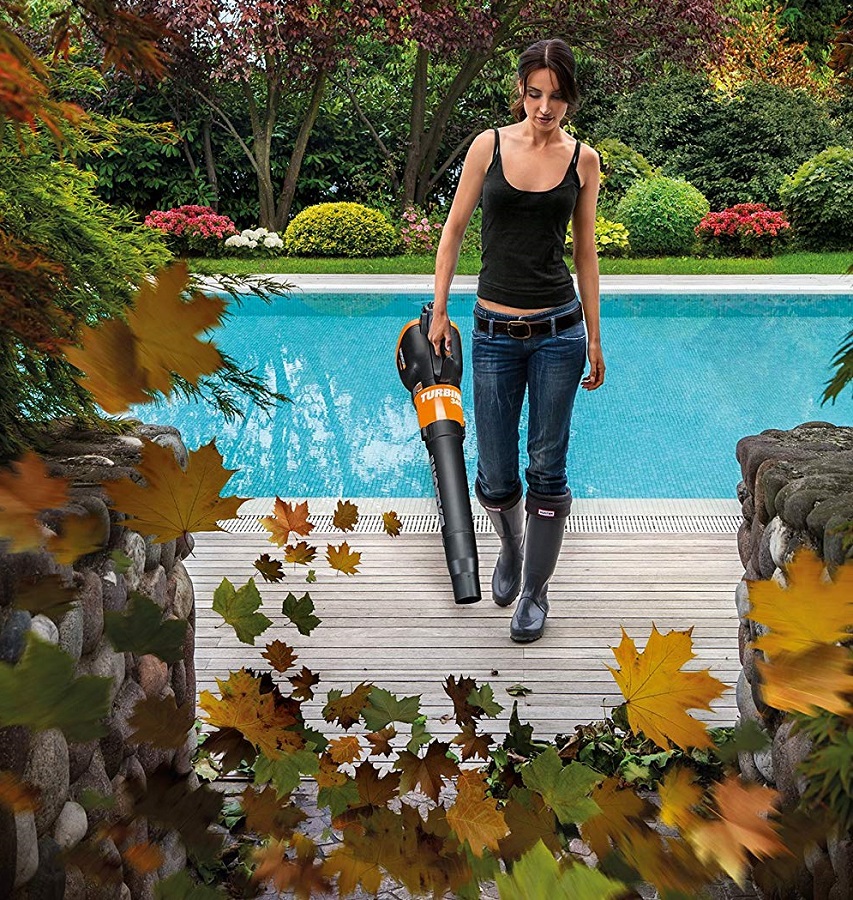 The Toro 51621 proves to be the top dog as it comes with everything required from a commercial-grade unit and it's an affordable option when you take into account its rich set of features. It delivers plenty of power for large tasks but can handle small jobs thanks to the adjustable power settings.
Are you considering buying a leaf blower vacuum mulcher from our list or do you already own one? Please leave your comments in the section below. I'd love to hear from you.
Our List of the Best Domestic Appliances