Tineco A11 Hero HEPA Vacuum Review
Dust mites, pet dander, pollen, and a variety of other allergens can all be found in the air we breathe. Even the cleanest home can contain allergens that can cause health problems, especially for individuals who suffer from asthma or allergies.
Vacuuming your home on a regular basis is usually one of the remedies to assist ease the symptoms of these conditions. You should be aware, however, that not all vacuums will provide relief. Some vacuums can actually release additional allergens into your home, making your allergies worse.
The ordinary or typical vacuum isn't actually capable of catching all of the dust particles that can trigger an allergic reaction. Air, as well as dust and other contaminants, can flow through your vacuum and be discharged back into the atmosphere.
You might be asking if there is a way to solve this problem. What can you do to help avoid allergies and other possible triggers? The good news is that HEPA filtration vacuums are currently available. But what is it about them that makes them so popular?
HEPA Vacuums
The acronyms HEPA and HEPAA stand for "High-Efficiency Particulate Air" and "High-Efficiency Particulate Arrestor," respectively. Essentially, this indicates that the vacuum has a filtration mechanism.
HEPA vacuum cleaners are an excellent investment. If you're looking for a vacuum cleaner, you're probably under the impression that all models are the same. When selecting a vacuum, however, there are a few things to keep in mind. The filtration system is one of the most important factors. For asthma and allergy sufferers, HEPA filters are essential.
The Advantages
HEPA filter vacuums will be advantageous to allergy sufferers. These vacuums differ from ordinary vacuums in that their filters can clear small particles or allergens such as pollen or dust that have gathered on your home's surfaces.
It may, for example, filter your rugs, as well as any other surfaces and corners in your home, removing hazardous allergens that might cause allergies or other health problems. Cleaning your home on a regular basis and removing allergens that cause symptoms can make a significant difference in your recovery.
Best HEPA Vacuum
The basic vacuum cleaner has come a long way in the last decade or so. Gone are the days when a good vacuum meant a big, exorbitantly priced, massive box that you had to have plugged in at all times. Modern vacuum cleaners have built-in batteries and are more powerful than ever before, but they are still very light and simple to use.
Of course, Dyson is at the forefront, but he is not alone. Tineco is maybe the most well-known Dyson handheld competitor. It introduced a slew of popular portable vacuum cleaners, including the Tineco A11 Hero Cordless Stick Vacuum Cleaner, which I've been using for weeks.
About Tineco A11 Hero Vacuum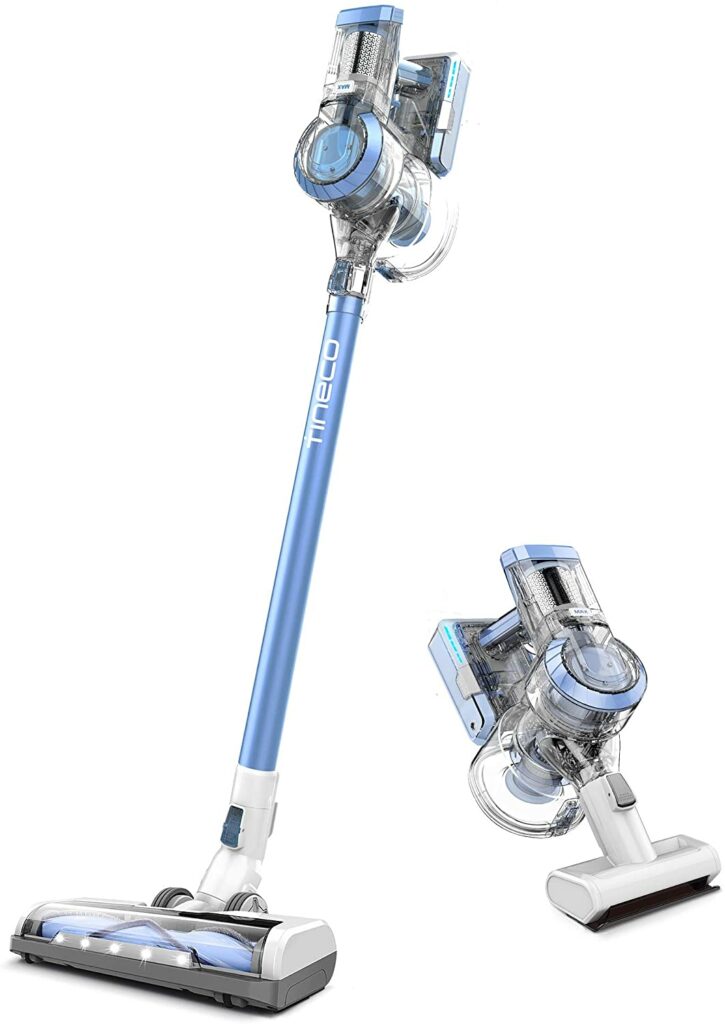 The Tineco A11 is a more powerful variant of the A10, including a larger engine and an additional battery that effectively doubles the run duration. The general quality and finish of the A11 is another area where it might be improved.
The A11 has a redesigned quick-release clasp that snaps a little more crisply and is easier to detach than the A10. Its semi-transparent body gives it a futuristic appearance, and its performance on carpets and hard floors is among the best I've seen so far.
Suction/Cleaning Power
The vacuum has a 450W motor that produces 120AW of suction power. That's extremely impressive for a cordless stick. The A11 Hero's cleaning powers are further enhanced by its 10″ broad motorized brush roll. The vacuum swirls and agitates the dirt in carpets, making it suited for both hard surfaces and carpeted floors.
Power Consumption
The Tineco A11 Hero is a cordless vacuum that is powered by a battery. The battery is a 2,500mAh lithium-ion, and there are two of them included with the vacuum. In normal mode, each battery lasts about 30 minutes, and in MAX mode, it lasts about 7 minutes.
When you combine the two, you can clean nonstop for 60 or 15 minutes, depending on the speed you pick. The batteries charge in about 3 hours and come with a dual charging base so you can charge both at once.
Dust Bin Capacity
With a dust compartment capacity of 20 oz. (0.6 liters), the A11 Hero allows you to vacuum for longer periods of time before having to empty it. When you're ready to get rid of the contents of the trash, all you have to do is press a single button. The dust bin detaches and opens in a flash, and it's also machine washable.
Filtration Efficiency
The vacuum features a 4-stage filtration system that enables efficient capturing of dust and other particles. The pre-motor filter is made of microfiber, and the post-motor filter is made of HEPA.
Additionally, the device is completely sealed to prevent allergens from escaping. As a result, you or a family member with seasonal allergies can use the A11 Hero without fear of harming themselves.
Accessories
The amount of accessories and attachments is one area where the maker went above and beyond. The vacuum has one of the most diverse toolsets. Some are included with the new vacuum, while others must be ordered.
The main unit, main cleaning head, micro motorized brush, crevice nozzle, combination dusting brush, extra pre-filter, extra battery, pre-motor filter cleaning tool, hair cleaning nozzle, charging base, and user's guide are all included in the box.
Tineco A11 Hero Powerful 450W Motor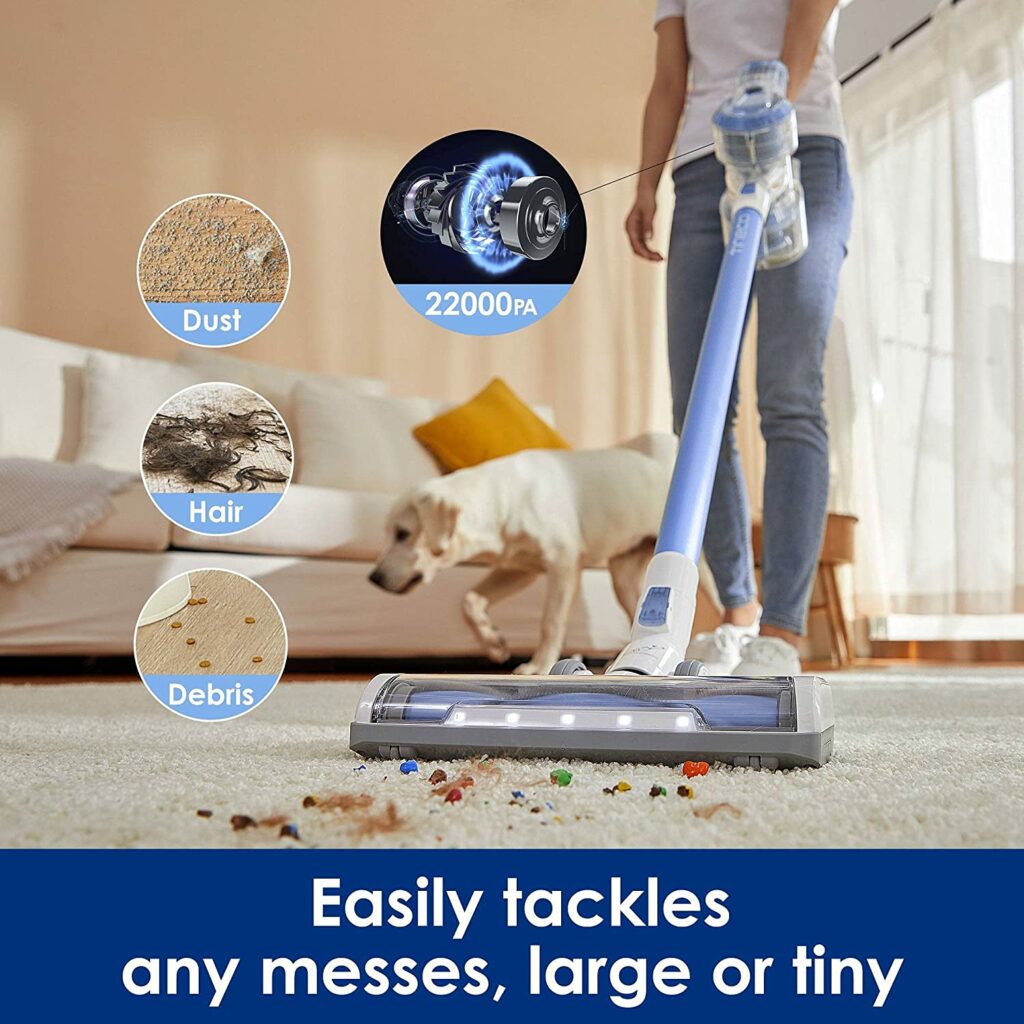 To deliver the essential cleaning powers, vacuum cleaners require powerful motors. With its 450W motor, the A11 accomplishes this and cleans the average home admirably.
The device employs two batteries to lengthen the runtime to compensate for the higher power usage. It also includes a charging station that can hold two batteries and charge them simultaneously.
As a result, you won't have to wait for each battery to reach full charge, and you won't have to waste time cleaning them.
LED Lights Multipurpose Cleaning Head
Vacuum both delicate surfaces and carpets using the main cleaning nozzle. The brush spins to agitate the dirt in carpet fibers and does not damage hard floors. If your house has multiple floors, you can vacuum safely and effectively with the A11 Hero. The two cleaning heads also have bright LED lights that allow you to clean in low-light situations or in difficult-to-reach places.
Filter Cleaner for the Pre-Motor
It's included with the vacuum and helps maintain the pre-filter clean without having to wash it in water. The gadget uses the vacuum's suction to clean the filter, thus it must be plugged in to function.
The pre-filter cleaning attachment is a unique item that simplifies the maintenance of the A11 Hero. The main filter is a washable type that must be cleaned on a regular basis.
Stick to hand-held devices.
The A11 Hero's adaptability is quite astounding. The device can be used as a full-height stick one moment and a portable handheld the next. As you can see, the A11 Hero eliminates the need for two different vacuums.
Tineco A11 Hero HEPA Vacuum Specifications: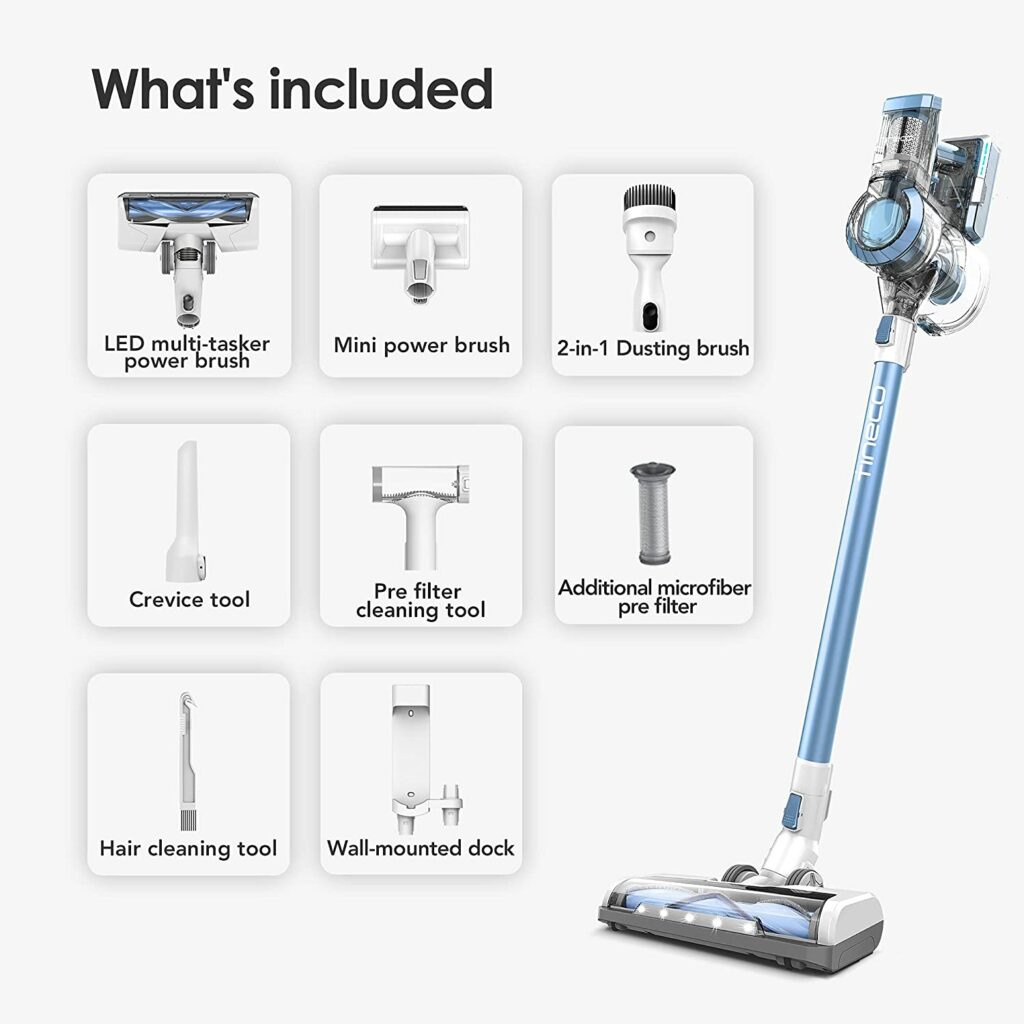 Dust Collection: Detachable dust bin
Nozzle Features: LED-equipped
Dirty Storage Capacity: 0.16 gal.
Dirty Storage Capacity: 20.29 oz.
Capacity: 0.6 liters
Capacity: 2.5cup
Preset Programs: Max mode
Filter Type: HEPA
Air watts: 120
Weight: 17.55 lbs.
Width: 12.8in.
Height: 30.5 in.
Depth: 7.5 in.
Horsepower: 0.6 HP
Wheel Type: Plastic
Battery: Lithium-ion
What We Like About the Tineco A11 Hero Vacuum
Suction power is impressive, allowing you to effectively clean both bare and carpeted surfaces.
Vacuuming of various floors with the multi-floor cleaning head
Ease of use that allows all members of the family, from the young to the elderly, to use it.
Filtration that keeps you and your family safe from allergens.
The device's capacity to transform from a stick vacuum to a lightweight handheld makes it appropriate for a variety of cleaning chores.
The vacuum's cleaning heads have LEDs that allow it to be operated in dimly lit areas.
The vacuum's maneuverability is improved by the smooth pivot.
It comes with a variety of essential tools and accessories to make cleaning easier and more efficient.
What We Don't Like About the Tineco A11 Hero Vacuum
It's not appropriate for heavy-duty cleaning that necessitates a lot of suction force and extensive cleaning times because it's a battery-powered vacuum.
Because the primary nozzle doesn't do a good job cleaning edges, you may need to add attachments like the crevice tool.
Tineco A11 Filter Cleaning Instructions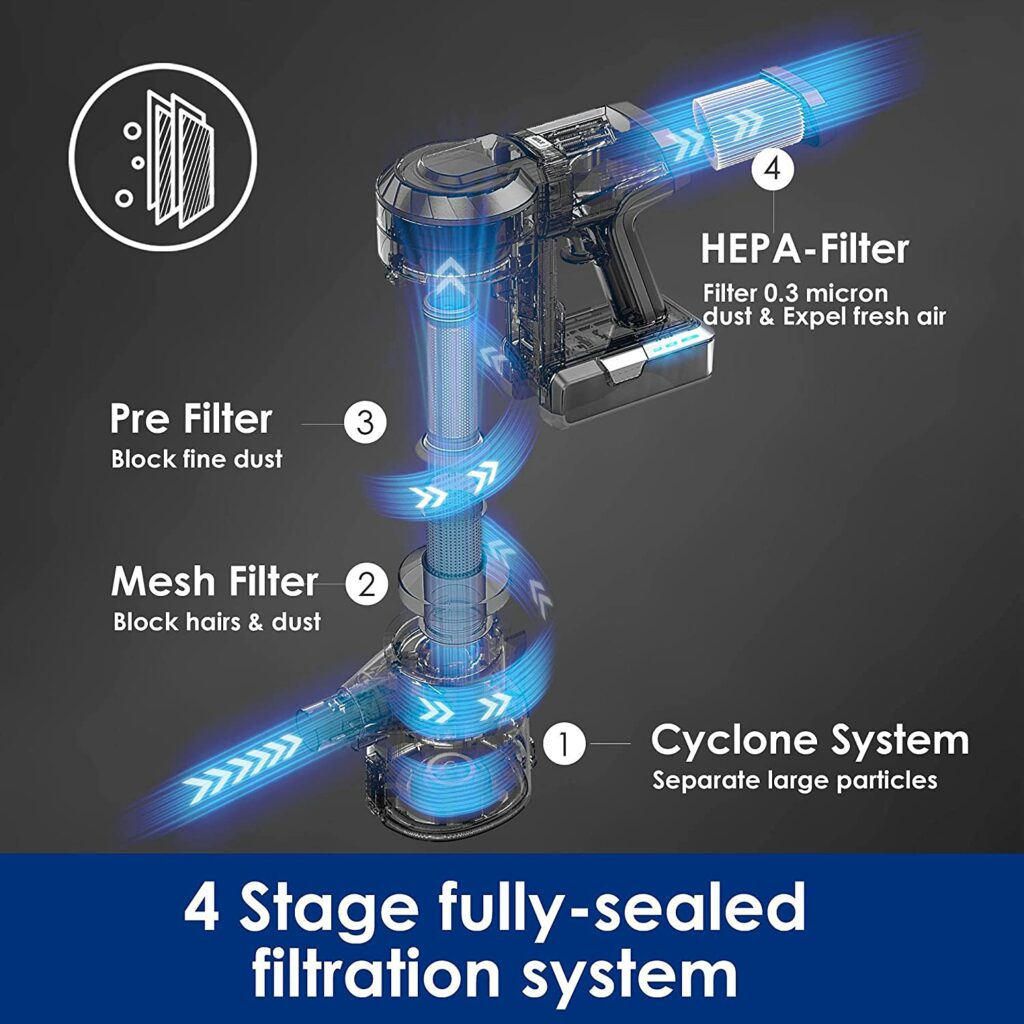 Keeping your Tineco A11 cordless vacuum filters clean is a vital component of the overall maintenance regimen that you should follow. This is especially important for maintaining high power output and allowing the vacuum cleaner to perform at its best.
Not only will this reduce the amount of time spent, but it will also extend the machine's life. You should devote a little time to this in order to save money in the long term.
Tineco has made the process simple by allowing you to wash the filters in water and air dry them. It's actually suggested that you clean out the dirt collection bin as well to restore the A11 to like-new condition.
Here's a little video from their support staff that shows how simple it is to clean the filters, as well as a number of other recommended tasks like cleaning the brush roll and reinstalling everything. This is the most effective approach to keep your A11 Master running as smoothly as the day you bought it.
Final Thoughts
The Tineco A11 Hero is a cordless stick vacuum that is both powerful and adaptable. It combines the cleaning power of an upright with the convenience of a handheld. The device has a number of beneficial features that make cleaning not only simple but also efficient.
You can vacuum both hard surfaces and carpets with its multifunctional cleaning head. The filtration quality is excellent, ensuring that no allergens contaminate the air in your home when vacuuming. With a washable filter and a dust bin that detaches simply for emptying and cleaning, the gadget is simple to maintain.
Overall, this vacuum is highly recommended.