Buying a hedge trimmer can be tricky. It's easy to feel overwhelmed with the number of brands and models available today for hedge trimmers. Especially if you're not familiar with gardening tools, you could end up wasting time and money buying the wrong product. When getting a hedge trimmer, it's important to know the features and capabilities of the units.
This way you get to differentiate one model to another, and you will be able to buy exactly the right product of your needs. Before anything else, or even before looking for products on the web, survey your yard first. This way, you will know the requirements you're looking for a hedge trimmer.
Check the size of the branches and the vegetation you'll be working on in your yard. When you're done with this step and you're certain of your needs, you can proceed and look for a hedge trimmer to buy. If you're thinking of getting this kind of tool but you don't know where to start, here's a guide on how to buy a hedge trimmer.
Different Power Sources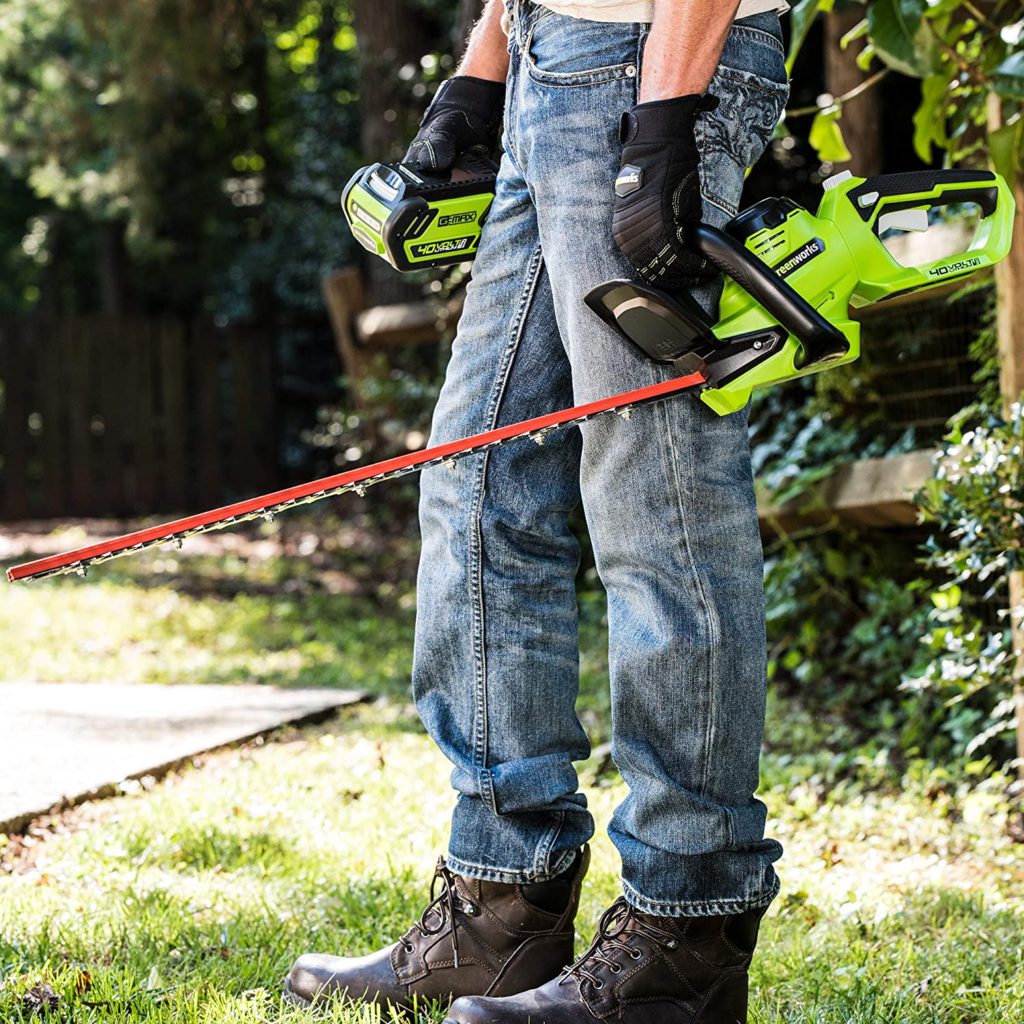 The power source of your hedge trimmer is a crucial factor you should consider on your purchase. The power source affects many other important features of the product you're getting. It can dictate the blade's stroke speed, the power of the engine, the convenience of the product, as well as limitations.
You can actually classify hedge trimmers from its power source. Thus, here we'll tell you the difference between a corded, cordless, and gas-powered hedge trimmer.
Corded Hedge Trimmer
Corded hedge trimmers both offer convenience and cons. What you will like about this type of trimmer is you can use it immediately whenever you need it. You won't worry about charging or buying gas if ever it runs out of power. Corded hedge trimmers are lightweight, too.
It's usually more powerful than cordless models, and quieter than gas-powered units. However, having cords mean it could restrict you from doing yard work if you have a large outdoor space. This type of trimmer better suits small gardens.
Cordless Hedge Trimmer
Battery-operated hedge trimmers are a popular choice whether for professional yard work or personal use. These hedge trimmers are easy to carry, lightweight, and can be powerful. You will also have the freedom to go around your yard using cordless hedge trimmers.
The battery voltage and life are the top factors to consider if you opt for a cordless model. The higher the voltage, the more powerful the engine is and the faster you can finish your task. However, some units take a bit of time to recharge. Some units will take around 45 minutes before fully charged. Some people get extra batteries to make sure their work won't be interrupted if the battery runs out.
Gas-Powered Hedge Trimmer
Gas-powered hedge trimmers are typically more powerful than electric models. However, it's also noisier and heavier than the other types. If you're going to deal with demanding tasks like cutting mature branches, gas-powered units are for you. This type also has a more powerful engine, meaning, you can finish your tasks faster than using electric trimmers.
When getting a gas-powered unit, it's important to check the cubic capacity of the tool. The amount of gas you can use for the trimmer determines the product's limitations when it comes to the weight of yard work. The more gas the tool can accommodate the longer time you can use it.
Recommended for you Best Cordless Hedge Trimmers for Large Hedges | Powerful Hedge Trimmers for Professional and Home Use
Hedge Trimmer Features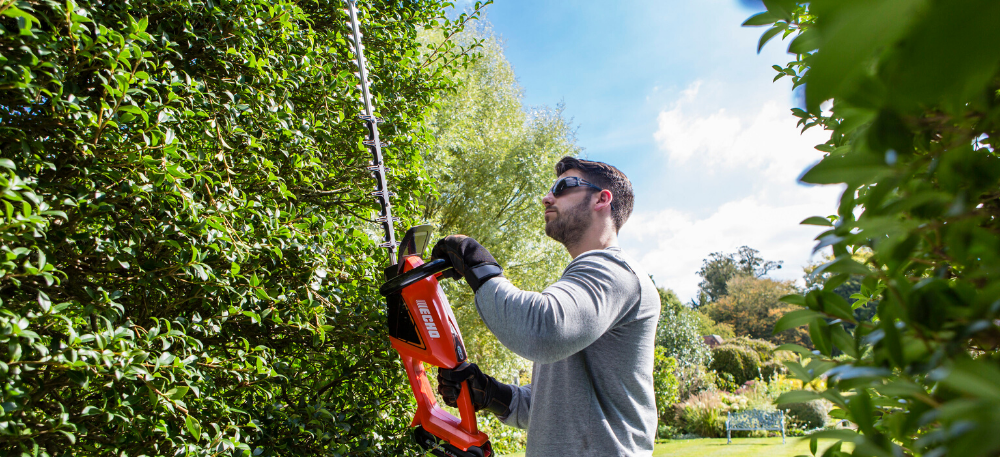 Different hedge trimmer models offer various features and highlights. You can't just buy a product without checking its features as it determines its strengths and limitations. Before you get a tool, first research about the product you're getting. It's also a wise move to get familiar with the features of hedge trimmers and how it can improve the product's efficiency.
There are several features you must always check when buying a hedge trimmer. The following points can help you decide what kind of tool and which features it should have.
Blade Length
The length of the blade tells the width of the hedge a trimmer can cut. If you'll be dealing with heavy-duty tasks, opt for blades more than 500mm. Otherwise, blades around 300-400mm are enough for smaller hedges. There are also single and dual-sided blades, which determines how fast it can complete a task. For beginners, we recommend using single side blades as these tools are safer to use.
Teeth Spacing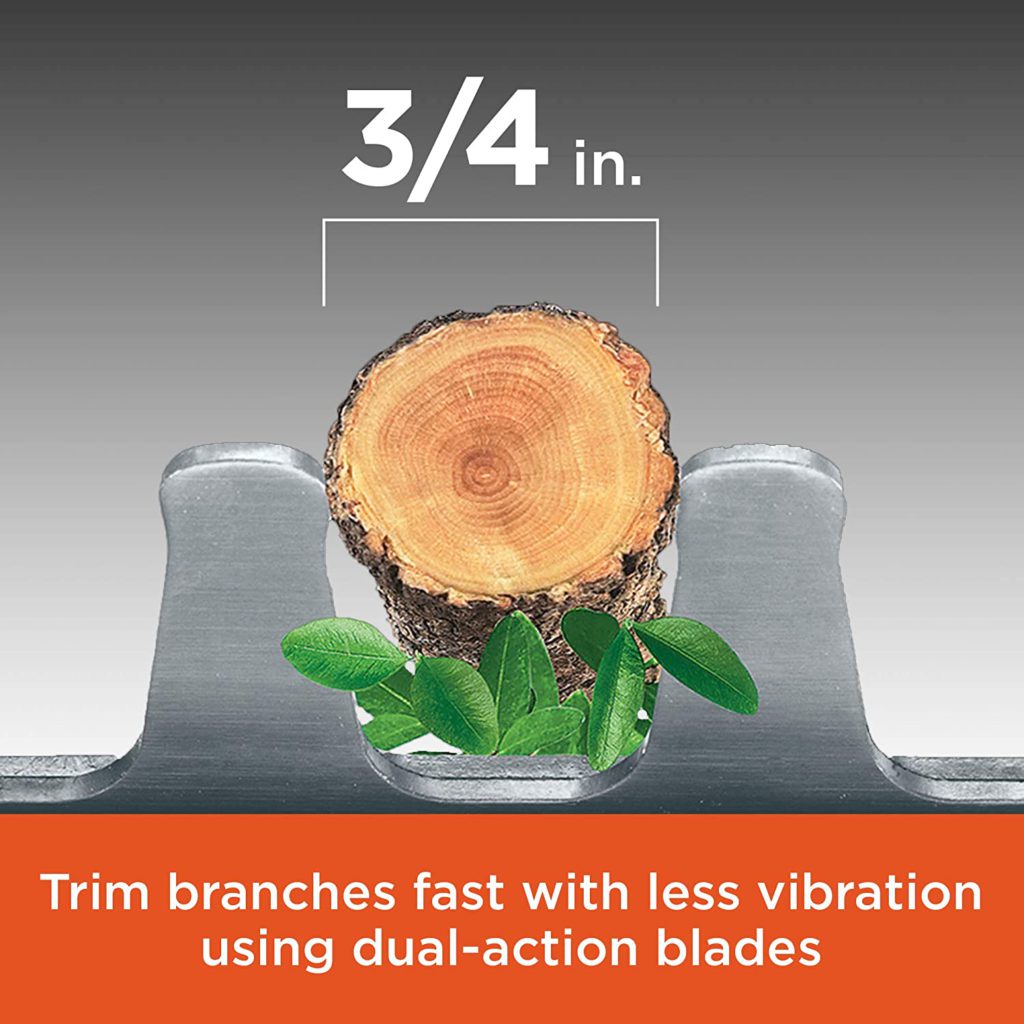 The gap of the trimmer's teeth determines the thickness of the branches it can easily cut. Teeth spaces about 30mm or more are enough if you're going to deal with mature branches. On the other hand, gaps of about 15-20mm can work well for smaller hedges. Meaning, to get the right tool, you must be also aware of the vegetation and plants you have in your yard.
Recommended for you Black Decker LHT2436 Hedge Trimmer Review | Cordless and Powerful Tool For Your Yard
Weight
The weight of a hedge trimmer plays an important role during your purchase. You will be holding the tool for quite some time, and the heavier the trimmer, the easier you will feel the strain. Hedge trimmers can weigh from two to nine kilograms. Electric models are lighter than gas-powered units.
Heavier trimmers, however, usually offer more power than lightweight models. If you don't need a tool that can do heavy-duty tasks, it's better to get a light hedge trimmer so you can avoid feeling strained easily.
Blade Protector
Blade protectors are an important feature as well. It prevents the blades from getting dull and damaged during accidental knocks. Not all models are equipped with a blade tip protector. So when buying a hedge trimmer, seeing this feature is an additional point as it keeps the tool in good condition.
Blade Sharpening Feature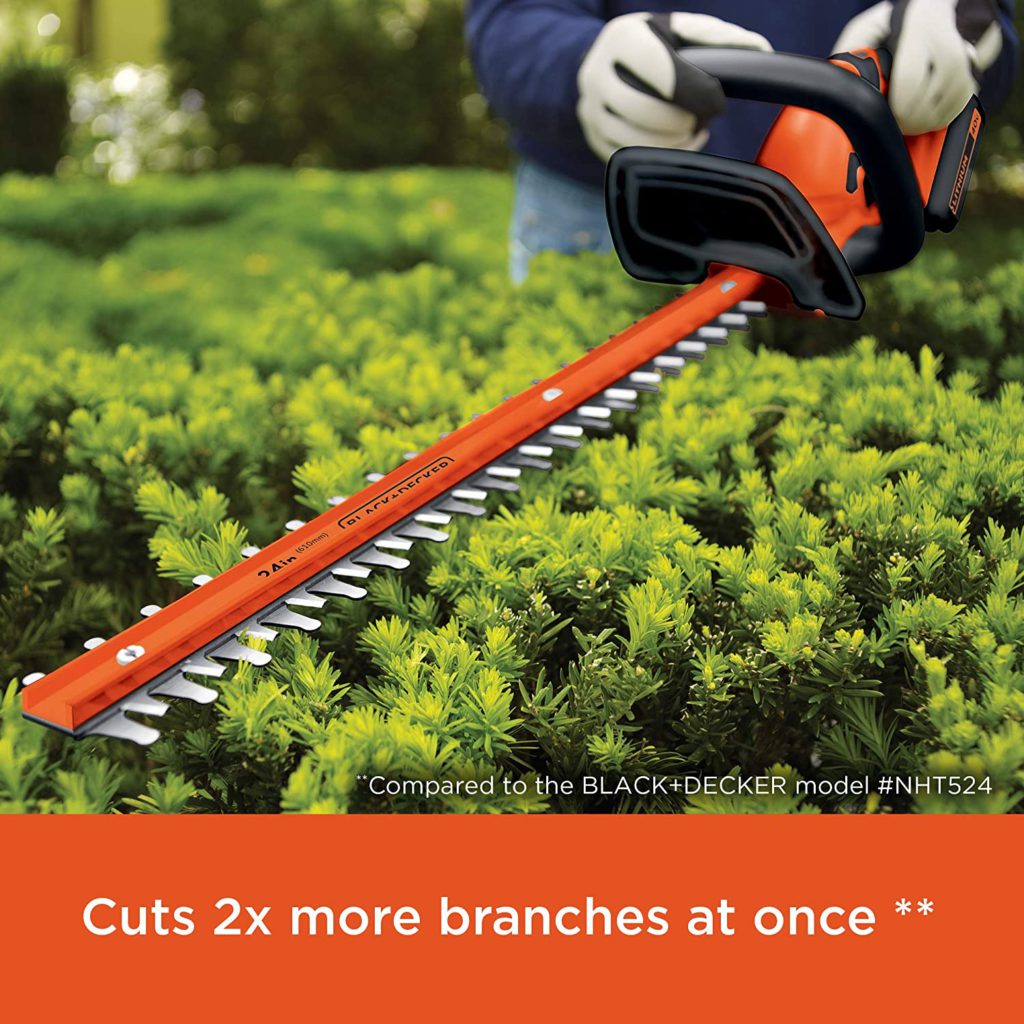 Many models today have hardened, rust-free blades, assuring the tool will be efficient for a long time. Several hedge trimmers also boast sharpening feature for the blades. The sharper the blades, the easier it can cut through hedges, and the faster you can finish your tasks.
You will see features like laser-cut or diamond-ground, which means added sharpness. Moreover, sharp blades reduce the vibration of the trimmer. Less vibration means you won't feel easily exhausted using the tool, which is crucial especially if you're going to do yardwork for long periods.
Safety Switch
Not all hedge trimmers come with safety switches. Whether you're a professional gardener or a beginner at hedge trimming, safety switches are an important feature to consider. Many models come with dual or triple safety switches to prevent accidental start-ups.
There are also switches that quickly stop the engine from working. Safety is a top priority when using dangerous power tools like hedge trimmers. You must also think of placing and keeping the trimmer in safe places that assure accidental start-up won't happen.
Recommended for you DEWALT DCHT820b 20v Max Hedge Trimmer Review | Compact and Precise Trimmer for your Yard
Maintaining Hedge Trimmers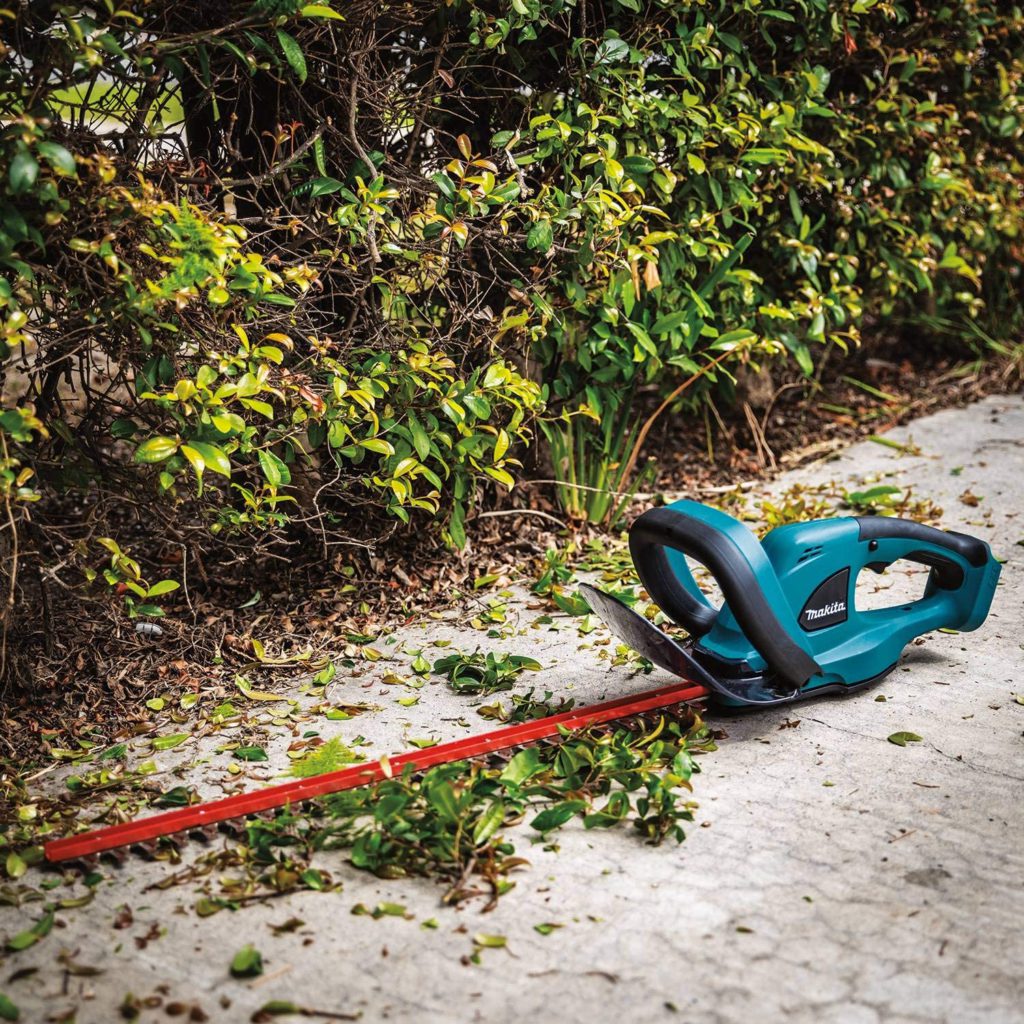 To keep your hedge trimmer in good condition, don't wash it with water and remove any leaves and other debris stuck in the blades and engine. These tools are like bike chains, and because it's made with metal that can potentially rust, make sure you avoid the tool from getting in contact with water.
Also, you must wear protective gear when using the trimmer. Some hedges can be itchy or some plants have thorns. That's why it's important to wear gloves, goggles, and long sleeves when doing your yard work using a trimmer. Make sure to also use earplugs if you're using a loud tool.
Conclusion
Hedge trimmers are not cheap. It's always better to do research and know about this tool before getting one. Before you buy a trimmer, make sure to survey your yard first. That way, you can get a closer look at the hedges you'll be dealing with. Save yourself from wasting time and money when you buy the wrong product. Consider these points we discussed for you to get the right tool for your needs.
Weight, power source, blade length, teeth spaces, safety features, blade protecting features, blade sharpening, and safety switches are just some of the points to consider when buying a hedge trimmer. There are other factors that you may think about before buying a product. However, what we discussed in this section are the most important features and points you should know before your purchase.
We hope this post serves value on how to buy a hedge trimmer. If you're thinking about getting this kind of tool, let us know which brand and model do you think you're getting. Let us know also if there are other topics you want us to write about. We'd love to hear from you!
Recommended for you The Best Leaf Blowers For All Yard Sizes- Read our Reviews and Buyers Guide