Clearing up a messy yard is no easy feat. Our 2021 buyers guide comes with lots of advice to find the best leaf blowers for all yards sizes to speed up what normally be an arduous task. It goes without saying that getting rid of leaves from pathways and the lawn is easier and quicker with a leaf blower and if you really want to crank up the efficiency then you should consider a model that picks up and mulches leaves.
Safely Using a Leaf Blower Vacuum
It's important to follow safe practices when using your new leaf blower. I've included a few handy tips to ensure safe usage of your garden appliance and eliminate any unnecessary risks.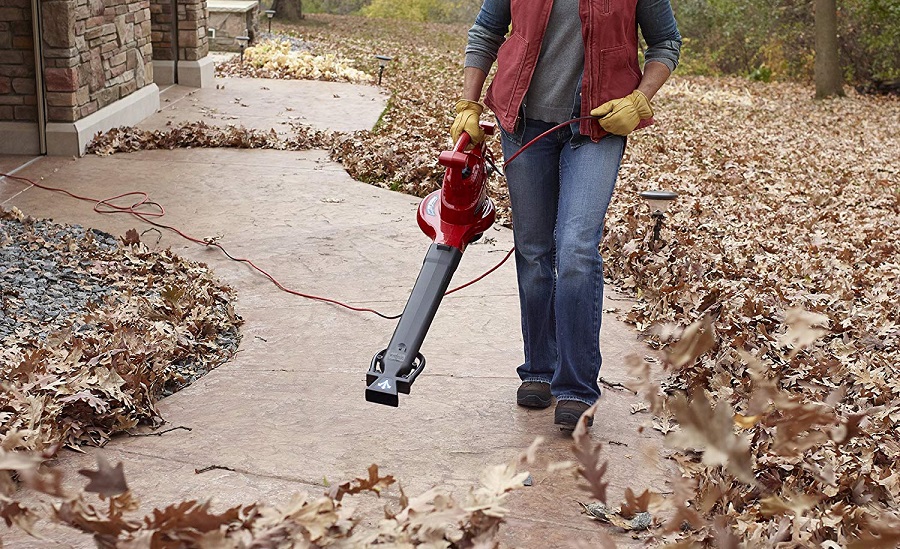 Staying Safe
Firstly you should ensure that you purchase your leaf blower from a trusted source. Follow the links in this article to access our shortlist of recommended leaf blower vacuum mulchers.
One of the first things to do is to register your new unit with the manufacturer so that it is guaranteed in case of a fault or if a repair is required. Registering the leaf blower will also make it easier for the manufacturer to get in touch with you if the product needs recalling.
Always inspect the cord and plug for signs of burns and check that they are not too hot. Seek the help of an electrician if the fuse keeps blowing or the circuit-breaker keeps short-circuiting.
Your socket should have RCD (residual current device) protection installed to protect you from electric shock and it minimises the danger of an electric fire. If your sockets are not fitted with RCD protection then you need to look into installing one. This will provide all-round safety and safeguard you and your home from harmful electric faults.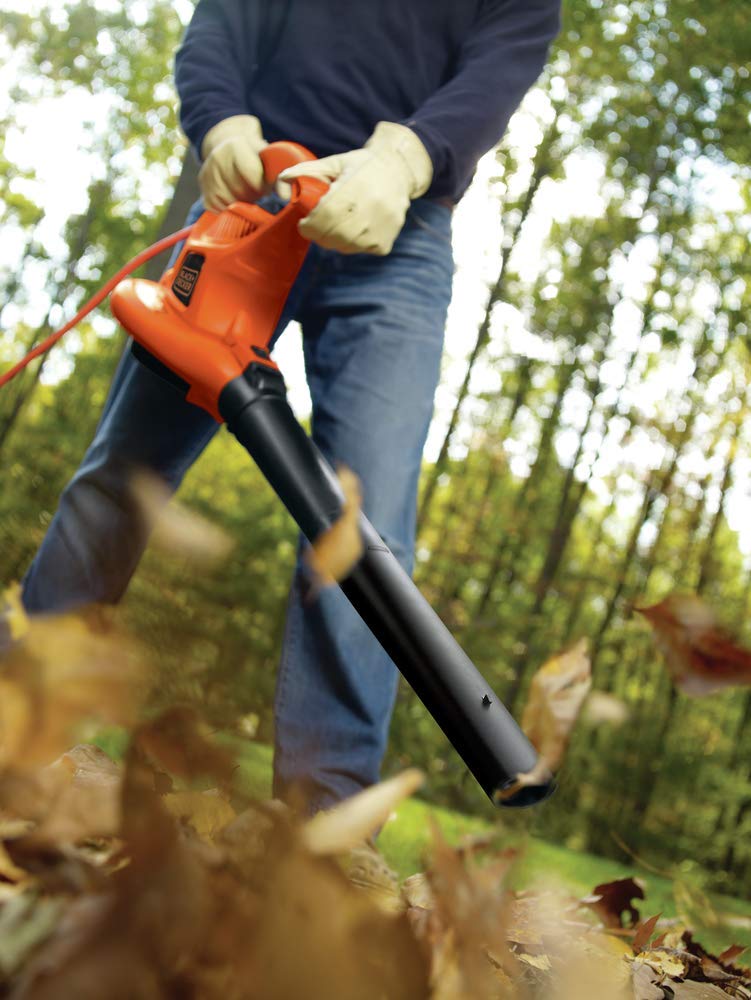 How to Use Your Leaf Blower Safely
Before turning on your leaf blower vacuum make sure you remove any obstructions such as stones and debris.
Avoid using the leaf blower on wet and windy days. These conditions will make the task harder and longer than it needs to be. Choose a dry day for an easier life.
Make sure that loose clothes are tucked in and remove any jewellery that might get in the way.
I would recommend wearing goggles to protect your eyes. Invest in a pair of garden gloves, appropriate legwear and a pair of earmuffs to protect your ears from the loud motor noise.
Be aware of your surroundings when operating the leaf blower. Make sure that there's nobody else within a 15-metre radius of the machine during use.
Never attempt to use the appliance if you are standing on a ladder or roof.
If you hear any abnormal sounds or smell burning then you turn off the machine straight away and get in touch with the manufacturer for advice and assistance.
Make sure that the leaf blower is disconnected from the mains when the task is complete. I would also recommend unplugging it when switching attachments or cleaning the unit.
Keep the machine in an area that is cool and dry.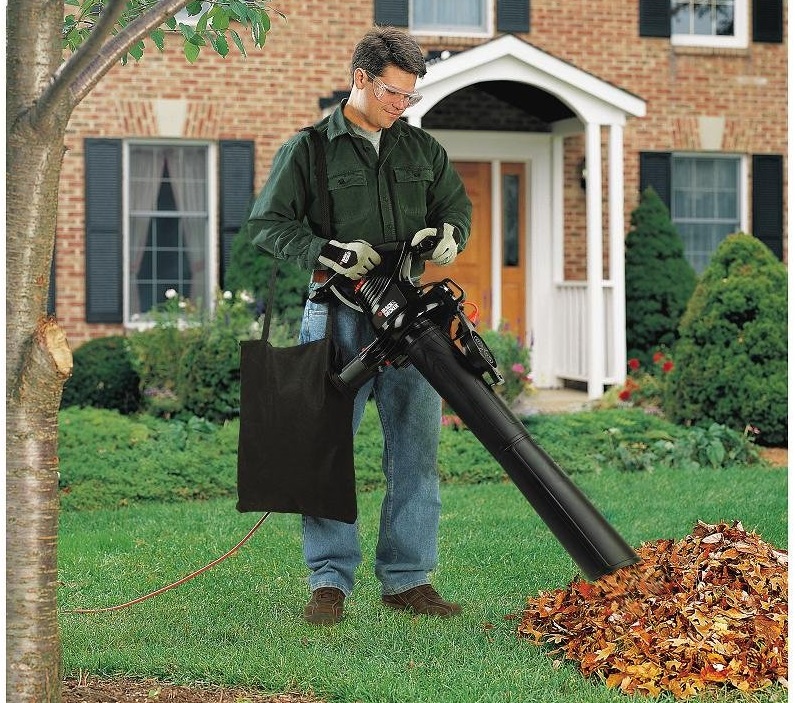 Recommended Reading: Best Commercial Leaf Blower Vacuums
How To Buy the Best Leaf Blower for Your Needs
Now that we've covered the safety aspects of using a leaf blower vacuum mulcher we need to decide the best type to use. These handy garden appliances are a must-have during the autumn months. If you don't already own one or you need to replace your old one then you've come to the right place.
I want you to get the most out of your new appliance and to do that you need to know the best type of machine to buy for your backyard. Our leaf blower buying guide will walk you through everything that you need to know to make an informed decision.
What Type of Leaf Blowers are Available?
Leaf blowers are usually tailored for specific jobs and yard sizes, however, they all perform with the same purpose. Each unit can blow away leaves without issues but you might want one that runs at a lower noise level, therefore, you may choose a specific machine over the other.
If you want a machine for larger spaces then you might want to buy a robust commercial leaf blower. If you want to recycle dead leaves for compost then you definitely want to buy a leaf blower with mulching capabilities.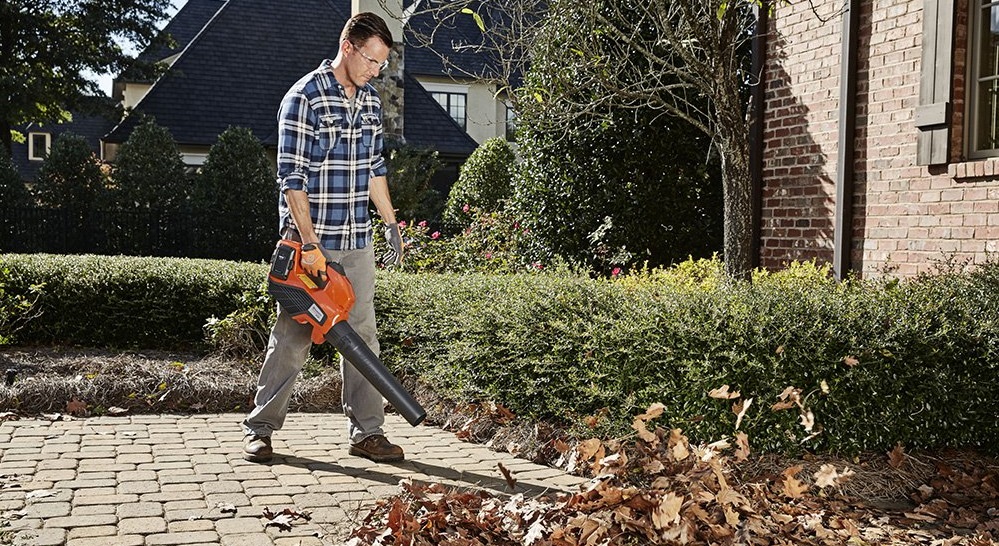 Your machine will come with different accessories for a variety of jobs. You can also get them in different configurations such as a backpack, handheld or walk behind machine.
Handheld Leaf Blower
A handheld leaf blower provides the best movement of freedom to manoeuvre all areas of your backyard. They are lightweight and ideal for smaller lawns and porches. In addition to leaves, they can tackle dust, sawdust and small twigs but might struggle with bigger pieces of debris.
Backpack Leaf Blower
Backpack leaf blowers are equipped with longer running times and provide a higher amount of power over handheld units. They are suitable for larger areas such as fields or garage spaces. They can deal with wet leaves, pebbles and small sticks.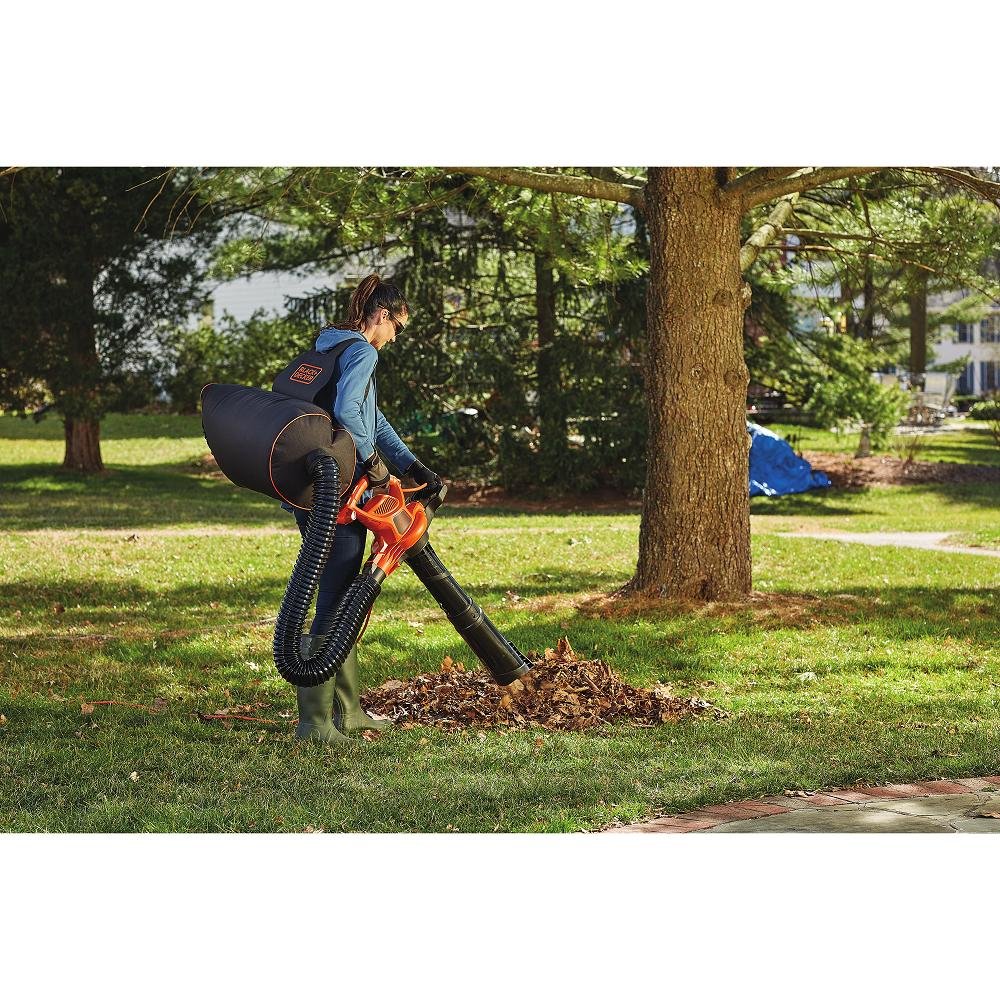 Walk Behind Leaf Blower
A walk behind leaf blower is the most robust machine available. you can use it for mammoth tasks and it comes with plenty of power to get tasks done quickly. These machines are mainly used by professionals to remove heavier debris including cardboard, paper or a huge pile of wet leaves.
Recommended Reading: Best Commercial Leaf Blower Vacuums
What Should You Take into Account When Buying a Leaf Blower?
How Loud is the Leaf Blower?
It's important to know the exact capabilities of your new leaf blower before buying it. How powerful is the appliance and how much energy does it consume during use? Is it a corded, gas, battery-powered leaf blower? One aspect that is often overlooked is the machine's noise.
The noise levels of a leaf blower will depend on the type of unit you choose to buy. You don't want to upset the neighbours with a loud garden appliance if you can help it. A leaf blower has a variety of uses such as removing debris from the gutter, eliminating dust from the garage, clearing the lawn and mulching leaves (depending on the model). This is clearly an appliance that will be used often, therefore, it should be as quiet as possible.
The typical noise emitted by a leaf blower 50 feet away is between 64 to 78 decibels. At the user's ear, the noise ranges from about 95 to 115 decibels. The latest models aim to reduce the noise to a decibel level lower than 85 dB. Generally, electric models are much quieter than gas models and the battery model falls somewhere in between. Bigger motors will also produce more noise.
Always check the specific quiet hours for your area to see what times you are permitted to use loud appliances. Be considerate to the neighbours and try not to use your leaf blower too early in the day when people are still in bed.
How Much Power Do You Need?
How much power do you need from your leaf blower? There are 2 features you need to consider when deciding on the level of power required from your machine and these are: Miles Per Hour (MPH) and Cubic Feet Per Minute (CFM). Both should be high and within close range of each other.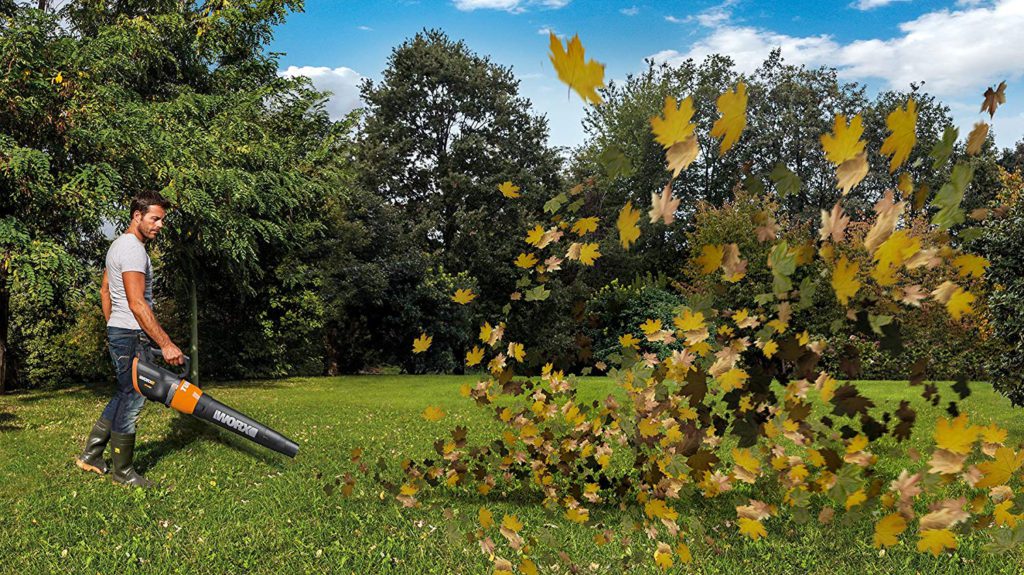 Don't make the mistake of just looking at a high MPH value only. It's true that more MPH equates to air travelling faster from the barrel, however, the blower needs to work harder to move a bigger pile of leaves.
Faster speed doesn't necessarily mean better leaf blowing capabilities, it just means that your machine blows air out quicker. What you need to consider, together with the MPH, is the Cubic Feet Per Minute (CFM). This is just as important as the airspeed and here's why…
CFM measures the volume of air that flows from the barrel per minute. This number will determine the distance that the fan can move leaves from one area to another. However, moving a huge amount of leaves from one area is pointless if it takes a long time to carry out the task.
What you want is a leaf blower with a good balance between the CFM and MPH to get the tasks completed effectively and in less time. Plenty of airspeed with inadequate coverage will result in longer periods of moving leaves around.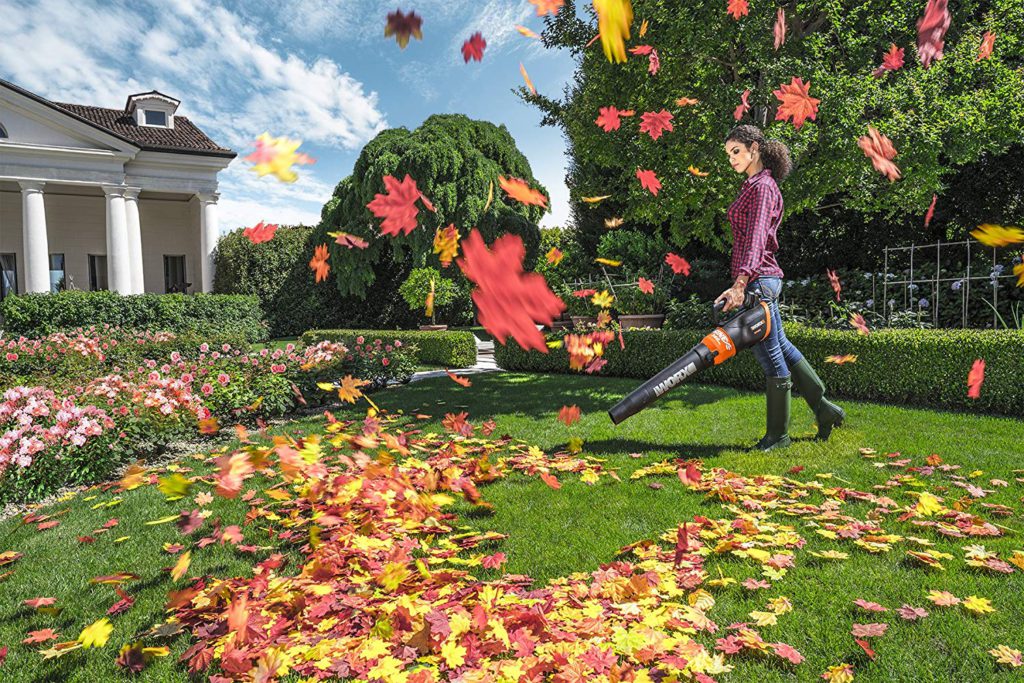 Recommended Reading: Best Commercial Leaf Blower Vacuums
How Much Work is Intended for Your Leaf Blower?
We've established that leaf blowers all operate in a similar manner, however, the type that you end up buying will depend on the space that you need it to work.
Smaller Tasks
If you intend to use your leaf blower in a small backyard or to clear leaves from the patio then a handheld unit is ideal for the job. The benefits of a handheld machine are easier storage and lightweight to carry around. A handheld unit is not as powerful as other model types, therefore, it wouldn't be suitable for larger jobs.
Medium to Larger Tasks
Bigger backyards require a robust machine and for this task, you want a backpack blower. With this model, you get longer running times and a higher rate of power but still get similar movement benefits as handheld models. Backpack leaf blowers come with comfortable straps to ease the burden of carrying around the machine for extended periods. You can power through difficult tasks in very little time.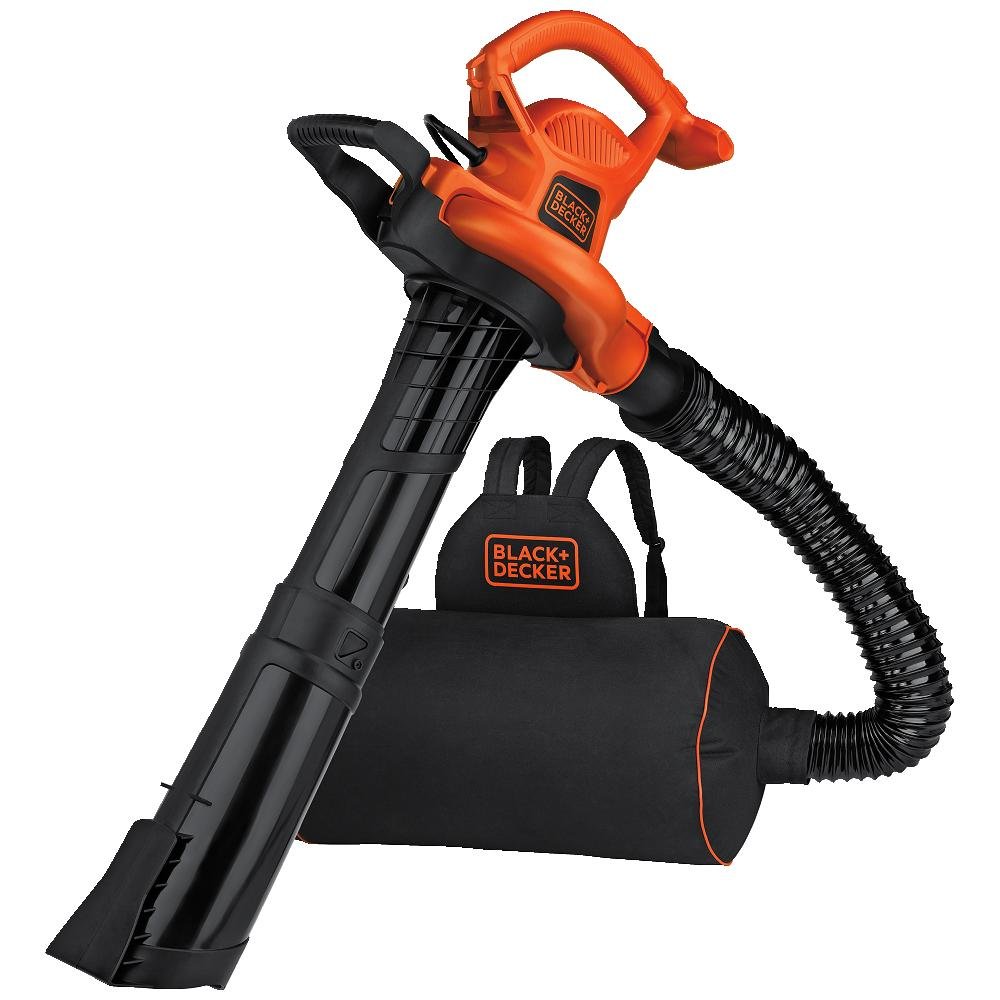 Commercial Tasks
The most powerful unit out of the bunch is the walk behind blower. This appliance comes on wheels and is perfect for industrial scale tasks such as clearing parks, farmland or yards that are larger than 1 acre. A wheeled blower is strong enough to blow away big pieces of debris, therefore, it's important that the area you are working on doesn't have animals or people close by.
A wheeled leaf blow is not as mobile as a handheld or backpack blower, however, it is designed with a good level of movement and flexibility. The wheels ensure that the unit can be manoeuvred easily and quickly between areas. These appliances are often used in parks to get rid of a large number of leaves.
Recommended Reading: Best Commercial Leaf Blower Vacuums
What Type of Fuel is Best For Your Leaf Blower?
It's important to know beforehand what type of fuel is best for your cleaning requirements. Leaf blowers will either be gas, electric or battery-powered. Each fuel type has its benefits and drawbacks, therefore, you might fare better with one over the other.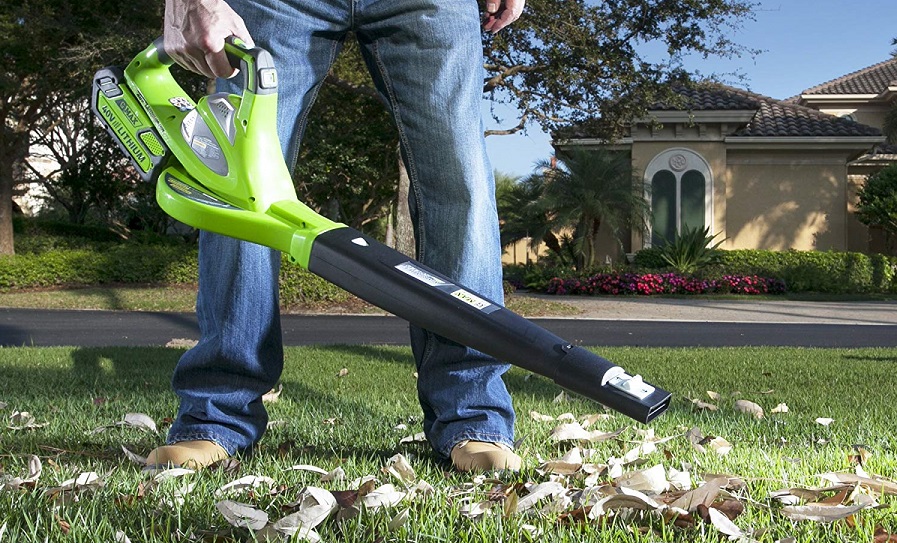 Battery-Powered leaf Blowers
If this is the first time you are buying a leaf blower then a battery powered appliance is one of the best choices to get. If you have a brand preference then it would be useful to get a similar brand so that you can share existing batteries between machines.
If you are a newbie to a leaf blower and have never worked with a gas or oil model, it can be daunting which is why a battery-powered appliance is best. It comes with the convenience of simply attaching the battery to the appliance and switching it on. These models are low-maintenance too, the motor requires very little upkeep and adds to the appeal of the battery-powered leaf blower.
Pros:
Battery leaf blowers are easy to set up and very user-friendly.
Perfect for newbies.
They can often utilise existing batteries that you already own.
Cons:
Running times can be restrictive depending on the model that you buy.
Electric Leaf Blowers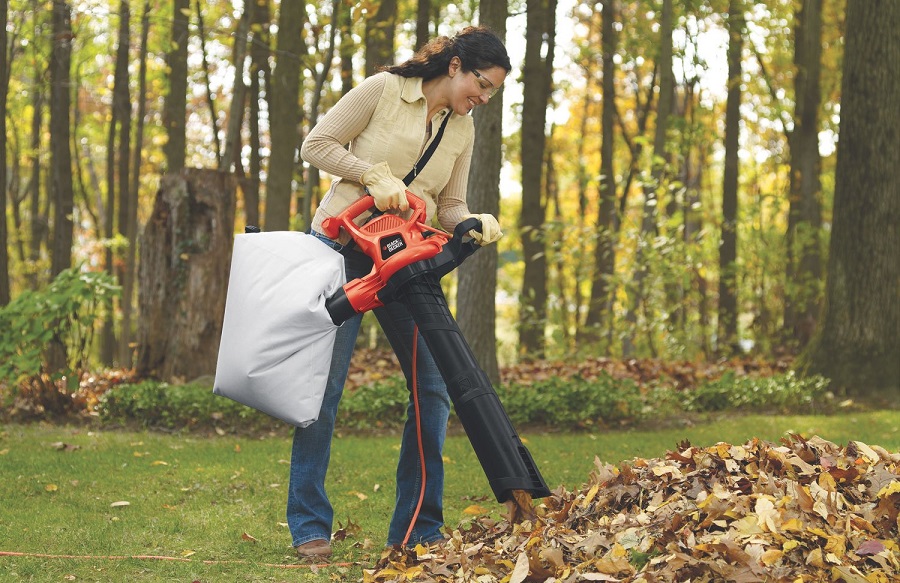 If you aren't already invested in a particular brand and like the idea of unlimited power then you can't go wrong with an electric leaf blower. These corded units are a happy medium between battery and gas because you are provided with more power than battery units but you don't need to worry about handling oil or gas.
The only setback with an electric leaf blower is the power cord. Though you get more power, the cord can limit the range that you are working on and it often gets tangled up and snagged. If your yard is average-sized then an electric model is ideal, however, it wouldn't be practical for larger yards.
Pros:
Unlimited power and it eliminates the hassle of flat batteries.
Electric models are lightweight and easy to handle for long sessions.
Cons:
The cord can restrict the range and also get tangled up.
Gas Leaf Blowers
A gas leaf blower can be daunting if you've never used one, however, if you are willing to learn how to work with one or if you've owned one previously, this appliance can provide one of the most thorough results in your yard. Gas blowers provide the highest amount of power over other models though they need a lot more maintenance and they're also louder than alternative models.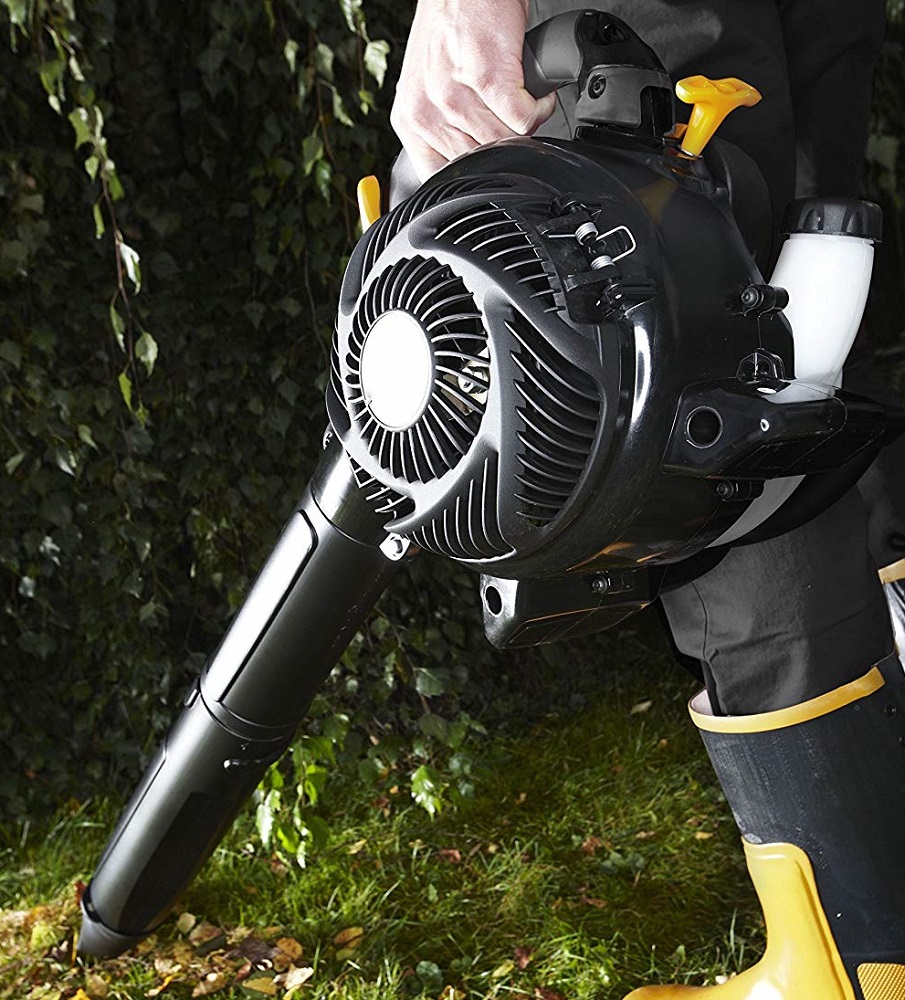 These type of blowers need the right amount of mixture of gas and oil to be poured into the tank before use. The oil is needed to lubricate the motor during and after use. The amount can vary based on the size of the gas tank, however, the ratio of gas to oil will always be the same.
These days, you can buy a premixed fuel which helps to eliminate the risk of pouring the wrong mixture into your tank. It's possible to buy a gas blower that runs purely on gas thus simplifying the process of adding fuel to the tank. Simply pour in the gas, close the tank and you're up and running.
Pros:
They provide the longest-running time offered by a cordless leaf blower.
Gas blowers are more powerful than alternative models.
Cons:
Gas leaf blowers are louder than battery or electric blowers.
Require a lot more maintenance than other models.
Gas prices could increase depending where you live.
Recommended Reading: Best Commercial Leaf Blower Vacuums
What else should you know about Leaf Blowers?
Leaf blowers come with various accessories for different tasks. Generally, you are provided with disposable or reusable collection bags, gutter kits, blower head tips, extensions and vacuum kits. Your prized leaf blower can be used throughout the year to keep the yard looking its best.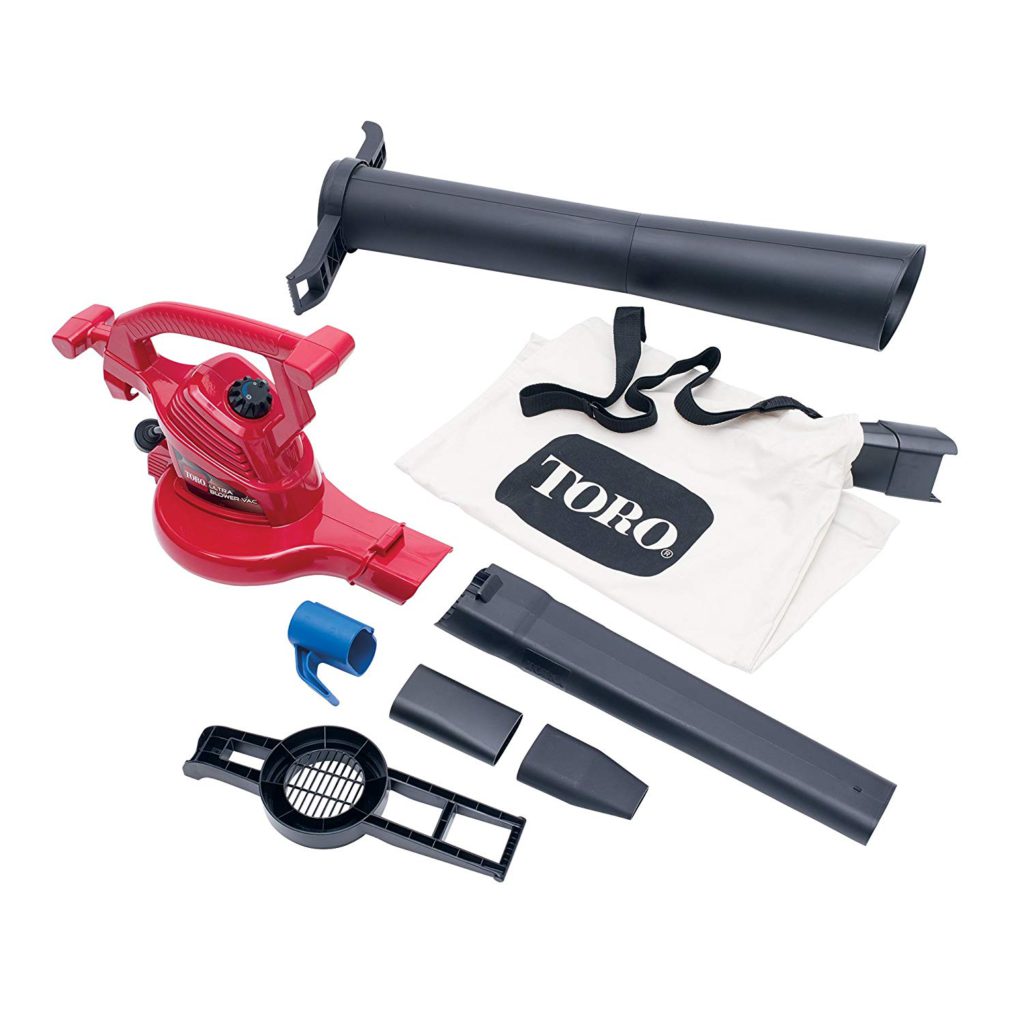 If you like the thought of reusing leaves and turning it into fertiliser for your plants and garden then it would make sense to buy a leaf blower that can mulch as well. Turning leaves into mulch is kind to the environment and it helps you to save money on the cost of buying expensive fertiliser.
If you experience bad weather, your leaf blower can be particularly handy with helping to blow away the snow from the driveway and walkways rather than battling to remove it with a shovel. The leaf blower will also prevent slippery ice from forming.
Maintaining Your Leaf Blower
Your leaf blower will be designed to handle different jobs around the yard and garden but eventually, you will pack it away in the colder months. There are a few simple steps to follow to ensure that the unit is stored safely to prolong its shelf life.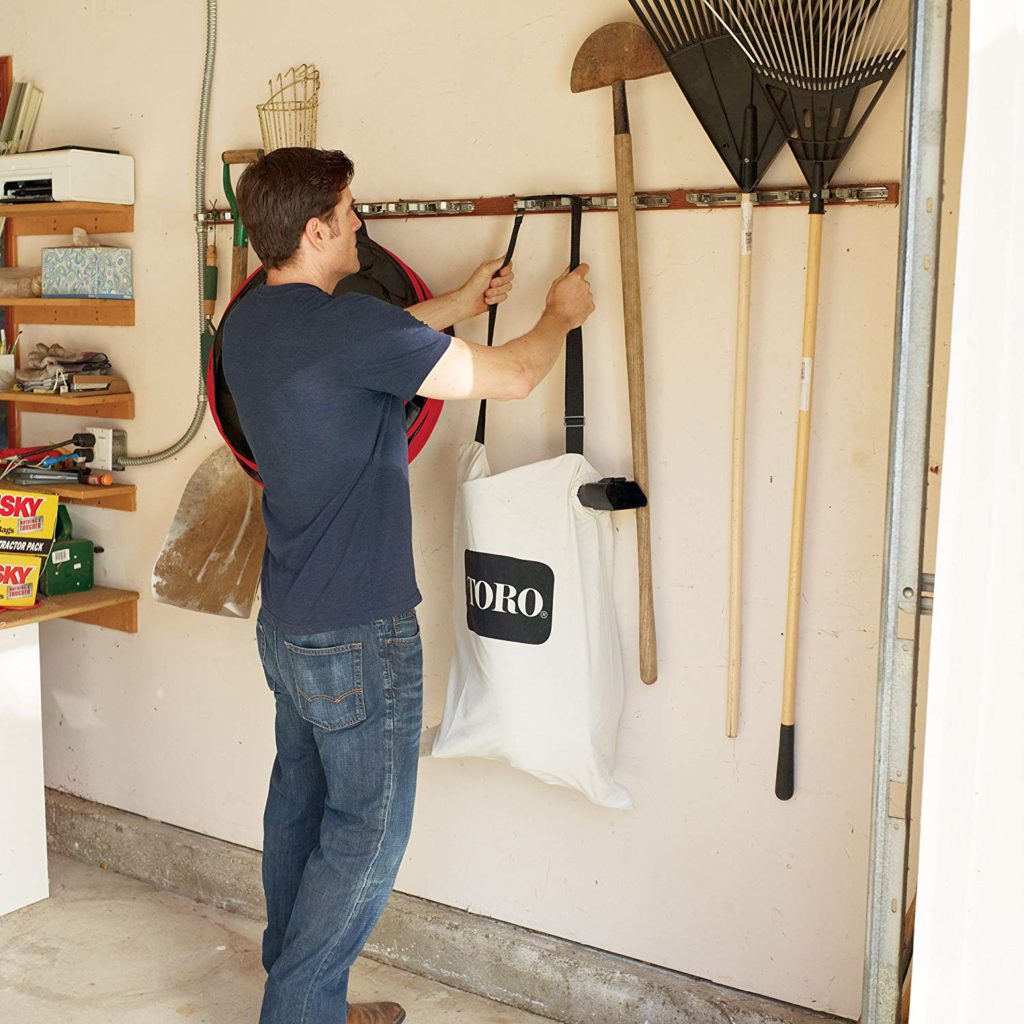 If the leaf blower is stored in the garage, you should switch on the unit at least once every 4 weeks in a ventilated area to keep the motor and carburettor running optimally. If you intend to store the leaf blower in a shed or an area that isn't easily accessible then you should follow the steps below for long-term storage:
Add a Fuel Stabilizer– This applies to the leftover fuel in the tanks of gas and oil leaf blowers. Simply add the stabilizer to the fuel and stir it in then empty the tank. The stabilizer lengthens the life of the fuel and makes it suitable for long-term storage.
Run it– Before emptying the tank, make sure that you run the leaf blower for about 2-3 minutes. This process lets the stabilised fuel flow through the motor and applies the solution to its interior. After this, empty out as much fuel as you can.
Switch it on again– Once the fuel has been emptied, run the blower again and keep it running until it runs out of the leftover fuel. This ensures that the machine is totally empty.
Conclusion
There are few factors to consider when buying a new leaf blower and we hope that this article has answered all of the questions that you might have been unsure about. The best leaf blowers reviews and buyers guide for 2021 doesn't end there, be sure to follow the links provided in this post to browse through our shortlist of the leading recommendations. You will find a selection of models from household brands such as Toro, Black & Decker, and Worx.
Are you considering buying a leaf blower vacuum mulcher or do you already own one? Please leave your comments in the section below. I'd love to hear from you.
Recommended Reading: Best Commercial Leaf Blower Vacuums
Our List of the Best Domestic Appliances