A tidy workspace is a productive workspace. It's not enough to keep all the equipment and tools in their correct positions. A workspace can easily transform into a disaster area with just a few scraps of stuff, drops, paint, and numerous other items, particularly if you lack the power to clean up the difficult messes.
As it takes the output of a vacuum and turns it up to 11, a shop vac is a necessary addition to every home or workshop. The name for both the traditional store vacuum and a specific vacuum manufacturer available today is the shop vac.
What is Shop Vac? Do You Need it?
Shop vacs also known as wet/dry vacuums are a versatile vacuum that is designed to remove large pieces of debris and liquid spills in workshop areas. They are frequently used in building and workshop environments, but they may also carry a huge advantage in your home.
The word shop vac has now been used for any vacuum by those in the industry who would be able to get into an industrial form of work.
Shop vacs are very strong and helpful for getting rid of all manner of heavy-duty debris that a regular vacuum would have a hard time dealing with.
Shop Vacs vs Regular Vacuums
In certain cases, shop vacs might look very similar to standard vacuums, but in terms of functionality, they are a lot different. The specifications of this type of vacuum are much greater than the one you are going to have in your house. For instance:
Debris Size– A shop vac would be able to absorb a ton of debris that can not be properly vacuumed. This might be wood chunks, water, glass, nails, or something else in a workshop that could be waste material.
Power- Perhaps the greatest difference is the power. These machines are a lot more powerful than regular home vacuums and often make a lot more noise.
Size– Shop vacs are heavier and bulkier than most home vacuums in general. They are structured by the amount of gallons they can carry in the tank. For smaller vacs, they can be as less than 1 gallon and go up to 20 gallons for industrial-sized ones.
Durability-The quality of shop vacs needs to be excellent. They have to be constructed out of durable materials and heavy-duty hoses in the form of fluid that passes through them.
Liquid– Most of the shop vacs suck up both liquid and debris. This is not something which can be provided by regular vacuums.
For home vacuuming, many individuals often prefer to use shop vacs as they like the powerful motor and suction strength. However, as regular vacuums wear all kinds of accessories that make general home cleaning even simpler, it is not what it is made for.
About Vacmaster Vfb511b0201 Beast Vacuum Series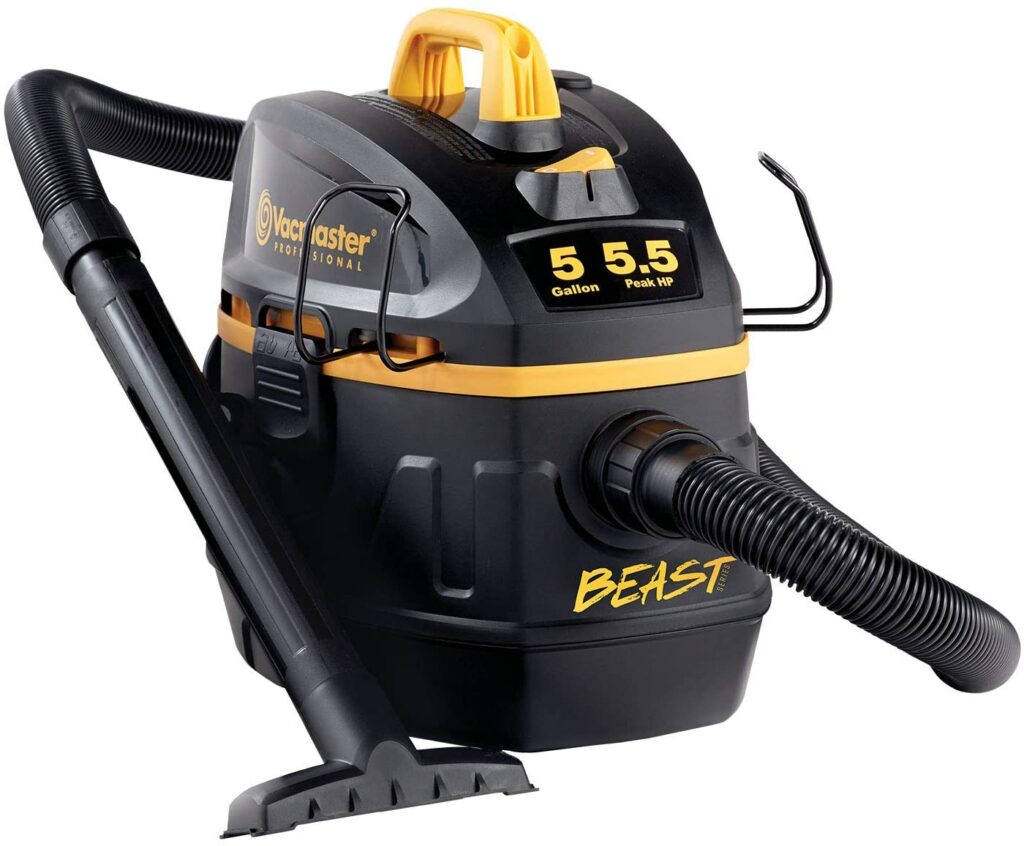 Thanks to evolving technology that cleaning has become so much easier today. We now have the help of powerful vac machines that can help us quickly clean our vehicles, floor, etc.
The market is packed with many new vac models, but Vacmaster VFB511B0201 might be the best choice for you if you are looking for a powerful and efficient option. We have reviewed the Vac in depth in this review guide.
One of the leading vacuum brands out there is Vacmaster. They are known to provide users with high-quality products, and this one is no different. Another VacMaster brand is the VFB511B0201, which should not be a surprise to anyone personally looking for a powerful vacuum cleaner. 
This particular model can also become a blower and, adding to its popularity, it is also suitable for both wet and dry cleaning. The Professional Vacuum VacMaster Beast Series is a perfect value for the money that deserves a spot on every vacuum list
5.5 HP Motor And Cleaning Capacity of Vacmaster Beast
First, let us talk about how its 5.5 HP motor brings so much efficiency when it comes to vacuuming.
The Vacmaster Beast 5-Gallon shop vac comes with a little 5.5 HP motor. It sits perfectly between the 5 and 6 HP engines in the middle that we see in other models. Certainly, it is how Vacmaster uses the power to CFM and water lift.
In fact, if you want to clean your car's upholstery after you've washed it, this vacuum is perfect for you.
5 Gallon Capacity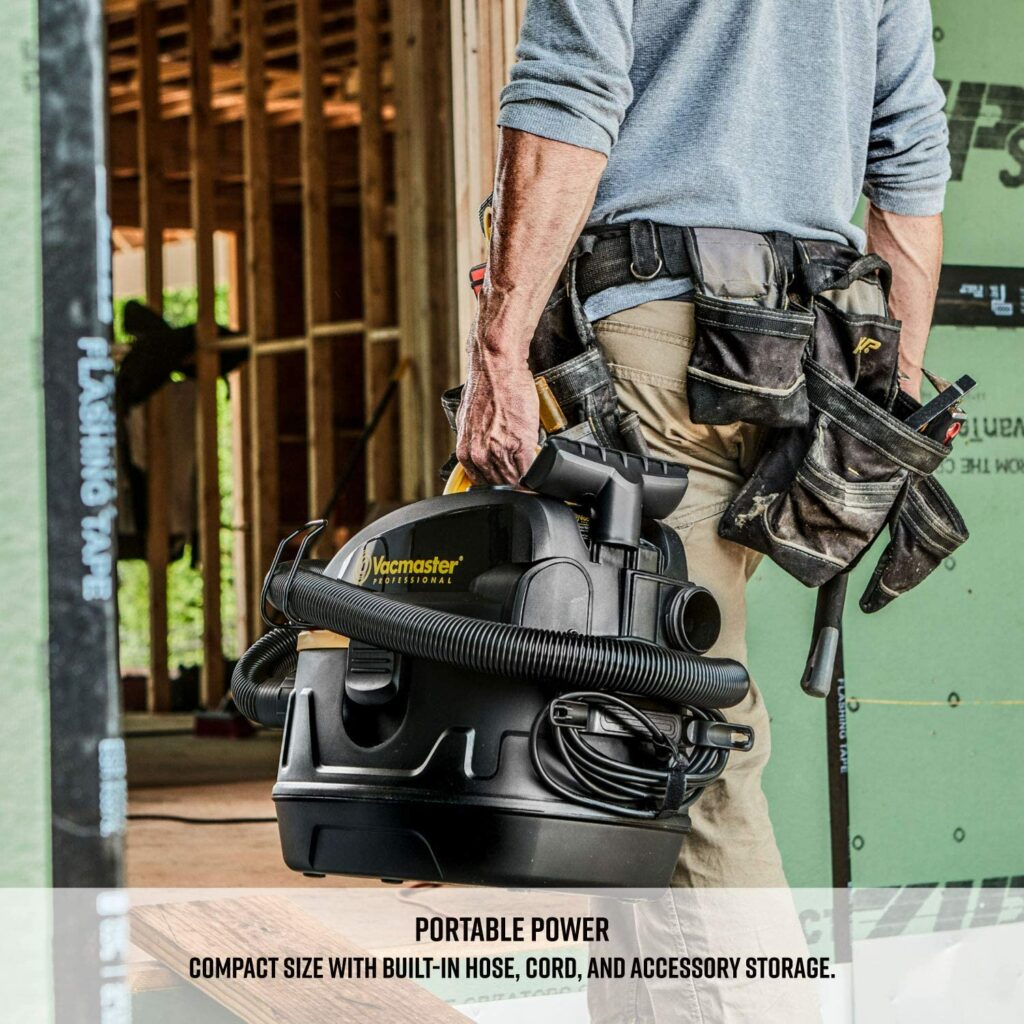 Clearly, this model's canister is not the largest on the market, but that isn't really the purpose. Its dirt tank is 5 gallons, which is more than enough for your car and garage to dust.
The "BEAST" handle on top makes it incredibly simple to carry around, especially in conjunction with the included hose and cord storage. Part of this model's beauty relies on the compact size; this model was clearly built by Vacmaster so that you can carry and take it around.
A 5-gallon canister sounds just right for that reason.
Great for Cleaning Cars and Removing Pet Hair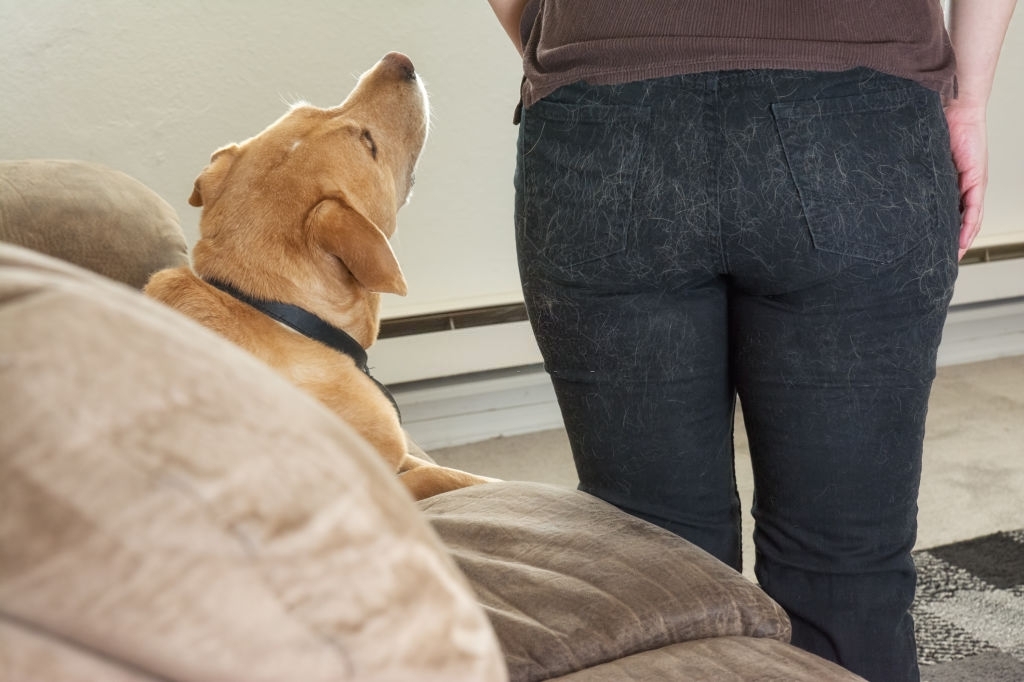 For cleaning vehicles and removing pet fur from your home, the Vacmaster VFB511B0201 is a good choice.
The strong suction power of the machine causes the last bit of dirt and dust from your vehicle to come out like this. You can also use it to remove pet fur from your carpets, couch, and bed. The vac unit is indeed good for washing fine particles. With just a button press, you can even transform it into a blower.
Blower Function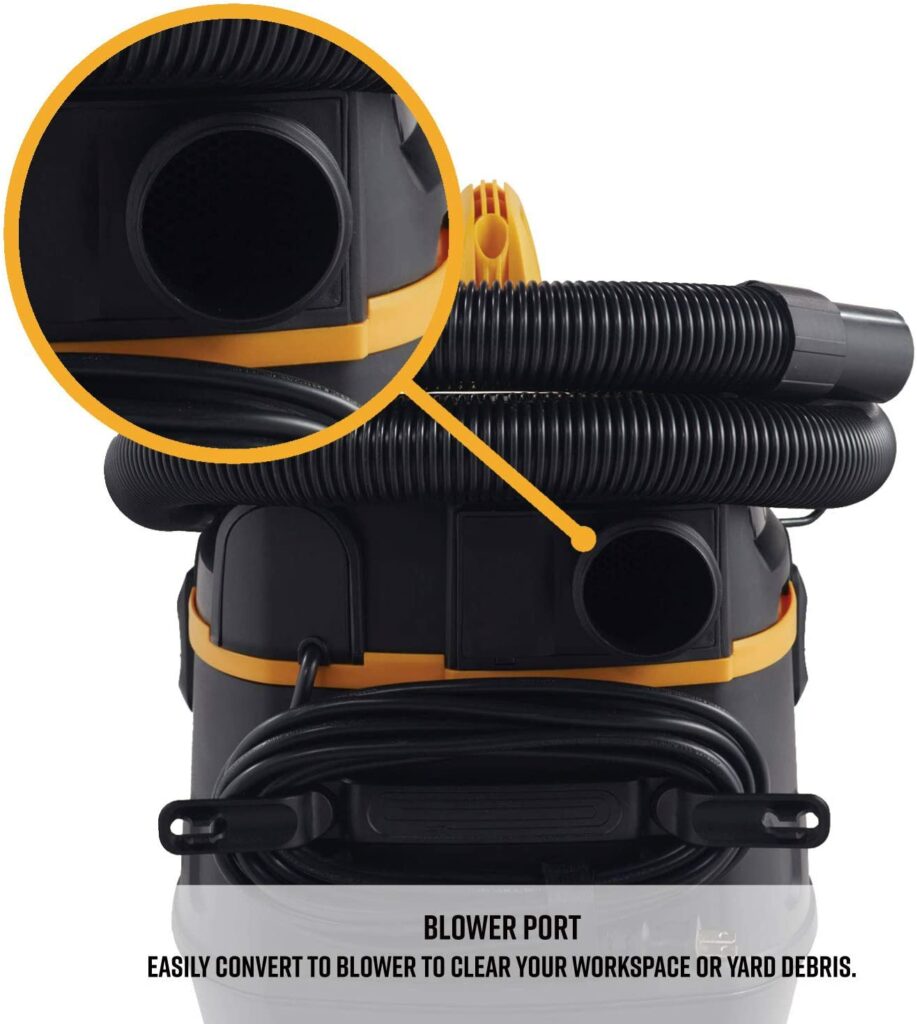 The blower feature of this vacuum adds a lot to the cleaning capacity. With just a touch of a button, the blower function turned on and is useful for blowing leaves out of your garage or bigger pieces of debris from inside your vehicle before you get into the deeper cleaning.
Accessories & Attachments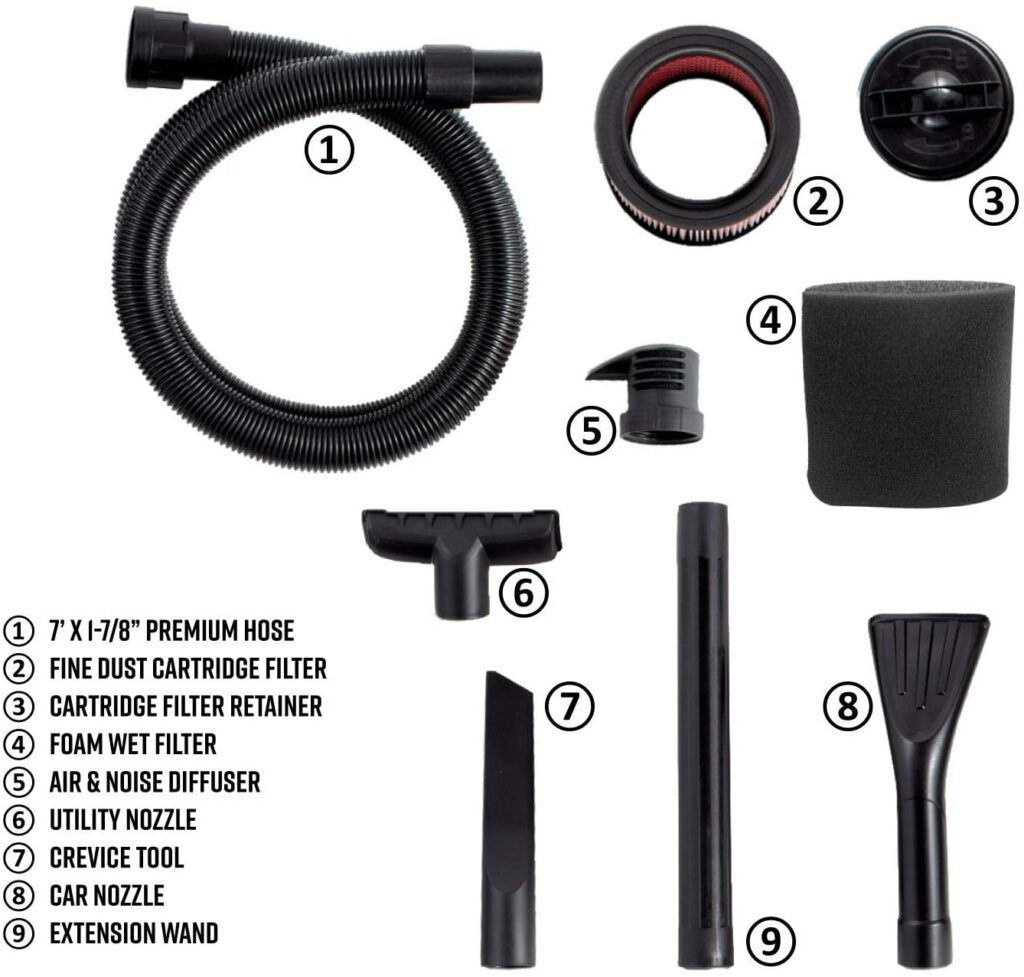 Integrated Storage of Hose, Thread, And Accessory: This provides the Vacmaster with a kind of "mixed bag." This model, on the one side, includes a sturdy cord wrap system. This uses pivoting cord wrap tabs that, when you use the cleaner, it keeps out of the way. Twist out to contain the 18′ cord when you don't use it.
That said, any work may be used in the hose holder style, although the accessory storage still requires a little fine-tuning. While the Vacmaster Beast 5-Gallon Wet/Dry Vac comes with a huge range of gadgets, there is really no suitable place on board to safely store all of them.
You would think that very few accessories or none at all would come with a low price, as some other brands do, but you get a surprising lot here for your dollar. Check what you're having inside your package:
Kink-resistant 7-ft EVA hose
Crevice tool
Utility nozzle
Special nozzle for car
Fine cartridge filter for dust
Wet Cleaning foam filter
High-efficiency dust bag
Noise diffuser
Performance
The Vacmaster Beast 5-Gallon Wet/Dry Vacuum boasts amazing numbers with 102 CFM and 82.6′′ of water lift. You'll get more, clearly, when it gets bigger. But when your focus is to stick with a highly compact device, the trade-off is its power.
Vacmaster sets a reasonably high standard when developing part of the Beast collection.
This unit is a handheld power vac on the go. It is designed to provide the best performance for you. The process of cleaning becomes so much simpler with Vacmaster VFB511B0201.
The unit is built with a Powerful 5. 5 HP high-efficiency motor and suction peaks that allow it to provide excellent performance. Vacmaster VFB511B0201 will do it all, no matter how complicated your cleaning task is.
How to use the Blower Feature
1. Make sure that the power cord is removed from the outlet.
2. Before using it as a blower, make sure the tank is empty.
3. Take the hose out of the vacuum port.
4. Attach the large end of the hose into the blower port at the backside of the powerhead.
5. Align the hose with the desired attachment.
6. Before plugging the power cord into the outlet, ensure that the power switch is in the 'O' (OFF) place.
7. Hold the loose end of the hose securely when turning on the cleaner. Switch the motor on by clicking the button to the 'I' (ON).
8. Click the control button to the 'O' (OFF) position after you have finished vacuuming switch the button to the 'O' (OFF) position unplug the power cord.
Product Specifications: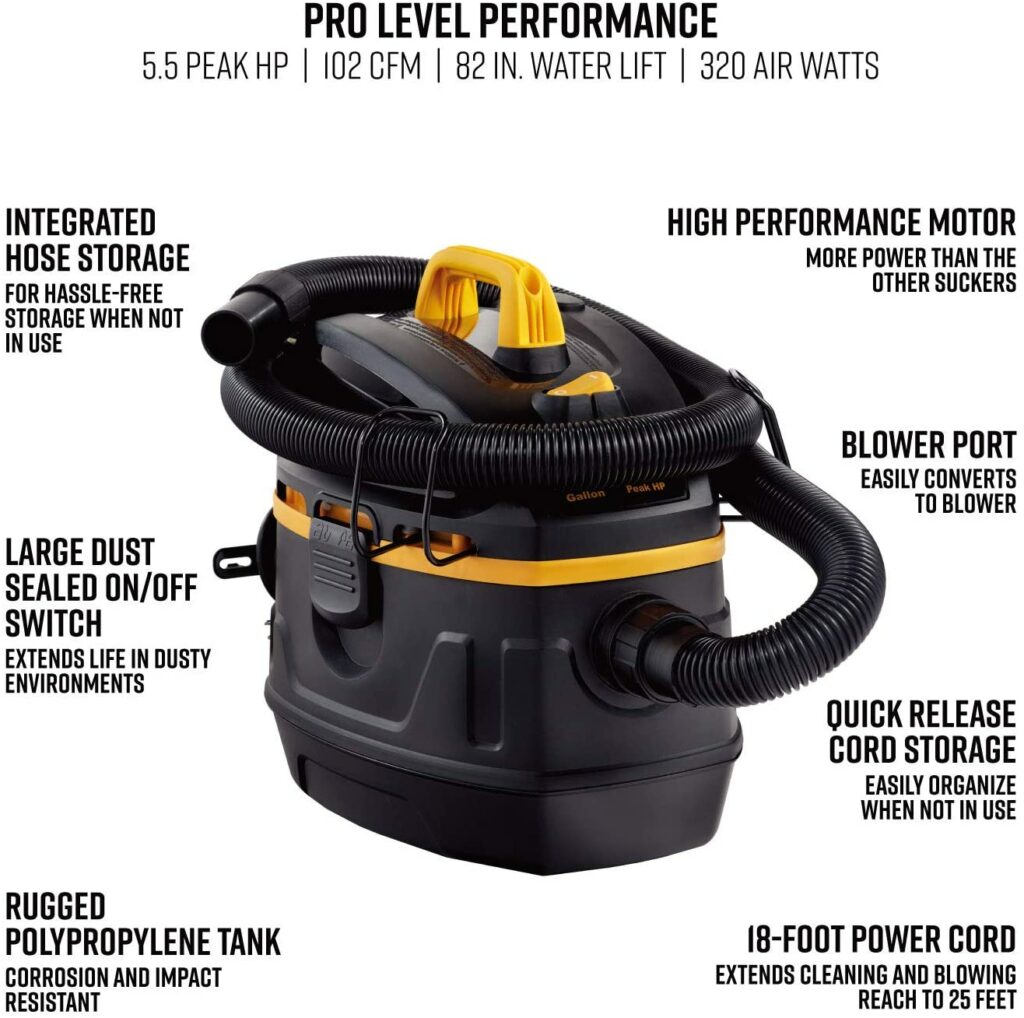 Brand: Vacmaster
Warranty: 5 Years
Style: Wet/Dry
Capacity: 5 Gallons
Blower: Yes
Filter: Yes
Horsepower: 5.5 HP
Hose Length: 7 Feet
Hose Diameter: 1 7/8 Inches
Seal Pressure: 83 Inches
CFM: 102
Tank Material: Polypropylene
Power Cord: 18 Feet
Dimensions LxWxH: 18 19/32 x 13 7/16 x 16 1/2 Feet
Product Weight: 15 lbs.
What We Like about this Product
Integrated hose holder
Portable & compact
Converts to a blower easily
Highly powerful engine
Cleans both wet and dry surfaces
Perfect for cleaning your car and garage
Comes with a range of useful accessories
Affordable
Comes with a 7 feet crush-proof hose
Incredible 5-gallon dirt tank
What Needs to be Improved
Hard to put all the accessories in the storage area
Final Verdict
If you're looking for something on the short side, the Vacmaster Beast 5-gallon model is a major performance winner. It is generally handy to store it in the garage for car cleanup as a shop vac. The downside is that maintaining all the accessories and holding the hose under full control is challenging. This is one where you may want to carry the storage box so that it remains together.
Together with its 5.5 HP engine, the 5-gallon tank creates a decent vacuum cleaner combination that should be able to meet the cleaning requirements of most people.