Affiliate Disclosure: I am grateful to be of service and to bring you content free of charge. In order to do this, please note that when you click links and purchase items, in most cases I receive referral commissions. Eventually, I may earn enough to buy a beer or two 🙂
Looking for the best wet dry vacuum cleaners for 2021? This is the best guide to help you find the perfect appliance for those tough jobs that your regular vacuum cannot do. I've put together a list of the best resilient vacuum cleaners that can deal with fluids and dry mess while being budget-friendly.
Wet and dry vacuum cleaners (or shop vacs) are appliances used to vacuum spillages and solid debris from multiple surfaces (indoors and outdoors) including carpets, hard floors, upholstery, decking, concrete and so on. These machines can be used in tough environments such as building sites, warehouses or offices but can equally be used for domestic cleaning.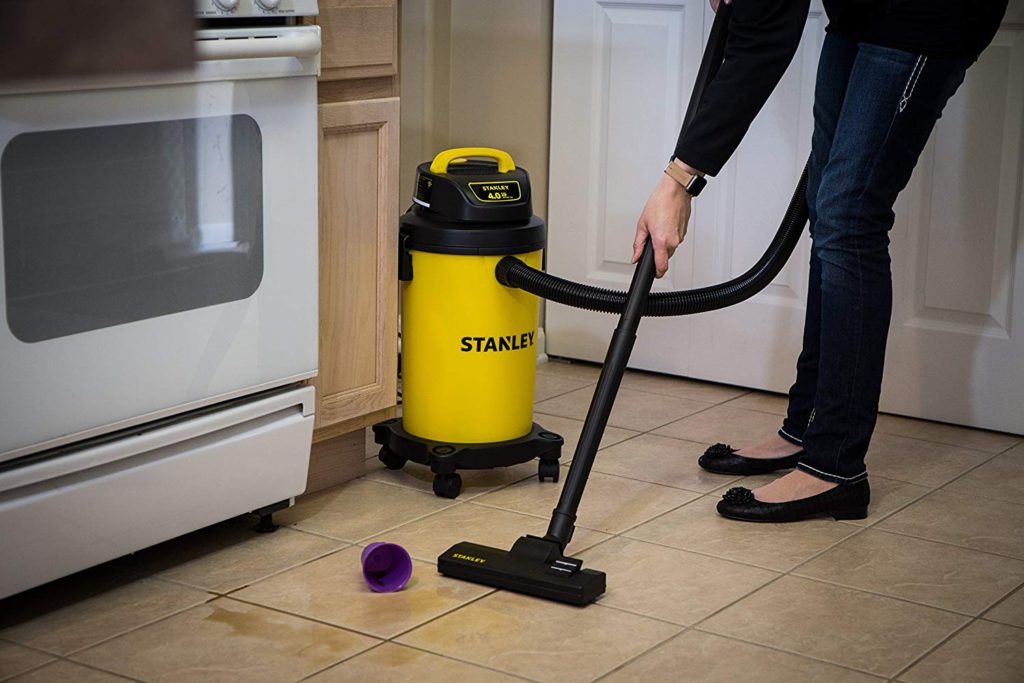 There are various types of wet and dry vacuum cleaners and as a result, finding the best machine for your requirements can prove to be difficult. Your ideal cleaner should have the capacity to easily handle the area you intend it to clean and should come with tools to assist with tackling different tasks.
Although a wet and dry vacuum can clean liquids as well as dry dirt we need to ensure that it can do so without struggling, to guarantee a long life. In most cases, you should also be able to use the machine indoors and outside unlike a regular vacuum cleaner. Our list of wet and dry vacuum cleaners have been selected for their durability and powerful performance.
If you need a heavy-duty vacuum cleaner that can be used for multiple applications and is stronger than a standard vac then you are on the right path, a wet and dry unit is a great choice, but which one should you buy? Are there models that you should steer clear of? We'll guide you through all of this. Read on.
Reasons to Buy a Wet and Dry Vacuum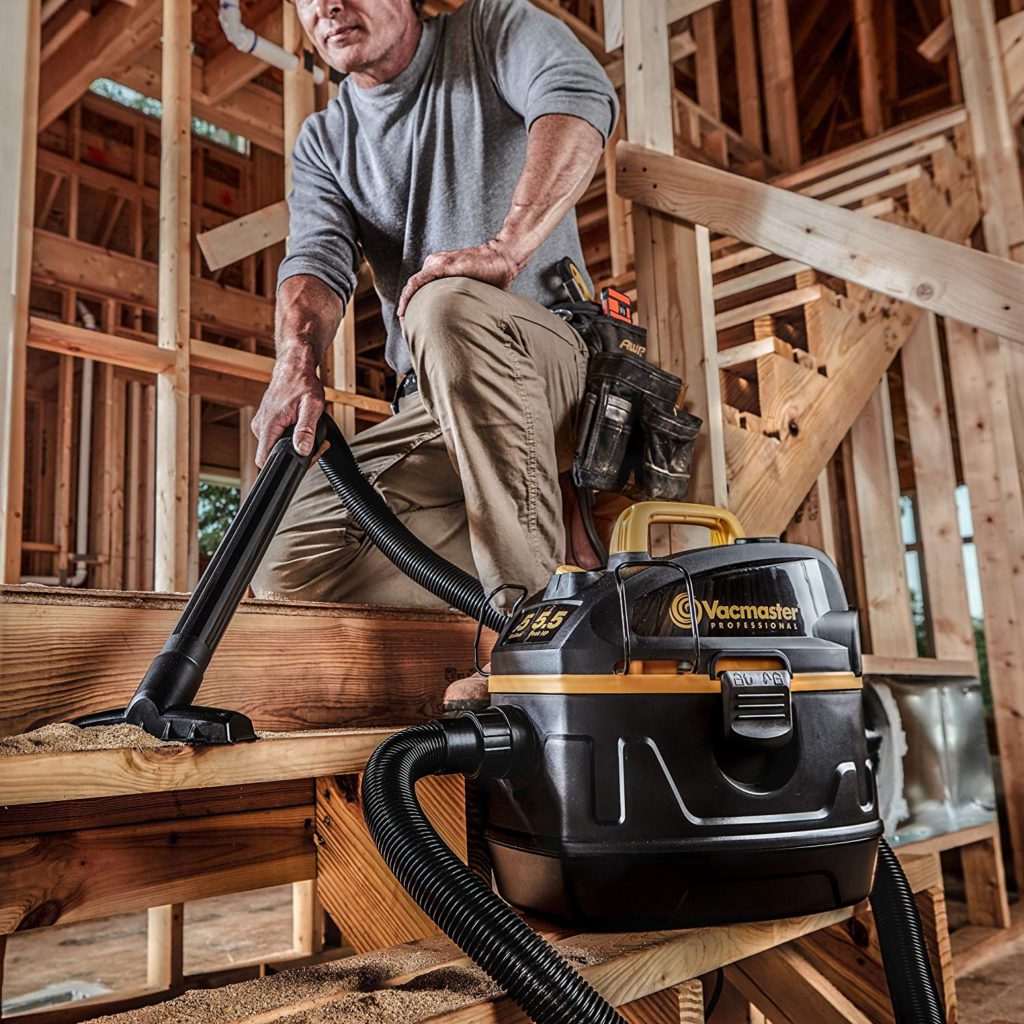 There are more advantages to using a wet and dry vacuum over a normal machine and the main benefit is the ability to suck up fluids such as water leaks, coffee spillages and so on. They are also built like tanks to cope with tougher cleaning and outdoor usage and will vacuum everything from sawdust to snow.
Some units can even reverse the suction so that the machine can be used as a blower. This can be handy for shifting items such as leaves to specific areas for easier disposal, or to clear blockages in the hose.
Power tools such as sanders can be attached to some machines through an outlet so that you can perform specific tasks such as vacuuming sawdust and chippings. Once your power tool is connected to the outlet, your wet and dry vacuum will automatically switch on and off as and when it's required. Not all models come with this feature, but if you use power tools regularly this is a very helpful function.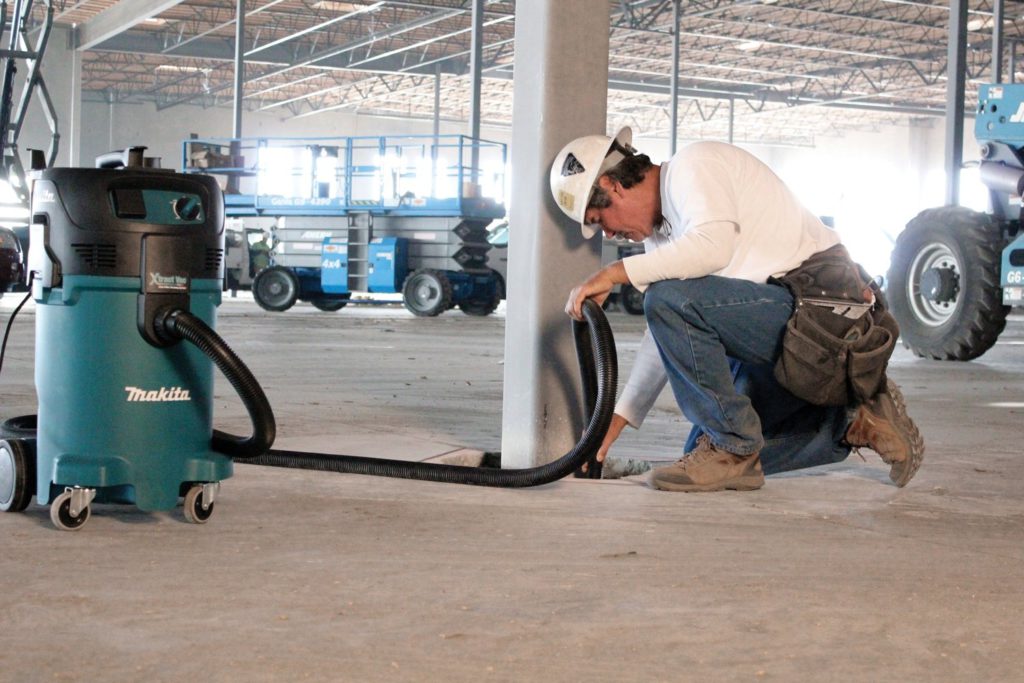 How are wet vacuum cleaners designed to work with liquids?
A waterproof membrane is integrated into the machine. This membrane collects liquids and shields them against electrical components so that the two never come in contact with each other and as a result, you can safely use your machine to collect water and other fluids provided that it's in the right mode.
If you attempted to suck up a large volume of liquid with a normal vacuum cleaner it would probably short circuit because there is no barrier in place to protect the electrical components from water.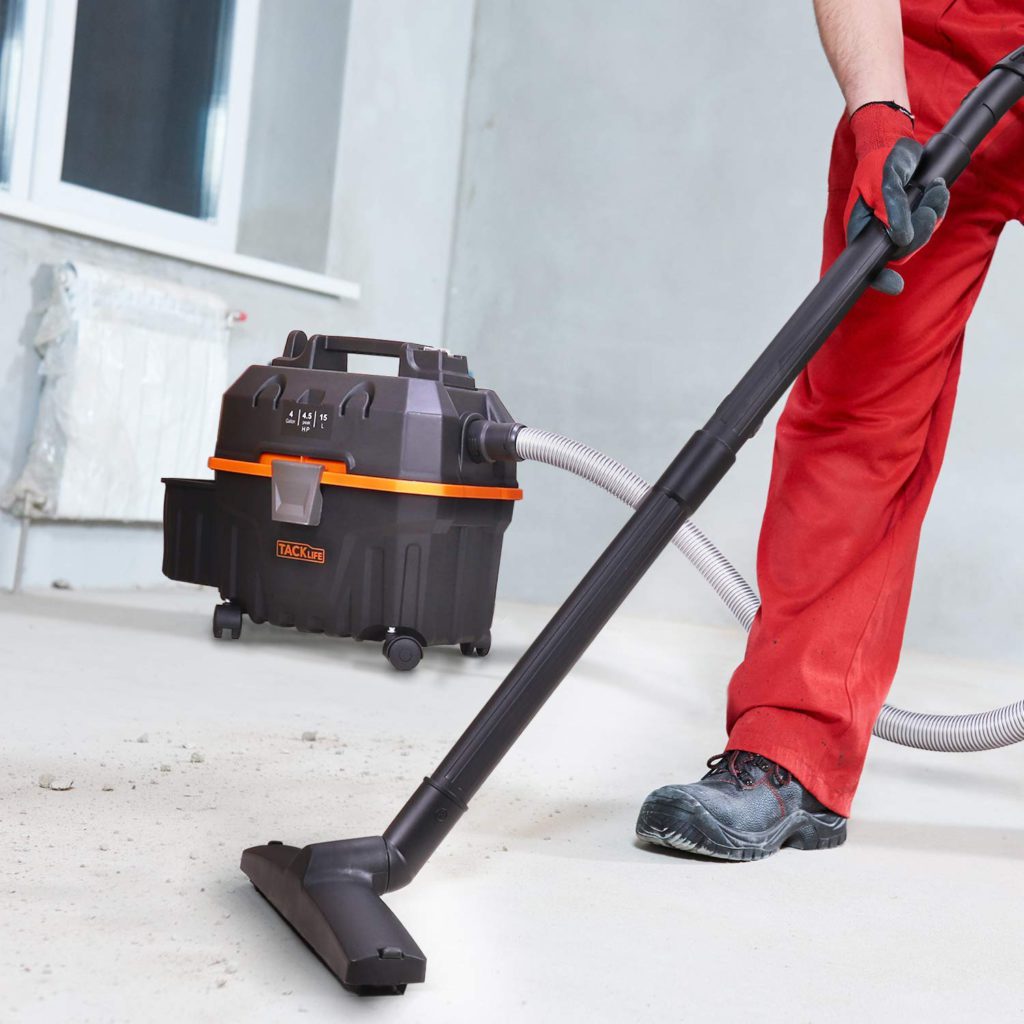 Below are some of the tasks you can carry out with a wet and dry cleaner:
Vacuuming spillages.
Clearing up debris from work sites.
Unblocking a sink.
Sucking up wood chippings and sawdust produced by power tools.
Cleaning dirty work vans and car interiors.
Extracting moisture from carpets that have just been washed.
Drying up wet hard floors.
Vacuuming garages, workshops and areas that accrue large amounts of dirt.
There are a few drawbacks to wet and dry vacuum cleaners. Regular upright and canister vacuum cleaners are usually equipped with better filtration to catch airborne allergens and dust floating in the air. This feature is handy as it helps to clean the air whilst operating a vacuum cleaner but is especially important for those that are prone to asthma and dust allergies. But I've found and included wet & dry vacuums with HEPA filters on the list below.
Bear in mind that a wet vacuum cleaner should not be confused with a carpet shampooer. Wet and dry vacuums can draw out water from the carpet but they don't wash it. It's possible to find a machine that can extract water and also wash the floor (we'll point these out to you further down). If you need a wet/dry vacuum specifically for removing waste from ponds with minimum effort then you should buy a pond vacuum.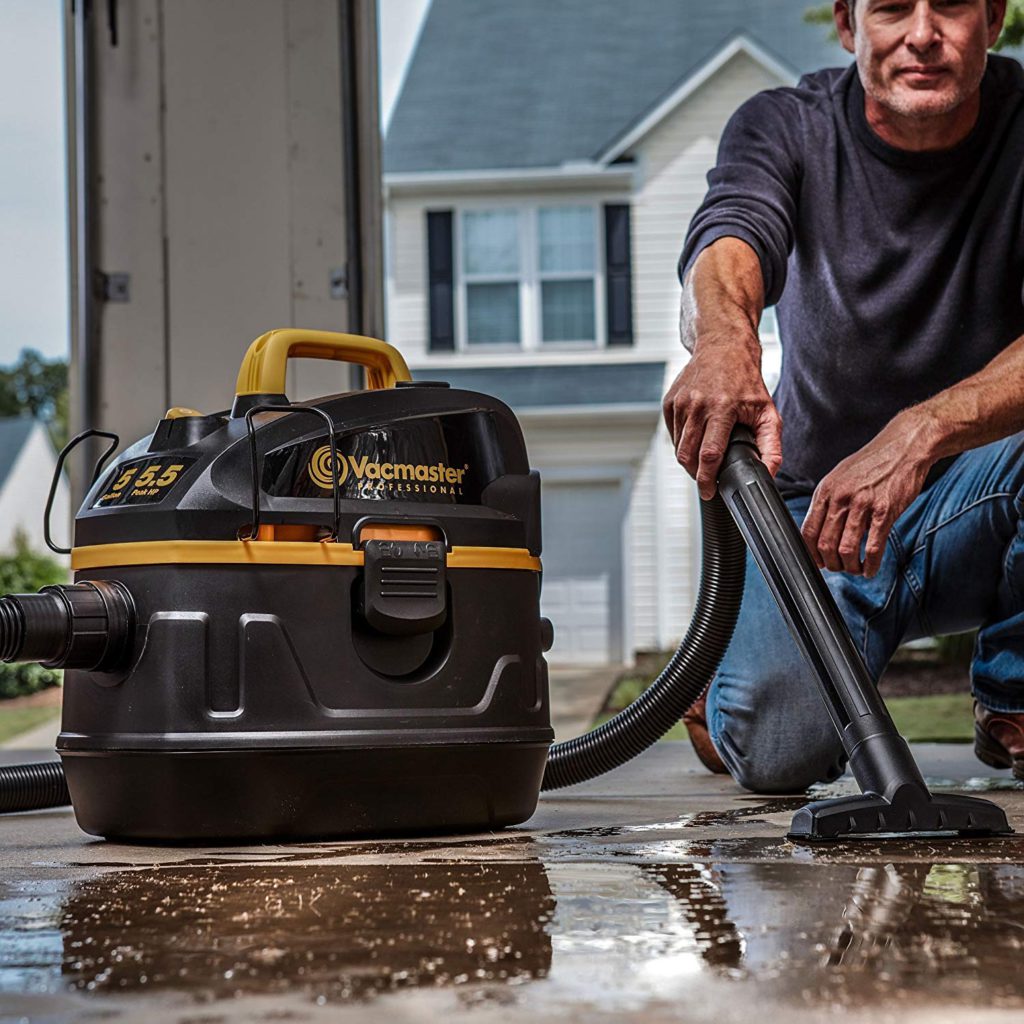 Without further ado, here is our shortlist of wet / dry vacuum cleaners for 2020.
1. WORKSHOP WET AND DRY VACUUM CLEANER WS1400CA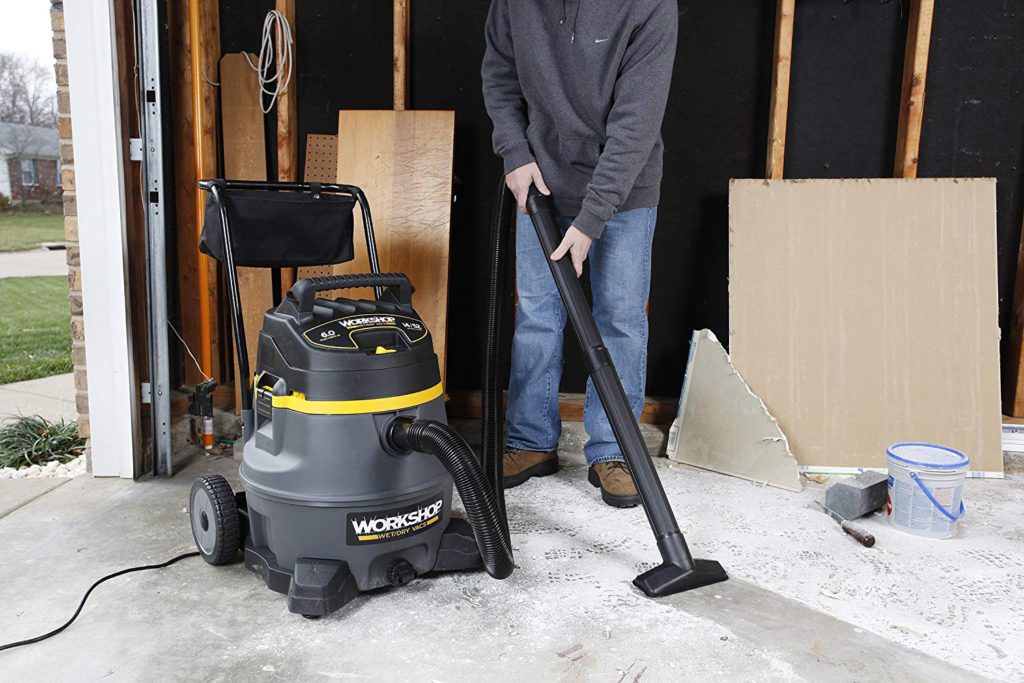 At the top of our list is the leading wet/dry vacuum designed by WORKSHOP. It's equipped with a comfortable handle for better manoeuvrability and big wheels that help to easily transport it between areas. Heavy-duty cleaning is quick and simple. It comes with an extra-long bendable hose to clean larger areas and it runs quieter than some smaller vacuums.
This model is designed with a big rocker switch which has the benefits of better control during intensive cleaning sessions. The WORKSHOP wet/dry cleaner has heaps of power and is tough enough to pick up gravel outdoors. It also comes with accessories to clean vans and cars that clean to an exceptionally high standard. The handle lets you control the powerful suction easier when the nozzle "sticks" to the seat fabric or the carpet, from the sheer suction force.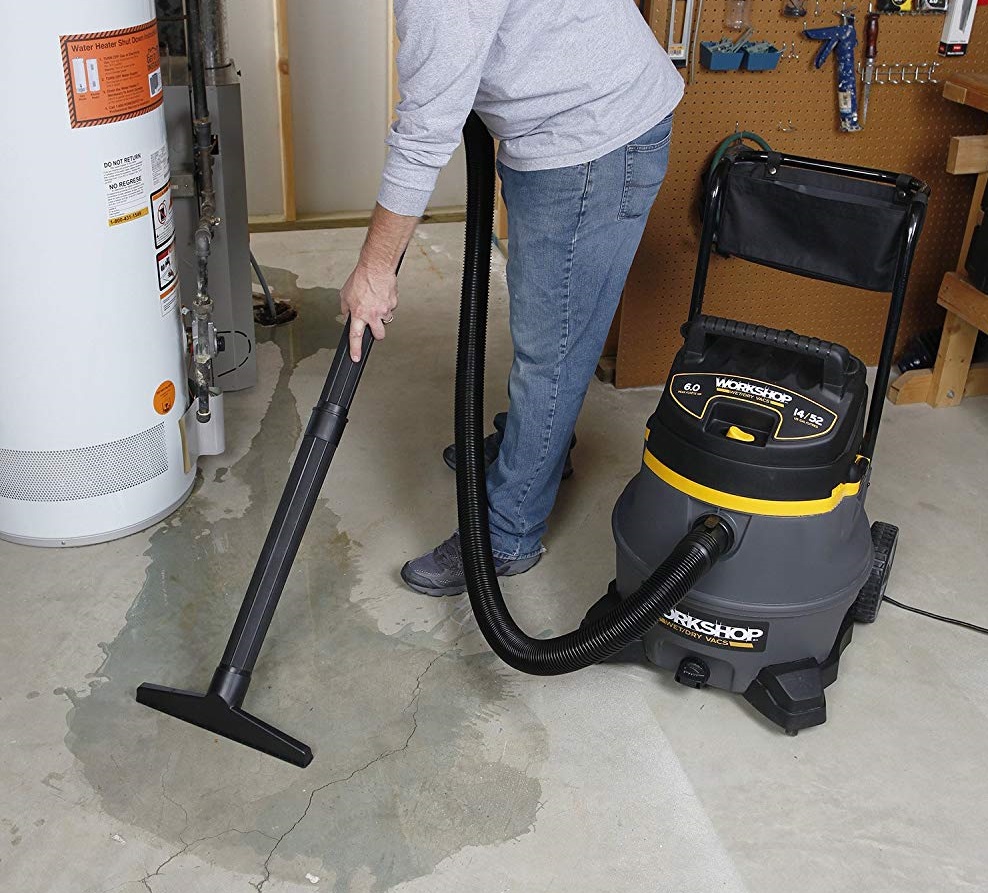 Overall, the WORKSHOP vacuum cleaner is an outstanding piece of kit for demanding environments. The machine is positioned at a good height to ease the burden of bending over during usage- this will save you from back pain even when cleaning for long periods. The power cord can occasionally get stuck between the wheels, so it's worth keeping a good amount of clearance during usage.
Pros
The extra-long flexible hose makes it easier to reach and clean more areas.
A 5-year warranty comes as standard with the WORKSHOP wet/ dry vacuum cleaner.
The sleeves are designed to house all the attachments required for various tasks.
This model is ASTM tested and certified.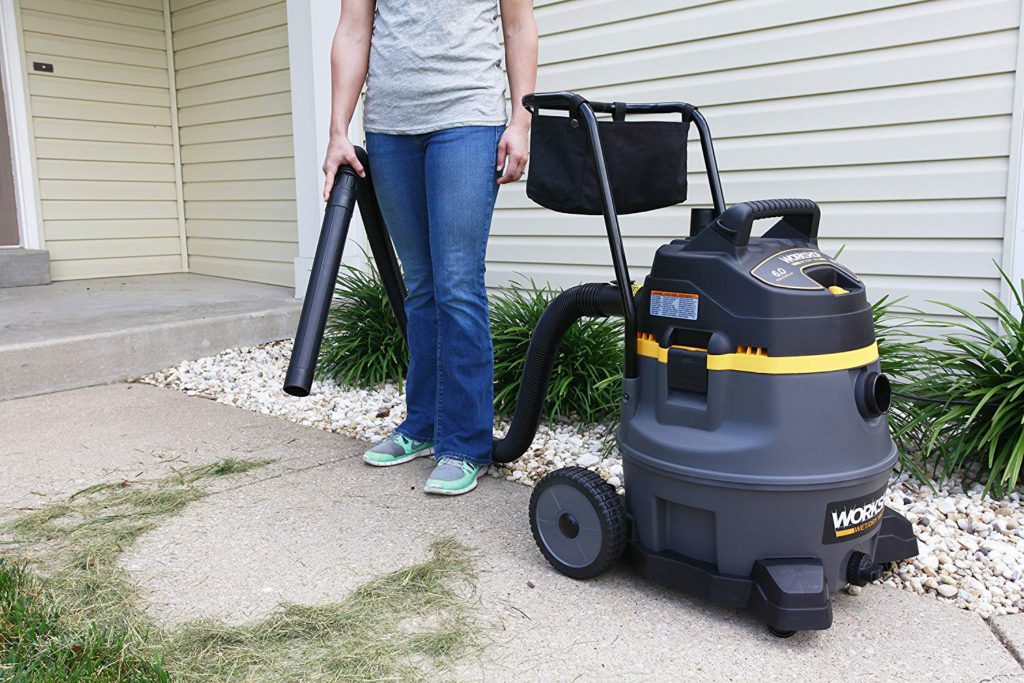 WHERE CAN I BUY THE WORKSHOP WET AND DRY VACUUM CLEANER WS1400CA?
2. CRAFTSMAN 12004 6 GALLON 3 PEAK VACUUM CLEANER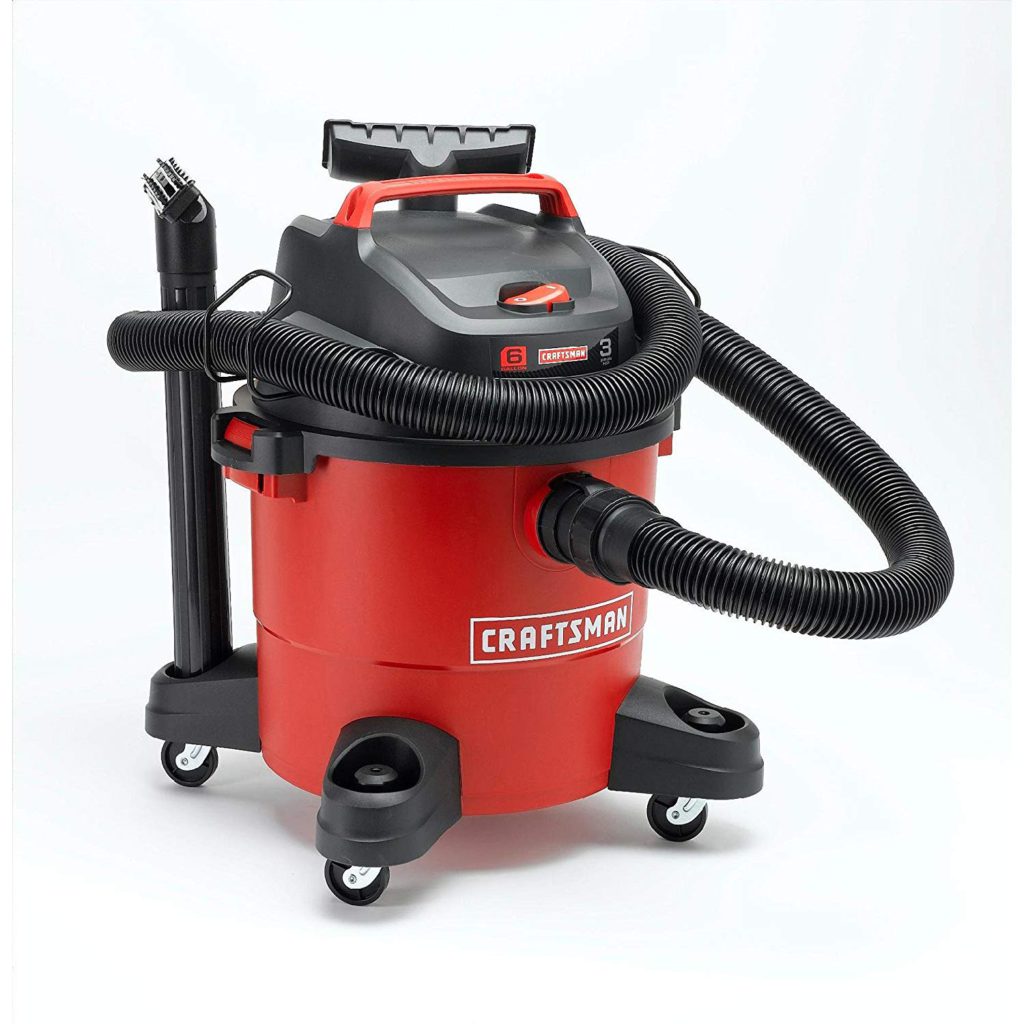 The Craftsman 12004 wet and dry vacuum is equipped with a tank that can collect up to 6 gallons of liquids and a powerful 3 peak motor that ensure a fast and hassle-free cleaning experience. This model comes with a long power cable (10 feet) for further reach and a hose measuring 7 feet. The casters can rotate 360 degrees so that the machine can move in any direction.
This machine will pick up dirt that other vacuum cleaners would struggle with such as hay, gravel, grit, pet litter and other types of stubborn dirt. Performance is impressive especially when picking up strands of hay which even the best performing brands (Dyson / Hoover) would find difficult to deal with. The suction on the Craftsman 12004 is so strong that it actually lifts the carpet as you run the cleaner head across it.
The problem with tough dirt such as sawdust and hay is that it can easily clog up a regular vacuum cleaner and as a result, you would need to constantly take the machine apart and unblock the filters. A wet and dry vacuum cleaner like the Craftsman can cope with these challenges and leave you with a spotlessly clean room.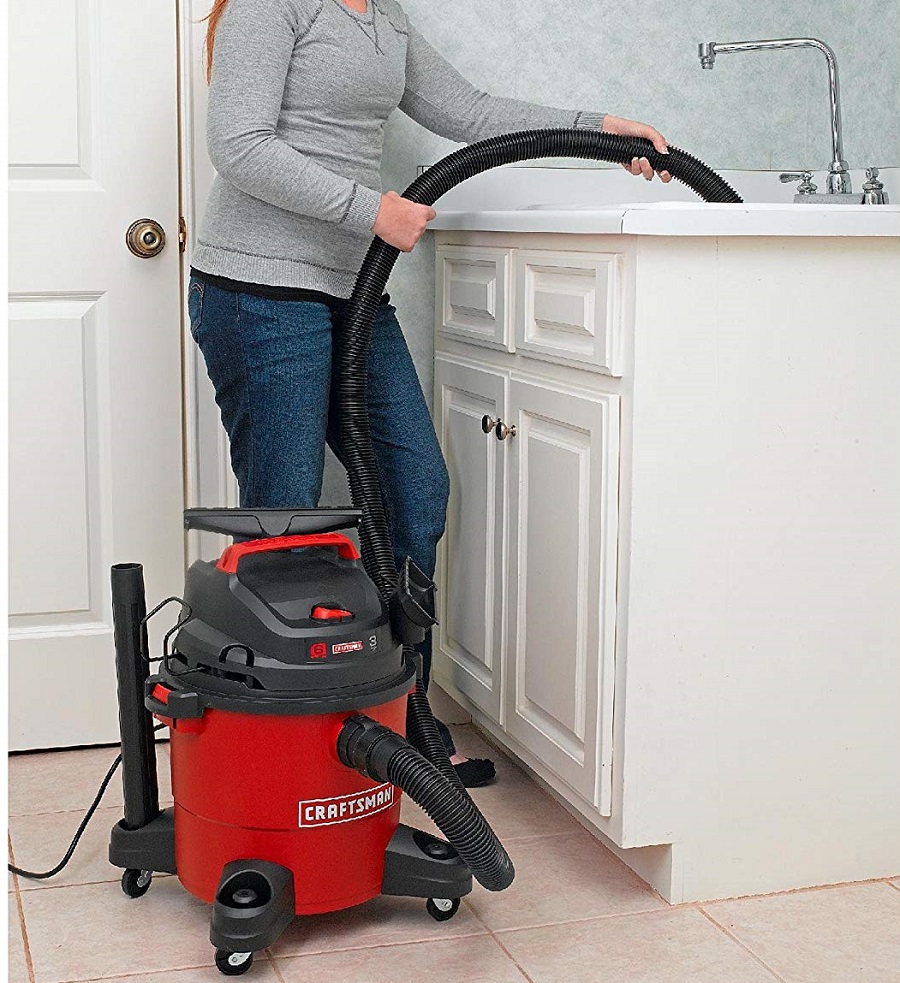 Pros
This model delivers robust wet and dry cleaning and collects up to 6 gallons of liquid and it can also be used as a blower.
The Craftsman vacuum comes with an 8-piece accessory kit that broadens the range of jobs it can perform.
The power switch is conveniently located in an area that is easy to reach for better control.
Where can I buy the Craftsman 12004 Wet / Dry Vacuum?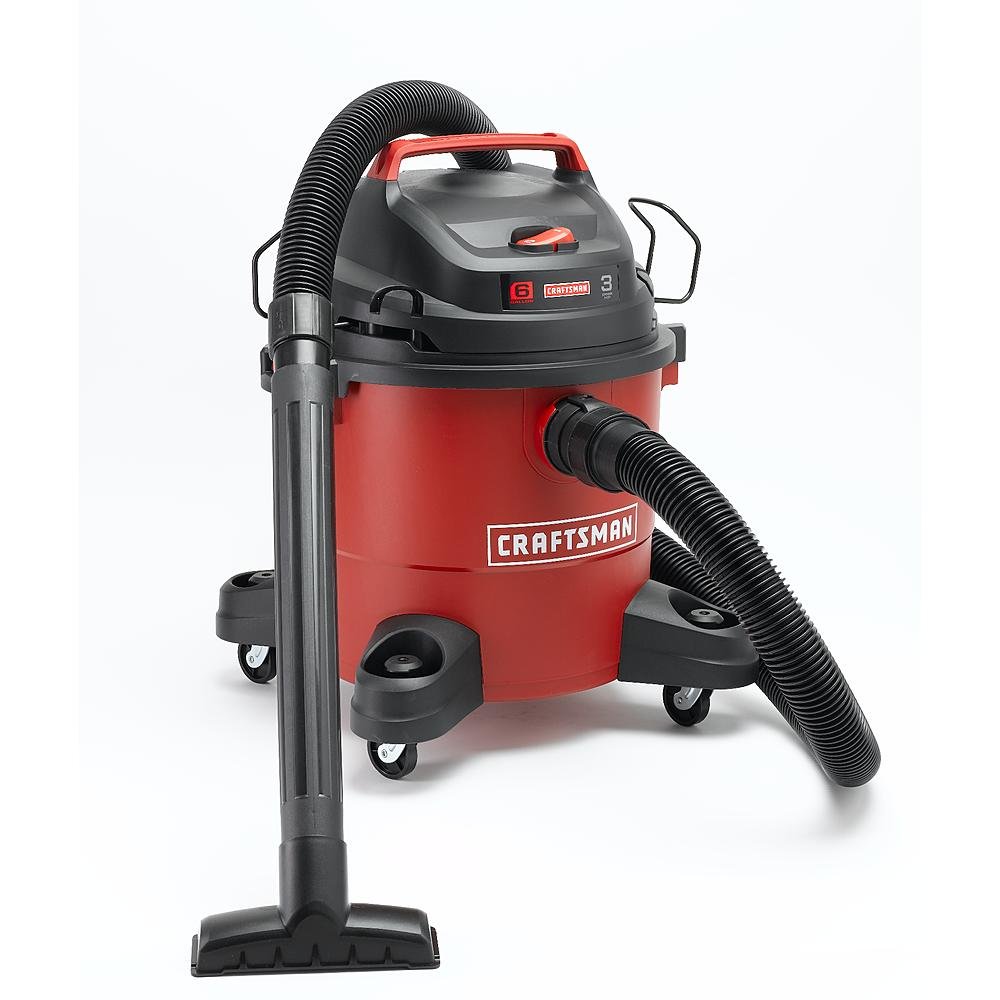 Recommended Reading:
3. DEWALT DCV580 18/20V MAX CORDLESS WET AND DRY VACUUM
If you'd rather not deal with the hassle of power cords getting in the way why don't you buy a cordless wet and dry vacuum cleaner? The DEWALT DCV580 machine carries an integrated rechargeable battery that doesn't compromise on cleaning power.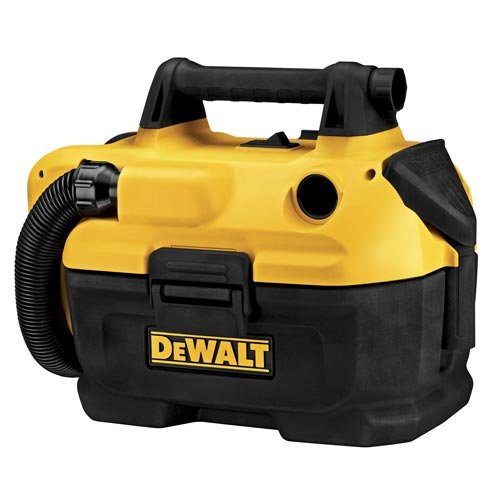 The biggest advantage of a battery-powered wet & dry vacuum is that you can enjoy the same high performance outside as well as indoors. You can use the vacuum in areas with limited plug sockets or power supply. The unit is equipped with a long hose that stretches to 5-feet and a 2-gallon tank volume.
The DEWALT DCV580 cleaner is powered by a 20V 4A battery and it works reliably through rigorous tasks. It's a great machine for domestic and commercial cleaning and a good companion for tradesmen that don't want to be limited by power cords.
The unit is portable enough to take with you on various jobs, whether that's around the house or to different locations if required for commercial usage. It can be used side by side with your power tools and will efficiently vacuum the resulting debris caused by drilling. The exhaust is uniquely positioned so that it doubles up as a blower to can clean messy tools.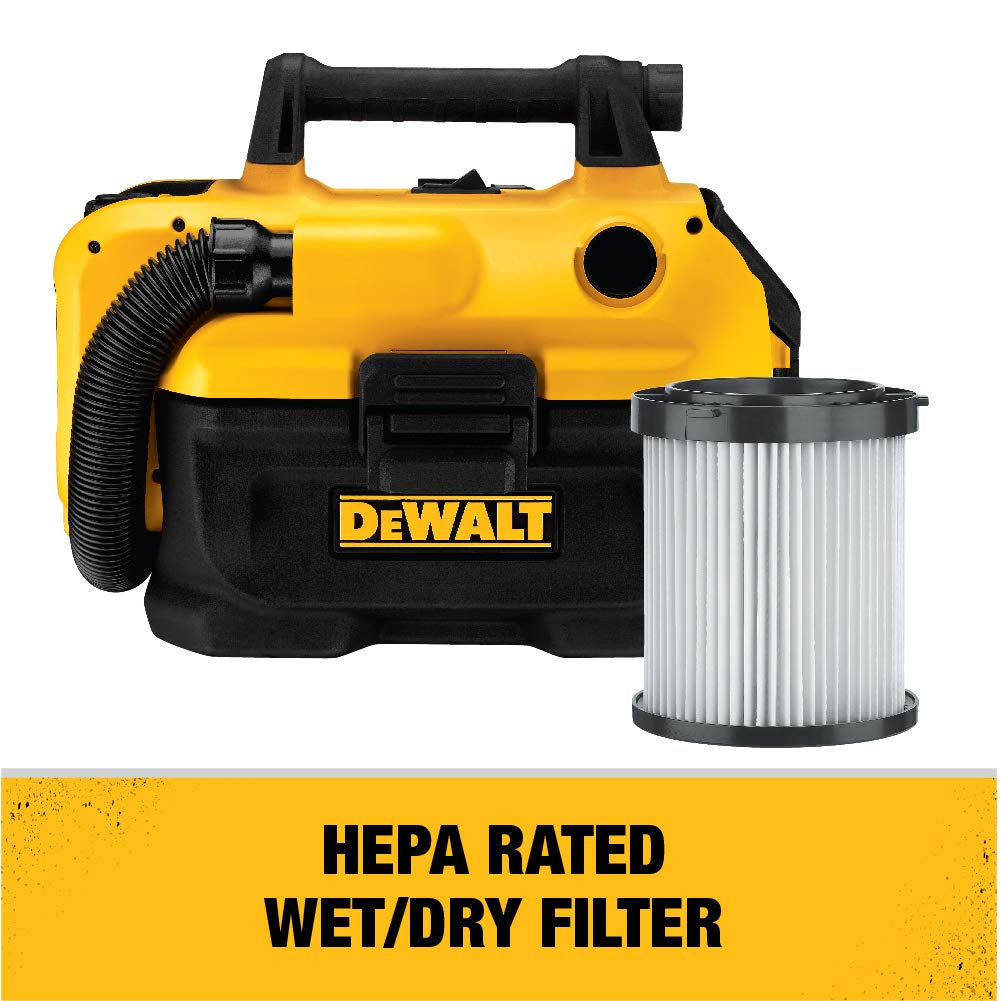 If you're looking for an affordable compact wet and dry vacuum cleaner that performs a multitude of tasks then you won't find a better model than the DEWALT DCV580. It can also utilise your existing batteries from other Dewalt tools and I can guarantee that you'll be impressed with the number of tasks it can get through.
You can purchase additional floor attachments and clean areas that you'd normally use a broom. It will clean your car interior, RV, shop floor, workshop, offices, boats and you can even buy a pet tool to groom your dog. It's light enough to use regularly for household cleaning yet it packs the power and toughness of a wet & dry vacuum cleaner.
Pros
A battery-powered wet and dry vacuum that doesn't shy away from providing high performance.
The filter can be washed and used repeatedly.
The machine is ideal for both commercial and domestic cleaning.
The Dewalt vacuum is built like a tank.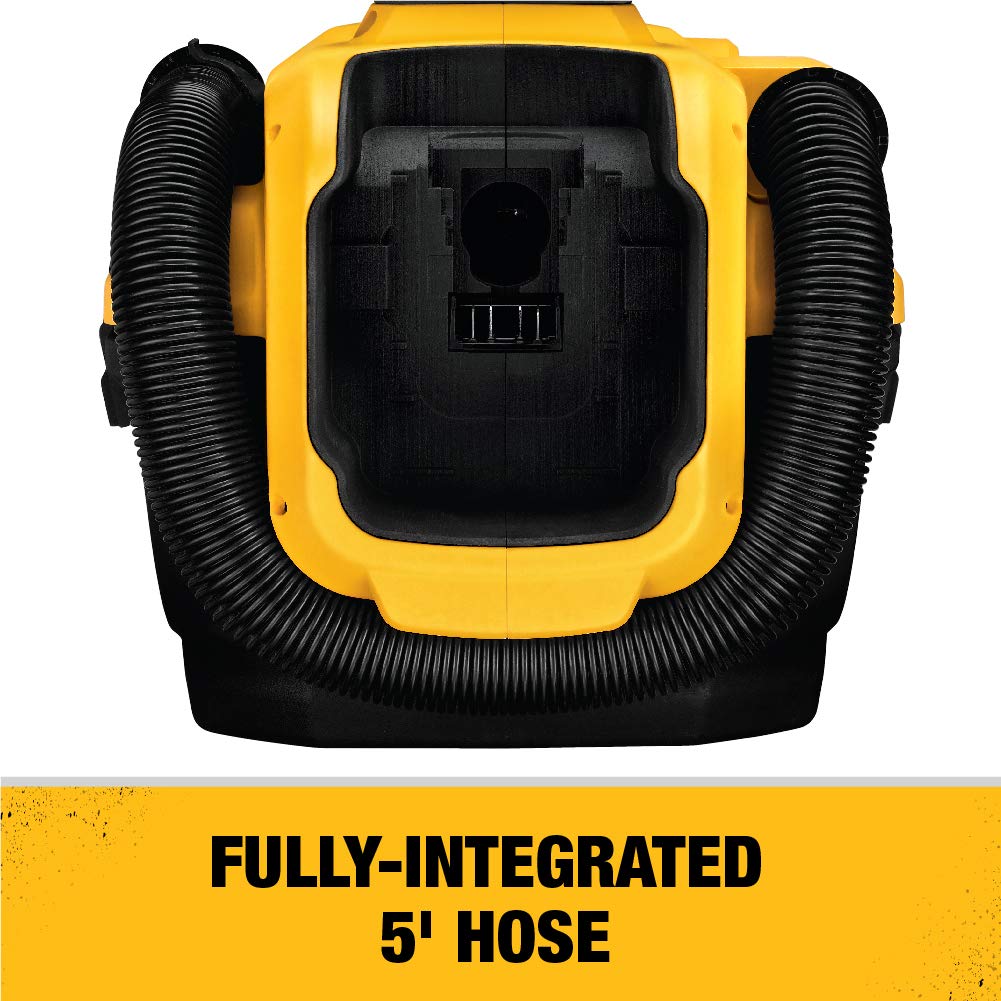 WHERE CAN I BUY THE DEWALT DCV580 18/20V MAX CORDLESS WET AND DRY VACUUM?
4. STANLEY WET AND DRY VACUUM CLEANER WITH A STAINLESS STEEL TANK
The Stanley Wet and Dry Vacuum Cleaner houses a large 5-gallon stainless steel tank that outshines the competition. There's a good range of cleaning attachments provided with the unit including a 5-feet hose, clamp ring, a utility nozzle and floor brush to tackle all types of jobs. It produces 4.5 peak power which is ample for arduous cleaning tasks.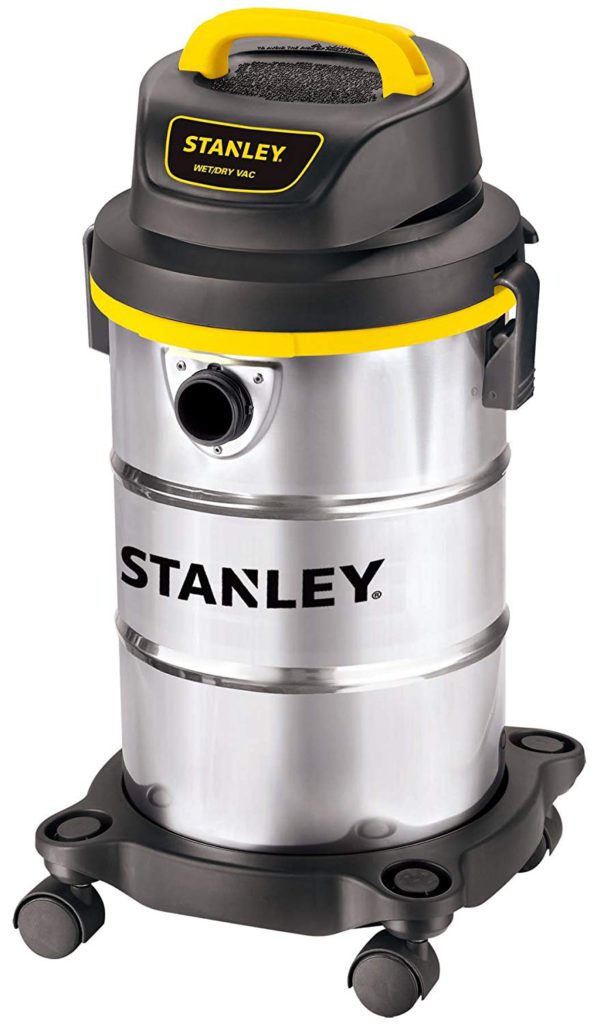 This Stanley vacuum gives you 3 big benefits- abundant suction power, quiet operation and portability. The clever design means that you don't experience the burden of heaving a large cumbersome machine and suitably places the machine for fast convenient cleaning.
The hose has a reduced diameter that works in your favour as it concentrates the suction power. You will find ample storage for the accessories, a unit that's lightweight to move around and an ergonomic handle for easier control.
The tank is longer rather than wider and as a result, it improves the handling and delivers a better cleaning experience whilst still getting all the benefits of a full sized vacuum cleaner. This unit sits on top of 4 swivel casters for stress-free multi-directional movement. The 10-foot power cable gives a greater cleaning range and can be wrapped around the machine for convenient storage.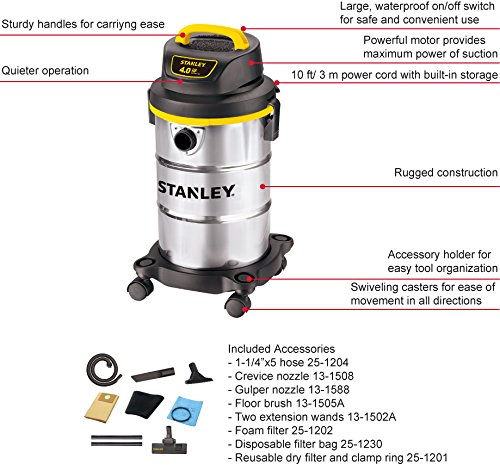 Pros
The machine is designed around a large steel tank to enhance durability.
The compact size is cleverly designed to collect up to 5 gallons of water but ensures that the unit is not bulky.
Smaller and larger tank sizes are available between 3 to 8 gallons.
WHERE CAN I BUY THE STANLEY WET AND DRY VACUUM CLEANER WITH A STAINLESS STEEL TANK?
5. VACMASTER 4 GALLON, 5 PEAK HP WITH AN INDUSTRIAL MOTOR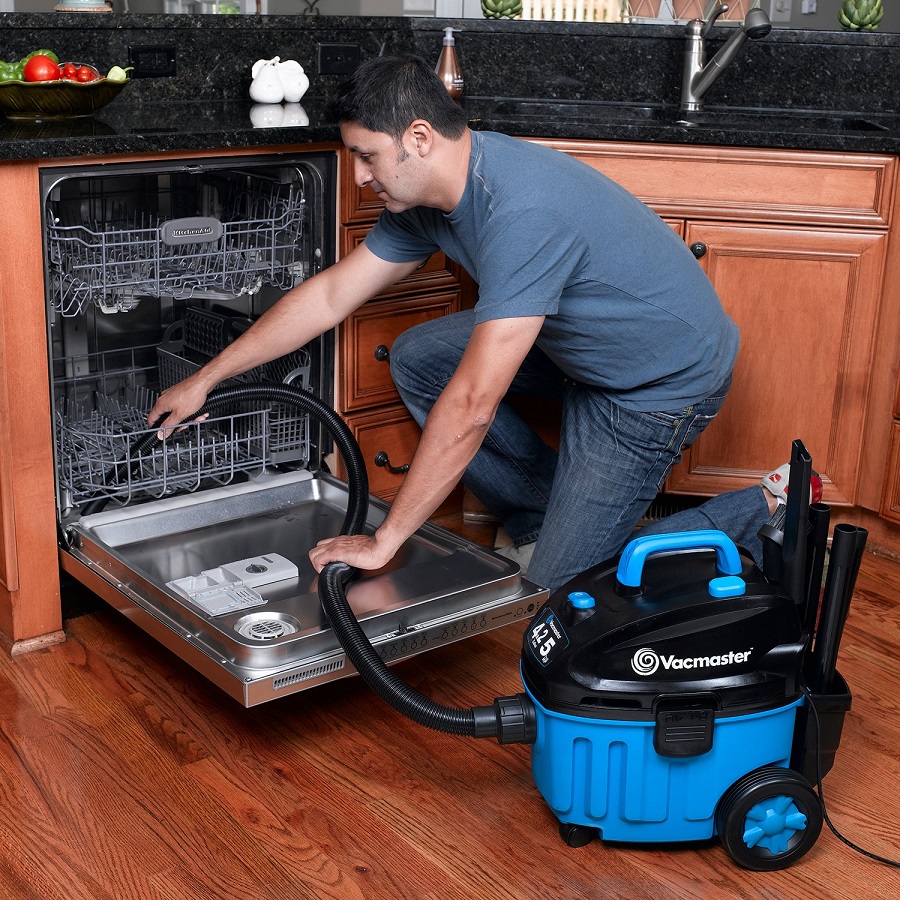 The Vacmaster 4 Gallon is a wet and dry vacuum with a robust two-stage industrial motor and it packs a sizeable 4-gallon polypropylene tank. The unit is supplied with a lengthy 7-foot hose for a longer reach, an extension wand, dirt bag, exhaust filter, and a combination crevice tool.
The vacuum comes with enough accessories to help you get on with the task at hand. It's a sturdy machine and a joy to handle thanks to its compact measurements. You won't struggle to lift the Vacmaster around if needed.
The hose is screwed into the base instead of clipping it in, therefore providing extra secureness when you're pulling the unit. This vac will deal with the toughest dirt and also finer particles such as pollen without clogging up the machine or leaving behind trace of residue. The dirt collection bag is purely for dry debris then you simply remove it whenever you need the machine to suck up liquids.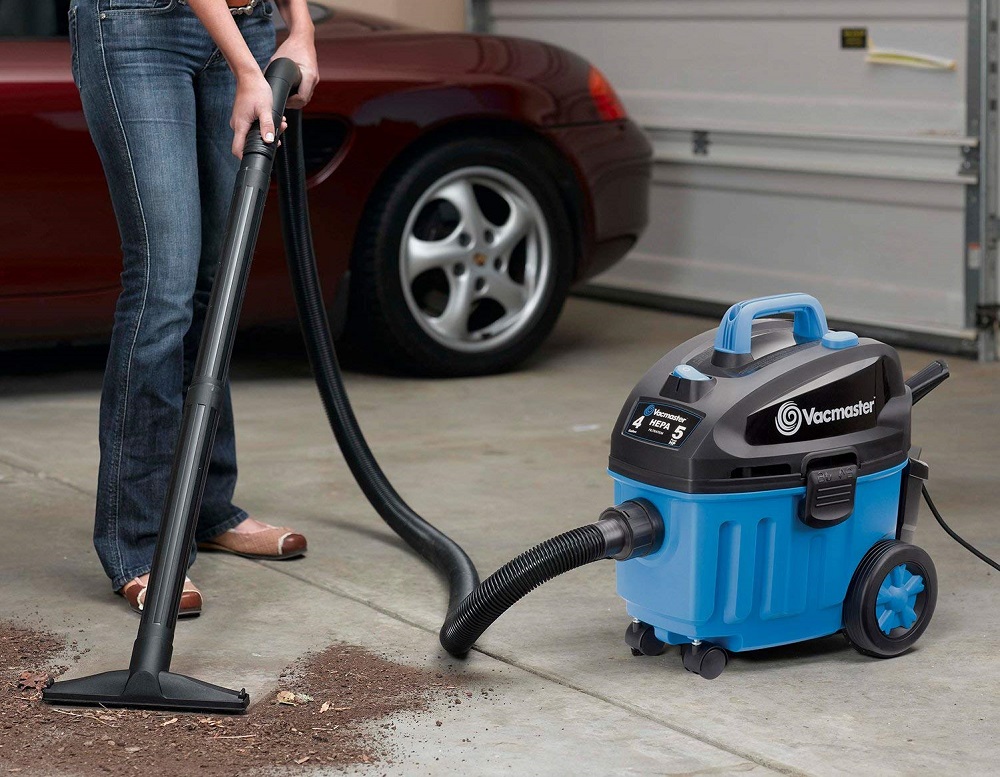 A slight drawback with the Vacmaster is that the machine shuts off, to empty out the liquid before it reaches the stated 4 Gallons but as a result of this, the emptying process is easier with less liquid in the tank.
The design of the Vacmaster vacuum is well considered and built to be user-friendly. It runs at a lower noise level than the competition, it's equipped with an integrated cord reel, the buttons are large and easy to switch, and the machine moves effortlessly whilst you pull it around. The machine can cope with clearing up problematic dirt on various surfaces from hard floors to carpets and can also be used domestically.
Pros
The 7-foot hose and 18-foot power cord extend the cleaning range considerably, therefore, allowing you to clean bigger rooms.
Reliable performance on a commercial scale thanks to the two-stage industrial motor.
The agile wheels allow this machine to go wherever you take it.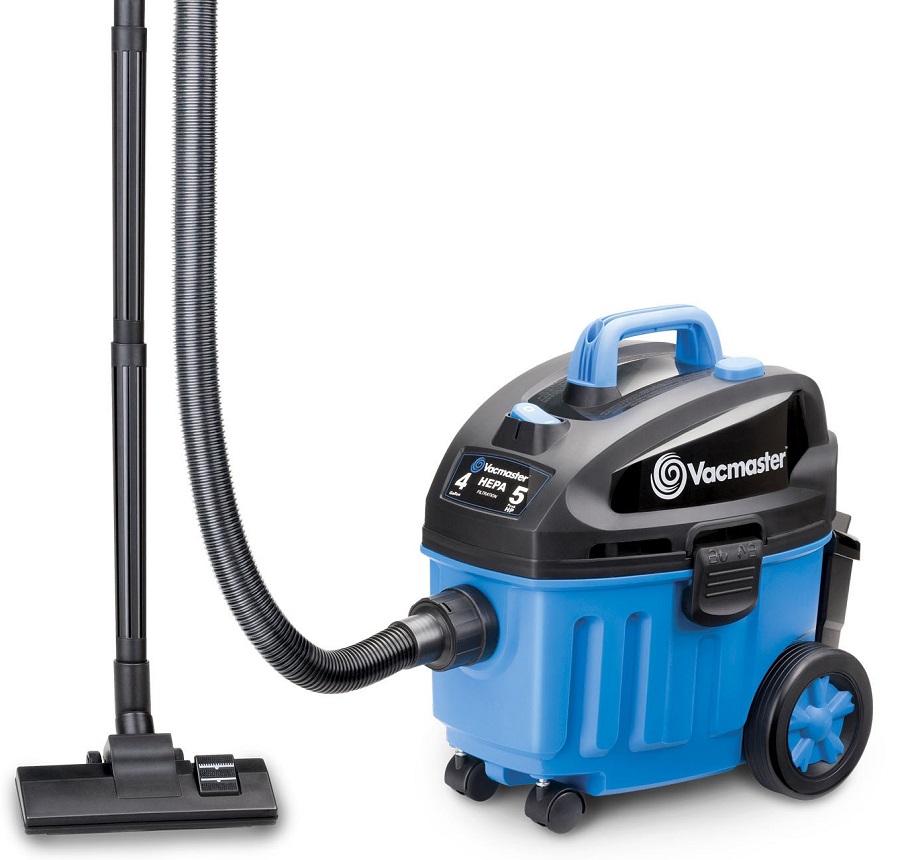 WHERE CAN I BUY THE VACMASTER 4 GALLON, 5 PEAK HP WITH AN INDUSTRIAL MOTOR?
6. VACMASTER 12 GALLON, 5 PEAK HP WET AND DRY VACUUM WITH A DETACHABLE BLOWER
If you're after a shop vac that can collect a high volume of liquids the Vacmaster 12 gallon wet and dry vacuum cleaner is one of your best choices. The unit comes with its own dedicated blower that easily detaches to blow away mess and leaves.
It's also equipped with a 5 peak motor to keep on top of demanding tasks and making it appropriate for commercial use. What do you get inside the box? A 7-foot hose and utility nozzle, a crevice tool, noise diffuser and a foam sleeve.
Performance is consistent both indoors on flooring and outdoors whilst using the blower to clear out leaves. A few users gave this machine negative reviews about the wheels coming off but I suspect that the machine has not been set up properly and below are my reasons why.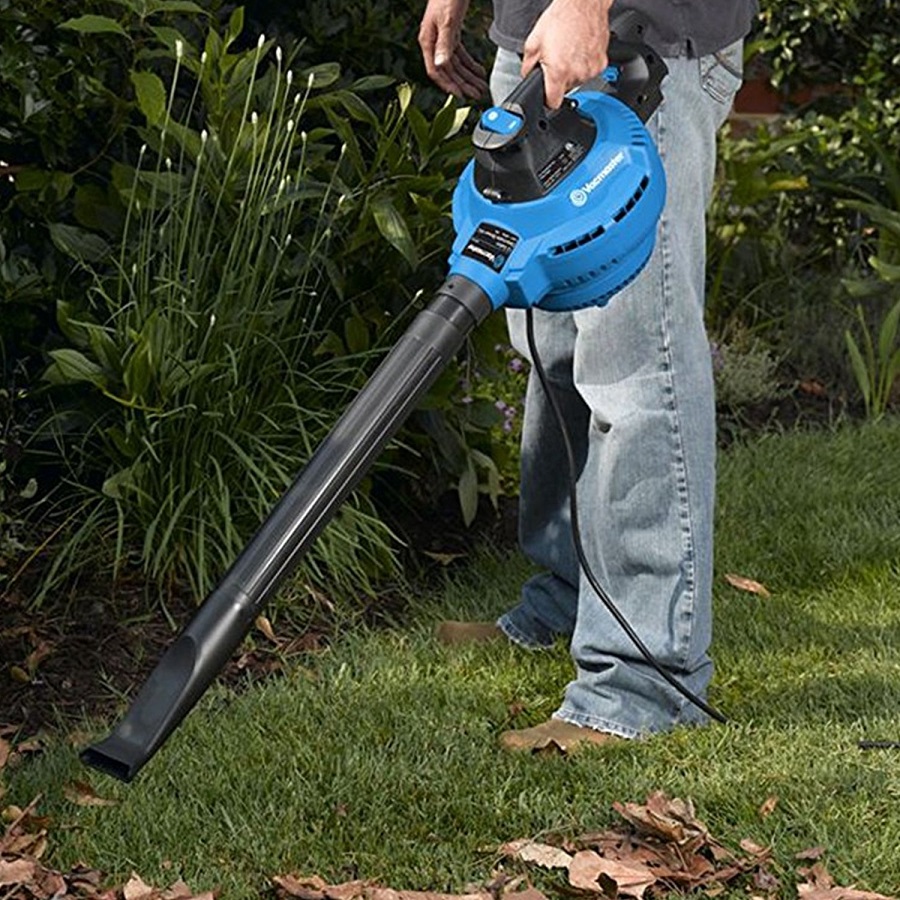 Before operating the machine, the casters need to slot beneath the chassis. The manufacturer provides a set of screws to fasten the casters into position. Users complaining about the wheels dropping off will need to ensure that the screws are fastened securely into the chassis.
What I like most about the Vacmaster 12 gallon wet and dry vacuum cleaner is its affordability. This machine will cost you less than $90 and is perfect for anyone that is undertaking extensive renovations but doesn't want to spend a lot of money on an industrial-level cleaner. It's perfect for cleaning workshops, commercial units, offices and stores.
The Vacmaster machine is incredibly tough, it's easy to operate and takes seconds to empty out dirt and liquids. The motor is one of the quietest thanks to the noise diffuser. You can move it around with minimum effort (as long as you install the casters properly).
The 2-stage motor is ideal for heavy-duty usage and the entire unit has HEPA grade filtration to trap allergens circulating in the air. The blower produces 240 MPH of wind speed and comes with an adapter to attach the wand for greater coverage. If you're looking for a reliable wet and dry vacuum that collects a large amount of liquid then I'd highly recommend the Vacmaster VBV1210.
Pros
The noise diffuser ensures quieter operation.
The standalone removable blower is a great addition.
The 12-gallon tank has ample capacity for collecting liquids and cleaning larger spaces.

WHERE CAN I BUY THE VACMASTER 12 GALLON, 5 PEAK HP WET AND DRY VACUUM WITH A DETACHABLE BLOWER?
7. Armor All 2.5 Gallon, 2 Peak HP, Utility Wet/Dry Vacuum, AA255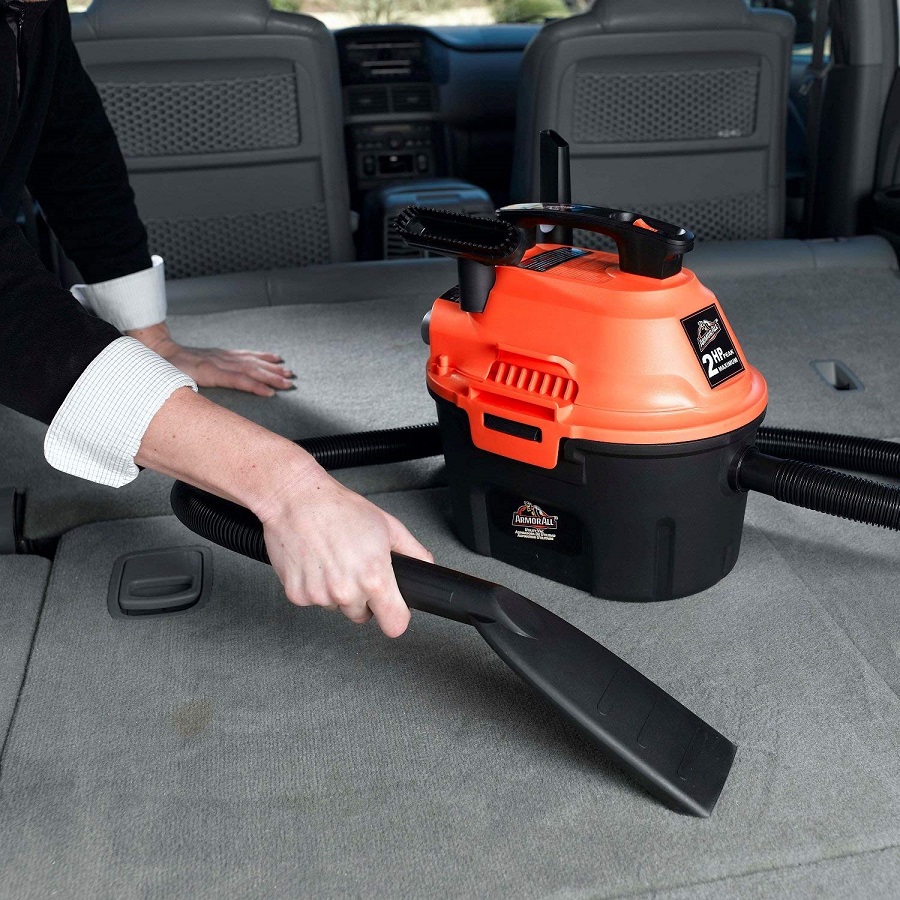 The Armor All Utility Vacuum is a 2.5 Gallon wet and dry cleaner specially built to clean vehicle interiors including trucks, vans and cars. It can be used for wet and dry cleaning purposes and comes with a good range of tools required for comprehensive valeting. The machine switches into a blower when required to dry vehicles, alloys and wheels. There's an auto cut off switch to stop overflow and an integrated noise diffuser to run at a lower noise level.
Use the Armor All Wet & Dry unit to pick up dry debris as well as liquids, providing you with the convenience to use it in many scenarios. The portable tank is ideal for easier transportation and moving it around in confined interiors, yet it provides a capacity of 2.5 gallons to handle most jobs. The 2-peak motor seamlessly switches between the suction and blower functions and has incredible force for a machine this size.

The unit is easy to lift using the ergonomic top handle and it comes with a built-in accessory compartment so that you always have access to the right tools for the job. The long cable measures 10-foot to give you ample cleaning range between the plug socket and car. You also get a 6-foot hose, a crevice tool for tight spaces, reusable cloth filter and foam sleeve, combination utility nozzle, specialist car nozzle, detail brush and blower nozzle.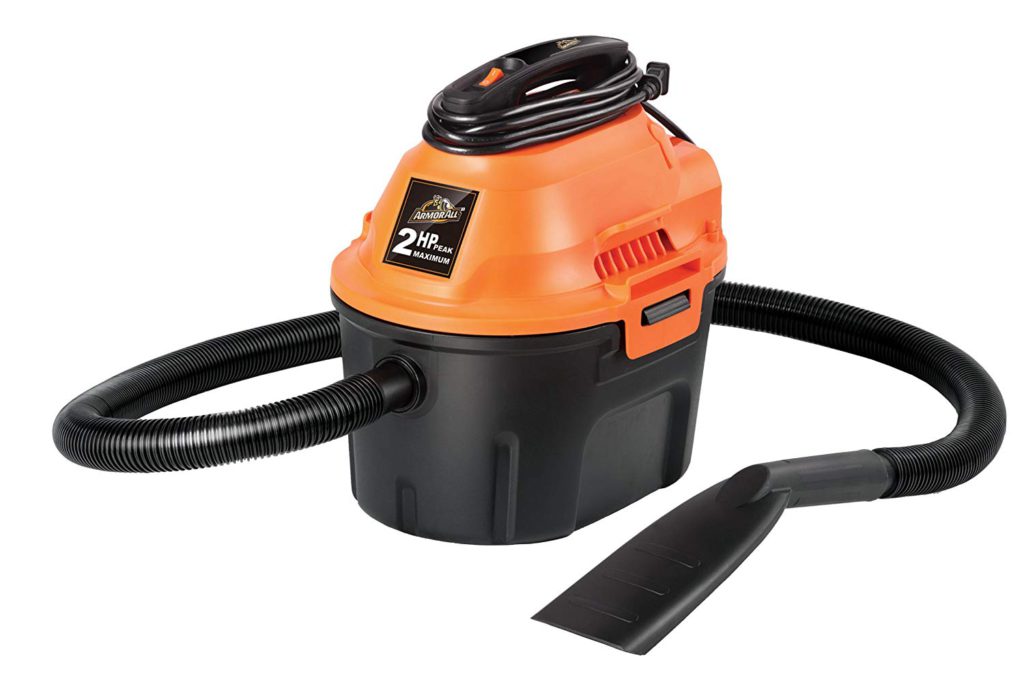 The most impressive feature about the Armor All Utility Vacuum is the high level of suction it delivers from such a small unit. This machine is powerful. In addition to vehicle cleaning you can use it do eliminate debris like sawdust from sanding and larger particles left behind after drilling. If you want the performance of a shop vac but don't have the space for one you should consider the Armor All cleaner. It's compact but packs a punch!
The unit is very stable on the floor and sits low to avoid toppling over. It also handles water extraction just as good as larger machines- you can collect water caused by leaks or use it to dry up wet floors quickly and efficiently. The hose has the perfect length to tackle household chores, clean out the car boot and seat fabrics.
Overall, Armor All wet and dry vacuum is an affordable powerful appliance that comes with a large bundle of helpful accessories for solid and liquid clean-ups. Its miniature size is deceptive and hides the power that can be achieved by the motor. Although this model is designed for cleaning vehicles it can be used for a wider range of jobs. If you're looking for a budget-friendly wet and dry vacuum cleaner, the Armor All comes highly recommended.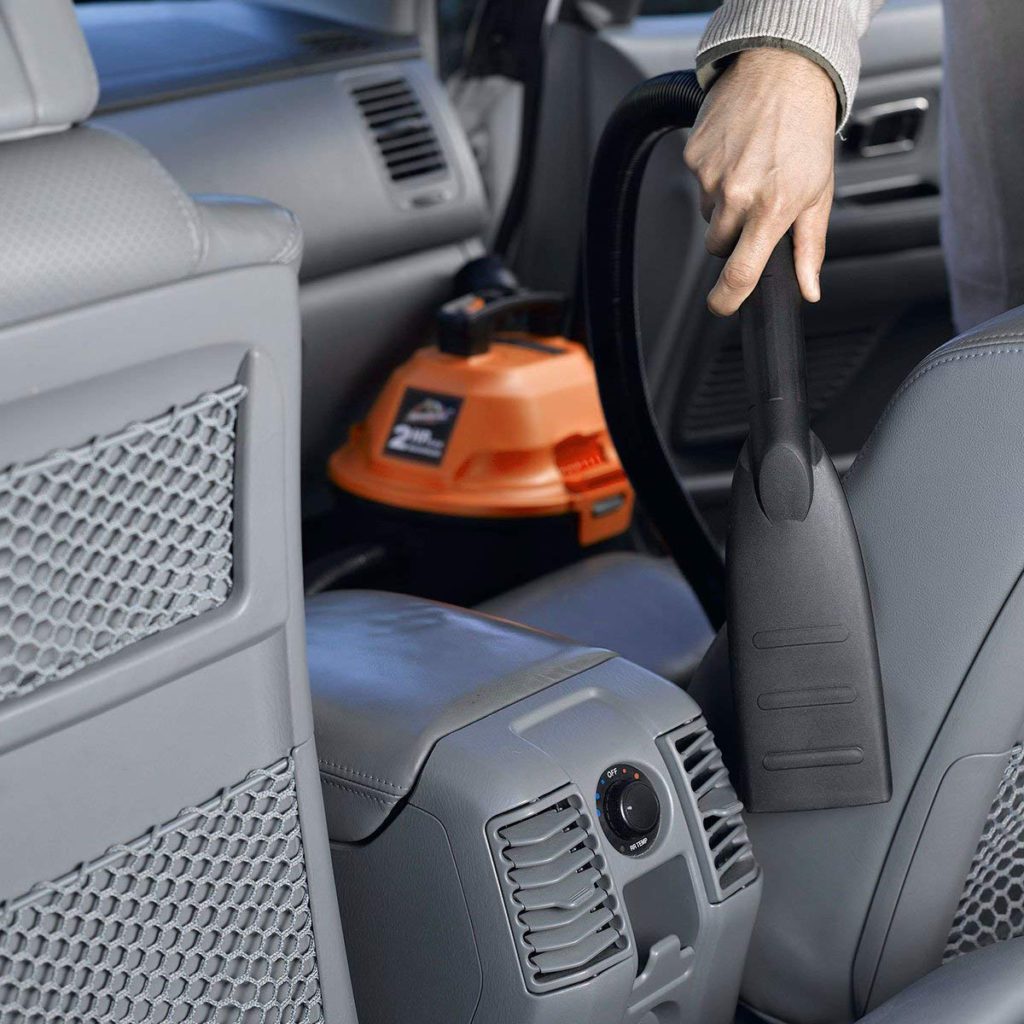 Pros
Portable yet highly functional and capable of coping with demanding wet and dry jobs.
This machine is perfect for valeting vehicle interiors to a high standard including vans, trucks, car, RVs.
The extra-long hose, power cord and wand provide plenty of slack to ensure that you can reach your vehicle.
This model is priced very affordably. You can pick up the Armor All Utility Vacuum for less than $50.

Where Can I Buy Armor All 2.5 Gallon, 2 Peak HP, Utility Wet/Dry Vacuum, AA255?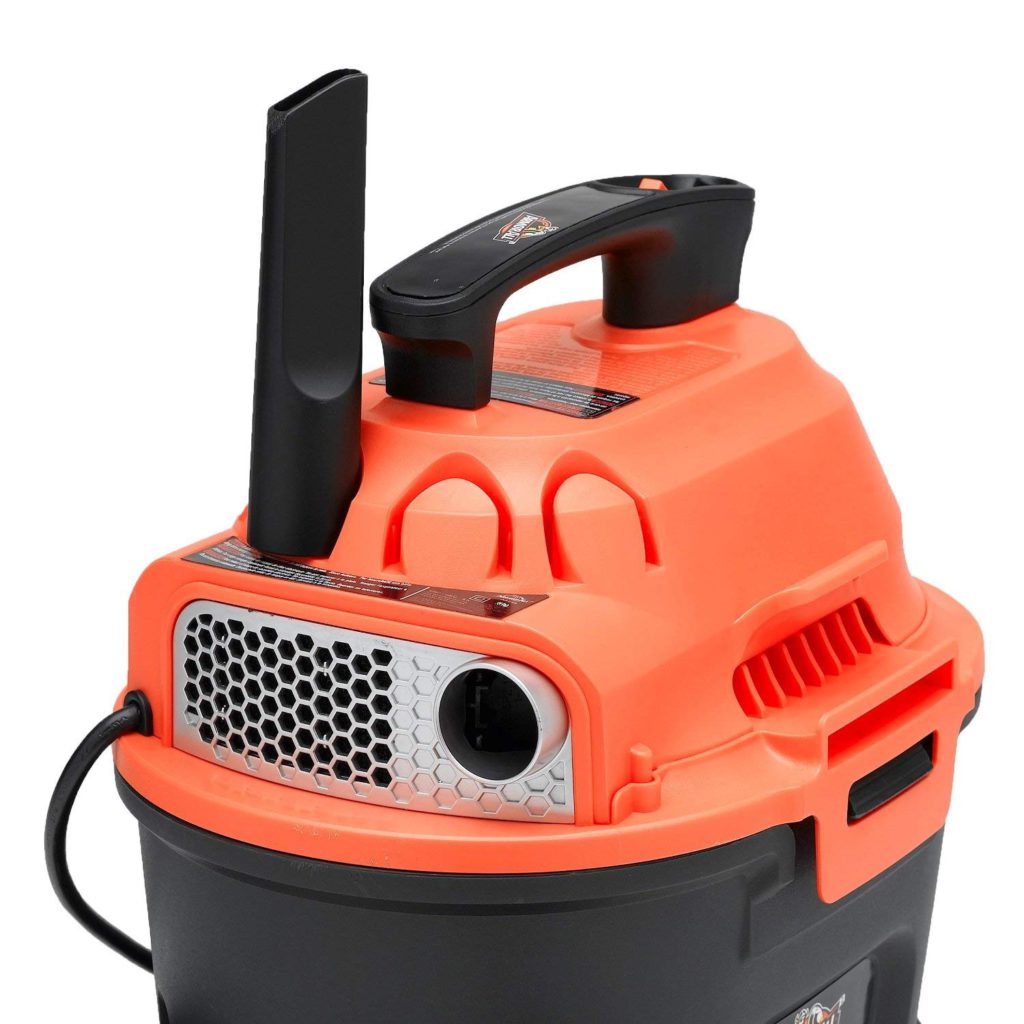 The Bottom Line
You've come to the end of our shortlist of the best wet dry vacuum cleaners for 2021. There's a good selection of machines to use within challenging environments right through to small domestic jobs. The benefit of wet and dry cleaners is that most of them can work both indoors and outside without degrading the machine.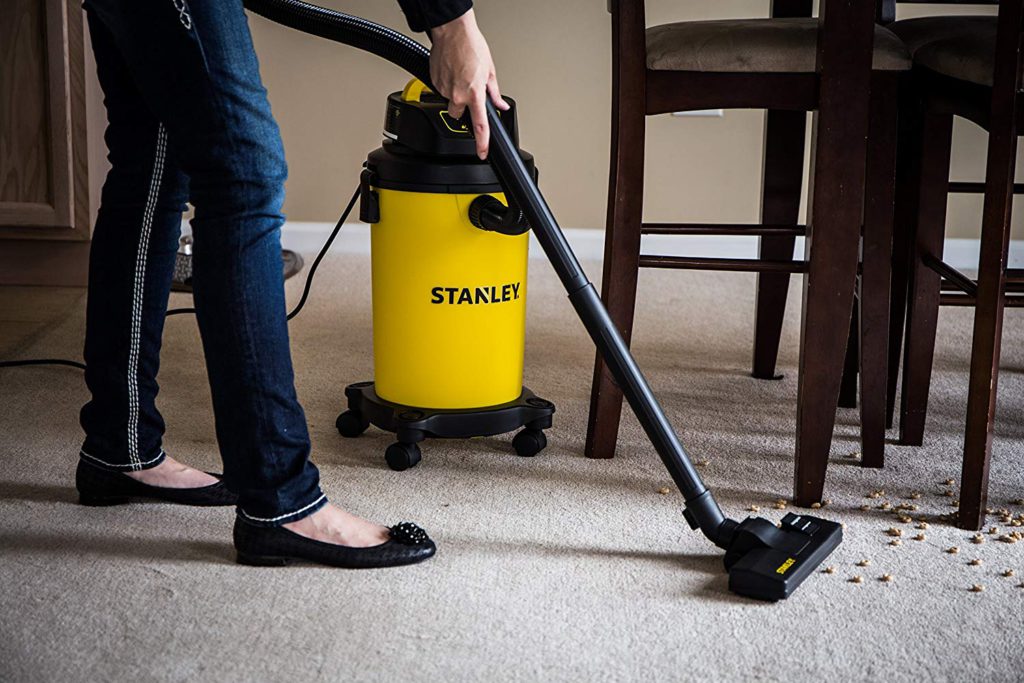 They are reliable, powerful and can perform tasks that other appliances would struggle to do or break down completely. Now you can unblock your sink, vacuum sawdust and wood chippings, gravel and gunk. These machines are built for the toughest jobs and their capability to extract liquids from floors makes them truly versatile.
Before selecting your new wet and dry vacuum you should carefully consider what you need it for and its key tasks. What areas will it be needed for and also consider how far your budget can stretch. Suction power plays an important part when deciding on the best performance. Our shortlist of cleaners tick all the boxes, so go ahead and make your choice.
Are you considering buying one of the wet and dry vacuum cleaners from our list or do you already own one? Please leave your comments in the section below. I'd love to hear from you.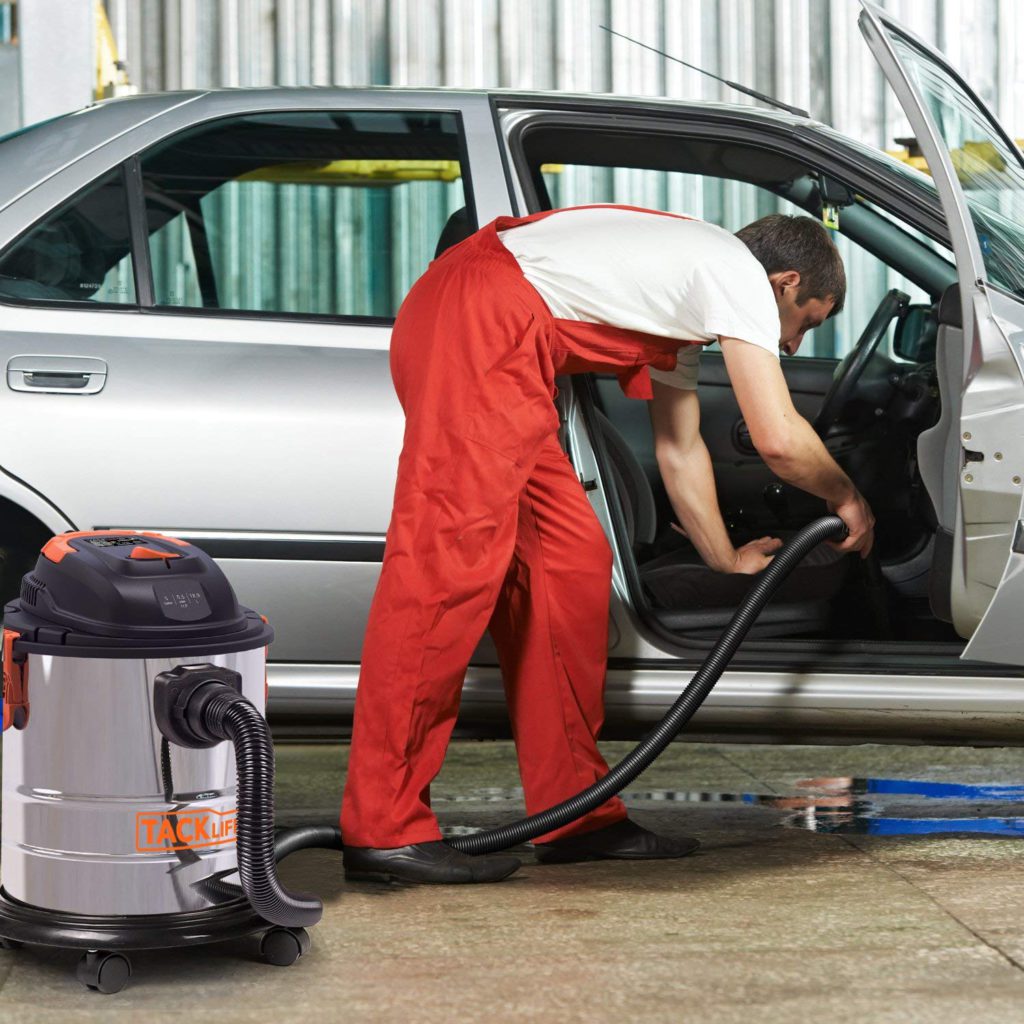 Our List of the Best Domestic Appliances