Wagner 915 Steam Cleaner Product Review
Welcome to the Wagner 915 Steam Cleaner Product Review. Steam cleaners have become a vital household tool in the fight against bacteria. Given the current pandemic, it wouldn't be a bad idea to get your hands on a steamer to keep floors, furniture and surfaces extra clean.
The market is flooded with all types of steam cleaners and as such, it can be quite time-consuming to find an affordable model that is also reliable and powerful. Thankfully we've sourced one that practically ticks all the boxes and it's the Wagner 915.
Why Should you Buy a Steam Cleaner?
Steam cleaners are fantastic appliances to add to your arsenal of house cleaning appliances and some are even suitable for commercial use. The biggest advantage of using a steamer over other cleaning devices is that you don't need additional detergents. Instead, you are using the power of hot steam to disinfect surfaces.
With a steam cleaner you can blast away grime, grease and challenging dirt from different types of surfaces with nothing more than water. A steamer will effectively remove mould, dust and bacteria from ovens, microwaves, shower cubicles, tiles and windows. Allergy and asthma sufferers will benefit hugely from investing in a steam cleaner, it will efficiently remove dust mites, pollen and other allergens.
Steam cleaners come in different configurations. You can choose a handheld, vapour steam, cylinder or mop steam cleaner depending on the types of tasks you require it to perform. For example, a handheld would be more suited to cleaning ovens, hobs, hoods, furniture and so on whereas a mop steam cleaner would be suited for cleaning floors.
If you're after a versatile steam cleaner that gives you the best of both worlds then a cylinder steam cleaner opens up a world of possibilities. You can use it for all of the above tasks and a lot more. For example, the Wagner 915 On-Demand model can clean different floor types and above-ground tasks as well as removing old wallpaper from walls, it cleans windows and tiles as well.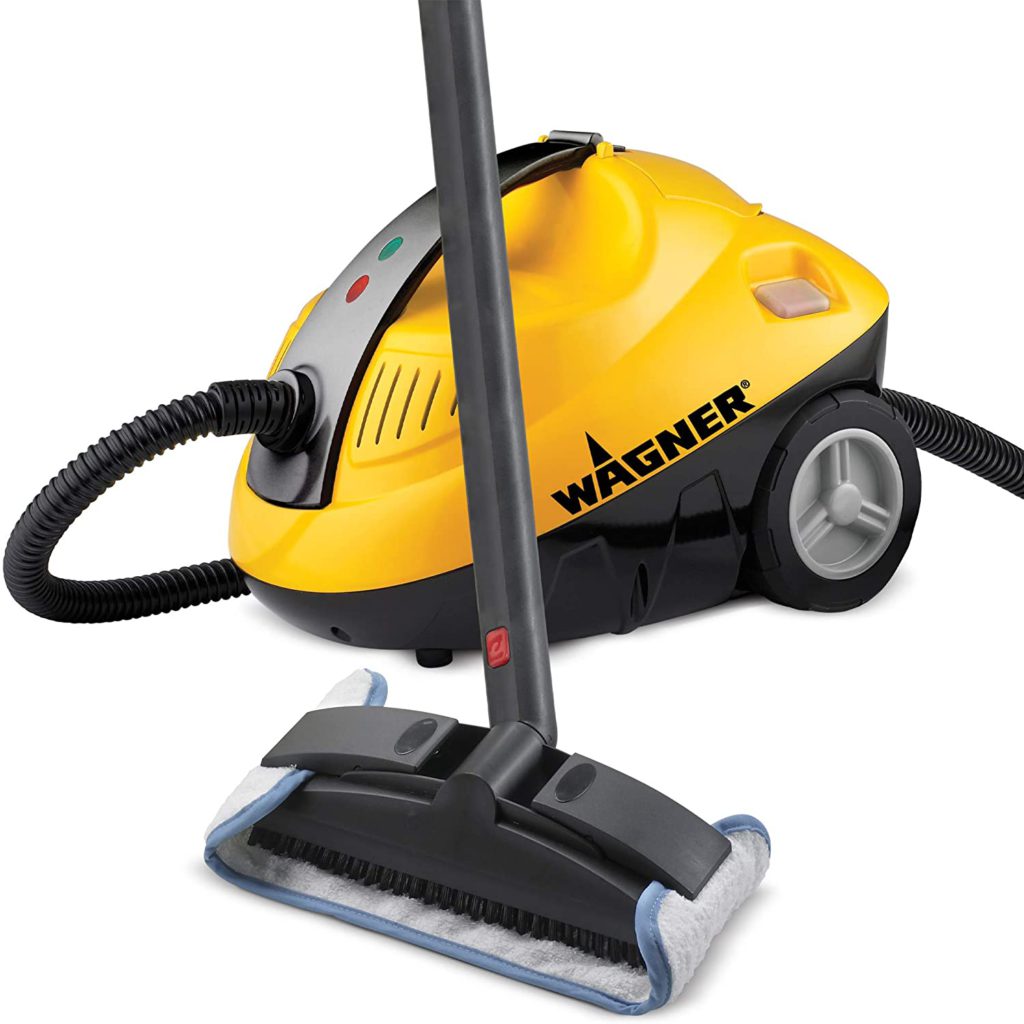 Wagner 915 On-Demand Product Summary
The Wagner 915 is a cost-effective steam cleaner that delivers plenty of steam to improve cleaning efficiency. You can adapt the steam delivery either to an intermittent or continuous setting. Users are impressed by this models performance citing that it is easier to handle and quicker to clean with compared to alternative steam cleaners. A small percentage of users stated that the machine was a bit larger than they'd like and doesn't come with an indicator to show the remaining water level.
Despite the above drawbacks, we still think that the Wagner 915 is a great choice to suit virtually all household steam cleaning chores and is an affordable choice to suit most budgets. The option to change the steam settings gives you a better level of control for intensive or lighter tasks. You can clean different types of materials with a higher level of precision and lower the steam to clean delicate surfaces.
Check out where the Wagner 915 Steam Cleaner Ranked on Our list of the Best Upholstery Steam Cleaners For Fabric Furniture and Drapes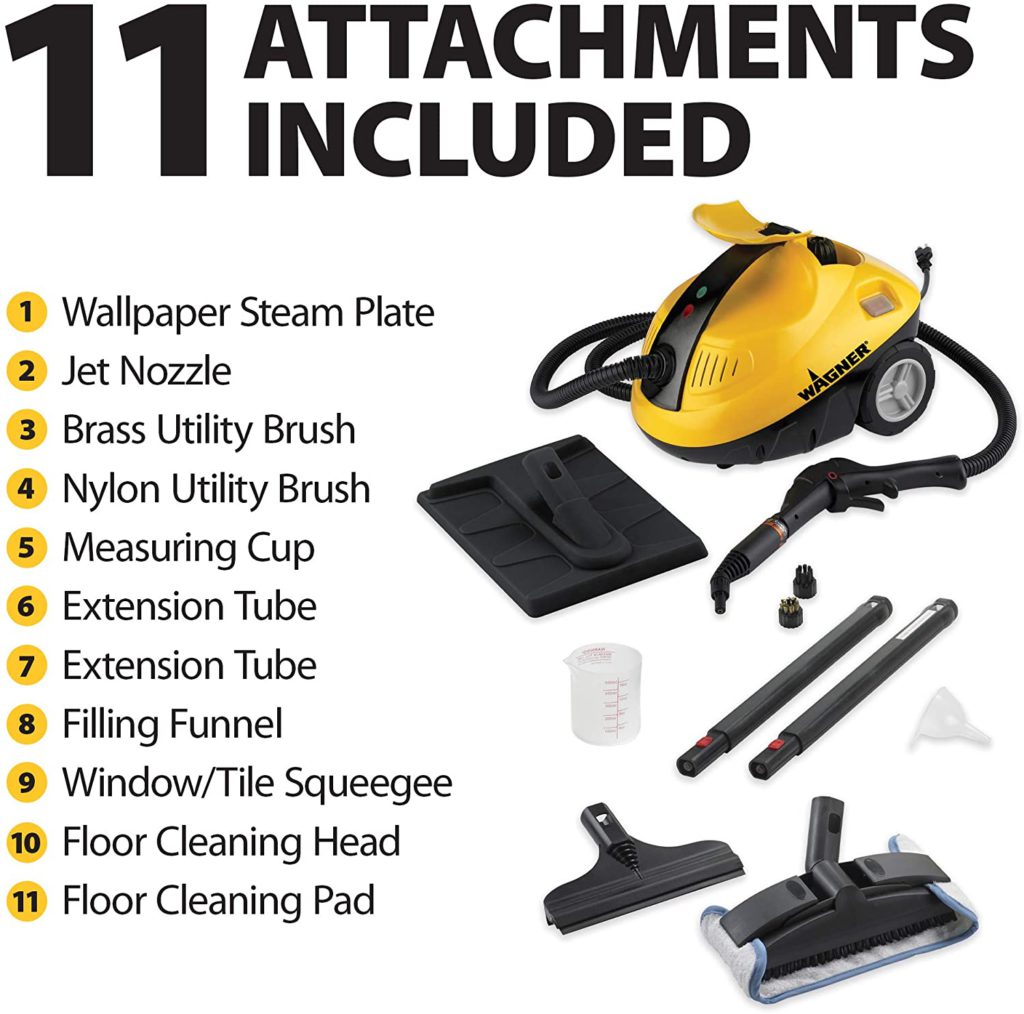 Wagner 915 Features
The Wagner 915 comes with a floor-cleaning brush and cloth, window squeegee, utility brushes, measuring cup, fill funnel, 2 extension tubes and an instruction booklet. As you can see, they are plenty of accessories provided to handle any job.
The steamer comes with 120-volts of power and provides enough steam to clean practically any type of surface.
Unlike other steamers, the Wagner steamer can be used to remove old wallpaper thanks to the pressurized system.
Choose better continuous or intermittent steam using the 2 mode steam setting. All you need to do it press a button to switch between and change the way steam is delivered.
It reduces cleaning times by 20% compared to alternative steamers. It can remove layers of old wallpaper quicker than non-pressurized models. You can sanitize your home easier thanks to powerful system.
Product weight: 13.77 pounds
Water capacity: 48-ounces
Running time: 45 minutes
Steam hose length: 8-foot
Heat-up time: 10-15 minutes
Guarantee: 1 Year Warranty

Wagner 915 Water Capacity
The water capacity for the Wagner 915 is 48 ounces which is enough to provide 45 minutes of continuous steam. That's plenty of time to tackle challenging tasks without interruptions. The unit itself sits on a set of wheels for easier manoeuvrability around your home. As mention before, you are provided with many accessories to perform floor and above-ground tasks, therefore, you don't need to buy another steam cleaner for different tasks.
Advantages of Buying the Wagner 915
The Wagner 915 has proven to be a multifaceted appliance especially when it is used to its full potential. It's simple to get started as all you need to do is fill it up with water, attached the desired accessory for the task and off you go.
Operating the machine is similar to how you would use a canister vacuum cleaner. To release steam simply press the trigger and direct the nozzle to dirty area. The appliance is lightweight and easy to swivel when moving it around, you can clean awkward spaces such as shower cubicles with ease.
Steaming various types of flooring is probably the Wagner 915's strongest feature. The extension tool adapts the unit to clean wooden floors, cement, tiled flooring and other surface types. Usually, you would require detergent to clean windows or glass, however, with this nifty gadget all you need is water and no harsh chemicals.
Last but not least, this model is equipped with lots of versatile tools for virtually any type of steam cleaning. The Wagner 915 is a great investment as it saves you on costs such as professional window cleaning or buying detergents.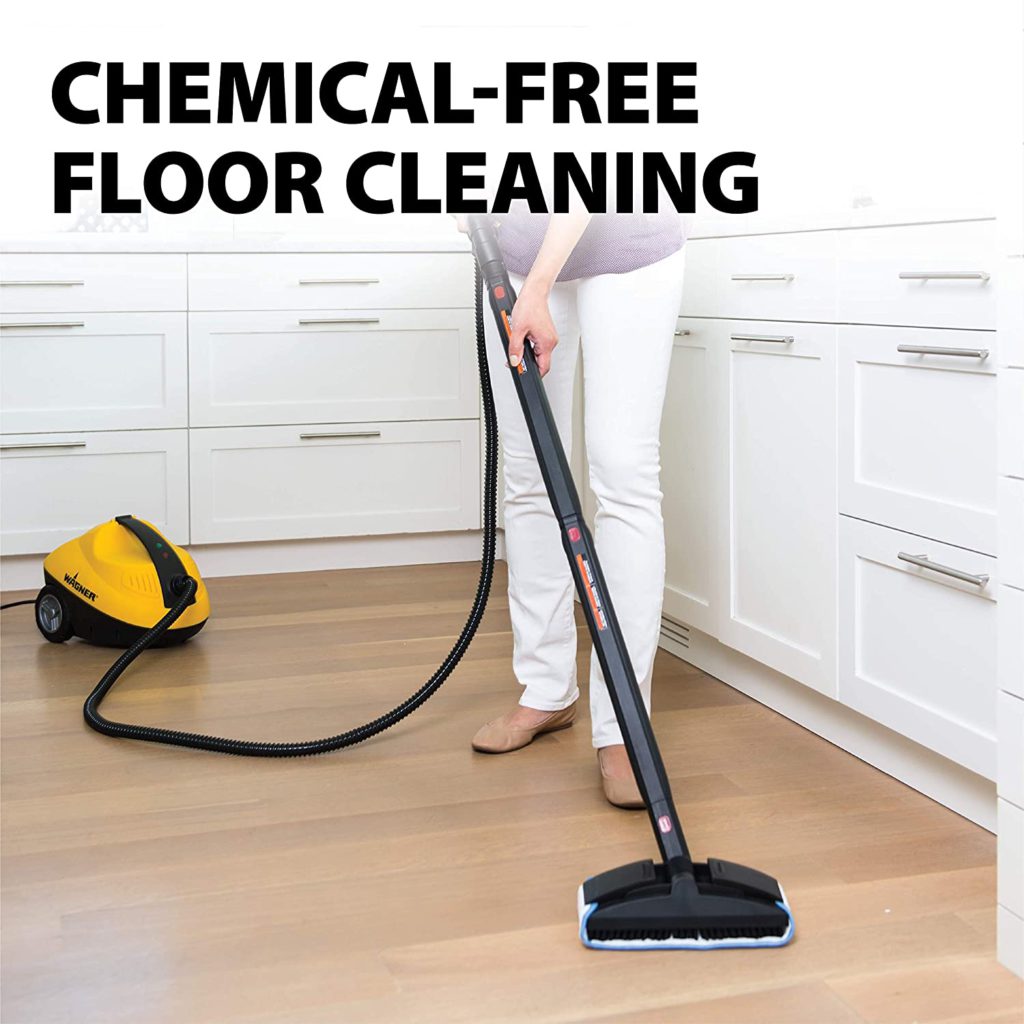 Recommended For You: Best Steam Cleaners For Tile Floors
Disadvantages of Buying the Wagner 915
Although the Wagner 915 is a powerful steam cleaner that is ideal for most households they are a few drawbacks that you should be aware of before buying one. I'll go through a few performance issues that might affect how you use it on a regular basis.
Some customers have advised that the machine is larger than what they're used to and a bit too bulky for daily use. The unit does not come with an indicator for the water level, making it difficult to gauge whether it needs topping up before continuing to a new task.
Other users have stated that the Wagner steam cleaner takes a long time to heat up the water before it starts to produce steam, therefore, it wouldn't be practical for quick clean-ups. Long heating times are a common issue with canister steam cleaners, however, the trade-off is that they release continuous steam for much longer than other types of steam cleaners.
My suggestion would be, if you are willing to wait out the lengthy heating time in exchange for longer periods of uninterrupted steam then the Wagner 915 is the ideal machine. If you need a machine that heats up faster for smaller jobs then you might better off with a handheld model. Check out our list of the Best Handheld Steam Cleaners here.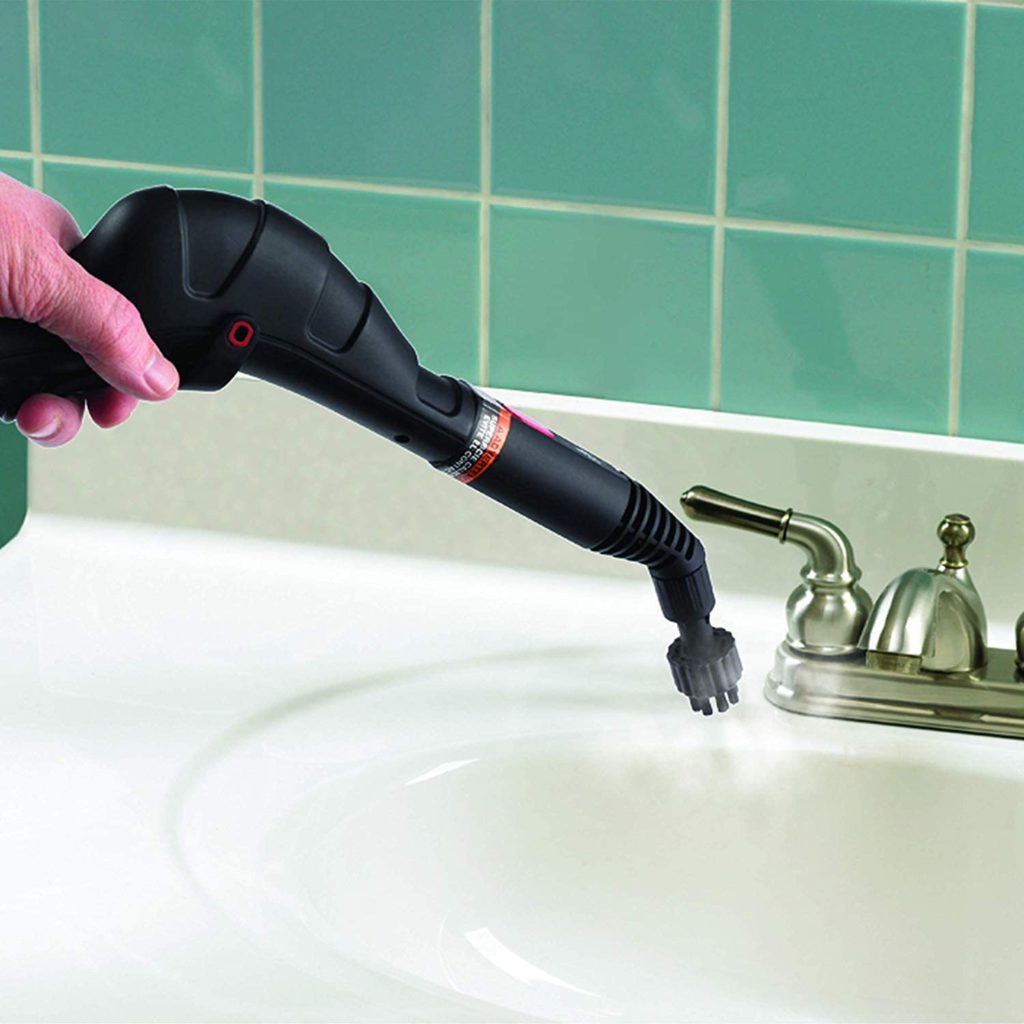 Wagner 915 Customer Reviews
A customer that has been using the Wagner 915 for about 3 months has stated that the machine is extremely flexible and has been used in their shower, bathtub and even on their pickup truck. The provided accessories were suitable for the described tasks and more. The steamer easily removed soap scum from glass and tiles, although it took a while to get both tasks finished, however, the customer was happy that they didn't need to scrub.
The customer stated that their pickup truck had been egged whilst they were away from home. The egg residue dried up in hot temperatures and sat there for more than 7 days before the customer got back home. The steamer was brought out and it diligently blasted away the egg stains from the truck's body.
Another customer purchased the Wagner 915 for regular use and they've been singing its praises. It keeps up with the demands of daily use and takes on challenging jobs without hesitation. The customer was able to clean dirty grout stains very quickly and was satisfied in the knowledge that no harsh chemicals were being inhaled. The customer is an asthma sufferer and is over the moon that their asthma attacks are not set off during usage and in addition to this they are saving on the cost of buying detergents. Win-win!
Customers are stating that they wouldn't hesitate to recommend the Wagner 915 to friends and family. They also like that it is a very effective method of cleaning tough dirt such as grease, dirty tiles, dried up food stains, dirty ovens and the like.
Check out where the Wagner 915 Steam Cleaner Ranked on Our list of the Best Upholstery Steam Cleaners For Fabric Furniture and Drapes
Conclusion
For those of you that would like the benefits of steam power using nothing else but water, then a steam cleaner is highly recommended. The Wagner 915 is a great machine for longer and challenging cleaning tasks thanks to the 45 minutes of continuous steam output. This appliance provides a safe cleaning experience and performs powerfully enough to replace your other cleaning tools, manual or otherwise.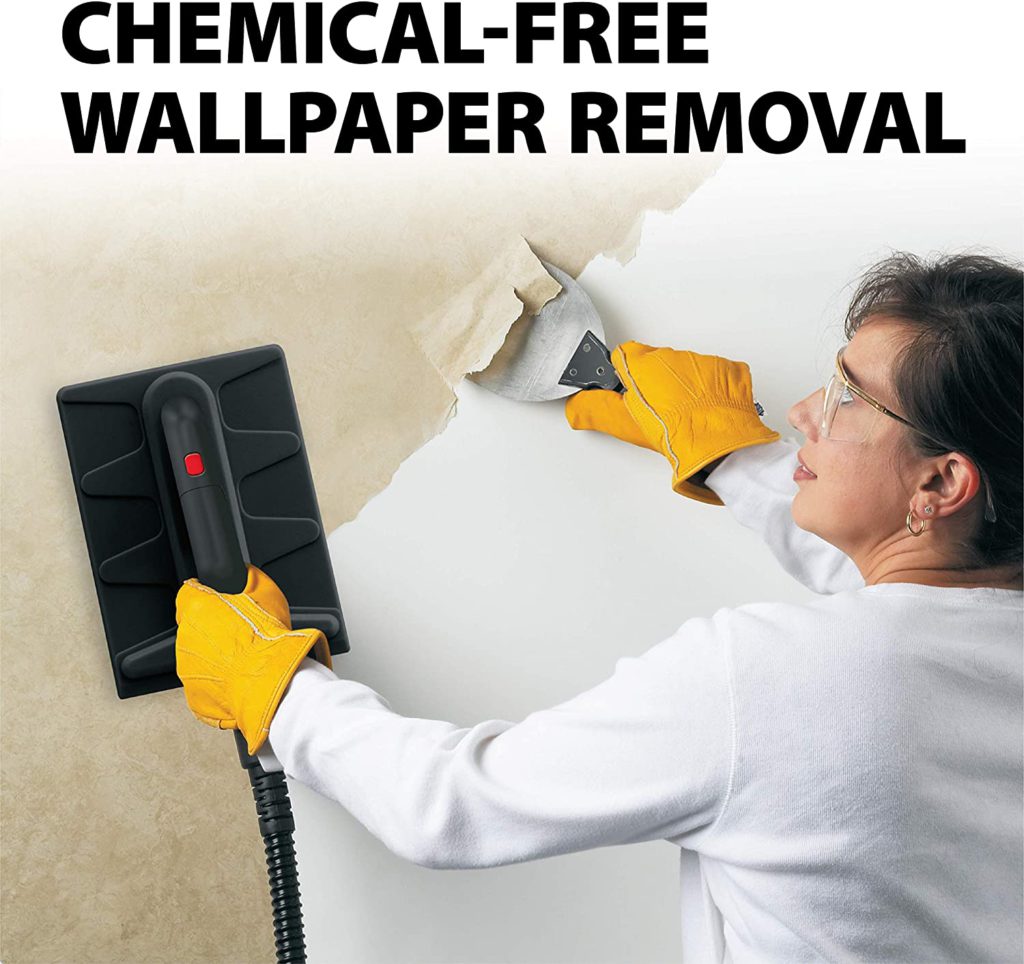 The Wagner 915 On-Demand Power Steamer delivers a pressurized system that produces plenty of steam for a variety of jobs around the house. It's great that the machine is versatile enough to steam different surface types with just water. You can clean sinks, shower cubicles, toilets, kitchen work surfaces, hard flooring, fabrics, drapes and the like. Its usage can extend to outdoors tasks such as cleaning outdoor furniture, cushions and dried stains on car paintwork.
The machine also comes with a wallpaper plate thus eliminating the need to buy a separate wallpaper remover. This accessory peels away old wallpaper with hot steam.
Are you considering buying the Wagner 915 steam cleaner or do you already own one? Please leave you comments below. We'd love to hear from you