Best Bagged Canister Vacuum Cleaners 2021
There's a lot to think about when it comes to picking a full-sized vacuum cleaner. One of the biggest debates is whether to choose a bagged over bagless model or vice versa. Bagged canisters have become the vacuum cleaner of choice for deep cleaning, especially for people that don't want the burden of lugging around a bulky upright.
Bagged machines are better from a hygiene viewpoint as you don't have to come into contact with dust and dirt when emptying it. This is important, especially for those that suffer from allergies. Canister vacuums are the most versatile and nimble appliances for cleaning large and small homes.
Canisters are ideal for cleaning awkward areas such as stairs as you don't have to carry the whole machine with you. Most models are equipped with longer hoses and wands to extend your cleaning range.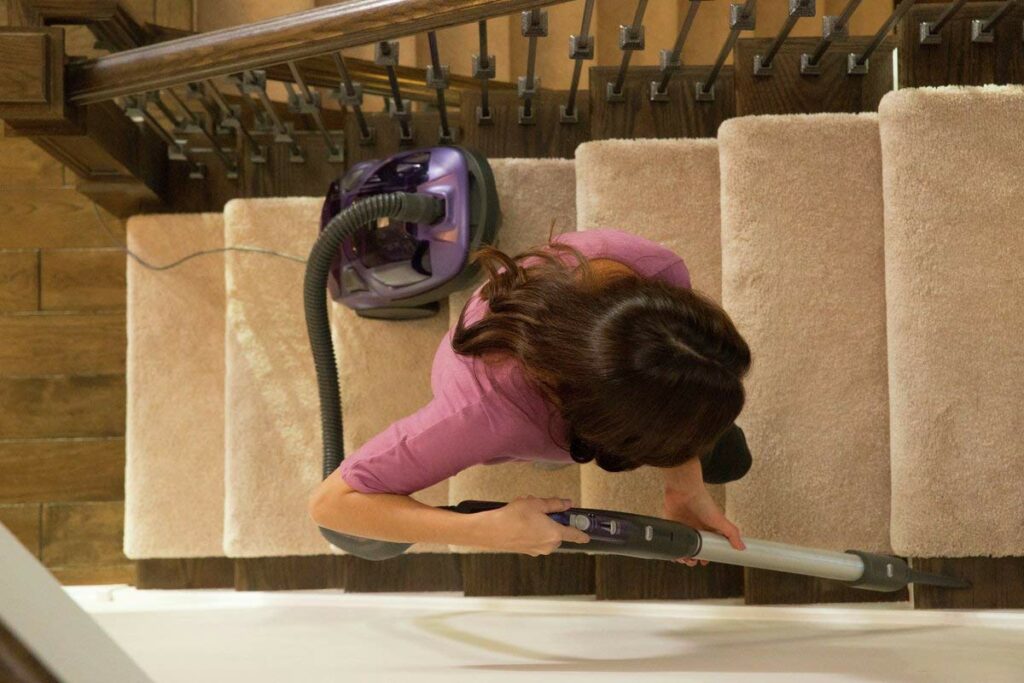 Affiliate Disclosure: I am grateful to be of service and to bring you content free of charge. In order to do this, please note that when you click links and purchase items, in most cases I receive referral commissions. Eventually, I may earn enough to buy a beer or two 🙂
How To Choose a Canister For Your Needs
When looking for a canister vacuum, you will need to consider various factors such as power consumption, your budget, suction power, reliability, and so on. The best canister for your home needs to be suited to your individual needs.
Below is a quick summary of some of the most important things to look out for before purchasing your canister.
How Much Are You Willing To Spend?
It's important to set a budget for your new appliance before you start your search. Once you're happy with your maximum budget, you'll save time not looking at appliances that cost more than what you're willing to spend.
Top range canister vacuums usually cost more money, but it's worth noting that certain models provide better performance and features over others and as a result, offer the best value for your money. A high-quality model will give you many years of reliable performance, therefore, you should view this a long-term purchase.
Mid-range models often cost anywhere between $100 – $400 and premium machines cost between $400 – $1,000. Pricier models are usually equipped with features such HEPA filters which remove at least 99.97% of particles as small as 0.3 microns.
Cleaning Performance
An efficient vacuum cleaner reduces the number of times you need to pass over the same section of carpet and as such, will speed up cleaning times.
One of the things you need to look out for is the suction power that the machine can achieve. The engine power is measured in Watts (W). The majority of canisters are equipped with power that ranges between 1200 W and 2000 W. A larger amount of Watts generally means a higher suction.
But the engine power isn't always the best indication of suction performance since you can have 2 models with the same Watts, but one might be more efficient than the other. Modern advancements in vacuum technology have produced energy-efficient machines that can match the same suction as powerful machines.
A better way to gauge the performance of your new machine is to check the depression and flow rate that it can generate. Depression is measured in kPa and tells you how well the machine can generate a vacuum- this is an essential factor for homes that are mostly carpeted. The flow rate will show you how well it can clean hard flooring.
Power Selection
I'd highly recommend going for a canister with a variable power selection option, especially if your home has multiple floor types. This will help to increase and decrease the suction depending on your floor type and cleaning needs.
Bagged Vacuum Cleaner With Auto-Seal
Bagged canister vacuum cleaners are the preferred option as they provide better filtration, particularly if used with cloth bags. They tend to be less expensive and have been around for a while. These models are also known to be more reliable than the other variations. But you will also need to factor in the additional cost of replacing the bags over the lifetime of the machine.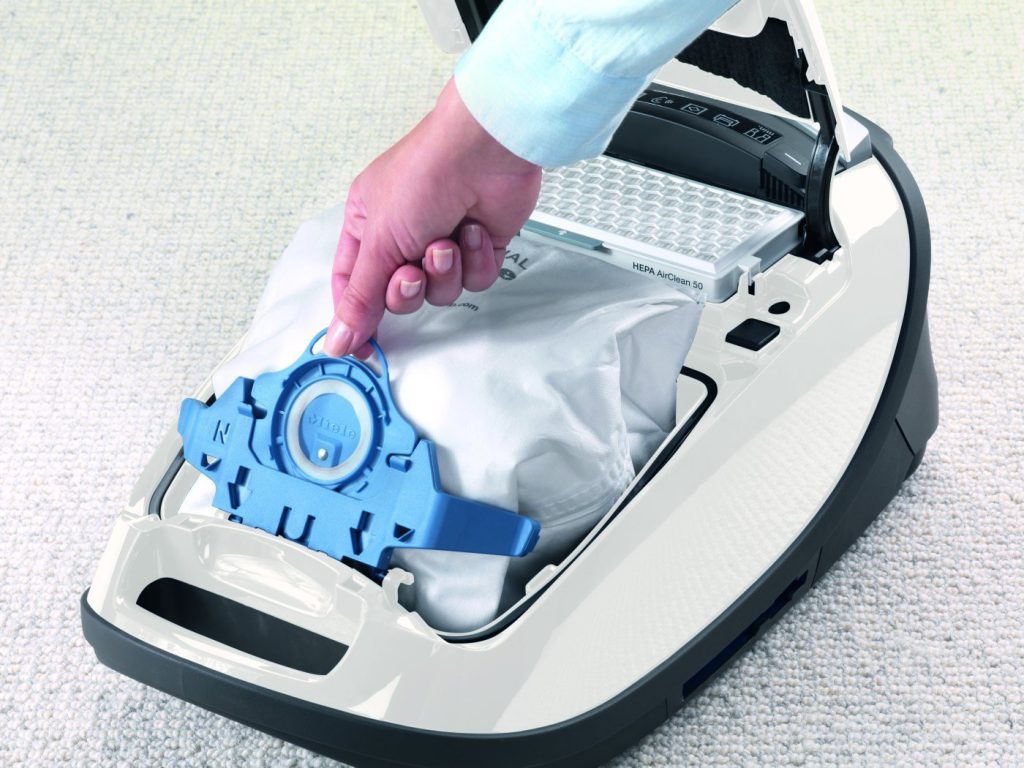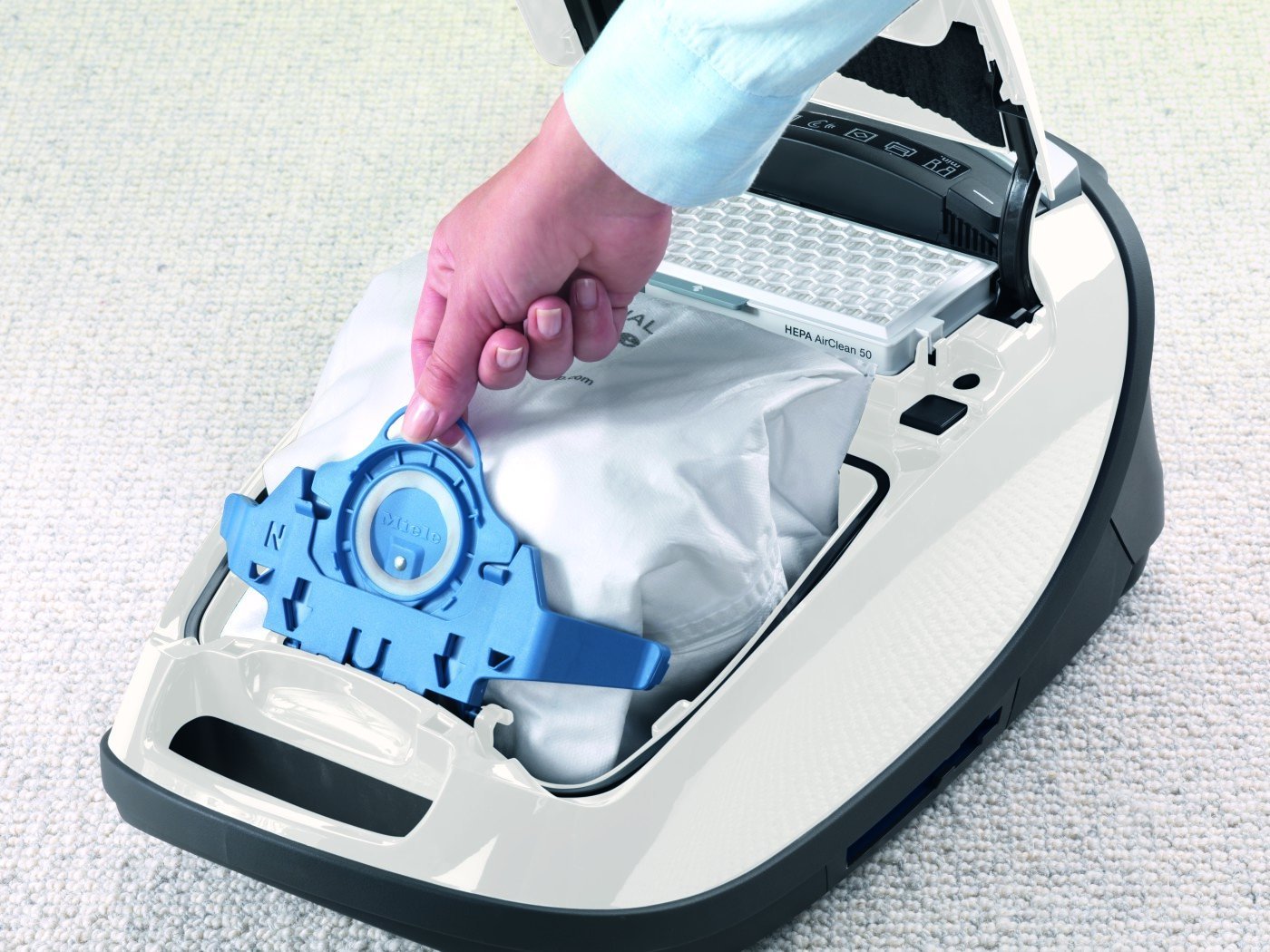 It's best to buy a canister with auto-seal bags to stop dust from getting released back into the air when emptying the machine. These bags are designed to close automatically when you open the unit.
When choosing a canister you should ensure that the supplied bags have adequate capacity to match the size of your home. For larger floor spaces, you should opt for a machine with at least 2.5 quarts of capacity to minimize bag replacement. Bigger homes need a larger capacity to avoid the inconvenience of swapping bags partway through cleaning. Some models are equipped with an indicator to show you when the bag is full.
Our Recommended Bagged Canister Vacuums
Without further ado, let's take a look at our shortlist of the most advanced bagged canister vacuum cleaners currently available today.
Our High-Performance Selection
#1). Miele Electro+ Canister (Compact C2) Vacuum
If you're after the most powerful performance from a bagged canister then you won't go wrong with the Miele Electro+ Canister (Compact C2). It's equipped with a Vortex Motor which delivers 1200-watts of suction power for deep cleaning performance. The suction can be manually adjusted using the handy dial which comes with 6 different settings to accommodate your cleaning needs.
As for the floor tools, the machine comes with the Electro Plus cleaning head, Pure Suction cleaning head, Parquet Twister and Mini Turbobrush to tackle hard floors, rugs and any type of carpet.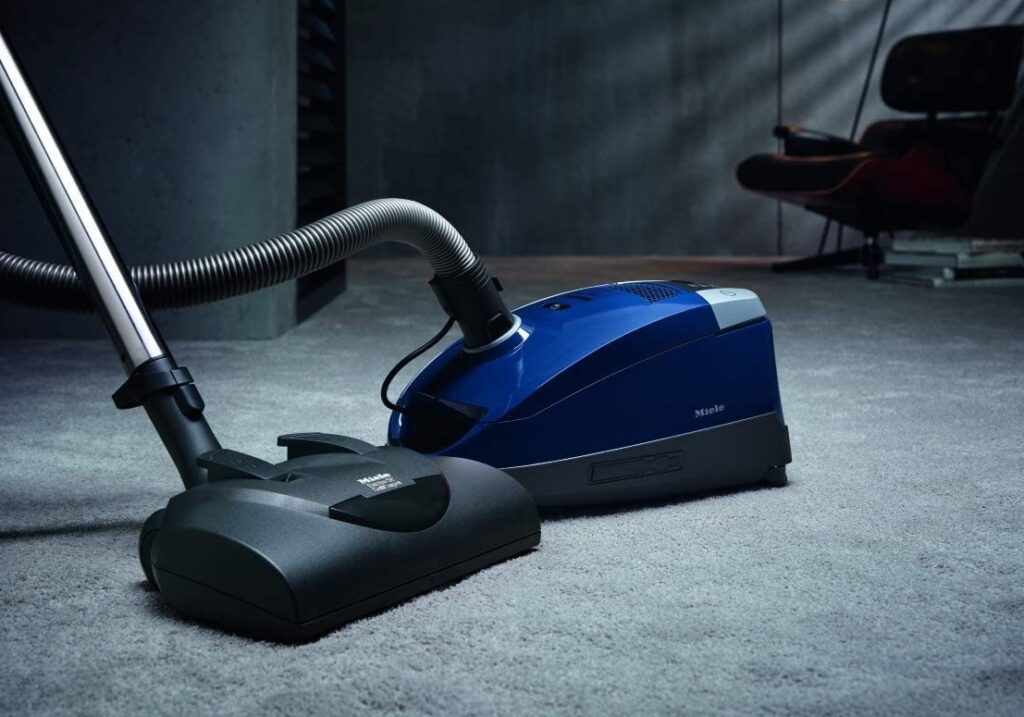 The Miele Electro+ Canister has the best filtration to remove airborne allergens and bacteria thanks to the true HEPA filter and AirClean Sealed System. You'll also get 3 accessories that can be clipped to the hose for easy access and help with cleaning hard-to-reach areas or delicate surfaces.
This model is ideal for homes with pets thanks to the suction settings that are easily adjustable using the foot pedals to help with removing pet hair and deep-rooted dirt. You can seamlessly switch between different floor types and suck up stubborn dirt buried deep within your carpets.
Where Can I Buy The Miele Electro+ Canister (Compact C2)?
#2). Miele Complete C3 Marin Canister
The Miele Complete C3 Marin is a high-power canister that's easy to handle and quieter to operate. It houses a 1200-watt vortex motor for deep-cleaning even the thickest carpets. It comes with a Powerhead floor head and a Parquet Floor Brush for hard floors and carpets. The 90° twisting rotation allows you to clean awkward angles underneath furniture and small crevices. Cleaning corners has never been easier.
The AirClean Sealed System comes as standard and provides one of the best levels of filtration on a canister, which is ideal for people that suffer from allergies or asthma. The filters catch dust, pollen, allergens and anything else circulating in the air and trap it inside the sealed system. If its deep-cleaning performance you're after then you won't be disappointed by the Miele Complete C3 Marin Canister.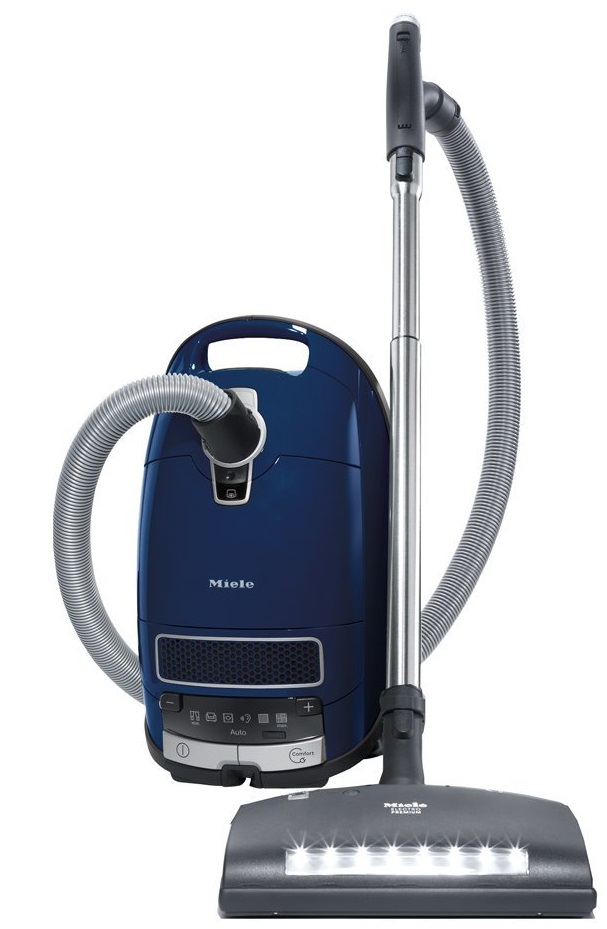 Where Can I Buy The Miele Complete C3 Marin Canister?
#3). Miele Complete C3 Alize
Miele Complete C3 Alize is an exception canister that comes with a 1200-watts of power. You can adjust the power by selecting between 6 different power settings. The machine can be used to clean a radius of 36ft to accommodate large spaces. If you'd rather not fiddle with the controls, there's an automatic setting that selects the optimal suction for your floor. The sealed system ensures that dust and dirt are trapped inside the bag once it's sucked up.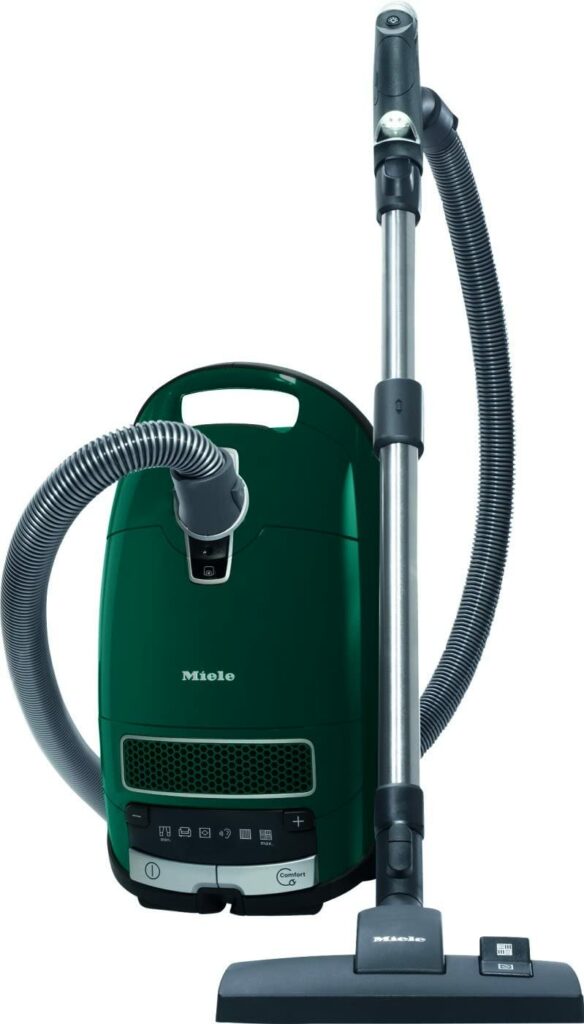 A unique floor cleaning tool called AirTeq optimizes energy efficiency to provide continuous floor contact and maximum suction power. The machine has enough storage onboard for 3 additional attachments to clean any part of your home comprehensively.
The telescopic wand can help reach deep into small gaps. The handle is even equipped with a spotlight to help seek out dirt in dark corners and vacuum it with ease.
Where Can I Buy The Miele Complete C3 Alize
#4). Miele Complete C3 Calima
If you're after a high-performance canister vacuum why not go for the Miele Complete C3 Calima.
You can make light work of even the most intense cleaning jobs thanks to the footswitch controller with 6 different speeds. It comes with a stainless steel telescopic wand to target dirt hiding underneath furniture and areas higher up.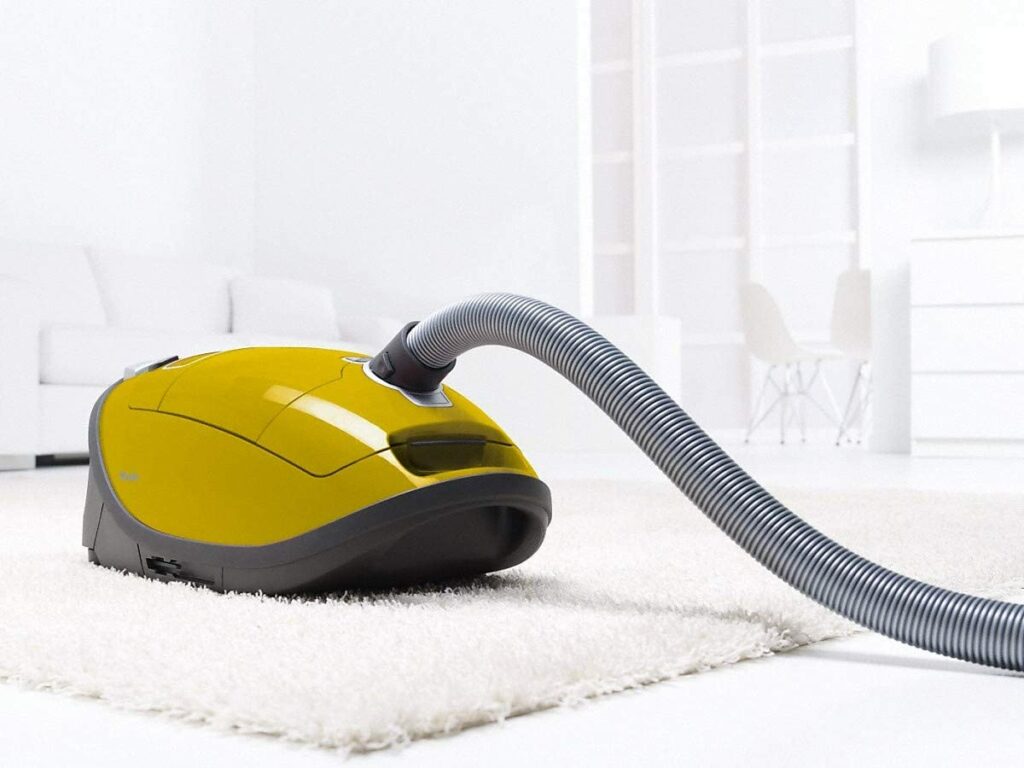 You get a comprehensive cleaning package thanks to the tools provided, which include a Parquet FloorBrush and a Turbo Comfort TurboBrush. The Miele Complete C3 Calima is always ready for the toughest cleaning tasks.
It's good to see that this model is equipped with the AirClean Sealed System to get rid of dust, bacteria and airborne allergens in the surrounding air. It leaves fresh air after every clean. The machine has a compartment to store the 3 accessories supplied to help you deal with dirt on floors, delicate surfaces, upholstery, drapes and many other areas.
Where Can I Buy The Miele Complete C3 Calima?
Our Value Selection
#1). Miele Grey Classic C1 Pure Suction Canister Vacuum
Inside the Miele Classic C1 Pure Suction is an engine with 1200-watts for demanding cleaning sessions. The suction power can be switched between 6 different settings. It comes with a combination floor head which is perfect for hard flooring. There's a generous range of attachments to clean between small gaps, upholstered furniture, rugs and carpets.
The Miele Classic C1 is a joy to handle and is incredibly agile, providing one of the best manoeuvrable canisters available. This unit has no trouble getting to the dirt beneath furniture, and it sucks up everything in its path.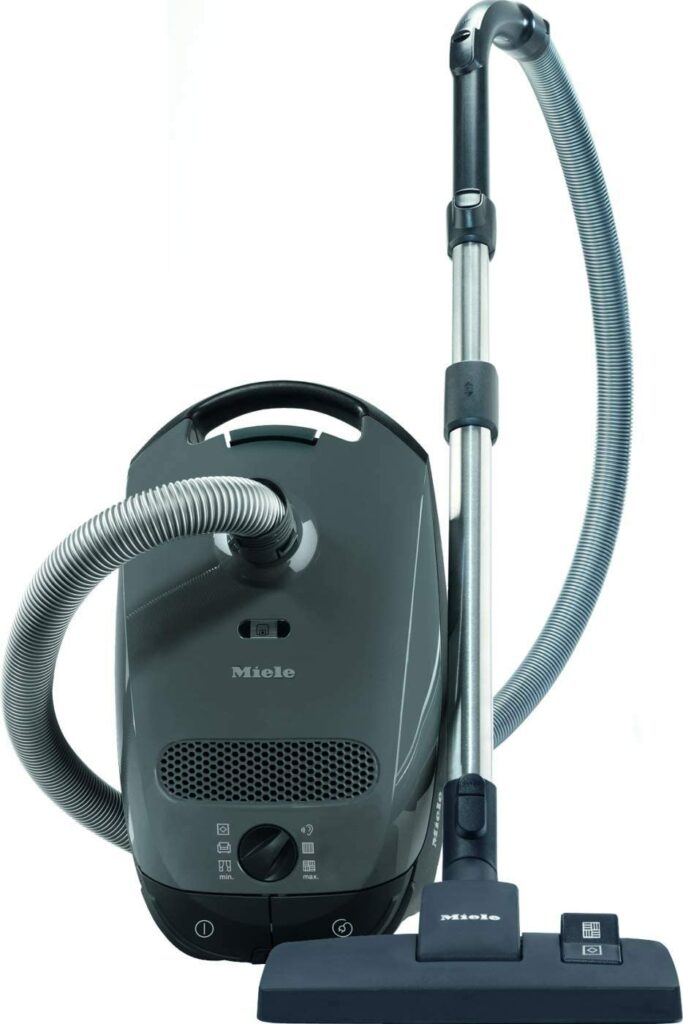 It's equipped with a special AirClean System to optimize air filtration using a combination of the Miele Filter bag, AirClean exhaust filter and the motor protection filter. The filter system gets rid of dust, bacteria and odour to leave your rooms smelling and feeling fresh.
Where Can I Buy The Miele Grey Classic C1?
#2). Kenmore 600 Series Friendly Lightweight Bagged Canister Vacuum
The Kenmore 600 is optimized for homes with pets. This bagged canister is equipped with a swivelling cleaning head to steer and reach into awkward spaces with ease. The unique Pet Powermate motorized tool is designed to stop pet hairs wrapping around the brush during those deep cleans.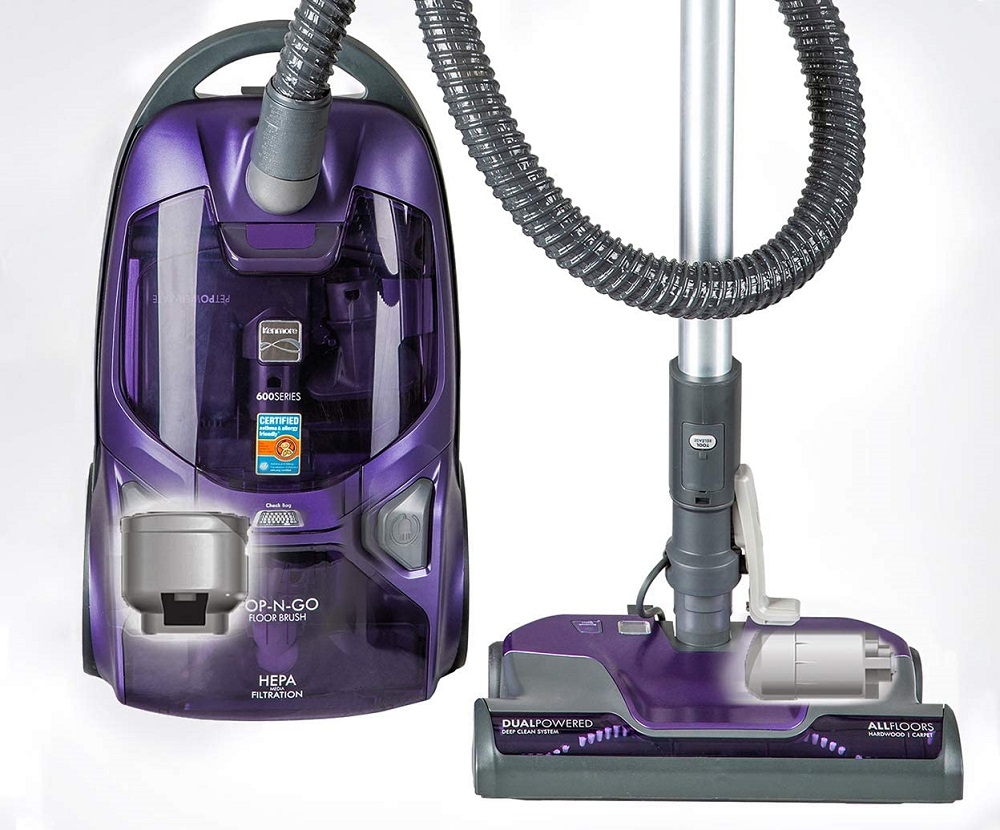 Inside the machine is a 2-motor engine that delivers fade-free suction. This model comes with an aluminium telescopic wand that can extend up to 10″ for added convenience. As an extra bonus, the machine Kenmore 600 houses a 3-stage HEPA filter to catch unwanted pollutants and airborne allergens so that you're left with cleaner air and immaculate floors.
Where Can I Buy The Kenmore 600 Series?
#3). Kenmore 81414 400 Series Bagged Canister Vacuum Cleaner
The Kenmore 81414 400 Series has taken a different approach. The power has been distributed by placing one motor inside the machine and the other motor into the 14-inch floor cleaning head. The unit comes with the PowerMate nozzle and 2 extra accessories as well as a brush designed to clean hard floors.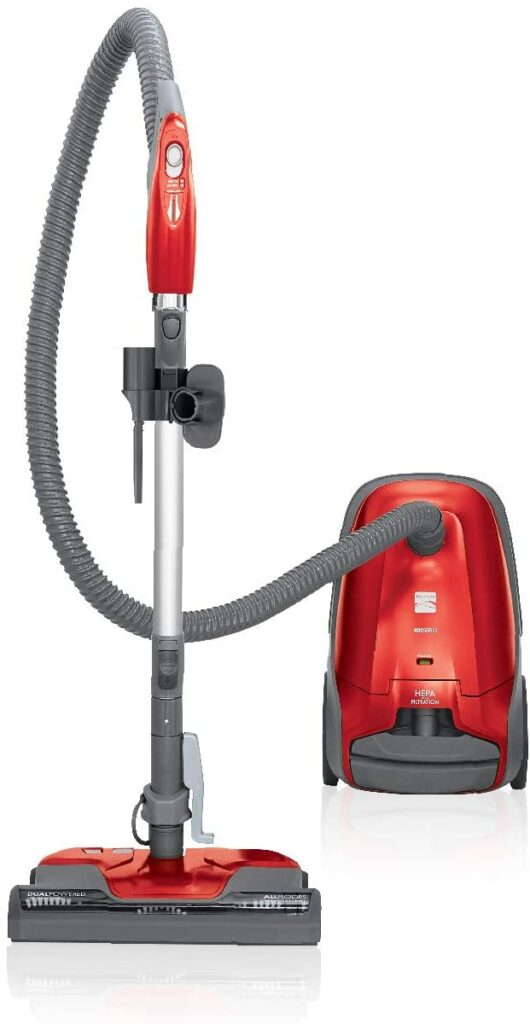 The height and suction power on the PowerMate nozzle can be seamlessly adapted to the floor type using the handle's controls.
The machine is equipped with a lengthy cable that extends to 26ft and can be retracted in a few seconds using the auto-rewind tidy. As an added bonus, the canister is equipped with HEPA filtration to clean the surrounding air.
Where Can I Buy The Kenmore 81414 400 Series?
#4). Miele Compact C1 Turbo Team Canister Vacuum
Miele Compact C1 Turbo is built around a Vortex motor with 1,200-watts of power, which delivers plenty of suction to deep clean medium-pile carpets. The unit has onboard controls to increase or lower the suction for surfaces like low-pile carpet or rugs. You'll also find a Parquet nozzle tool to clean wooden floors, tiles, laminate and so on.
The dust bag is cleverly designed with an auto-locking system to seal dirt and dust inside so that it never gets in contact with you during emptying. It comes with 3 attachments that can be stored on the hose clip for added versatility. The long power cable and extension wand gives you a combined cleaning radius of 29.5 ft.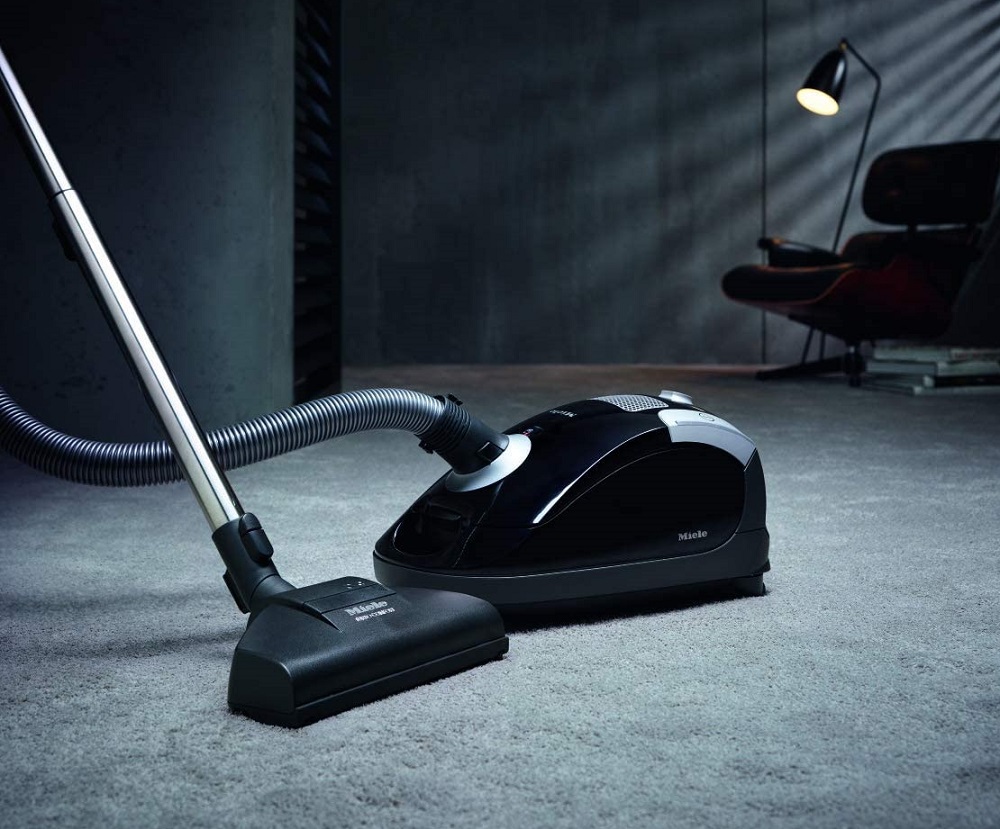 Where Can I Buy The Miele Compact C1 Turbo?
#5). Miele Compact C1 Pure Suction Canister Vacuum
The Miele Compact C1 Pure Suction Canister has 6 variable speeds to select from, depending on the type of surface you need to clean. You get a great range of accessories including an upholstery attachment, a crevice nozzle, dusting brush and an AllTeQ combo-surface floor nozzle which can seamlessly transition from carpet mode to hard floors by tapping the foot pedal.
The bag has enough capacity to hold 3.5 litres of dirt, resulting in fewer trips to the bin. The bag is designed to catch fine particles and seal them inside it once they're sucked up. This model offers a complete cleaning solution around the house thanks to the swivelling wheels, extendable wand and tools supplied.
Checkout the full review for Miele Compact C1 Pure Suction
Where Can I Buy The Miele Compact C1 Pure Suction?
Our Low-Cost Selection
#1). Bissell Zing Bagged Canister Vacuum 4122
Bissell Zing is an all-round 10-amp canister with lots to offer for those on a tight budget. It's equipped with a foot pedal that retracts the spinning brush on the floor nozzle when you need to vacuum bare floors. The spinning brush can be lowered for carpets.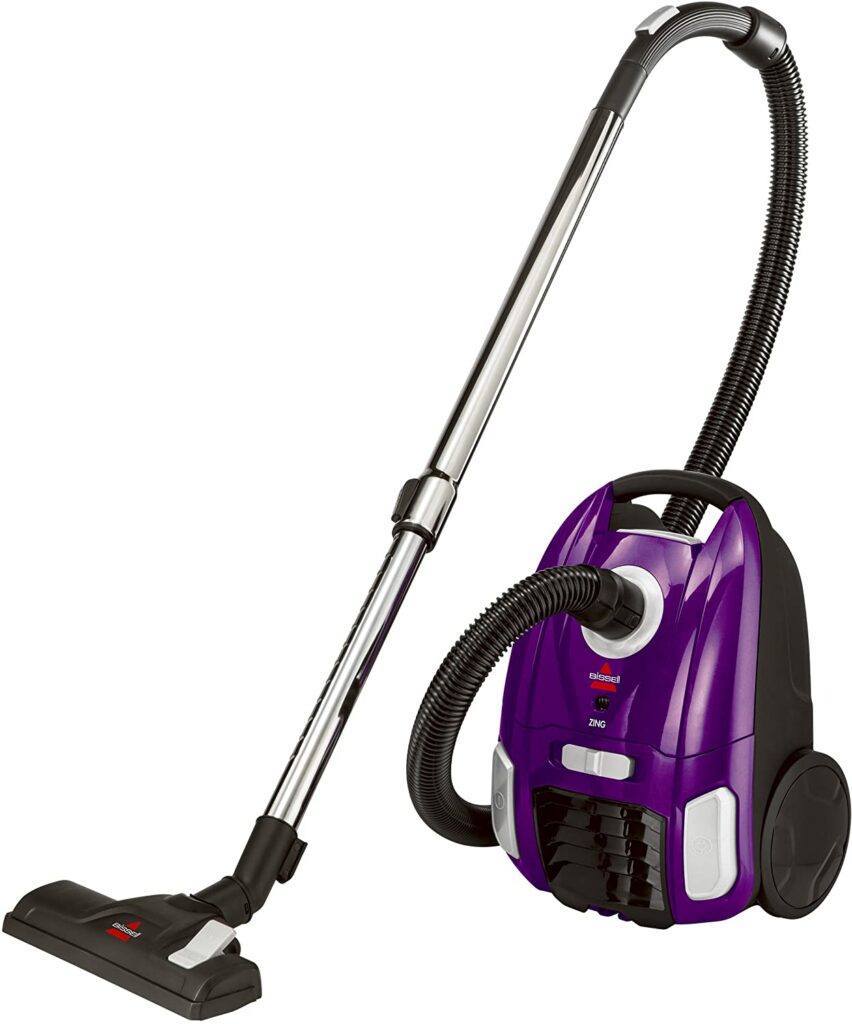 Suction power can easily be adjusted using the onboard controls and there's even an indicator that notifies you when a full bag needs replacing.
There's a cable tidy that automatically retracts the cord to avoid it getting tangled. The unit has storage for both accessories so that they are always within easy reach. The cleaning range can be expanded thanks to the 5 ft hose and extendable wand.
Where Can I Buy The Bissell Zing Bagged Canister Vacuum 4122?
#2). Eureka Mighty Mite Bagged Canister Vacuum Cleaner
If you're looking for a compact canister with a lot of power then the Eureka Mighty Mite could be your answer. Don't be fooled by its tiny size as this machine can thoroughly vacuum the whole house with ease. It weighs less than 9lbs and comes with a lengthy power cord that reaches up to 20 ft.
The Mighty Mite allows you to target small spaces and gets rid of accumulated dust and dirt that a full-size vacuum would struggle to reach.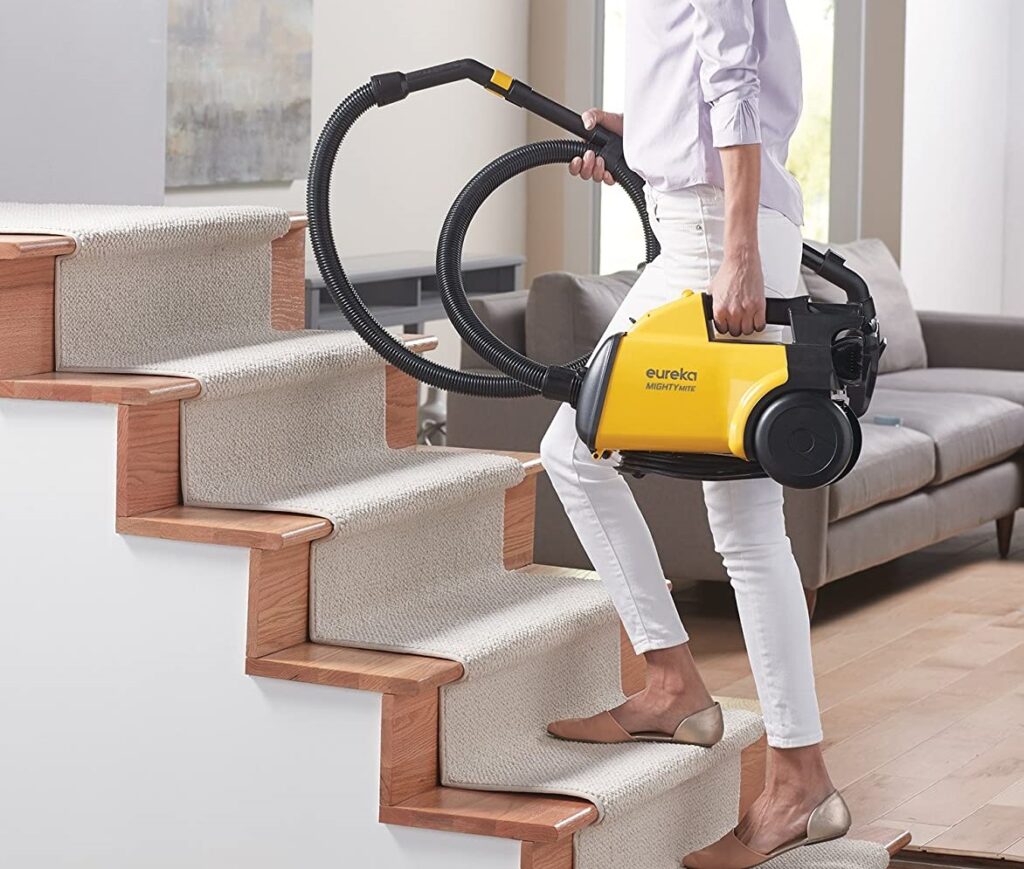 The Eureka Mighty Mite even has onboard cleaning accessories to simplify tasks. It comes with an upholstery and dusting attachment and a crevice tool within easy reach whenever they're needed. The Easy Empty Dust Bag traps pet hair, dust, dirt and odours and is easily disposable.
Where Can I Buy The Eureka Mighty Mite Bagged Canister?
#3). Ovente Electric Canister Vacuum ST1600B
The Ovente Electric Canister is an energy-efficient model that delivers plenty of power. The motor comes with 1400-watts of adjustable speed so that you can choose the right amount of suction for different floor types. The modern 3-stage filter eliminates up to 99.97% of particles floating in the air.
The machine is equipped with a 15m hose that provides powerful airflow and has been fortified to be crush-proof. The hose can swivel a full 360° to provide a better level of handling. The 5-meter cable can be automatically retracted to stop it from getting tangled. The unit can be mounted upright for easier storage when the job is done.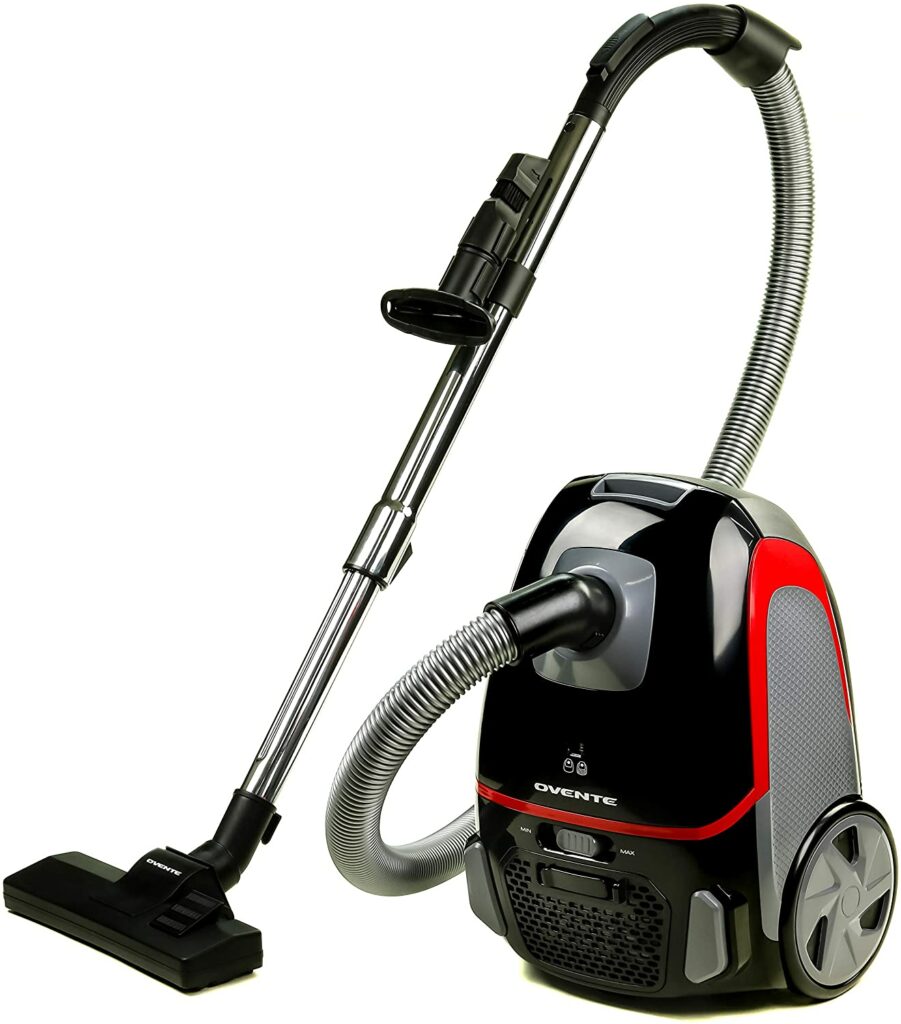 Where Can I Buy The Ovente Electric Canister Vacuum ST1600B?
#4). Severin Germany Vacuum Cleaner
The Severin Germany canister comes highly recommended thanks to its unique features. This affordable machine comes with an intuitive filter system that's lined with fleece for improved hygiene. The dust bags are made from microfibers to ensure that dirt, dust and allergens are trapped inside once they're caught.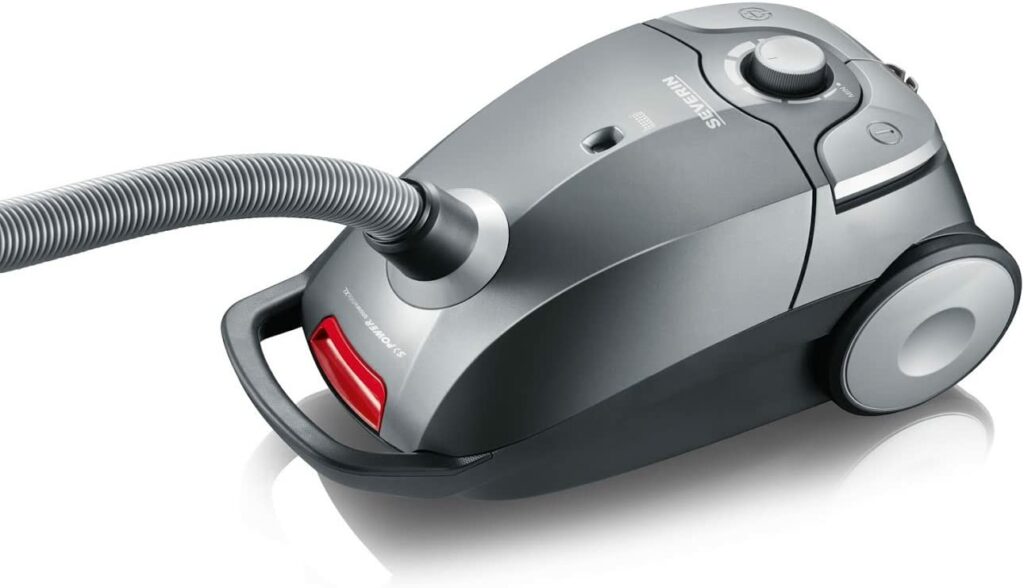 The Severin Germany Vacuum Cleaner is ideal for cleaning homes with a combination of hard floors and carpets. It tackles everything thanks to the easy handling and high-performance cleaning. It comes with a set of 3 attachments to reach smalls crevices, and interchangeable floor cleaning heads for multiple floor types. The handle is robust and extra soft to increase comfort and reduce strain during intense cleaning sessions.
Where Can I Buy The Severin Germany Vacuum Cleaner?
#5). Bissell Zing Lightweight, Bagged Canister Vacuum 2154A
The final model on our list is the Bissell Zing 2154A Canister Vacuum, which is armed with adjustable suction power to switch between carpets, hard floors and area rugs in a breeze. There's a convenient switch within easy reach to help transition between floor types so that you are always giving the best clean.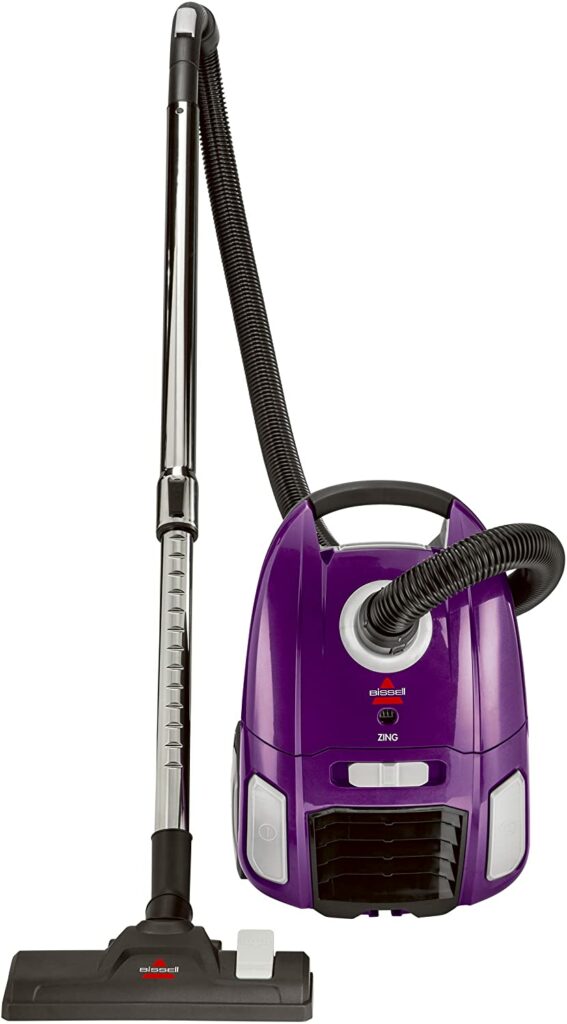 It comes with a retractable cord for tidier storage and the compact body makes the Bissell Zing an ideal vacuum cleaner for homes with limited space. It houses a set of pre and post-motor filters to trap more dust and dirt as air passes through the filtration system.
The dust bags are easy to swap out and empty, which means that you'll never dread removing the bags for fear of dust escaping back into the air.
Where Can I Buy The Bissell Zing Canister Vacuum 2154A?
Bagged Canister Vacuum Cleaner Buying Guide
Choosing the best canister vacuum can be daunting, especially when it needs to be tailored to your individual cleaning needs. You need a model that can effectively tackle the mess on the different floor types in your home. Below is a summary of the key features to look out for when making your selection.
Floor Nozzle
The floor nozzle needs to be suited for the flooring in your home to optimize cleaning. If most of your rooms have hard floors such as laminate, wooden floors or tiles then you should use a straight-suction nozzle that doesn't have a rotating brush.
If you're mainly cleaning carpets then you will need a rotating brush. But if your home has a mixture of carpets and bare floors then you should either get a rotating brush which can be turned on and off or opt for a model that comes with a dedicated nozzle for each floor type.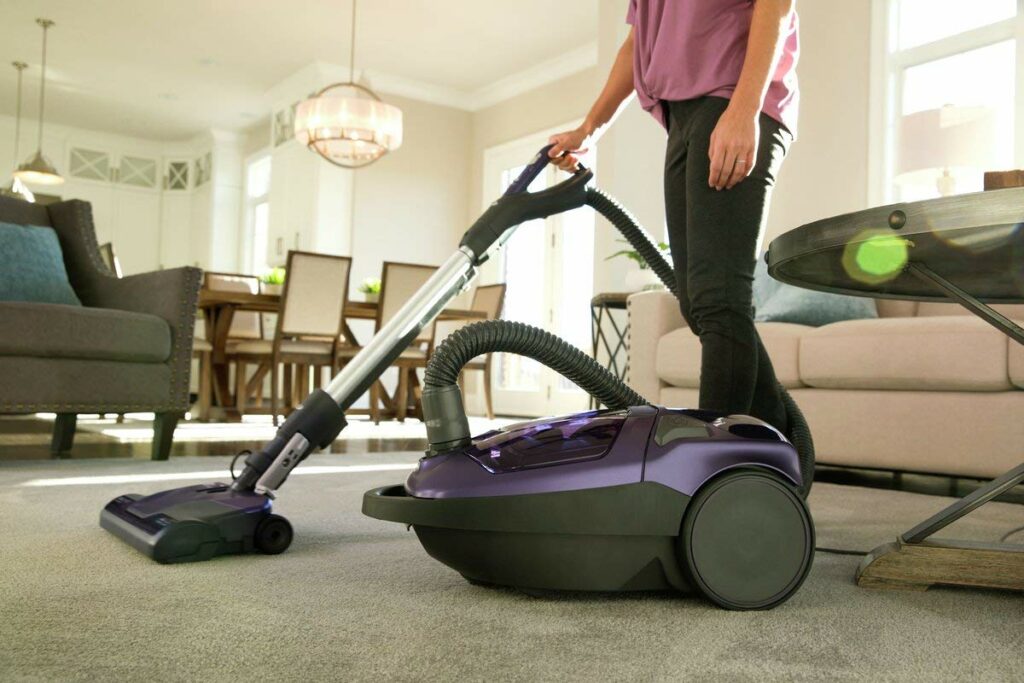 Suction Power
A vacuum cleaner with a higher amount of suction is always a good thing. I'd even go as far as saying that there's no such thing as too much suction. Canister vacuums that house a motor with a minimum of 1000 watts or 10 amps are best.
Some canisters are equipped with a twin motor which increases the suction power and the machine's efficiency. Always go for a unit with variable suction so that you can increase it for intense tasks or decrease it for delicate surfaces.
Usability
There's no point buying a canister vacuum with lots of features if they can't be accessed easily. You'll most likely be using your vacuum cleaner frequently, therefore, the controls should be easy to reach. Your canister should also be easy to manoeuvre. It should have smooth motions and quick turns.
Try going for a model with a retractable cable to reduce the chances of it getting tangled. If you can get one with controls on the handle, you should.
Cleaning Range
The length of the power cable is particularly important when cleaning larger homes but the cleaning range can also be expanded if your machine comes with an extendable wand. They are also known as telescopic wands, which simply means that their length can be varied. Generally, a wand can be extended to 5- 6ft.
How Easy Is It To Handle?
Canister vacuums are normally easier to manoeuvre, thus alleviating any strain to your back and fatigue when using the machine for prolonged periods of time.
The wheels should be robust to navigate thicker carpets. If the wheels are not big enough, they could easily stumble into objects or get jammed on loose cables. This could end up placing strain on your back and shorten the life of the hose.
The canister's weight also impacts the handling and daily usability of the machine. Most canisters will range between 6-16 pounds in weight. Heavier models will be more of a burden to move around and carry between rooms or upstairs.
If you anticipate that you'll need to carry your canister often then get one with an integrated handle.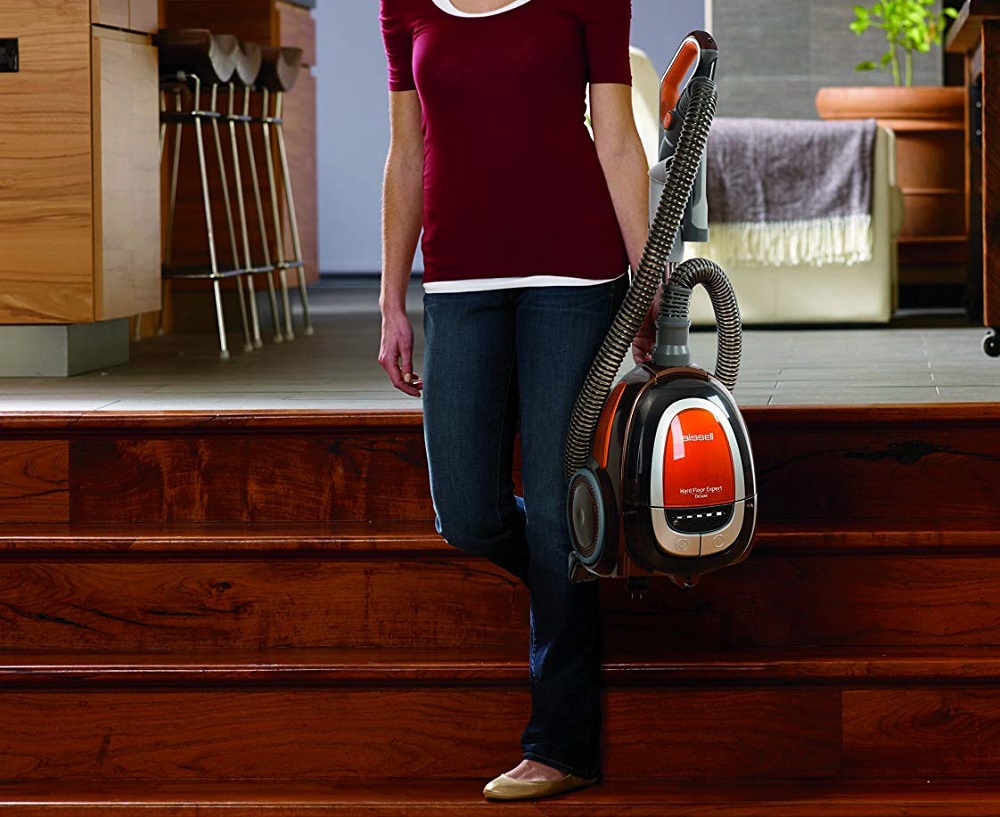 The power cable should be at least 20 ft so that it gives you enough reach to vacuum large rooms without needing to switch plug sockets. Certain brands will provide you with the measurements of the cleaning radius, which takes into account the length of the wand.
If you've got a large home then the cleaning range will be a key consideration. In the worst-case scenario, you could always use an extension cable but over time, this will become inconvenient.
Ideally, you'll want to get a canister with a rubber casing to help protect the machine when it bumps into tables, chairs, walls, and so on. This offers 2-way protection between the furniture and canister.
In addition to extending your reach, the telescopic wand can also be adjusted to suit your height and reduce strain to your back.
If storage space in your home is limited, then you can find lots of compact canisters that take up less space. Some models can be mounted upright to reduce their footprint.
Attachments are a must-have. At the very least, your chosen model should come with a crevice nozzle for tight gaps and a dusting tool for above-ground cleaning. The models that we've shortlisted come with a generous set of attachments to increase the canister's versatility.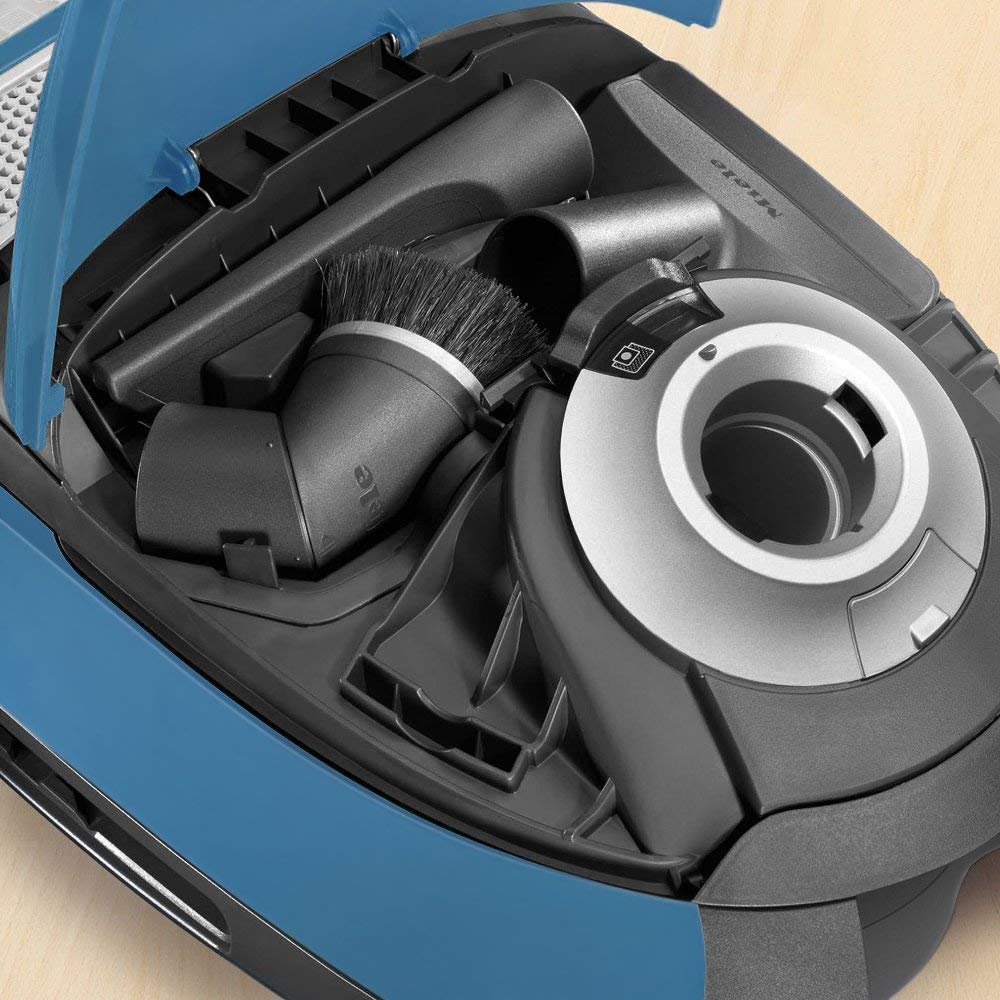 Filtration
Virtually all canister vacuums are designed to filter the air as it travels through the machine but the quality of filtration differs between machines. Some models are equipped with filters that efficiently trap dust, allergens and pollen.
Allergy or asthma sufferers are strongly advised to opt for vacuum cleaners with HEPA (High-Efficiency Particulate Air) filtration. This type of filter catches tiny dust particles and makes sure that they don't escape back into the atmosphere.
Keep note that HEPA filtration becomes redundant if the machine's case suffers any leakages, therefore, be careful not to buy inferior HEPA canisters.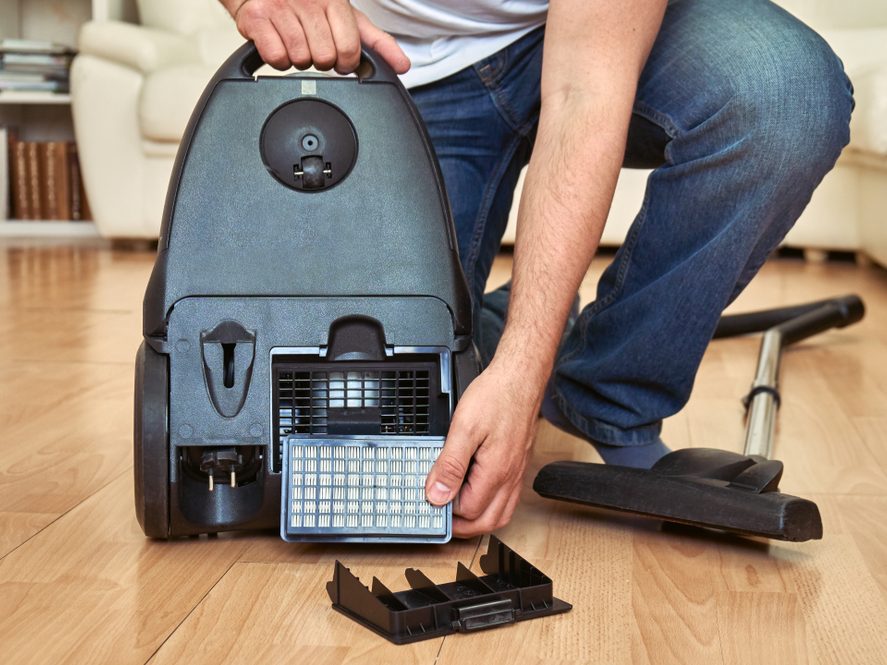 Noise Levels
A canister vacuum that produces less noise is always more desirable and comfortable to use.
Noise levels are measured in decibels (dB). Noisier vacuum cleaners have a higher dB. The decibels range between 60-65 dB for quieter machines and 65-80 dB for louder units. Steer clear of vacuum cleaners which produce noise over 85 dB.
Manufacturers tend to minimise the noise of their machines by minimising the power of the motor thus, making it less efficient or insulating the noise using unique materials, which tend to increase the price tag. Therefore, quieter canisters generally cost more but can be useful for homes with kids or pets.
Reliability and Warranty
The vacuum cleaners industry is a fast-moving market with new machines being launched regularly. As such, it's difficult to gauge the longevity of a specific model.
A good way of determining the durability is by looking at the manufacturer's warranty. Longer warranties demonstrate that the manufacturer is confident about the reliability of their product. Warranties can be anything from 1 year to 5 years (for the best brands). Miele is our preferred brand as it offers a whopping 7-year warranty for its casings and motors.
That sums up our best bagged canister vacuum cleaners for 2021. Are you considering buying a bagged canister or do you already have one? Please leave your comments below. We'd love to hear from you.
Related Articles: