Affiliate Disclosure:
I am grateful to be of service and to bring you content free of charge. In order to do this, please note that when you click links and purchase items, in most cases I receive referral commissions. Eventually, I may earn enough to buy a beer or two 🙂
It would be safe to assume that Dyson sits at the top of the pile as a recognizable brand name in the vacuum market, like other big brands. The best Dyson vacuum cleaners for 2021 have gained a worldwide reputation for being the most reliable and most advanced home cleaning equipment available for decades.
Dyson vacuum cleaners are elegant, unique, and trendy, as pleasant to look at as they are to utilize, aesthetically. And few brands are as consistently satisfying as Dyson, speaking of their efficiency. It's no wonder that Dysons happens to be some of the best-reviewed vacuums, ranging from upright models to canister types.
Thanks to its strong suction, revolutionary filter, and quality design, the Dyson brand is recognized for producing top-of-the-line vacuums.
We've gathered the top Dyson cleaners for this year with a range of characteristics that include many different models and sizes. With powerful motors, all Dyson vacuums are constructed and feature a proprietary cyclone technology for a specific filtration device.
The primary variations in models are whether or not the vacuum is cordless, and various features include connectors, suction capacity, size of the bin, and more.
So how do you know what's the right Dyson vacuum is for you? That will differ on your needs, expectations, and how much you want to invest in your cleaning. To help you decide, we have sourced Dyson vacuums that delivered the best performance on multiple floors.
We'll let you know the best features, requirements, and most importantly, the best online prices for each vacuum.
#1 Dyson Cyclone V10 Absolute Cordless Stick Lightweight Vacuum Cleaner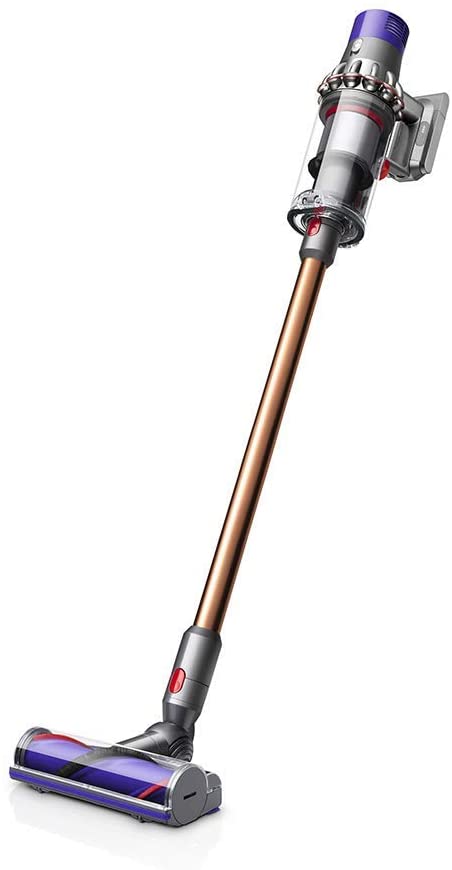 It's really kind of fun to unbox and set up the Dyson Cyclone V10 Absolute like a new smartphone or gaming console. Yeah, you read that correctly. Dyson makes appealing vacuums, that everyone couldn't wait to put together, test its features, and explore the versatility when their package arrived. It probably doesn't sound like your grandma's own kind of cleaner, but it sure cleans like one.
The correct balance of strength, run time, flexibility, and cleaning efficiency is provided by the Dyson V10 Absolute. Since Dyson will no longer create vacuums for plugins, the future will be their cordless line. The V10 is still the best all-around option that cleans floors well.
The V10 has a long wand and seven accessories are included: a cleaner head for torque drive, soft cleaner head for roller, small motorized tool, small soft dusting brush, combination and crevice tool, and a docking station.
It was super easy to assemble the Dyson V10 because all of the attachments and parts quickly click in and out of place.
Pros:
Raw Cleaning Performance: The Dyson V10 successfully performed flawlessly, removing 99-100% of particles across three different floor styles.
Highly Versatile: It can be used as a handheld or stick vacuum. It also comes with a range of different accessories to handle various cleaning situations (high up, under the furniture, mattresses, cleaning upholstery, etc)
Convenient: It's cordless, portable, and is powered by a large lithium-ion battery that can work for up to 60 minutes (on low power). If you need fast or ultra-deep cleaning, it's the perfect vacuum for you.
3 Variable Suction Levels: Great when you need it, to have the extra suction capacity, but also good to be able to use less power and prolong the battery life when you don't need all the extra power.
Cons:
Certainly, for the V10, the price must be its biggest con. No doubt it's an awesome vacuum, but it's still a lot of money. That said it's still cheaper than the V11 and the best value of any Dyson vacuum, potentially.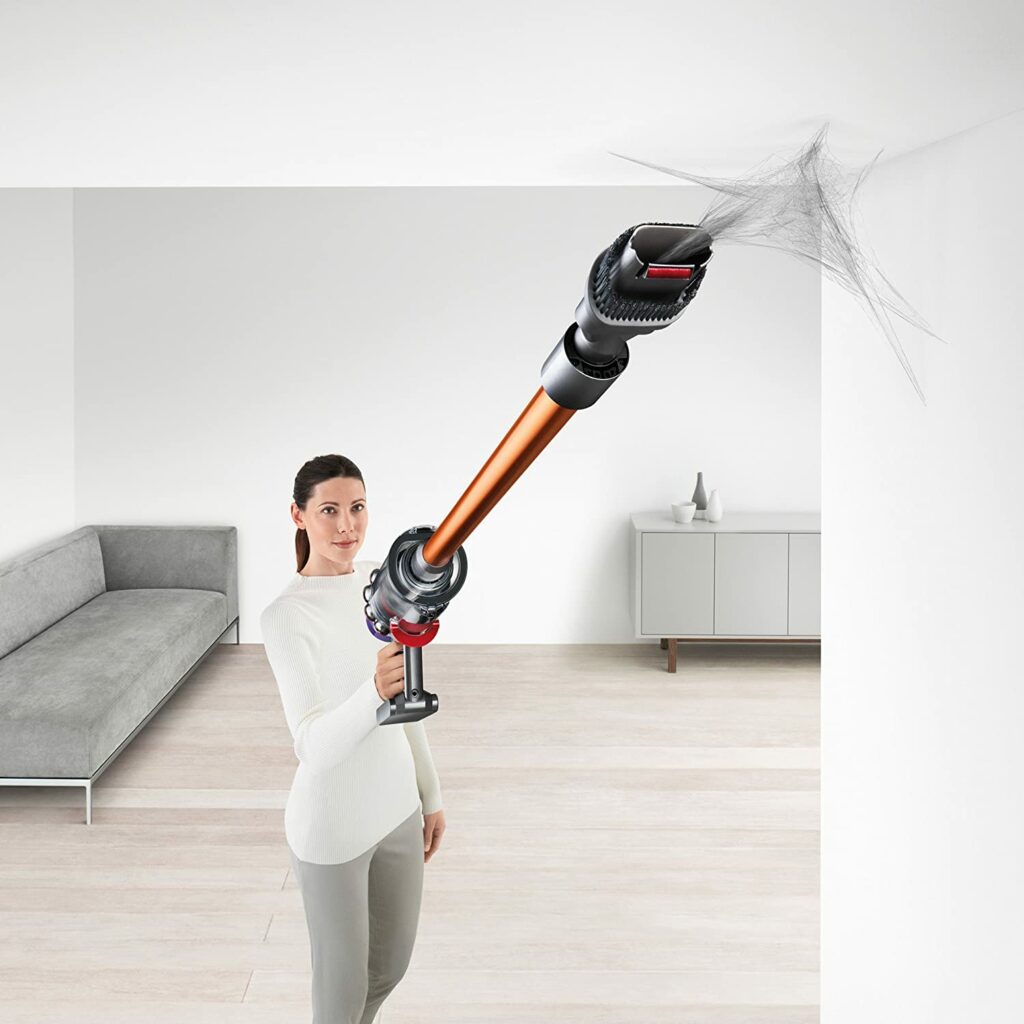 Specifications:
Weight: 5.88lb
Charging time: 3.5hrs
Running time: 60 mins
Bin Volume: 0.76L
Handheld mode: Yes
Suction power: Up to 150AW
The V10 Absolute is the best and highest edition of the V10. It comes with the biggest dust bin and most of the accessories. In addition to Dyson's soft roller cleaning head (aka Fluffy head), which is suitable for hard surfaces, the multi-surface cleaning head (Torque Drive) is most noticeably included.
If you simply want the best, you have plenty of hard surfaces and carpets in your house, and/or you have pets, you can get the V10 Absolute.
Check out our individual review for Dyson Cyclone V10 Absolute Cordless Stick Lightweight Vacuum Cleaner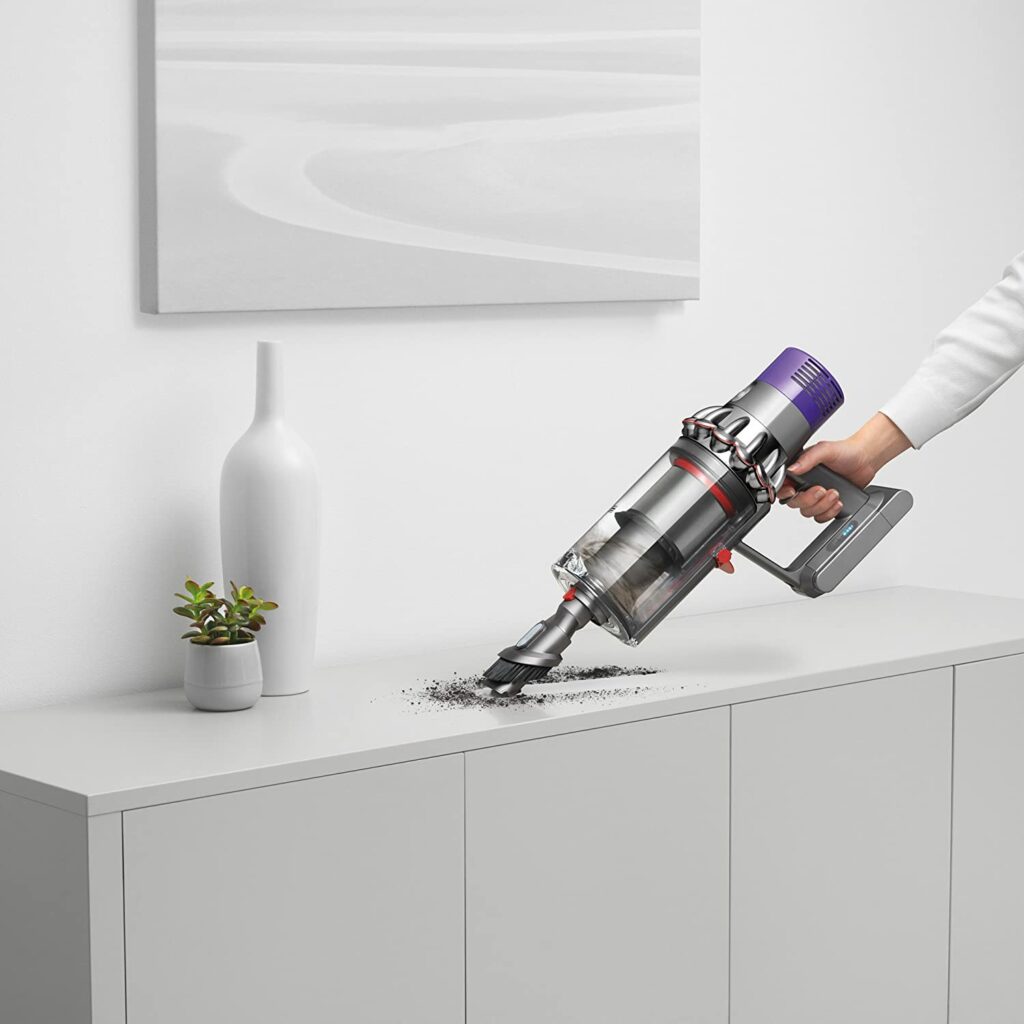 Where to buy Dyson Cyclone V10 Absolute Cordless Stick Lightweight Vacuum Cleaner
#2 Dyson V11 Torque Drive Cordless/Handheld Vacuum Cleaner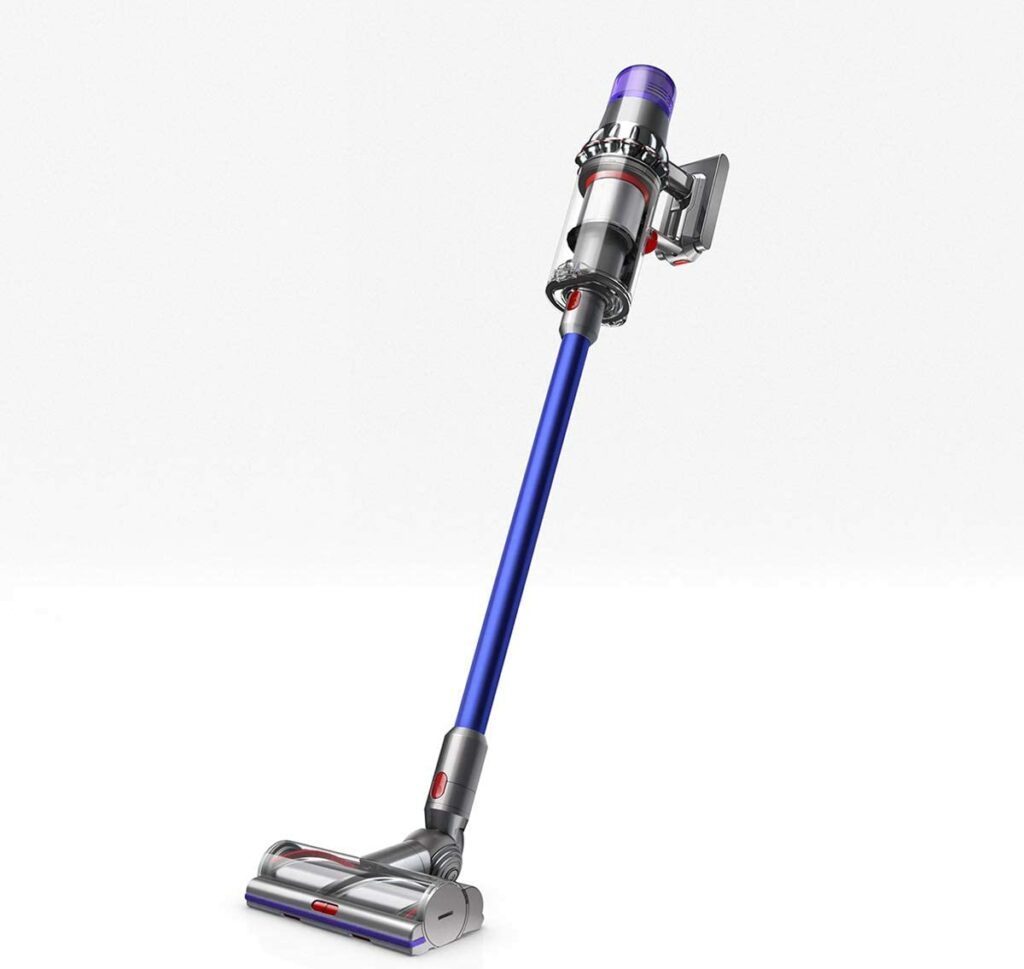 In March 2019, the Dyson V11 Torque Drive entered the V-series family of Dyson. It is the second most powerful vacuum ever developed by Dyson, which offers up to 185 AW of suction power and runs for an hour.
The V11 Torque Drive is Dyson's latest and most powerful cordless vacuum cleaner to date, with 40 percent more power than the Dyson V8 and 30 percent more than the V10. In the medium power setting, this uptick in power will lead to better deep cleaning performance. Is this the best vacuum Dyson has?
The response to that will depend on what you're willing to spend on it but the numbers say so. The biggest advantage that the V11 has over the V10 is its ability to clean embedded dirt for extended periods. This model is an exceptional alternative for homes with lots of carpets.
The Dyson V11 Torque Drive is built for deep cleaning everywhere. It optimizes suction and runs time intelligently for up to 60 minutes of fade-free control. With twice the suction of every other cordless vacuum1 and an LCD screen displaying runtime and output countdown.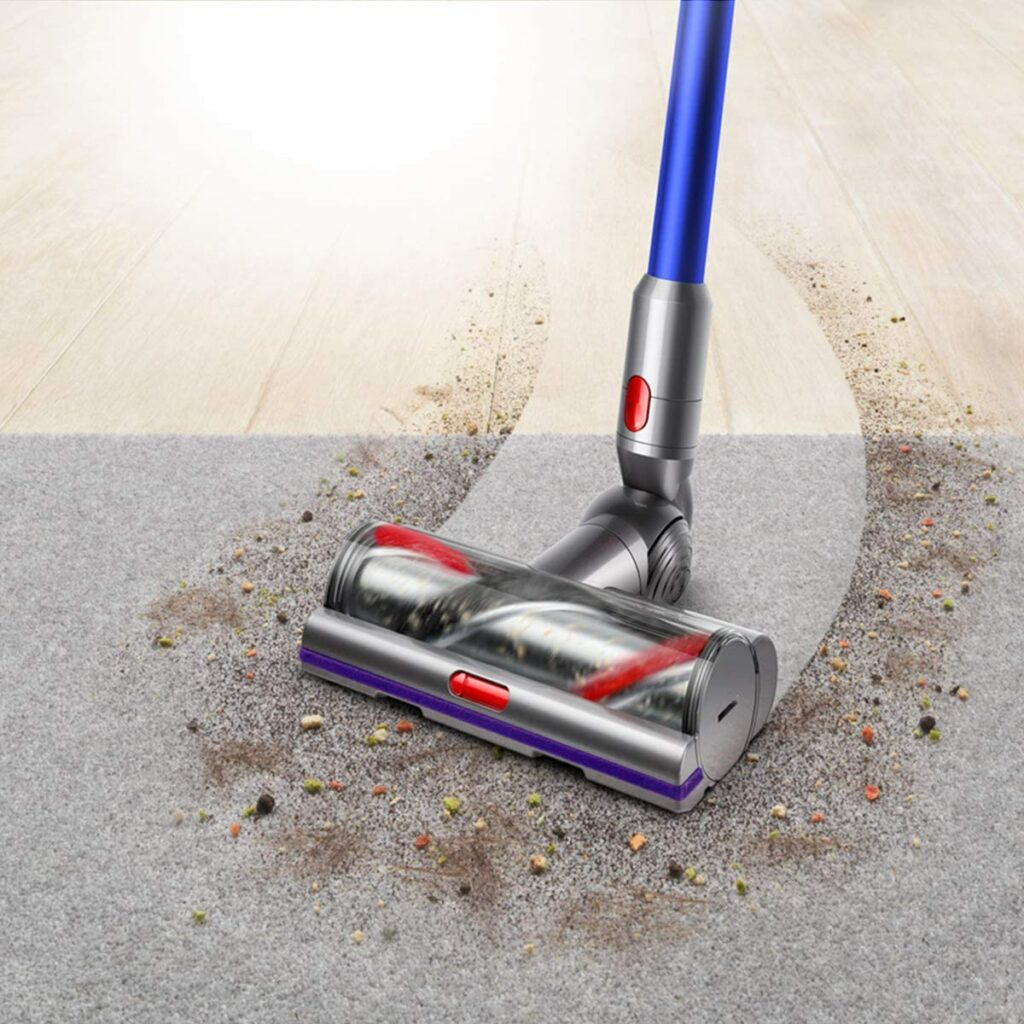 Pros:
Running Time: It is capable of running for up to 60 minutes, more than enough for most homes.
Smart Suction: Depending on the floor and debris type, the V11 adjusts suction automatically. You'll always have the right amount of suction with this feature.
Great Features: There is an LCD screen on the back of the vacuum that shows the remaining cleaning time, cleaning mode, and includes short videos of maintenance.
Pure Power: In Boost mode, up to 185 AW of suction power can be provided by the Dyson V11. This is the second biggest suction on the market in any cordless stick vacuum we know.
Cons:
Being the most powerful vacuum cleaner among the rest, The only con of Dyson V11 is being one of the expensive vacuums on the market. It's pricey, but you'll know it's very worth it.
Check out our individual review here: Dyson V11 Torque Drive Review: Most Powerful Deep Cleaning Vacuum
Specifications
The Dyson V11 Absolute is an elegant vacuum, with the nickel (dark gray) of the accessories and main body nicely complemented by the electric blue wand, while the LCD screen is bright and easy to read.
It's also important to note that the style is totally symmetrical, so if you're left-handed or right-handed, the V11 Absolute is just as simple to use. A convenient wand storage clip is also available, which makes it easy to bring a few extra tools around with you.
Weight: 10lb
Charge time: 4.5hrs
Run time: : 60 mins
Bin Volume: 0.75L
Can be handheld: Yes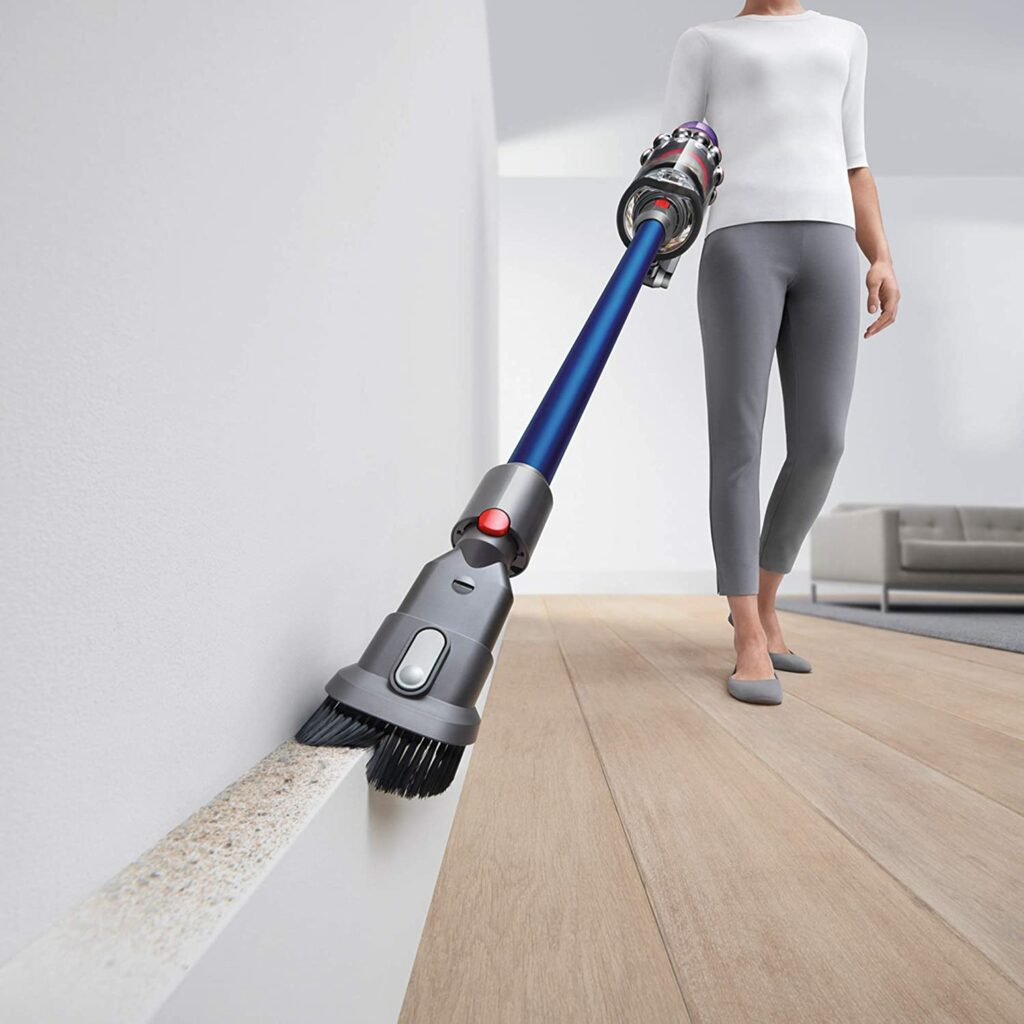 Product Rating: 7.8
Where to buy Dyson V11 Torque Drive Cordless/Handheld Vacuum Cleaner
#3 Dyson V11 Outsize Vacuum Cleaner
As the world's top vacuum manufacturer, Dyson is widely recognized, specifically when it comes to cordless vacuums. Of course, we all know that but maybe you haven't even heard of the best cordless stick vacuum that Dyson produces.
It's a new model called the Dyson V11 Outsize Cordless Vacuum Cleaner, and it has the best cordless vacuum engine ever, as well as two major improvements you're not going to find on any other Dyson.
The most powerful and feature-packed model the company has ever produced is the Dyson V11 Outsize Cordless Vacuum Cleaner. It is also the largest in three main ways. First, the bin of the V11 Outsize is 150% wider than other versions of the V11 vacuum.
Secondly, the cleaner head is 25% bigger. And third, it got a battery with a running time of 120-minutes, which is likely enough battery life to clean the whole house twice or three times, if you want to.
Summary of Specifications:
It comes with a full-size bin and a cleaner head of full-size
The LCD display shows runtime and performance. The LCD monitor shows the runtime countdown to the second and displays maintenance warnings, giving you full cleaning power.
Twice the suction of every vacuum for cordless 1. 85 percent more vacuum suction than the Dyson V7.
It has a running time of up to 120 minutes. Dyson's only dual-battery vacuum for prolonged cleaning.
It is 25% larger than the cleaner head of the High Torque to cover more of your house, quicker. It automatically changes suction and power without adjusting cleaner heads to deep clean various floor styles.
Advanced filtration of whole-machines. 99.99% of particles, dust, and allergens as tiny as 0.3 microns are trapped by advanced whole-machine filtration. Engineered for bigger households with pets.
Engineered for intense, full-home cleaning, suction strength, run time, and equipment for deep cleaning your entire home
Full-Bin Size. Full-size head for cleaner. With each step, it covers more floor. 150% larger bin for longer cleansing between emptying than the Dyson V11 Torque Push.
It optimizes suction and runs time intelligently through all floor types.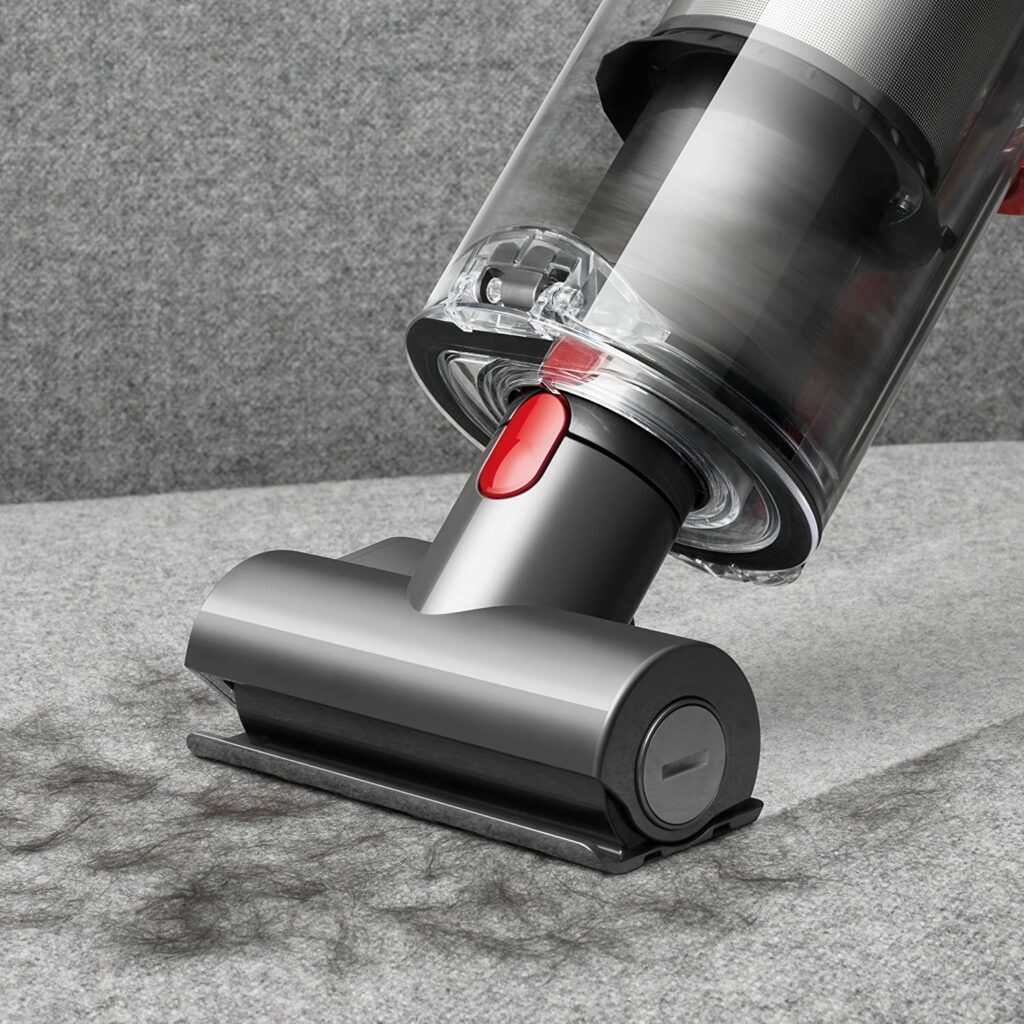 Pros:
Strong suction
Adapts to Types of Floor
Cordless
Two long-lasting sets of battery
Very Lightweight
Full-size Head and Bin Cleaner
LCD Screen with Useful Info
Whole-machine Filter
Multiple Tools are Included
Cons:
Product Rating: 8.5
Where to buy Dyson V11 Outsize Cordless Vacuum Cleaner
#4 Dyson Ball Animal 2 Upright Vacuum Cleaner
Buying a plug-in vacuum is like investing for retirement or organizing your laundry—a dull but sensible effort that should help in the long run. Cordless sticks and robot vacs are handy, but if you are looking for a better upright vacuum cleaner that will last longer, then Dyson Ball 2 can be your destiny.
The best and famous series of vacuum cleaners ever produced is the Dyson Ball lineup. Dyson and "ball" are almost synonymous with each other for many customers. A well-rounded vacuum that is just what you'd want in an upright series is the Dyson Ball Animal 2 upright.
It has by far the most suction of any vacuum cleaner on the market (according to Dyson). It features an impressive 306 AW of suction power-driven by the stacked cyclone concept of Dyson. It is fitted with a handful of useful accessories and instruments that help extend the areas you can clean easily. It's certainly an expensive machine, but it's still unique in suction capacity.
Summary of Features:
Raw power to suction. According to Dyson, the Dyson Ball Animal 2 has the "strongest suction of any vacuum." They make this assertion based on the ASTM F558 test, an industry-standard test for measuring air output in vacuums.
Versatility and adaptability are strong characteristics, as with any high-end upright vacuum. A number of accessories and instruments are included in the Dyson Ball Animal 2 upright to help make cleaning easier.
Pet hair control. All combined, suction force, instant-release wand, self-adjusting cleaning head, and powered mini brush roll give the Dyson Ball Animal 2 everything you need in your home to deal with pet hair (and basically everyone else).
Washable filters can last the lifetime of the vacuum and help lower the cost of maintenance.
Pros:
Great Pet Hair Removal
Performs well on any bare floors
Gives an outstanding performance on carpets
The full suction of any 306 AW AW vacuum cleaner on the market
A 50-foot maximum cleaning radius, using a 35-foot cord
Washable filter for a lifetime
Cons:
Mediocre quality
It doesn't have a power adjustment setting on high pile carpets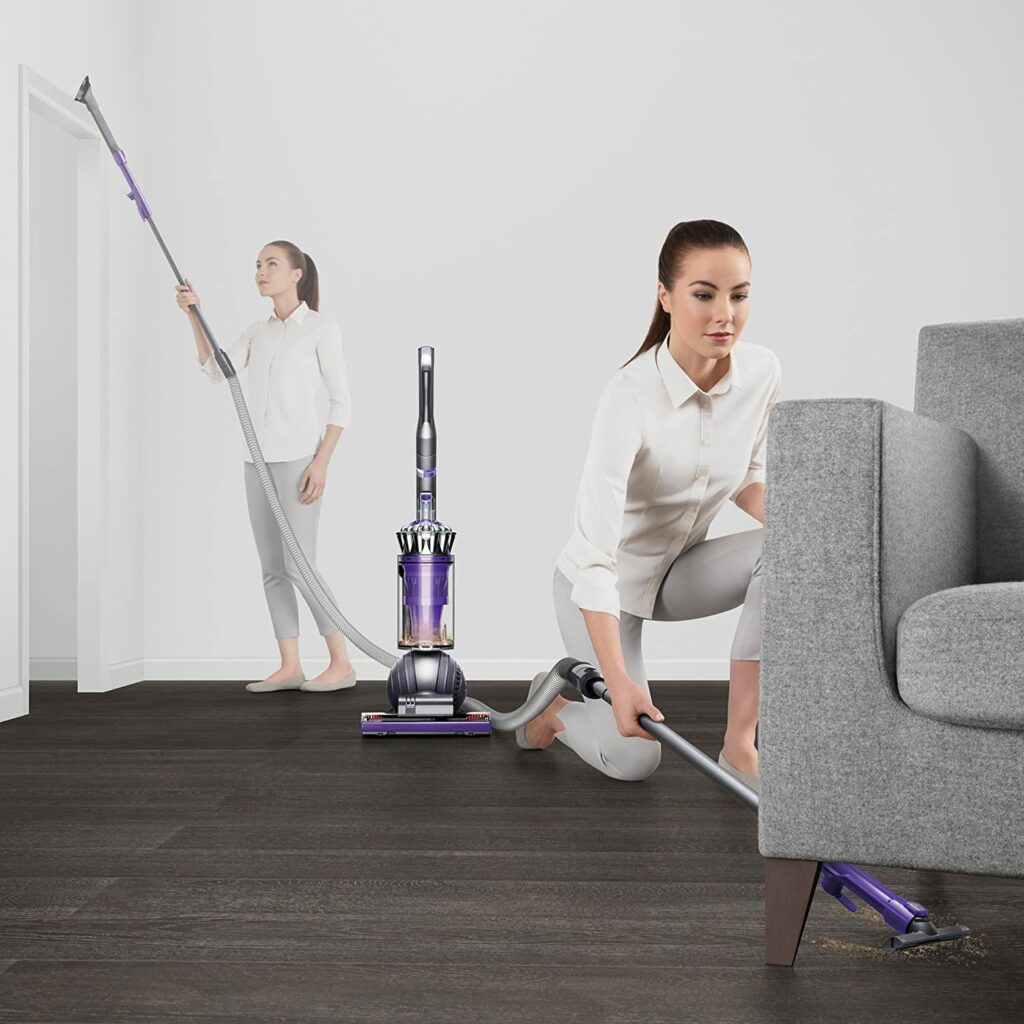 Product Rating: 8.0
Where to buy Dyson Ball Animal 2 Upright Vacuum Cleaner
#5 Dyson Ball Multi Floor Origin HEPA Vacuum Cleaner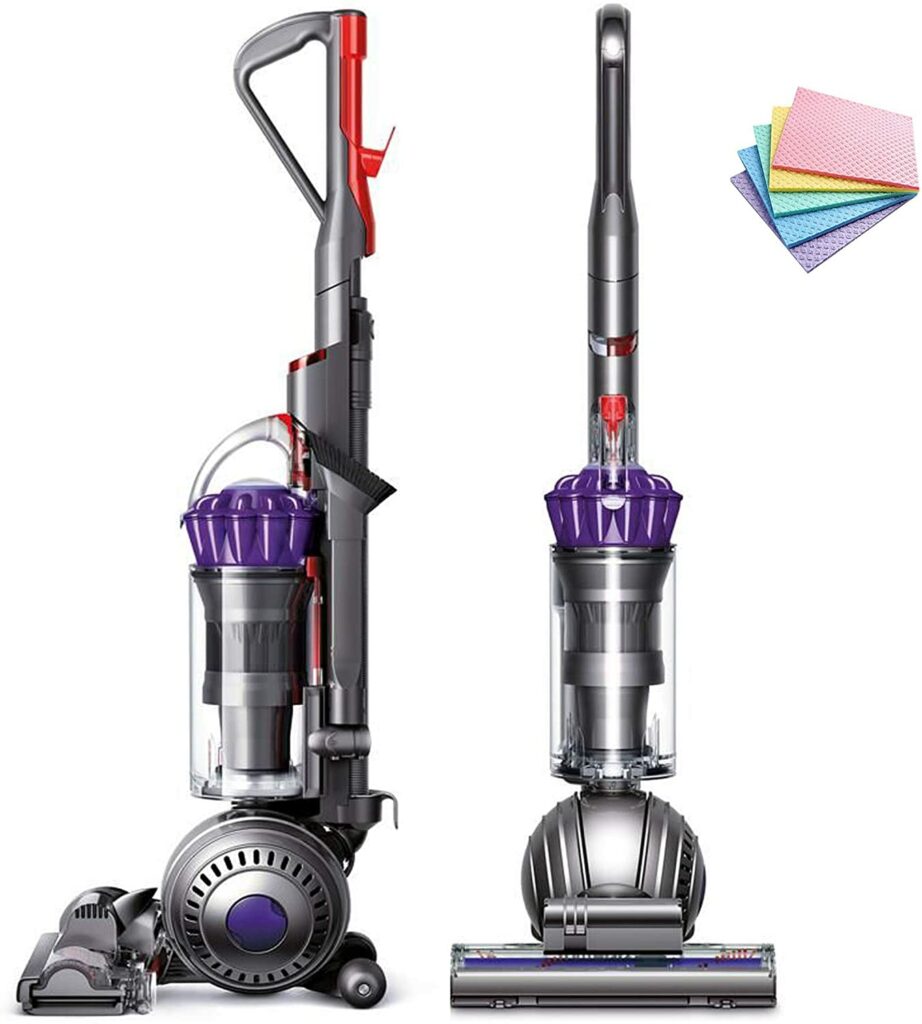 Hard floors make every room look a little better, but to keep them looking shiny, they take some special care. That implies a good cleaning regime, including most importantly, a great floor vacuum.
The Dyson Ball Multi Floor, with its strong cleaning skills and experience in transitioning seamlessly between different surfaces, might be the right option if your home has a range of floor types that all need vacuuming.
Utilizing anti-allergy vacuums with a true HEPA filter can trap up to 99.97% of airborne particles, helping to get you some much necessary allergy relief. These particles are only blown back into the air by most regular vacuums.
This is why it can be so helpful to use a fine, top-rated vacuum cleaner with a built-in HEPA filter like the Dyson Ball Multi Floor HEPA Filter Vacuum Cleaner.
Summary of Features:
The Dyson Ball Multi Floor Origin Upright Vacuum has an amazing suction capacity that can deep-clean several floor types and will ensure that this strong suction will not clog your filters when combined with the root cyclone technology.
The Dyson Ball Multi Floor Origin features their patented ball technology to make it easier to steer and less of a hassle to get into hard to reach areas. The cleaner head is self-adjusting so that you do not have to worry about it, and a manageable 30 feet the cord length also falls in. Instead of being released back into the air, HEPA filtration returns so that allergens remain stuck in the machine.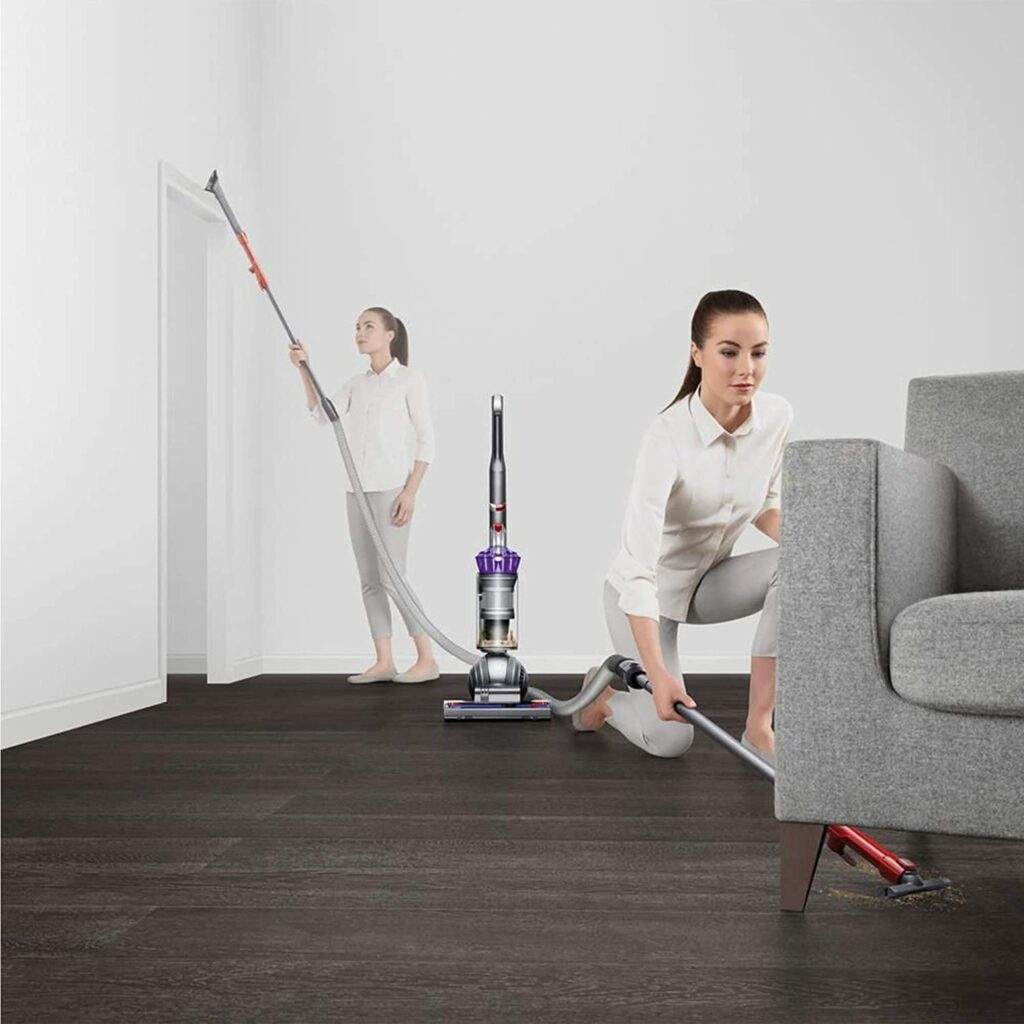 Pros:
Lots of amazing add-ons
The self-adjusting cleaner head is included
Dyson's Radial Root Cyclone Technology
Cons
Stair tool too small for a rigorous job
Product Rating: 8.2
Where to buy Dyson Ball Multi Floor Origin HEPA Vacuum Cleaner
#6 Dyson Big Ball Multi Floor Vacuum Canister
Our shortlist of Dyson vacuum cleaners is nothing without this Multi Floor Vacuum Canister. You might choose a model such as the Dyson Ball Multi Floor Canister Vacuum for more canister space and unlimited run time.
This vacuum is on the more pricey end of the scale, but when it comes to sheer cleaning efficiency, it's sure to fulfill your expectations.
There is a control switch on the handle on this multi-floor canister vacuum that allows you to alternate between hard floors and carpets. It is designed for the removal of dust and features a HEPA filtration device for the entire unit.
The Dyson Ball Multi Floor Canister Vacuum is nearly 17 lbs heavier than other versions, but the handle is powered by its turbine head, making it easy to manoeuvre.
You'll be impressed with the suction capacity of this vacuum, and how it quickly and conveniently cleans several floor services.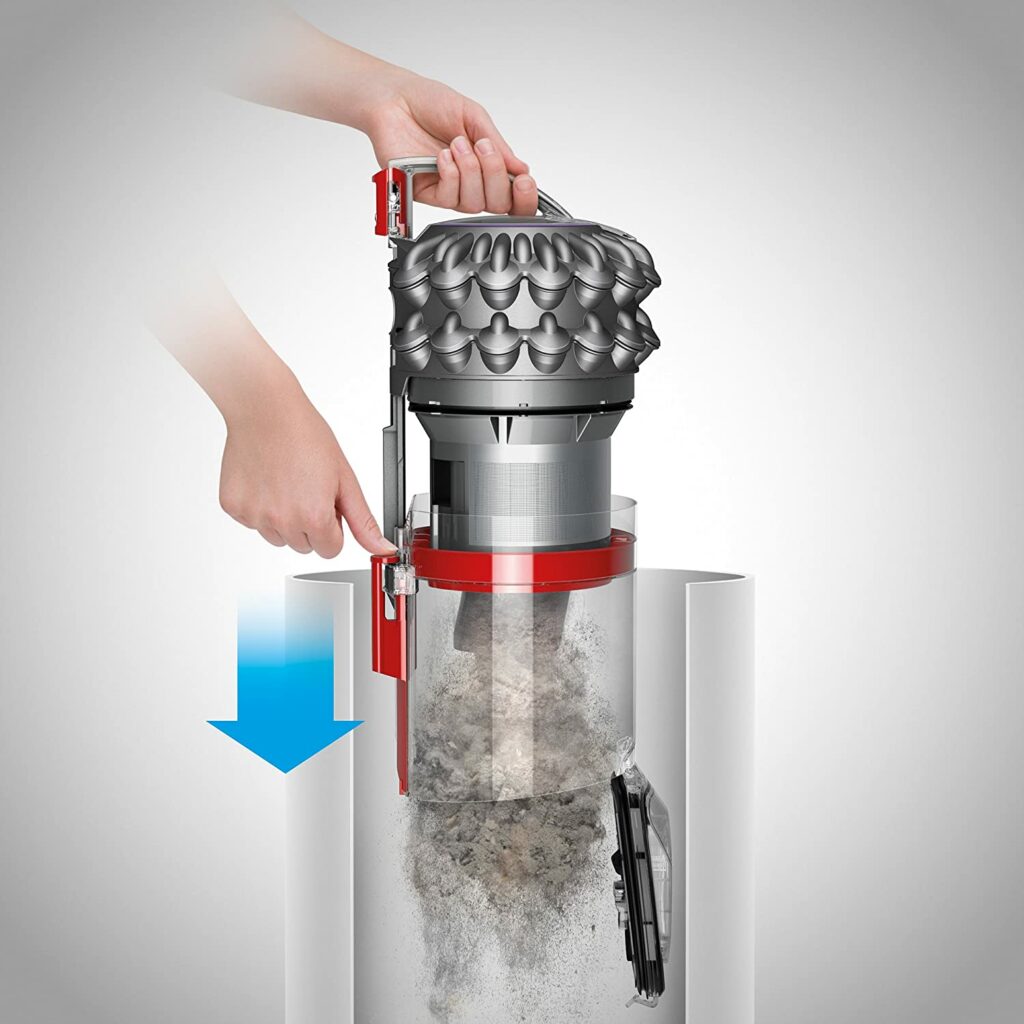 Summary of Features:
When toppled, the Dyson broad ball multi floor canister vacuum picks up, adding more flexibility to attachment equipment for optimum deep cleaning.
BallTM technology offers better steering and stabilization, so you can navigate around furniture and obstacles in difficult areas.
The articulated handle rotates in three directions, enabling complete 360° mobility for quick and flexible cleaning.
The advanced cleaner head collects dust particles from hard floors and allows you to change floor types without interruption with fingertip control.
HEPA whole-machine filtration guarantees that allergens and bacteria are removed inside and out of the air you breathe.
Includes bare floor nozzle, telescoping wand, edge cleaner and crevice tool for ultimate versatility.
The 21.3-ft cord minimizes outages and decreases cleaning time allowing you to effectively clean multiple rooms .
The hygienic emptying bin bagless design forces dirt and dust out when you empty, removing the need to touch the dirt.
Pros:
Self-righting
Lighter in-hand than conventional upright vacuums
Same 250 AW suction as the equivalent upright vacuum for Multi Floor 2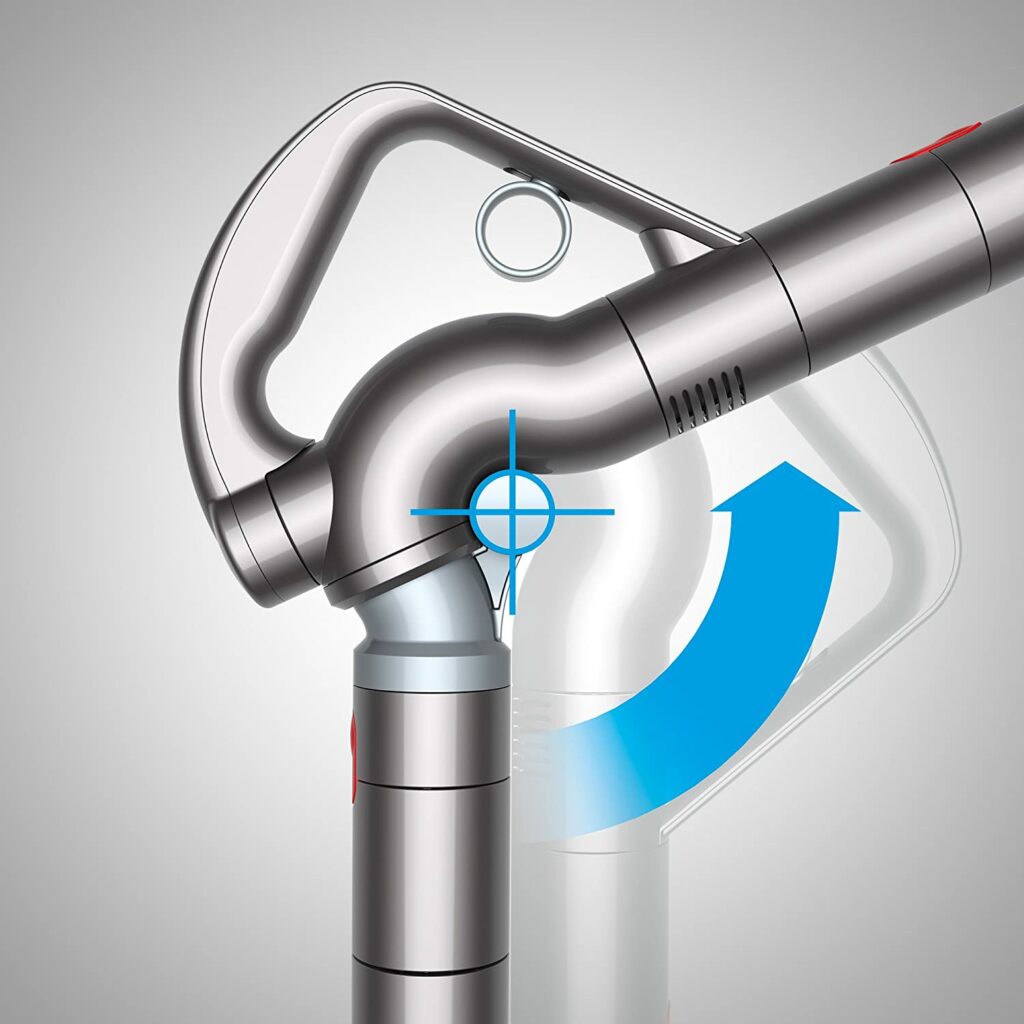 Cons:
This vacuum is a little strong at over 17 pounds but lighter on the side,
If you're used to uprights or stick vacuums, canister vacuums can be a little hard to maneuver.
Product Rating: 7.5
Where to buy Dyson Big Ball Multi Floor Vacuum Canister
#7 Dyson V8 Absolute Cordless Stick Vacuum Cleaner
The Dyson V8 is like the middle child, lying between the base V7 series and the much more costly Cyclone V10 handsticks. It has a better battery life than the V7 and, despite having originally launched way back in 2016, is still a relatively powerful tool. But quality doesn't cost money.
The Dyson V8 is a light-weight heavy-duty dust buster that can replace the conventional corded vacuum cleaner in most households if you can afford it.
Whether handheld or robotic, Dyson claims that cordless vacuums are the future, but the big sticking point is the battery technology. The most recent V8 cordless claims to last two times as long and to be likely to substitute a corded vacuum completely.
The Dyson V8, is the latest in a long line of handheld vacuum cleaners. They've become more efficient since then and they last longer between charges, with improved energy efficiency and batteries.
To transform them into complete vacuum-cleaner replacements, they've also obtained floor tools and wands.
Summary of Specifications:
Head Cleaner: Direct-drive cleaner head and cleaner head for soft rollers.
Charging Time: Up to 5 hrs.
Running Time: 40 mins.
Cyclone Technology: 2 Cyclone Tier Radial™.
With filtration. Lifespan washable filter.
115 AW of Suction Power (MAX mode).
With a weight of 5.75 pounds.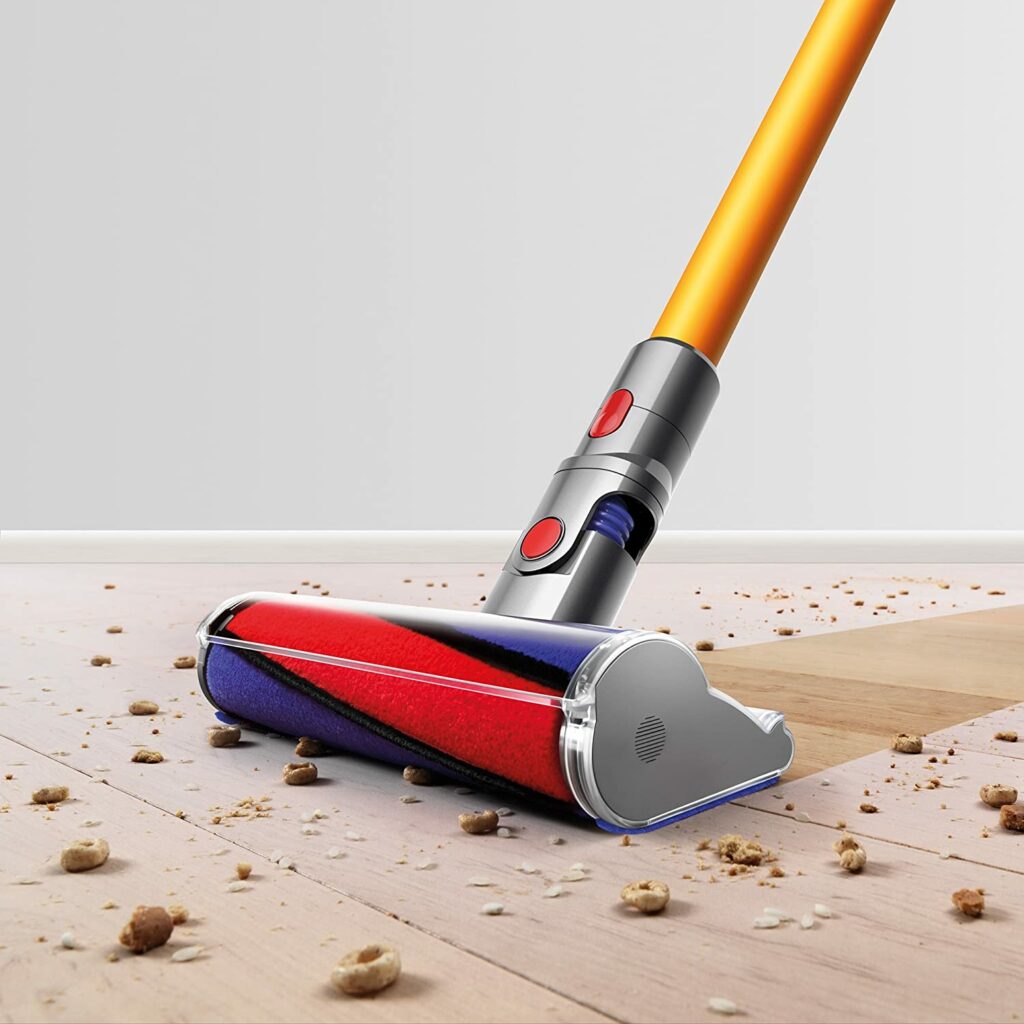 Pros:
No restrictive cylinder or cord
A more highly maneuverable solution
You don't have to stop to unplug.
More versatile and compact
Quicker to deploy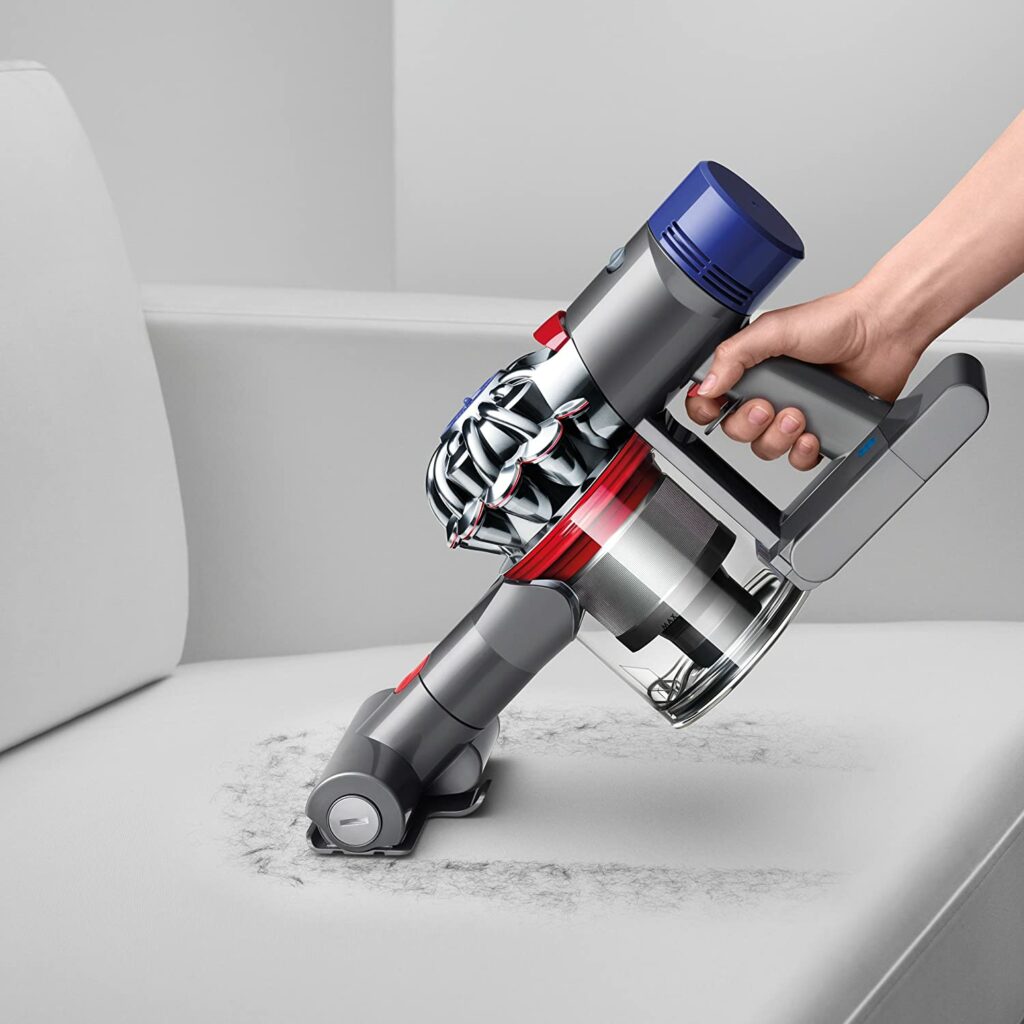 Cons:
It has a smaller bin
Much weight in your hand
Less efficient and powerful
Need to be charged
Wear out batteries for a short time
Product Rating: 7.0
Where to buy the Dyson V8 Absolute Cordless Stick Vacuum Cleaner
#8 Dyson V7 Animal Cordless Stick Vacuum Cleaner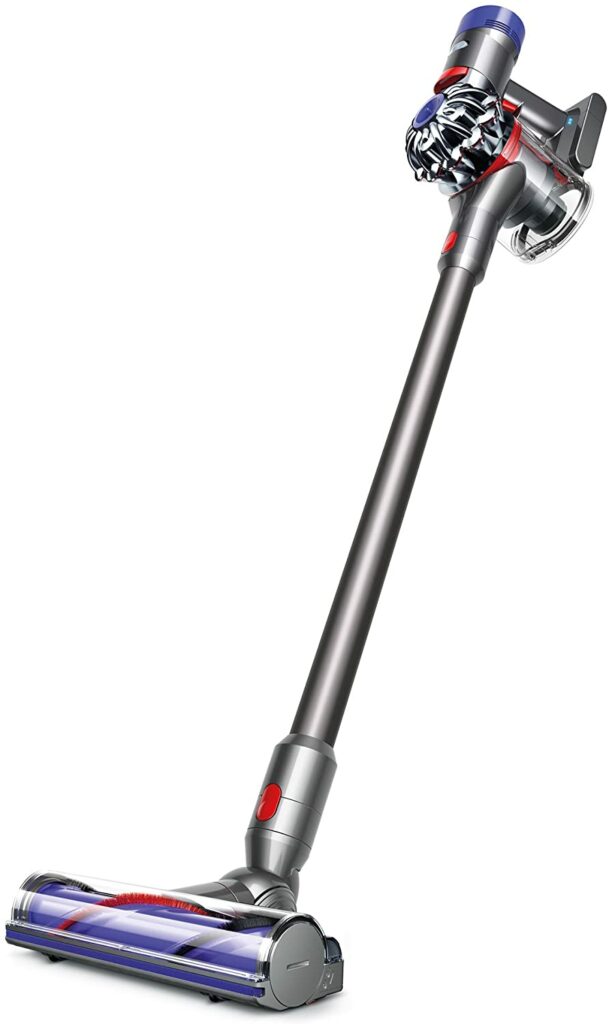 The wonder of cordless vacuums is that you can go anywhere when you are cleaning. Removing the restriction of a cord improves speed in cleaning areas with wide-open spaces or around any parts of your home.
Being one of the high-performance Dyson vacuum cleaners, the Dyson V7 is a good and strong cordless stick vacuum.
It can be used as a handheld vacuum, and it comes with a wide variety of equipment and brushes like the main motorhead, turbo brush, soft dusting brush, hard bristle brush, upholstery cleaner, and crevice tool.
To carry around your house, it's compact and has decent flexibility. It has a tiny dirt compartment that requires regular emptying, but it is easy to maintain. It does a fantastic job on this surface of sweeping up pet hair and large debris and it's even great to suck up even small debris.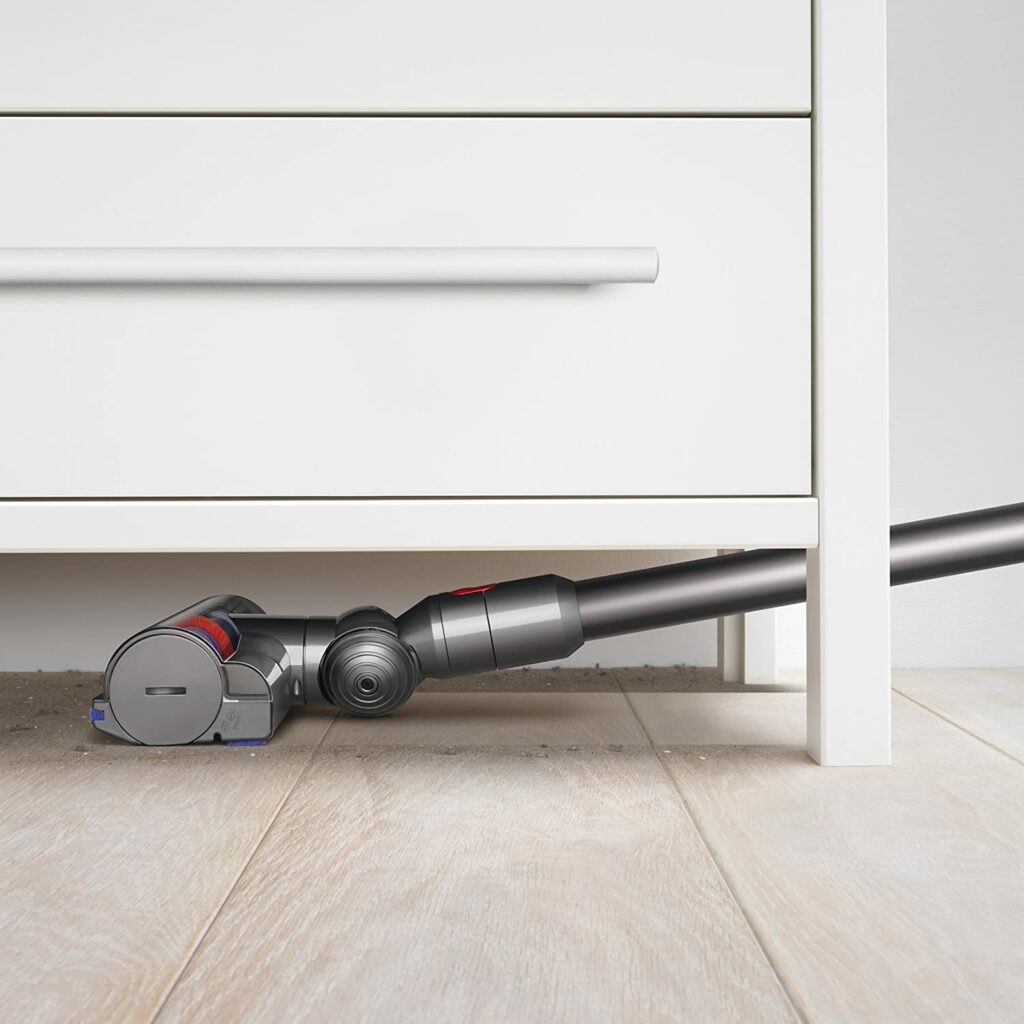 It does not have an adjustment for the surface type, but it has two power settings. It's also fairly simple to manage and has excellent maneuverability. Outstanding on low-pile carpet.
Summary of Specifications:
Bagless
Power: 0.54 litres
Run Time: 30 minutes
Charge Time: 3 hours 30 minutes
Power Variable: Yes
Weight: 2.3kg
Pros:
Maximum power suction will match a typical full-size vacuum
Washable long-life filter
Great ability to maneuver
Outstanding quality on all floor types tested
Good range of useful tools
Good at picking up pet hair
Very easy to use
Cons:
To remain active, the power button must be constantly pressed.
You only get six minutes to run out of the vacuum when you use the maximum mode.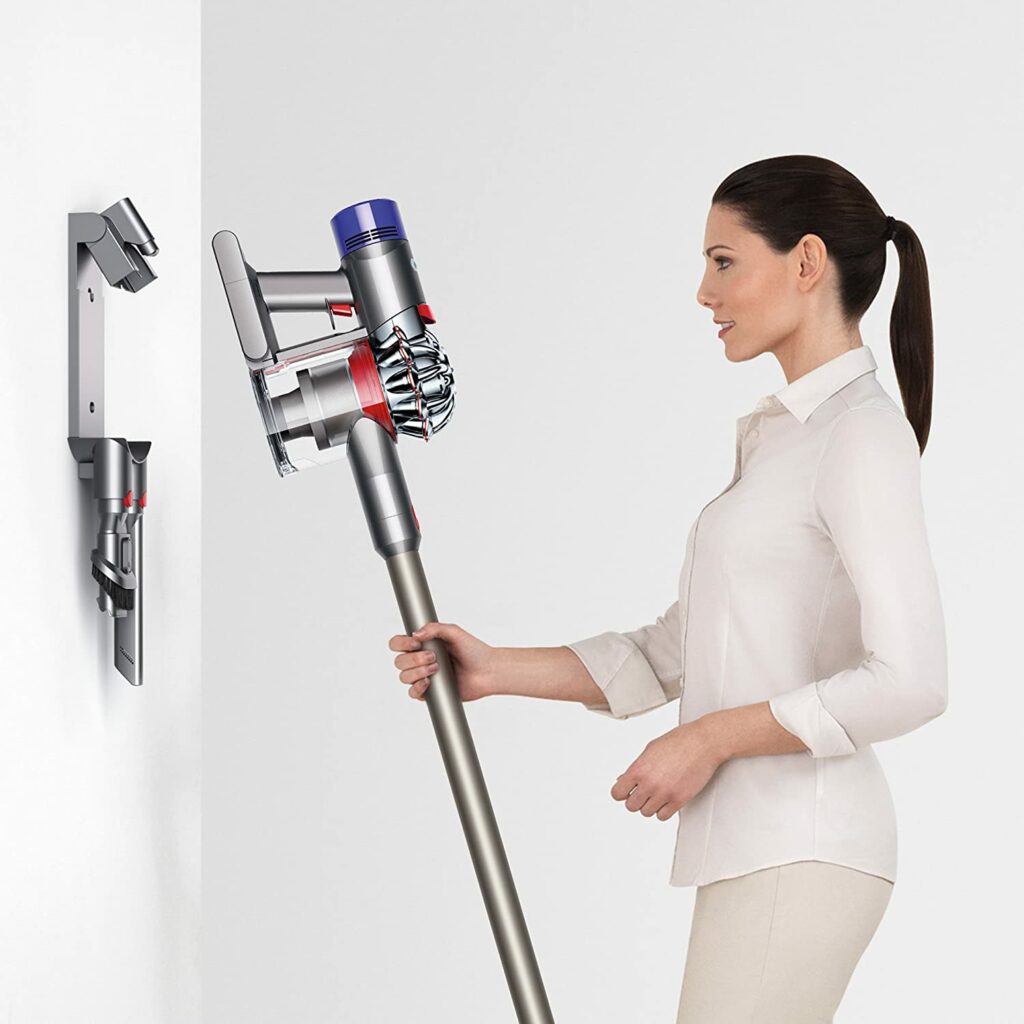 Product Rating: 7.9
Where to buy the Dyson V7 Animal Cordless Stick Vacuum Cleaner
Which Dyson Vacuum is the Best For Your Needs: Buyer's Guide
For the possibility of not having to clean for a while, there's nothing more exciting than vacuuming. There are of course, some vacuums that get the job done more easily, more reliably and have some added advantages in the process. In these vacuums, James Dyson specializes and outstands.
We all know that a vacuum cleaner is a must-have smart item for every household, but how do you know exactly what type of vacuum machine is right for your home with an ever increasing product line available?
By describing all the need-to-know characteristics of vacuum cleaners, from bagged to bagless, to pet-specific versions, we are here to make your decision a little simpler.
So, what should you consider?
Bin Capacity
Cleaning is a job but you don't want to add to the time spent hoovering because after every cleaning you have to empty the bin. That is why bin capacity is one of the most important factors. Obviously, robotic and handheld vacuums have much smaller bin size, whereas upright cleaners have the biggest.
Attachments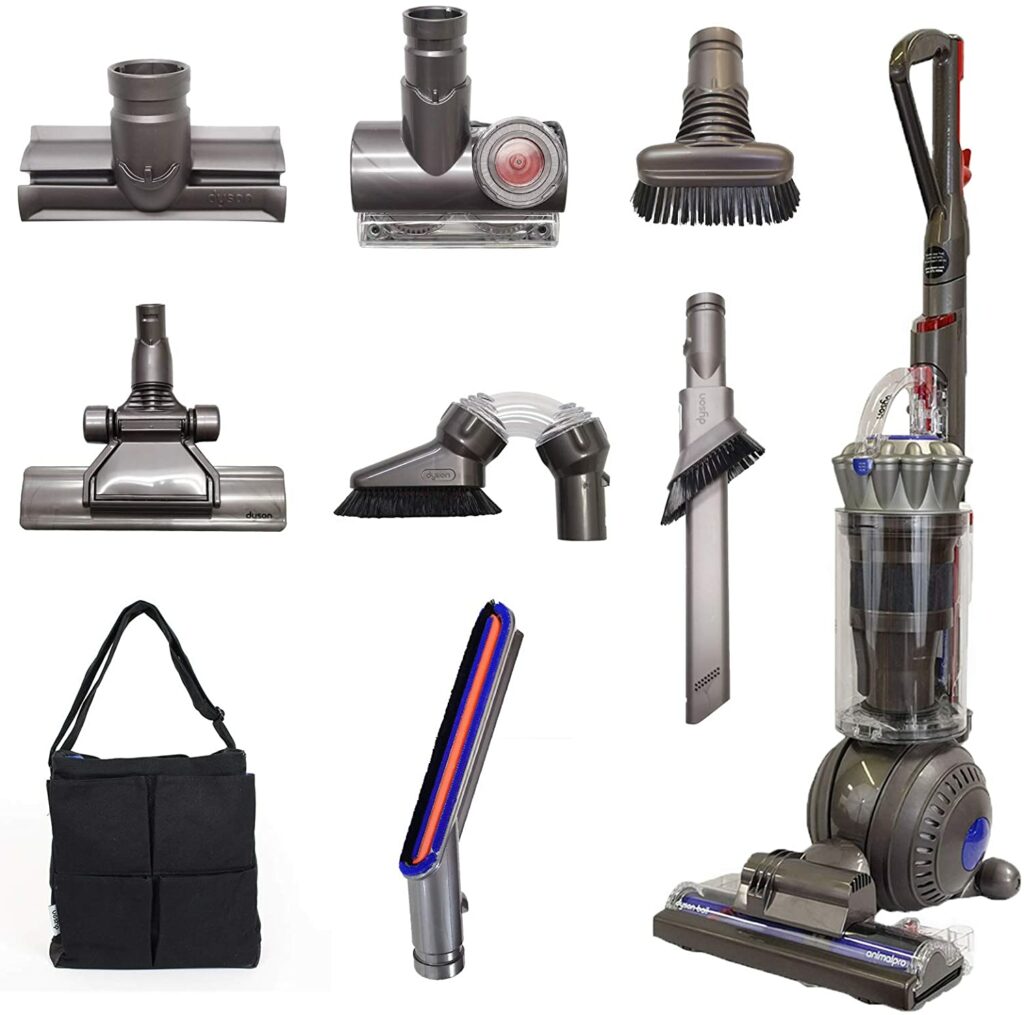 The names of the leading Dyson vacuum cleaners, like Torque Drive, Motorhead, Absolute, or in the case of the new V11, Outsize, are always followed by an adjective. Each denotes a separate number of "extra features" that come with the vacuum.
Each denotes a separate number of "extra features" that come with the vacuum. These typically take the form of detachable heads for various applications, such as a narrower stair cleaning head, a slimmer head to fit in tight spaces, etc.
Motorhead models come with the fewest number of attachments in most situations, while the costlier Absolute vacuum types come the most.
Running Time
The running time mentioned for Dyson's cordless vacuums can be misleading. The maximum runtime is the number you see, indicating how long the vacuum will operate on the minimum suction setting, which is not representative of how vacuums are used by people.
It is safe to say that you're going to get 20 to 30 percent less runtime off a full battery than what's mentioned, as you're going to switch reasonably frequently between high suction and low suction.
Vacuum Types
This is by far the most important thing to consider when buying the best Dyson vacuum cleaners for 2020. We all know Dyson for manufacturing different types of vacuums. The beauty of vacuum buying is that every type of vacuum machine is almost certainly out there to suit your lifestyle.
The issue with vacuum purchasing is that there are lots of choices and on the ideal model, it can be hard to focus on.
What I mean is, depending on the configuration, you can find upright, canister, robot, handheld, stick, and even convertible vacuums that can be both upright and canister, or both handheld and stick.
Here are some guidelines on what type of vacuum you need.
Upright – For big, carpeted parts of the house, upright vacuum cleaners are perfect. They use a beater brush powered by a motor that loosens and extracts dirt by suction.
Hand-Held – Handheld vacuums can clean upright areas that are too wide for you. For cleaning small areas, lightweight and cordless designs make this type of vacuum perfect. They are great for picking up after children and pets. They are lightweight, silent, and easy to use.
Canister – Canister vacuums work best on hard floors or surfaces and even on smaller, carpeted areas on cars or stairs. They come fitted with a suction hose and a detachable cord for easy maneuvering.
Stick or Sweeper – Stick vacuums are the middle way between a handheld vacuum and an upright one. They offer the comfort of handheld, lightweight, and battery-powered vacuums, but feature the upright construction of a conventional vacuum, making them better for cleaning up spills on hardwood floors. They are most widely used on kitchen and bathroom floors, for quick cleaning areas.
Bottom-line: The Best Dyson Vacuum Cleaners for 2020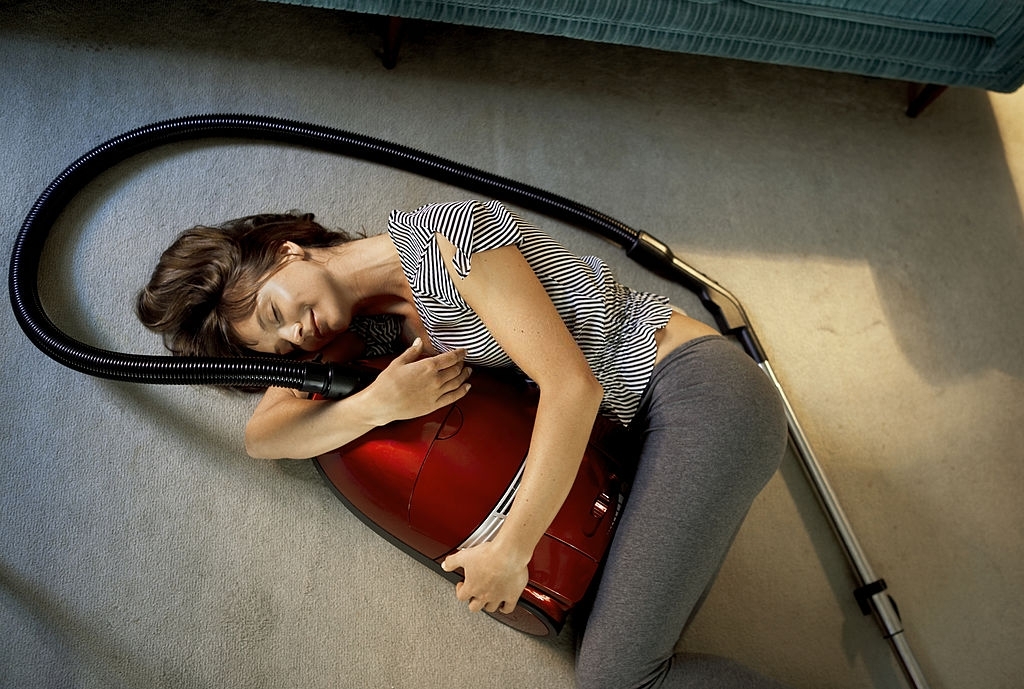 Dyson vacuums are all made for your convenience and quality. For one simple goal, they have created a nice and clean ambience for your home, and a different cleaning experience is provided by each type of vacuum.
There are numerous advantages to acquiring one of the latest Dyson cleaning appliances. For one thing, there are various models to choose from, each having its own distinctive characteristics. Therefore, it is very important to familiarize yourself with the functionality of the different products before purchasing one.
So now that you have known the best Dyson vacuum cleaners for 2021, it is for now for you to decide whether what type of vacuum is the best for you.
Recommended for You: Which Dyson Vacuum is the Best – Consider These | Buyers Guide