Best Upright HEPA Vacuum Cleaners 2021
Affiliate Disclosure: I am grateful to be of service and to bring you content free of charge. In order to do this, please note that when you click links and purchase items, in most cases I receive referral commissions. Eventually, I may earn enough to buy a beer or two 🙂
Every household is exposed to two types of pollutants: visible and invisible pollutants. Food remnants, liquid spills, dirt, and other such problems, for example, are easily visible to the human eye.
Their presence signals that a residence is disorderly and unsanitary, which is why homeowners are fast to deal with them.
Fine dust, pollen, pet dander, and other micro-particles, on the other hand, go unnoticed in the majority of cases. The house does not appear to be cluttered as a result of their presence. You do, however, ultimately become aware of them, and not in the most pleasant of ways.
With asthma flare-ups, respiratory difficulties, runny noses, watery eyes, and various allergies, you learn about these unseen pollutants. Furthermore, routine mopping and cleaning will not be able to remove these invisible yet hazardous contaminants.
Vacuum cleaners with HEPA filters are useful in this situation. In the United States, upright vacuum cleaners are already very popular. People are also becoming more aware of upright models with HEPA filters as a result of their efficiency against micro-pollutants.
Understanding How HEPA Filters Work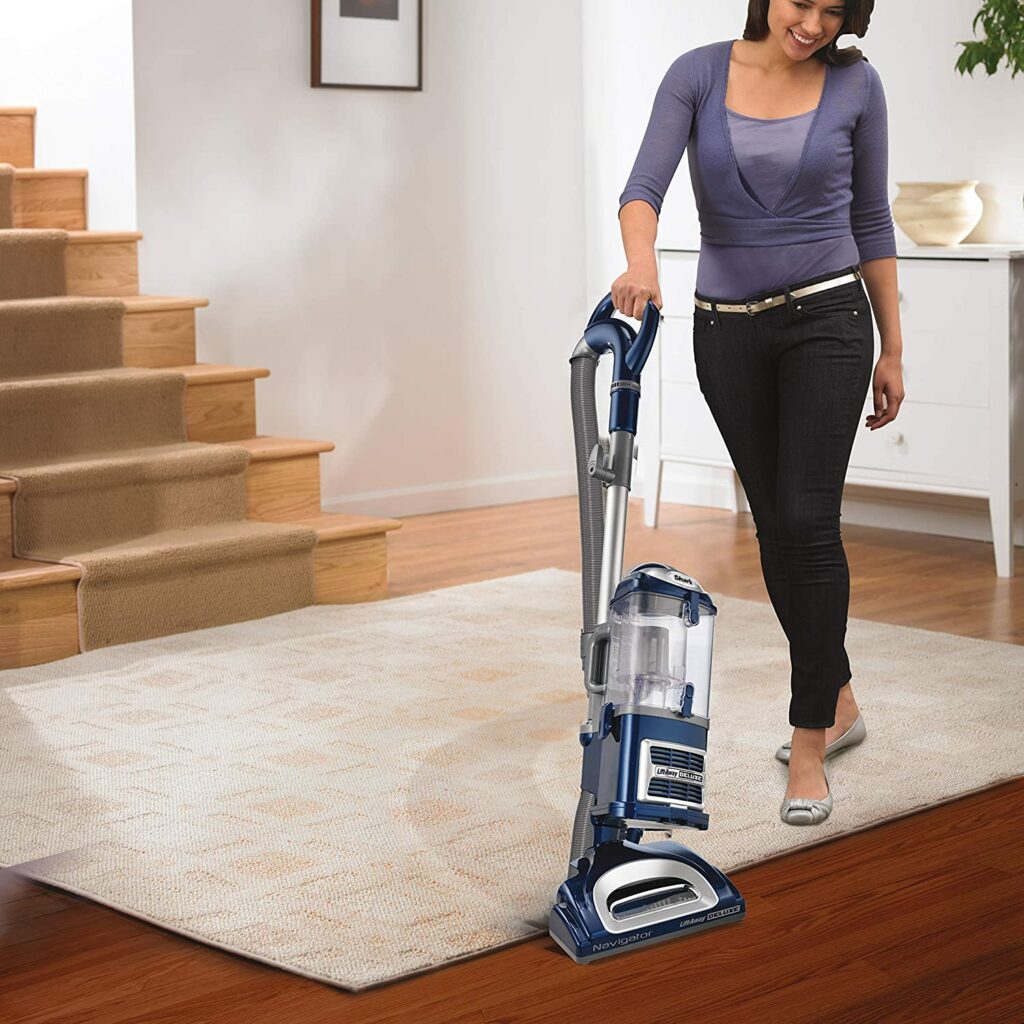 HEPA filters, or High-Efficiency Particulate Air filters, are now often found in air filtration systems and vacuum cleaners.
Its primary purpose is to trap large to microscopic contaminants such as pollen, dust mites, pet dander, mold spores, and even cigarette smoke. Air is forced through a very tiny mesh of randomly organized fiberglass fibers to accomplish this.
These particles can no longer escape and return to the return flow air once trapped inside the filter.
The Advantages of HEPA Filtration
They assist in the improvement of indoor air quality — You can breathe cleaner, safer air at home or at work because contaminants and contaminants aren't released back into the atmosphere.
Help to avoid allergy and asthma attacks — By removing smoke, mold, dust, pollen, and germs from the air, you may have an allergen-free home or office.
They provide peace of mind – By removing contaminants and allergens from your home or office air, you will feel more at ease and safe without having to worry about breathing problems.
Best Upright HEPA Vacuum Cleaners 2021
When purchasing a vacuum cleaner, two crucial things to consider are: is it easy to operate and maneuver, and can it effectively remove dust and grime from all areas of my home?
However, selecting the best vacuum cleaner for you and your home necessitates considering more factors. Consider the surfaces you'll be vacuuming, the layout of your home, and the amount of time you have to clean.
Our top selections for the best vacuums in major categories are shown below. To discover more about what to consider before buying a new vacuum and how to find the best vacuum cleaner for your needs, scroll all the way down.
#1 Bissell 2999 MultiClean HEPA Vacuum
This powerful HEPA vacuum can clean thick carpets and large spills, as well as hard surfaces and ordinary detritus. It contains a 1.5-liter dirt cup that allows you to clean for longer periods of time without having to empty the bin.
It also has different tools to assist you access hard-to-reach locations. A crevice tool, a dusting brush, a multipurpose tool, and a 12-foot extension wand are among the tools included.
The Most Beneficial Features
Cleaning performance is excellent. Using high suction and tangle-free brush rollers, effectively remove pet hair and other debris over many surfaces.
Every purchase helps to save animals.
Bissell is an enthusiastic supporter of the Bissell Pet Foundation.
Ast F1977 measured 0.3 microns per millimeter.
Lightweight design with swivel steering. Cleaning power without the need for heavy lifting
One-Touch Easy is completely depleted. Pet hair spreads throughout the tank, so it filters and remains out of your hands when you empty the dirt tank.
On board is pet equipment. Directly on the machine, keep 2-in-dusting brushes, crevice tools, and pet turbo diesel tools.
System for removing allergens from the hepa seal. Dust and allergens are trapped 99.97 percent of the time.
Cleaning Capabilities
This vacuum has a powerful Bissel multi-cyclonic suction mechanism that ensures that no small dirt particles from your floor are released into your interior air through the exhaust.
This translates to lower maintenance expenses and less dust entering the filter, giving you more time before replacing it.
This vacuum has an automated cable rewind feature that makes your life easier when you've finished vacuuming. Simply click a button, and the power cord will automatically retract into the vacuum's body. This means more advantages and simpler emptiness savings.
Filtration
When it comes to vacuum cleaners for household use, filtration is even more vital. The quality of a vacuum cleaner's filter will determine how many small particles it will return from the floor to your home.
Product Specifications: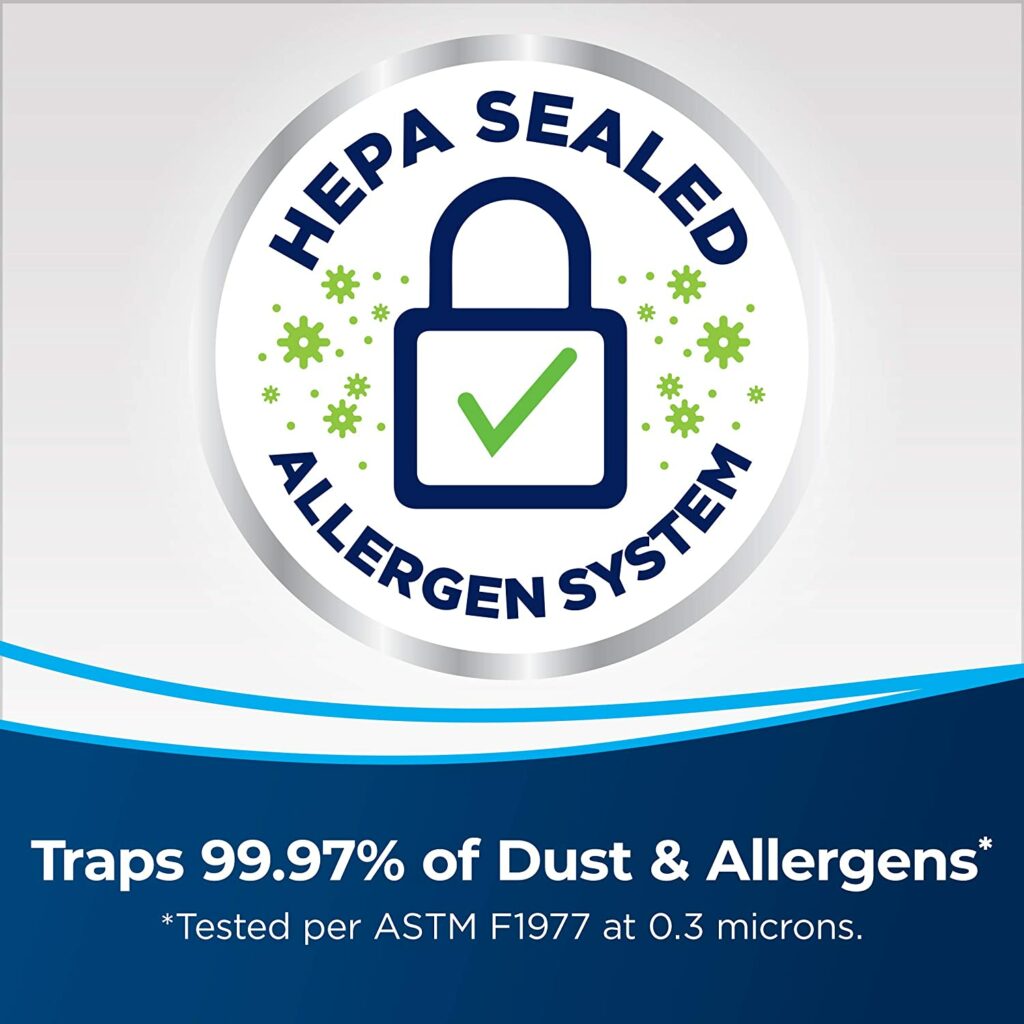 Cleaning System: MultiCyclonic
Power Rating: 7 Amps
Air Flow Indicator: No
Brush System: Tangle Free
Brush On Off Switch: Yes
Variable Suction Control: No
Power Cord Length: 30′
Automatic Cord Rewind: No
Hose Length: 9′
Filtration: SmartSeal Allergen System
Clean Filter Indicator: No
Cleaning Path Width: 13″
Surface Height Settings: Auto Height Adjustment
Bag Type: Bagless
Dirt Cup Capacity: 0.75 L
Where to buy Bissell 2999 MultiClean HEPA Vacuum
#2 Hoover UH30600 WindTunnel Max Upright Vacuum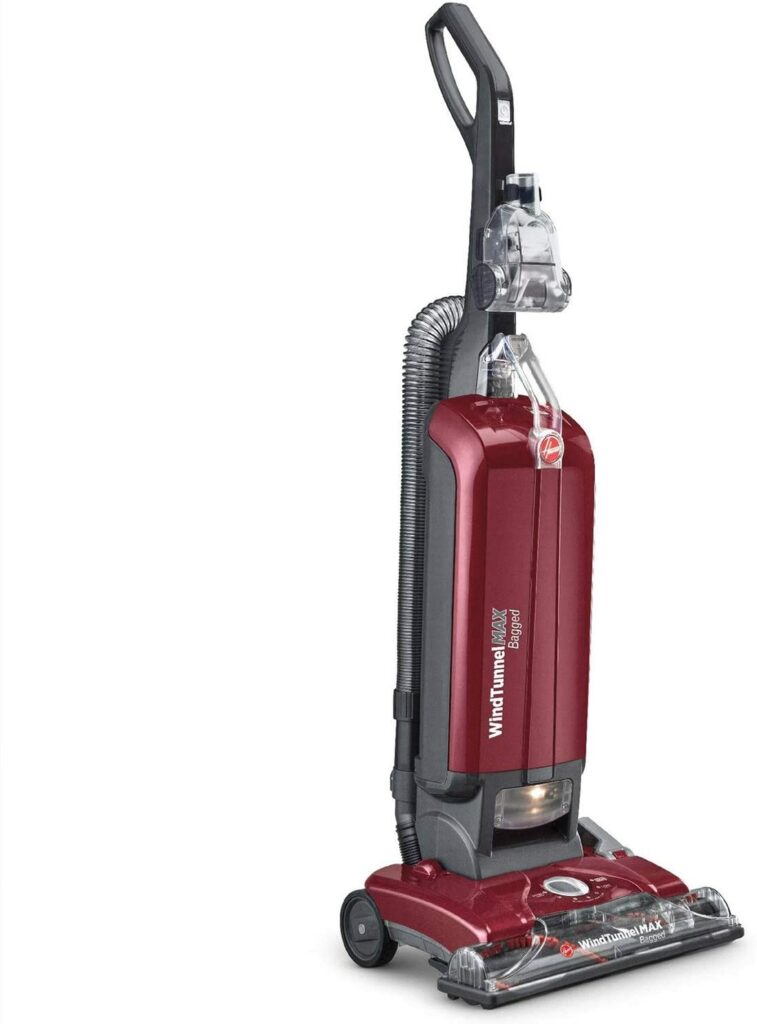 If you're in the market for a new vacuum cleaner, Hoover is a good place to start.
Since 1908, Hoover has been creating and producing vacuum cleaners. With a century of experience, it goes without saying that the company has a wide range of appealing products on show.
The Hoover Type Y 3M HEPA Vacuum Bags are used in the UH30600 bagged upright vacuum cleaner. These bags deliver HEPA-level filtration, which is popular among allergy and asthma sufferers.
Filtration using HEPA (High Efficiency Particulate Air) eliminates 99.97% of particles with a dimension of 0.3 microns or bigger. Pollen, dust mite feces, ragweed, and other allergens fall into this category.
The vacuum also has two filters: a secondary filter before the motor and a final filter right before the vacuum's air is vented. Both of these items are machine washable.
Power
When you consider that the Hoover WindTunnel Max Bagged Upright Vacuum catches 99.7% of particulates as fine as 0.3 microns, including pet hair, it's easy to see how powerful it is.
The addition of WindTunnel Max technology, which adds three channels of suction power instead of one, also helps.
Efficiency & Speed
The Hoover UH30600 is a powerhouse of a vacuum cleaner. This is due to its 15-inch wide cleaning path, which is larger than the typical 12 inches.
This translates to lower maintenance expenses and less dust entering the filter, giving you more time before replacing it.
This vacuum has an automated cable rewind feature that makes your life easier when you've finished vacuuming. Simply click a button, and the power cord will automatically retract into the vacuum's body.
This means more advantages and simpler emptiness savings.
Filtration
When it comes to vacuum cleaners for household use, filtration is even more vital. The quality of a vacuum cleaner's filter will determine how many small particles it will return from the floor to your home.
Product Specifications: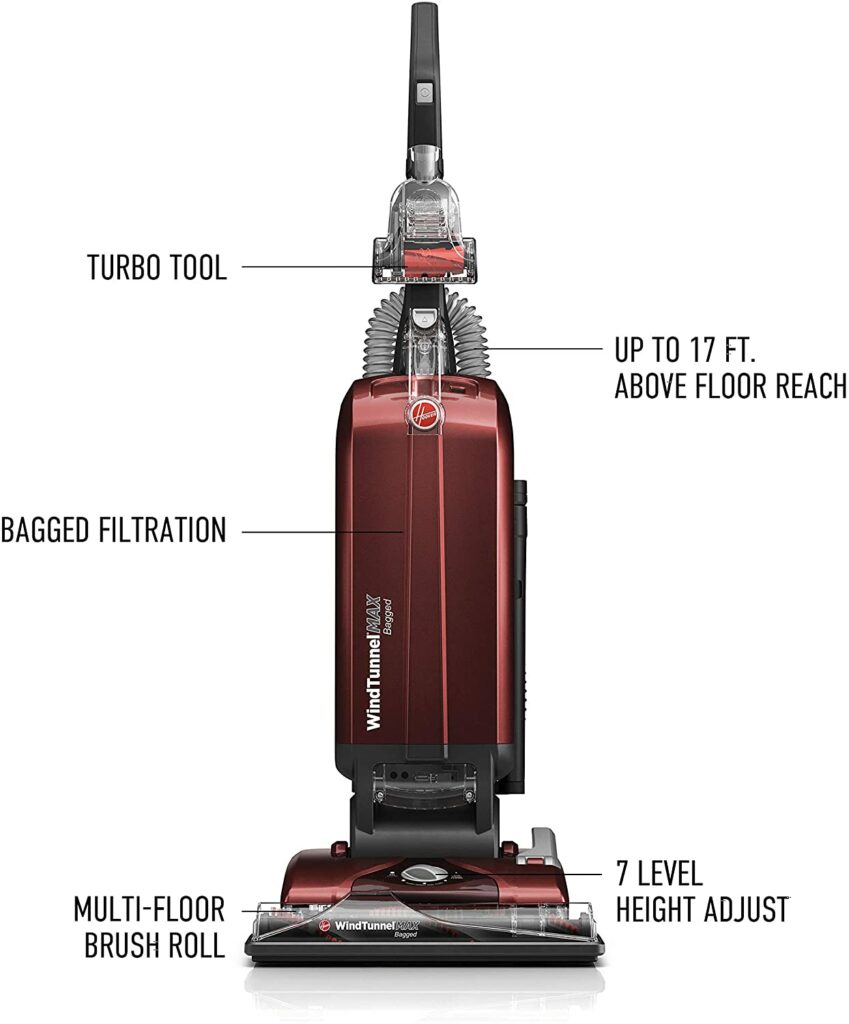 Product Weight: 18.4 lbs.
Cord Length: 30 feet
Hose Length: 15 feet
Cleaning Path Width: 15 inches
Bagless: No
Warranty: 2 years
Dirt Bin Capacity: 2.9 Liters
7-Level Height Adjustment: Yes
HEPA Media Filter?: Yes
WindTunnel Technology?: Yes
Pros:
Extremely powerful suction.
Extra-long power cord
Extra-long stretch hose
Washable filters
This air-powered hand tool performs admirably – It is reasonably priced
It has easy access to the belt and brushroll (no screwdrivers needed)
Effective in removing pet hair
Easy to assemble
Bags are simple to install, remove, and discard
Cons:
Heavy (although with a carrying handle)
A little noisy
Attachments slip off vacuum occasionally
HEPA bags are expensive.
Some users say that the vacuum's powerful suction and weight make it difficult to move (but many also report that the machine is easy to maneuver).
Where to buy Hoover UH30600 WindTunnel Max Upright Vacuum
#3 Eureka FloorRover Versatile Bagless Upright Vacuum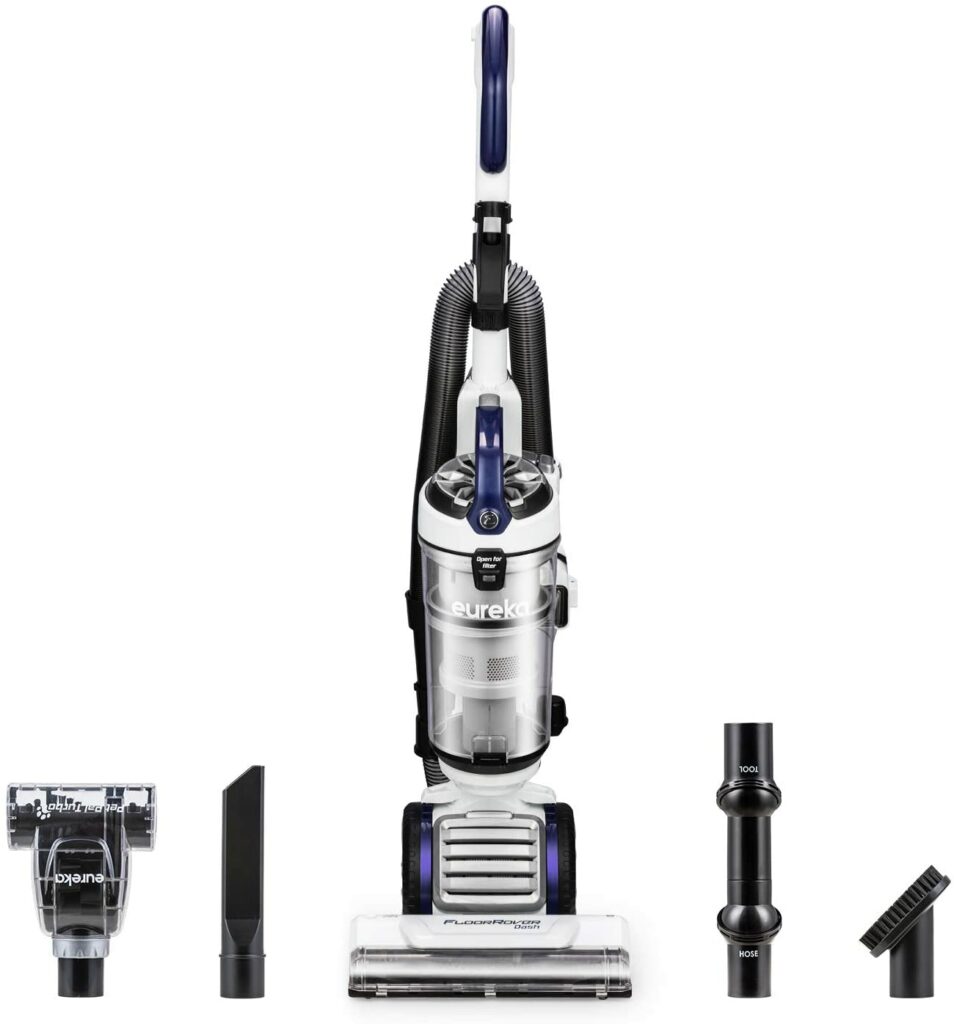 In the vacuum cleaner sector, Eureka has a solid reputation. It is dedicated to excellence and innovation. One of the reasons we chose to review the Eureka Floor Rover Upright Vacuum is this.
Any home would benefit from the Eureka FloorRover Versatile Bagless Upright Vacuum. It's what Eureka refers to as their most powerful vacuum ever. It's a powerful full-size vacuum cleaner that's quiet.
It has a swivel wheel that makes maneuvering around tight corners a breeze. For hardwood floors, classic carpets, and thick rugs, this vacuum is ideal. Pet hair is effortlessly vacuumed into the easy-to-empty dust cup thanks to special technology.
Finally, because the cable is longer than other vacuums in the business, vacuuming larger surfaces is simple without having to unplug and replug.
Features
The Eureka NEU562A Upright Vacuum also has a light, so you can see whether you missed any areas while vacuuming underneath dark surfaces like couches and chairs.
Because the vacuum is so lightweight, it has helped several customers avoid back pain while vacuuming. Although it is a full-size vacuum, it does not feel like one.
The suction force is quite strong, readily removing dust and imbedded dirt from all surfaces, including thick, deep carpets. During vacuuming, the Multi-Stage Cyclone mechanism ensures that there is no lack of suction.
It separates small and large particles vacuumed up while cleaning and deposits them in the 1.6L dust cup, providing for steady suction throughout the cleaning.
HEPA Filtration
When you combine that with the vacuum's HEPA filter, which captures 99.7% of dust and allergens as fine as 0.3 microns, your floor will be cleaner than it has ever been.
The HEPA filter is reusable and easy to clean by removing it from the vacuum and pouring cool water through it. Filter replacements are not an ongoing expense.
Pet hair is readily sucked up by the Pet Turbo Brush from all surfaces, including stairwells, carpet, and upholstery. If you're concerned about potential harm to more delicate textiles, a slider on the turbo brush allows you to lower the suction.
Variety of Accessories
The gentle dusting brush for delicate fabric and sensitive upholstery, as well as the 2-in-1 upholstery tool for cleaning hair and lint from fabrics and drapes, are included with this vacuum.
The 16″ crevice tool is another offered equipment. Any of these attachments can be easily attached to the 12′ hose for convenient cleaning in all areas of the house.
Product Specifications:
Bag Type: Bagless
Capacity Volume: 1.4 L
Power Amperage: 8 amps
Wattage: 960 W
Dust Capacity: 1.4 L
Cord Length: 30 feet
Hose Length: 10 feet
Maximum Reach: 12 feet
Cleaning Path Width: 12.3 inches
Pros: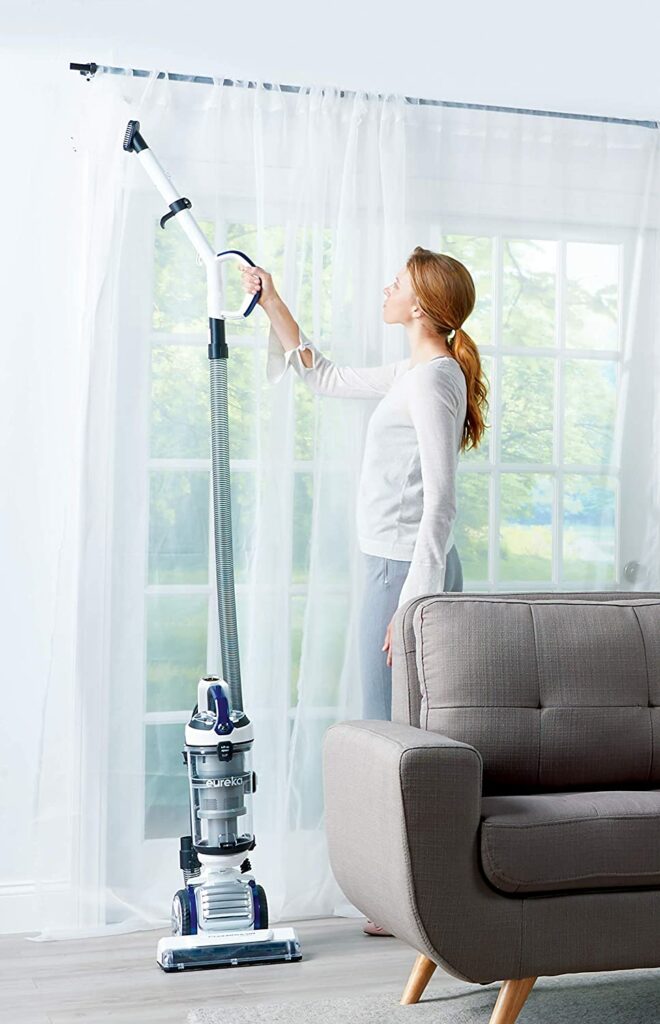 The vacuum uses cyclonic technology, which ensures that suction power is maintained.
Easy to maneuver because of the large wheels and swivel steering.
Utilizes a HEPA filter.
Washable filters
Can clean all sorts of floors using the brush roll.
It provides a comfortable grip.
Includes a suction release valve.
The dust cup on the vacuum is easy to empty.
It comes with attachment tools that are very useful.
The brush roll can be turned on or off.
Cons:
The filter is frequently clogged. Well, you can thank good suction for that.
If you pull on the hose too hard, the vacuum will tip over.
The vacuum can't be turned down low enough to get beneath the furniture.
Where to buy Eureka FloorRover Versatile Bagless Upright Vacuum
See Where Eureka Floorrover Dash Ranks in Our Best Upright HEPA Vacuum
#4 Shark Rotator NV752 TruePet Powered Vacuum

The Shark Rotator NV752 TruePet powered vacuum is yet another Shark Vacuum breakthrough. The cleaner head and the pet tool on this premium model are both electrically operated, rather than air-powered, for superior cleaning.
This model is made for people who have pets and need to vacuum pet hair. The NV752 TruePet combines a lightweight upright vacuum cleaner with a detachable lightweight canister vacuum cleaner (with powered brushroll). Suction is never lost. This vacuum's suction force is steady thanks to technology.
Three Modes in One Unit
Shark's Lift-Away TruePet vacuum cleaner is a 3-in-1 machine. It can be used as a powerful vacuum, a powered lift away unit, or a canister cleaner, making it the most flexible cleaning gadget you can own.
When combined with the hard-floor genie attachment with washable microfiber or the main floor tool, this performs admirably as a bare-floor vacuuming device. It's a vacuum cleaner and a mop in one!
To effectively clean your carpets, use the supplied motorized tool with firm bristles. For thick carpets and rugs, the device includes a high pile carpet option, whereas other carpets have a low pile setting.
These options let you change the suction power of the machine as well as the speed of the motorized brush.This unit comes with a pet hair attachment with firm bristles to make cleaning your upholstery even easier. The firm brush creates greater agitation, allowing for more trash to be picked up in a single pass.
We believe that buying this unit is a wise decision because it can clean for three separate purposes.
Headlights with LEDs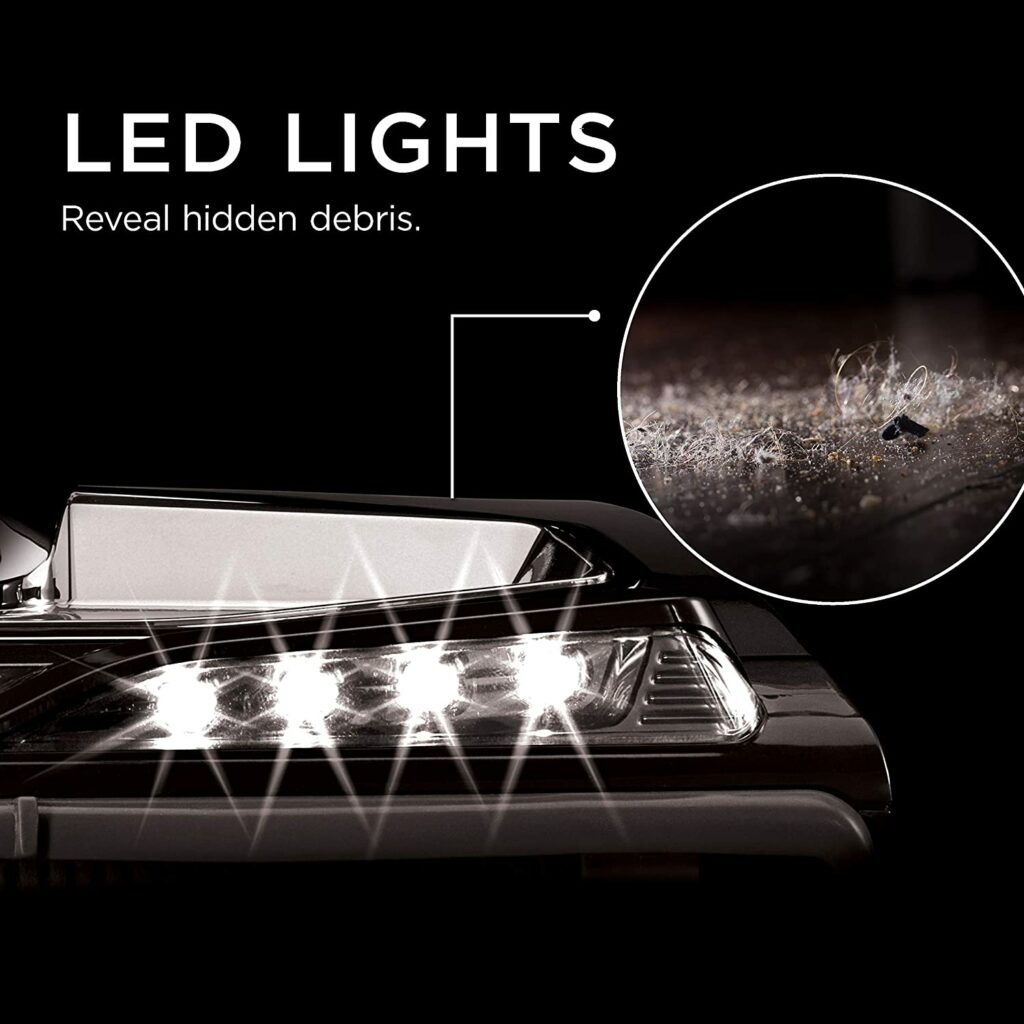 This Shark model's brilliant Light Emitting Diode (LED) headlights are undoubtedly its most appealing feature. This is not only intriguing, but it also has a unique feature that we enjoy.
There will be occasions when you need to clean out your storage, but the illumination in the space is ineffective. Given this scenario, it's easy to see why LED lights are such an important component.
Furthermore, there are numerous areas in your home that are likely dust devil safe-havens. To clean such corners, the headlight will make it easier for you to notice them, allowing you to clean your entire house more quickly.
Anti-Allergen Complete Seal Technology with HEPA Filter
Dust allergy is one of the most common breathing diseases nowadays. However, few people consider this, which can lead to serious respiratory problems.
This machine is capable of collecting dust and preventing it from being reintroduced into your home air to avoid such problems. This is accomplished by using a vacuum HEPA filtration system to trap allergens and dust, preventing these allergy-causing substances from causing health concerns for you and your family.
A plethora of add-ons
You'll need different equipment for different surfaces including wooden flooring, carpeting, and upholstery when cleaning your home.
Product Specifications: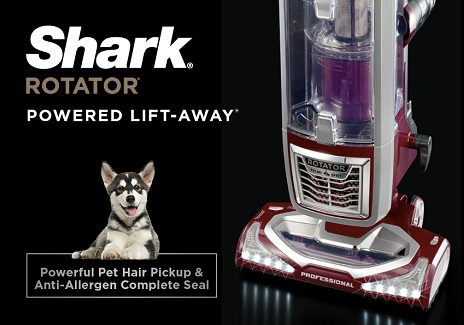 Type: Upright
Bagged/Bagless: Bagless
Surface: Hard Floors & Low to High Pile Carpet
Pet Hair Features: Yes
Approx. Weight: 16.7 lbs
HEPA Filter: Yes
Power Cord Length: 30 Feet
Motor Driven Brushbar: Yes
Warranty: 7 Years
Headlight: Yes
Hose Length: 15.4 feet
Cleaning Path: 11.5″
Filter Type: Washable main filter and HEPA filter
Power: 1,200 Watts
Voltage: 120 volts
Pros:
Excellent at picking up pet hair
Simple to empty the dust canister
Strong suction
Comes with numerous attachments
The motorized pet tool works well
Easy to maneuver
Not too heavy
It's available in upright and canister versions
Not too noisy
Useful lift-away specially for stairwells
Cons:
Upright may easily tip
Hard floor genie is just adequate
Handle may be too long for shorter people
Where to buy Shark Rotator NV752 TruePet Powered Vacuum
#5 Shark AZ2002 Vertex DuoClean Vacuum Cleaner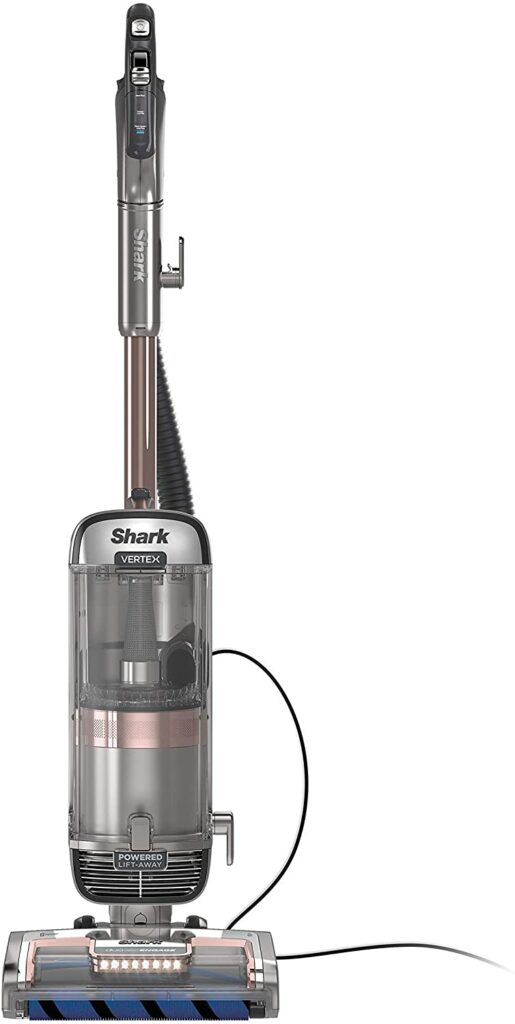 Shark's new top-of-the-line model, the AZ2002 Vertex DuoClean, outperforms the Apex. This variant has a larger dust cup, more power, a little lower weight, and a wider vacuum path, among other characteristics. The new vacuum head, on the other hand, is the show-stopper.
While the twin roller mechanism may appear to be identical to those of other Shark models, a few minor changes have transformed it into the greatest pet hair head on the market today.
Features and design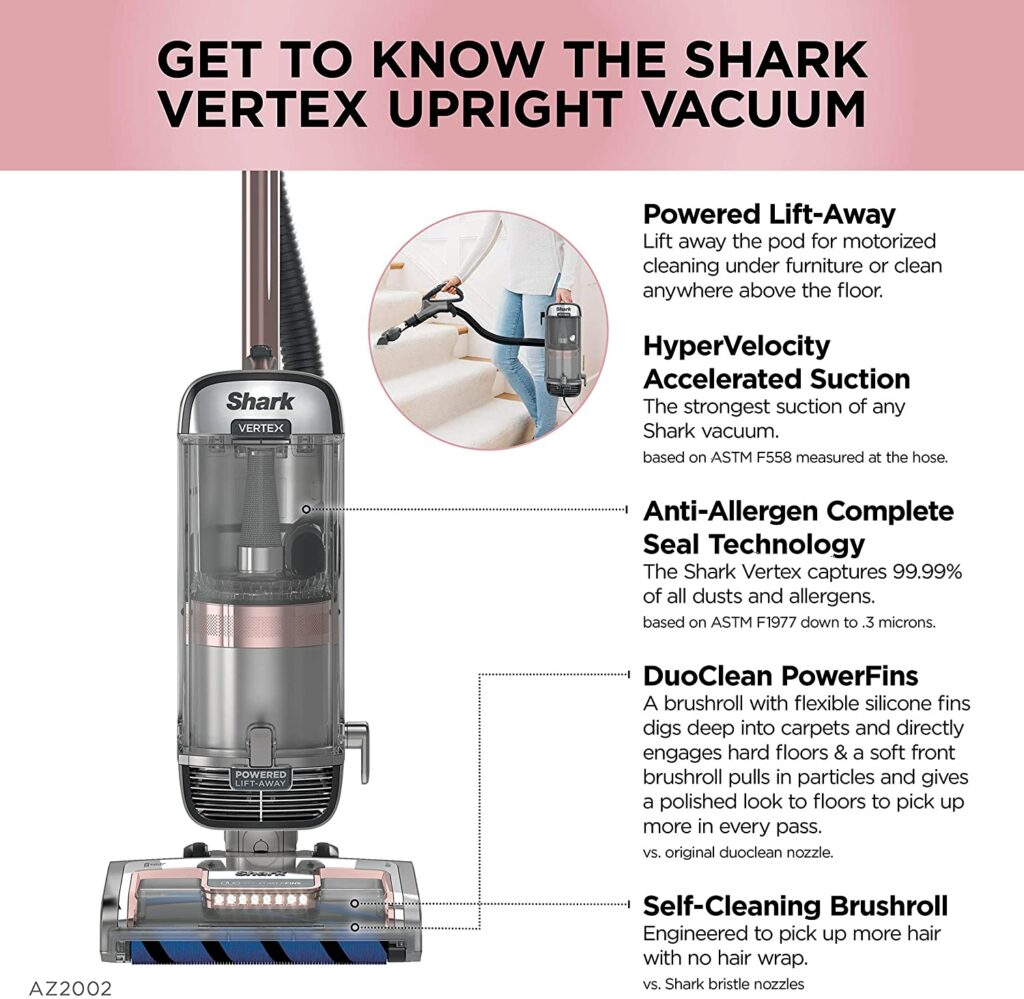 Floor head with a large size
Controls are simple.
Lift-Away mode with a lot of options
The Shark Vertex AZ2002 vacuum cleaner is a monster. This enormous cleaner, weighing 16.4 pounds and equipped with a large 1qt (0.25 gallon) dust cup, is designed to handle even the largest of households.
It comes with Shark's smart self-cleaning DuoClean head, which is designed to keep hair from wrapping around the two rollers: one for hard floors and one for carpets. This design is brilliant because it eliminates the need to change floor heads when you go from one type of floor to another.
HEPA Filtration Shark AZ2002
With Shark's Complete Seal Technology, the AZ2002 has HEPA filtration. Most low-cost vacuum cleaners have poor fit and finish, allowing dust to escape before being caught by the HEPA filter. The entire dust route is sealed with this vacuum, trapping particles inside the filters.
The Vertex catches 99.9% of dust and allergens, according to the ASTM F1977 test for vacuum filtration performance.
The Best Head for Debris and Pet Hair
The Vertex is equipped with Shark's most recent two-stage head. Small debris is picked up by a soft rotary brush, which also lifts dust and heavy dirt from the carpet. To gather up any residual dust, a second roller with rubber fins performs a second pass.
These fins are tilted to keep them in contact with the floor at all times. Unlike conventional vacuums, which can only pick up little or large dirt, the AZ2002 can pick up fine dust and cereal. When vacuuming floors, both rollers stay in place.
The brush roller cleans and polishes the surface at the same time.
While most anti-wrap systems leave a few hairs on the roller, the Vertex is hair-free. You might only find one or two hairs tangled around the rollers if you vacuum a huge, pet-filled house. As a result, the AZ2002 is the greatest pet hair vacuum available today.
Product Specifications: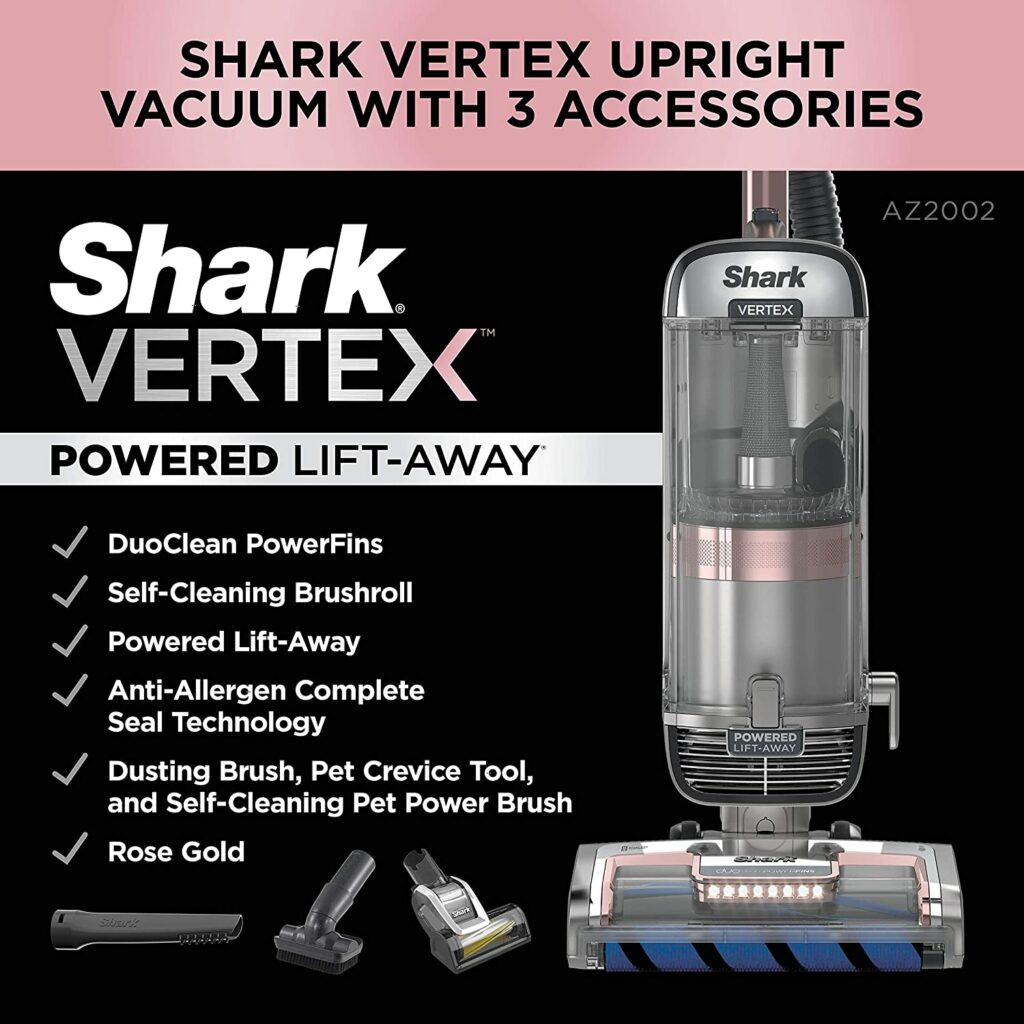 Vacuum Type: Upright vacuum
Bag Type: Bagless
Weight: 16.38 pounds
Power Cord Length: 30 ft
Hose Length: 5.5 ft
Wattage Rating: 1344 Watts
Amperage: 11.8 Amps
LED headlights: Yes
Cleaning Path Width: 12 inches
Dust Cup Capacity: 1 quart
Dimensions (LxWxH): 12 x 15.09 x 46.25 inches
Pros:
Suction that is strong and does not dissipate
It has a great filtration system and is very simple to use.
Excellent for removing pet hair from tight spaces and beneath furniture.
With no hair wrap, the self-cleaning brushroll makes cleaning a breeze.
The lengthy power cable and hose give you more reach.
It's simple to empty and clean.
It comes with attachments for above-floor vacuuming and DuoClean PowerFins for thorough cleaning of all sorts of floors.
The powerful LED lights shine brightly in dark locations, allowing for immaculate cleaning.
Limited guarantee of 5 years
Cons:
It's a little on the pricier side.
a little too heavy
There is no way to retract the power cord.
The three accessories can only be stored in two places onboard.
Where to buy Shark AZ2002 Vertex DuoClean Vacuum Cleaner
See Where Shark Vertex AZ2002 Vacuum Ranks in Our Best Upright HEPA Vacuum
#6 Oreck HEPA Bagged Upright Vacuum Cleaner

UK30205PC is a multi-surface cleaner. It has nearly identical characteristics but at a lesser cost. As a result, it's great for anyone seeking a low-cost Oreck upright vacuum.
It's portable and comes with a 30-foot power cord (5 feet shorter than that of the UK30305PC model).
It uses HEPA media filtration and SaniSeal technology, just like its sister, to ensure that no allergens escape during or after vacuuming. It can capture up to 99.97% of allergens. Additionally, it collects all pet hair, dust, dirt, and bigger debris, making your home allergy-friendly.
The Oreck HEPA UK30205PC also features a big dirt capacity, allowing you to vacuum for longer periods of time without interruption.
Product Specifications:

Filter type: HEPA
Power Cord Length: 35 feet
Weight: 10lbs.
Vacuum Type: Upright
Bag Type: Bagged
Cleaning Path Width: 13 inches
Warranty: 1 year
Self-Propell: Yes
Headlights: Yes
Product Dimensions: 15.75 x 15.75 x 39.5 inches
Item Weight: 10 lbs
Pros:
Powerful suction
Lightweight
Cleans all types of floors effectively
Its headlights are brilliant LEDs
Easy to assemble, maneuver, and store
Fingertip controls are convenient
Cons:
Manual cord-wrapping might be time-consuming
There are no accessories for cleaning above the floor
Where to buy Oreck HEPA Bagged Upright Vacuum Cleaner
Buyer's Guide
In today's large range of vacuum cleaners, there are many styles, functionalities, and high-tech features to choose from. So, which one is the best fit for you? Check out our guide to help you sort through the possibilities, whether you have a pet, suffer from allergies, or simply need a vacuum for your home.
Vacuum Basics
Begin by considering the essential components of your home when selecting a vacuum cleaner. Take into account the size of your residence first. For thorough cleaning, larger homes may require a larger, more powerful upright vacuum. Consider stairwells next.
Consider a stick vacuum if you have a multilevel home; it will be easy to go from floor to floor. Then consider the floor's surface. A vacuum that can adapt to diverse floor kinds is required in homes with a range of floor surfaces. Remember your pets: vacuums built to handle pet hair and dander can make cleaning a lot easier.
Because purchasing a new vacuum cleaner isn't something you do every day, it's worthwhile to invest in a high-quality product that will clean your home well and last a long time.
S-Class / HEPA Filtration vs. Standard Filtration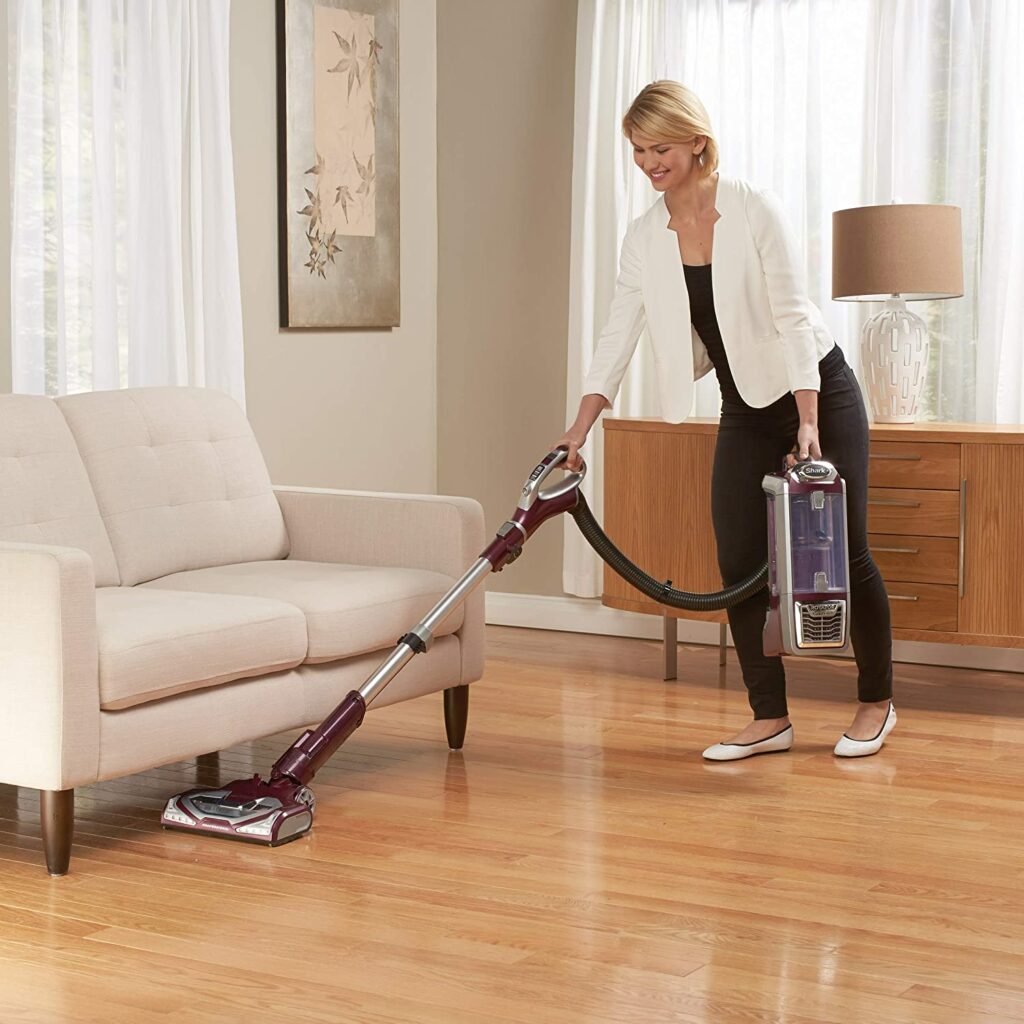 Which should you choose, given that filtration is such an important component of what makes a healthier sort of vacuum, well… healthy? Vacuum cleaners that use a basic filter, such as foam or polypropylene, or have no filter at all disperse allergens throughout the air you breathe.
They accomplish this by collecting up particles that have settled in the carpet or on smooth ground and propelling them back into the air. Fine particles like pollen and pet dander will simply pass through these old vacuums, making them ineffective at filtering and trapping them.
If you have allergies, you should use a vacuum cleaner with an S-Class or HEPA filter that fulfills the strict HEPA (High Efficiency Particulate Air) regulations in the United States. These vacuums remove 99.97 percent of all particles with a diameter of 0.3 microns or bigger.
Furthermore, because the filtering criteria of S-Class and HEPA filters are essentially comparable, either will work for allergies and asthma.
Vacuum Cleaners (Upright vs. Canister)
Upright vacuum cleaners are excellent for carpet cleaning, but they are heavier and more difficult to maneuver than canister vacuum cleaners. With previous upright vacuum cleaners, cleaning in narrow areas and under furniture was challenging, but thinner uprights are designed to solve these issues particularly.
Bagged vs. Bagless
Bagged vacuum cleaners are often a better alternative for persons with allergies or asthma when it comes to dust disposal after vacuuming because the dust is gathered in a sealable bag.
Bagged vacuum cleaners, on the other hand, might lose suction power as the bag fills up, so keep an eye on the dust bag change signal if you have one. Bagless vacuum cleaners don't have bags to clog, so you won't have to worry about the cost of replacing them.
Performance
Getting your hands on the vacuum cleaner and seeing it in action is the greatest method to test ergonomics and performance. On both smooth and carpeted floors, we test all of our models for their ability to clean filth and pet hair, as well as eliminate odor and fine dust.
In general, all of our vacuums have strong suction, and while some are better suited for specific types of flooring, they are all highly efficient cleaning equipment when used in conjunction with the vacuum's intended purpose.
Surface Type
When it comes to the different surfaces you can efficiently vacuum, the upright vacuums provide remarkable flexibility.
All versions come with a variety of accessories that can be used to expand the vacuum's capabilities. However, make sure you think about exactly what you need; you don't want to end up paying for items you don't need.
Finally, we recommend concentrating on how well vacuum cleaners move between hard-floor and carpet cleaning modes. For example, some of the top models include motorized carpet scrubbing for a deep, completely clean.
It's a feature that may be turned off to allow for the cleaning of hard floors and sensitive rugs.
Hose Extension Attachments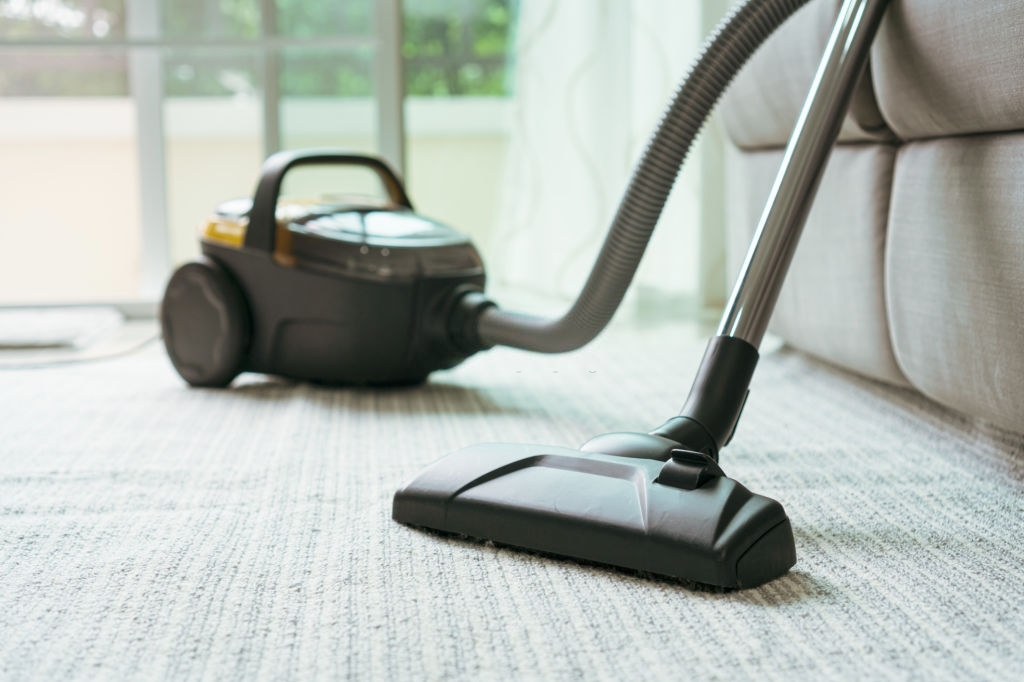 Check out upright vacuums with extension hose attachments if you need to vacuum in confined spaces or elevated areas. These vacuum cleaners provide flexibility that regular upright vacuum cleaners lack – stair cleaning, for example, is a breeze.
Final Thoughts
Vacuum cleaners with HEPA filters are a great complement. They're easy to use and make a substantial improvement in your home's air quality. They can be found in a variety of vacuums.
HEPA filters are highly worth it if you have allergies, sensitivities, or pets. Vacuum filters perform a fantastic job of cleaning, but these also purify the air around them.
Some of the top models are among our favorites. What are your thoughts? Fill out the form below with your questions and thoughts; we love hearing from you.