Pets can be fantastic companions – but they definitely don't do their part of housework, and you as a pet owner who wants to keep a clean home can become a disaster during the shedding time. That's where the Bissell Cleanview Swivel Pet Upright Bagless Vacuum Cleaner comes in, which is primarily commercialized as a vacuum for pet owners. So can the Bissell 2252 do its job? Read on to learn more!
The Bissell CleanView Swivel Pet Vacuum combines exceptional performance and good value that provides expert floor cleaning. Designed mainly for households with furry families, special pet tools and features are provided to help you take care of them all.
What is Bagless Vacuum Cleaner?
In recent years, bagless vacuum cleaners have become very popular. As the name suggests, bagless vacuums do not use a replaceable bag that holds surface dust and dirt. A bagless vacuum cleaner is compact and stores dirt and dust with a cup or chamber. You can quickly empty and clean the dust cup used in your vacuum cleaner.
About Bissell CleanView Upright Bagless Pet Vacuum
The Bissell CleanView Pet Vacuum is an upright, multi-cyclone vacuum for households with pets built to provide powerful suction power across all kinds of floors. It comes with a variety of techniques and has been given positive feedbacks in many cleaning tests.
Let's see what this vacuum has to offer.
Swivel Steering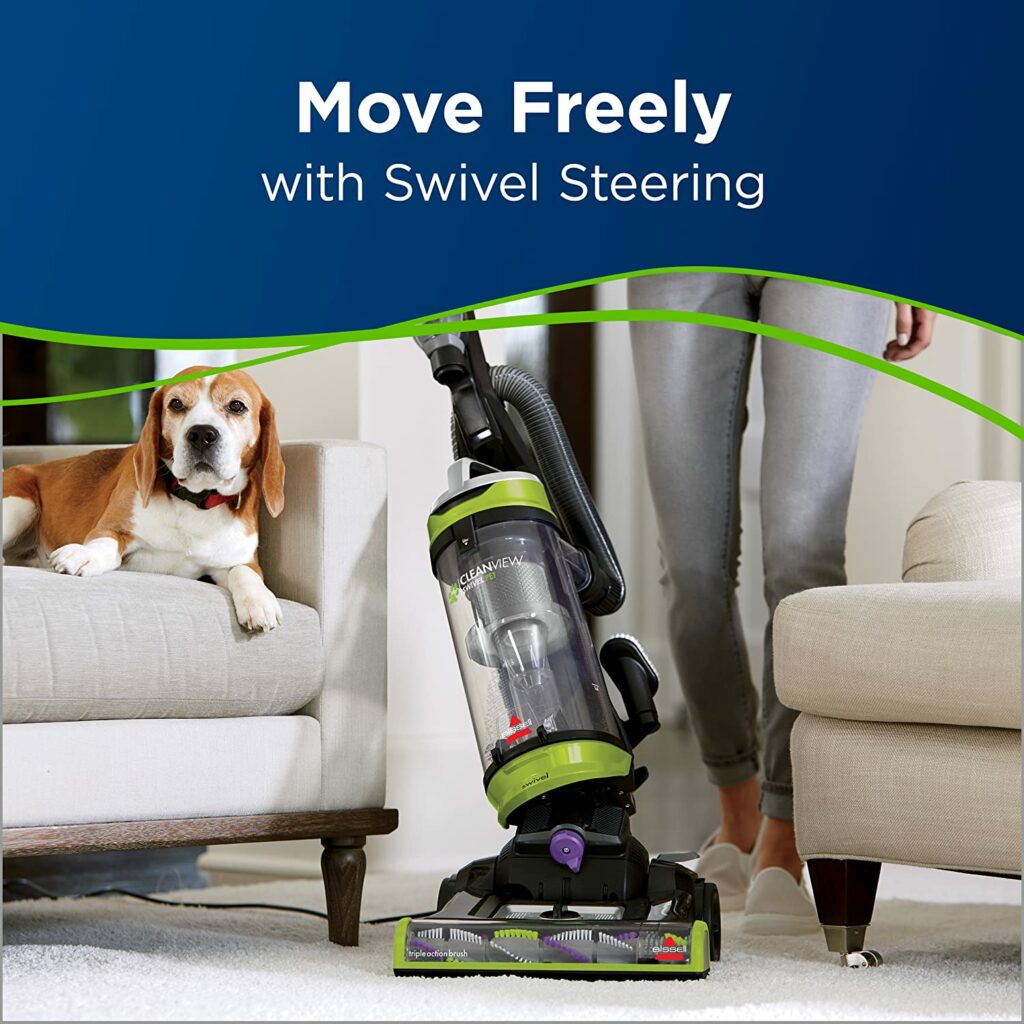 The Cleanview Rewind from Bissell is optimized for your home with pet. The multi-cyclone suction system prevents loss of suction when vacuuming, whether the rugs are cleaned or the blinds dusted.
The swivel steering allows the vacuum to easily maneuver around the corners and furniture.
A swivel cleaner can be much better for people with poor back, arthritis, or any other mobility condition. And, for us all, a steering cleaner is far handier to move in and around the corners.
Multi-Cyclone Filtration
The loss of suction power over time is one of the greatest inconveniences when using a vacuum cleaner. This is usually due to the fact that bigger particles block the filter.
The Bissell 2252 can overcome this issue by means of a multi-cyclonic suction system that is large and small, ensuring the filter as debris-free as possible for long-term, high-quality suction.
Bissell Cleanview Swivel'design of the multi-cyclone filtration technology would help to clean floors and carpets more deeply.
It also guarantees that dirt and waste are drawn into and remained in the dirt tank. This feature supports a longer filter duration and lowers maintenance costs.
Assembly is Easy
The Bissell Cleanview Swivel 2252, which comes in few amazing parts, is a very simple product, and you just click together as soon as you take it away from the box.
The primary section, which contains a transparent container to hold the dust and debris extracted by the vacuum, can easily be clicked in and out. However, some users have observed that it takes a lot of energy to get back in – make sure that you take a good shot.
Users can also take the machine apart to clean each component with soap and water. Not all vacuums are constructed in this manner, which can make them smell uncomfortable after the system has filtered out house dust for many years.
Furthermore, the cord – one of the longest power cables you can find at 27 ft in length – is pulled directly into the bottom push so that you save your winding effort.
Less Bag, Save Money
You can save money with bagless vacuum cleaners, as your bags won't be bought again. They're also easier: there's little more annoying – at least in the field of cleanliness than getting you out of bags and having to ride half-way to the shop.
The hair and dirt are drawn into the translucent container, which makes up a machine bulk (hence the name ClearView), where you see it rolling around with the cyclonic technology of Bissell, instead of being sucked into bags.
One drawback of the vacuum is that the container does not carry a lot of hair – you have to empty it constantly during your vacuum.
Brush Roll Features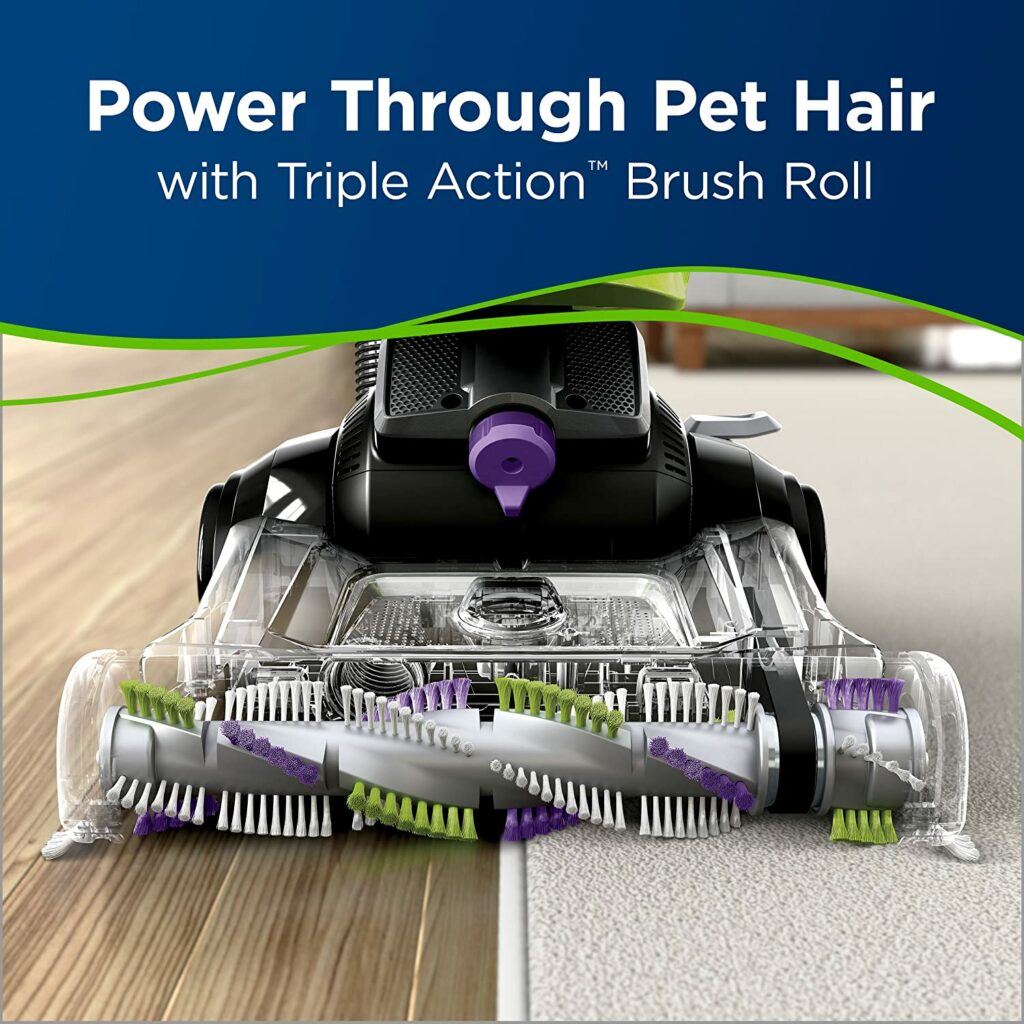 This model from Clean View River Pet helps to loosen and lift dirt and pet hair from tapes that are difficult to look at.
The external bristles help to bring dust and debris into the path of the brush so that even the furniture can be cleaned more closely.
The vacuum requires fewer passes, with its 13″ wide path and an edge-to-edge brush roll.
The BISSEL Cleanview Swivel Pet also has two side unpowered side brushes which help stop dirt from scattering across the place. They make sure every part of the dust in the path to the vacuum is in place to completely pick up and remove by the suction inlet and triple action brushes.
Washable Filter
The multi-cyclone filter system can be removed from the 2252 and washed under running water. If the vacuum cleaner eventually loses suction force, quickly unplug and wash the filter. Allow it to fully dry before reinstalling.
Each filter lasts 6 months, so it depends on how much you use the vacuum cleaner and the kind of debris that blocks the mesh.
Cleaning Accessories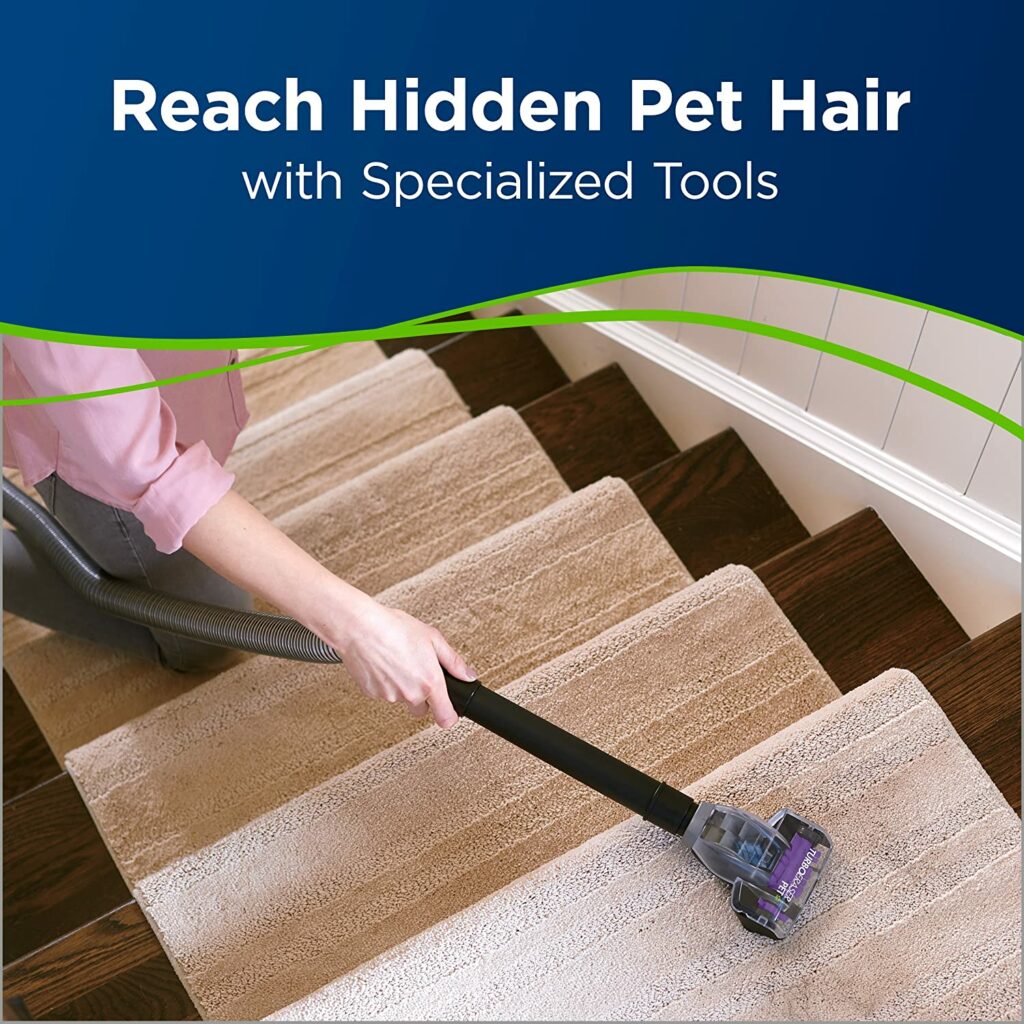 The BISSEL Cleanview Swivel Pet has a stretch hose that can quickly cover all kinds of above-ground surfaces in order to remove dirt from all surfaces of your house.
The box contains an extension wand that adds more than one inch to your reach, a multi-surface pet tool that removes pet hair and other accumulated debris, a dust brush for easy brushing and cleaning of shelves and tables, a tool to dig deep into coiling and edged corners, and a convenient stair-cleaning triangle attachment that eliminates every speck of dirt on carpets.
Large Dustbin
The BISSEL Cleanview Swivel Pet 2252 holds a liter of dirt, hair, and other contaminants that can be removed in carpets and smooth surfaces. Throughout each cleaning session, the big dust bin allows you to work longer until the bin is emptied.
A very handy feature, particularly if the floors of your home are several square feet wide.
Long Power Cord
This useful vacuum cleaner features an incredibly long 27-foot power cord to extract power from the closest wall socket to connect to the already comfortable 2252, allowing you approximately 2.300 sq. ft of movement before you need a new way out.
Better still, why not use an extension cord for optimum flexibility without switching outlets for a whole floor? The Bissell 2252 would be good because there was an automated winding of the cord.
Bissell Cleanview Swivel Pet Specifications:
Dirt Cup Capacity: 0.26 gal
Power Rating: 8 amps
Cord Length: 25 ft
Automatic Cord Rewind: No
Pet Friendly: Yes
Detachable Canister: No
Tools Storage: Onboard
Product Weight: 14.5 lbs
Nozzle Width: 13.5 inches
Attachments: Pet TurboEraser, Upholstery Tool, Tool Brush, Crevice Tool, Extension Wand, Dusting Brush
What We Like About the Bissell Cleanview Swivel Pet Upright Bagless Vacuum Cleaner
Performance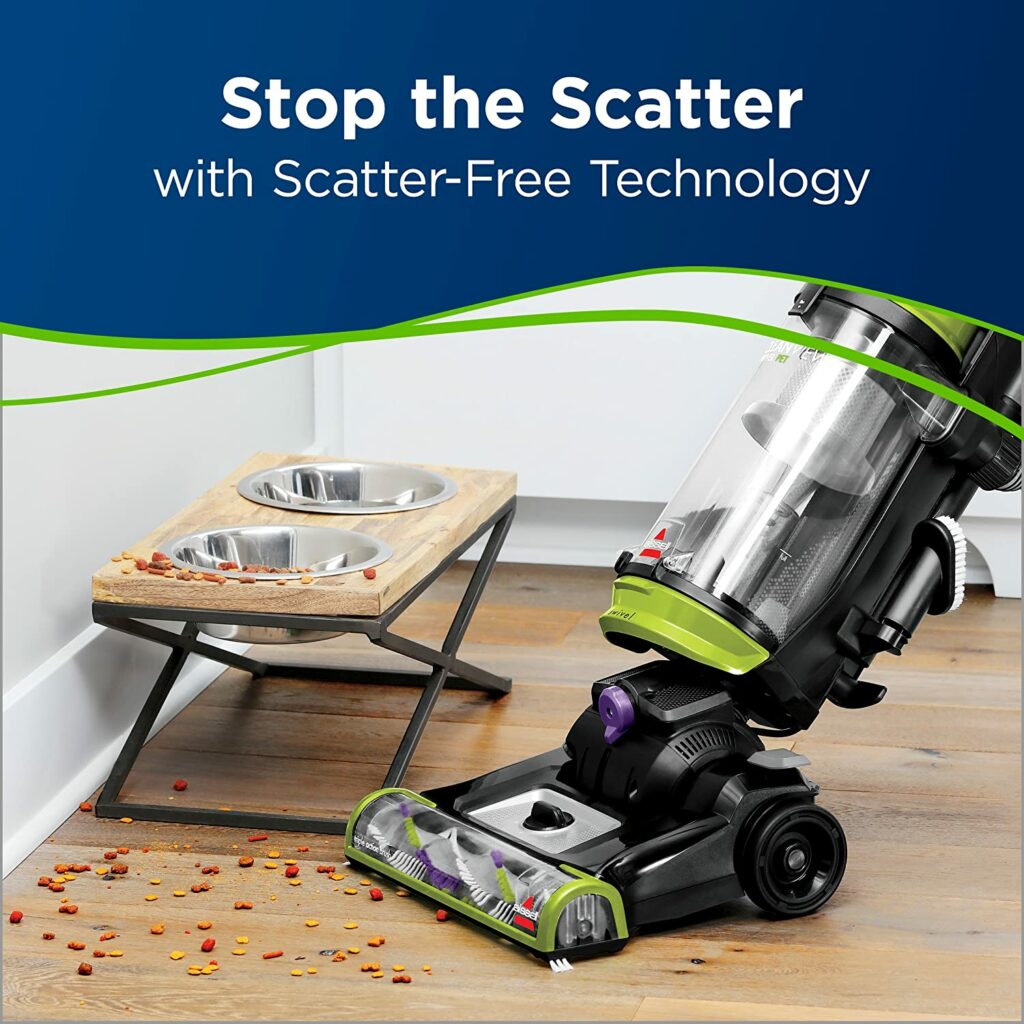 The CleanView Swivel Vacuum loosens, elevates, and eliminates trapped debris and pet hair for an easier cleaning operation with its Triple Action Brush Roll. It is also assisted by a potent multi-cyclonic suction system, which provides increased efficiency with reduced suction loss.
Cleaning is also made simple using its Scatter-Free Technology while catching each tiny bit of dirt. Combined these three excellent features, none is left out of the CleanView Swivel Vacuum.
Advanced Cleaning
You can easily pick the hair from the corners and edges of your house using the edge-to-edge cleaning function. You can confidently clean, knowing that in every pass you can get more.
You will also now have access to the hard-to-reach areas with the CleanView Swivel Vacuum with the stretching hose and specialized tools provided.
Bissell also maintains that all its products utilize filters that are washable and have a multi-level filtration technology to collect dust and pollutants while avoiding the need to constantly purchase new filters.
What We Don't Like About the Bissell Cleanview Swivel Pet Upright Bagless Vacuum Cleaner
The Bissell CleanView Swivel Pet Vacuum offers decent value for the money but has a drawback like many other vacuums. Some users report that it has problems with blocking.
Bissell Maintenance
Emptying the Dirt Tank
1. Empty the tank once it is full.
2. Press and remove the dirt tank by pressing the release button.
3. Hold the garbage can with the mud tub. To empty, press the lower release button. Close the lid until empty.
4. Turn the cyclone left and pull it down in order to remove it from the tank.
5. Gently clean the cyclone with warm water and mild detergent. Before replacing, leave the cyclone completely dry. Fit and twist to the right to replace.
6. Put the tank back into the vacuum after emptying and press firmly until "click" is heard.
Clearing Clogs
1. Twisting it to the left side, pull the hose from the back of the vacuum. Remove any excess debris that has been blocked.
2. Check the foot hose down to the bottom of the vacuum. Remove the foot hose and test for blockages if necessary.
3. Check the vacuum's bottom air passageway. Remove the brush and the cover of the bottom to remove any debris.
Final Verdict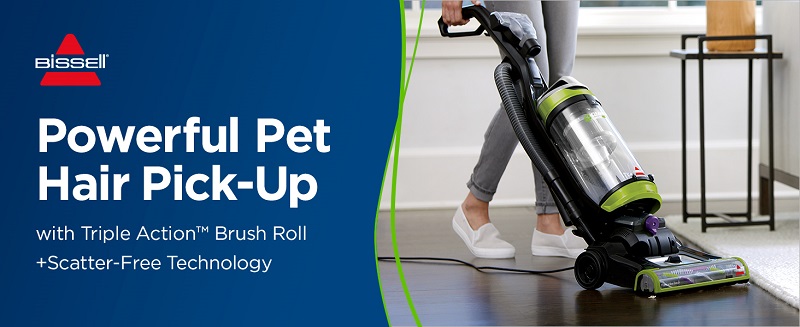 The Bissell CleanView Swivel Pet Vacuum performs well most of the time with its appealing price tag and its outstanding list of features. It might be the best livestock vacuum for its price range if we put aside its problems. If so, a lot of the best-established competitors would be beaten.
Overall, Bissell CleanView Swivel Pet Vacuum offers a complete experience and will only provide the right solution to our pet cleaning needs if it did not use troubling materials and obstruct the issues.
No product really provides the desired result, but this vacuum definitely gives you great results.