Sometimes robots pose as a threat. They are slowly taking on the cleaning jobs only humans can do before. It won't be a surprise when fully working robot maids will be created soon and do all the household chores for you. For now, however, let's focus on this kind of robot cleaner available in the market today – robot window cleaners.
The Gladwell Gecko Robot Window Cleaner is one of the models in this robotic bracket. More and more people are getting a robot window cleaner because why not? Wiping the windows and glass doors isn't only time consuming, it can be dangerous, too. So if you're thinking of getting this type of cleaning tool, check out what the Gecko Robot has to offer.
Recommended for you: Best Robot Window Cleaners For Glass Doors | Hands-Free Glass Cleaning Using These High-Tech Robots
Summary of Features: Gladwell Gecko Robot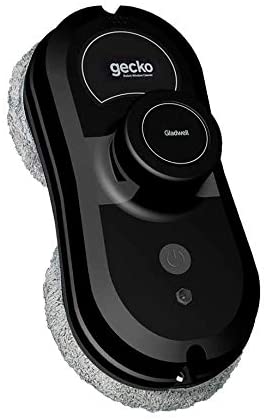 Intuitive Cleaning Technology. The Gladwell Gecko is equipped with an AI, which allows it to follow a certain path. This cleaning technology also keeps the robot safe as it can detect edges, preventing the model to fall off the surface it's attached.
Safety features. The Gecko Robot comes with several safety features, including ropes as well as its intuitive navigation technology that can detect edges and prevent the model from falling off the surface.
Application-integrated. With Gladwell Gecko Robot you have an option to use an application that you can download on your smartphone. It's a convenient highlight, especially if you can't find the physical remote control and you want to customize the cleaning settings of the robot.
Strong suction. The Gladwell Gecko uses suction, a powerful centrifugal fan to attach itself to the glass. Powerful suction is a crucial factor to consider when getting a robot window cleaner, as it doesn't only determine the product's efficiency, but safety, too.
Washable pads. The Gecko Window Cleaner comes with washable pads. Having washable pads is a positive feature of this product as it can help you save money from buying new ones. If you're budget-conscious, this highlight benefits you.
Versatile. The Gecko Cleaner isn't only an effective glass cleaner, it also works on different surface types. It's a multi-functional robot cleaner that you can also use for tiled walls, floors, and cabinets.
Automatic notifications. Another noteworthy feature of the Gladwell Gecko is its buzzer. When the robot completes its task or if ever it experiences any problem in the middle of its chore, it will send you notifications to the app.
Budget-friendly. The Gecko Robot is one of the most affordable robot window cleaners in the market. Its edge, apart from being budget-friendly, is it works efficiently, too. You may find cheaper products than the Gladwell Gecko, but these robots could be less durable or not as efficient.
Gladwell Gecko Robot Cleaner Review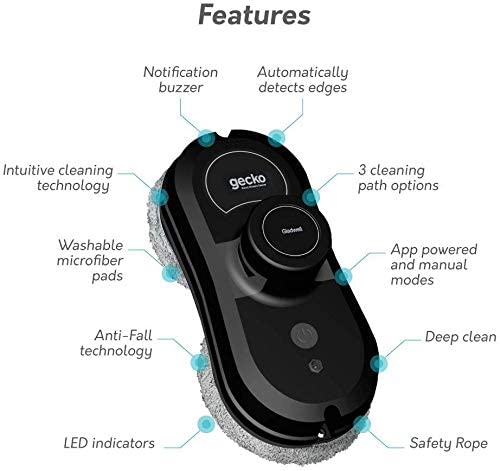 The Gladwell Gecko is a great choice for a robot window cleaner especially if you have smaller windows or glass doors. The product's compact size makes it versatile and functional on different surface types and dimensions. It's a suction-based robot window cleaner, equipped with smart AI for intelligent navigation.
This Gecko might be small, but it's multi-functional. Apart from glass windows and doors, you can also use it on different surface types like tile walls and floors. With its intuitive cleaning technology, it can detect edges and clean areas that are hard to reach. Using an advanced algorithm, it efficiently removes dirt and not miss scrubbing any part of your glass window or door.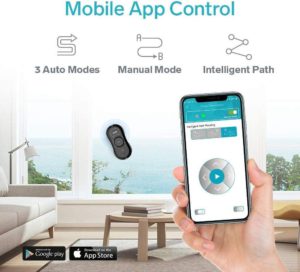 You will have three options for cleaning such as automatic, manual, and the intelligent path. You can access and choose these modes using the application in your smartphone or remote control. This device is lightweight, too, so you won't worry that much about it falling or damaging a fragile surface.
When it comes to the design, the Gecko has a unique shape. It's a dual-spinning model with two pads for cleaning, and due to its shape, it may have a hard time cleaning corners. The actual unit has LED indicators, a safety rope hole, power switch, bottom light, buzzer, air vent, a power jack slot, and a power switch.
The Gecko Robot boasts strong suction, which allows it to attach itself on different surface types. The powerful vacuum of this product also aids in the product's safety, in addition to the back-up ropes that will hold the unit in case it falls off from the surface. We also like that the Gecko comes with washable pads. Not only that these pads work well for deep-cleaning, being washable also means you can save money from buying a new set.
Another notable feature of the Gecko is its buzzer. It sends notifications to the application on your smartphone when it has completed its task. The buzzer also works when the robot experiences problems such as if it gets stuck and other issues.
Most robot window cleaners especially the more advanced models can be pricey. So for people with a tight budget, Gladwell Gecko is a good choice as it's relatively cheaper than most brands. It can get the work done without costing you an arm and a leg.
The downside, however, due to the product's shape, it can struggle with cleaning corners. Typically, the pads can't reach the nooks of the surface it's working on. Still, we think the Gladwell Gecko is one of the best options for a robot window cleaner that you can get at a fair price.
Recommended for you: Best Window Vacuum Cleaners- Reviews and Buyer's Guide
Who Needs a Gladwell Gecko Window Cleaner?
Busy people. Cleaning the windows takes time. For big houses, especially, just imagine how many windows you have and each one of them, you should clean yourself. That's why getting a robot window cleaner can help you save a lot of time. You won't need to hire a person to clean your windows and doors if you are a busy person.
Just stick the robot on the surface you want to clean, and with Gladwell Gecko, you will just receive a notification on your phone when it has completed doing its work. You can leave it alone while you proceed with other things you need to focus on. This buzzer notification feature is especially useful for busy people who have important things to do. You can keep your glass windows and doors clean without sweat and with just one press of a button.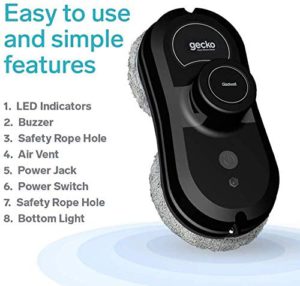 Budget-conscious. We have mentioned a couple of times that this Gecko fits the budget of a budget-conscious. It's probably one of its main selling points. The Gecko robot may not be the most advanced model that you can find, but it does a satisfying job. It offers quality work without you needing to break the bank.
If you have small windows. Although some customers say the actual unit looks a bit larger than what they expected, this Gecko is still compact and smaller than other models. Meaning, it's a good option if you have small windows. It also works better on surfaces with no sharp corners due to its shape. Being compact, it also means it's easy to store and keep. You won't have a problem where to place it since it doesn't take that much space.
Easy to use. The Gecko window cleaner is easy to use. You can start it using the physical buttons on the actual unit, with the use of remote control or by using the app on your phone. Any way you like it, it's pretty straight forward. The remote control and the app interface are similar. Using these controls, you can choose between different cleaning modes. You can manually control the robot, too, as well as get notifications from the robot when it completes its task. Unlike more advanced robot window cleaners, this Gecko is easy to handle and control.
For small spaces. Because of the Gecko's compact size, and battery limitations, we recommend this product for people living in small spaces. The unit's battery life lasts about 50 minutes, and after that, you will have to use the backup battery to make it work, while charging the primary one. For people living in smaller houses, it won't be a problem. However, it could be an issue for people living in larger homes.
Recommended for you: Best Window Vacuum Cleaners Buyers Guide
Gladwell Gecko Window Cleaner Specs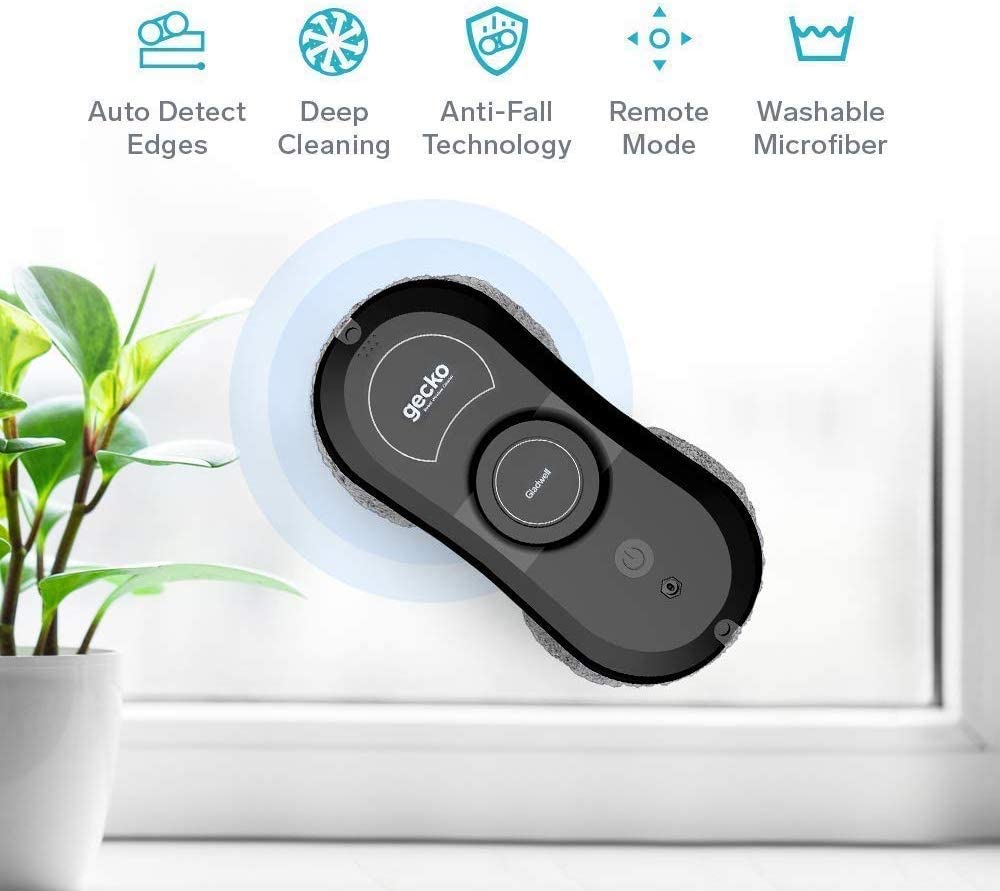 4.97 pounds in weight
Intuitive cleaning technology
Equipped with safety ropes
Can be controlled with a remote control
Smartphone app-integrated
Can perform a thorough cleaning
1 Year Warranty
Below are the Pros and Cons of Gladwell Gecko Window Cleaner
Pros
Compact
Intuitive cleaning system
Equipped with ropes for safety
App integrated
Works on multi-surface types
Budget-friendly
Cons
Has tendencies to struggle cleaning corners
Conclusion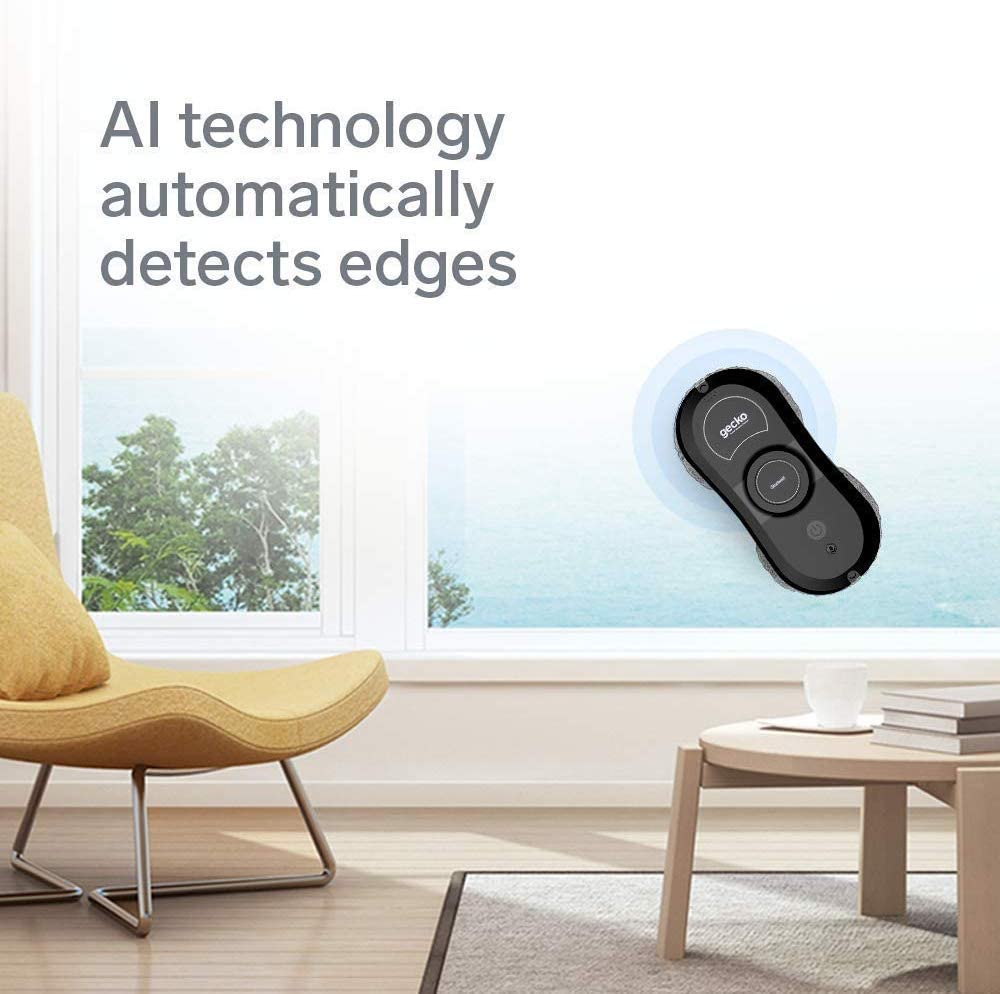 If you're looking for a budget-friendly robot window cleaner, no doubt, the Gladwell Gecko robot window cleaner is one of the best options in the market. It has an intuitive cleaning technology with great navigation. It can detect surfaces, and its smart algorithm allows it to efficiently clean surfaces without missing a spot.
However, it might struggle with cleaning corners due to its shape. Still, we like that it comes with safety features, and you have a choice of using the remote control or the app to customize the settings of the robot. You will feel assured that the model will remain safe with its multiple safety features like its ropes and its powerful suction.
If you think we offered valuable information about this robot window cleaner, we'd love to hear from you in the comment section below. Do you think the Gladwell Gecko robot is the product you're looking for? There are a lot of other options in the market today. Make sure to learn as much as you can about the product you're getting, as robot window cleaners are a hefty investment.
Surely, however, the Gecko robot is worth every cent. It may not be perfect, but it comes at a fair price, in return for a ton of perks that you can get from this machine.
Recommended for you: Best Window Vacuum Cleaners- Reviews and Buyer's Guide