It's surprising how many people are loving the iRobot Braava Jet 240. We get it, it's adorable, it's cute and tiny, but there's got to be more than that for consumers to be happy about it. If you don't know what a Braava mopping robot is, it's a small yet efficient robot vacuum mop that's not the most high-tech model but people still love.
Now, that's what we're finding out today — why consumers are obsessed about the iRobot mopping gadget, and what does it offer? Read on to know more about this robot vacuum mop.
Recommended for you: Best Wet and Dry Robot Vacuum Cleaners for Vacuuming and Mopping
Summary of Features: Braava iRobot Jet 240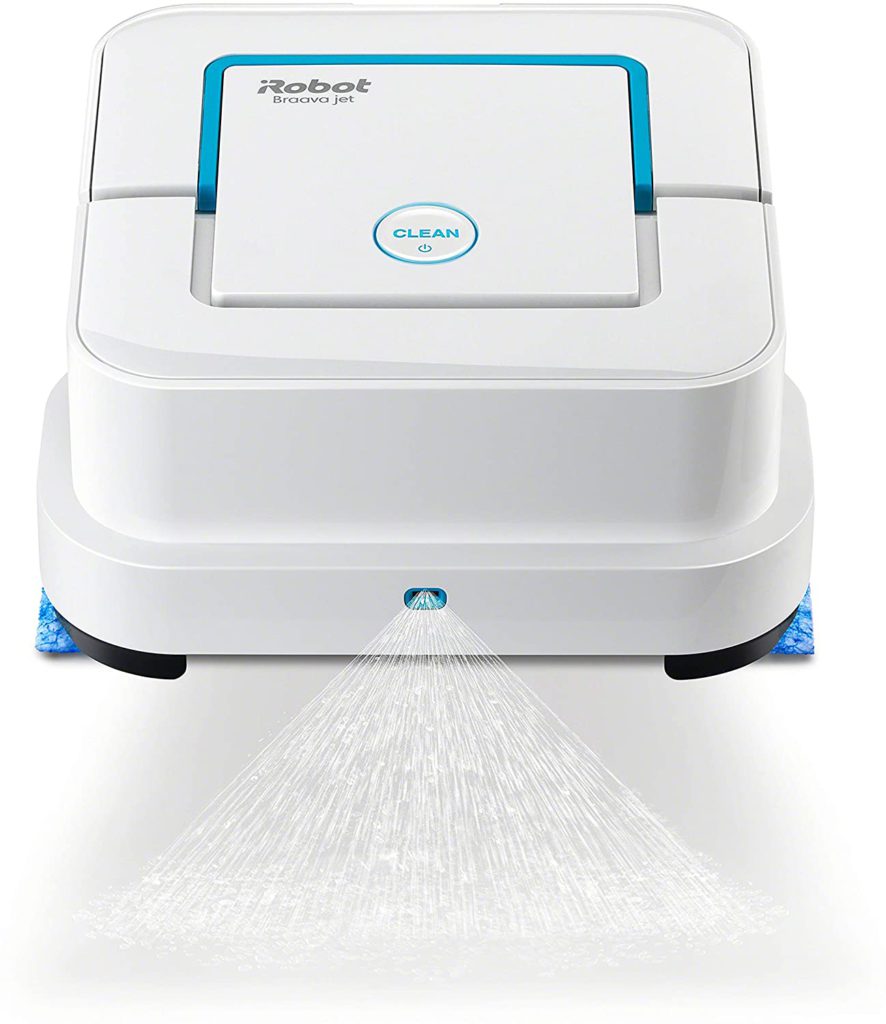 Precision jet spray. Precision, precision, precision; the Braava Jet 240 is not about power, but how precise it is when it comes to targeting and removing dirt. Its number weapon is its precision jet spray, which squirts enough water to the dirt to loosen it up and be able to be easily wiped up by the mop.
Compact. Another thing to love about the Braava robot is its compact body. It's only 6.7 x 7 x 3.3 inches, which is just the perfect size allowing it to get into tight spaces and clean hard-to-reach areas. Its compact body also makes it a fitting choice for people living in small places like apartments or dormitories.
Three cleaning modes. You will get different options for cleaning, which you can choose using the app on your smartphone. These three cleaning modes give the necessary actions depending on what kind of dirt you're dealing with. You will get the options Wet Mopping, Damp Sweeping, and Dry Sweeping for your different cleaning needs.
Long run-time. The Jet 240 mopping machine offers about 2 hours of battery life, which is a good amount of time especially for people who have large homes.
3-pounds light. Another highlight of this robot vacuum mop is its weight. It's one of the lightest models in the market weighing only 3 pounds. Meaning, you can easily bring it anywhere you want. It won't feel delicate, and would probably feel just like a toy when you carry it.
Virtual wall. The Braava mop appliance offers an option for setting up a virtual wall. It's especially useful when there are places you don't want the robot to go, avoiding any accidental falling or breaking of furniture.
Braava iRobot Jet 240 Review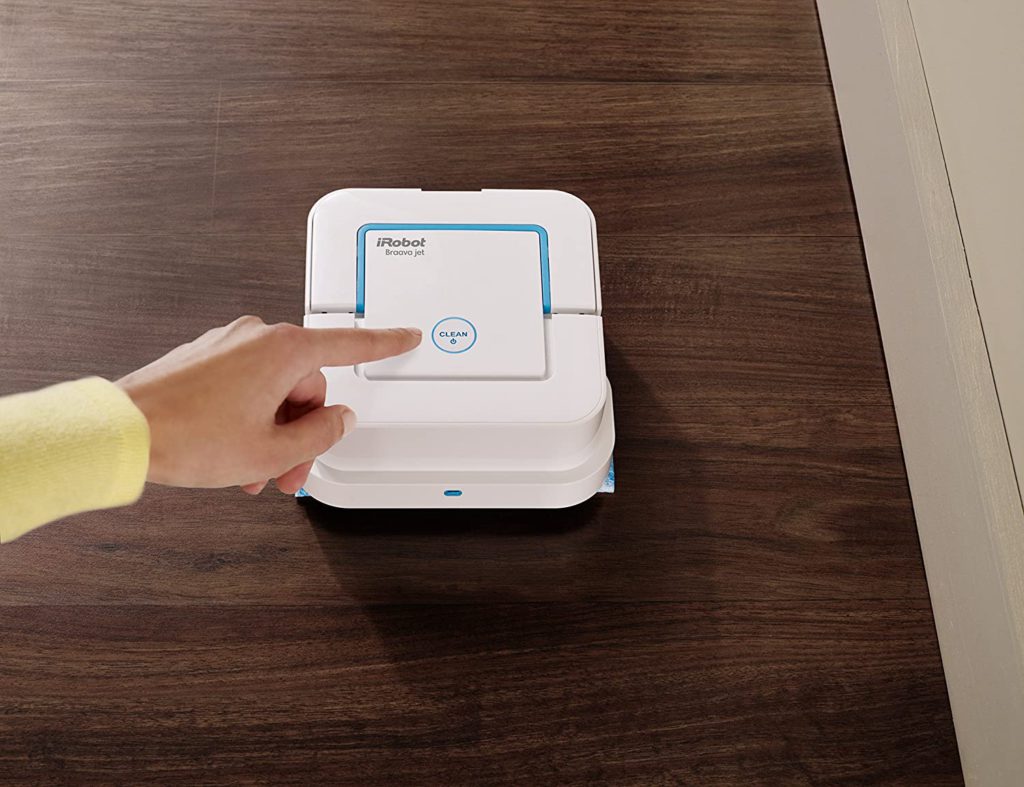 Let's talk about the design of the Braava mop appliance. What we liked about it is it's small, compact, with round edges, clean and straight-to-the-point. It's not as sleek and futuristic as other models, but we like that it looks like a miniature robot vac. It's ultimately lightweight, too, weighing only 3 pounds, which means it's easy to bring anywhere. The size and its round edges make it easy to get through tight spaces. Perhaps, it's the perfect robot vacuum cleaner for people living in apartments or dormitories.
The Braava mopping robot only has one button on its top that you can press to turn on and off. You can also set-up virtual walls using this button. A fold-down handle is also available for easy carrying, and underneath it is the water tank and mopping pads. Overall, the design is simple yet functional, which we like.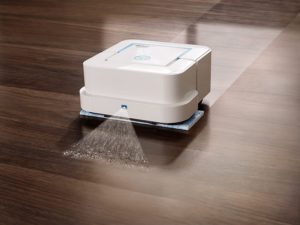 There are three cleaning modes available with Braava mopping robot. Wet Mopping, Damp Sweeping, and Dry Sweeping are the choices you have for these modes. Each mode does different cleaning paths and patterns. Wet Mopping is the closest way of how you clean with a mop. It's the mode that uses the most water and battery, where the robot can clean up to 200 feet. In Damp Sweeping, the robot uses a bit of water and cleans in a straight line then back and forth. In this mode, the robot can clean up to 250 square feet. Lastly, with Dry Sweeping, no water is used and the robot cleans in a straight line. In Dry Sweeping, the robot vacuum mop can clean up to 250 square feet.
The iRobot mopping gadget uses color-coded pads. These pads can be detected by the robot where it bases the type of work to do. Unlike other models, this robot vacuum cleaner has no charging dock and does not automatically recharge itself. It has, however, a long battery life which can last up to 2 hours. The batteries are detachable lithium-ion that you can charge manually using a wall charger.
You can also control the robot using a smartphone app. However, it isn't that extensive and offers only a few options. You can set-up and control the water used using the application, as well as set virtual walls, and turn off and on the robot. Discarding the pads is easy as well. You won't have to touch the pad and you can discard it directly to the trash can when it's time to go.
Overall, the iRobot mopping gadget puts up a decent performance. We like that it's simple, straight to the point, and very easy to use. Though it has an app, you can still make the robot work just using one button. The navigation is exemplary as well. It can maneuver furniture and detects walls and obstacles. The drawback, however, the iRobot app isn't so robust. The maps and virtual barriers you set are deleted after every use. Still, everything is worth it and you get more than what you paid for with the iRobot mopping gadget.
Recommended Reading: Best Robot Mop for Kitchens, Bathrooms and Hard Floors
Who Needs a Braava iRobot Jet 240?
Living in small spaces. The Braava robot is a good choice for people living in apartments, dormitories, or any small places. Because it's compact and small it can easily get through tight spaces and manoeuvre around furniture. The navigation system and sensors of the robot are decent, allowing it to detect obstacles and walls accurately. Thus, it only sprays water when the path is clear, and when it detects no obstacles in its way.
For the budget-conscious. The Braava robot is perhaps one of the cheapest yet efficient robot vacuum mops in the market. Because it's simpler than other models, lightweight and small, it costs less, too. That's why the Braava Jet 240 is an excellent choice for the budget-conscious but still wants to keep their home clean without too much effort and expenses.
For the not too techy. Clearly, the Braava robot is for people who want a robot cleaner that meets just the right amount of simplicity and technology. With this model, although you have an option to use an app, you can still make it work just by pressing one button. Still, we think it's nice that app integration is available with Braava mopping robot. The app is easy to use, too, where you can set virtual walls and mapping. Although it doesn't save what you set, as it deletes everything after every use. We still think having an option for manual use and app integration is a nice touch, especially for the not-too-techy customers.
For simplicity. Some people love the fanciness, complexity, and technicalities of an extremely high-technology robot vacuum mops. However, some people just want a simple machine that can do the job. For the latter, the Braava mopping robot is the product of their dreams.
It's simple to use, as well as its looks. It's a small, white and blue, robot cleaner with one button, where you can set everything. Even the app is not that complicated to use as well. Therefore, if you're after a robot cleaner that can be as simple as possible but you still get an option to be a bit techy, the iRobot mopping gadget is the right choice.
Easy-to-use. Clearly, the Jet 240 mopping machine is easy to use. From setting-up, filling up the tank, adding pads, and starting the cleaning – everything is easy and uncomplicated. It's for everyone, even children can make it work. You just have one button to press or use the app to control the robot, set virtual walls, and maps of your home.
Braava iRobot Jet 240 Specs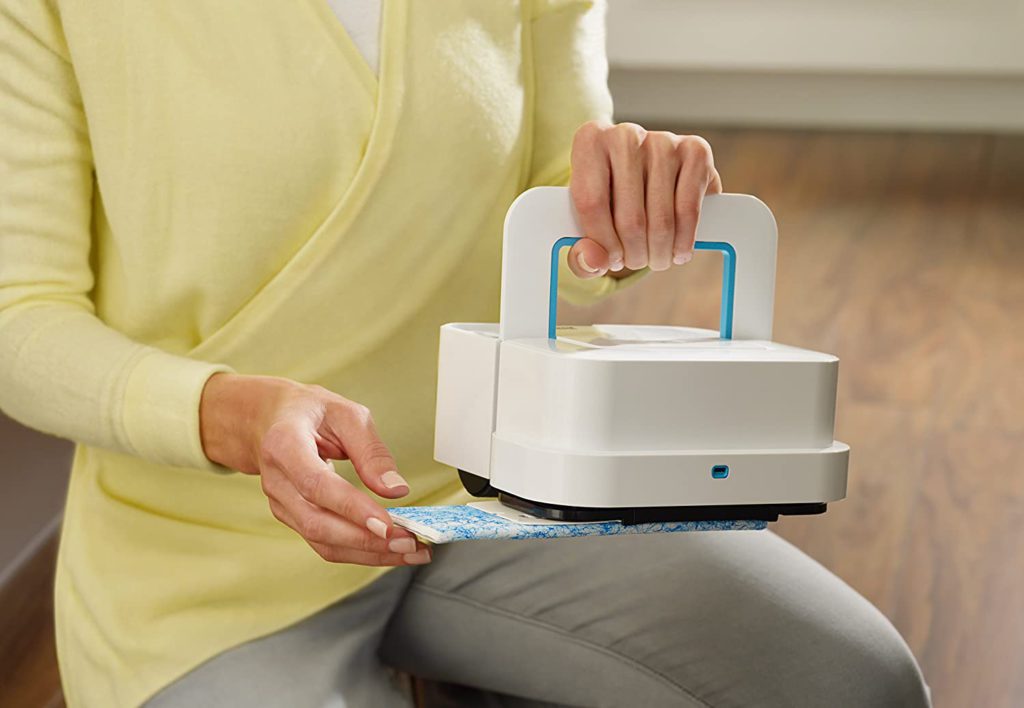 Three different cleaning modes
1 Year Warranty
Compact
Lightweight
2-hour run-time
Virtual walls option
Mapping
App integration
Precision jet spray
Recommended for you: Best Robot Vacuum Cleaner With Alexa Connectivity
Below are the Pros and Cons of Braava iRobot Jet 240
Pros
Different cleaning modes available
Long run-time
Compact
Smart app integrated
Inexpensive
Jet spray precision
Lightweight
Easy-to-use
Cons
Can clean up to only 250 square feet
You can't save virtual walls and maps
Conclusion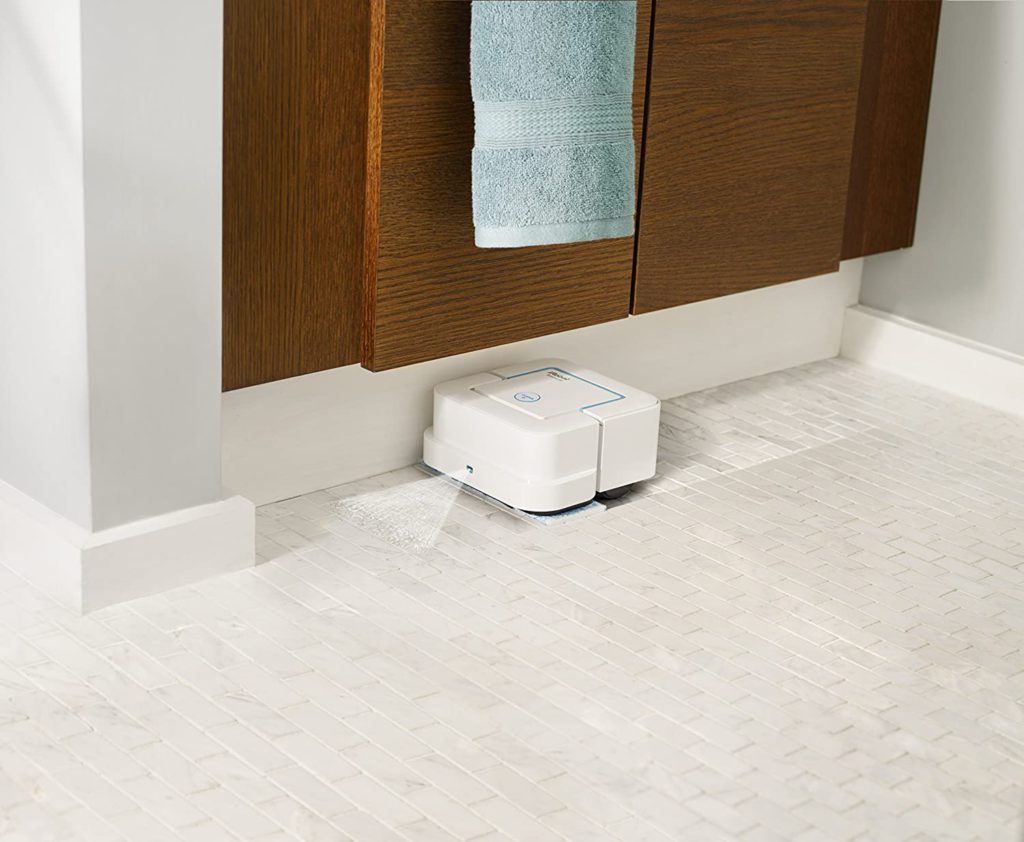 The iRobot Braava Jet 240 may not be for everyone. It's not the most high-tech robot vacuum mop that you can find, but it sure is efficient. Others prefer more complicated models, and units that offer a vast range of control and tweaking options. For those, people the Jet 240 mopping machine is perhaps not the product. However, if you like robot vacuum mops that's easy and simple to use, the Braava mop appliance is for you. It met the perfect balance between being high-tech and being simple.
Just look at it; a small, compact machine that looks like a toy. However, don't let its looks fool you, as this small but wonderful robot vacuum mop can wipe your floors as clean as to how you want it. Although it can't fully replace an upright vacuum, as you will still need to clear up large debris, the Braava Jet 240 can definitely help you save a lot of time keeping your home clean. If you think the Jet 240 mopping machine is the product you're looking for, let us know in the comment section below!
Recommended Reading: Best Wet and Dry Robot Vacuum Cleaners for Vacuuming and Mopping