Instead of spending a significant amount of time per week washing and drying our clothing, we now have amazing devices that do it for us. In the field of ironing, though, there hasn't been such a development. Older irons had a simplistic style that was almost indistinguishable from the ones we have now.
They were heated iron parts with a handle that you used to go over your clothing. Wrinkle-free fabrics are also a must, and there are many health advantages of doing so. Ironing, on the other hand, is very tedious. Thankfully, there is one thing that could make the task easier: a steam iron.
What is Steam Irons?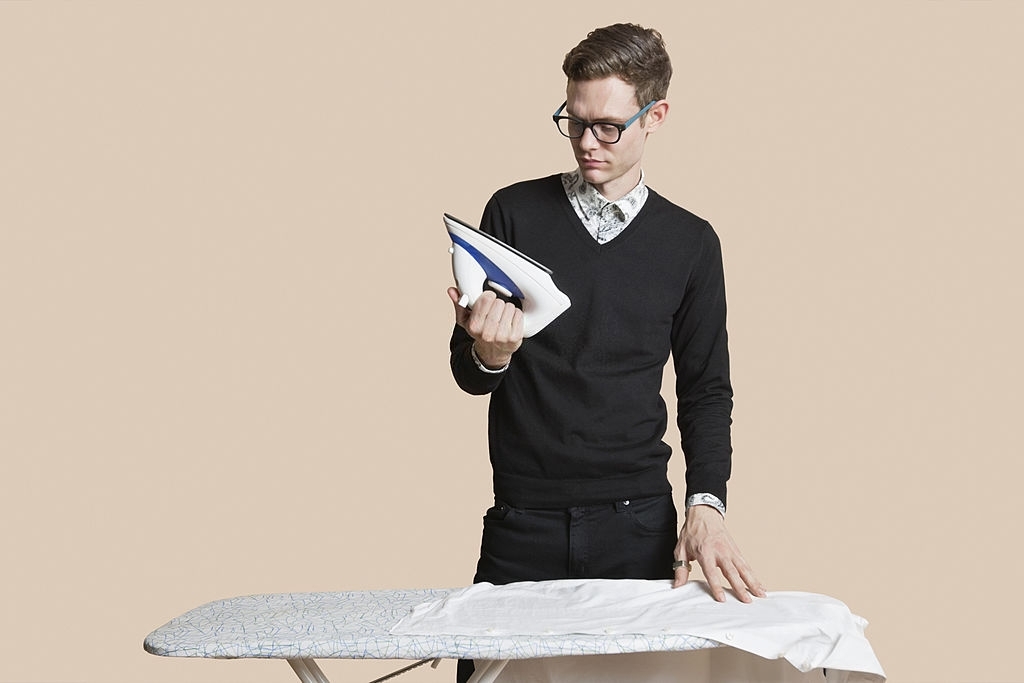 With the invention of steam irons, it has become much easier to achieve a completely crisp press with minimal effort. But, let's see how steam irons work.
We all know that an iron transforms electrical energy into heat energy, so the principle is pretty basic. Electricity is transferred into a special coil of steam irons, which heats up and sends much of the heat to the iron's soleplate.
Water from the water tank drips onto the plate when it is fully wet, producing steam. This steam is then projected outwards, softening the fabric's fabrics for a flawless finish.
About Rowenta Everlast Anti Calc Iron
The Rowenta DW7180 Everlast Steam Iron could be your ultimate iron. Did you know that 85 % of the United States has hard water? Although the minerals are harmless to your wellbeing, they can cause considerable mineral deposits in and around kitchen appliances.
In order to combat the scale-building process in the DW7180, the company developed a proprietary technology known as the Anti-calc mechanism, which aids in limescale defense.
This steam iron combines the effectiveness of a top-of-the-line steam iron with the ability to trap limescale pieces in its patented calc collector to achieve flawless ironing performance time after time.
Summary of Features: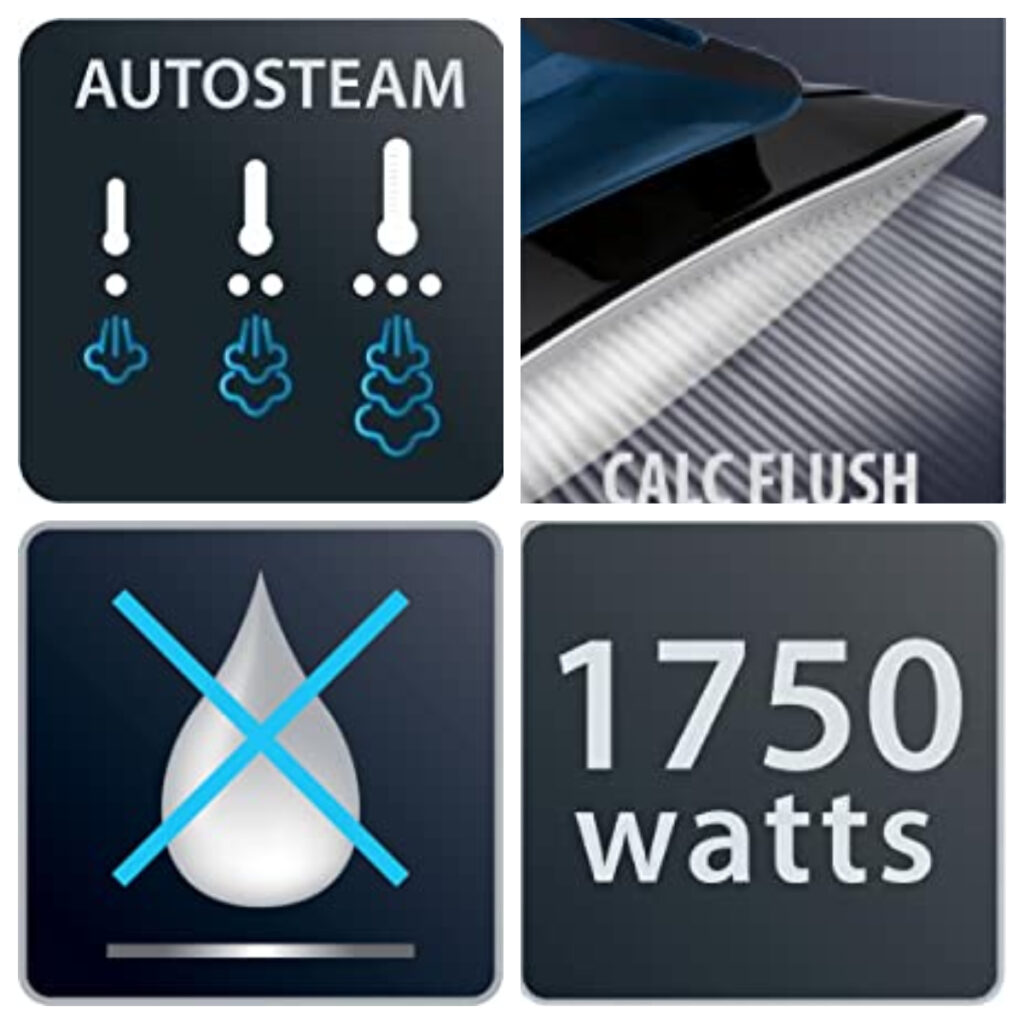 Patented Scale Collector
Self Cleaning Feature
1750 Watts of Power
Patented Stainless Steel Soleplate
Anti-Drip System
Auto-Steam
3-Way Smart Auto-Off
Variable Steam
Thermostat Knob
Vertical Steam
Limescale Collector
High-Precision Tip
How Does AntiCalc Work In Rowenta Steam Iron?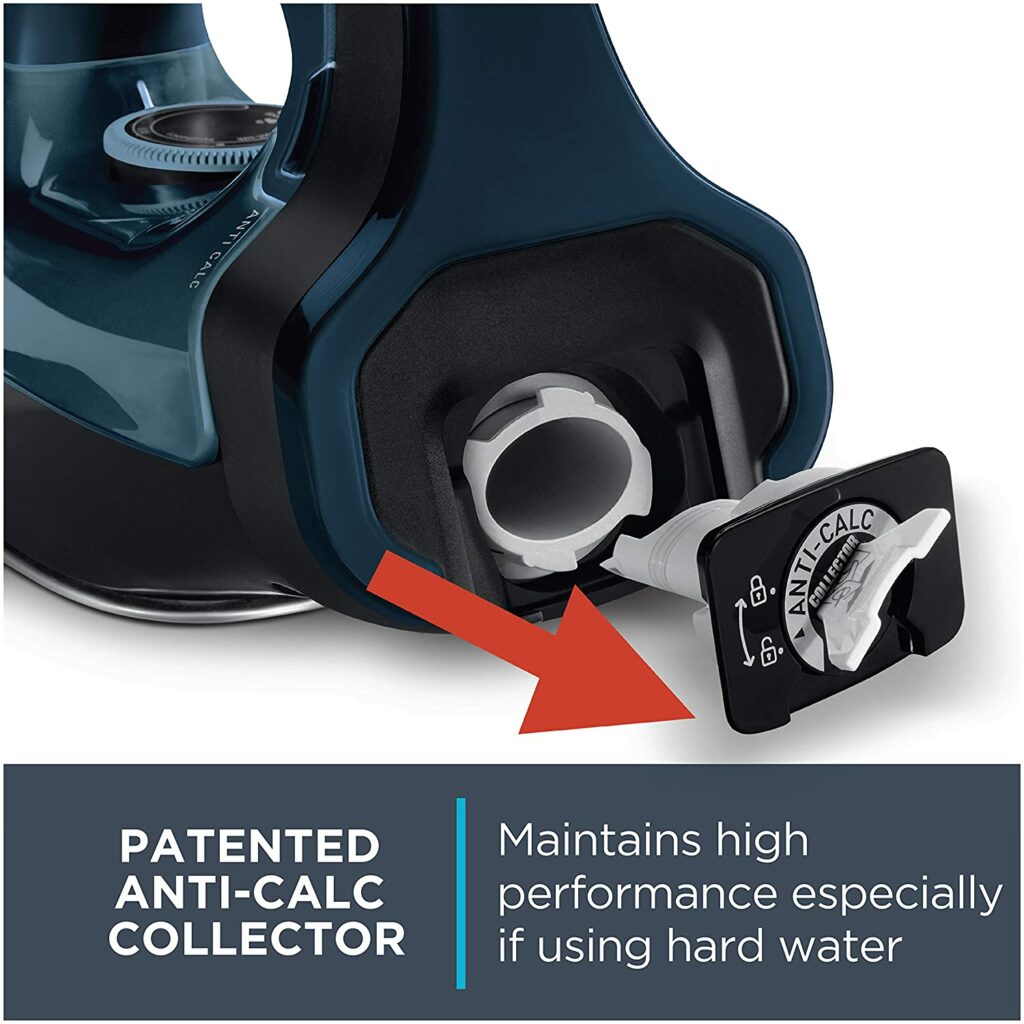 This model has a self-cleaning function that extends the life of the unit. Large pieces of calcium are captured by the Anti-Calc system, which works in tandem with the Self Clean function. It flushes small calcium particles through the soleplate's tiny holes and enables the iron to maintain a high level of steam production over time.
Steam Production
The Everlast generates a whopping 29 grams of steam per minute. However, there are several other brands on the market that have higher grams per minute.
Everlast has the upper hand because of the combination of this development with a higher quality soleplate with steam holes and a powerful burst of steam utility that puts Everlast ahead of the competition.
When you use the Everlast, there would be no need for extra capacity.
Patented Scale Collector
The DW7180 Everlast has a detachable patented scale collector at the back of the iron that keeps the steam output at a high level for consistent results. Limescale is collected instantly in the easy-to-empty disposable tube (1 teaspoon per 3 months on average, based on water hardness).
Soleplate made of Patented stainless steel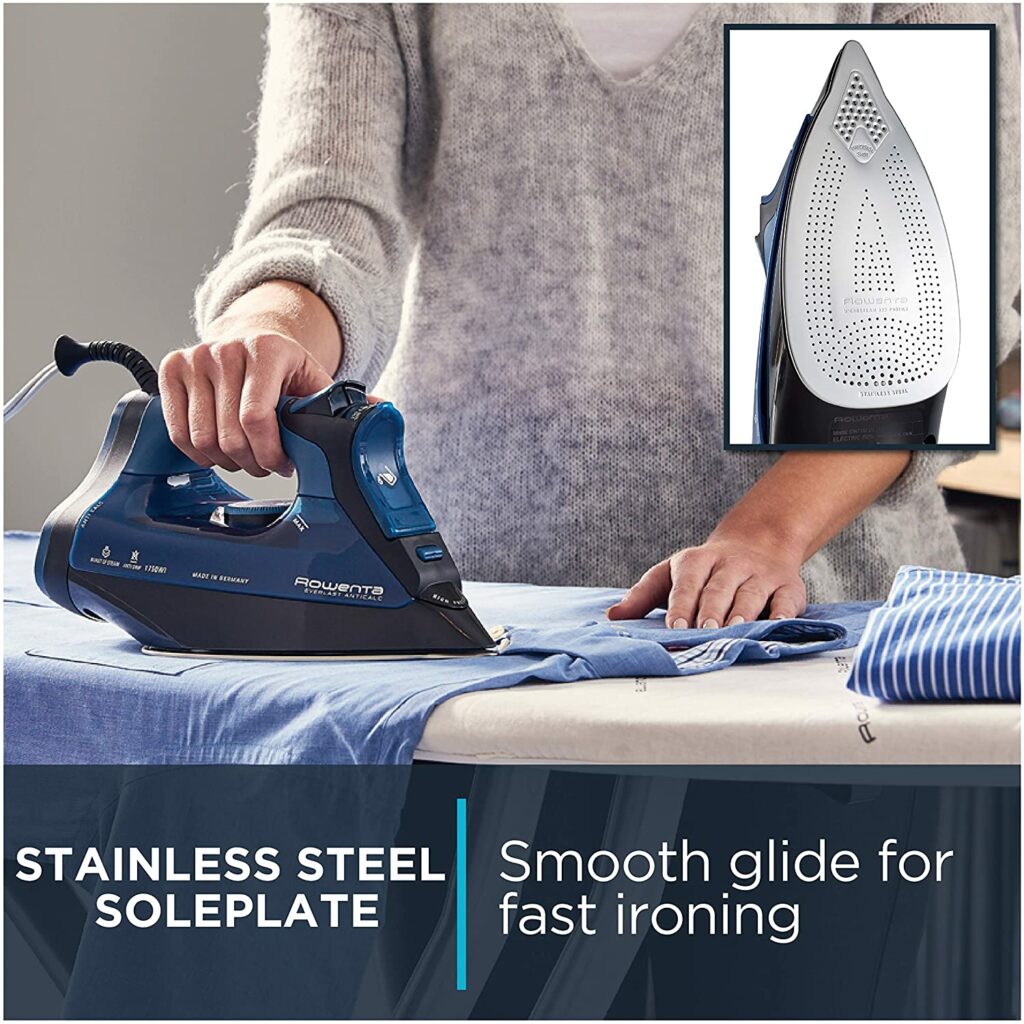 Thanks to its patented 400 micro steam holes, this soleplate not only produces even steam distribution but also provides a cleaner glide over all fabrics. Its high-precision tip is ideal for reaching hard-to-reach areas such as between buttons and around seams.
Anti Drip
It is vital for the iron to maintain a steady heat level in order to keep water from dripping. This is only possible if the iron generates sufficiently constant heat and strength. When ironing, the DW7180 Everlast Steam Iron can easily and reliably generate enough heat to avoid dripping and spitting.
Performance
On several features, Everlast exceeds all of its rivals in the industry. One of them is the stainless steel soleplate, which offers excellent gliding. The micro steam has 400 holes and can produce 180g/min of steam in a blast.
Another feature that sets Everlast apart from the competition is its capacity to reduce wrinkles. Also, the most demanding users would be pleased with Everlast's efficiency.
Three-Way Smart Auto-Off
Since safety is a top priority for the manufacturer, their steam irons have a 3-way smart auto-off mechanism that reduces the chance of accidents. In the event that you leave the iron unattended, this technology provides peace of mind.
If left in a vertical state for 8 minutes, and 30 seconds if left unsupervised on its soleplate or flipped over, the Everlast DW7180 automatically turns off after 8 minutes of inactivity.
Thermostat Knob
For easier viewing, the thermostat knob is placed just under the ergonomic handle. It gives an accurate reading for all fabric environments.
Powerful 1750 Watts
The 1750 watts power in the DW7180 Everlast contribute to its overall efficiency. The 1750 watts of power allow the iron to heat up and generate steam faster, resulting in a powerful shot of steam that effectively removes wrinkles from tough fabrics.
Simple to Use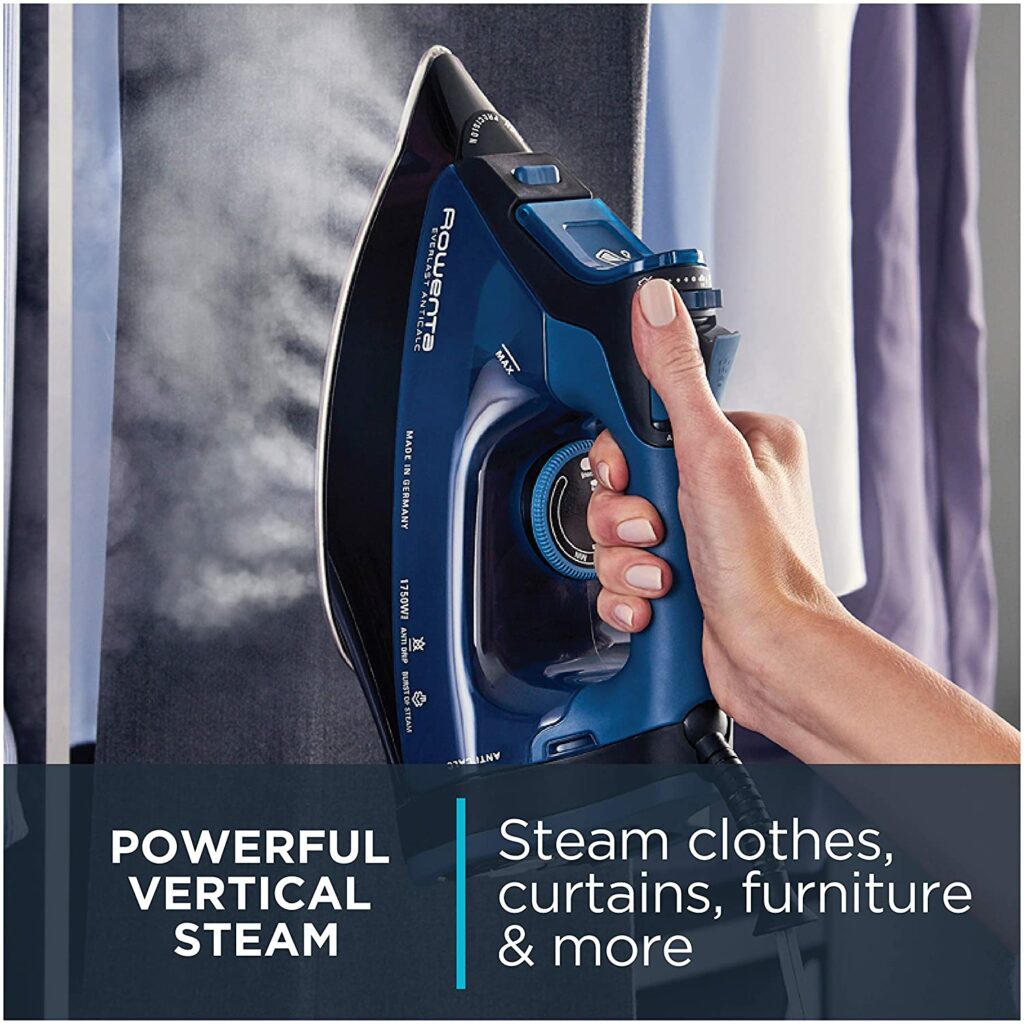 The Everlast design is really user-friendly. A dial on the body makes it simple to control the temperature defined by fabric design. Users can monitor the steam output from the crest of the handle.
The handle is also comfortable. Users can conveniently control the misting buttons and the blast of steam with a quick press.
A yellow light on the side indicates the temperature of the soleplate, which has a sharp nose and a long base. Users can glide over any garment with enough dexterity, and the soleplate's high-precision tip makes it easy to get into pleats, between buttons, and along seams.
Convenience
There's even a built-in funnel that serves as a water reservoir on the Rowenta Everlast AntiCalc Iron. The water tank can be easily filled by simply turning on the faucet. There is a risk here! When using the Everlast's blast of the steam button at the lower temperature, there's a chance the water will spill. 
This is true of a large number of irons on the market. Even so, using the steam button's burst mode at a lower temperature is not recommended.
Product Specifications: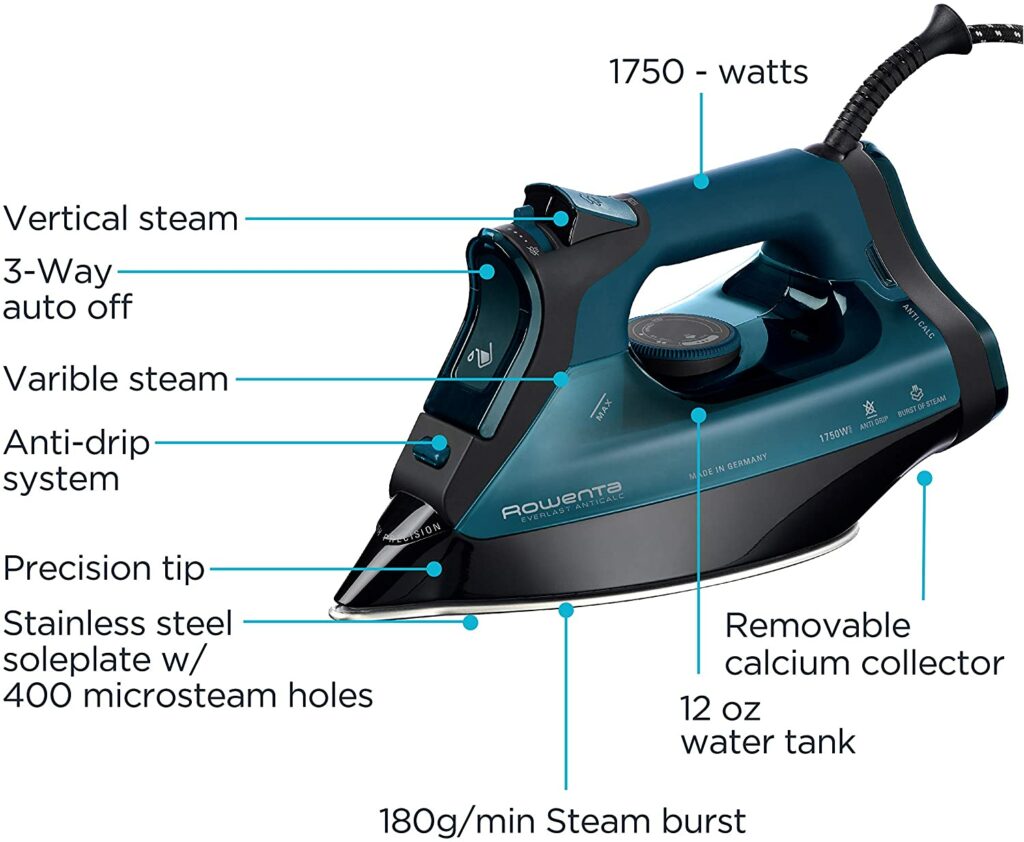 Power Source: Electric
Power Output: 1750 Watts
Continuous Steam Output: 35 g/min.
Steam Boost: 160 g/min.
Vertical Steam: Yes
Spray: Yes
Steam & Temperature Setting: Manual Setting
Precision Tip: Yes
Comfort Handle: Yes
Anti-Drip: Yes
Power Cord Length: 7.9 ft
Water Tank Capacity: 350 ml
Water Tank Capacity: 11.8 oz
Stable Rest Hill: Yes
Water Filling Hole: Medium
Anti Scale Function: Integrated Anti-Scale & Anti-Scale Setting
Scale Collector: Yes
Anti-Calc Collector: Yes
What We Like About Rowenta DW7180 AntiCalc Iron
The scale is easily removed with the scale collector, making it simple to keep the iron in top shape. All you have to do is remove the collector from the iron's support base and carefully clean it with water to remove the limescale before replacing it in its original location This is a patented technology that was created to solve the problem of hard waters.
The Rowenta DW7180 steam iron has one of the largest water tanks available. Its 11.8-ounce tank is far larger than other Rowenta units, which only holds 8.45 ounces of water. This ensures you won't have to refill the ironing board too much.
When ironing, the stainless steel soleplate glides very smoothly. When you swipe the iron over materials, there is less pressure, making the job easier to do. The rounded edges contribute to a smoother glide as well.
The heat level and steam production are sufficient to eliminate wrinkles quickly. The weight also aids in smoothing out lines by pressing down on the cloth. It's not a light iron, but it's just the right weight to make ironing more effective.
Many clothes irons on the market today are manufactured in China. The Rowenta DW7180, on the other hand, is manufactured in Germany and is thought to be of higher quality.
What We Don't Like About Rowenta DW7180 AntiCalc Iron
The water level is difficult to read due to the dark colors. For practical reasons, a clearer tank would be preferable.
Some leakages have been recorded, but they are minor in comparison to other steam irons. This happens normally if the temperature isn't hot enough and the soleplate hasn't achieved the desired heat stage.
Cleaning a Rowenta Iron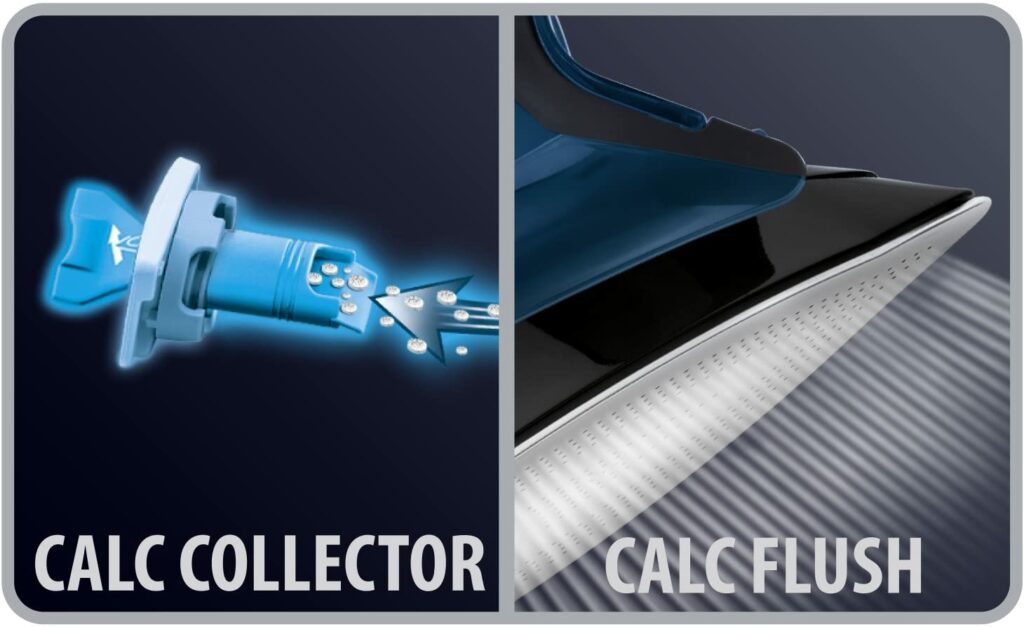 Rowenta irons are a well-known and widely recognized brand, and if you buy one, you own a fantastic iron. While learning how to use a Rowenta steamer is straightforward, cleaning it can be challenging if you are unfamiliar with the method. We'll show you how to clean a Rowenta iron by walking you through the motions.
Cleaning with Baking Soda
Baking soda is an excellent washing solution. Baking soda is a slightly abrasive solvent that can be used to scrape mineral deposits and scaling off surfaces.
Make sure your iron is turned off, unplugged, and completely cold before using it.
To make a paste, combine 1/2 cup baking soda with few tablespoons of water.
To make a consistent yet thick paste, adjust the ratio as desired. You don't want it to be so dripping wet.
On the iron's plate, evenly distribute the baking soda.
You have the option of spreading it over a single region or coating the whole pan.
Allow the paste to rest for a few minutes.
Wipe the paste away with a damp towel.
Until wiping, make sure the cloth is all wrung out.
You don't want the iron to get so saturated. You just need a little amount to remove the baking soda.
If this procedure does not work for you, you should also try cleaning your iron with toothpaste. It will help in the removal of stubborn grime.
Final Verdict
The purpose of the Rowenta Everlast AntiCalc Iron is obvious from the above review: to solve the issue of limescale build-up caused by hard water. Even the strongest steam irons lack this one-of-a-kind feature that protects against limescale build-up. 
If you've ever had an issue with your steam irons, this Rowenta one is worth considering. It's pricey, but it has enough features to make ironing smoother and faster while still producing crisp results.