Shark Apex ZS362 Review
Cleaning our house is an essential part of our life. The majority of people have been cleaning using brooms for many years. It is equally crucial to investigate better options as much as it would assist you in getting the work done.
And technology has provided us with vacuum cleaners that not only clean our floors brilliantly but also keep us dust-free. Having said that, here are a few practical reasons why buying a vacuum cleaner is a good idea.
Choosing the appropriate vacuum cleaner, whether your old one has broken down or it's simply time to treat yourself to a new one, can be a difficult task.
What if we told you that vacuum cleaners don't have to be large and heavy to be effective? What if you could easily take them up the stairs? Shark vacuums, on the other hand, may be able to fix all of these issues. Furthermore, this small and versatile vacuum cleaner has the potential to make you fall in love with vacuuming.
Why Choose Shark Vacuum?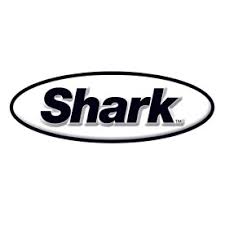 Saves Time
One of the primary benefits of owning a vacuum cleaner is the potential to save time and effort. Wiping the floor with a broom, on the other hand, maybe a nightmare, especially if you have to deal with dust. As a result, if you want to save time doing chores, Shark vacuum cleaners are a good investment.
Efficient
A vacuum cleaner is also efficient, which is another reason why every homeowner should purchase one. Even if you sweep the floor clean, the dust will always be there. This is why, after cleaning, one must mop, which is inefficient in any case.
Due to an excellent filtration system that catches all allergens, using a vacuum cleaner takes care of all the bother. You won't have to mop the floor or worry about dust forming.
Good for Carpets
You'll need more than a broom to clean an area rug or a carpet. The majority of the time, brooms are utilized on hard surfaces. A vacuum cleaner, on the other hand, is great for carpet cleaning.
A vacuum cleaner is a must-have in every home since carpets collect dust rapidly, especially in high-traffic areas.
Review of the Shark DuoClean ZS362 stick vacuum
We'll look at the major features of the Shark Apex DuoClean corded stick vacuum in this review.
For individuals who live in small dwellings or flats, the Shark Apex ZS362 may be the best option. It's also perfect for medium-sized spaces, though you might need something bigger for a large home — it might also double as a backup cleaner for quick cleanups.
There are no bags and the unit is corded. It's versatile and can do two things at once.
It can be used as a traditional vacuum cleaner, but it also works well as a handheld unit for cleaning tall surfaces or upholstery. Overall, this Shark ZS362 review will assist you in determining whether or not it is appropriate for your requirements.
Strong Suction Power and Advanced Swivel Steering
Swivel steering allows for smooth transitions from one surface to the next. Cleaning the area around the furniture is also simple. You also won't have to fight to reach items that aren't mobile. Swivel steering cuts down on cleaning time while also reducing fatigue.
Suction is the most popular feature of the Shark APEX DuoClean Zero-M ZS362.
It has an exceptional ability to pick up all types of waste, from the largest to the tiniest. Regardless of the surface being cleaned, the vacuum's suction remains constant.
Zero-M technology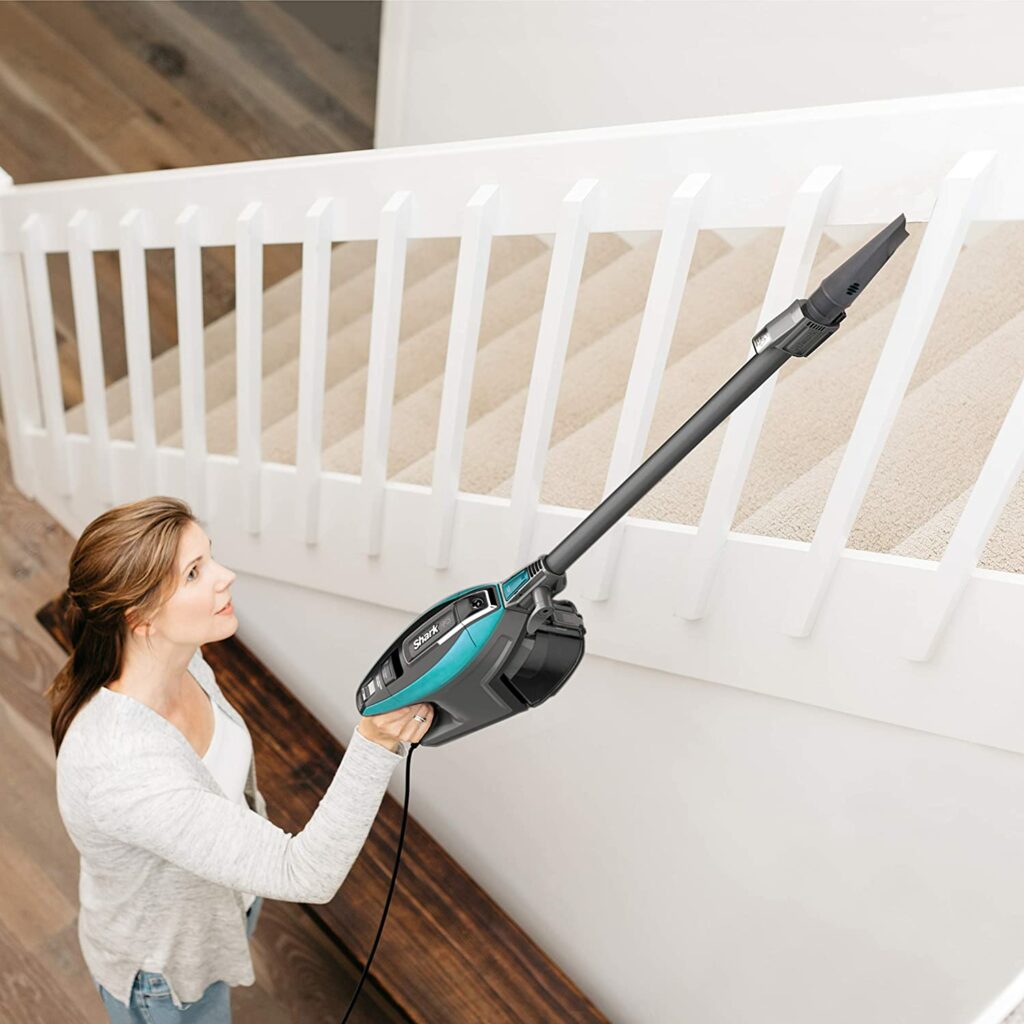 When the vacuum keeps tangling, it's difficult to move forward; you'll have to stop every time and untangle the brush by cutting out knotted hair. You no longer need to use your hands or scissors, thanks to Shark's invention.
As you clean, the Zero-M function ensures that hair is removed from both sides. So no more pausing in the middle of a task to remove hair from the brush.
A soft brush collects tiny material, while a larger strong brush removes entrenched dirt and captures tenacious particles. Deep carpet cleaning and complete hard floor engagement are made easier with this technology.
The dual particle cleaning mechanism removes dust, tiny and big particles all at once.
Filtration
The Shark APEX ZS362 DuoClean with Zero-M does not have a HEPA filter, unlike previous models. Although this feature was not included by Shark, the vacuum still performs admirably.
Corded Power Supply
The Shark APEX DuoClean with Zero-M (ZS362) is a 30-foot-long corded stick vacuum. Despite the fact that wires tend to tangle, 30 feet is a good length for any room size. For most households, a single socket is sufficient for cleaning.
Multi-Surface Cleaner
The Shark APEX DuoClean ZS362 scrubs and cleans carpets well with its bristle brush, eliminating stuck-on filth. Its gentle brush also thoroughly cleans wooden floors without scratching them.
The vacuum has been tested on vinyl, cement, and tile floors, among other surfaces. And it has completely absorbed their attention, resulting in a professional appearance every time.
Vacuuming isn't supposed to be boring, time-consuming, or painful. It's one of those jobs that you should do when you're out and about. Families all over the world can now keep their homes clean and safe thanks to companies like Shark. By safe, I mean germ-free and allergen-free, with no greasy floors or stifling air.
Storage and Sizing Standards
Remove the dirt recipient, open it, and empty it instead of using the bag that came with the corded cleaner. Sharp Apex ZS362 measures 10.29.5846.4 inches in total.
It's small and light, and it can be tucked away vertically in a closet or behind furniture.
Because of its small size, the unit is also lightweight – only 10 pounds – making it easy to move around. The dirt cup capacity is 0.74 quarts, and the power wire is 30 feet long.
Motor and Capabilities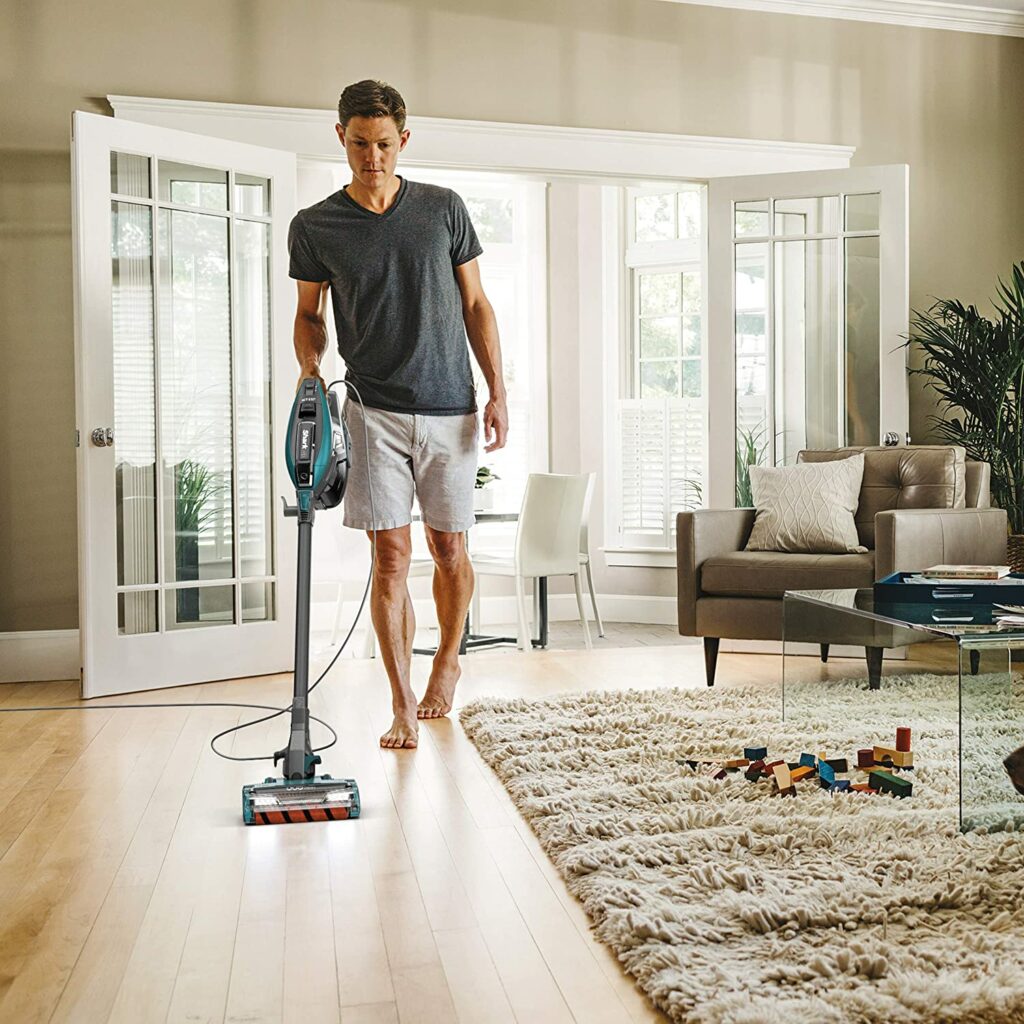 The motor consumes 600 watts and draws 5 amps. It isn't the most powerful vacuum cleaner on the market, but for its size and price range, it is rather outstanding.
With the bristle brush, it can readily clean high pile carpets without too much effort; yet, even less powerful vacuum cleaners can clean hard floors.
Although the vacuum cleaner will not leave any particles behind, little allergies may remain. It contains washable foam and felt filters, but no HEPA filter for allergens and fine particles.
It is effective in cleaning around the house, but it will not assist with allergies. If HEPA filtration is important to you, the Kenmore Intuition BU4022 is the best option.
Shark Apex ZS362 Specifications:

Type: Stick and Handheld
Power Source: Corded
Cord Length: 30 foot
On/Off Switch: Yes
Dust Collection Type: Bagless/Dust Cup
Dust Cup Size: 0.74 dry quarts
Dual Brushrolls: Yes
No Hair Wrap Technology: Yes
Brush On/Off: No
Height Adjustment: No. But has 2 speeds to choose from.
Cleaning Path Width: 8.5-inch
Headlight: Yes
Lift-Away: No
Suction Control: No
Swivel Steering: Yes
Washable Filter: Yes
HEPA Filter: No
Wall Mount: Not included, available to purchase separately.
Voltage: 120V
Amperage: 5 amps
Wattage: 600W
Weight: 10 lbs
Warranty: 5-year limited warranty
Dimensions:10.2 x 9.8 x 46.4 inches
Pros:
Can also be used as a handheld vacuum cleaner
Easy to empty and clean removable dirt cup
Excellent at taking up pet hair
Long cord for large areas
Brushes with self-cleaning technology – no more tangled hair
Cons:
It is not completely balanced and could tip over since the top is heavy.
Shark Vacuum Maintenance
To perform correctly, your bagless vacuum needs enough airflow. As a result, it's critical to keep your canisters and filters clean. When it comes to routine maintenance, ensure sure your vacuum's canister is emptied once it reaches halfway capacity.
You should also clean your Shark vacuum on a regular basis according to the guidelines below.
Cleaning the Canister
Remove the vacuum cleaner's canister and unplug it.
Using a dry microfiber cloth, wipe the inside of the canister.
In the sink, wash the canister with warm soapy water.
All soap suds should be rinsed away.
Before refilling the canister, allow it to dry completely.
Filter Cleaning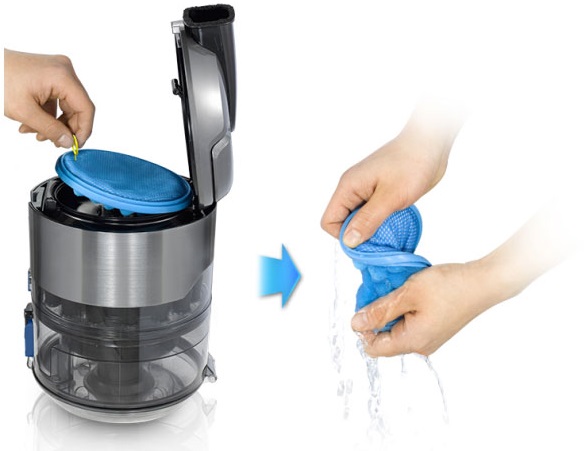 You'll now proceed to your filter: Check the manufacturer's directions to see if the filter can be washed or if it has to be replaced.
To clean a filter, you must first remove it and tap it against a hard surface to remove any dust. Do this in front of a trash bin.
Using warm water, rinse the filter under the sink faucet. Unless your manufacturer's instructions clearly state otherwise, don't use soap or cleaners.
Allow the filter to dry for at least one night. Before you replace it, make sure it's thoroughly dry.
Base Plate
After that, you'll need to remove the base plate in order to clean the beater bar.
Remove any threads or hair with care, being careful not to harm the bar's bristles.
Remove any dirt from the beater bar using a grout brush.
Using a dry microfiber cloth, wipe clean the vacuum's base plate.
Finally, using the same microfiber cloth, clean the outside of the vacuum.
Our Verdict
Shark missed incorporating HEPA filters, which are essential for catching up to 99.97 percent of allergens. However, it's possible that the explanation is that it would make the hand vacuum heavier and larger.
However, this omission does not imply that the filtration is ineffective. Indeed, it is only because "HEPA" has become synonymous with vacuum cleaners that we believe it is now a requirement – particularly for asthmatic and allergy sufferers.
Regardless of the surface type, the Shark APEX DuoClean Zero-M ZS362 provides excellent and constant suction. The only drawback is that it cannot be adjusted.