Best Shark Vacuum Cleaners 2021
Affiliate Disclosure: I am grateful to be of service and to bring you content free of charge. In order to do this, please note that when you click links and purchase items, in most cases I receive referral commissions. Eventually, I may earn enough to buy a beer or two 🙂
Are you looking for the Best Shark Vacuum Cleaners 2021? These vacuum cleaners are some of the most powerful and well-reviewed vacuums on the market, but with so many options, choosing the correct one is crucial.
We've reviewed the finest Shark vacuums for every budget, so whether you want something cordless to whizz about your house or a corded model to tackle pet hair and tough floors, our guide has something for you.
Shark is prominently featured in our list of the best vacuum cleaners for a reason. These vacuums come with a variety of unique attachments for pet hair, as well as the ability to lift away from the main vacuum base for easy-handed cleaning.
It might be difficult to sort through the hundreds of alternatives to find the right one for you, so we've not only reviewed most of those top Shark vacuums on the market to help you choose the ones you need, but we've also broken down all you need to know about Shark vacuum cleaners here.
What to Know About the Best Shark Vacuums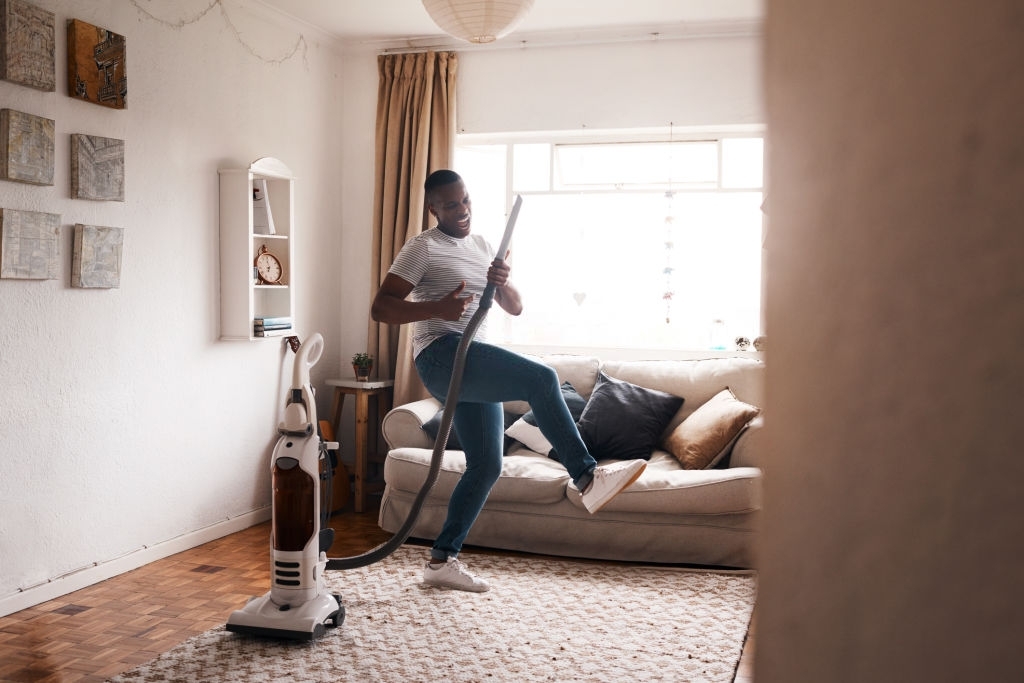 LiftAway technology from Shark allows you to raise a corded vacuum cleaner's canister away from the main body. This is useful for getting to places where your cord can't reach.
When you acquire a Shark vacuum with LiftAway, you can effortlessly reach stairwells, car upholstery, and even behind your sofa.
There's also Anti Hair Wrap. This one is a little easier to understand. Anti Hair Wrap is designed for pet-friendly homes and those with long hair. It will pick up all of the hair from carpets and wooden floors, but thanks to self-cleaning technology, it will not tangle around the brush roll.
Flexology vacuums are shark vacuums with a wand that may be slanted or straight. You can bend your Shark vacuum low thanks to an elbow-like hinge in the wand, which is ideal for cleaning under furniture and around corners without having to bend yourself.
Finally, DuoClean is the name given to Shark's self-adjusting brush roll. If the word DuoClean appears on a Shark vacuum, it means the brush roll and bristle bars will adapt to varied cleaning situations.
Best Shark Vacuum Cleaners 2021
Shark is a manufacturer of homeware goods like irons and mops in addition to vacuums. Unlike other brands like Samsung or BISSELL that focus on a limited range of vacuum designs, Shark offers a little bit of everything, including robot vacuums, secondary handheld configurations, as well as corded and cordless designs.
Their vacuums come at a variety of price points, so you can find something available that fits your budget.
We have picked the shark vacuum cleaner based on its suction power, deep cleaning capability, cleaning up pet hair, and durability.
#1 Best Upright: Shark Rocket HV322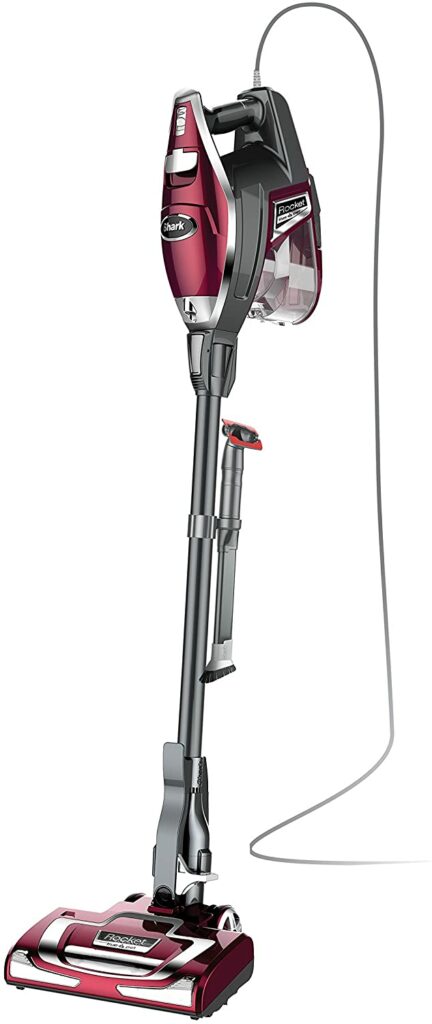 The Shark Rocket HV322's lack of cordless capability isn't a deal-breaker. For starters, this cost-effective device combines the cleaning power of an upright vacuum cleaner with the ease of a modern dustbuster. It's an all-action vacuum for the modern home at an unbelievable price. It's ultra-light, easy to use, and ideal for pet-friendly households.
Importantly, its unique two-in-one design allows it to clean every inch of your home from top to bottom. The idea is that you won't need anything else once you have the shark rocket true pet ultra-light hv322 in your arsenal. This is the one and only vacuum cleaner you'll ever require.
The Shark Rocket HV322's sophisticated filtration technology gets to work on dust particles and allergens, and it's great for carpets, hard floors, and stairs. All of this comes with the extra benefit of a lengthy rope that makes it simple to reach difficult niches and high corners.
Cleaning Capabilities
The combination of strong suction and a dusting brush-head results in outstanding cleaning results on all surfaces. The shark rocket hv322 has been tested to ensure that it performs like a standard upright and provides a consistent clean. It's lightweight and easy to use, making it ideal for cleaning even the largest rooms and homes.
Product Specifications: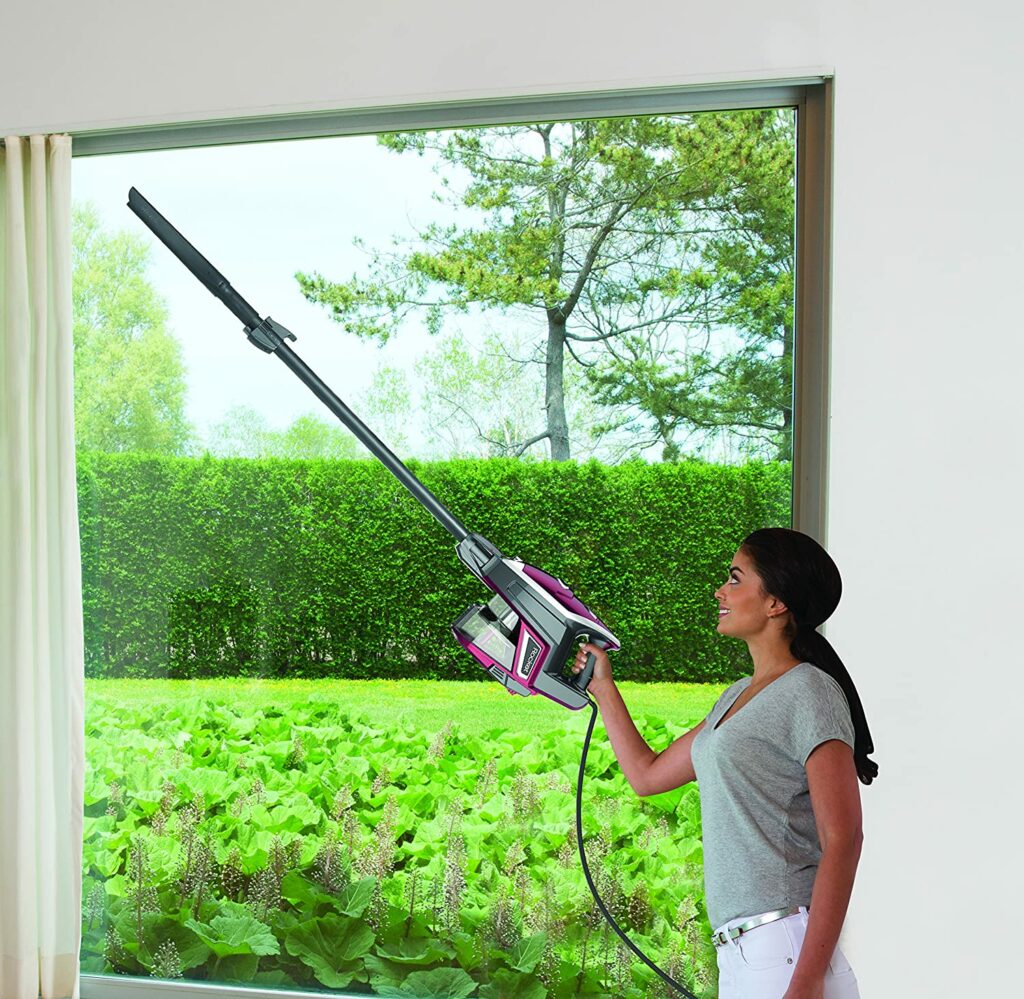 Weight: 8 lbs.
Power: 500 watts
Surface Types: Bare floors, carpeted floors, walls, and ceilings
Dust Cup Capacity: 0.22 gallons
Handheld: Yes
Swivel Steering: Yes
Cord Length: 30 feet
Power ON/OFF: No
Suction Control: Yes, 2 settings
Filtration: 2 washable foam filters
Hard floor Genie: Yes
Crevice Tool: Yes, 12"
Pet Upholstery Tool: Yes
Dusting Brush: Yes
Wall mount: Yes
Headlight: Yes
Onboard Accessories Clip: Yes
Warranty: 5 years
Pros:
This vacuum is extremely maneuverable, allowing it to get under, around, and around any sort of furniture.
TruePet is a multifunctional pet.
The high-speed option is best for removing pet hair from dense carpets, while the low-speed level is best for bare floors.
The front-mounted LED lights help you see what you're sucking up better.
With a simple touch of a button, the floor vacuum transforms into a portable unit.
Cons:
This vacuum has a lot of weight at the top.
There are no side holders on the vacuum to hold the attachments.
Where to buy Shark Rocket HV322
See Detailed Review for Shark Rocket HV322
#2 Best 2-in-1: Shark Apex ZS362 Corded Stick Vacuum

For individuals who live in small dwellings or flats, the Shark Apex ZS362 may be the best option. It's also perfect for medium-sized spaces, though you might need something bigger for a large home — it might also double as a backup cleaner for quick cleanups.
There are no bags and the unit is corded. It's versatile and can do two things at once. It can be used as a traditional vacuum cleaner, but it also works well as a handheld unit for cleaning tall surfaces or upholstery.
Suction and Maneuverability of the Shark Apex Zs362.
The suction on the Sharp zs362 cleaner is remarkable; in fact, it outperforms most other cleaners in its price range. It can pick up everything from huge cat litter and crumbs to minute dust particles. Regardless matter the surface you clean, consistency is equally worthy of praise.
Modern Shark ZS362 Technologies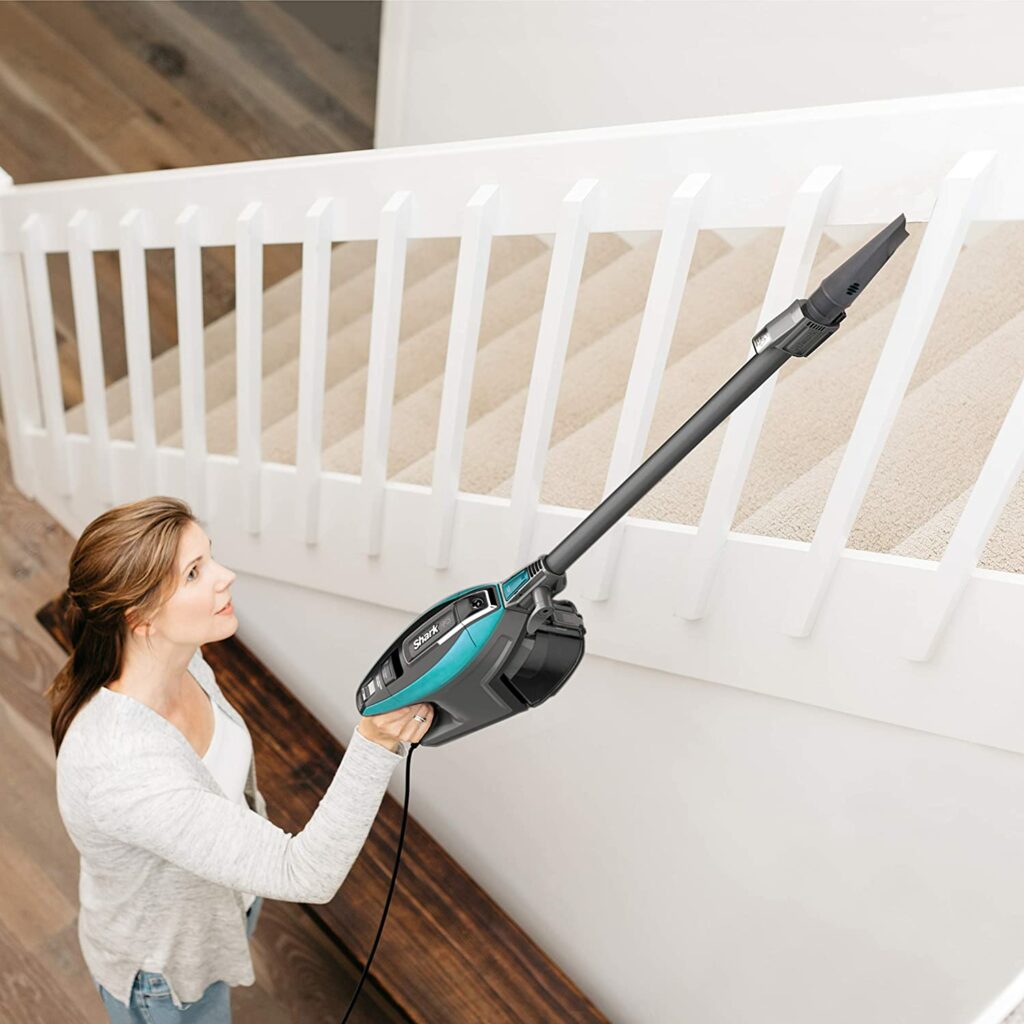 The Shark Apex ZS362 cleaner has a few new features that set it apart from the competition. Two different brushes support the DuoClean technology.
One is soft and ideal for little debris, while the other is robust and durable, making it ideal for obstinate dirt. Deep cleaning or carpets are a breeze with this technology.
Then there's the Zero-M technology, which contributes to the overall ease of use and upkeep. You may already be aware of how difficult it is to avoid tangles – you must free the brush when there is too much hair around it.
These difficulties are no longer an issue thanks to Shark's Zero-M technology — no more hands in the dirt and no more scissors to cut tangled hair.
Sizing Guidelines
Remove the dirt recipient, open it, and empty it instead of using the bag that came with the corded cleaner. Sharp Apex ZS362 measures 10.29.5846.4 inches in total. It's small and light, and it can be tucked away vertically in a closet or behind furniture.
Because of its small size, the unit is also lightweight – only 10 pounds – making it easy to move around. The dirt cup capacity is 0.74 quarts, and the power wire is 30 feet long.
Product Specifications: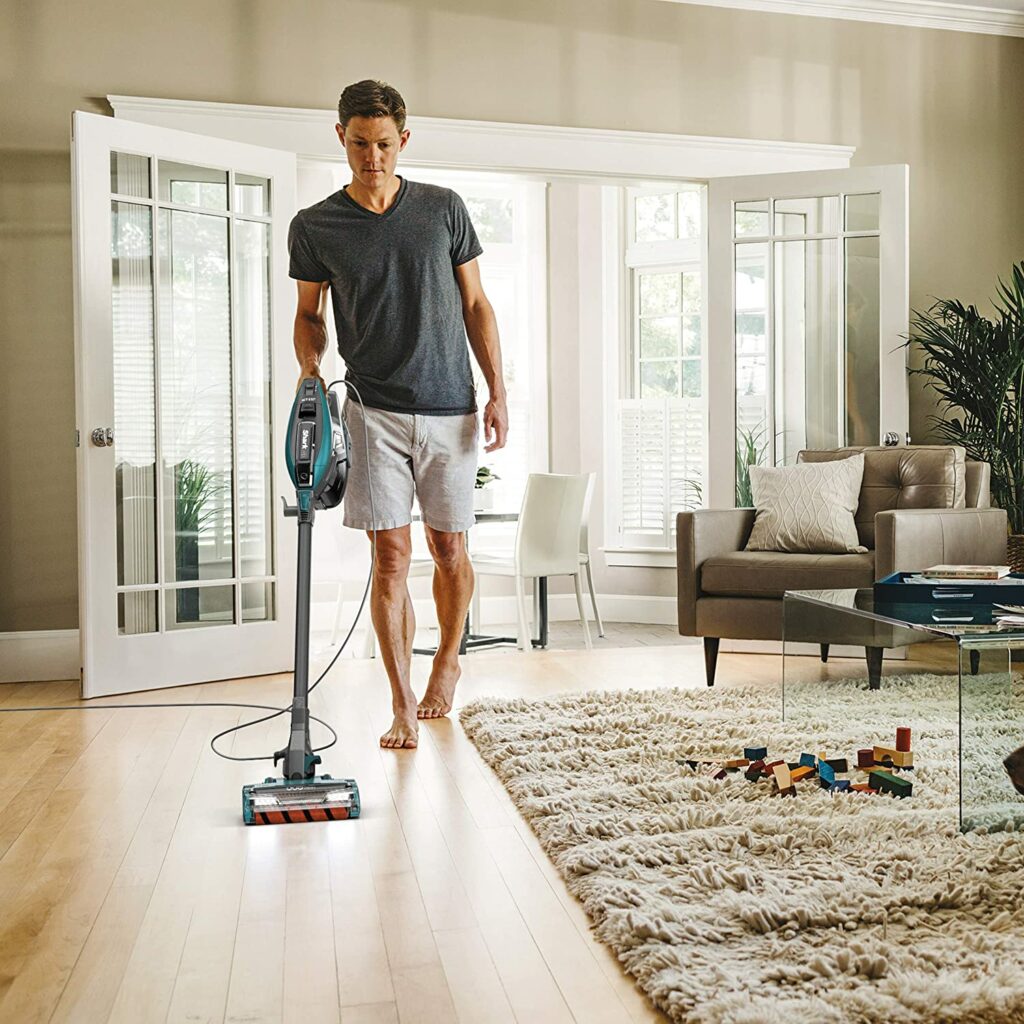 Type: Stick and Handheld
Power Source: Corded
Cord Length: 30 foot
On/Off Switch: Yes
Dust Collection Type: Bagless/Dust Cup
Dust Cup Size: 0.74 dry quarts
Dual Brushrolls: Yes
No Hair Wrap Technology: Yes
Brush On/Off: No
Height Adjustment: No. But has 2 speeds to choose from.
Cleaning Path Width: 8.5-inch
Headlight: Yes
Lift-Away: No
Suction Control: No
Swivel Steering: Yes
Washable Filter: Yes
HEPA Filter: No
Wall Mount: Not included, available to purchase separately.
Voltage: 120V
Amperage: 5 amps
Wattage: 600W
Weight: 10 lbs
Warranty: 5-year limited warranty
Dimensions:10.2 x 9.8 x 46.4 inches
Pros:
Can also be used as a handheld vacuum cleaner
Simple to empty and clean removable dirt cup
Excellent at taking up pet hair
Long cord for large areas Brushes with self-cleaning technology – no more tangled hair
Cons:
Because the top is heavy, it is not completely balanced and could tip over.
Where to buy Shark Apex ZS362 Corded Stick Vacuum
See Detailed Review for Shark Apex ZS362
#3 Best Robot Vacuum: Shark ION Robot Vacuum AV753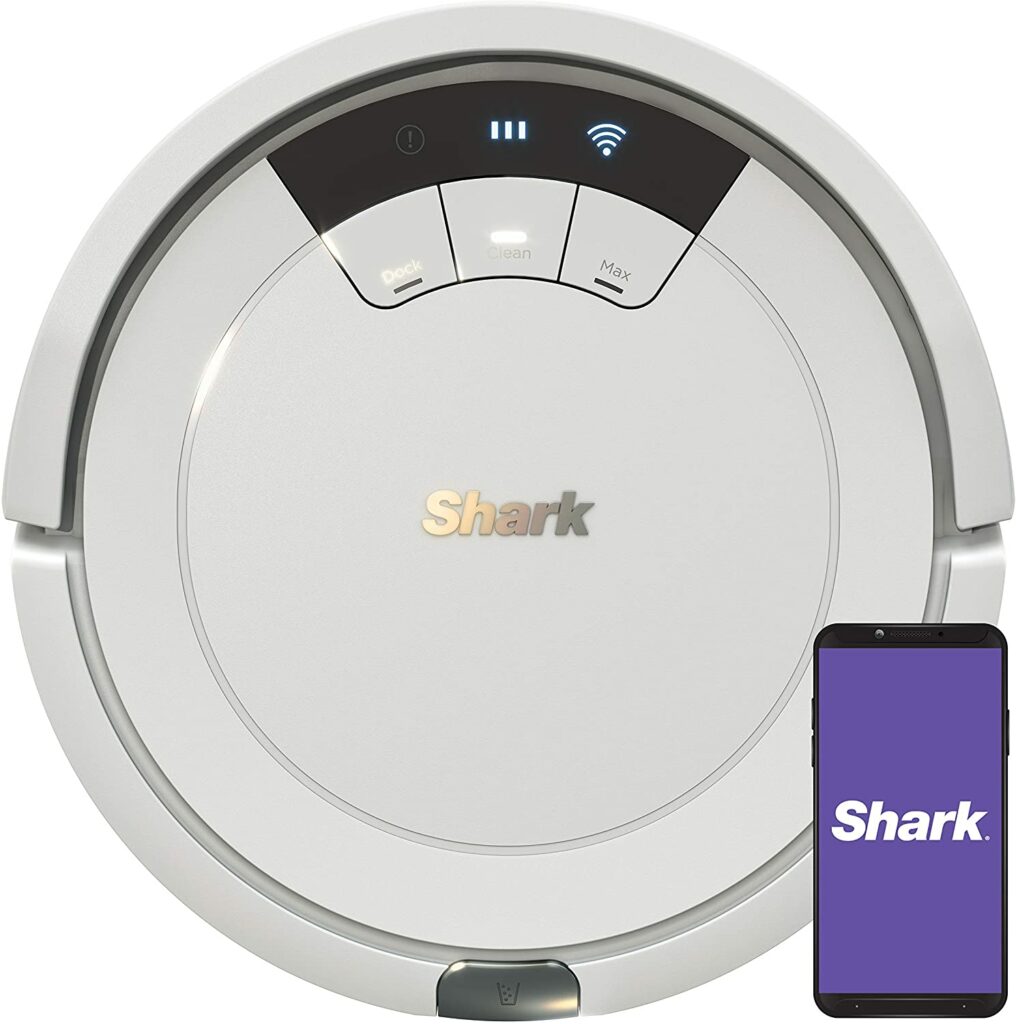 Do you hate mopping yet want to keep your home clean? Then why not hire a robot maid? They'll take care of everything so you don't have to. They are small and compact, allowing them to readily reach under furniture and other difficult-to-reach areas.
Some of them can also be used as robotic vacuum cleaners. To put it another way, you'll have one less thing to worry about!
You may be able to schedule it to operate on specific days, depending on the model. You can program it to clean every Tuesday, for example. As a result, your home will be kept clean without you having to do anything.
The Shark ION AV753 is a robot vacuum cleaner that can clean carpets and hard floors. It comes with a Tri-Brush System that can handle trash on any surface. It also includes a number of sensors that detect ledges, stairs, and furniture. It's also compatible with the SharkClean app, so you can use your phone to control it.
What's in the Package?
2 Side Brushes
Shark ION Robot Unit
Charging Dock
Filter (HEPA)
At the top of the Shark ION robot are three buttons. There's a clean button, a dock button, and a spot button, to name a few. There's also an error indicator and a WiFi indicator, the latter of which will light up blue when the device is online.
The dustbin is positioned at the back of the unit, as it is with most robot vacuums. To remove it, press the clasp; it should slide out easily. On the inside of the bin, there's a HEPA filter that needs to be replaced every now and then.
Then there's the docking station. Make sure it's in a place where the robot can get to it quickly. There should be nothings in front of or beside the base. It's also critical to have the charging dock connected at all times; otherwise, the robot won't be able to return to the base automatically.
Product Specifications: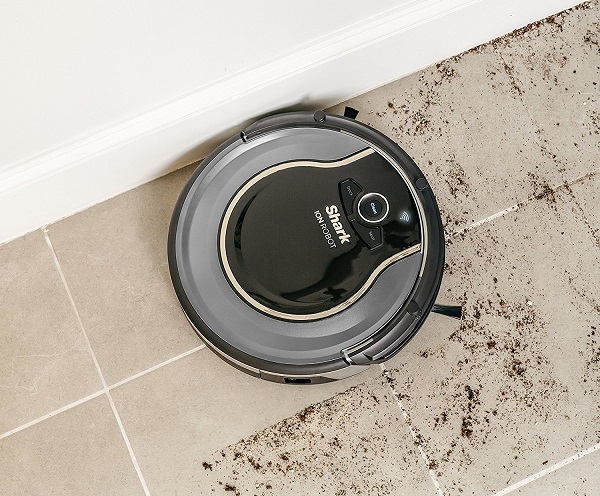 Dimensions: 12.4 x 12.6 x 3.54 inches
Item Weight: 6.6 pounds
Manufacturer: SharkNinja
Batteries: 1 Lithium-ion battery included
Specific Uses For Product: Carpet
Material Care Instructions: Non-Washable
Assembly Required: Yes
Number of Pieces: 5
Warranty Description: 1-year limited warranty.
Batteries Required?: Yes
Pros:
The app is easy to use and has a reasonable price.
The suction is quite strong.
Low Visibility
Cons:
Returning to the Dock is not easy
Noisy
Where to buy Shark ION Robot Vacuum AV753
#4 Best Vacuum for Pet Hair: Shark Rotator TruePet Vacuum

You now have options if you like the notion of the Shark Rotator vacuum but need something that performs better on stubborn pet hair. Shark has released the Shark Rotator TruePet, which has all of the tremendous suction and features of their best-selling vacuum but is specifically designed for pet owners.
The next generation TruePet, like the regular and professional Rotator Lift Aways, delivers the same 3-in-1 versatility of an upright, canister, and handheld vac in one piece of equipment.
This well-known brand, on the other hand, includes various enhancements in the design. To begin, you can adjust the base height for bare floors, hardwood, and carpets using fingertip controls on the haunch.
Pet Hair & Allergies
It's no secret that consumers love how well this vacuum handles pet hair in their reviews, but one of the most critical qualities to have in a vacuum when you have numerous pets in the house is a good HEPA filtration system, which many vacuums lack.
A HEPA filter is included in many vacuums, however, the design allows dust, pollen, mold, and pet dander to escape back into the air. That won't happen because it's built with a sealed HEPA system. Until you empty the dirt container, 99.99 percent of the small particles you suck up remain in the system.
This vacuum's filters are also washable, so you won't have to replace them as often.
Product Specifications: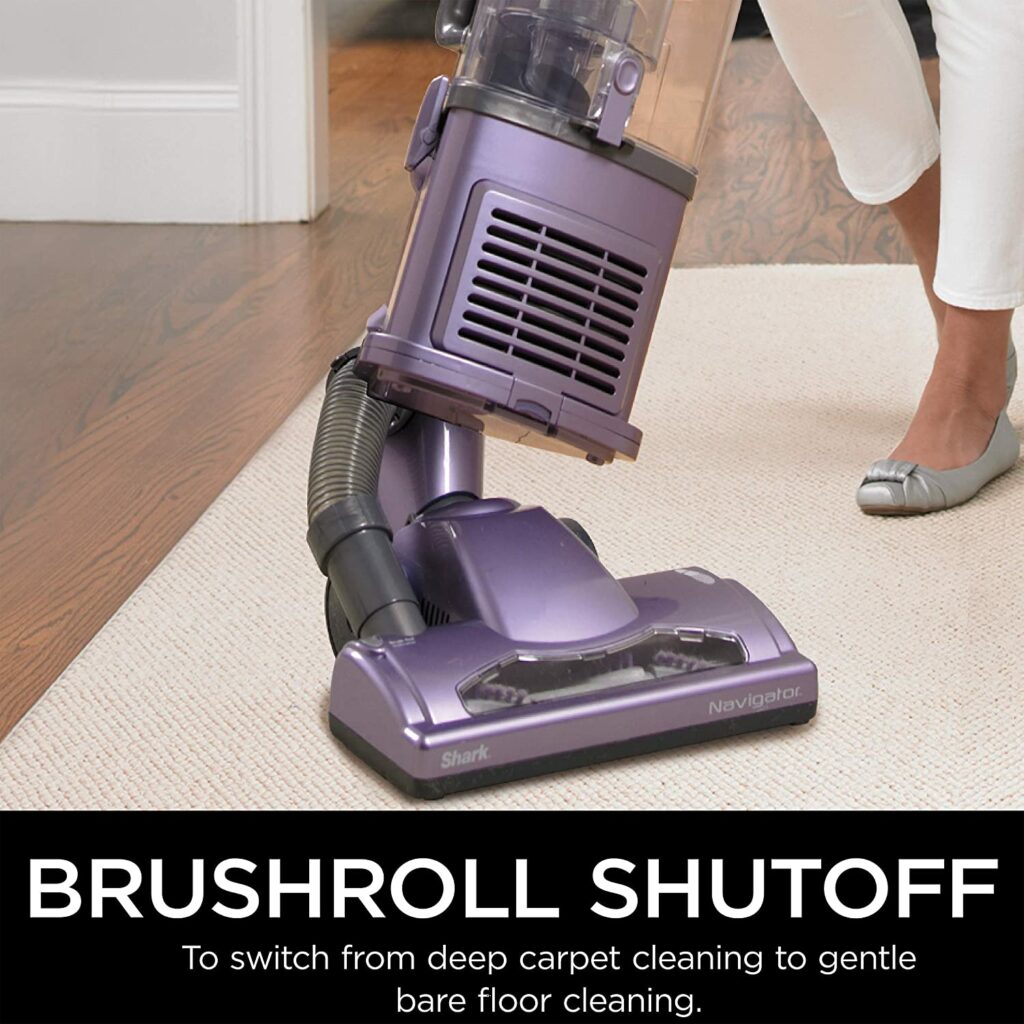 Dimensions: 46 x 13 x 12 inches
Cleaning Path Width: 12 inches
Dust Cup Capacity: 3.3 dry quarts
Cord length: 30 feet
Power: 1200 watts
Filters: Washable
Headlights: LED Light
Total Weight: 15.6 pounds.
Canister Weight: 8 pounds.
Hose: 6.3 feet
Pros:
Effective at picking up anything from cereal to cat hair to coffee grounds to sand on area rugs.
Swivel steering and self-propulsion make it simple to maneuver around furniture and around curves.
When not in use, it lays flat and can be tucked under furniture.
Suction power is superb and it's really adaptable.
Cons:
There is only enough room for two tools on the machine itself. While it comes with a plethora of useful tools, it would be ideal if they could all fit on the machine.
Where to buy Shark Rotator TruePet Vacuum
#5 Best Handheld Vacuum: Shark WandVac WV201 Handheld Vacuum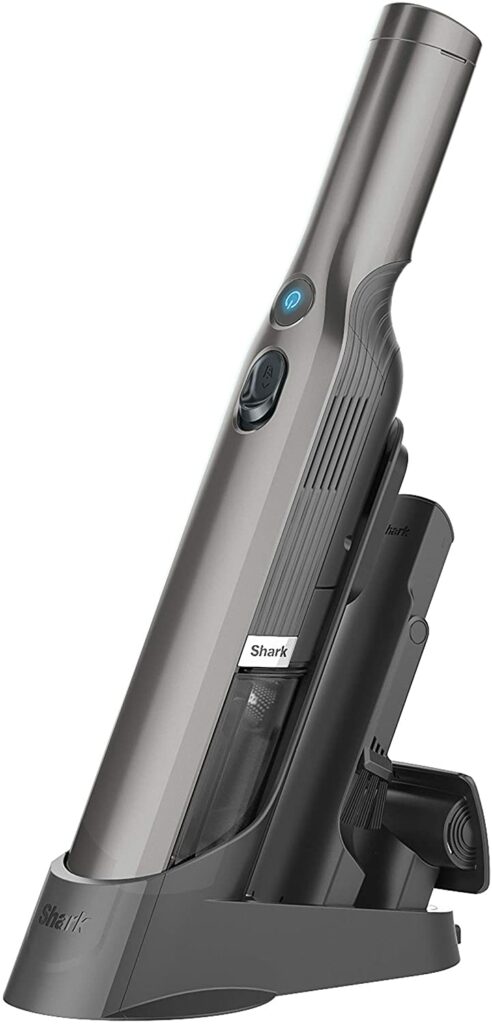 The Shark WANDVAC vacuum is, in many ways, the most remarkable handheld vacuum cleaner money can buy. After one glance at this beast, you'll never look at a traditional hand vac in the same way again. More importantly, put our cord-free 'WANDVAC' to the test, and you'll be completely blown away.
This is a premium-priced dustbuster that delivers a serious punch, in addition to being stunning to look at. With these types of dimensions, it's tenfold more powerful and capable than you'd believe conceivable.
This sleek-looking machine rips dirt and debris out of even the deepest carpets, even when embedded dirt and pet hair are present.
The Shark Ion W1 is fantastic at home, in the car, at work, and everywhere else. It's also one of the most immaculately presented dustbusters ever, as you can see.
High-Efficiency Brushless Motor
This dustbuster has a cutting-edge high-speed brushless motor, making it one of the few portable vacuums on the market. This translates to exceptional suction force from start to end, as well as a substantially longer motor and vacuum system lifespan.
Pet Tool for a Variety of Surfaces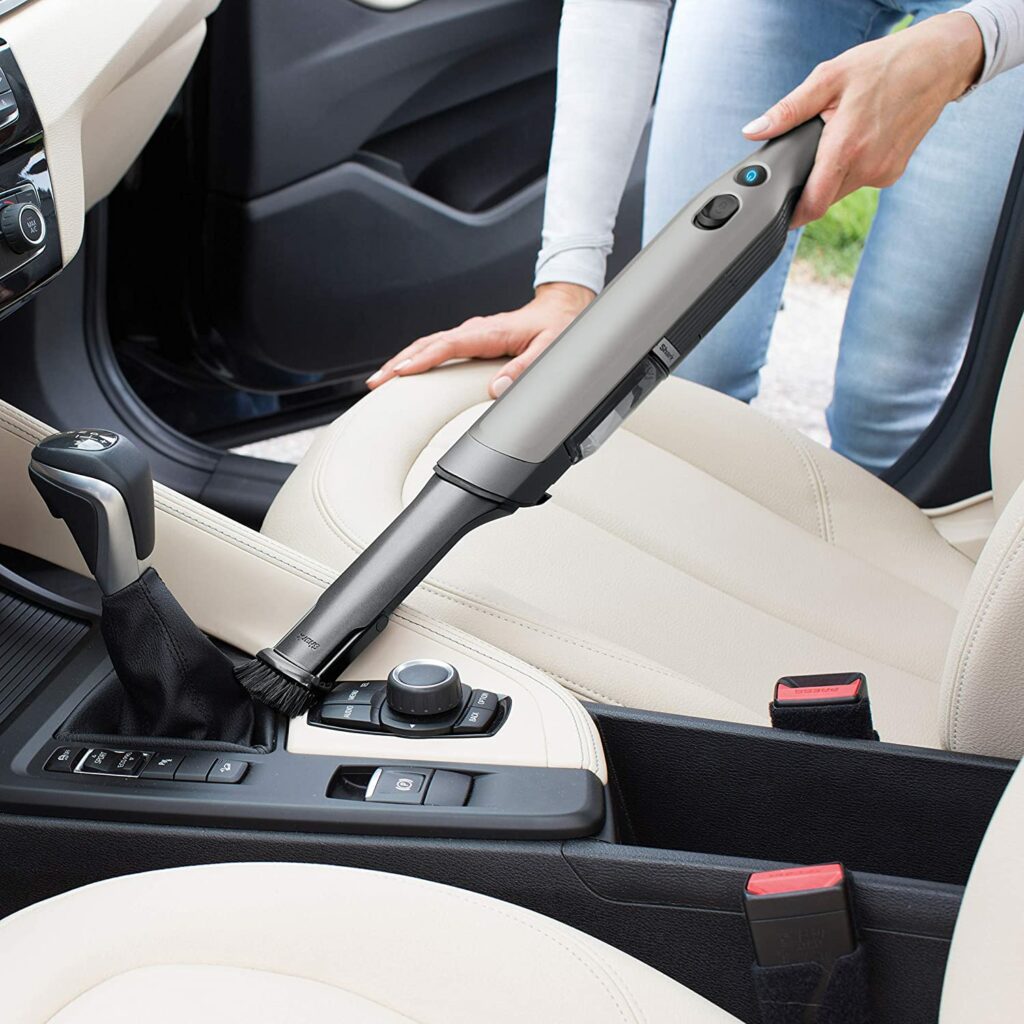 The Shark WV201 comes with a multi-service pet tool that makes light work of even the most stubborn and ingrained pet hair throughout the house, making it ideal for pet-friendly households.
Pet Hair and Allergies
This machine is ideal for pet-friendly households because of its high suction, great multi-surface pet tool, and superior filtration system. When it comes to bothersome pet hair, the Shark Ion W1 Handheld Vacuum exceeds practically any comparable dustbuster on the market.
Even the most deeply buried pet hair in carpets and soft furnishings can't stand a chance against this. When you start taking on more challenging and demanding work with the Shark, you'll see where the extra cash goes. When you have pets around, this is a great way to keep things fresh.
Product Specifications: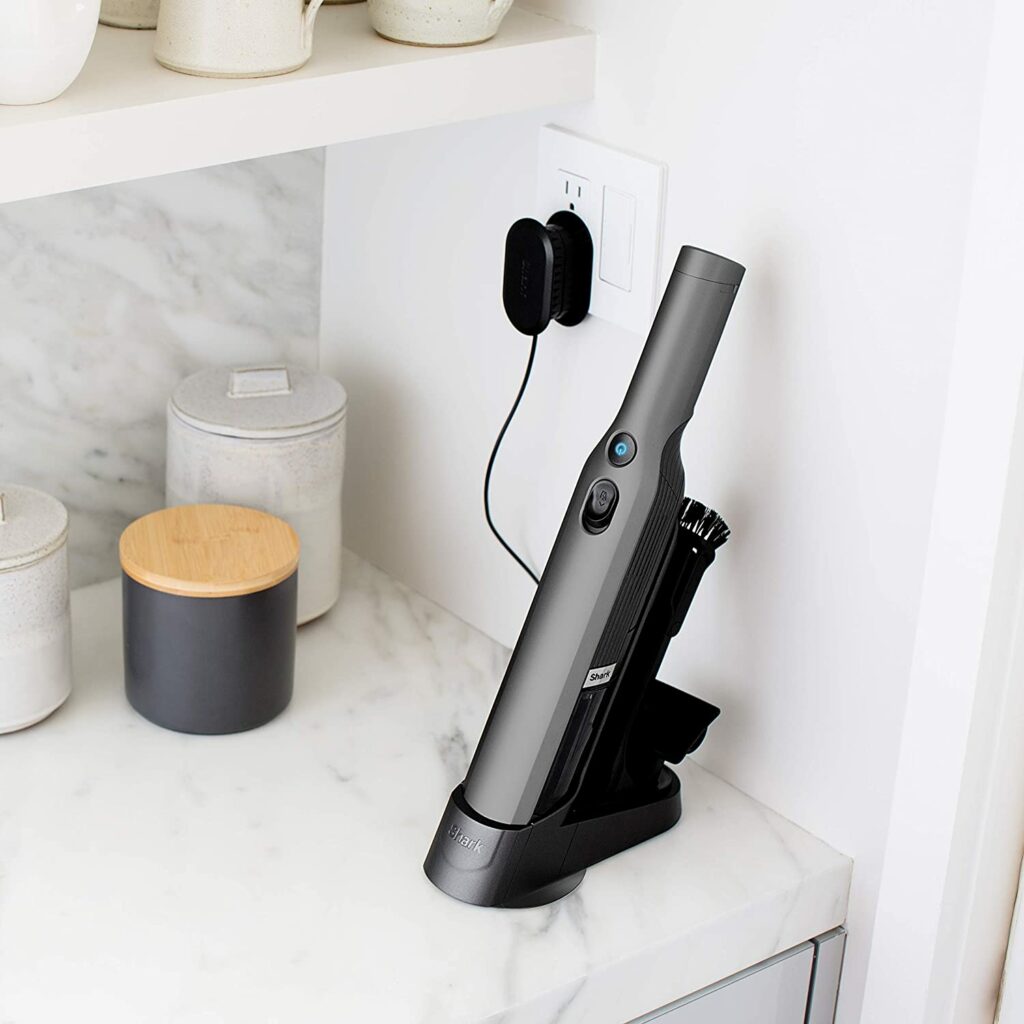 Pet: Yes
Cleaning Path Width: 3.35 inches
Vacuum Type: Handheld
Bin Capacity: 0.08 gallons
Product Weight: 1.4 pounds
Bagless: Yes
Corded/Cordless: Cordless
Wattage: 115 watts
Filter Type: Cloth
Multi-Surface: Yes
Washable Filter: Yes
Battery Charge Time: 2.5 minutes
Maximum Runtime: 10 minutes
Crevice Tool: Yes
Pros:
This is an absolutely amazing handheld vacuum.
It's really light and simple to use.
Incomparable power and performance
Multiple accessories are included in the shipment.
The design is perfectly balanced.
Pet-friendly households will love it.
Ideal for both the house and the car
Cons:
Only comes with 8-10 minutes of battery life
Where to buy Shark WandVac WV201 Handheld Vacuum
#6 Best Stick Vacuum: Shark Rocket Stick Vacuum

The Shark Rocket Stick Vacuum has a HEPA filter, as well as an anti-allergen seal, a huge dust container, and rapid conversion to a hand vacuum when fighting allergens.
This Shark stick vacuum is ideal for today's busy homes. With this cordless, lightweight hoover, you can clean common dirt and debris.
If you have a lot of clutter in the car from the kids, you'll like the fact that you can turn it into a handheld vacuum in seconds. Use it for up to 40 minutes of cleaning time before charging it with the accompanying charger so it's ready for the next job.
Power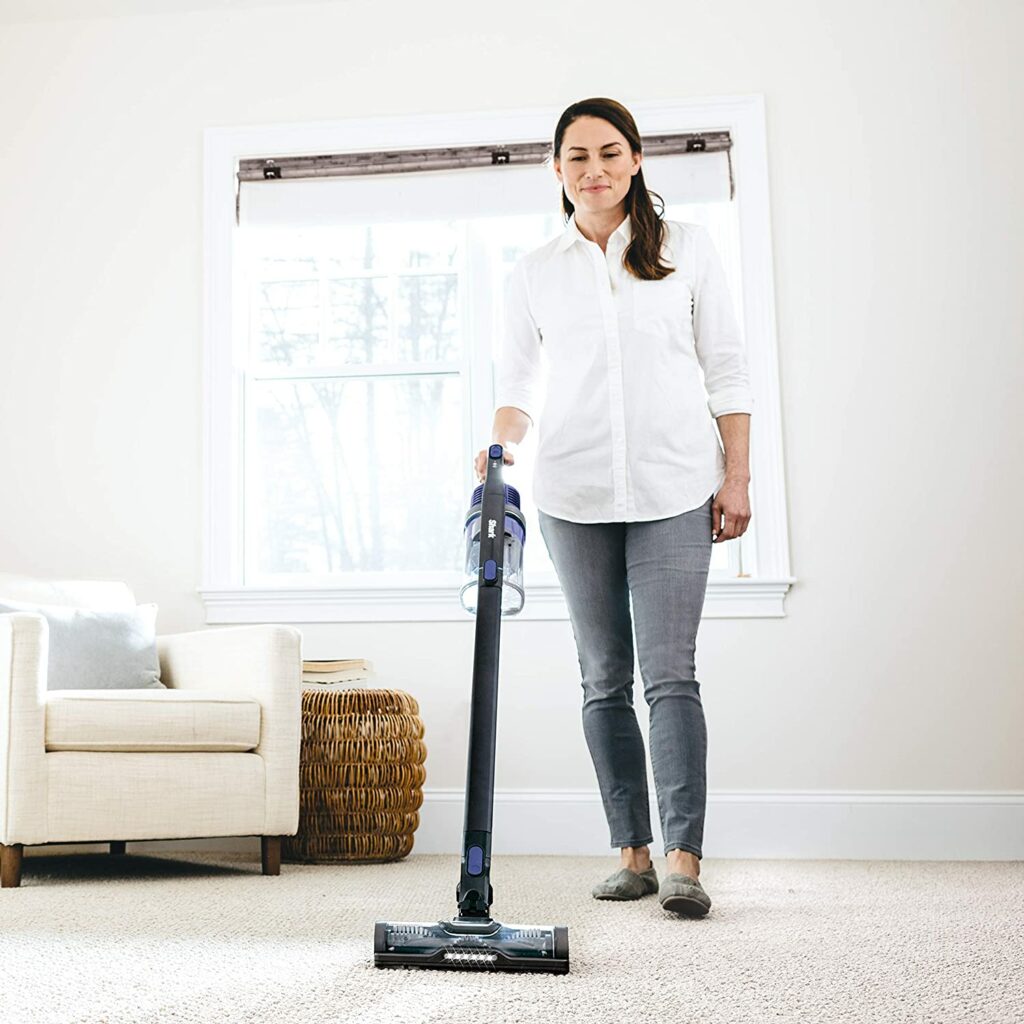 When the chassis is removed, the Shark IX141 reveals itself to be ready to rumble, with 181 watts of power, 8.38 amps, and 42 CFM. To put it another way, it'll deep clean carpets and hardwood floors while also catching pet hair that believes it'll get away from your wrath.
Efficiency & Speed
Knowing how quickly Shark Rocket Stick Vacuums can clean bare floors and carpets is crucial, and it has a CFM rating of up to 42. That equates to 42 cubic feet every minute, which is ideal for a medium-sized home.
It also contains a HEPA filter that traps tiny particles, resulting in cleaner air.
Maintenance & Bin Capacity
The Shark Rocket Cordless Vacuum Cleaner, unlike the Bosch BCS122GB, has an XL dust cup with Clean Touch technology. Simply click the button to release the contents of the dust bin. Clean out the dust bin on a regular basis to avoid accumulation.
Durability
When it comes to quality, the Dyson V11 Vacuum is clearly the winner—but Shark is a close second, at least in this comparison. Of course, it's all hard plastic, but considering the construction materials, it's fairly sturdy.
It even features an anti-allergen seal to keep dust from traveling in the air.
Product Specifications: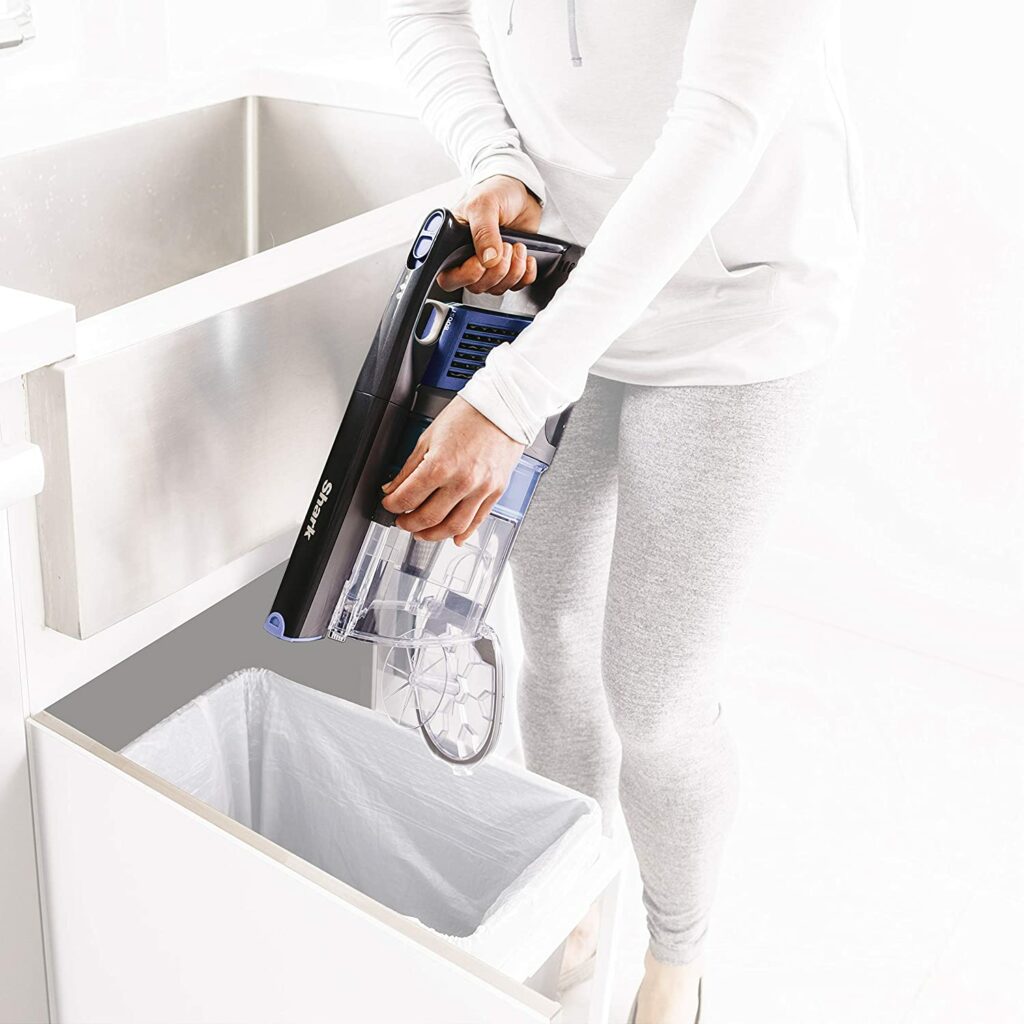 Weight: 7.5 pounds
HEPA Filter: No
Bin Capacity: XL dust cup
Cord Length: Cordless
Led Lights: Yes
Wattage: 181 W
Amps: 8.38
Manufacturer: Shark Ninja
Vacuum Type: Stick
Warranty: 5 years limited warranty
Batteries Required?: Yes
Pros:
The CleanTouch dirt ejector makes emptying the bin a breeze while keeping your hands clean.
LED lights
This vacuum is perfect for tackling day-to-day mess all throughout the house because it has no cord and is lighter in weight.
Cons:
For many users, the lack of storage was the biggest drawback of this stick vacuum.
Where to buy Shark Rocket Stick Vacuum
Shark Vacuum Cleaner Buyers Guide and Maintenance
In the United States, Shark is by far the most recognized brand name for the best vacuums. Their company, SharkNinja, is well-known for inventing and manufacturing extremely functional and creative corded and cordless vacuums.
This vacuum brand is well-known, trusted, and well-established. You'll enjoy what this brand has to offer if you want one of the greatest Shark vacuum models with high cleaning power at a reasonable price.
The firm has been in operation since 1995 and has Canadian roots. This parent firm is now based in Massachusetts. It was, however, launched in Montreal, Canada.
The Shark Navigator Professional, Rotator, and Rocket series of vacuum cleaners are currently the best on the market.
Comparisons and Differences Between the Different Ranges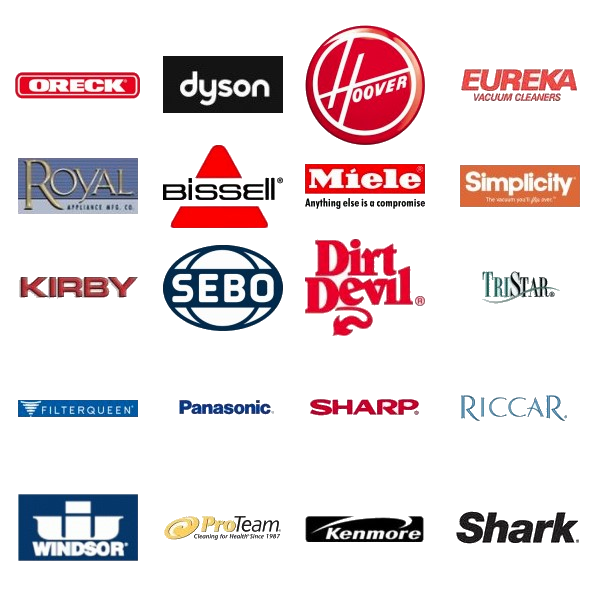 The majority of the top Shark vacuum machines are small, silent, and include swivel nozzles. The HEPA filter system, which keeps dust and allergens contained within the filtering system without any complications. It is another remarkable resemblance between the Navigator, Rotator, and Rocket.
The filters are washable when they've become filthy, and the removable tight-seal canisters come without bags. It doesn't need to have its filters replaced or updated.
The company is well-known for its upright powered lift-away speed vacuums with strong suction and is the most popular cleaner seller in the US. The fingertip controls are well-placed and allow for smooth transitions between surfaces.
When cleaning darker spots, the LED lights come in handy. The accessories that come with the Navigator, Rotator, and Rocket are some of the key variations between these vacuums. Some stores do not sell vacuum attachments individually.
What to Think About Before Buying a Shark Vacuum
If you need to control allergens, this is one of the most crucial questions you should ask yourself. Indoor pollution levels are frequently higher than those seen outside. HEPA filters help to enhance air quality.
Carpets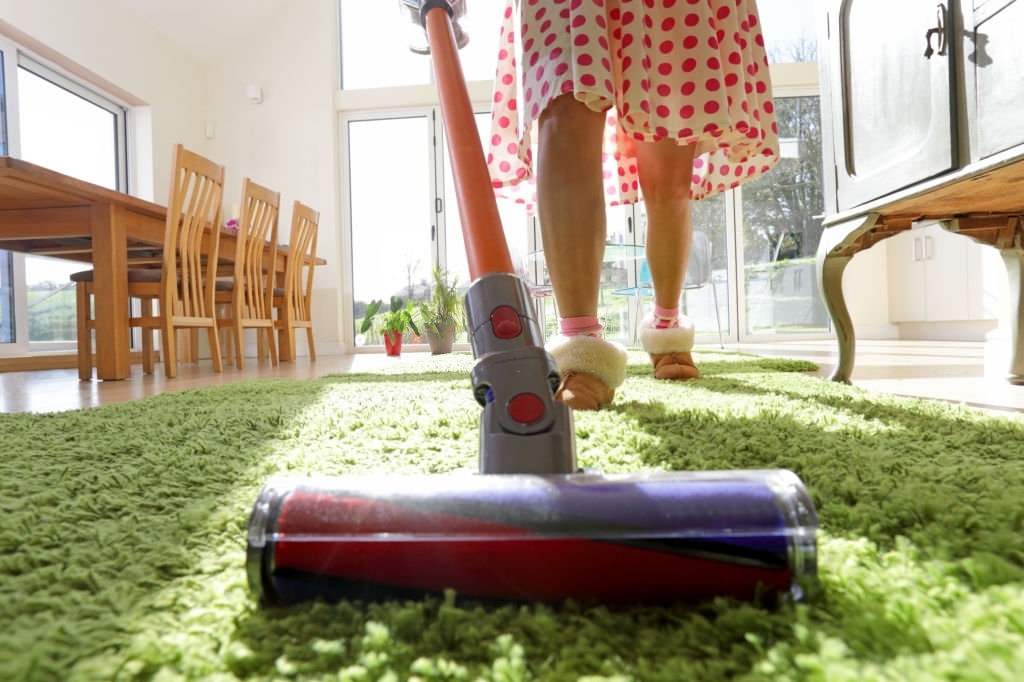 If you have largely carpeted areas in your home, an upright stick vacuum is a smart choice. Some carpets require a floor nozzle with a motorized brush roll. A canister vacuum is a good option for tile and hardwood floors.
You should also think about your home's levels. If you need to take a vacuum up and downstairs, choose a lightweight type.
Tools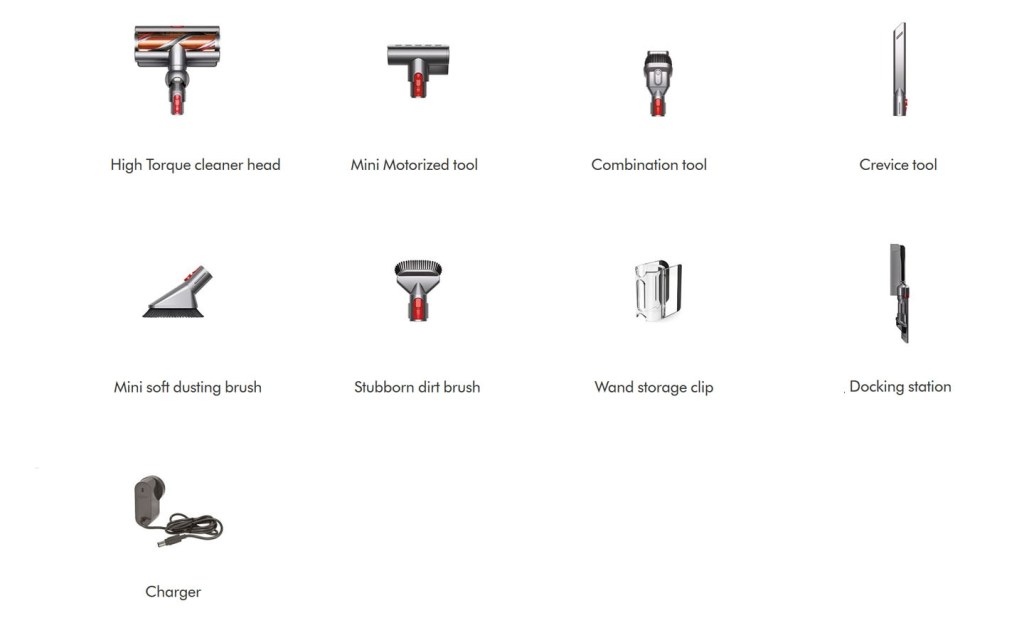 A crevice and brush tool is usually included in most vacuums. Its powerful suction and the mini-motorized tool will make cleaning a breeze if you have a lot of stairs or dogs.
If you like vacuuming drapes, baseboards, and furniture, go for the best Shark vacuum model that comes with a choice of accessories. Accessories are available for purchase separately.
Sound
When using a vacuum, a certain quantity of sound is expected to be produced. Heavy-duty machinery may be very louder. In certain companies or residences, sound may be an issue. The quieter functioning of the top Shark vacuum cleaners is well-known.
Performance
The suction produced by the greatest Shark vacuum model determines its performance, not its watts, amps, or horsepower.
For most living areas, a lightweight vacuum with strong suction is ideal.
Maintenance Tips for Shark Vacuums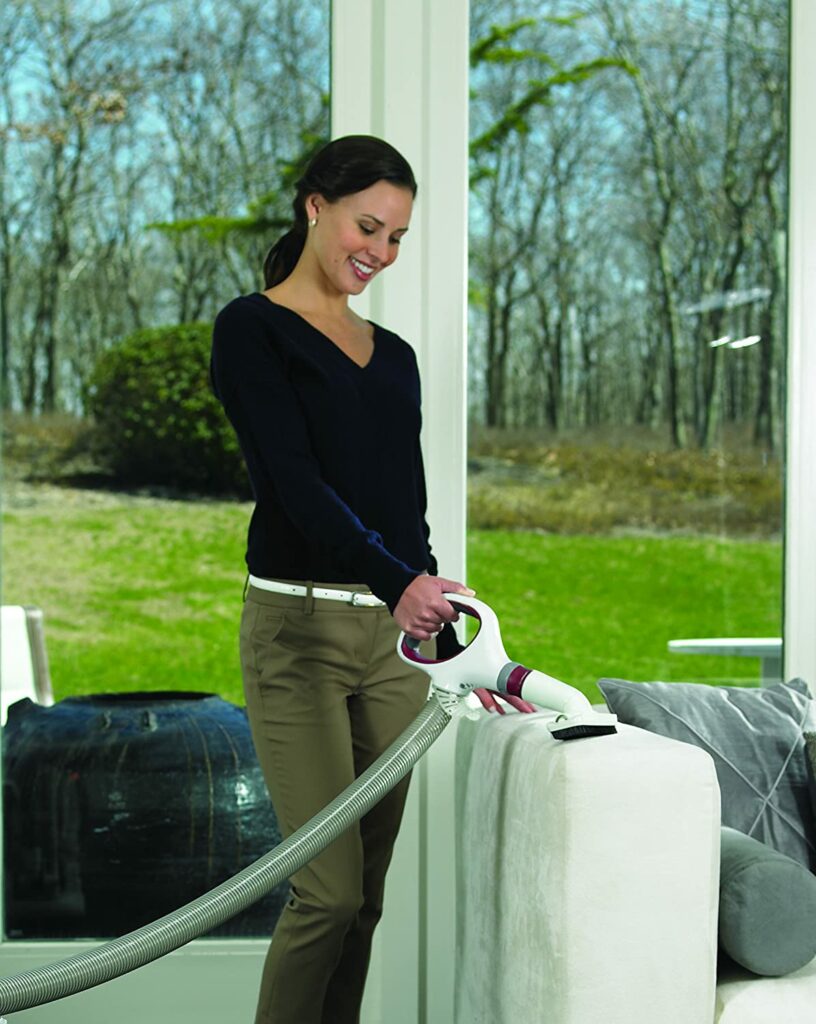 It's critical to clean the components of your Shark vacuum on a regular basis now that you've invested in the best Shark vacuum. This will ensure that it performs like new for years to come.
Shark vacuums, on the other hand, come with a long list of features and are built robust for class-leading durability. However, even the best Shark vacuum needs to be cleaned and maintained in order to work at its best. This will also ensure that it will continue to serve you well for a long time.
While performing routine maintenance may seem inconvenient at first, rest assured that keeping an eye on all of the moving parts will pay you in the long term.
Fortunately, parts for this type of equipment are readily available, and you may obtain them quickly. It also means you won't have to spend a lot of money on new equipment because you'll be able to repair it.
When should you clean and maintain your Shark vacuum?
A dirty vacuum will be significantly less efficient than one that is clean. The suction strength of the finest Shark vacuum, or any other vacuum for that matter, is reduced when the filters become clogged with dirt. Frequently, a great deal.
You should also make sure that the rotating brush at the bottom of the vacuum is clean. Here are a few symptoms that your vacuum needs to be cleaned:
Suction power loss
It doesn't sound the same as it usually does.
Dirt is left behind
It gives out a foul odor.
Keeping the dirt container clean
It goes without saying that even the best Shark vacuum should have its canister, dirt container, or dirt cup emptied on a regular basis. Over time, though, persistent dirt may adhere to the container's sides.
When flipped over, this is difficult to remove. Failure to fully remove the debris can result in more serious problems, such as clogging of the filter system and, as a result, a loss of suction power.
Cleaning the filters
Filters are included with all of the greatest Shark vacuums, and they can be composed of foam plastic or felt. Typically, the filters are found above the canister. NB: It's critical to keep track of the order in which you delete the items. Remove the filters and give them a thorough bath over the sink while the dirt container is drying.
Washing felt filters is not recommended by Shark, although you can do it carefully at your own risk. If you don't want to tamper with the felt filters, you may always change them if they show symptoms of wear.
The filters, like the canister, must be absolutely dry. You run the risk of mildew and mold growing within the vacuum if you don't.
Keeping the HEPA filter clean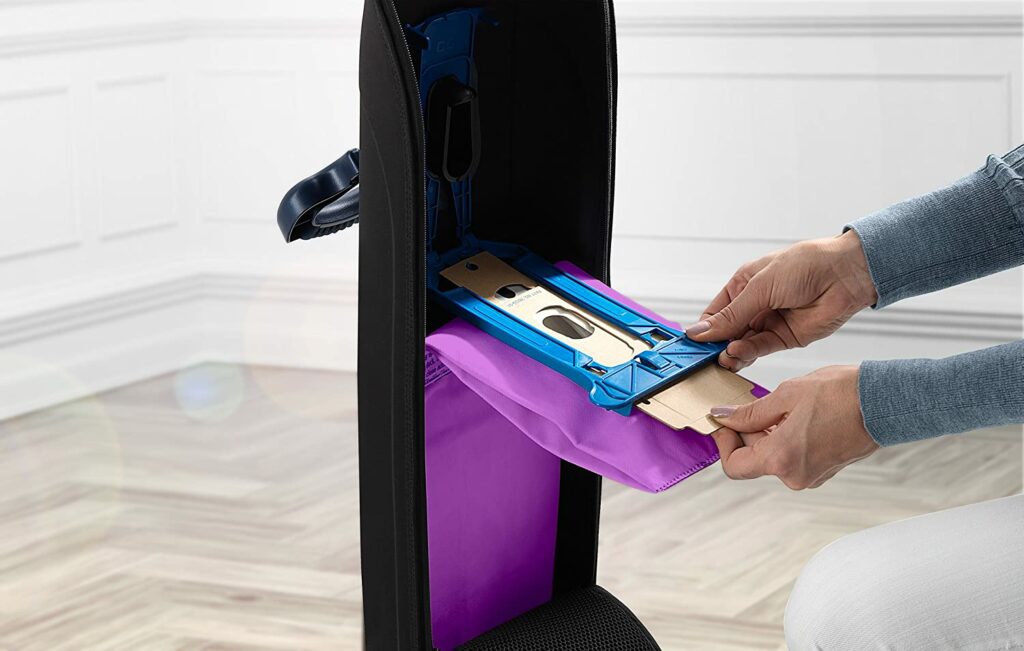 If your vacuum has a HEPA filter to capture small dust particles, it will also need to be cleaned. Remove and clean the HEPA filter, which is positioned beneath the canister, just like you did with the other filter (s).
Because HEPA filters take longer to dry than plastic filters, it's a good idea to keep a spare set on hand to avoid any cleaning delays.
Place the filters and dirt container back into the vacuum and seal them in place once all of the components are totally dry. Shark vacuum cleaners do wear down over time and will need to be replaced.
The good news is that they're cheap and easy to come by. Make sure, however, that you get the proper ones for your Shark vacuum model.
Final Thoughts
It is highly recommended that you avoid sketchy brands that are heavily discounted. The finest Shark vacuum cleaner is one of the most famous and well-known vacuum cleaner brands in the United States. The company is well-known for creating and manufacturing highly functioning household goods. A warranty demonstrates that a corporation believes in its own goods.