There are quite a number of electric pressure washers from different manufacturers today. Some people support the opinion that finding the best pressure washer is a tough job. But we are going to make this easy for you as we review the AR Blue Clean AR390SS.
Electric pressure washers are among the best heavy-duty cleaning and washing tools available. The new home look will not last forever, and inevitably, years of grime, dirt, soot, smoke, moss and everything in between will begin to infiltrate the walls and surfaces that were once clean.
For residential owners who want to keep their property clean with less effort and time, an electric pressure washer is an ideal option.
Being small and lightweight, it is easy to move them from one location to another. Electric ones need less maintenance and do not emit any emissions as compared to gas-powered pressure washers.
A simple example of what you get when you buy a fine, but decent, electric pressure washer is the AR Blue Clean.
About AR Blue Clean AR390SS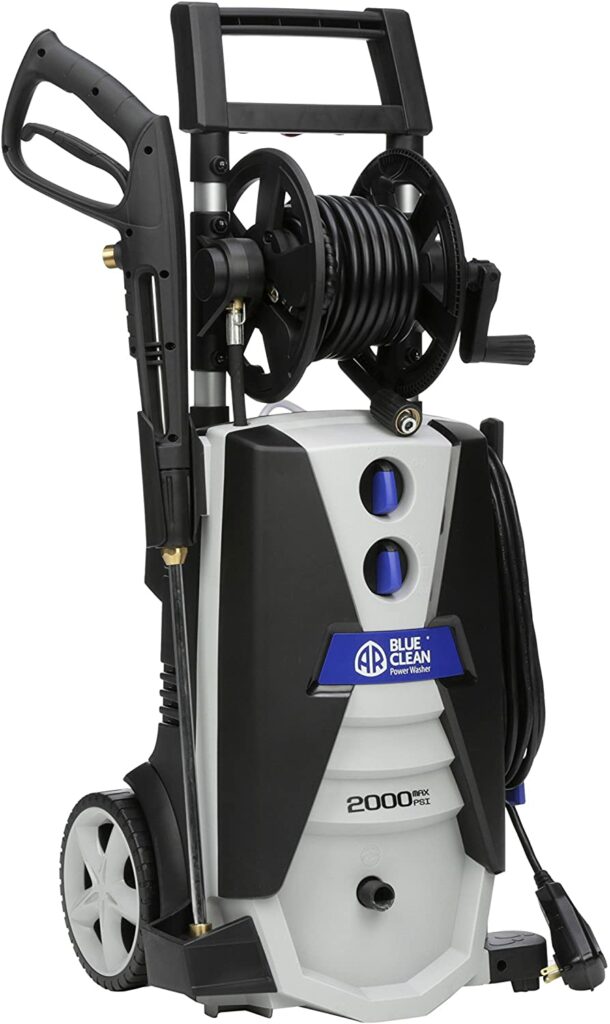 The Annovi Reverberi (AR) Company is a well-known and established pressure washer industry that provides quality products for over 50 years now. This is a business that is a well-known Italian brand worldwide.
Over time, they have become one of the biggest names in the manufacturing of high-quality pressure washers. The AR Blue Clean AR390SS electric pressure washer is one of their products. At 2000PSI, this washer is a very potent one.
It is quite a heavy unit, weighing in at around 41lbs. However, if you want the strength of the 2000PSI, it is a great option. This is a high-end electric pressure washer that, along with a 1.5 gallon per minute flow rate, guarantees pressure at 2000 pounds per square inch.
For an electric pressure washer that is typically less efficient than gas-powered ones, these figures are very high. But for their money, the AR390SS gives gas pressure washers a run.
So, this is a good option if you are looking for an electric pressure washer that will give you great results for your next commercial or home cleaning project. It is a highly functional, robust, and powerful product that is often developed to be used.
It comes with a wide range of attachments and features that make it easier and quicker for you to clean so that you can make time for other items.
AR Blue Clean AR390SS Features
This specific unit is often advertised as eco-friendly, using 80% less water and 45 percent more strength than a regular garden hose.
Let's look at the AR390SS more closely, so you can decide if this is a reasonable choice for you.
Power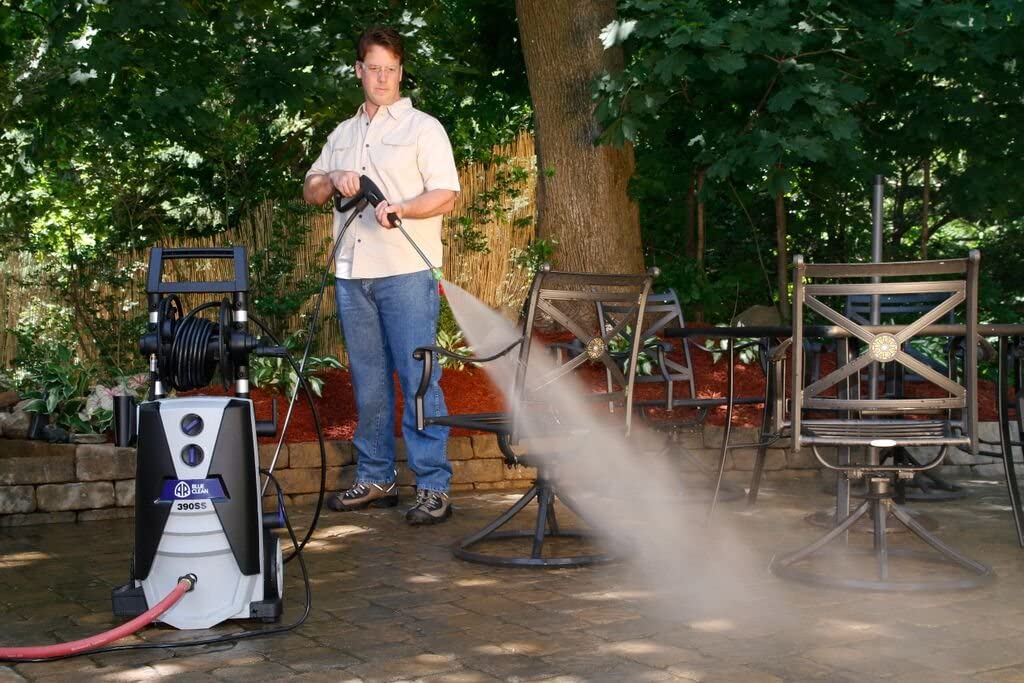 The axial pump with a 13 amp motor provides a pressure of 2000 PSI (approximately 33 times higher than a typical garden hose) and a flow rate of up to 1.4 GPM (valued by the manufacturer), resulting in the cleaning capacity of 2800 cleaning units of the AR Blue Clean AR390SS.
Since it is an electric pressure washer, a quick ON/OFF switch quickly starts the motor of the AR390SS. With peace of mind, the device is ready-to-use kudos to the 35 ft GFCI cord included.
Effectively Remove Stains
It is one of this pressure washer's most powerful characteristics. You will be able to properly clean any form of stubborn stains from the strain because the high-pressure water flow will effectively remove the stain.
Quiet Working
The AR Blue Clean AR390SS 2000 PSI electrical pressure washer is pretty quiet as opposed to the other washer pressures on the market. It makes no excessive noise.
Portable and Compact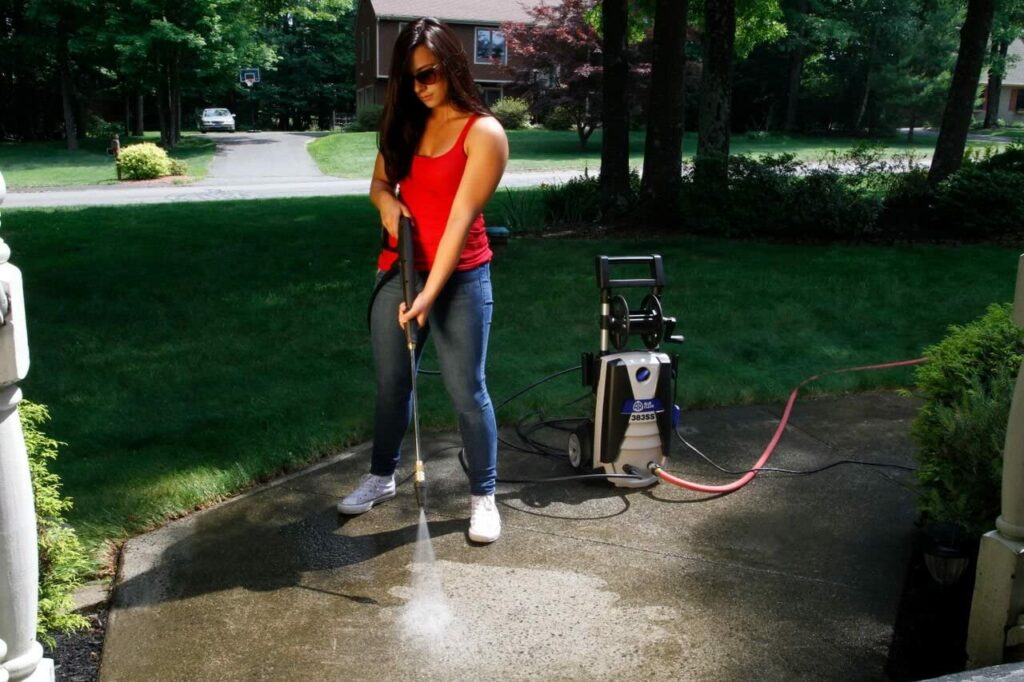 The AR Blue Clean AR390SS 2000 PSI is one of the best portable electric pressure washer units. You can easily move it from one position to another spot.
Design & Convenience
The AR Blue Clean AR390SS makes versatility one of its key strengths with its compact size and estimated dimensions of 13.8L x 15.3W x 35.5H inches. The handle adds ease of transport to the AR390SS.
The machine can be taken around very comfortably, as it weighs only 31.1 lbs. This is due to its lightweight frame, which helps it to stay as compact as possible. The ease of mobility of the unit is also enhanced by the set of two wheels.
Key Features
The AR Blue Clean AR390SS, which is listed below, comes with a variety of accessories such as a spray gun, wand, a pressure hose, 4 nozzles, and a detergent injection tool.
Soap injection
A 0.38 gal disposable tank allows the proper storage of detergent. The washer has a dial that enables the user to pick the dilution level of the detergent manually. When a soap nozzle is mounted, the detergent will be directly applied to the water.
Pressure Hose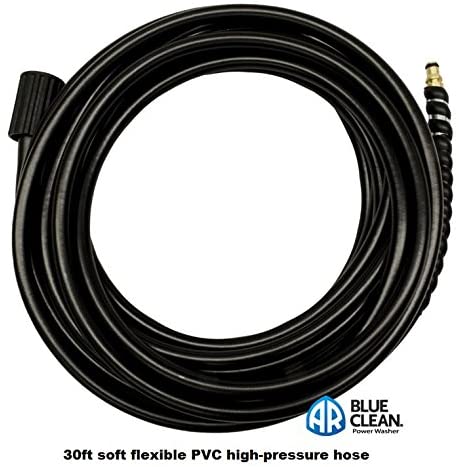 You will be given a 30-ft hose pipe and 35-ft power cord along with the washer pressure which allows you to clean a larger area continuously. The long power cord and the hosepipe especially play a key role.
The included 30 ft high-pressure hose can be conveniently placed on the unit when it is not working, using a compact pressure hose reel, which also increases its lifetime.
Spray Gun and Wand
It is possible to store both the standard ergonomic spray gun as well as its zinc-coated wand in a side hook easily.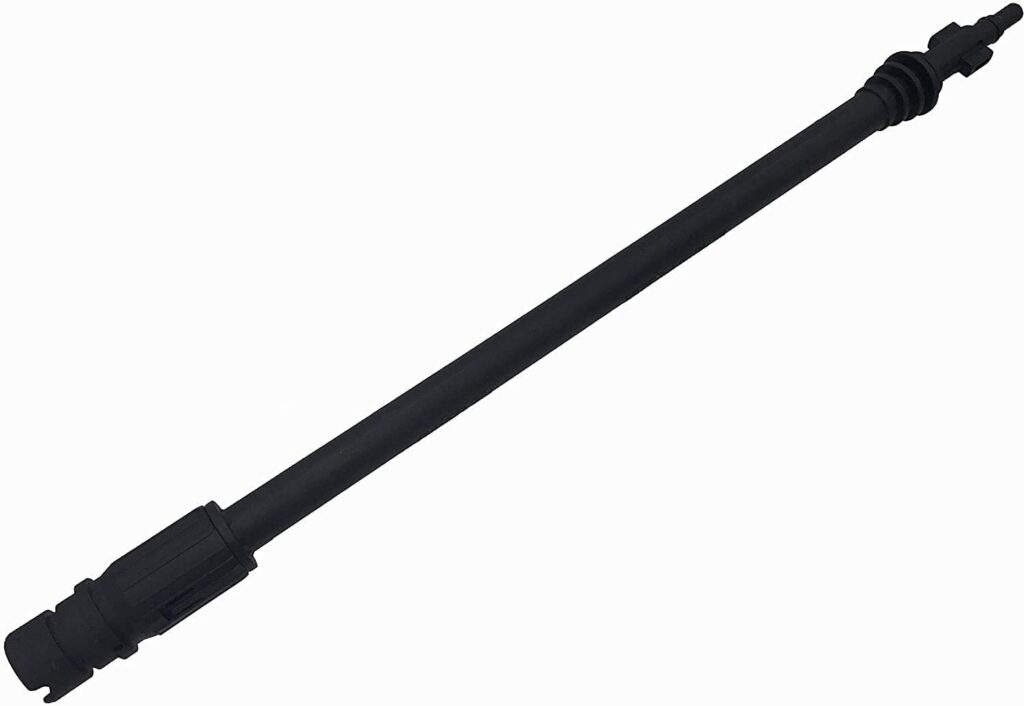 Nozzles
In order to clean a different form of spot, the AR Blue Clean AR390SS 2000 PSI electric pressure washer has 4 different quick attach nozzles such as 0-degree, 25-degree, soap, and rotary.
Total Stop (TSS) System
This function automatically shuts off the pressure washer to extend the lifespan of the pump when the trigger is not active.
Storage Onboard
Keep prepared for any tough cleaning job with the convenient storage area of AR Blue Clean AR390SS, which helps you to store any nozzles and accessories that you will need for the job easily.
Safety
Operational safety is improved by the trigger lock mechanism (which helps to prevent accidental operation
Product Specifications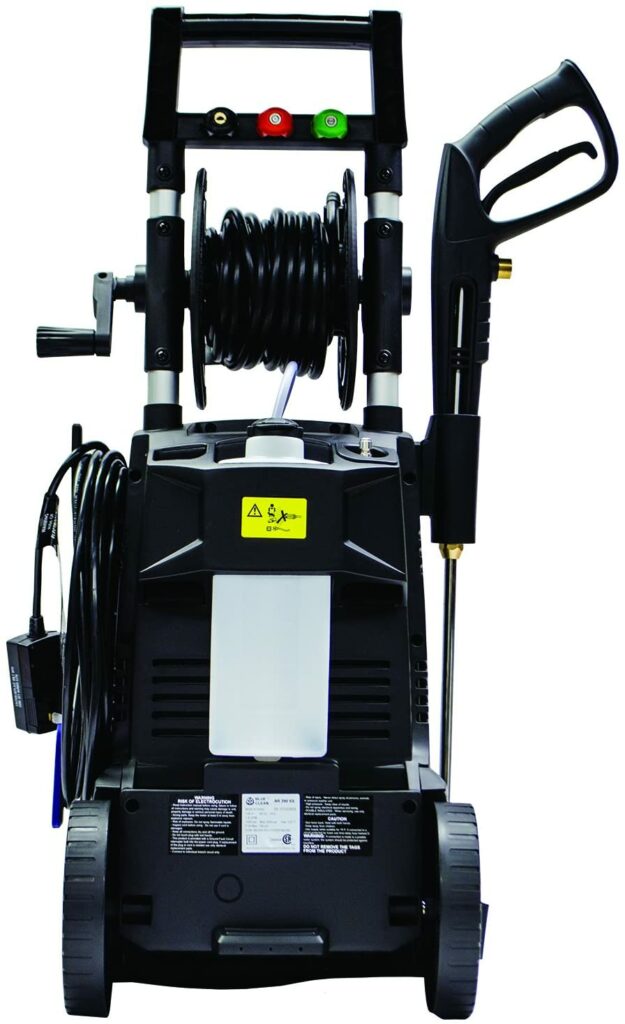 Operating Pressure: 2,000 psi
Power Type: Electric
Pressure Washer Water Type: Cold
Pressure Washer Style: Cart
Flow Rate Range: 0-1.9 GPM
Pressure Washer Flow Rate: 1.4 GPM
Detergent Injection System: Yes
Horse Power: 1.6 hp
Volts/Phase: 120/1
Pump Type" Triplex Plunger
Pump Drive: Direct
Piston Material: Stainless Steel
Hose Dimensions: 1/4 in x 30 ft
Warranty: 1 yr
Length: 15 inches
Width" 14 inches
Height" 32 inches
Net Weight: 42 lbs.
What We Like About the AR Blue Clean AR390SS
To get your pressure washer running smoothly, a single purchase includes all the accessories you need. There are enough nozzle tips to give you the best cleaning performance you want so you can begin cleaning as soon as you open the package.
They're very eco-friendly. They're saving money for you and providing you with more strength than your usual gardening hose.
A full warranty that would cover all aspects of it is covered by them. Your warranty will cover it if you have any problems within the first year of ownership.
It is strong enough just to power through all of your filthiest places, but when used properly, it stays gentle enough not to destroy anything.
Nozzles instantly snap off. What you need to do is pull the brass collar back on and the tip will pop up. Pull the collar back to change it, and slide it back into place to hold the new nozzle.
What We Don't Like About the AR Blue Clean AR390SS
There is a rubber hose in these pressure washers, which some people are not fond of. People prefer the heavier-duty, steel-braided hose that cannot be found on the AR.
If you drag the hose towards you with a little strength, the machine tumbles over.
Recoiling continues to happen, leading to at least one kink when the system is used.
The wheels are a bit rigid, which makes the unit a bit difficult to move.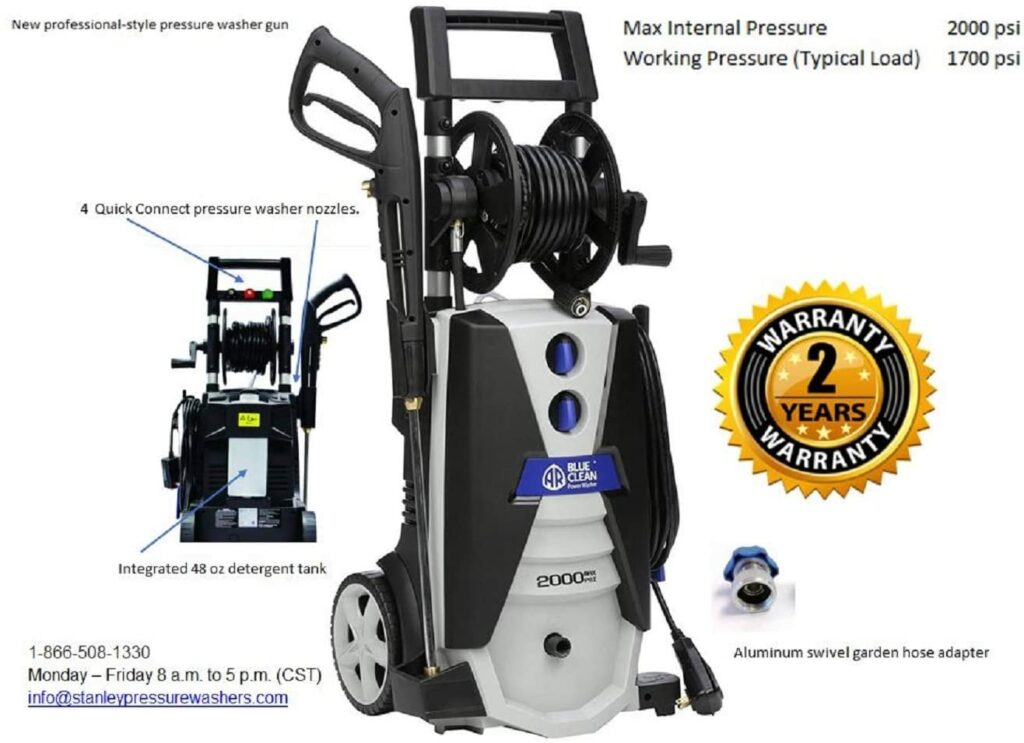 Maintenance and Storage
Turn the power switch off when your pressure washer operation has been finished. Unplug the outlet power cable. Switch the water supply off. To pump out the excess water and relieve any residual water pressure, pull the trigger on the spray gun for 2-3 seconds. Do not let the power washer operate with no water running through it.
Remove the spray gun's high-pressure hose and carefully remove the other end of the power washer's high-pressure hose.
Remove the lance from the pistol. Place the gun on the side of the holster.
Make sure any leftover detergent from the tank is removed. Residual chemicals can bind to the jar and may become infected and will hinder and not work properly in the detergent injector. To avoid clogging, flush the tank and the nozzle head with clear water.
On the top of the rig, wind the power cord around the L-shaped hooks
On the hose hook mounted on the back of the handle, the pressure hose is stored.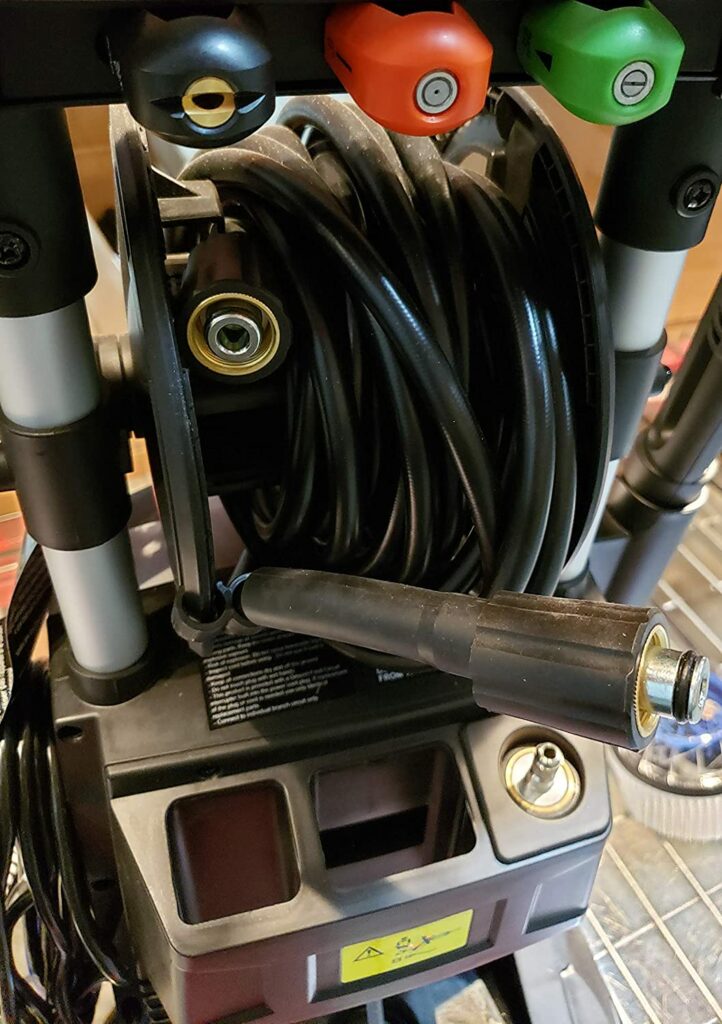 Storing in Cold Temperatures
If you use an antifreeze intended for pumps, do not store the power washer where it is exposed to freezing temperatures.
To prevent the water in the unit from spreading under freezing conditions, store the power washer indoors. Your power washer would be impaired and become inoperable if the water freezes and expands.
To Sum Things Up
The AR Blue Clean AR390ss is a durable electric pressure washer with a correctly built body. If you have regular cleaning duties, it is really a very good buy.
The onboard storage unit is a wonderful addition, as it allows all your tools and attachments to have their own space, so when you are about to clean, you don't have to think about where to locate them. The unit is as efficient but with a lot less noise as most gas pressure washers.
This pressure washer is a perfect option as it can be used for both your household cleaning projects and company duties.
The unit can be used for the cleaning of cars, driveways, lawn furniture, fences, and sidewalks.