You may be aware that pressure washers like Worx WG644 make cleaning operations go faster, cleaner, and with less effort. It's ideal for cleaning patios, decks, driveways, backyard patio furniture, vehicles, and other surfaces prior to a paint job. Anything that can't be cleaned with your ordinary scrubbing and scouring with chemicals and soaps.
Do you, however, understand how a pressure washer works? What are the pieces involved in the cleaning process and how does it get everything clean so quickly?
When you decide to purchase a pressure washer, it is critical to understand how it operates.
Pressure washers are an expensive investment, therefore it's critical to understand how they work in order to avoid damaging the equipment.
What is a Pressure Washer?
If you've never used a pressure washer before, you might get surprised at how clean it can get things. After all, isn't it only water?
We usually think of soap or harsh chemicals, but water is actually a fantastic cleaning agent. Water molecules are electrically polarized, which means they like to stick to things (like dirt and grime).
The addition of soap or detergent improves the effectiveness of water by breaking down the grease and filth it comes into contact with, and the added force and friction given by a pressure washer takes it to the next level.
A pressure washer won't harm most surfaces because it's "only" water, but if in doubt, check the instruction manual and test a small patch in an inconspicuous area first.
Worx WG644 Pressure Washer Review

It's not always simple to choose a good pressure washer, especially when they all appear to be large and difficult to operate. Certain manufacturers, on the other hand, have taken this into account and made their equipment portable.
We'll examine how useful this product is in our WORX WG644 Hydroshot review.
This pressure washer, which has received high ratings from a variety of consumers, should be ideal for light home tasks. However, because everyone's needs are different, you'll need to familiarize yourself with the features.
WORX opted to term the device a power "cleaner" because of the PSI (pounds per square inch) delivery.
WORX produced an excellent cordless pressure cleaner/washer system that gives a wonderful blend of power, performance, and utility, whether you call it a cleaner or a washer.
What Is Different About the Hydroshot?
The power cleaner, for starters, is cordless. The unit has no cables and is powered by twin "Power Share" 20 Volt Lithium-Ion batteries.
The unit is also eco-friendly, in addition to having a cord-free feature. There is no need for fuel and no carbon monoxide is emitted, unlike a gasoline-powered pressure washer.
You can use the HydroshotTM without worrying about hazardous gases indoors.
Features
Is there no hose connection? It's no problem. The device may be used with a body of fresh water thanks to the attached 20-foot suction hose.
Awlays have a set of fully charged ones after purchasing an extra set of batteries to maintain the machine working. The cleaner has plenty of power at 40 volts.
The single nozzle with four spray patterns makes it simple to choose the proper power for the job without having to worry about losing individual/dedicated tips.
Finally, once the lance/wand is withdrawn from the motor component, the unit's low profile allows for convenient storage.
What Is The Worx Hydroshot and How Does It Work?
The Hydroshot is a straightforward mechanism. The pump, hose, and wand are the only three main components.
It works by selecting the appropriate nozzle size for the job and connecting it to the power cleaner's wand. Then, with the pump turned on, you aim at your target with the desired angle (the machine has an adjustable handle).
How Long Does The Battery Last On A Worx Hydroshot?
The Worx Hydroshot is powered by lithium-ion batteries with a voltage of 24 volts (Li-Ion). These are built to last and provide great power for an extended period of time. They should be able to run for roughly three hours before needing to be replaced or recharged, as a general rule.
Any battery will lose capacity over time, but Worx promises that their battery will continue to perform after 400 charge cycles, or almost three years. Obviously, you can't expect it to perform the same way it did the first time you bought it.
However, a battery like this should last several years (albeit you won't be able to operate it for three hours straight).
The water is then drawn into the wand and propelled out the nozzle, resulting in a powerful jet of water that can clean nearly anything.
The beauty of these devices is that they are extremely portable and simple to operate.
Worx Wg644 Hydroshot Specifications
Unlike most portable pressure washers that run on gas or electricity, this one runs on Lithium-Ion batteries, each of which has a 1Ah capacity. This increases its portability, so you won't have to worry about it if you're bringing it somewhere without an electrical outlet.
This unit has an adjustable PSI setting, with a maximum of 450 PSI and a minimum of 290 PSI. You can also change the spray pattern by selecting between 0-degree, 15-degree, 25-degree, and 40-degree spray patterns. All you have to do now is pick the nozzle that best suits your needs.
This is one of the lightest models among tiny pressure units. With a weight of just under 7 pounds, this item is quite easy to transport – no matter how far you have to travel. You won't be limited in terms of space because it's cordless.
This unit's maximum water flow rate is 0.9 GPM. While it is modest in comparison to other similar devices, it is sufficient for basic cleaning. It will take two hours to charge the battery and another 30 minutes or so to properly dry it off. This will allow you to do all of your daily cleaning tasks.
This unit can be utilized at any time and in any location, independent of the water supply.
What to Expect From Worx Wg644 Hydroshot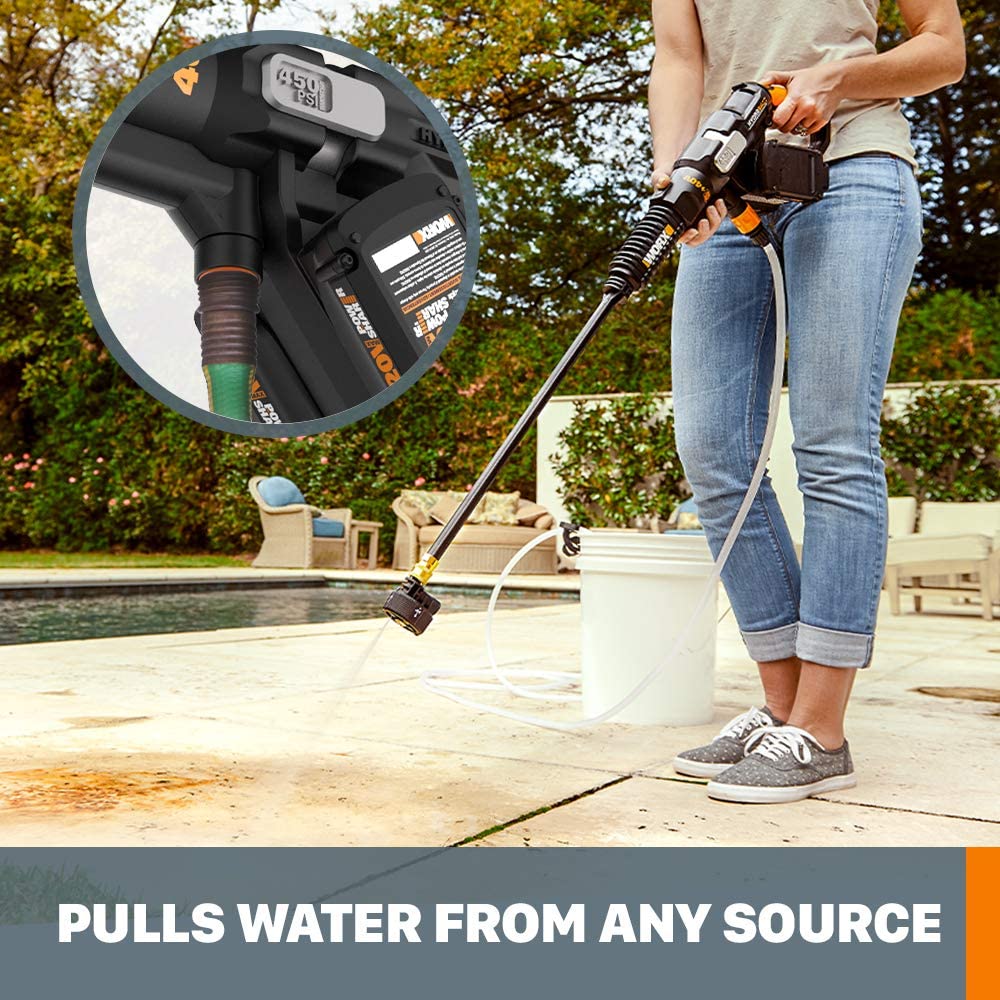 The WORX WG644 Hydroshot is simple to operate, and as long as you read the user manual, you should have no trouble connecting it and getting it up and running.
If you're looking for anything to do some minor cleaning, the performance is likewise superior. But if the stains are especially greasy or severe, it may take a long time to show results. This is what you can expect from this unit in general.
Pros
In comparison to other similar models, this machine is lightweight and tiny, and the cordless design allows you to move around freely. Plus, despite its modest PSI, it is quite effective against dirt and mold.
Cons
Cleaning oily places and other medium-duty duties is challenging for it. To get the work done, you'll have to be firm with them. Furthermore, while the battery is normally long-lasting, if you use it at the highest PSI, it may run out quickly.
Pressure Washer Maintenance
Because of the harsh demands of the industry, experienced cleaning specialists understand that a high-quality pressure washer is well worth the investment, even if it is more expensive than the cheapest unit available.
However, just because a high-end pressure washer is robust doesn't mean it doesn't require some TLC from time to time. Despite the fact that the tasks are simple, too many contractors fail to properly maintain their pressure washers.
With this in mind, it might be time to increase the pressure on your maintenance routine.
Taking Care of the Parts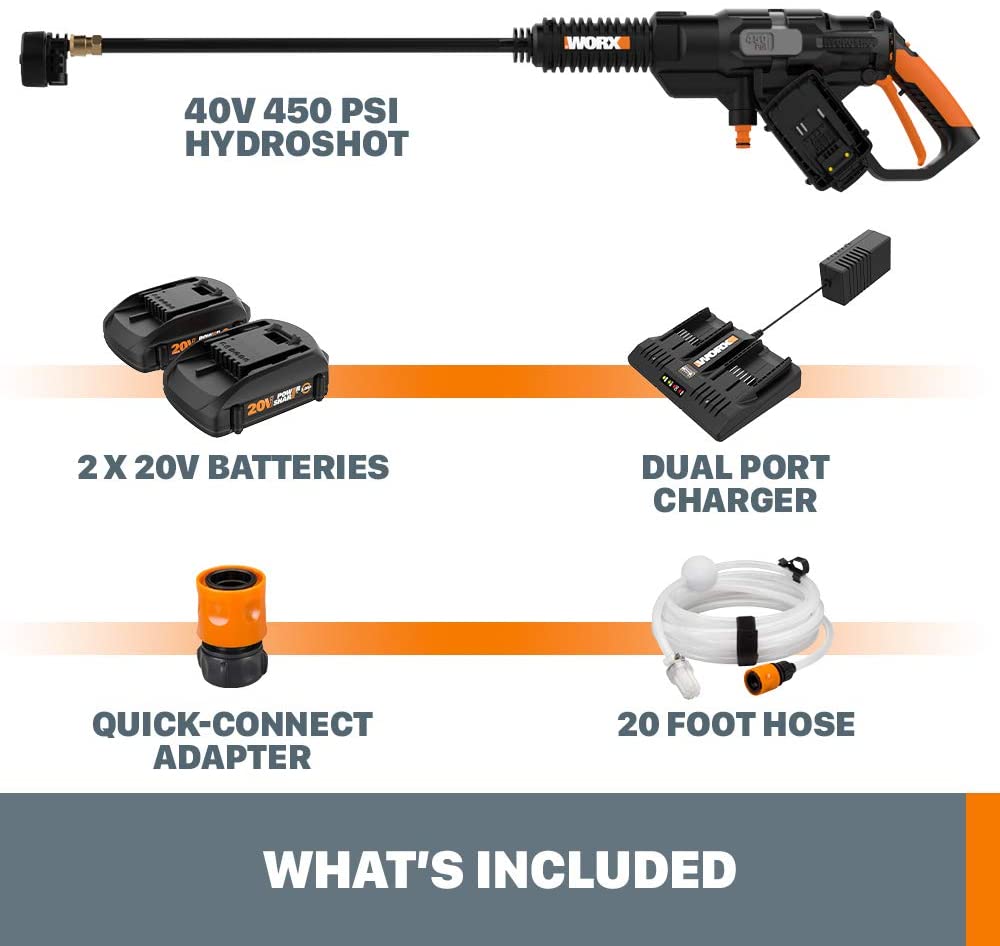 Before starting a maintenance program, familiarize yourself with the machine's components. While no two pressure washers are the same, they all have the same fundamental components, such as a pump, unloader, relief valve, hose, and gun assembly.
They'll have a motor or an engine as well. A heating coil and float tank are included in hot washers that are not seen in cold washers. For extensive descriptions and diagrams, consult the owner's handbook.
Some pressure washers necessitate more upkeep than others. Some of the cheapest units on the market, for example, are practically disposable.
They are designed to be lubed for life, which means they aren't designed to have the oil changed or other types of routine maintenance performed on them. There is minimal chance of these machines being resurrected once they have died.
Professional units are much easier to maintain.
Basic Maintenance
A pressure washer should be inspected on a regular basis. Take a few minutes to look for leaks, kinks, cuts, abrasions, or bulges in the high-pressure and supply hoses. Check the GFCI drop cord for evident damage on electric appliances.
Always check the pump oil before starting the device and adjust to the proper level if necessary. If the equipment is powered by gas, this is a good time to check the oil and fuel levels in the engine. Also, before fitting the pressure tip at the end of the gun assembly, flush the water system to prevent any existing materials from clogging.
Maintenance Tips
The best approach to extend the life of a pressure washer is to do daily preventive maintenance, but don't overlook less frequent maintenance.
These checks may need to be performed weekly, monthly, or once or twice a year, depending on how often the equipment is used.
Final Verdict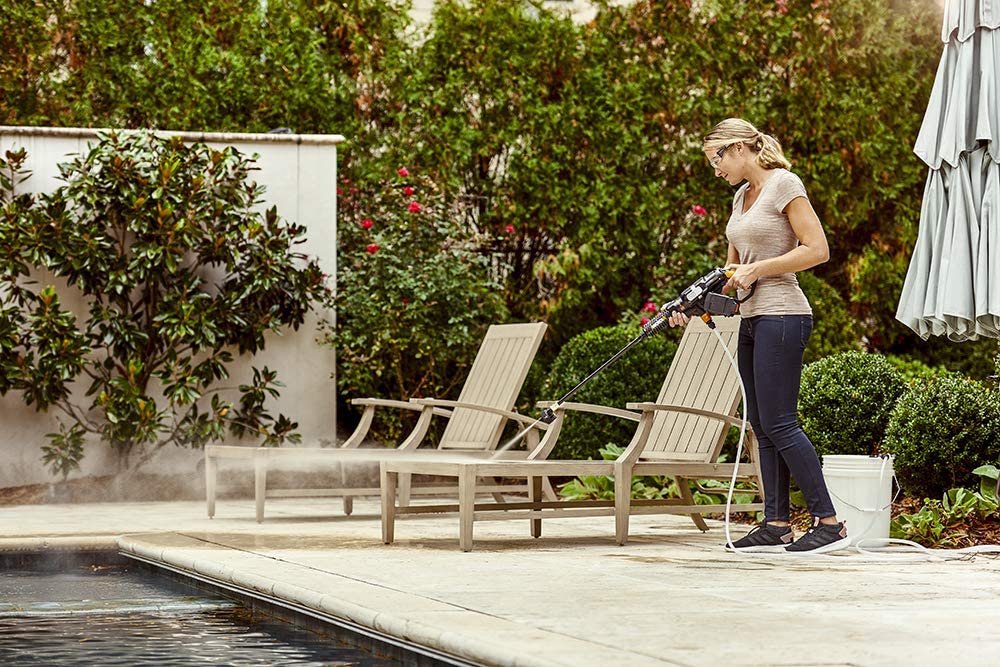 The WORX HydroshotTM is quite useful. It's a fantastic power cleaner with a wide range of applications. It's great for cleaning activities that require more of a wash/rinse, with a low pressure of 290 PSI and a spray angle of 400.
The unit's lightweight design makes it simple to use for everyone. The convenience of shifting positions is aided by the four spray pattern angles combined into one head.
The hose that transforms it into a completely portable system that only requires a water source (no garden hose or spigot) is brilliant.