Keeping your home's exterior clean might seem like a full-time job, particularly if you live in areas prone to dirt and other weather debris. The Sun Joe Spx3500 Electric Pressure Washer is the true go-to power tool for home improvement, although the basic garden hose has long been the ally of homeowners who would like to keep their outdoors clean. 
The strength and water ability of a pressure washer is behind it to take care of the jobs that a garden hose obviously can't do, from built-up dust and dirt to thick oil stains on your driveway.
If you want to make cleaning your house simple and time-saving, you can buy an electric pressure washer for this situation. Likewise, since you can do the job in a very short time, a pressure washer will be a perfect way to wash your driveway. The washer is attached to an electrical socket and then, by high-pressure water, it is used to clean surfaces.
You can find it difficult to decide which model is the best value for the money when it comes to selecting a pressure washer and which model can handle all of your cleaning tasks. We're going to take a look at the Sun Joe SPX3500 today and review it.
About Sun Joe SPX3500 Electric Pressure Washer
Sun Joe is now one of the market's leading brands of electric pressure washers and their Sun Joe SPX3500 is among the best of the many pressure washers on the market. For individuals looking for a good and robust mid-range pressure washer, this unit is perfect.
This Sun Joe pressure washer, driven by a 13-amp induction motor, is a useful tool and operates better than gas-powered washers with a universal motor. This unit is compact, quiet in operation, and very easy to navigate, just like most other electric pressure washers.
It could also be used for a broad range of light-duty, medium-duty, and some heavy-duty pressure cleaning tasks.
Sun Joe SPX3500 Electric Pressure Washer Features
Fast-Connect 5 Nozzles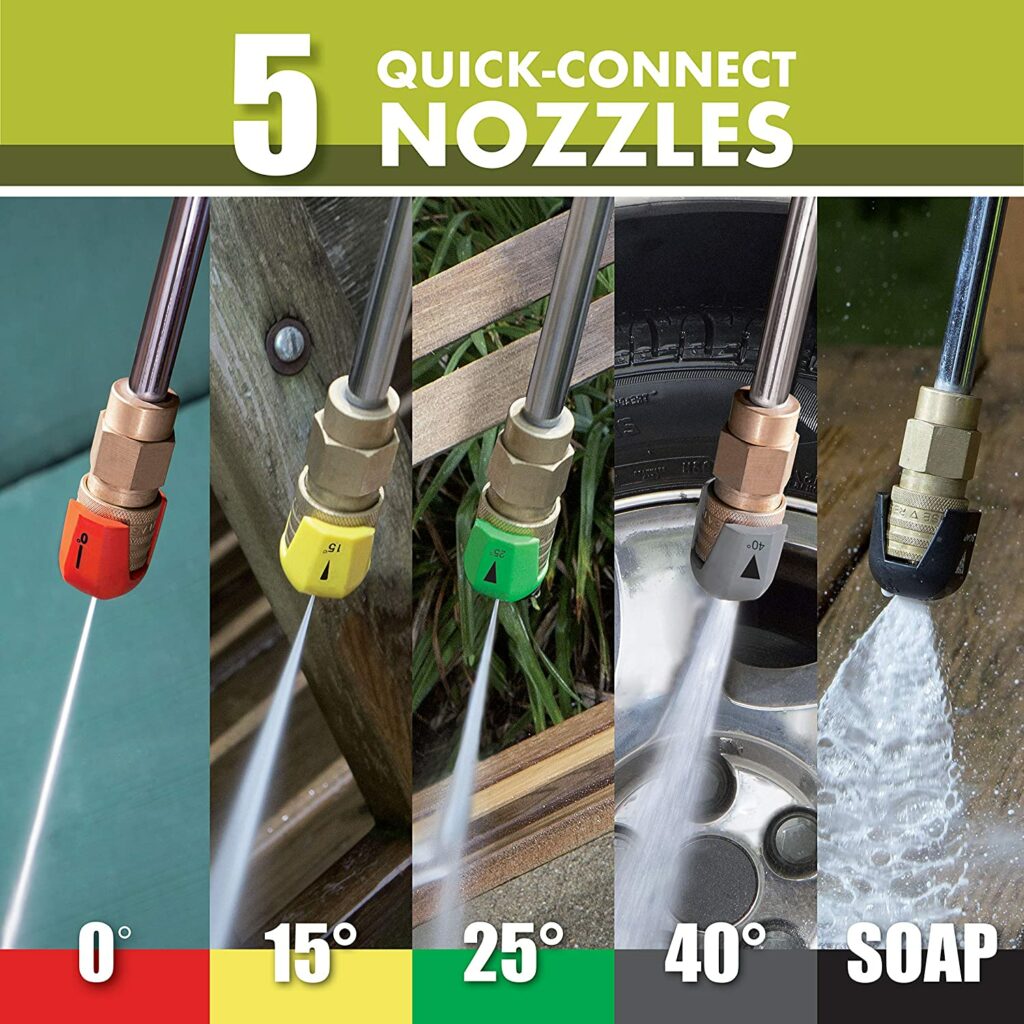 If what you are looking for is flexibility, then you'll like this unit. This is a very versatile device with 5 quick-connect nozzles as it can be used to perform a wide range of functions. You have 5 nozzles to choose from, including 0˚, 15˚, 25˚, 40˚ and soap nozzles.
In addition, two pressure choices, which include 2300 PSI and 2000 PSI, are available. For various tasks, you can set the right pressure and choose the right nozzle. This will allow you to save more water and prevent wasting time.
Detergent Tank
This pressure washer is ideal for those who want a 1.2-liter detergent tank with a medium-capacity electric high-pressure cleaner.
Excellent Cleaning Efficiency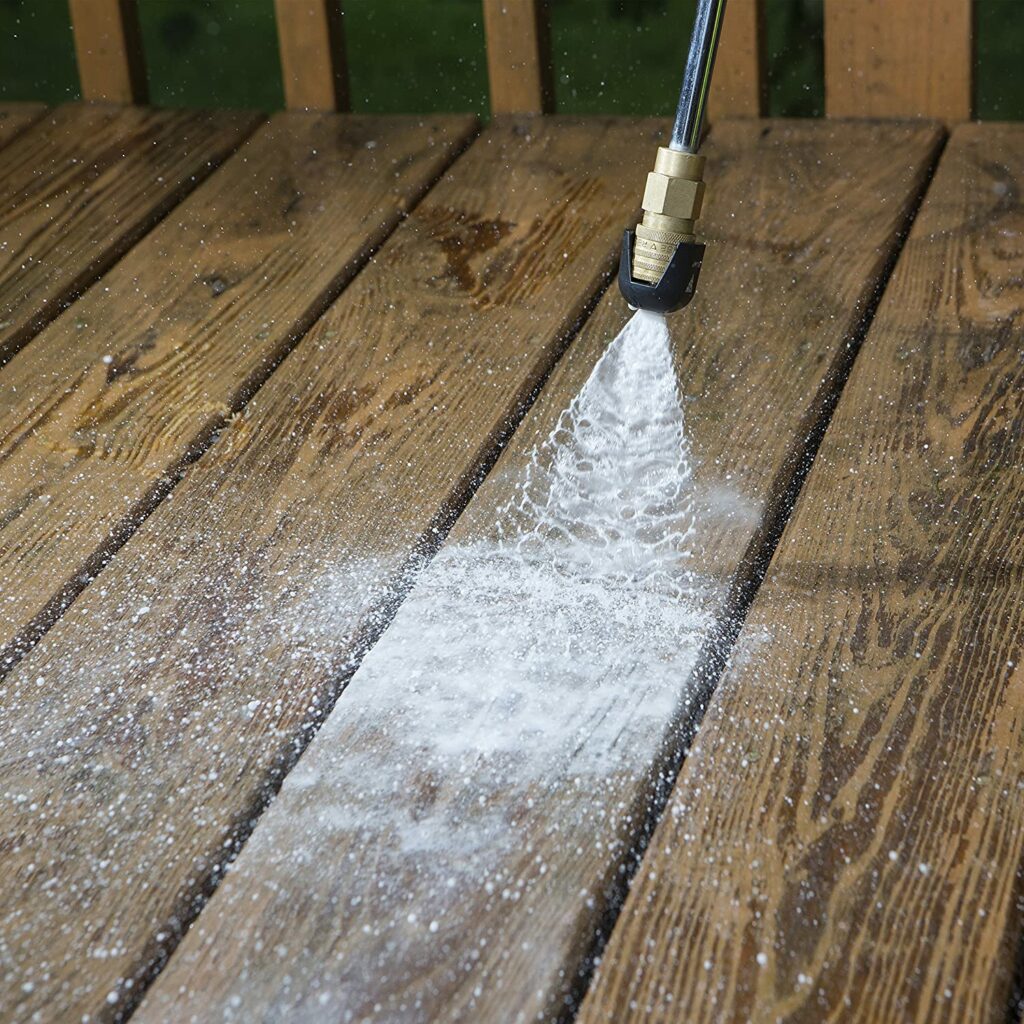 You can see the cleaning power of your unit when buying an electric pressure washer. The Sun Joe SPX 3500 offers five quick-connect spraying tips at various angles, such as 00, 150, 250, and 400, and is the ideal electric pressure washer.
When and where you need it for particular activities, you can also use detergent to tackle light, medium, and heavy cleaning. There is no question that a thin layer of dust or a hard layer of dirt can be efficiently cleaned by this powerful electric washing machine in a short time.
Its because the 13 AMP/2000 watt motor can produce a water pressure of 2300 PSI with a water flow of 1.48 GPM and gives its users a quicker cleaning experience.
Construction and Design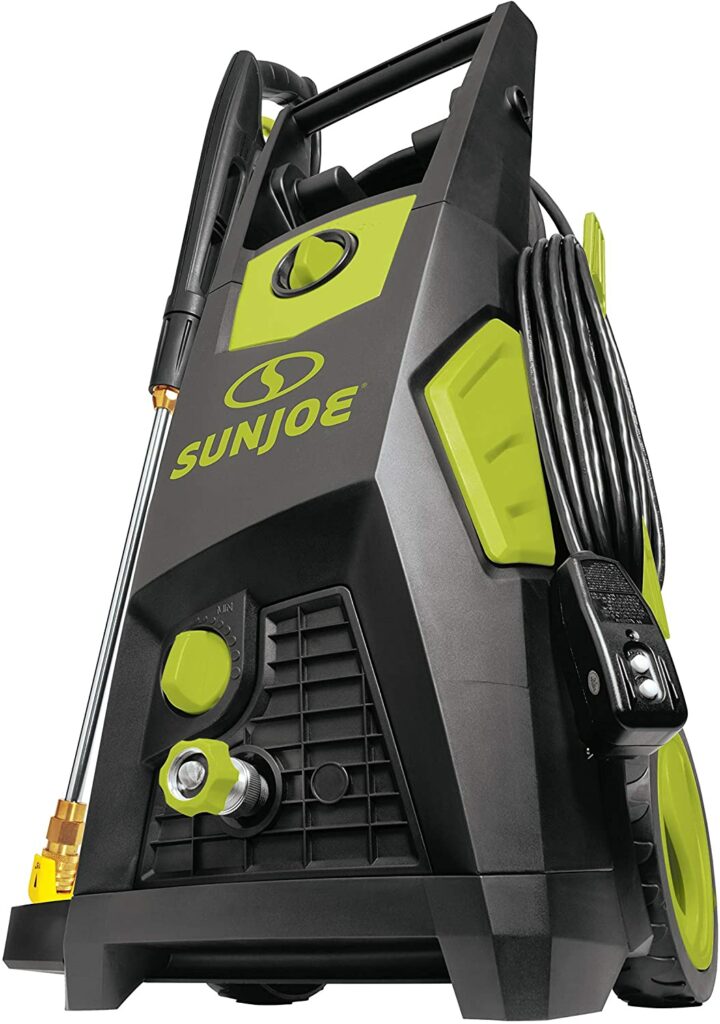 This is a lightweight electric pressure washer built to fit comfortably in tight spaces. This means that it won't be an issue at all to use and store this device. It has a good finish in the black and green Sun Joe colors.
For individuals working indoors, the upright configuration of the device is comfortable and the two wheels make getting around simple and convenient. In addition, it has an induction motor that drives the unit to choose from 5 quick-connect nozzles.
The handle is secure, making it simple to pull or push the machine. This is a nice device for anyone looking for a reliable unit for home cleaning needs, with all of these outstanding features.
Energy Usage
This pressure washer provides a 13AMP motor that produces up to 2300 PSI. This is one of the most effective and highly efficient high-pressure electric washers. You can then use this pressure washer and, with minimal effort, get a fantastic cleaning job.
Brushless Motor
The SPX3500 is fitted with a longer-lasting induction motor than standard universal pressure washers. The SPX3500 can run at higher speeds with an induction motor and is much quieter than universal motors.
Durable Wheels
This is a very essential concern to look at, more so if you're going to be cleaning outside It should be portable, compact, and easy to move around with a good pressure washer. So, moving the pressure washer on various surfaces should not be a problem at all with these two easy-to-glide wheels.
Additional Accessories
This unit also comes with a variety of accessories that make it interesting to use, apart from the awesome features we've mentioned above. A 20 ft high-pressure hose, a 35 ft power cord with GFCI protection, a 34-inch spray wand for hard-to-reach areas, and a complete stop system is included in the accessories.
Detailed Product Specifications:
Amperage: 13 amps
Hose Length: 20 ft
Assembled Height: 36 in
Maximum Flow Rate: 1.48 gallons/min
Assembled Length: 16.7 in
Maximum Pressure: 2300 PSI
Assembled Weight: 46.5 lbs
Power Type: Electric
Assembled Width: 14.5 in
Rated Flow: 1.09 gallons/min
Assembly Required: Yes
Rated Pressure: 2000 PSI
Brand Sun Joe Voltage: 120 V
Cord Length: 35 ft
Washer Type: Pressure Washer
Detergent Bottle: 40.6 oz.
Water Inlet Pressure (max): 0.7 MPa
Hose Connector Material: Brass
Water Inlet Temperature (max): 104° F / 40° C
What We Like About Sun Joe SPX3500 Electric Pressure Washer
It comes with a 35-foot cable, a cable GFCI extension to allow you space to travel, and simple sliding wheels for optimum maneuverability.
Have a huge tank for detergent!
Lightweight and compact for convenient use and storage
Great design
It comes with two easy to glide wheels that are easy to maneuver with
Versatile cleaning using multiple nozzles
The adjustable detergent dial allows a specific amount of detergent to be used for various jobs.
2-Year Warranty Warranty
What Needs to Be Improved
Some users find it not too strong enough to remove those stains off, like many electric pressure washers. When you need anything with more strength, you will have to use a gas model.
The connections are made of plastics, these days, this is a recurring issue in residential pressure washers, and it is one that manufacturers should address. The connections are made of plastic with wire where the water pipes are attached, which is not durable.
Maintenance Tips
Expert cleaning professionals know that a quality pressure washer is worth every penny due to tough industry specifications, even though it costs quite a bit more than cheaper machines around.
However, just because a high-end pressure washer is hard does not mean that now and then it won't require a little TLC. Although the measures are reasonably simple, too many users forget to take good care of their pressure washers.
It might be about time to start placing some focus on your maintenance program with this in mind.
Regular Checking
Every day, a pressure washer should be checked over. Take a few minutes to search for leaks, kinks, holes, abrasions, or bulges in the high-pressure hose and supply hose. On electrical units, search for visible damage to the GFCI drop cable. Also, flush the water system to prevent any current materials from clogging before mounting the pressure tip at the end of the gun assembly.
If any detergent has been used, prior to storing the device, make sure to clean out the soap compound by running clear water through the injector.
Parts
Be familiar with the parts of the machine before starting a maintenance program. While not all pressure washers have the same components, all of them include essentials such as a pump, unloader, relief valve, hose, and guns.
They would also have either an engine or a motor. Hot washers have additional features, including a heating coil and float tank, that cold washers do not. For detailed explanations and diagrams, refer to the owner's manual.
Some pressure washers need more maintenance compared to others. Many of the cheapest units on the market are essentially disposable, for example.
Basic Troubleshooting
Besides routine maintenance operations, learning some simple troubleshooting methods is also a good idea. In certain situations, the issue arises from a clogged or dirty component, and it can be resolved by proper cleaning or part replacement.
A number of problems are signaled by unusual noises. The inlet screen and the float tank screen could be plugged into a noisy pump, which can be repaired with a quick cleaning.
A chattering sound, for example, means that the water is too hot or the supply of water is too poor. In the device, a vibrating noise may signify air or the likelihood of debris being trapped in the valves.
FAQs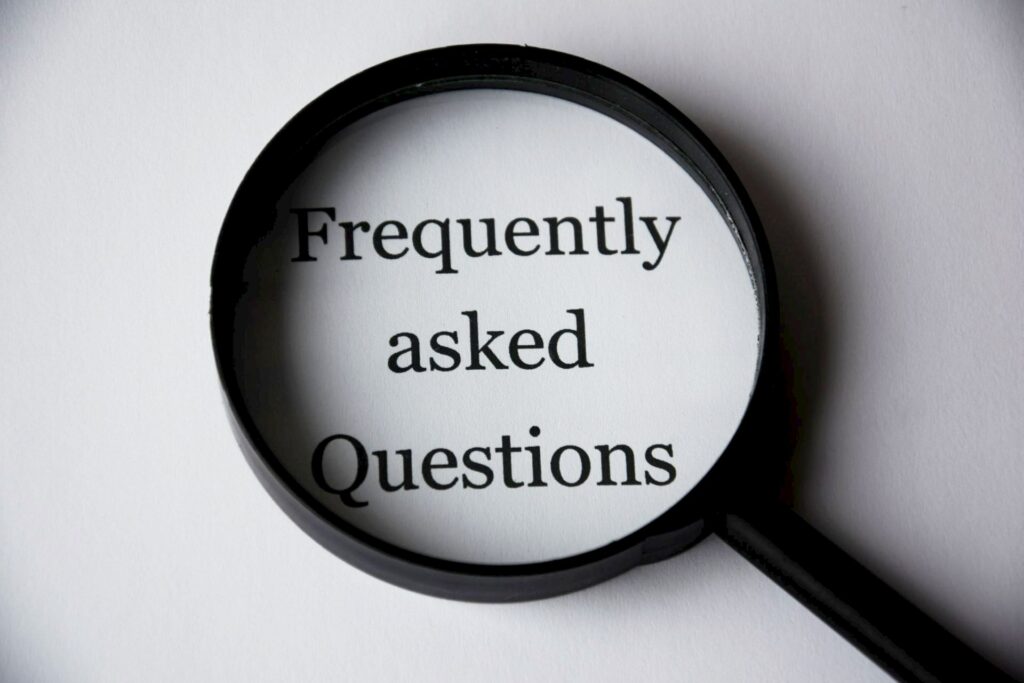 Q: Can I use any form of soap or is there a special soap included in this unit?
A: Although no special soap is required, there are some kinds of soap that you can't use. It is recommended in the user manual that only pressure washer soap should be used.
It is necessary to remember, however, that if an extension hose is attached to cover a wider area, the soap function will not work.
Another thing to remember is that there should be no use of chlorine-based soaps, alkaline solutions, house detergents, or bleaches. There shouldn't be anything toxic included.
Q: How far is the high-pressure hose possible to reach?
A: This is one of the drawbacks of Sun Joe pressure washers, as a short 20 ft hose is usually included. Despite this high-pressure hose being durable and idle, it is still short and does not cover a wider area.
Q: Is it simple to assemble?
A: Yes, it is. To assemble this machine, you don't need any tools and you can do it right out of the box. Only follow the user manual and the unit will be easy to set up and use.
Conclusion
And that's all about the Electric Pressure Washer Sun Joe SPX3500, and now the choice is going to be yours. This pressure washer is capable of providing the necessary cleaning to your preference with all new features and accessories. After this review, we rate this as 8.5/10.