Affiliate Disclosure: I am grateful to be of service and to bring you content free of charge. In order to do this, please note that when you click links and purchase items, in most cases I receive referral commissions. Eventually, I may earn enough to buy a beer or two 🙂
If your driveway, patio or beloved car is looking like it could do with some TLC we can help you source the best pressure washer for car cleaning in 2021. These nifty appliances turbocharge your cleaning capabilities for tough jobs such as removing dried mud from car tires or restoring the stonework in your driveway. Once you've used a good pressure washer you'll wonder why it wasn't at the top of your shopping list.
The leading brands such as Sun Joe, Karcher or GreenWorks all offer high- performance washers that deliver powerful pressure as strong as 2030 PSI to spray through stubborn dirt. If you've never used a pressure washer you'll be amazed at just how easy it is to operate.
Pressure washers are available in different sizes and pressure configurations, however, modern units are a lot more compact compared to older versions and deliver the equivalent amount of power if not more.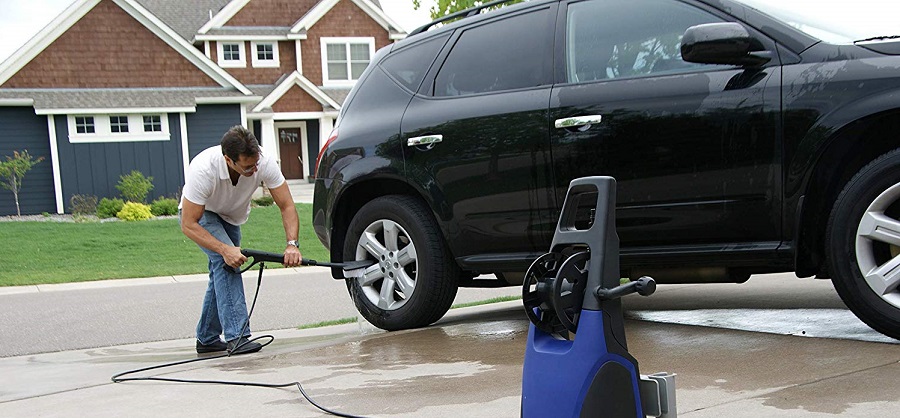 Top rated pressure washers make light work of what would normally be a mammoth task if it were to be done manually. These handy units are very versatile and extend beyond just car cleaning. You can remove layers of grime that has accumulated over the years in a few seconds.
Before you rush to buy a pressure washer you need to be aware of their capabilities and to know the important performance features to look out for, after all, this is an appliance that you'll use regularly throughout the year for various jobs, therefore, you want to make sure that you're getting the best pressure washer for the money.
One important fact to note is that not all pressure washers come with the same accessories and attachments. Some models will come with rotary brushes or special surface cleaners and other models will offer the option to buy the accessories separately but might be priced cheaper because of this.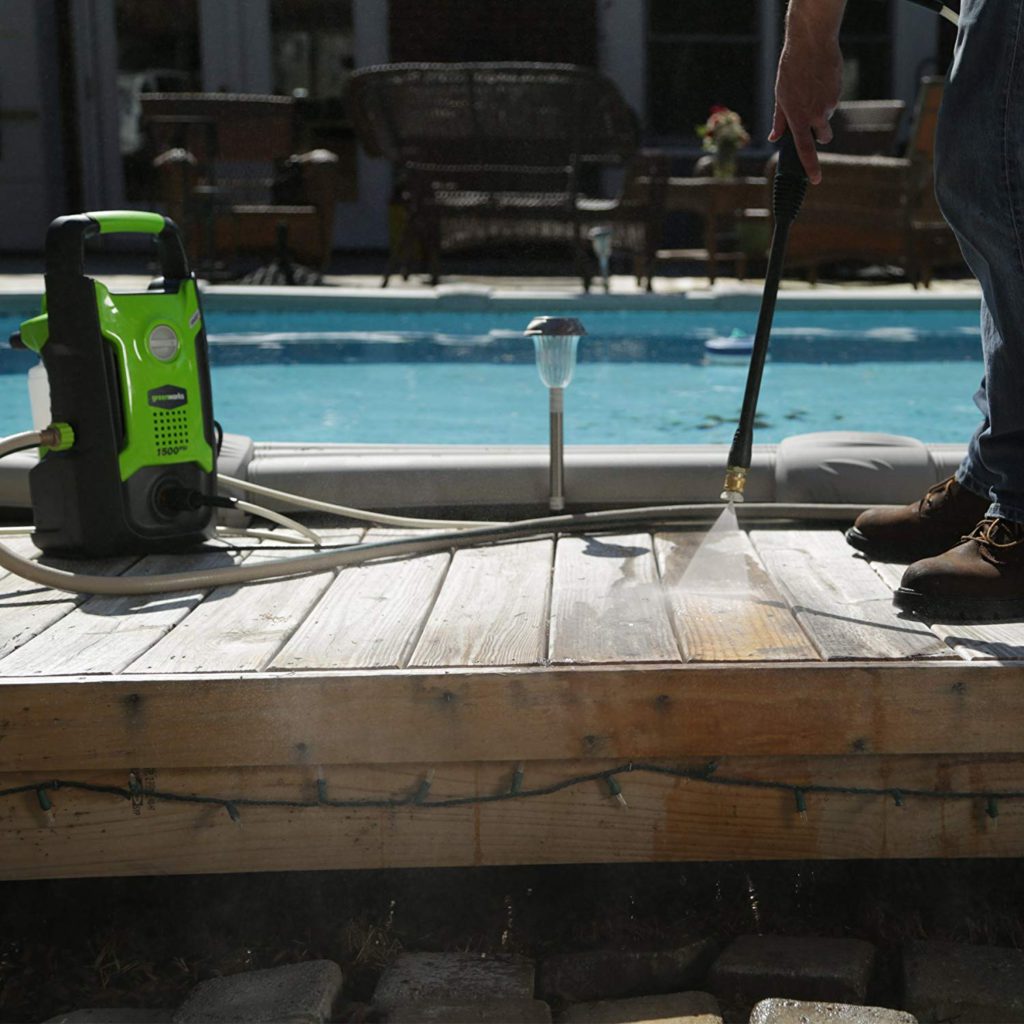 So without further delay, let's take a look at the leading high-performance pressure washers for cars, driveways and patios. With one of these machines, you can confidently eliminate difficult dirt without breaking a sweat.
#1. Sun Joe SPX3000 Pressure Washer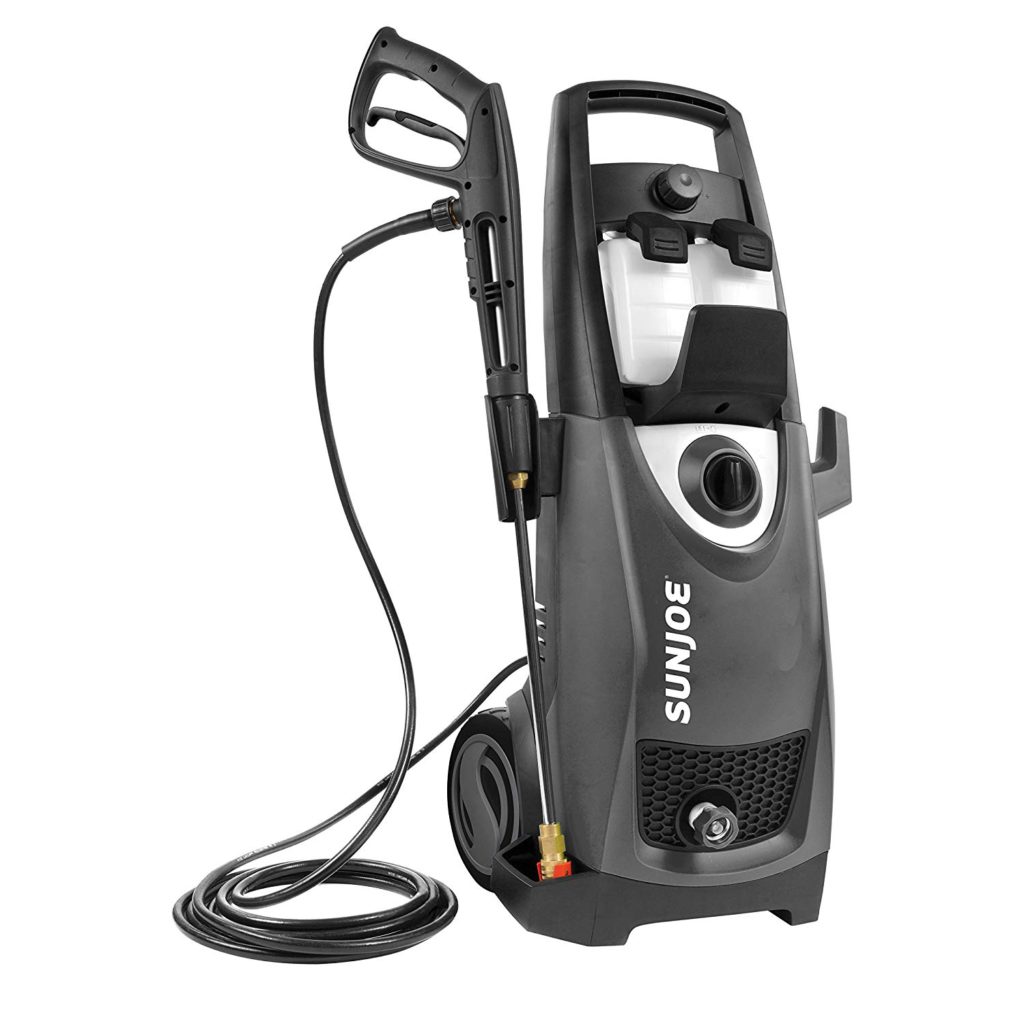 At the top of our list is the Sun Joe SPX3000. This unassuming pressure washer is packed with plenty of resourceful features that have earned it favourable ratings from satisfied owners across the globe. This unit demonstrates that you don't have to spend huge sums of money to enjoy the benefits of a high-performance pressure washer. The unit comes with the CSA seal of approval to give you the peace of mind that you are working with a safe appliance.
Below is a quick summary of the great features from the Sun Joe SPX3000 pressure washer waiting to be utilised-
Lightweight machine weighing just 31 LBS.
It is equipped with dual detergent tanks so that you can clean for longer without interruptions.
The power cord is nice and long and extends to 35-feet.
The Sun Joe SPX3000 offers powerful water pressure of up to 2,030 PSI.
The extension wand conveniently extends up to 34 inches for further reach.
The high-pressure hose measures 20-feet for a good range of motion.
It houses a powerful 1800 watt motor with 14.5 amps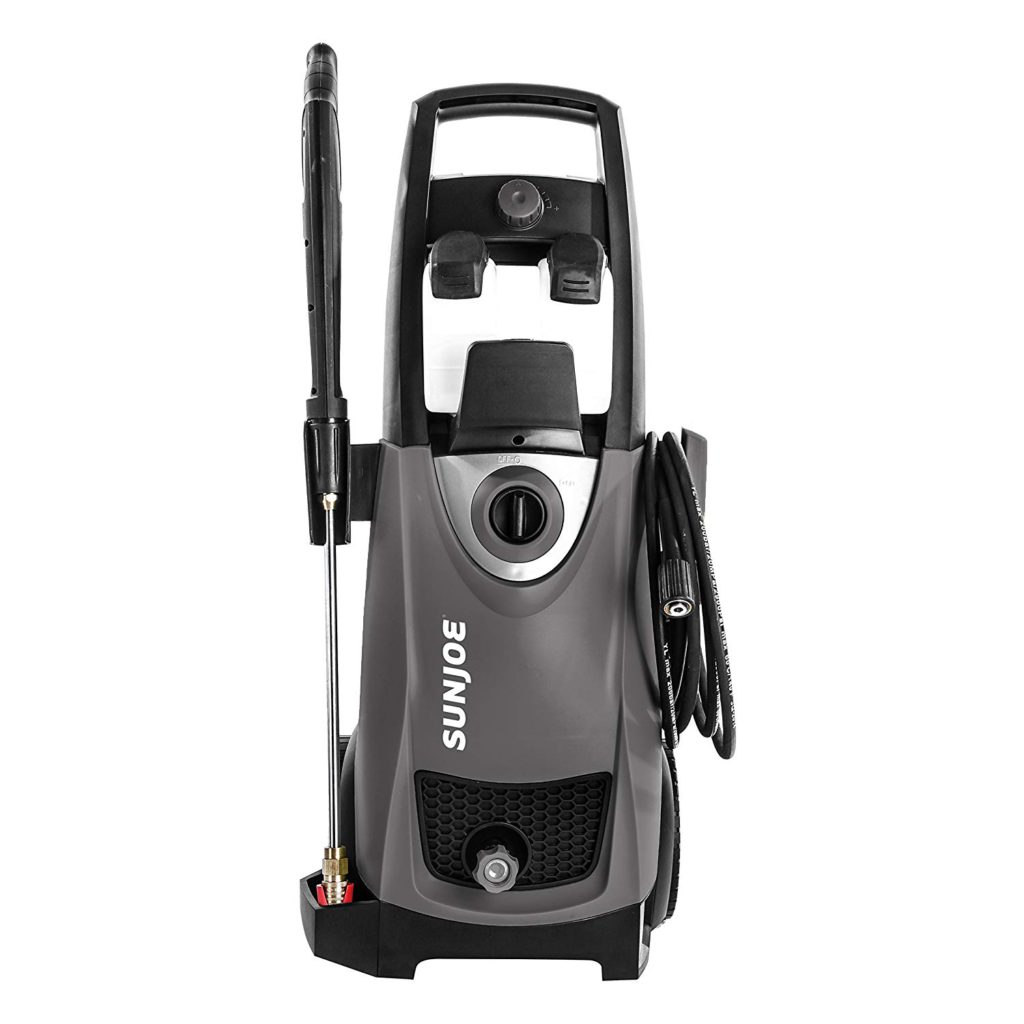 Sun Joe has gone even further to provide you with a pressure washer that is not susceptible to pump issues. To improve the life of the pump the SPX3000 is fitted with a smart feature dubbed TSS which is an acronym for Total Stop System. The TSS trigger takes on the duty of shutting off the pump automatically as soon as you disengage the trigger. This feature alone will vastly extend the life of the pump.
Sun Joe is renowned for their expansive range of pressure washers, however, the SPX3000 is the top pick from the bunch. It scores the best marks for performance, a great feature set and value for money.
Where can I buy the Sun Joe SPX3000 Pressure Washer?
#2. Karcher K5 Premium Electric Pressure Washer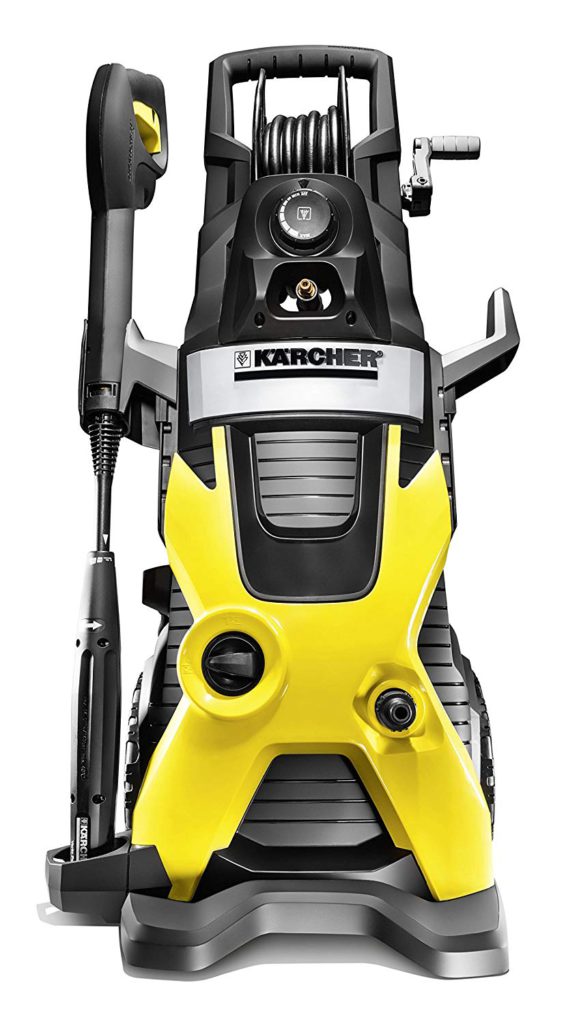 When it comes to sourcing a reliable, powerful pressure washer, you'll struggle to find a better brand than Karcher. Yes! This is German engineering for pressure washers. Karcher makes it their mission to manufacture the best possible piece of equipment regardless of the challenge that they decide to take on. Their gear used to cost an arm and a leg but thankfully, we've started to see prices drop.
The K5 model is among the leading pressure washers on offer from the brand. It comes with some of the best specs within its range and quickly outranks its rivals. The K5 doesn't come cheap, however, you can be assured that you are getting your hands onto a reliable workhorse that will deliver time and again.
So what do you get with the Karcher K5 Premium?
It comes with a powerful 2,000 PSI of dirt-eliminating water pressure.
This lightweight unit weighs a mere 32 LBS.
A powerful motor that delivers 1800 watts and 14.5 amps.
The motor is equipped with a water cooling feature.
There is a detergent tank integrated into the machine.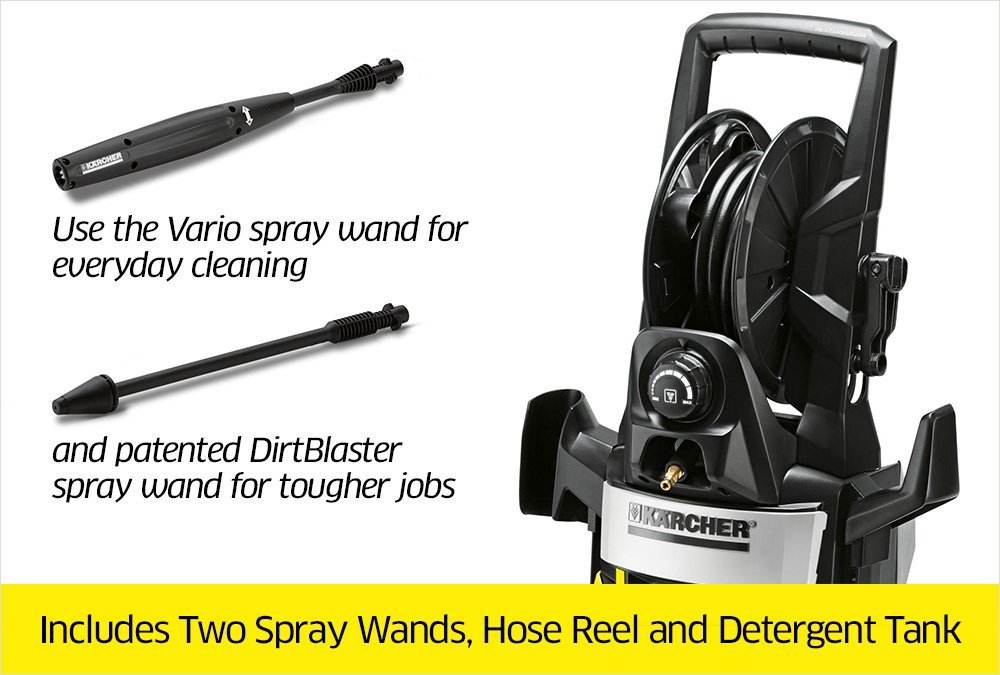 Karcher has designed the K5 with a clever water cooled mechanism that actively lowers the temperature of the induction motor and lengthens the life of machine considerably. Karcher states that this one feature alone will ensure that their pressure washer lasts 5 times longer than its rivals. How smart is that? If your budget allows, I'd highly recommend purchasing the Karcher K5 for its high-quality performance and readily available accessories. There are plenty!
Where can I buy the Karcher K5 Premium Electric Pressure Washer?
#3. AR Blue Clean AR383 Pressure Washer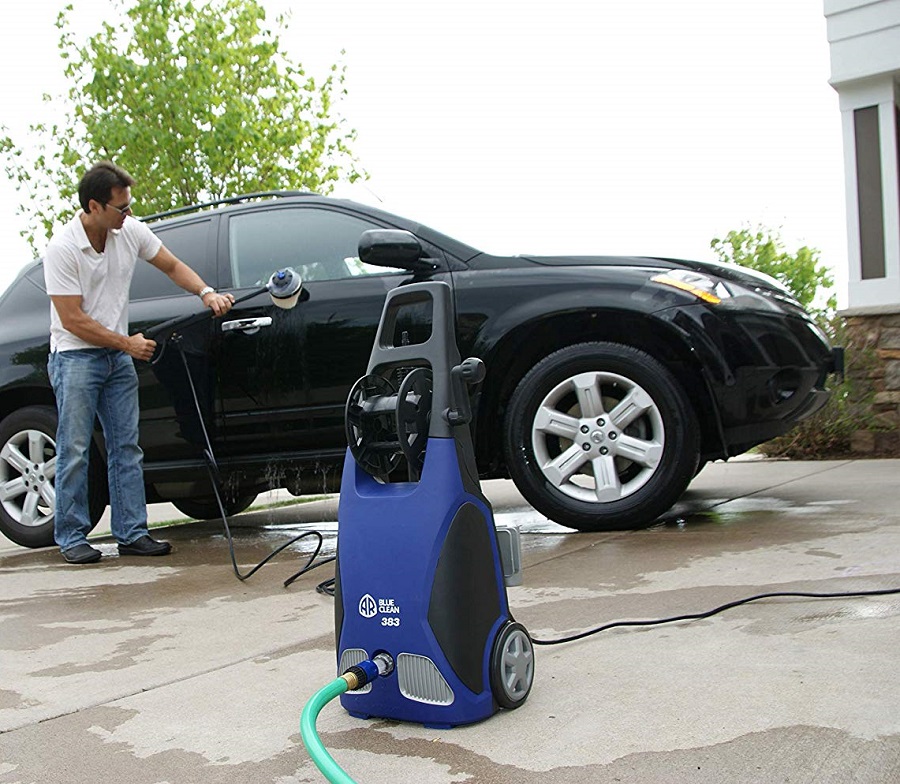 Next up is the AR Blue Clean AR383 pressure washer. Though the brand is not as recognised as say, Karcher, you won't be disappointed by the long list of handy features found on this unit to help you with tackling the dirt on a neglected car, patio or pavement. Use the following features to eliminate dirt with the power of pressurised water:
The AR383 is a lightweight gadget to use all-year round. It weighs just 27 Ibs.
The water pressure is 1,900 PSI, therefore, allowing you to carry out challenging tasks with ease.
The power cord provides a convenient length of 30 feet to give you a good cleaning range.
The motor provides 1800 watts and 14.5 amps of power so that you never need to feel like the machine is underperforming.
AR Blue AR383 is CSA approved.
The machine is equipped with 2 wands to help target a variety of jobs in addition to car cleaning.
If you're looking for a similar performance to the Karcher but your budget is limited then the AR Blue Clean AR383 is the perfect alternative. This unit provides a performance standard that is virtually the same as the Karcher K5 premium. It's lightweight and actually weighs less than the K5.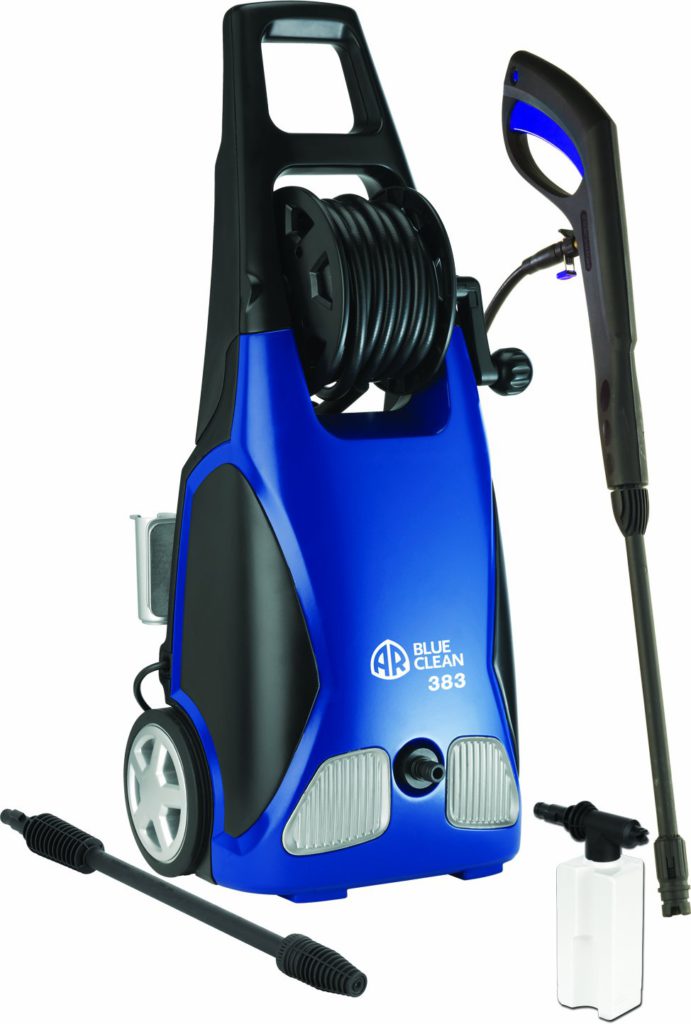 To sum up the AR Blue Clean AR383, you are getting an affordable pressure washer for the car and utilizing the powerful water pressure to get the most bang for your buck. If you're considering buying the AR383 pressure washer, it's a no-brainer, therefore, go ahead and buy one.
Where can I buy the AR Blue Clean AR383 Pressure Washer?
#4. GreenWorks GPW1501 Pressure Washer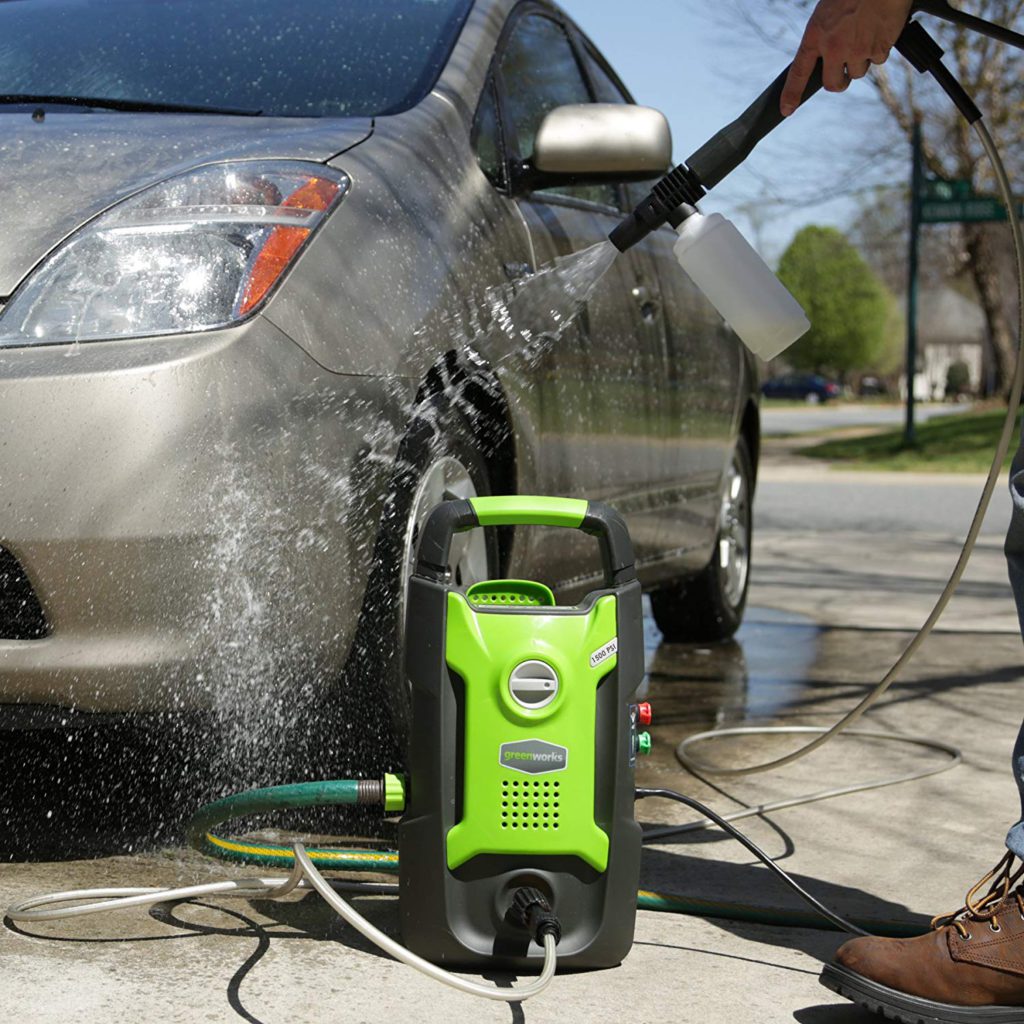 For those of you looking for a high-performance pressure washer on a very small budget, you should consider the GreenWorks CPW1501. This unit is a budget-friendly option, however, it is equipped with a strong set of features. You'll find rotating nozzles that attach to the machine quickly and can be swivelled between 25 – 45 degrees to attack dirt from different angles.
You'll find a detergent bottle conveniently situated beneath the trigger handle. This feature provides the benefit of applying detergent at a manageable pressure without slowing down the task at hand. The GreenWorks CPW1501 comes with the following features:
Water pressure is delivered at 1,500 PSI.
It is one of lightest pressure washers currently available, weighing just 17.5 Ils.
The power cord measures 35 feet to help reach all the way around the car easily.
The universal motor measures 13 amps so that you are never short on power.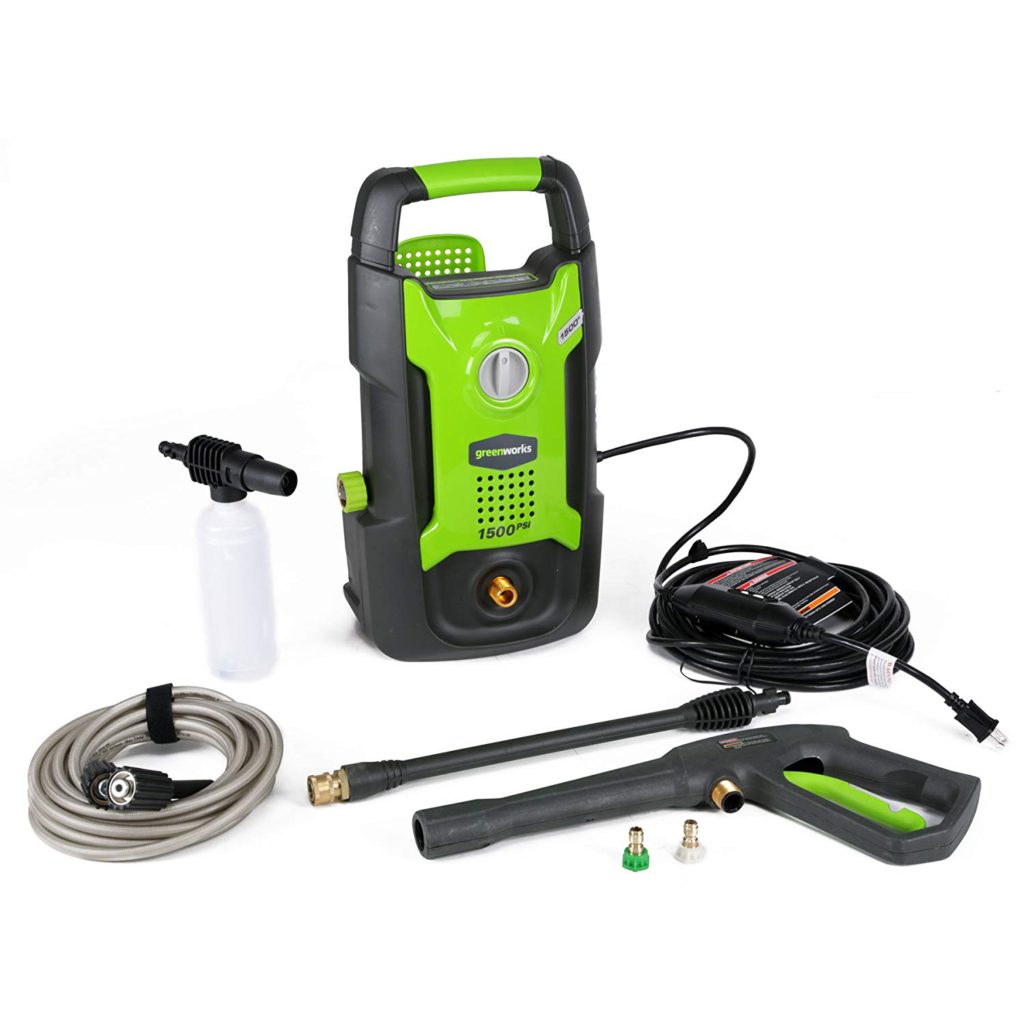 The GreenWorks CPW1501 pressure washer is a good value purchase and it demonstrates that you don't need to spend huge heaps of money for a high-performance pressure washing appliance. This is the best affordable pressure washer for cars, patios and paving.
Where can I buy the GreenWorks GPW1501 Pressure Washer?
#5. Karcher K1700 Pressure Washer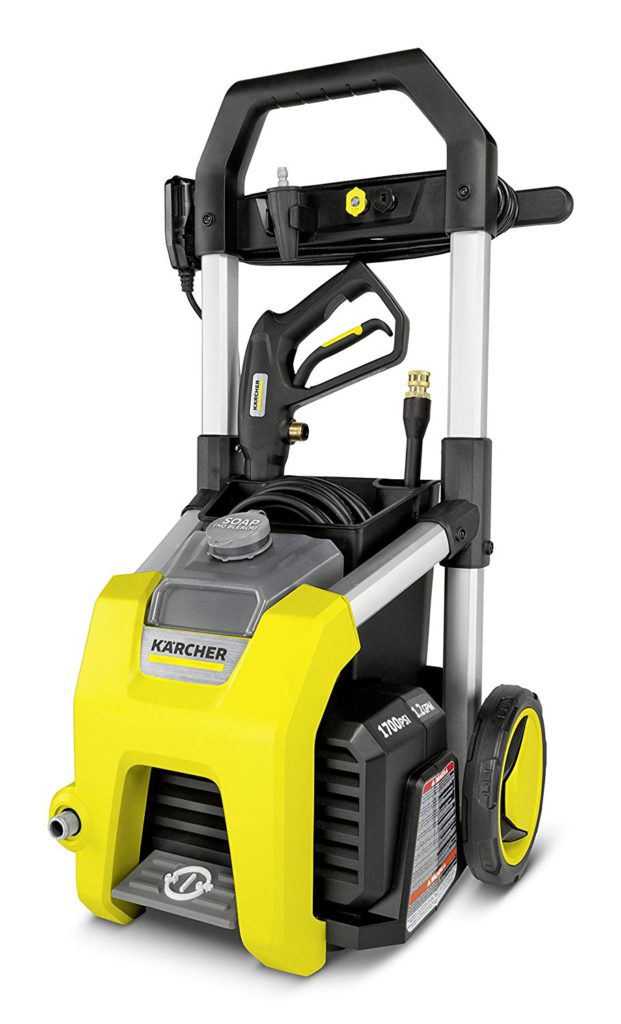 From the onset, you can already see that the Karcher K1700 pressure washer wants to set itself apart from the competition with it's unique "Caddy" design that cleverly positions the appliance onto 2 wheels. The nifty K1700 will follow you on its wheels without getting in the way.
If you intend to use your pressure washer frequently, this is one of the best designs for regular jobs and allows you to use it without the need to constantly lift it from one place to the other.
The Karcher K1700 comes with a load of benefits. I've listed some of them below:
The K1700 comprises of a unique on/off foot switch that controls the 1.2 GPM pressure washer.
This model comes with 3 nozzles to tackle difficult dirt and make light work of a variety of challenging tasks.
Water pressure is delivered at a powerful 1,700 PSI.
The high-pressure hose measures 20 ft.
Karcher ensures that all their appliances come with a great set of accessories and the Karcher K1700 is no exception and when you combine this with a big set of features, this unit is a powerful choice. It comes with an all-purpose nozzle that rotates 15 degrees.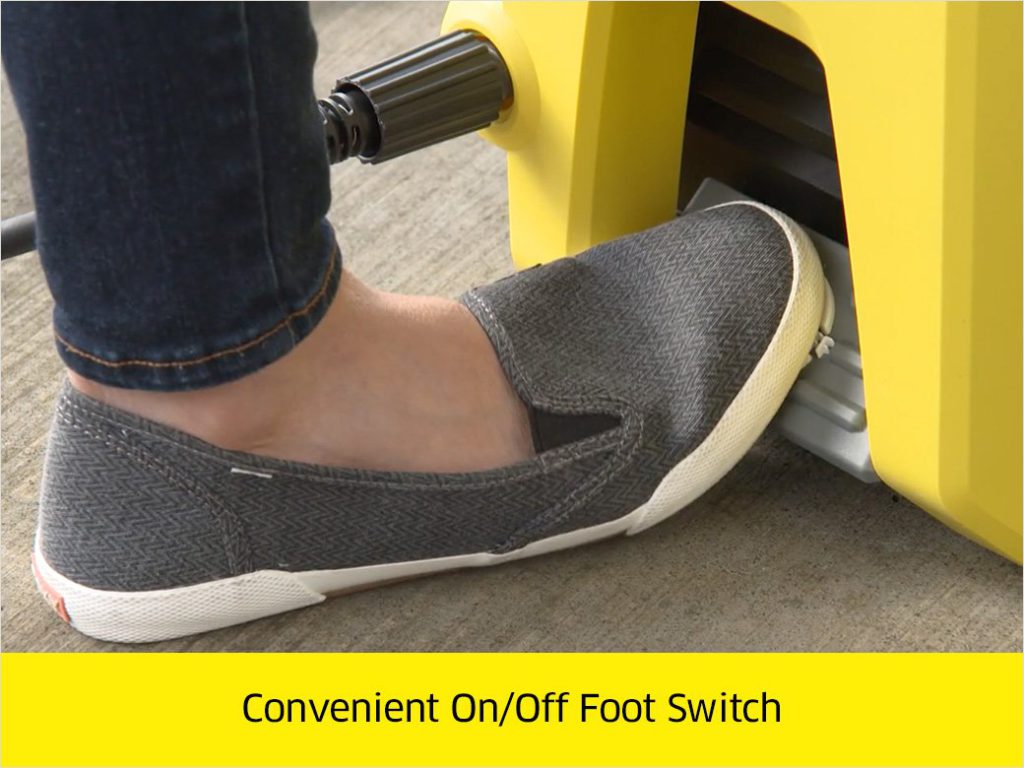 There's also a detergent nozzle that can be switched between high and low settings for difficult or delicate surfaces. The Karcher K1700 is equipped with plenty of features for any outdoor job around the house. You can take advantage of a high-performance pressure washer that follows you around on 2 wheels.
Where can I buy the Karcher K1700 Electric Power Pressure Washer?
Pressure Washer Buyers Guide: Remove Tough Dirt with these Handy Tips
Most people will rely on their garden hose to clean their car, however, a standard hose has its limit even with the help of a nozzle or sprayer. If you need to remove tough mud or maybe dead insects stuck throughout your car's bodywork then a regular hose isn't going to be enough.
Getting rid of stubborn dirt is time-consuming with regular cleaning methods. It's much easier and quicker to use a high-performance pressure washer to clean your car. The market is flooded with plenty of options from different brands and it can often be difficult to decide the best choice for your requirements.
Most people that have never owned a pressure washer will buy their appliance without doing much research. Our buying guide will walk you through the important features to look out for and factors to take into account prior to making your purchase.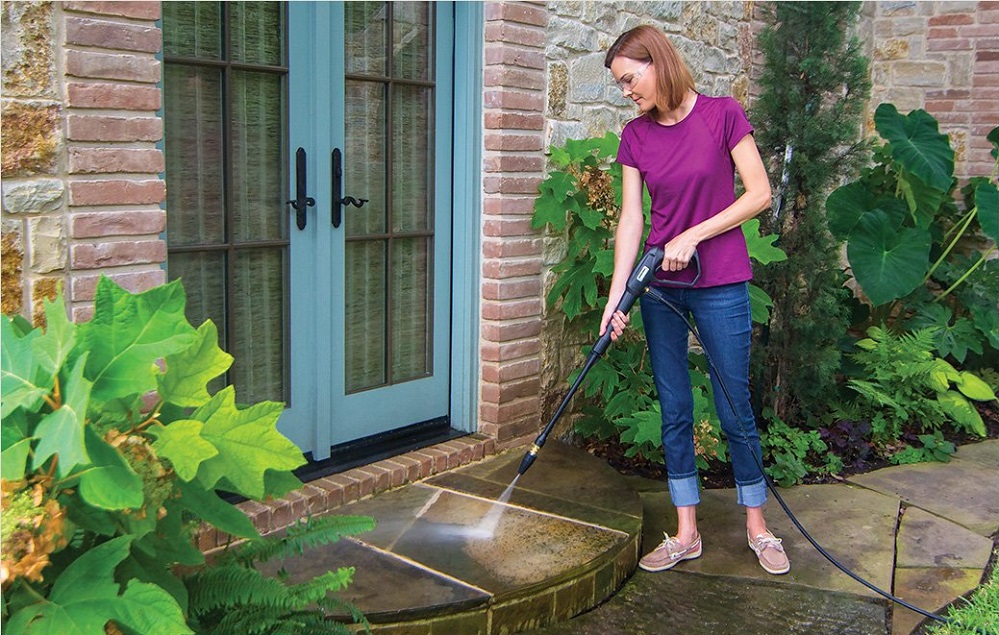 Pressure Washers For Car Cleaning: What You Need To Know.
There are several pressure washers on the market and it's important to know what you're getting so that you can make the most of your new washer. Similar to other cleaning appliances, pressure washers are not made equal. Some units are designed for specific tasks such as cleaning concrete or removing stains from fencing and are often powered by gas.
Electric pressure washers are suitable for car cleaning because of the safe PSI level, therefore, the water pressure will not strip the paint work from your car.
A PSI of 2,000 or less is safe for cleaning cars, vans, trucks and other types of vehicles. At this level of water pressure, you can also clean the outdoor decking, the patio, pavement, windows and other areas. If you are not intending to use your pressure washer for car cleaning then you can choose a unit with a stronger PSI water pressure.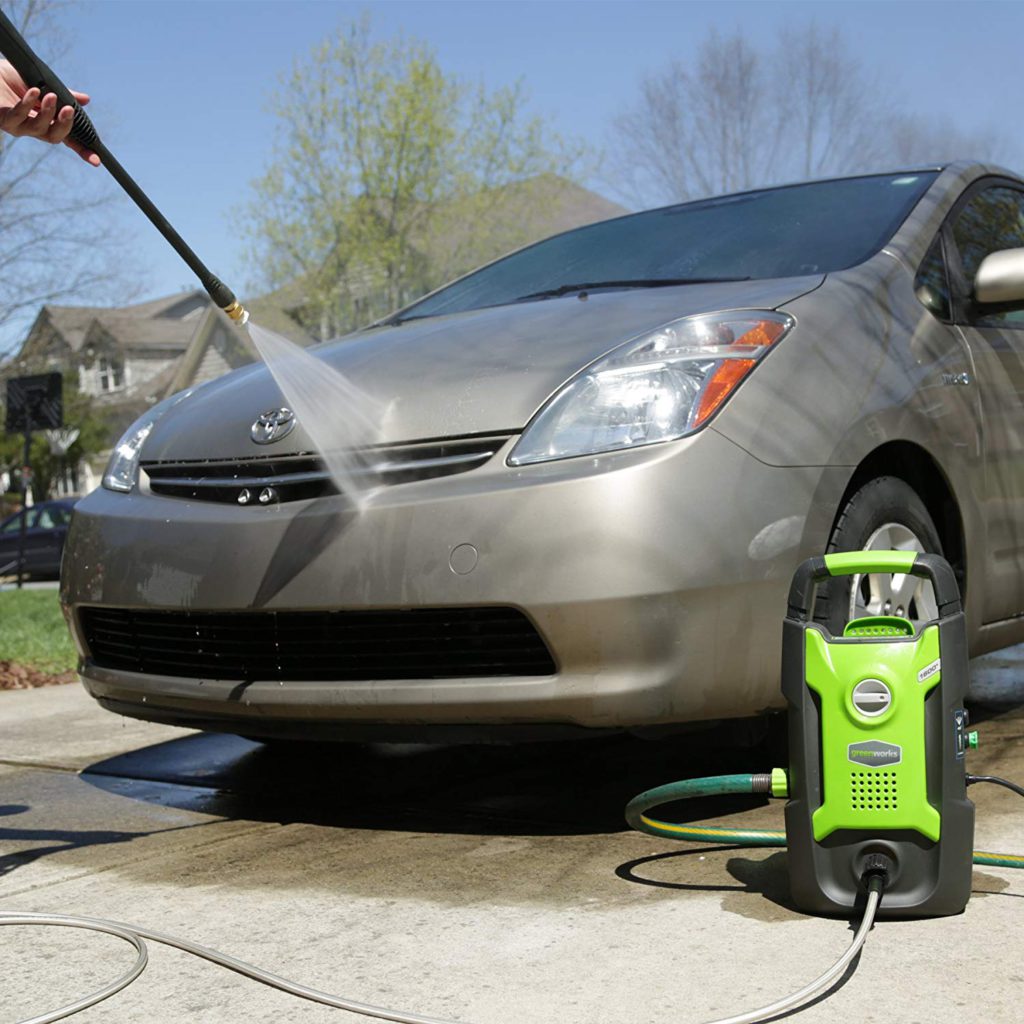 Does a Pressure Washer Use a Lot of Water?
The capacity of water used by pressure washers varies between each model and if your water runs on a meter or if you want to be kinder to the environment then you should carefully consider the amount of water the machine needs. Typically, a car pressure washer will spray between 6.5 to 9 gallons of water every minute.
Before deciding which pressure washer to buy, ensure that you check the gallons per minute or GPM rating in the product specifications. This measurement will demystify the guesswork around water usage. Naturally, a higher number equates to a higher rate of water from the nozzle, therefore, providing a thorough rinse. Cleaning is much quicker with a high GPM rating but water efficiency suffers as a result.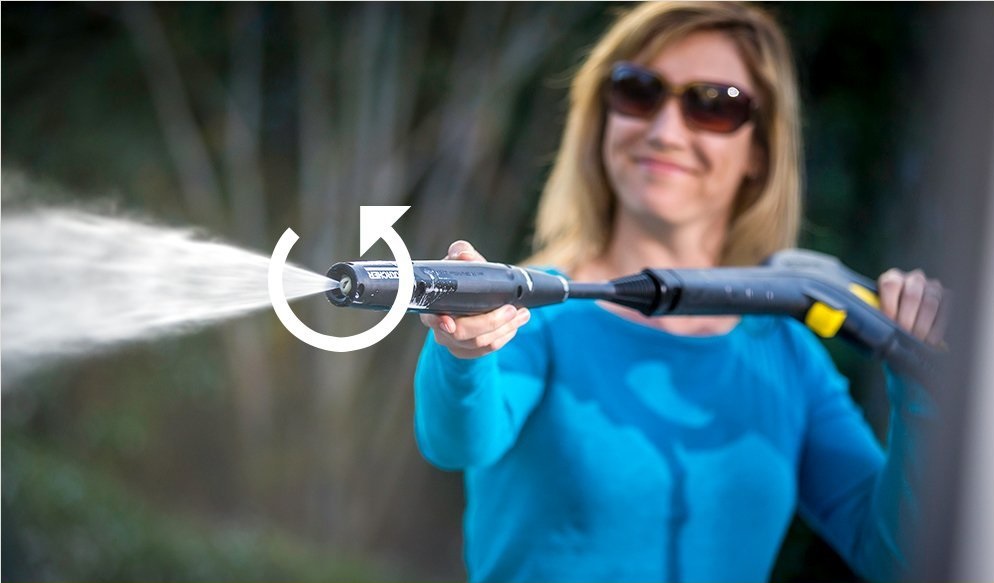 Pressure Washer Foam Cannons
For the best possible car cleaning results, you should consider a foam cannon which effectively suds up your ride prior to rinsing. The foam produced by the cannon cuts through difficult dirt such as mud and dead bugs, the thick detergent is quick to act and even quicker to apply to your car's bodywork.
A cannon will start to produce foam when the water pressure reaches between 55 to 90 PSI. It delivers plenty of foam at a rate of approximately 5 gallons per minute. The best thing about a foam cannon is that most of them can be simply attached straight to the pressure washer hose as you would with a nozzle, other types of cannons might require a special adapter to connect.
It goes without saying that a foam cannon is a vital accessory for car cleaning and it improves the end result considerably. The image below gives you an idea of what your car will look like when the foam is applied using a pressure washer cannon.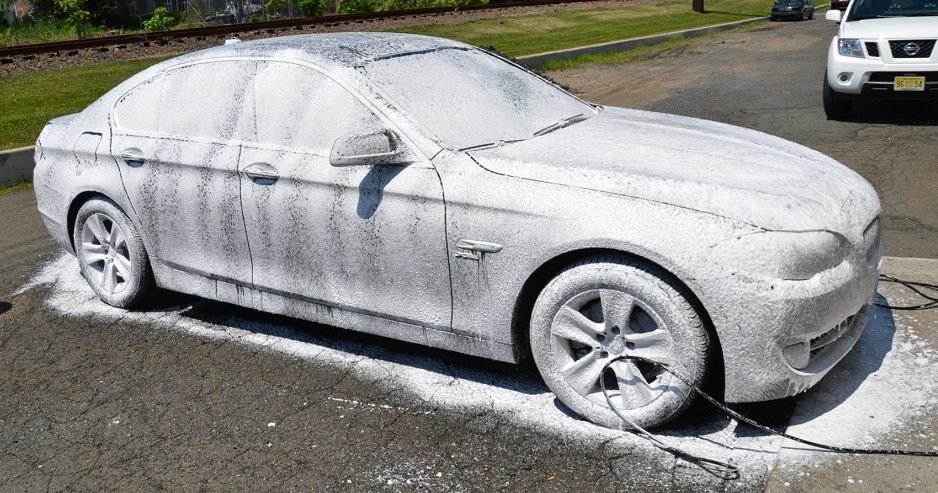 What is the difference between a Gas & Electric Car Pressure Washer?
In this post, I've specifically focused on electric pressure washers for car cleaning. Why is that? An electric pressure washer uses a high amp electric motor to provide adequate water pressure of 2000 PSI which is perfect for car cleaning.
Gas driven pressure washers are a lot more powerful and produce a higher PSI. At the lower end, these appliances deliver more than 2000 PSI. The best gas pressure washers deliver a staggering 7000 PSI and are normally used commercially. Most of us wouldn't need such a powerful machine for domestic use and definitely not for car cleaning.
The higher PSI on gas-powered pressure washers means that they use up more water than electric pressure washers.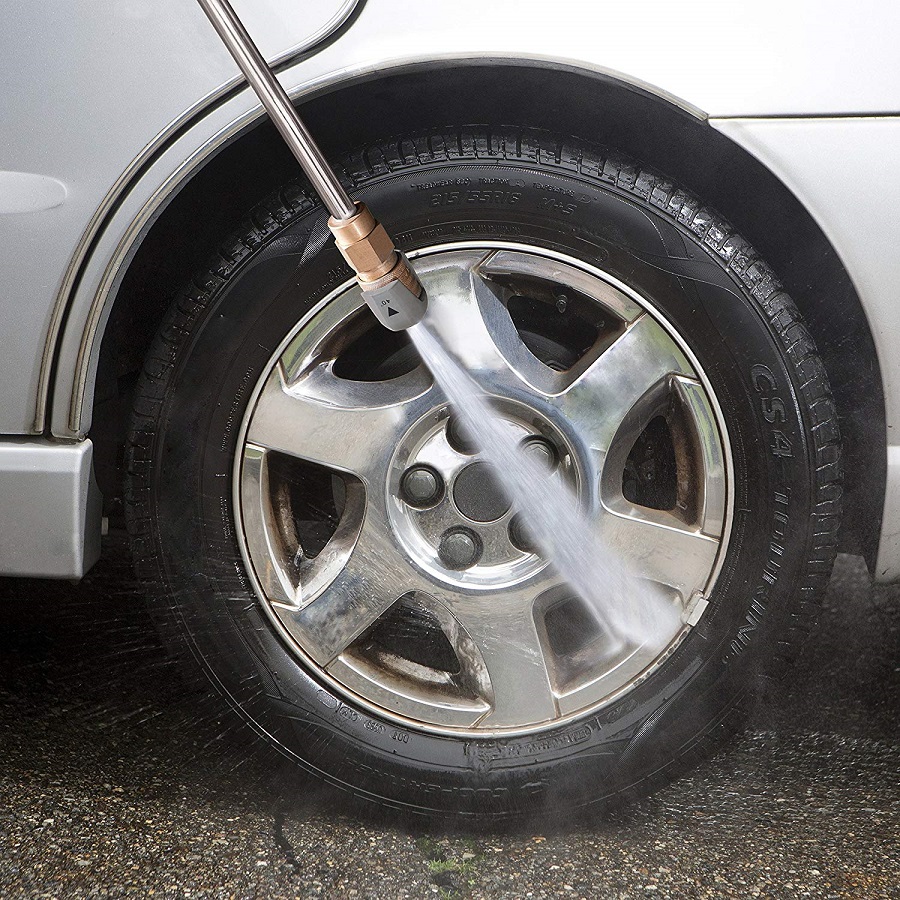 Electric pressure washers are far more convenient to use and simply require turning on a switch or pressing a button to bring it to life. With a gas version, you'll need to tug a rope to get the motor going and don't forget that you'll need to purchase the correct fuel compatible with your machine. A gas-powered pressure washer requires more maintenance, it will need regular servicing and for the filter to be replaced to run optimally.
Electric pressure washers do not weigh as much gas versions, however, you need to find a close-by power source to plug them in, unlike a gas appliance which is more mobile.
Overall, the best pressure washer for car cleaning is an electric version because you don't need the extra power provided by the gas model. In fact, the additional power could damage your car's paintwork! Most of us want the convenience of turning a switch and getting on with the job rather than sourcing fuel before we can even get started.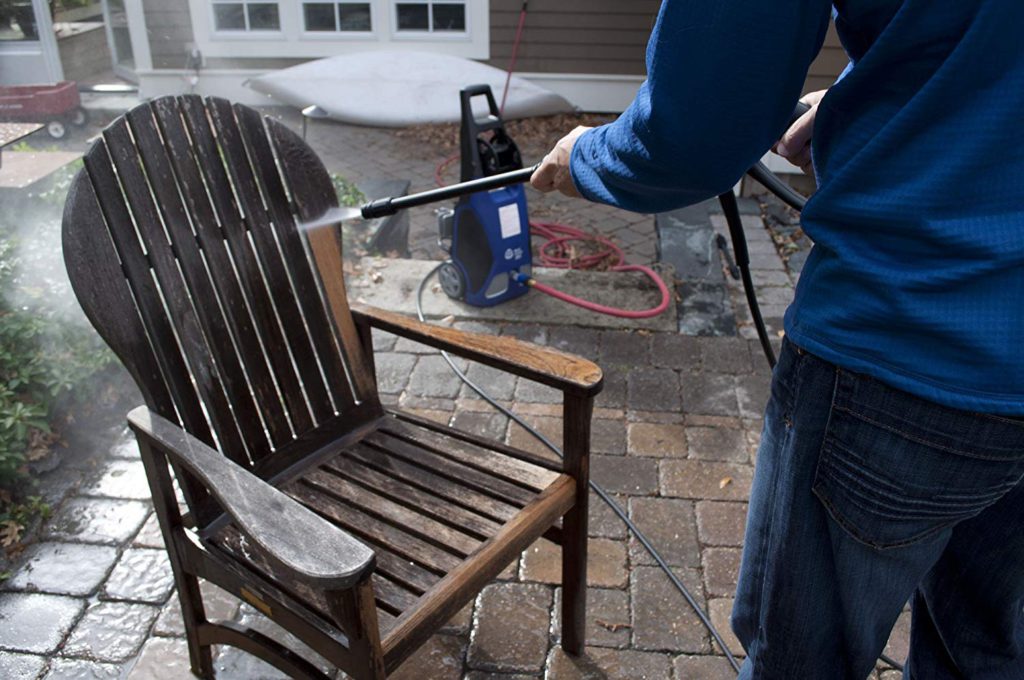 What about Pressure Washer Nozzles?
The pressure washer nozzle is another vital accessory needed to operate the unit, without one, your pressure washer simply wouldn't work. The best nozzle can be adapted to different cleaning scenarios and let you adjust the range of the spray.
A narrow spray of water is the most powerful but should be used with caution on paintwork, it's best to use a narrow spray on areas such as the car tyre and rims where the most dirt can be found. Be sure to change the spray to a wider width for paintwork.
Using Your Car Pressure Washer Effectively
We all clean our car using different techniques, however, when we add a pressure washer to the mix, it is much easier and quicker compared to a bucket and soap. You should also follow the best practices described below to get the most out of your pressure washer cleaning session: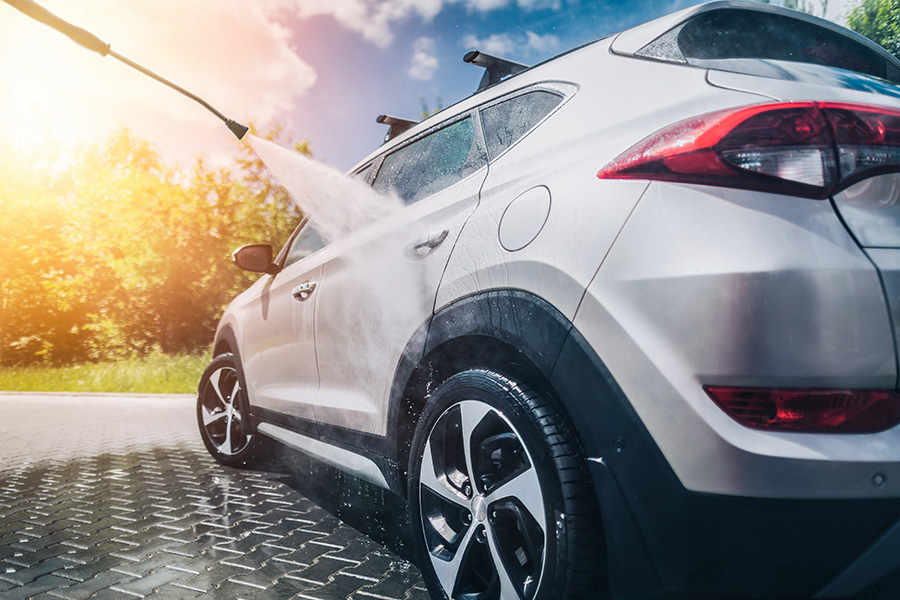 Pre-cleaning: It's always a good idea to start by rinsing off your car from top to bottom before using any washing accessories i.e. sponges or mitts. Be extra careful when working around the lights.
Soap: Add soap to your car pressure washer and proceed with spraying it across the vehicle using the widest possible setting to ensure that you get a comprehensive application. Leave the soap to work into the dirt for about 5 minutes.
Washing away dirt: Use a sponge or mitt to wipe the soap off the bodywork, then proceed with spraying the vehicle with a higher pressure setting.
When the above stages are complete, you can begin washing the car with your chosen car shampoo and use the pressure washer to spray this on. The appliance would have already thoroughly removed stubborn dirt, therefore, you won't have the trouble of getting rid of swirl marks later on using polish.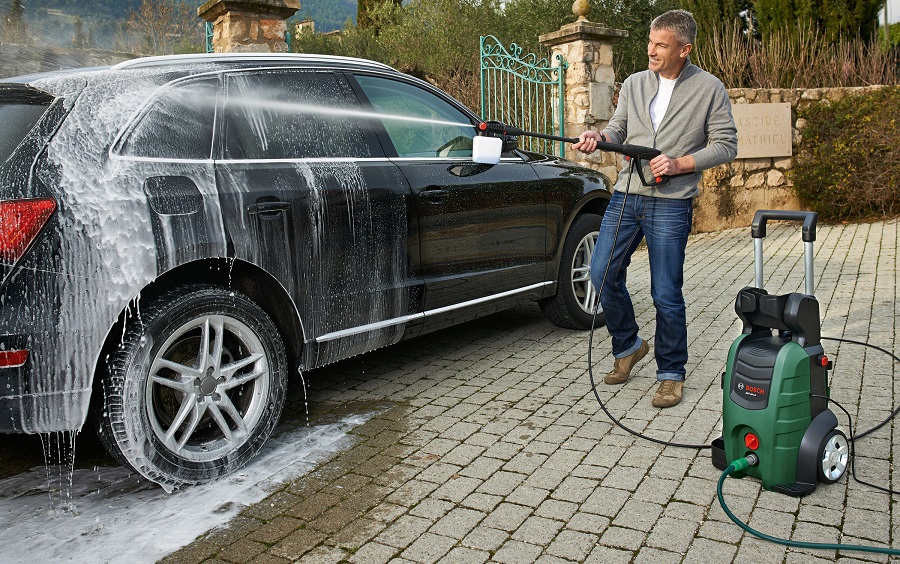 Pressure Washer Pumps & Motors
The power output of the motor on an electric pressure washer is measured by amps and watts. The most common types of electric motors are universal, induction and water cooled motors. I've listed them in order of price, audible levels and performance.
If you can't decide which electric pressure washer to buy and they are around a similar cost, then you should check which motor they are equipped with. If for example there is an option for a water cooled motor or a universal motor then you should go for the lata.
The type of electric motor you choose is important, however, the pump is just as important as it determines how much power it can tolerate from the motor. You will find 3 types of pumps- wobble, axial and triplex. Again, these have been listed in order of longevity and their ability to tolerate big levels of power.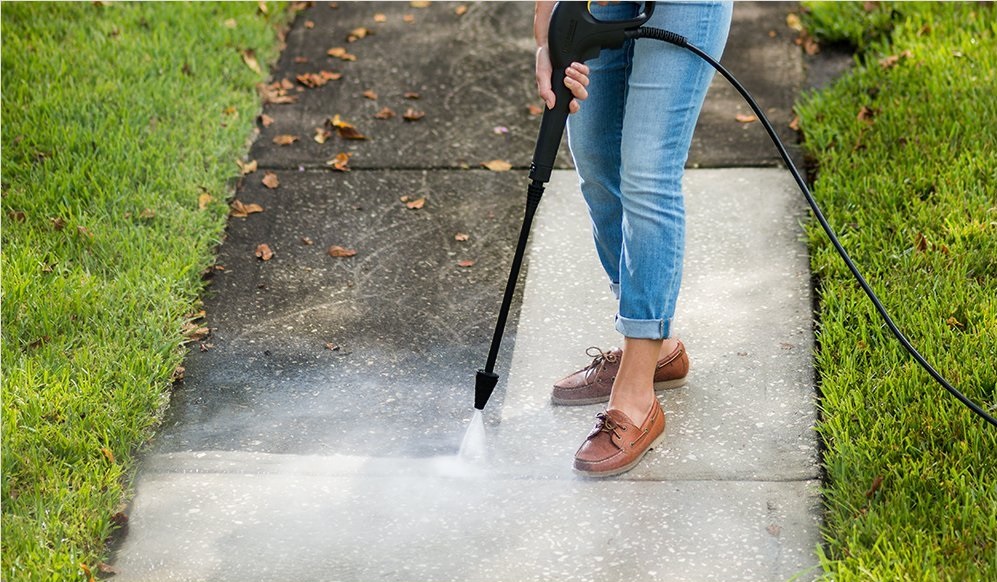 What else should I look for in a Pressure Washer?
It's fair to say that electric pressure washers are a must-have outdoor cleaning accessory that help to get rid of exterior dirt quicker than any other method . Before deciding which model to buy be sure to check that the power cord is long enough to reach a power outlet with a safe distance between the water and electrics.
The length of the hose will also affect performance. You want one that strikes a good balance i.e. if it's longer than normal then it could become an obstruction. If the hose is too short it could snag and constantly topple the machine.
Conclusion
The convenience of a pressure washer is only fully appreciated from the moment you start using it. It can be used for a variety of cleaning scenarios and the models come with a lengthy warranty, interchangeable accessories for various tasks and adjustable settings. A pressure washer is an appliance that you will use frequently, therefore, it's worth spending a bit extra for a quality machine that will stand the test of time.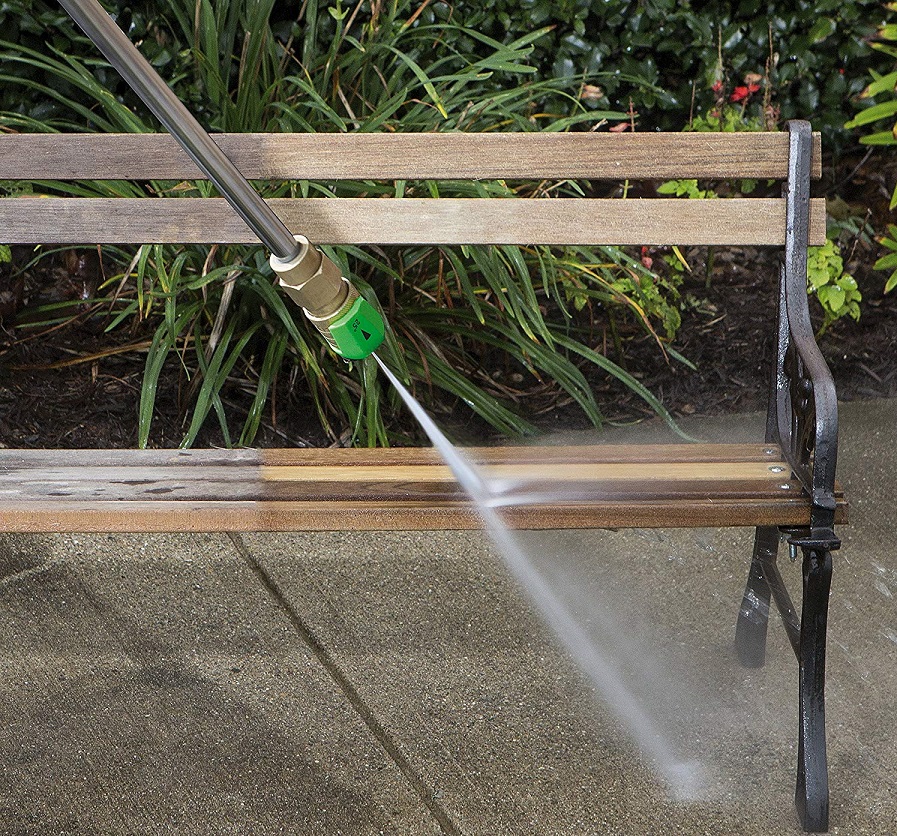 The best models are manufactured by brands such as Karcher (German engineering!) or Sun Joe. You might pay a bit more for these models but your investment will actually save you money in the long run- there is hardly any type of maintenance required and the rich set of features means that you can cover a variety of tasks with just this one machine.
Are you considering buying a pressure washer to wash your car and for outdoor cleaning or do you already own one? Please leave your comments in the section below. I'd love to hear from you.
Our List of the Best Domestic Appliances