Welcome to the Ecovacs Deebot Ozmo T8 Review. We've got plenty of features to reveal including simultaneous vacuuming and mopping, live HD streaming directly to your smartphone app to see what the robot is up to, as well as one of best navigation on a robot vacuum thanks to the AIVI feature (more on this later).
The Ozmo T8 comes with virtually all the functionality that you would expect to find on a premium robot vacuum including an integrated camera, the ability to mop, and a user-friendly app that opens up a plethora of features to connect with your robot as often or as little as you'd like once it's configured to your requirements.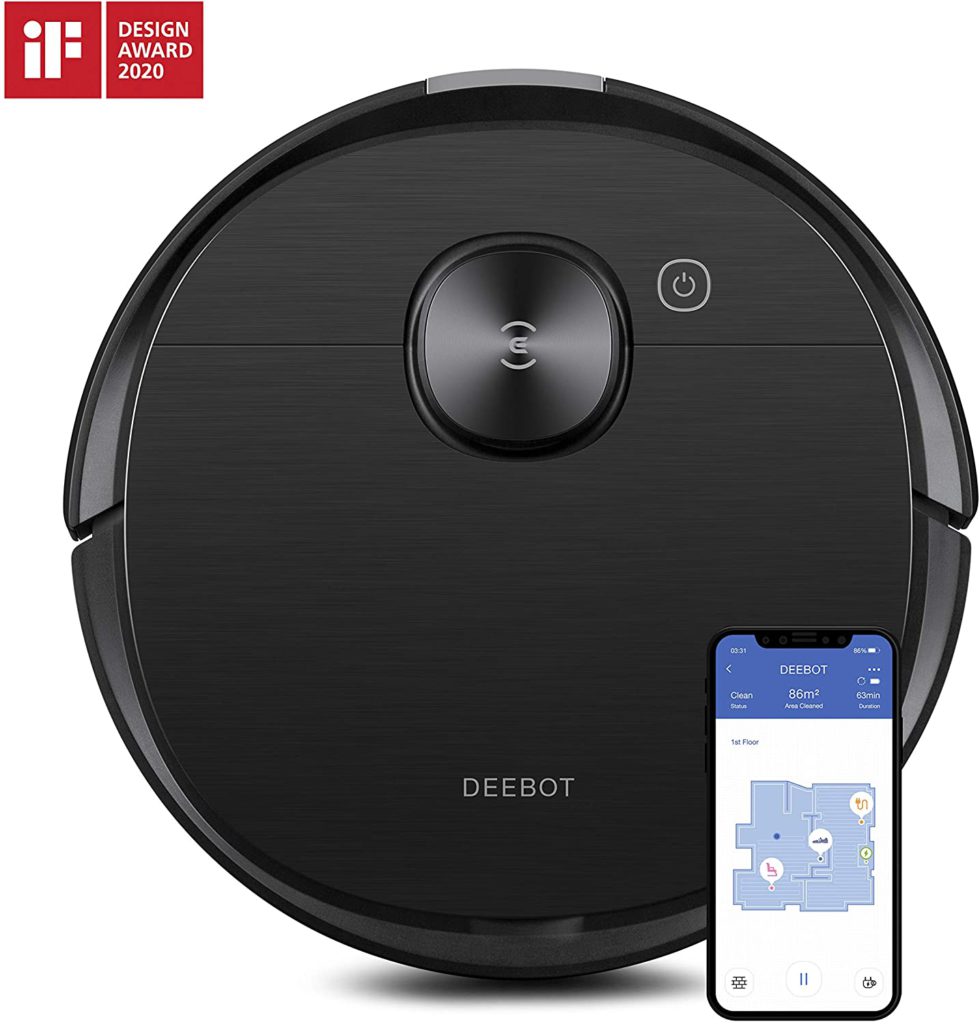 This robot does come with a few setbacks, it's not cheap and can occasionally struggle to climb onto rugs. Nonetheless, we still think it's a high-performance machine with plenty to offer. Let's get straight into the review…
Robot vacuums have been around for a while and each iteration comes with yet another perplexing feature to improve product marketing. Be it an upgraded sensor, a higher-res camera or a newer mapping algorithm, it's easy to get confused by these features. How do you choose a suitable robot vacuum for your home's floor configuration? Let's simplify that for you.
For starters, the Ecovacs Deebot Ozmo T8 stands out from its rivals because of the front-facing camera that fuses together Artificial Intelligence and Visual Interpretation (AIVI) for superior navigation. With this technology, the robot can actually recognize objects and knows exactly what it's looking at. How cool is that? This means it can avoid obstacles such as electric cables, clothes, shoes, and when you join that together with the high suction performance, you are looking at one of the cleverest and best-performing robot vacuum cleaners currently available.
The Deebot Ozmo isn't short of party tricks. It can even stream live HD video straight to the app on your phone so that you can keep an eye on things, and offers the capability of virtual maps that are interactive. For a premium machine, the T8 didn't deliver the cleaning performance that I was expecting to see, particularly when picking up of dirt from the entire mapped out area, it forgot debris in certain spots.
Check Out Where Ecovacs Deebot Ozmo T8 Ranks On Our List of The Best Wet & Dry Robot Vacuum Cleaners For Vacuuming & Mopping
As for the design, the Ecovacs Ozmo T8 is a sleek machine. It's black throughout with a brushed black texture effect at the top of the unit which gives it a modern look. The profile is slim and as a result, the machine can venture in the gaps beneath furniture to clean months or years of accumulated dust that you might not usually be able to reach with a full-sized vacuum cleaner. There are multiple sensors found on the machine to simultaneously detect objects and map its surrounding area.
The biggest benefit of buying the Ecovacs Ozmo T8 is that it amalgamates the past 5 years' worth of robot vacuum advancements and sticks all of this into one gadget.
Robot Vacuum Specs
Product Weight: 7.8 pounds
Battery Running Time: Approximately 200 minutes
Product Dimensions: 13.9-inch diameter x 3.7-inch height
Cleaning Functions: Mopping and Vacuuming
Virtual Mapping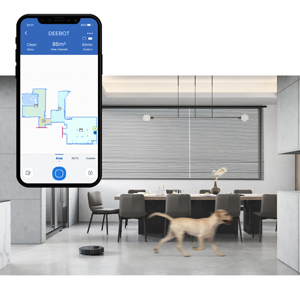 One of the Ozmo T8's stand-out features is that it can render virtual maps and push them directly to your smartphone. Although a lot of robot vacuums have this capability, few of them are able to do this as fast or as precise as the Ecovacs Ozmo T8, which takes advantage of time-of-flight cameras instead of the more commonly used Lidar technology. The T8 speedily maps out a room in a single run, whereas, other robots might need to do the same task over several runs.
The Ozmo T8 AIVI harnesses a TrueMapping system using laser technology, therefore, it can even clean in dark environments when the lights are tuned off. The machine sports an outstanding battery with one of the longest operating times that we've seen on a robot vacuum, delivering over 3 hours of runtime, therefore, the T8 AIVI is highly recommended for big properties.
The map gives you the ability to focus on specific rooms. You can set up virtual boundaries for rooms that you don't want the robot to venture into, for example, marking off the utility room or pantry. Busy households will benefit hugely from this feature as you can instruct the T8 to clean dirt from specific parts of your home such as when the kids come into the house after playing in the backyard and mess up the foyer.
The virtual boundaries are much better than the placing physical barriers such as lighthouses, magnetic strips or shutting a door to stop the robot from going into an unwanted room.
Mopping Performance
The Deebot T8 is a nifty appliance and performs consistently whether it's vacuuming or mopping. It comes with a 240ml water tank which delivers an ample amount of water to loosen stubborn mess such as dried up food, the mop swiftly wipes away the dislodged dirt.
As mentioned earlier, the robot can perform both mopping and vacuuming at the same time and is able to get rid of 99.26% of bacteria as stated by the manufacturer. The water tank is large enough to provide adequate amounts of water to mop more than 2000 square feet. The onboard sensors are clever enough to detect and steer clear of carpets whilst mopping is in progress, it also provides twice the amount of suction while mopping.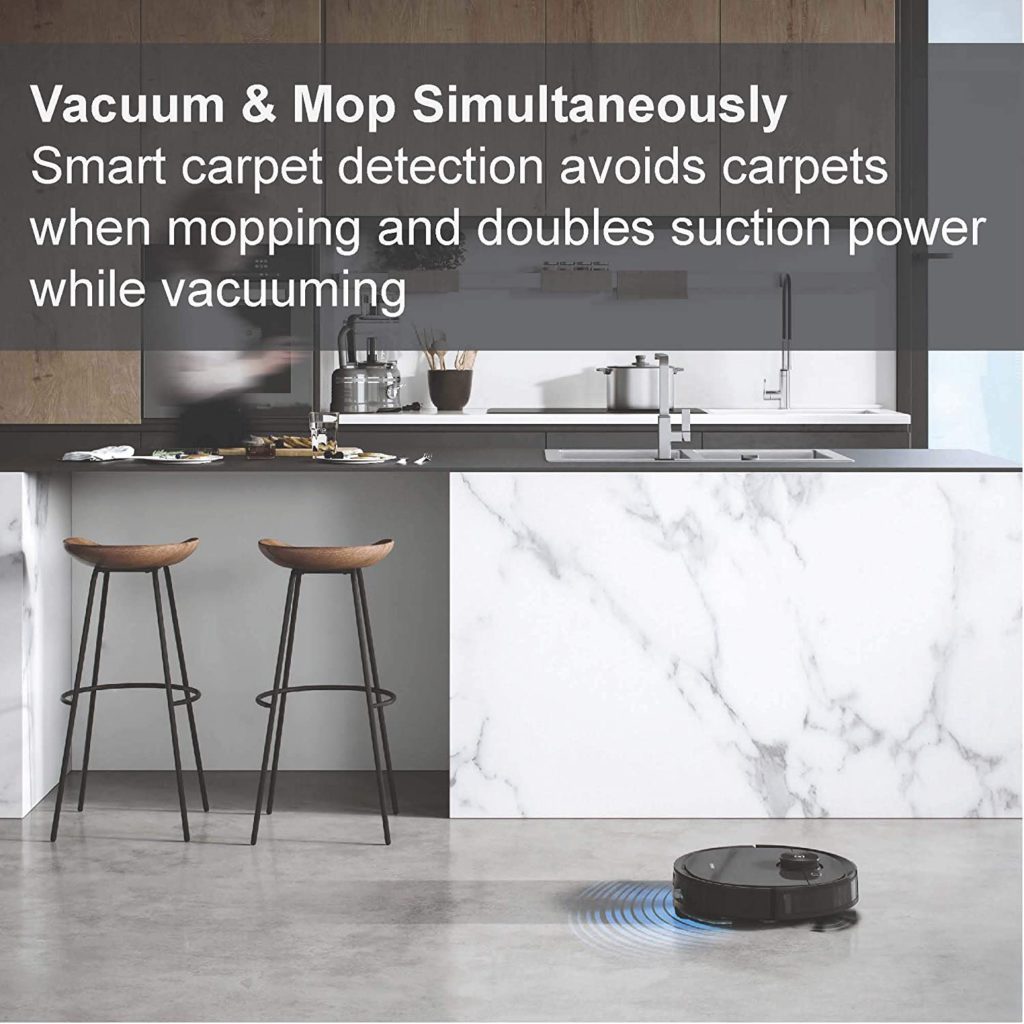 Other Features
The Ecovacs Deebot Ozmo T8 AIVI is equipped with lots of much-loved features. You can link the robot to your Alexa device and literally tell it to start vacuuming. When the robot's battery powers starts to fade the machine will promptly return to it docking station automatically to recharge. If you've previously owned an earlier Ecovacs robot you will need to download a newer version of the smartphone app to connect with your T8 robot.
Earlier on, I mentioned the front-facing camera. It gives you the ability to see exactly what your robot is seeing. You can view the live stream on your phone, and it also transforms the Ozmo T8 into a mobile security camera. The lens is wide-angle, therefore, offers great viewing angles to check on your pets or see if things are where they should be. This feature is not exclusive to the T8 robot but it's good to see that Ecovacs is leveling up with it's rivals and staying ahead of the game.
Recommended Read: The Best High Performance Robotic Vacuum Cleaners For Your Home
Great For Those That Hate Mopping and Vacuuming
We like that the T8 can detect a change of floor type and easily transition from carpet to hard flooring and vise versa. Previous versions of wet and dry robot vacuums were bothersome as you had to fill up the water tank and fasten the microfiber cloth to the robot whenever you required it to mop then detach them afterwards to continue vacuuming.
The T8 has overcome this issue as it can cleverly distinguish the difference between floors that need vacuuming or those that need mopping or both, thanks to the intelligent sensors. The result is that you can attach all the accessories right at the start of the cycle and the robot will do the rest.
It Sees Better Than Its Rivals
The Ecovacs T8's biggest advantage is the AIVI (Artificial Intelligence and Visual Interpretation) feature that comes as standard. It's a big leap forward for robot vacuums as it allows the machine to understand the objects around it better, whereas, with previous models, you'd often need to move items out of the way.
With the Ozmo T8's front-facing camera the robot can look at obstructions and circle around them. It avoids collisions and gives you the assurance that the robot will not get stuck between or on top of objects.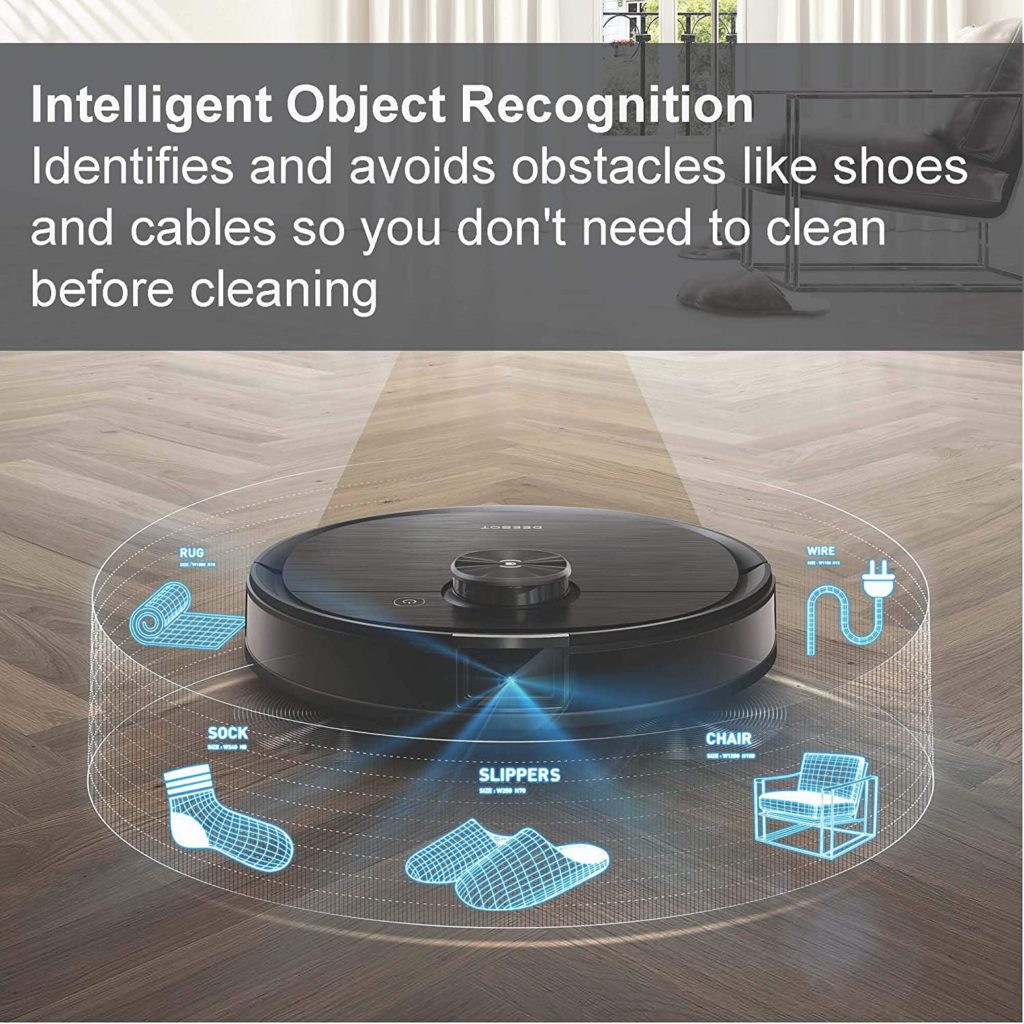 How Loud is Deebot Ozmo T8 When It's Cleaning?
Surprisingly, the Deebot operates at a very low sound level. If you're not watching it vacuum, you'd have doubts whether it is sucking up anything at all because of how quiet it is. However, once a cycle is complete you'll see the proof that this little bot can truly clean your floors as good as claimed. You can watch T.V. or hold a conversation in the same room, without interruptions, whilst the robot is vacuuming even when it ramps up the suction power to clean difficult areas.
Is There Anything That We Don't Like About The Ozmo T8?
Although Artificial Intelligence and Visual Interpretation (AIVI) is a welcomed addition to the Deebot's advancement, the majority of the functions built into the Ozmo T8 are already in rival robot vacuums. The inclusion of AIVI is a great sign of progress for Ecovacs, however, it's not a massive achievement overall. The feature can distinguish bigger items such as power cables, shoes, furniture, chairs but it won't detect items that are less than 2 millimetres tall.
How Good Is The Ecovacs Ozmo T8 At Lifting Dirt?
After testing robot vacuums extensively over the past few years we've noticed a commonality between these machines, which is that they will either vacuum really good or manoeuvre really good but very rarely do we get both. The Deebot Ozmo T8 steered around objects such as table legs and shoes brilliantly, however, it didn't pick up debris from all the areas that it had mapped out. The robot will pick up approximately 9.5 grams of debris, which is a little less than the 10 grams that we would expect to see.
Recommended: Which Is the Best Robot Vacuum Cleaner to Buy?
Pros
The T8's navigation is one of the best that we've seen.
We like that the robot can simultaneously mop and vacuum.
The Deebot app is packed full of features to interact with the robot such as live streaming HD Video to your app to monitor your home remotely.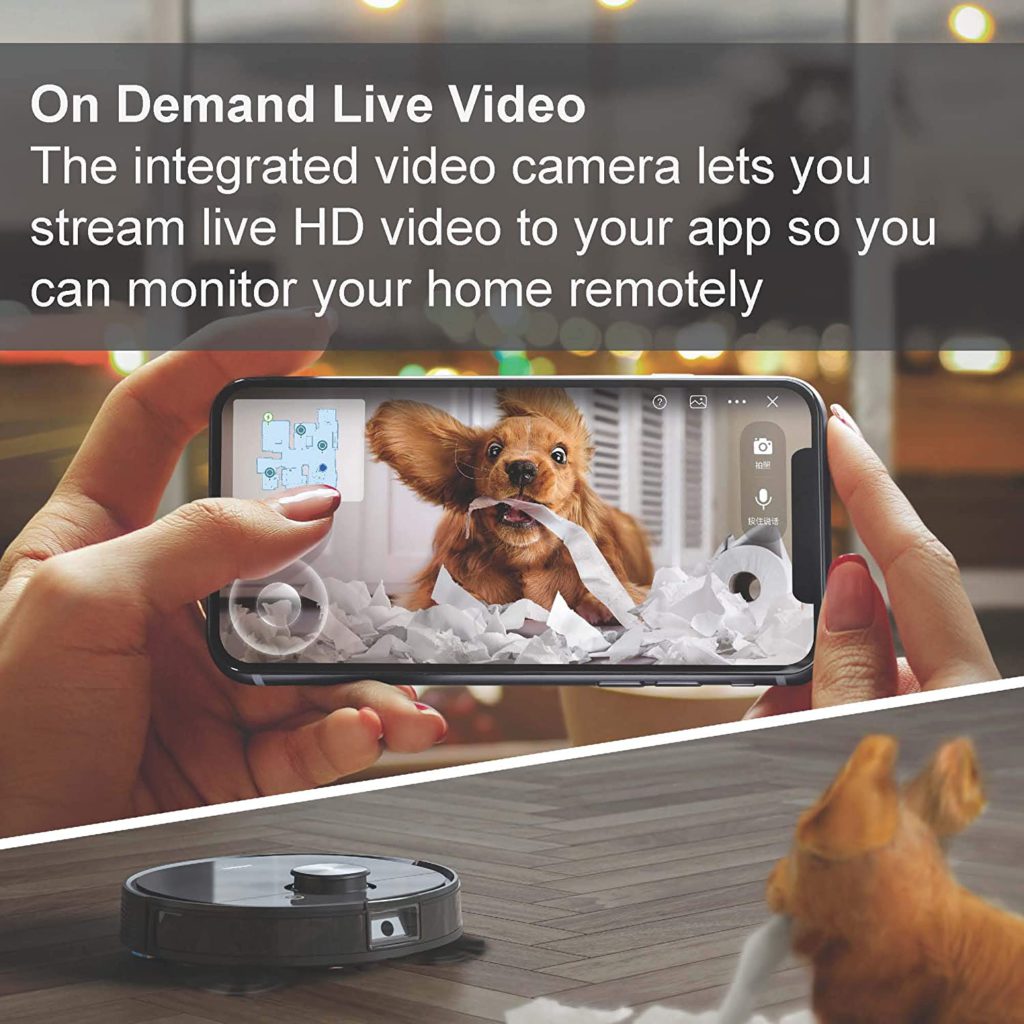 Cons
Cleaning performance is average.
This model is a bit on the pricier side.
Does it Connect To Your Home WiFi Network Easily?
Setting up the T8 to your wireless network is relatively straight forward, however, there's word going around that the robot doesn't support mesh networks. I did not encounter any issues connecting the Ozmo T8 to my mesh network. The robot didn't connect to my network automatically, however, when I used my phone, The Deebot linked to my home's network straightaway. There was no other setup required beyond that.
Please note that the robot requires a 2.4ghz band. This shouldn't be a problem for most people because the majority of networks these days can provide both 2.4ghz and 5ghz.
Is The Liquid In The Water Tank Gravity Fed or Electronically Controlled? Does It Come With a Moving Mopping Accessory?
The liquid is electronically controlled, however, it does not spray the water in a conventional way. You can control the amount of water that is applied to the mop whilst it works its way around your hard flooring. Yes, the T8 does come with a mop, however, it is not motorised. Ecovacs will be releasing a vibrating mop head and self-emptying bin not long from now (I can't wait!)
Does The Deebot Ozmo T8 Recognize & Avoid Pet Poop?
Yes, to our relief the Deebot Ozmo T8 can detect pet poop straightaway and steer clear of it. You don't need to worry about your prized robot getting stuck or covered in poop.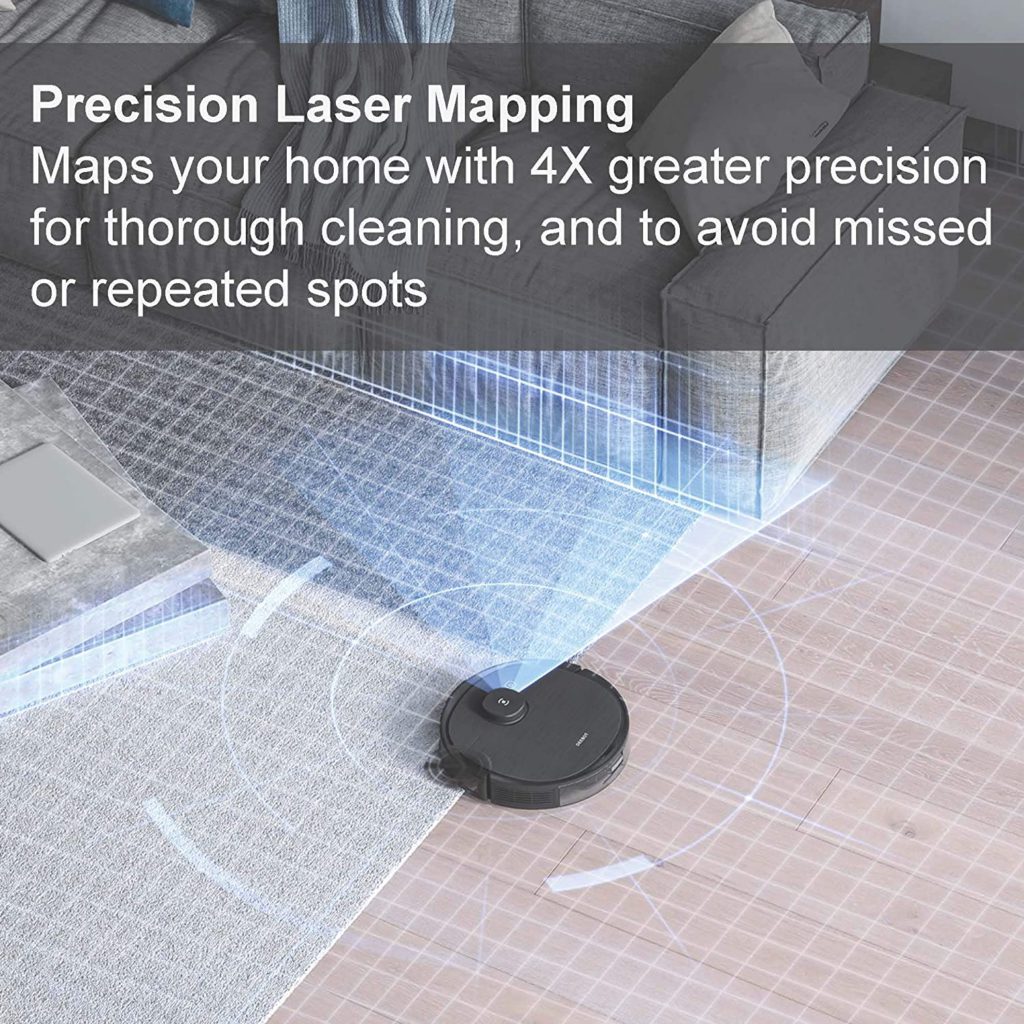 What Are Users Saying About The Ecovacs Deebot Ozmo T8?
The T8 has mostly received positive reviews and scores 7/10 for overall performance. Users were happy at the speed and effectiveness in which the unit mapped and vacuumed both carpeted and hard flooring. Users also enjoyed the user-friendliness of the app and how easy it was to interact with the robot whether they were at home or out and about.
Should You Buy The Ecovacs Deebot Ozmo T8 AIVI?
The Ecovacs Deebot Ozmo T8 is a great buy for those looking to upgrade over previous Ecovacs models such as the 901 or 920 but if you are a first time buyer you might be better off with a cheaper model (check out the link below). The Ecovacs Ozmo T8 AIVI is not cheap, however, you are getting a good set of features such as mopping, vacuuming, a cutting edge camera which provides remote surveillance and better navigation, and this is all bundled into one machine. If you're after a basic low-cost robot vacuum without the fancy functions then click on this link for our shortlist of the best affordable robot vacuums.