Robot Vacuum Buying Guide- Find Everything Right Here!
The market is saturated with plenty of cleaning bots and it's becoming difficult to decide which is the best robot vacuum to buy in 2019. Thankfully we can help you with that. The flip side is that there has never been a better time to get an autonomous cleaner- there's a gadget for every budget and requirement.
With so many features and options on offer, it's easy to see why potential buyers can find it daunting to find what's right for them. Robot vacuums are slowly taking over the world!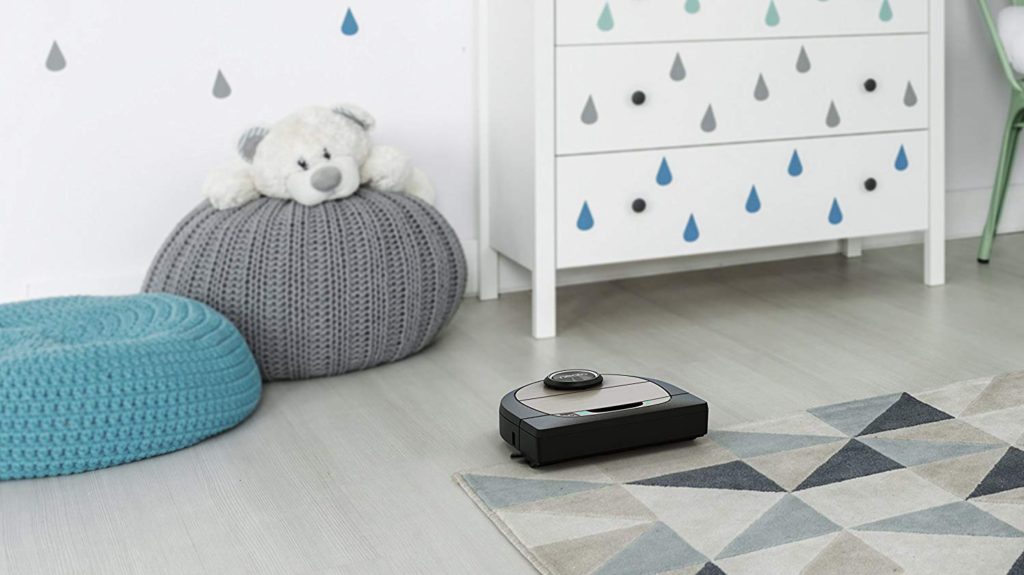 To add to this, weighing up the differences in functionality, performance and cost is very time-consuming, therefore, by the time you've chosen the right model it might already be outdated.
Looking for the best robotic vacuum cleaner doesn't need to be this painful. Our User guide will take you through everything you need to know and help you find what works best for your home and lifestyle.
Affordable Robot Vacuums
A lower cost robotic vacuum can clean your home to a satisfactory standard, however, you might need to compromise on premium features and conveniences. I've put together the top affordable robot vacuums available today:
iLife A8 Robot Vacuum Cleaner
iLife A8 Summary
The A8 is a fancy little robot with a comprehensive spec that comes at an affordable budget. It's slightly more expensive than the V3s but there are a number of reasons why the extra cost is justified.
For starters, iLife robots provide incredible value given their great range of features, but that's not to say you are made to compromise on quality or performance. The A8 unit looks the part and is made with darkened glass. The minimalist design provides a sole button to operate it.
The A8 is equipped with the latest guidance technology and an improved algorithm over older models. It houses a set of convenient functions like automatic charging and clever sensors to keep it from falling down stairs or bumping into objects, it comes with voice assistance too.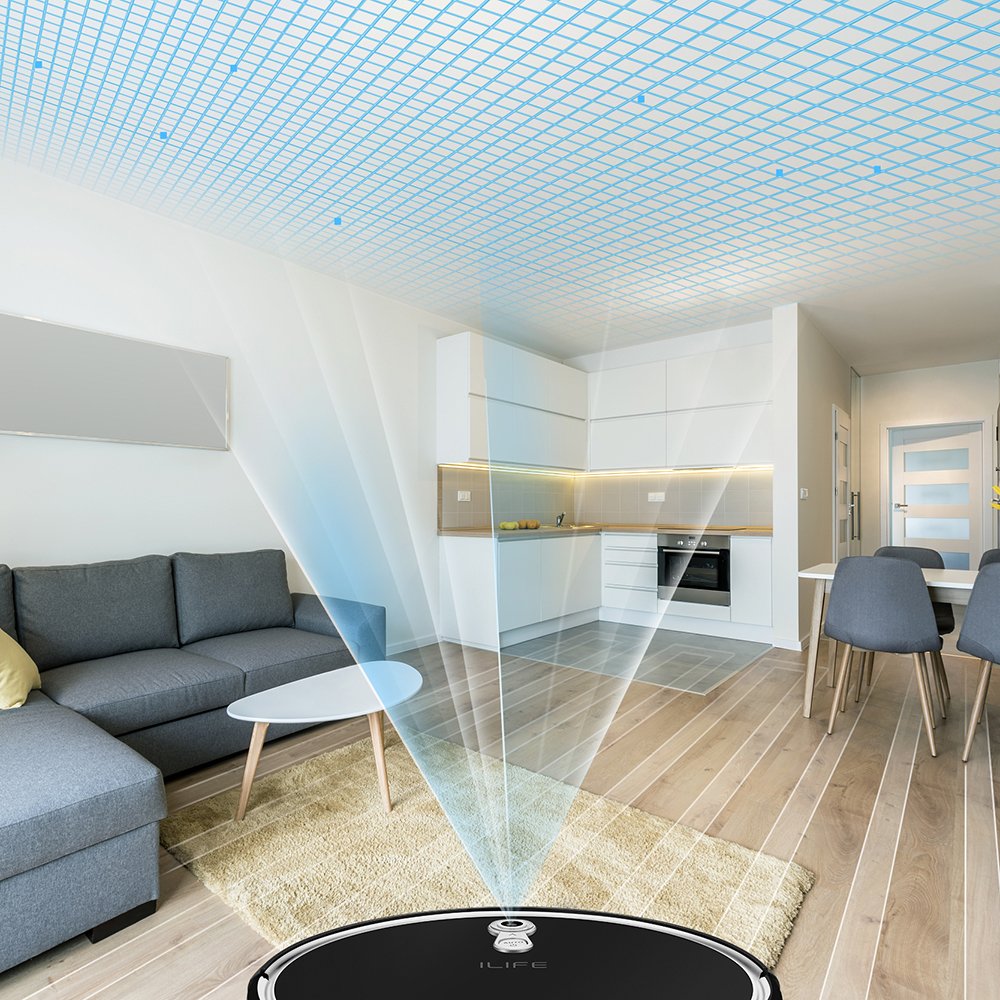 This bot comes with a fairly slim profile and as a result, it can travel underneath couches and furniture. The robust wheels are named RoadRover and they ensure that the robot does not get trapped when it traverses rugs and carpets.
It delivers a decent clean throughout the room, however, you will still need to have your full sized vacuum on standby to manually top up the vacuuming occasionally.
This model runs at a lower noise level than most of the robots on our shortlist. Don't underestimate how useful this feature is, especially when the robot is cleaning whilst you're watching a movie, reading a book or working from home.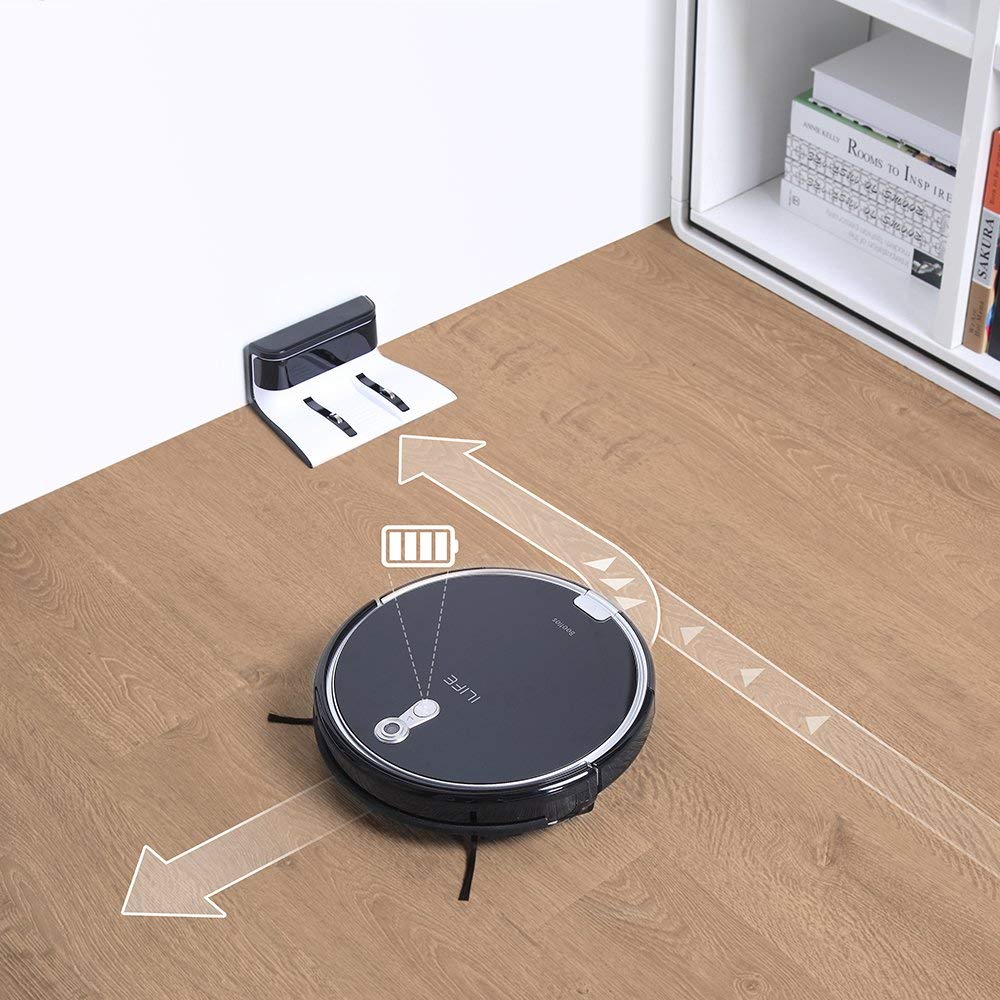 iLife A8 Verdict
The A8 is a budget-friendly robot vacuum with a long set of features that are usually found on premium models and for this reason, it's a highly favored choice in many households.
There have been some instances where owners have experienced performance issues, however, getting in touch with the support folks at iLife was hassle-free and the team happily solved their problems.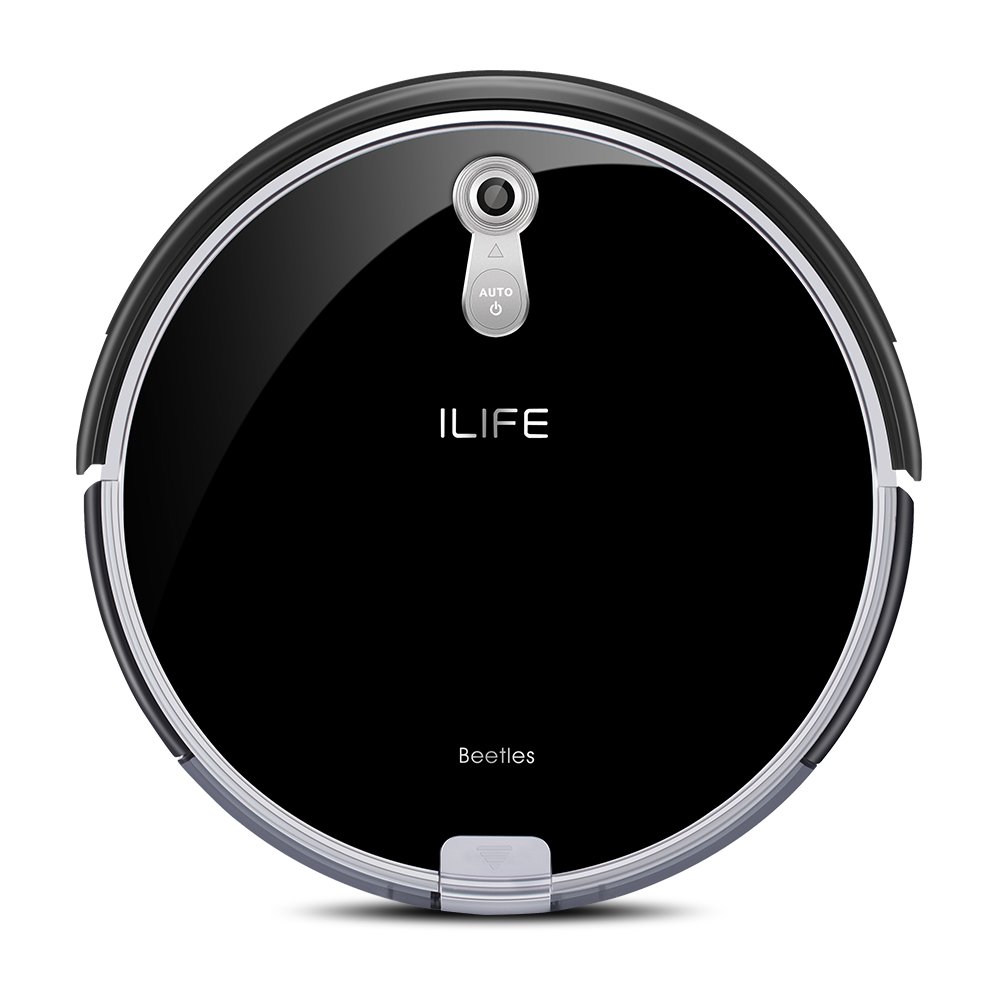 Where can I buy the iLife A8 Robotic Vacuum Cleaner?
Check out the latest prices for the iLife A8 Robotic Vacuum Cleaner here.
Ecovacs Deebot N79S Robot Vacuum
Ecovacs Deebot N79S Summary
The Ecovacs Deebot N79S offers amazing value and a bunch of nifty features. It's easy to see why this model is extremely popular. Similar to the iLife A8 you get a lot for your money and come to appreciate just how much a robot can get done whilst you get on with other things.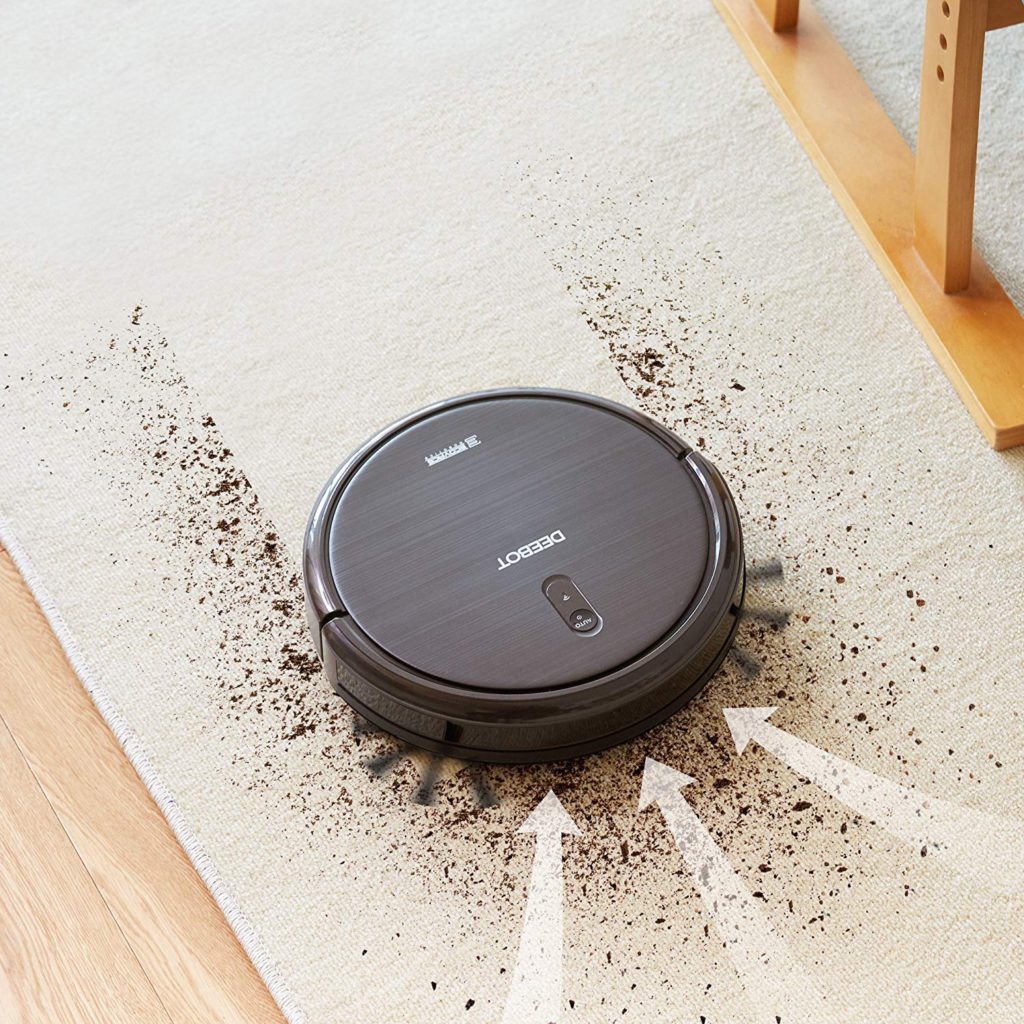 Ecovacs are famed for their growing range of 2-in-1 robots that combine vacuuming and floor mopping, however, the Deebot N79s is a unit that is built solely for vacuuming and it carries out this task remarkably.
The unit delivers a decent standard of cleaning and diligently carries out its chores without distracting daily life. The machine operates quietly, therefore, there's no need to wait until you're away from the house before it can run its cycle.
The Deebot N79S is a bit bigger than the iLife A8, however, it will have no issues getting in the gaps underneath the furniture to clean neglected hard-to-reach areas. It might need a bit of babysitting as it occasionally gets stuck.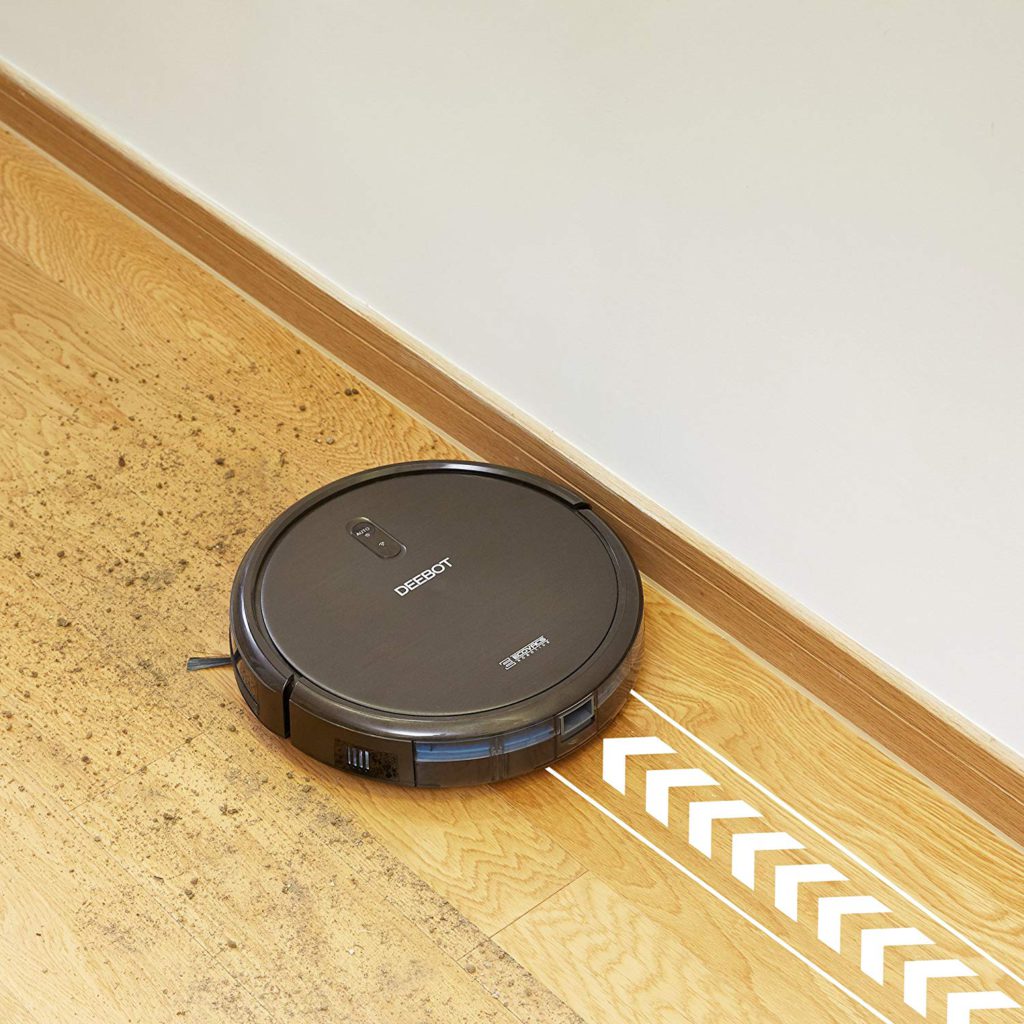 Deebot machines can be controlled with the mobile app which doesn't disappoint at delivering convenience and greater control over the N79s. It's amazing to see such functionality provided at this price level.
As if that wasn't enough, you also get to link your device with Google Home and Alexa devices to control it with voice prompts when your feeling too lazy to manually switch on the robot.
There are a variety of cleaning sequences for standard or focused vacuuming whenever the robot needs to tackle demanding sections of dirt.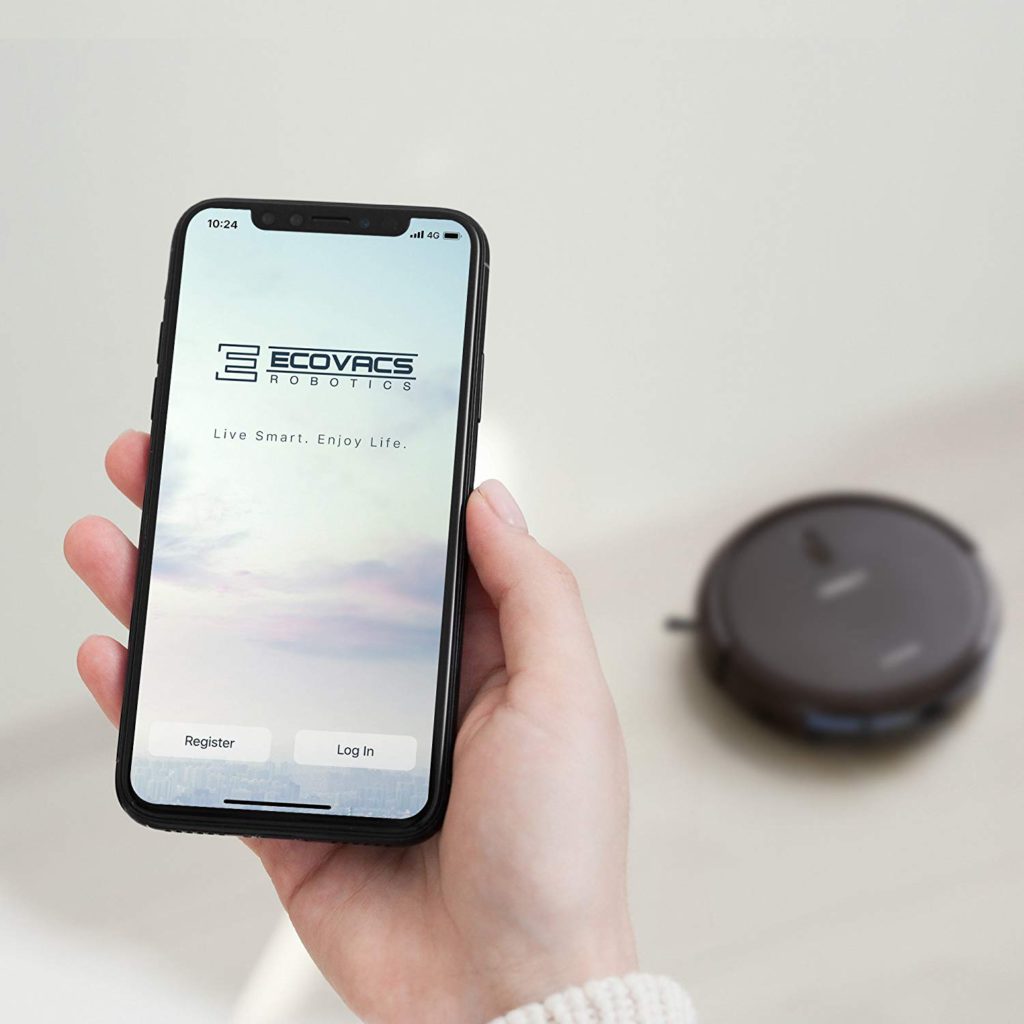 Ecovacs Deebot N79S Verdict
The Deebot N79S has a few setbacks, for instance, the mobile app could be improved if it could set up virtual barriers for the robot to avoid areas that are out of bounds, similar to what alternative brands provide, however, its a compromise that can be overlooked at this price point. We would also like to see useful alerts delivered to the app such as when the bin needs emptying.
Some users have experienced problems with the robot losing its connection with the Ecovacs app, however, this was easily rectified by rebooting the machine or reloading the app.
As you can see, these issues are very minor and should not dissuade you from turning down the N79S. It offers a rich set of features and is one of the best budget-friendly cleaning bots we've found.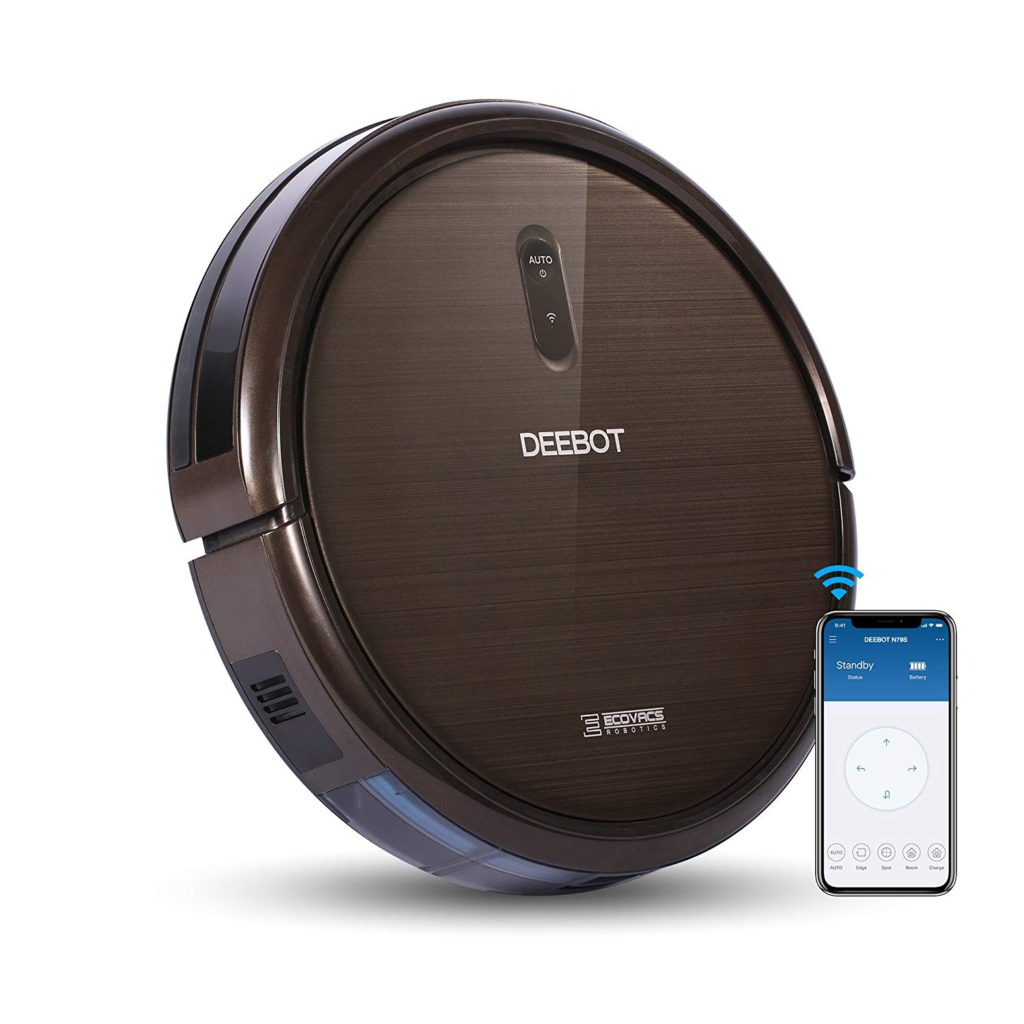 Overall, the Ecovacs Deebot N79S is a highy-favored autonomous cleaner suitable for most homes. It won't put a dent to your bank account balance but instead will keep your home conveniently immaculate.
Where can I buy the Ecovacs Deebot N79S Vacuum Cleaner?

Check out the latest prices for the Ecovacs Deebot N79S Vacuum Cleaner here.
Mid-range Robot Vacuums
If you're willing to invest a bit more money towards your beloved robot vacuum, we've got a list of top picks that offer more and clean better.
Eufy Robovac 11S Robot Vacuum
Eufy Robovac 11S Summary
If your budget permits you to look beyond the iLife A8 or Deebot N79S you should consider the Eufy Robovac 11S. It's an option that will provide you with added value and cleaning performance.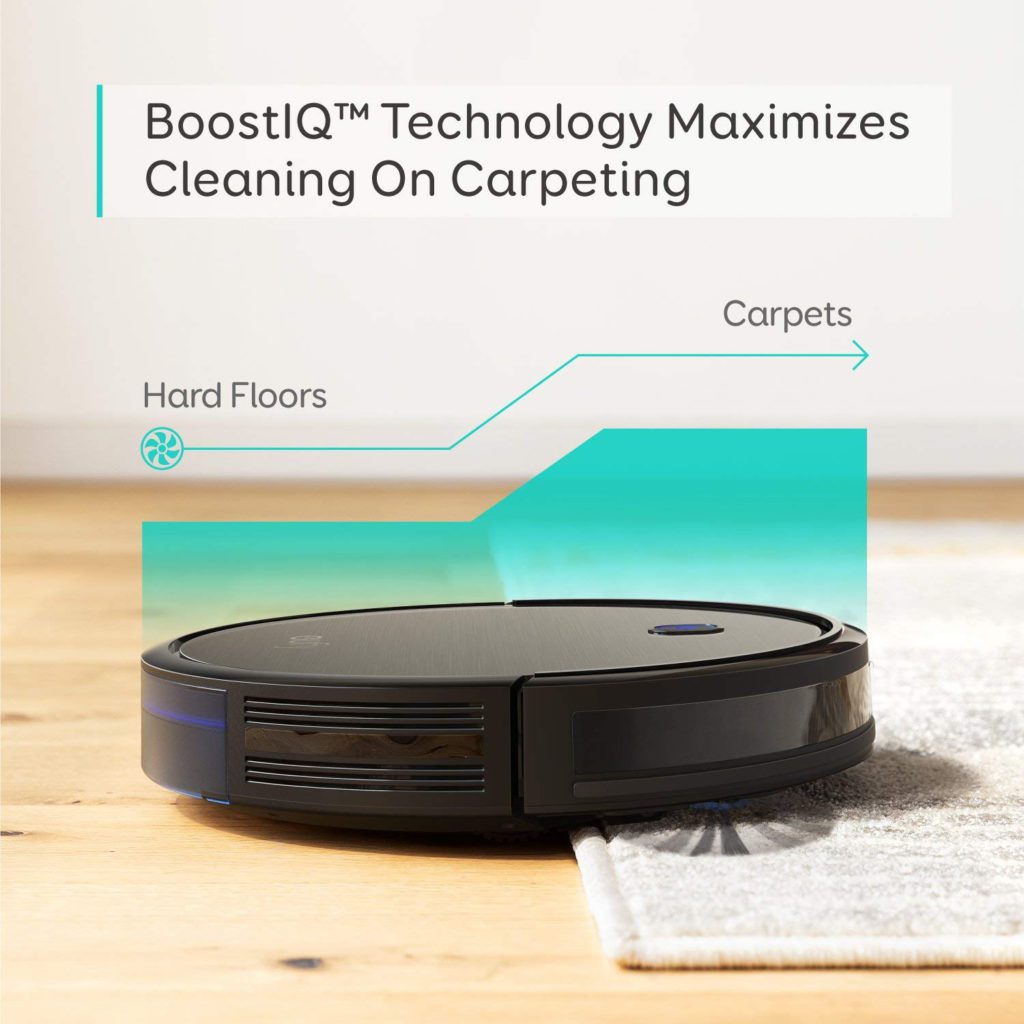 In terms of the robot's design, the Eufy 11S has a minimalist look very similar to iLife A8. It comes with a brushed black glass top and a remote that offers all the controls you'd expect to find including a scheduling assistant and the option to change cleaning modes.
The robot doesn't come with advanced route navigation and the scheduling assistant could be improved. The Eufy 11S makes up for this with its cleaning performance, when faced with a difficult area to vacuum the unit will automatically switch to "Boost IQ" to ramp up its suction power for sections such as rugs or carpets.
Whilst cleaning, the robot's operating noise is impressively quiet and it has a shorter profile to enable it to venture beneath furniture and couches.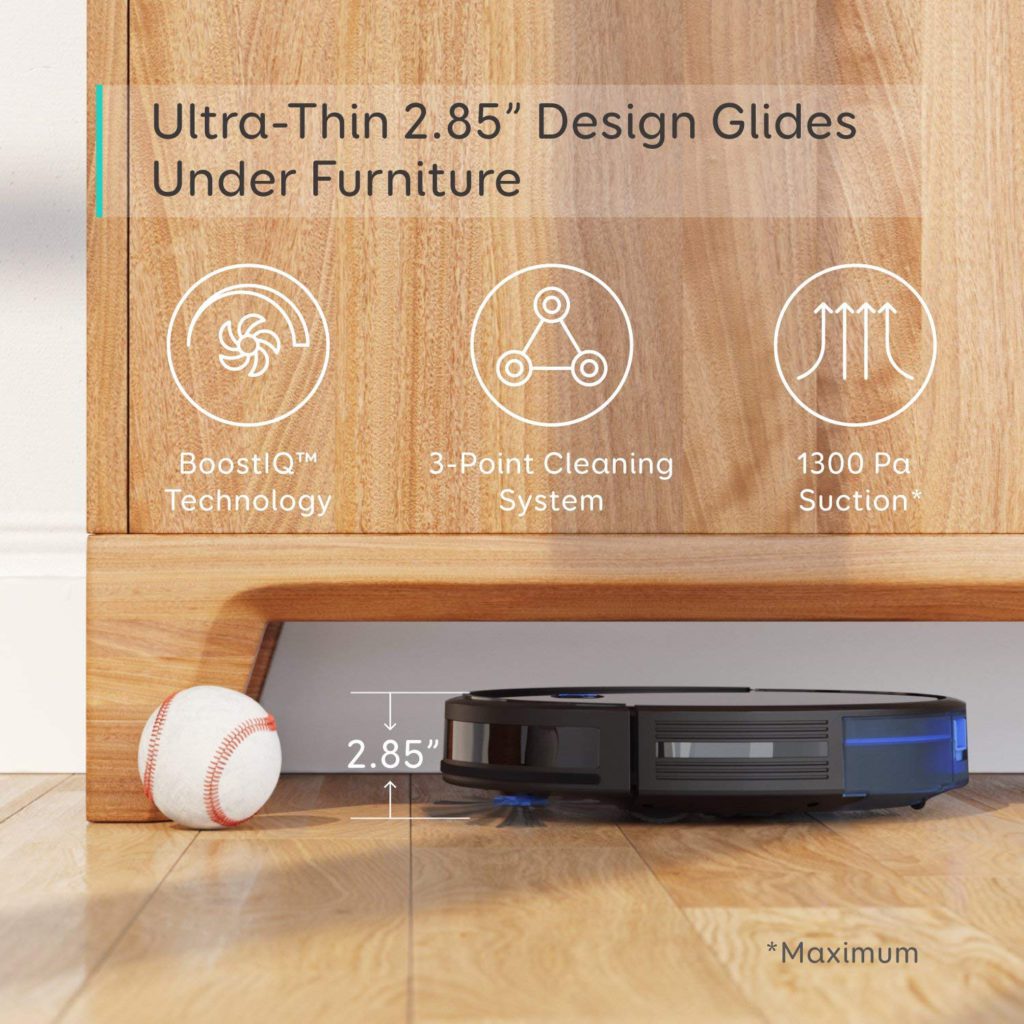 Eufy 11S Verdict
The Eufy 11S is a robot that focuses on performance rather than sophisticated features. It comes highly recommended for the longer running times and suction performance that matches or exceeds costlier premium units.
The setbacks of the 11S are more to do with the scarcity of advanced features and average performance at cleaning corners.
Some users, prefer a robot that is easier to operate without confusing sophisticated features. The Eufy 11s ticks the box and all you need to do is press a single button for the machine to thoroughly vacuum your home.