For large windows and doors, this Hobot 268 is a great choice due to its size and speed. Equipped with a smart AI, this robot window cleaner can navigate paths for efficient cleaning. You will also have an option to choose the program you like among its three cleaning modes.
The robot boasts multiple safety features to assure it stays undamaged if ever it detaches from the surface it cleans. The Hobot window cleaner is versatile, too. However, it comes with a few drawbacks such as it doesn't have a mobile app and has tendencies to get a tangled cord. Know if this is the right product for you by reading on.
Recommended for you Best Robot Window Cleaners For Glass Doors | Hand-Free Glass Cleaning Using These High-Tech Robots
Summary of Features: Hobot Robot Window Cleaner 268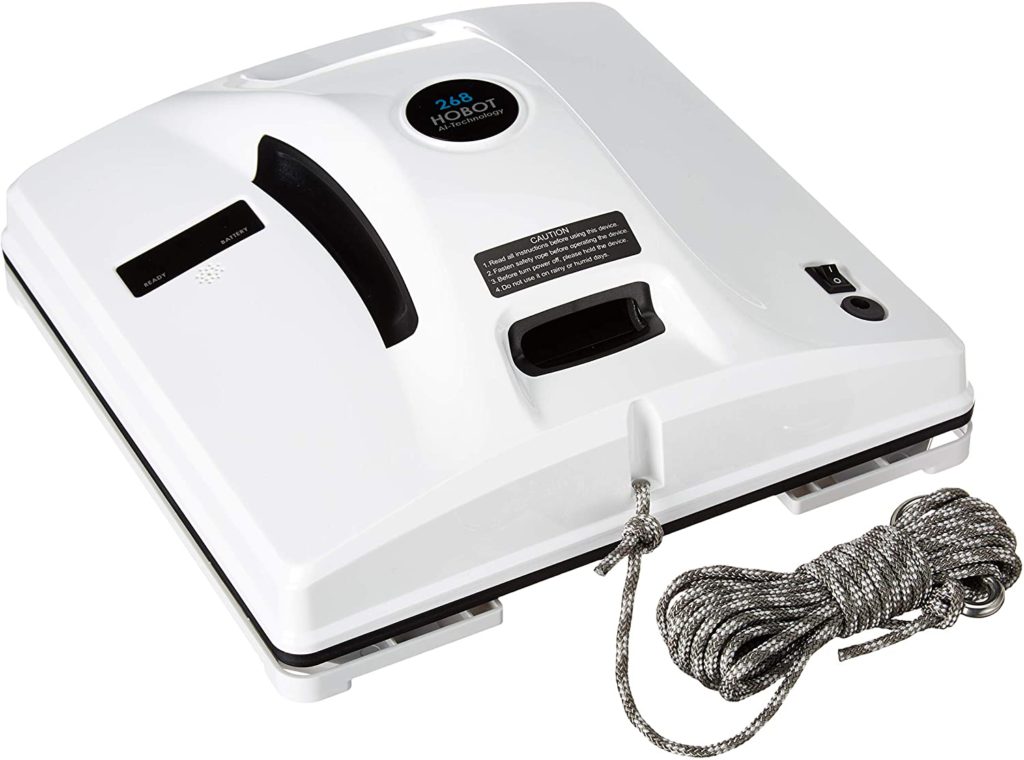 3 automatic cleaning programs. The three automatic cleaning modes give you an option of the path you want the robot to use. You can also control the robot manually using the remote control. Manual mode is especially useful for spot-cleaning. No matter what option you pick for cleaning, this robot can efficiently tidy up dusty surfaces.
AI Technology S1.0. With the Hobot robot's AI technology, it can follow a systematic path for cleaning. It can as well avoid edges, frames, or obstacles on its path. This AI technology doesn't only make the robot efficient, it also keeps the unit safe.
One square meter per 2.4 minutes of cleaning speed. The Hobot robot window cleaner like we mentioned, is a good choice for cleaning large windows and doors. Not only because of its size, but also due to its cleaning speed. It can wipe off dirty surfaces at a speed of 2.4 minutes per square meter, which is pretty decent for a robot window cleaner.
Built-in UPS (uninterruptible power supply). The built-in UPS is probably one of the robot's greatest highlights. It's a safety feature, which keeps the robot attached on the surface if it runs low on power, and gives off an alerting sound for 20 minutes.
Versatile. This Hobot window cleaner doesn't only work for glass surfaces but for tiled walls, cabinets, and floors, too. With the product's powerful suction and versatility, you can maximize its potential and use it in other areas apart from windows and doors.
Safety ropes. The Hobot robot comes with a strong tether (150 Kgf) to keep the unit safe if ever it detaches from where it's attached. You can leave the robot with no worries even if it runs out of power in the middle of its task.
Laser sensor. The Hobot window cleaner is equipped with laser sensors, which allow it to detect edges and obstacles. These high-tech lasers keep the robot safe and follow an efficient cleaning path.
Hobot Robot Window Cleaner 268 Review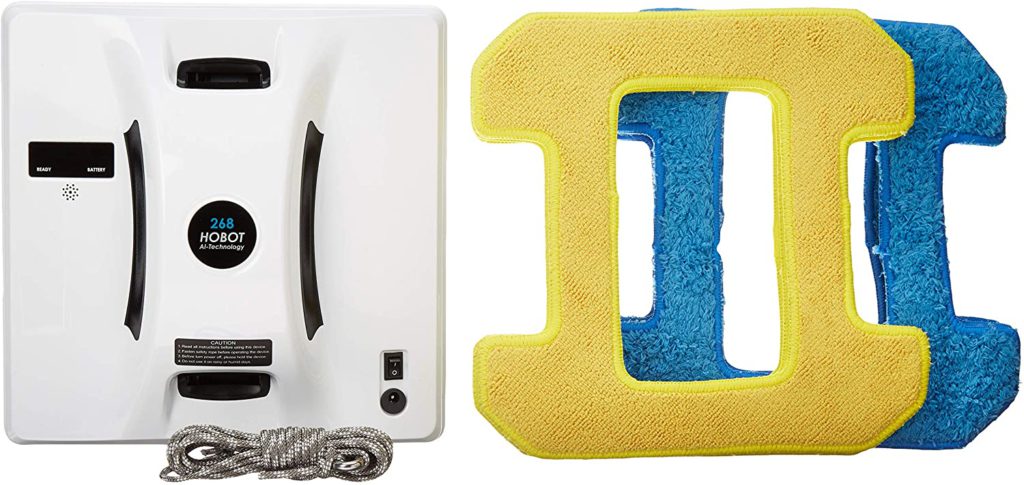 Let's start with the product's design. Looking at the model is a white and black, square-shaped device that's clean and straight-to-the-point. We like that it has only a few buttons and a small screen on its top part, which appears minimalistic. The power button is beside the power jack, and just move a bit and you'll find the safety ropes. The ropes, however, don't look too fancy, and we think Hobot can improve it more, aesthetic-wise.
The Hobot robot has a smart AI, which allows it to efficiently navigate a smart cleaning path. With this AI, the robot window cleaner follows a cleaning algorithm to make sure it targets all areas of the surface it cleans. Equipped with lasers, the robot can also detect edges and obstacles, keeping it safe from falling. It works well on frameless windows, and you won't have to worry about the device falling off.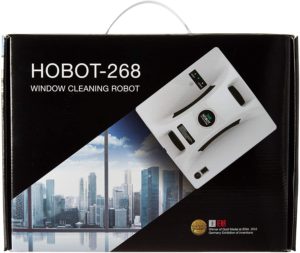 Another highlight of the model is its cleaning speed. Although, of course, cleaning would still be faster if done by a person, the cleaning speed of this robot is decent enough to complete heavy tasks and save you a lot of time. We love the built-in uninterruptible power supply, which acts as an added safety feature of the robot. Using this technology, the model remains attached on the surface if it runs out or runs low on power. The robot will give off a sound alert for 20 minutes before it completely detaches itself from the surface.
Another safety feature of the Hobot window cleaner is its strong supporting tether. With 150 Kgf, you won't have a problem or concerns about the unit falling and hitting the floor if the suction power reduces. This rope will keep the robot safe at all heights. Furthermore, the Hobot cleaner is versatile. It can clean glass surfaces as well as tile walls, cabinets, and floors. With its powerful suction, it can work virtually anywhere.
The downside about this product is sometimes it leaves marks when cleaning. It can be an issue if you're particularly fussy about having extremely clear and sparkly glass windows and doors. The long power cord tends to tangle up as well due to its length. It can be a bit annoying when it happens as you can't totally leave the robot alone when it does its job.
Recommended for you Gladwell Gecko Robot Window Cleaner | Compact and Budget-Friendly Robot Window Cleaner
Who Needs a Hobot Robot Window Cleaner 268
People on the go. Busy people don't have time to clean glass windows, doors, or basically anything. Yes, they can hire someone who can do the cleaning chores for them, but having a robot window cleaner like the Hobot model is much more convenient.
You can use it anytime you want, unlike when hiring a person, you'd have to contact and reach out to them which takes time, and in some cases, not always available. With this Hobot cleaner, you're just a press away to cleaning all the surfaces you want. The robot also requires minimal monitoring, which means you can go ahead and do more important tasks than cleaning.
Physically unable. When cleaning surfaces like glass windows and doors, it means you will have to be physically able to get a ladder and wipe off the areas. Not all people can do it, especially if you have back problems, you're injured, or if you're elderly.
That's why robots like this Hobot machine is a huge help to people who are physically unable to do such tasks. It won't only save you from doing cleaning chores, it can also save you from potential accidents that can happen when cleaning high areas.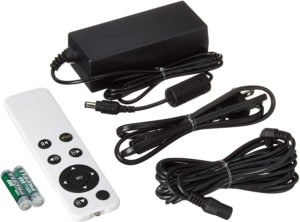 Heavy amount of work. Due to the product's size and cleaning speed, we can recommend the Hobot cleaning machine for people who have lots of cleaning tasks to do. For instance, if you have an office with huge glass windows and doors, you can opt for this machine rather than hire someone to do the cleaning. It will help you save money and time. Plus, you won't have to manage people, too. Having a robot that will do the work is simpler and easier.
For large homes and spaces. The Hobot machine is 15 x 15 inches. Its speed, as mentioned, is 2.4 minutes per square meter. These features make it an excellent choice for large homes and spaces, as the robot can finish tasks faster than the smaller models. The speed is quite decent, as well. Although still, manual cleaning is faster than using a robot window cleaner, you would still prefer assigning your household chores to a robot than doing it yourself. It won't only help you save time and energy, having a robot window cleaner also keeps you safe from potential accidents that can happen when you clean vertical surfaces.
Easy to use. You won't have to access a smartphone app for the Hobot robot window cleaner to work. Although some people might think it's a drawback, for those who prefer machines that are simple to use, it's a positive factor. The Hobot cleaning robot is straight to the point. You can make it work using a remote control or just by pressing the physical buttons. It doesn't require fancy set-ups, unlike the more advanced models.
Recommended for you: Best Window Vacuum Cleaners Buyers Guide
Hobot Robot Window Cleaner 268 Specs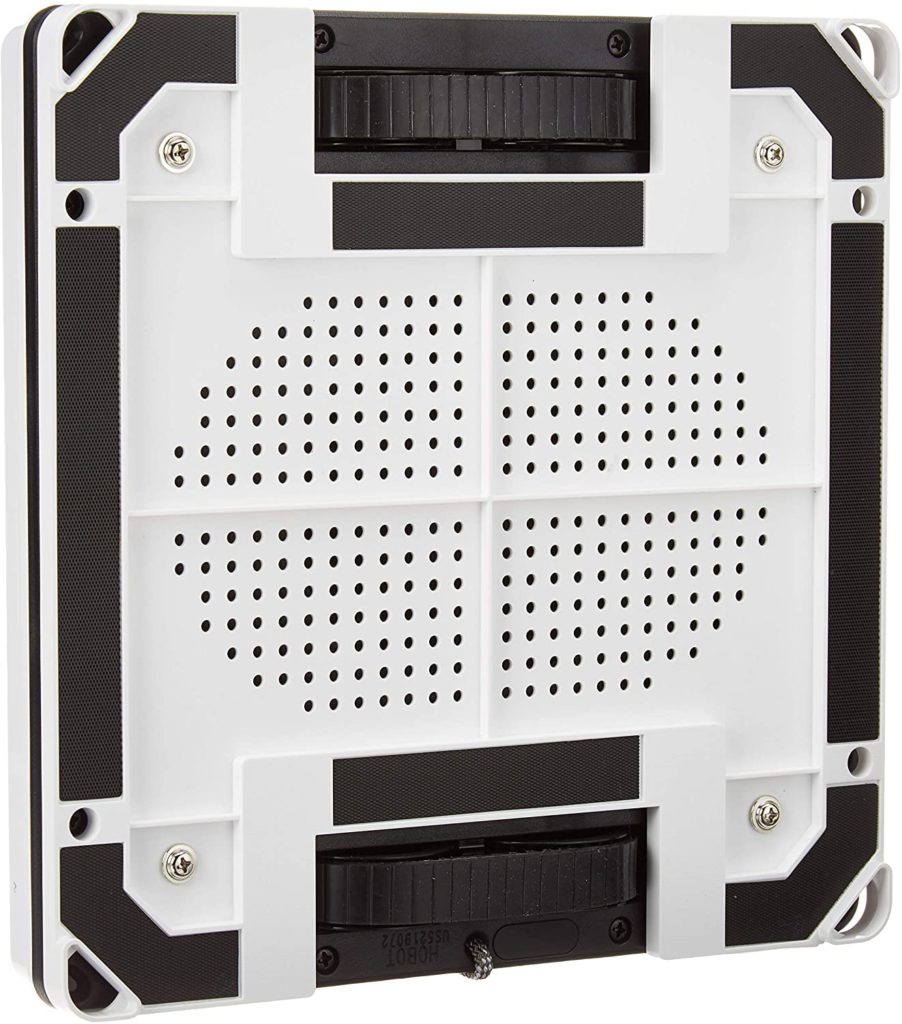 AI: S1.0
Cleaning speed: 2.4 minutes per 2 meters
3 automatic operation modes
Stops automatically upon completion of cleaning
UPS-Equipped (Uninterrupted Power System)
Equipped with laser sensors to detect edges
Anti-falling control algorithm
High strength tether (150Kgf) and buckle
Remote control operated
Power consumption: 72W
Below are the pros and cons of Hobot Robot Window Cleaner 268
Pros
AI integrated
Good for large glass windows and doors
Multiple safety features
Fast
Detects edges and obstacles
Easy to use
3 options for cleaning modes
Cons
Occasionally leaves streaks
Has tendencies to get tangled cords
Conclusion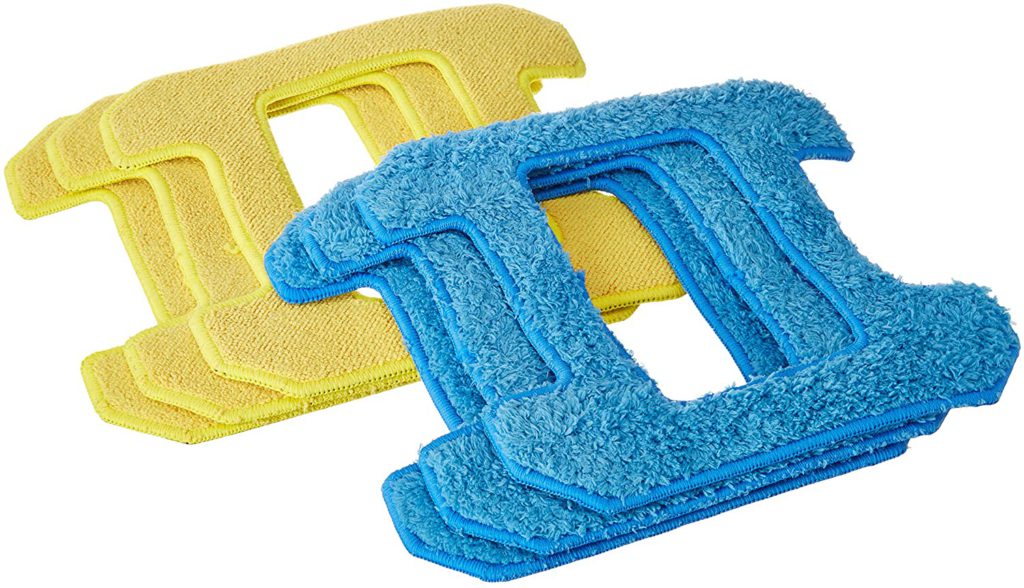 The Hobot 268 is an innovative cleaning machine that can help you save time, money, and energy. It's a great choice for cleaning large surface areas, and it's versatile, too. Apart from glass windows and doors, you can use it for tile walls, cabinets, and floors. It boasts strong suction power, as well as multiple safety features to keep the robot from falling.
It's also good to know that though this robot cleaning machine offers lots of perks, it still comes with a fair price. Compared to other expensive models, this Hobot cleaner is relatively cheaper. We hope we have provided valuable information about the Hobot cleaning machine, and we were able to help you decide if this is the model you want to have for your home.
If you think this product is the one you're looking for, let us know in the comment section below! We'd love to hear from you!
Recommended for you: Best Window Vacumm Cleaners: Reviews and Buyer's Guide