Affiliate Disclosure: I am grateful to be of service and to bring you content free of charge. In order to do this, please note that when you click links and purchase items, in most cases I receive referral commissions. Eventually, I may earn enough to buy a beer or two 🙂
If you're looking for the best lightweight vacuum cleaners for the elderly or you would rather use a machine that doesn't weigh you down you are not alone. My mum is now officially a pensioner and she has joint problems with her shoulders which restricts her from moving or lifting heavy or cumbersome items.
She kept complaining that her vacuum was getting difficult to manoeuvre because of the weight. I decided to research and test out various brands to find her a reliable high performance vacuum cleaner that would be easy on her joints. This post contains my top 5 list of dependable lightweight cleaners that made the shortlist.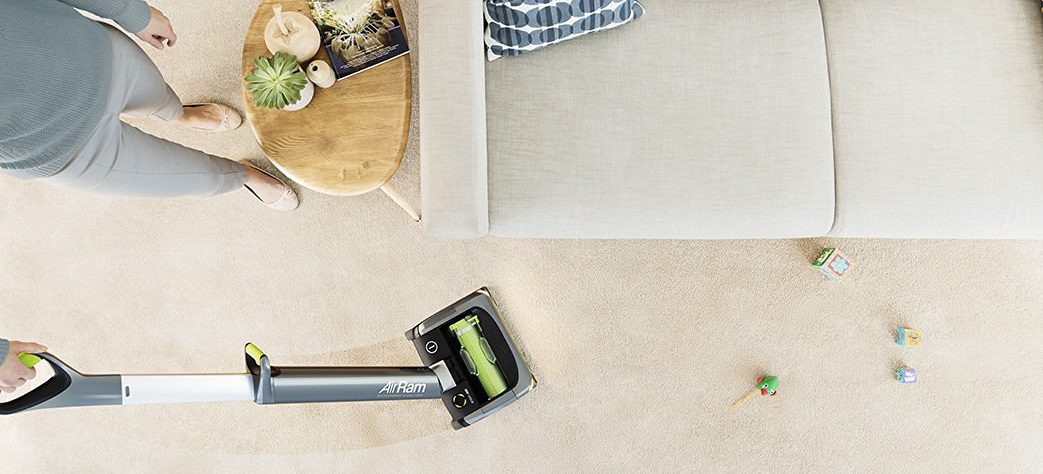 It's not easy to find a lightweight vacuum cleaner that ticks all the boxes. The market is flooded with inferior cleaners that are useless at sucking up dirt effectively. Read on if you want to get your hands on the best lightweight vacuum for your money.
What's Considered To Be a Lightweight Vacuum?
Our views are different when deciding what's heavy and what's light. How do we measure if a vacuum is lightweight? As a rule of thumb, I've used 5 kg as the landmark, anything above 5 kg would be categorised as heavy. I've chosen this weight because the heaviest vacuum weighed almost twice as much!
Don't be surprised to find premium upright and canisters vacuums weighing over 7.5 kgs. Lightweight doesn't always result in a cleaner that is easy to manoeuvre but a vacuum under 5 kg is generally considered to be easy for most people to handle.
Do You Prefer a Corded or Cordless Vacuum?
The hardest decision, when choosing a lightweight vacuum cleaner, is whether to get a corded or cordless machine. Cordless vacuums are much lighter but you need to choose one with a decent battery performance to avoid running out of power halfway through cleaning.

Most, if not all, cordless vacuums cleaners are bagless. If you prefer a bagged vacuum you'll have to buy a corded machine. Corded vacuums pack more suction power but I've test cordless vacuums with sufficient power that virtually matches up to their corded counterparts.
Okay, so let's browse through the list of lightweight vacuums to help you decide what's best for your requirements and budget.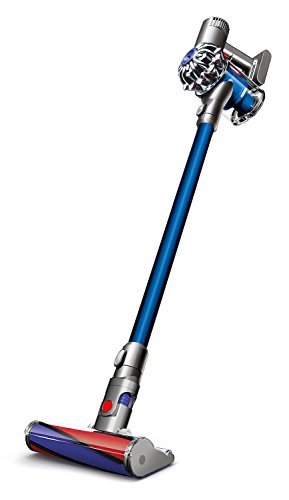 Dyson V6 Fluffy
If cordless cleaning is what you're after the Dyson V6 Fluffy is one of the leading portable battery powered vacuums you can buy. It's powered by a digital motor that spins incredibly fast to deliver unrivalled suction power. It's also the lightest vacuum I've tested.
The battery runs for 20 minutes, which seems a bit short, but I was surprised at how much vacuuming I got done thanks to its portability and trigger mechanism that makes sure the machine runs only when cleaning. The strong suction means that you don't have to go over the same areas again thus time saving.
The Dyson V6 Fluffy is equipped with a high performance 'Fluffy' cleaning head made for hard floors. Sucking up dirt and dust from your wooden and tiled floors is incredibly easy. Additional tools are available for carpets, upholstery and hard to reach spaces.
It's hard to beat the Dyson V6 Fluffy, the genius design allows you to clean quicker than large cumbersome vacuums. It can reach underneath sofas and tables, it's also ideal for car interiors and stairs.
This vacuum is a comprehensive lightweight package, but the only slight downside is the small 0.4 litre dirt bin which needs emptying frequently although Dyson has made sure emptying is done within seconds using the easy-empty button.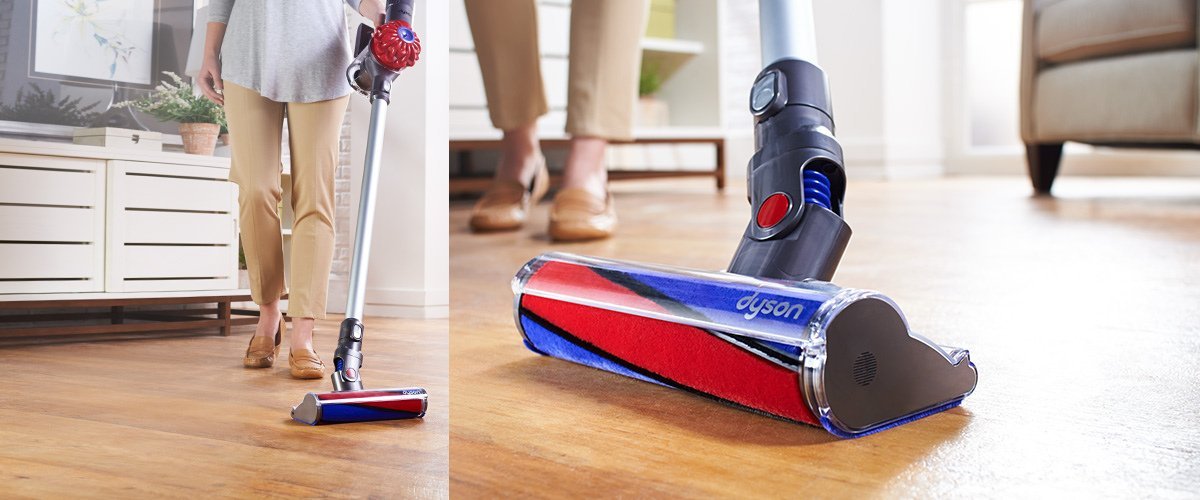 Main Features
It weighs just 2.3kg and is the lightest handstick cordless vacuum cleaner I tested.
Trigger mechanism to ensure the vacuum runs only whilst cleaning.
20 minute battery life is sufficient to get most tasks done.
Dyson V6 Fluffy is supplied with great attachments for stairs, car interiors and tight spaces.
Extension stick is supplied for floor cleaning.
Where Can I Buy The Dyson V6 Fluffy?
Miele Compact C2 Cat & Dog Powerline
The Miele Compact C2 Cat & Dog Powerline is a lightweight corded canister vacuum that weighs only 4.7kg and it's among the lightest corded machines that I've tried. Despite its small size, it provides high octane cleaning performance.
Pet owners will benefit from the resourceful turbo brush that gets rid of pet hair with little effort. The Miele Powerline vacuum is fitted with a charcoal filter to eliminate pet smells and leave your home smelling fresh after each clean.
If you're searching for an exceptional lightweight corded vacuum that cleans carpets and hard floors the Miele C2 is a great choice. The cleaning heads are durable and designed to reach into difficult corners.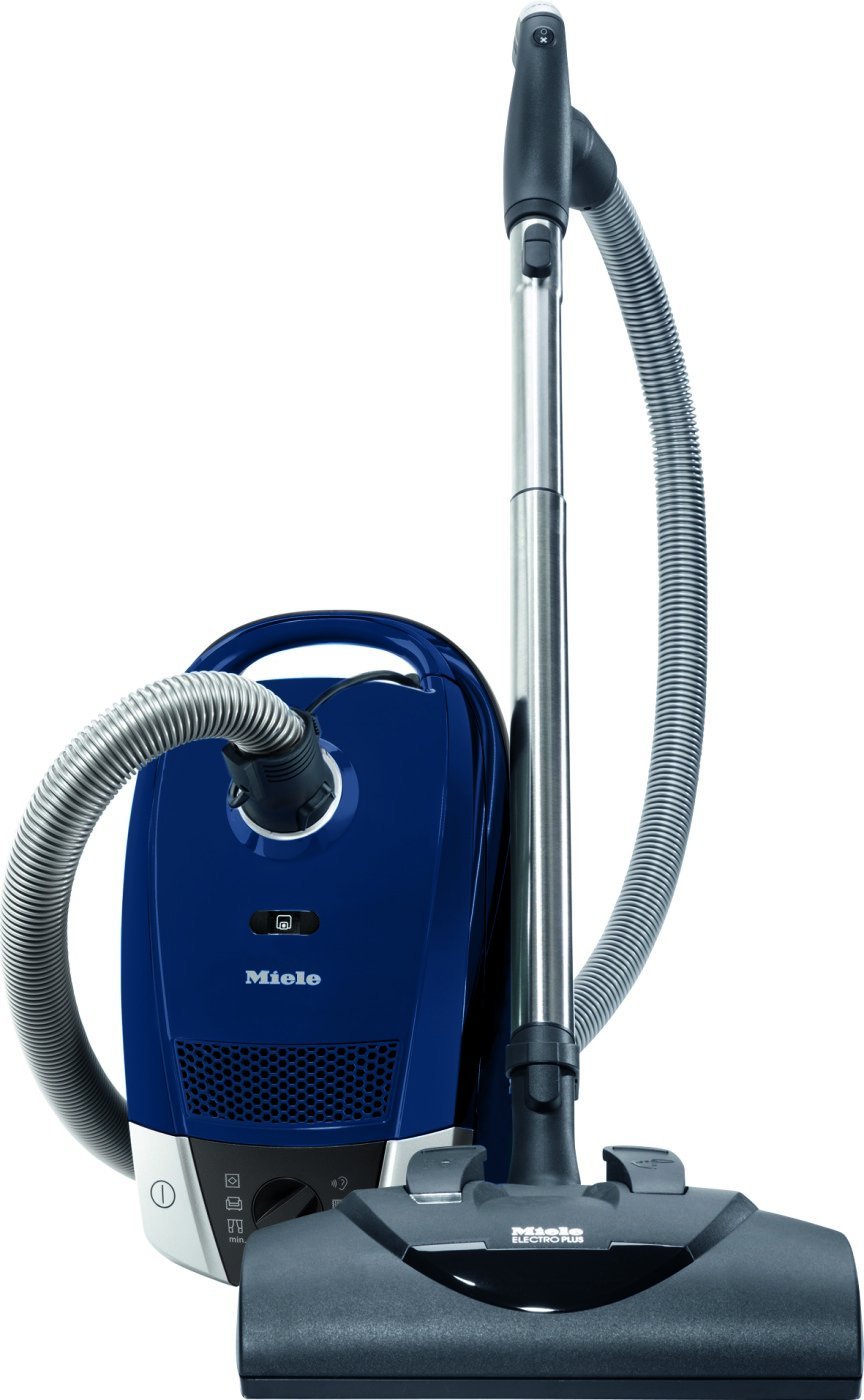 I didn't find anything negative with the Miele vacuum except for the electric cable which could be slightly longer otherwise it's a great lightweight cleaner.
Main Features
Corded bagged cylinder vacuum cleaner that's weighs just 4.7kg.
Turbo tool brush is included to eliminate pet hair.
Charcoal filter to rid the air of pet smells.
Large 4.5 litre dust bags for longer intervals between changing bags.
Self-sealing dust bags to avoid dust escaping back into the air.
 Where Can I Buy The Miele Compact C2 Cat & Dog Powerline?
Dyson V8 Absolute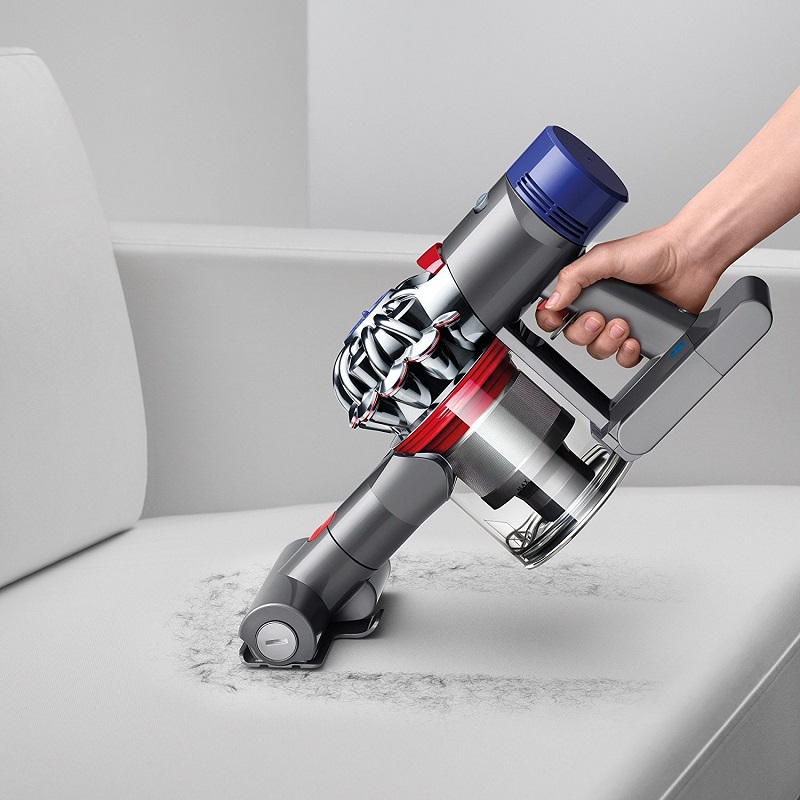 The Dyson V8 Absolute is arguably the best lightweight cordless hand stick vacuum currently on the market. It's scores highly in every aspect and the battery runs for a staggering 40 minutes whilst delivering the most powerful suction found in a cordless vacuum.
This is truly a perfect lightweight cleaning machine but it doesn't come cheap- it's the costliest vacuum on our list.
If you're looking for unrivalled cleaning performance from a small light machine, the Dyson V8 vacuum sets the standard. Expect to find an array of handy attachments to tackle any task. The V8 is a pocket rocket that lets you clean awkward spaces and although it's one of smallest vacuum cleaners, it can replace a full-sized machine and in most cases clean better.
You have the choice between handheld for stairs, ceilings, car cleaning and stick mode for multiple floor cleaning. If you're looking for the best lightweight vacuum the Dyson V8 gets the highest mark.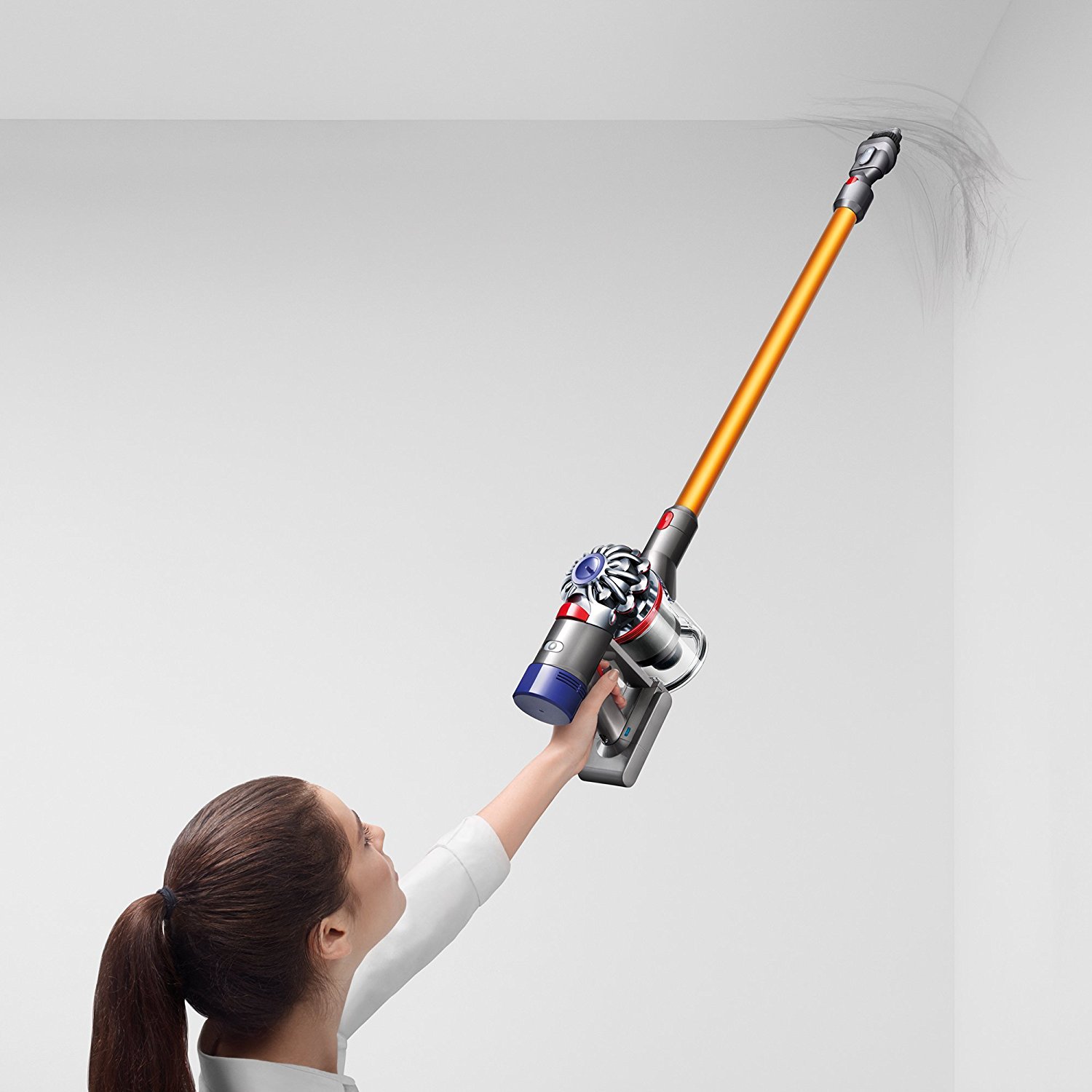 Main Features
Premium cordless handheld stick vacuum cleaner that weighs just 2.61kg.
Great 40 minute battery running time.
Good selection of attachments supplied including various crevice tools and a soft roller cleaning head for hard floors.
Powerful cyclone suction that can replace your current full sized vacuum.
Charging cradle doubles up as storage for attachments
 Where Can I Buy The Dyson V8 Absolute?
Bissell 1984 AirRam
The Bissell 1984 AirRam is a popular cordless upright vacuum that integrates genius design with a lightweight body. Although it's an upright cleaner the machine weighs a mere 3.5kg – this in itself is a design feat. The weight is distributed evenly at the base of the machine meaning that it easy to manoeuvre and lift around.
It doesn't clean as well as some of the lightweight vacuums on our list but is a good second machine to have alongside your primary vacuum cleaner. This is a perfect cordless upright for fast clean-ups. Think little and often.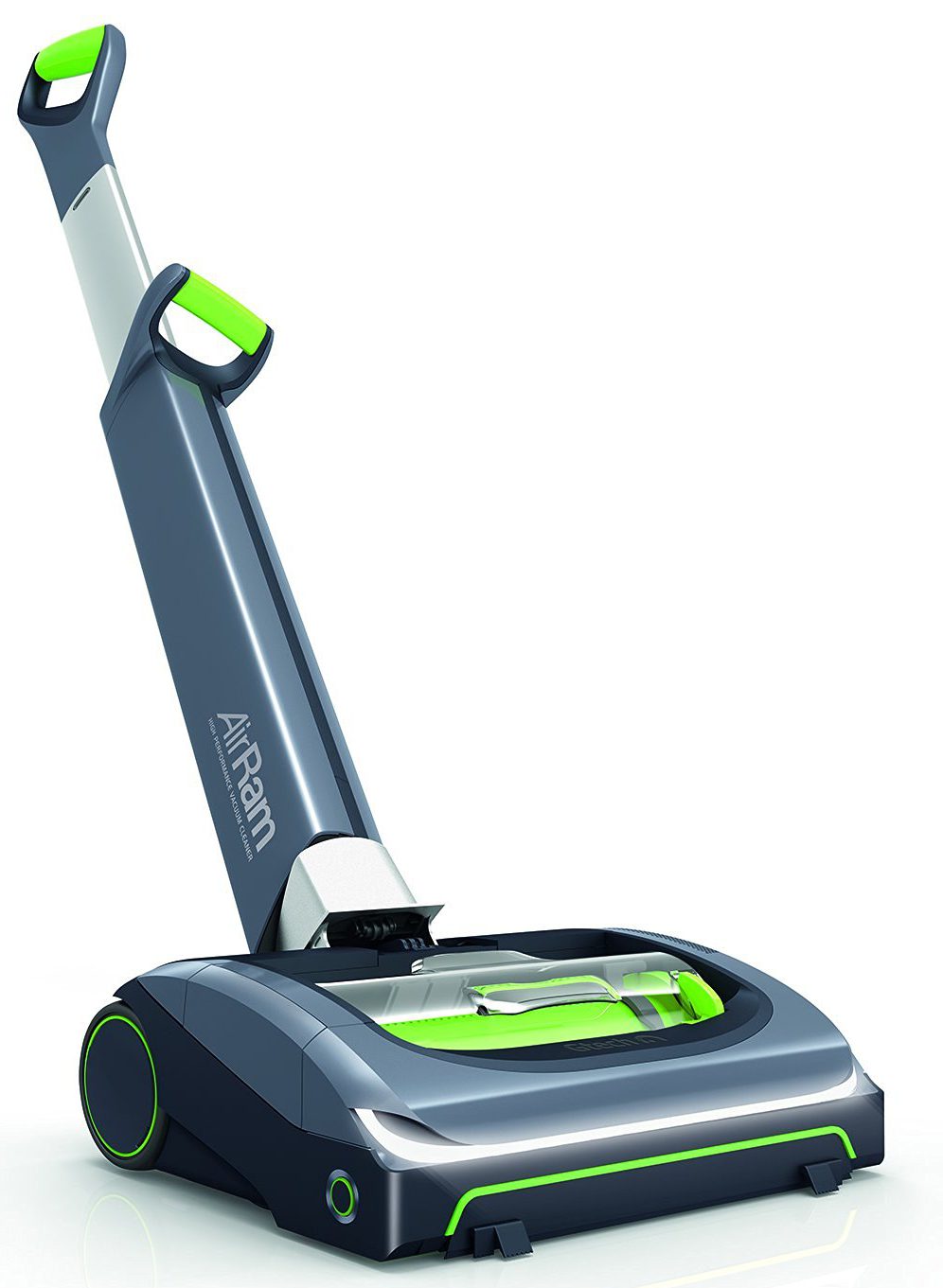 Note that the Bissell 1984 AirRam doesn't use attachments so you'll need your primary vacuum to clean the car interior, stairs and upholstery.
Main Features
Unique cordless upright vacuum cleaner that weighs 3.5kg.
Brilliant 40 minute battery running time.
Boasts exceptional design and a low profile.
Dirt is compacted into the bin and can be emptied out hygienically.
Where Can I Buy The Bissell 1984 AirRam?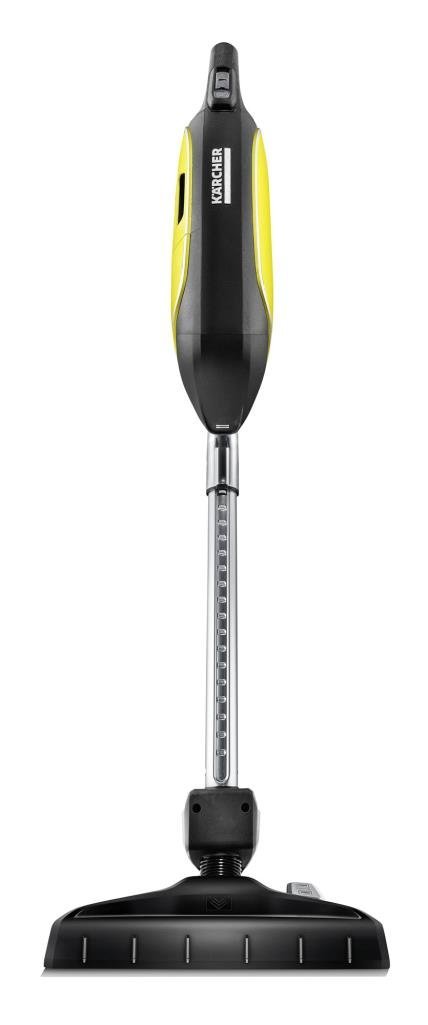 Karcher VC5 Premium
When I think of Karcher I always think of pressure washers but it's good to see that this reliable German brand is expanding their range of vacuum cleaners. The Karcher VC5 Premium is a small lightweight vacuum that performs very well namely when cleaning carpets. It gives impressive results considering it weighs just 3.2 kgs.
Good design is where the Karcher scores high marks. The machine folds down for convenient storage and the extendable tube collapses into the machine's frame so you can use it as a handheld cleaner. The tube can be expanded to reach ceilings or to works as a floor cleaning upright stick.
The slight downside is the cleaning performance on hard floors is not as good as on carpets. The filters need cleaning often to keep it working at its best. All this considered I still recommend the Karcher VC5 for its carpet cleaning prowess and energy efficiency.
Main Features
Compact bagless vacuum cleaner that weighs only 3.2kg (without attachments).
Can be used as a stick or handheld.
A-rated energy efficiency from a powerful lightweight vacuum.
 Where Can I Buy The Karcher VC5 Premium
Conclusion
That sums up my list of the best lightweight vacuum cleaners for the elderly or anyone looking for great cleaning performance from a vacuum that doesn't weigh the earth. Are you thinking of buying a lightweight cleaner from the above list? I'd like to hear your opinions, please leave your comments in the section below.
Our Best Vacuum Cleaner Recommendations