Affiliate Disclosure: I am grateful to be of service and to bring you content free of charge. In order to do this, please note that when you click links and purchase items, in most cases I receive referral commissions. Eventually, I may earn enough to buy a beer or two 🙂 
Before buying a stick vacuum it's good to note what you want from it. Here you can find the best rated stick vacuum cleaners buying guide with great features and reviews. Why is it worth getting one? Convenience. It's great for those quick cleanups that don't require a full-sized machine and it's portable to store somewhere within easy reach.
Prior to trying out stick vacuums, I wasn't convinced that they could provide a thorough clean around my home. To be honest, I thought they looked too small and fragile. But after testing a few, my reservations were swayed. Surprisingly there's a variety of great functions packed within these slim machines to be enjoyed.
Check out our list of the best stick vacuums for your cleaning needs including homes with pets, carpets and hard floors.
---
Suction Power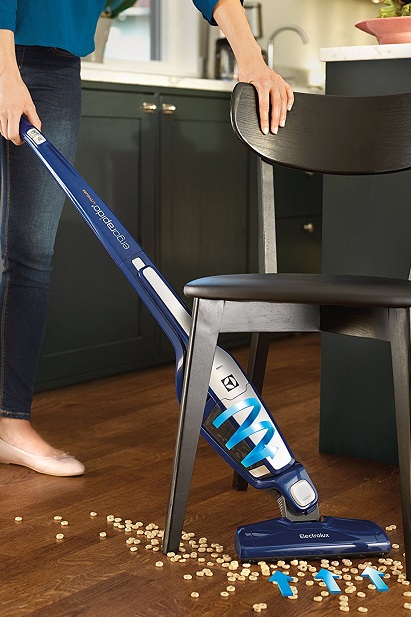 A full sized vacuum usually houses a motor with 8 to 12 amps. The optimum motor on a stick vacuum will be around 5 amp of power or slightly less. This type of suction power is enough to clean medium sized rooms.
Cyclonic suction is a feature that is starting to show up in stick vacuums. Cyclonic separation is the most effective vacuum because it separates the dirt from the air and traps it within the sealed enclosure. But suction power is not the only important feature on a vacuum cleaner.
We also need to look at the ergonomics of a stick vacuum such as the dirt bin size, how easy can you manoeuvre it around corners and underneath furniture, what type of filters are fitted inside and are they washable? These are just a few great functions to be aware of. Read on to see what else can make your cleaning easier when using a stick vacuum.
Check out our list of the best stick vacuum cleaners
---
Corded or Cordless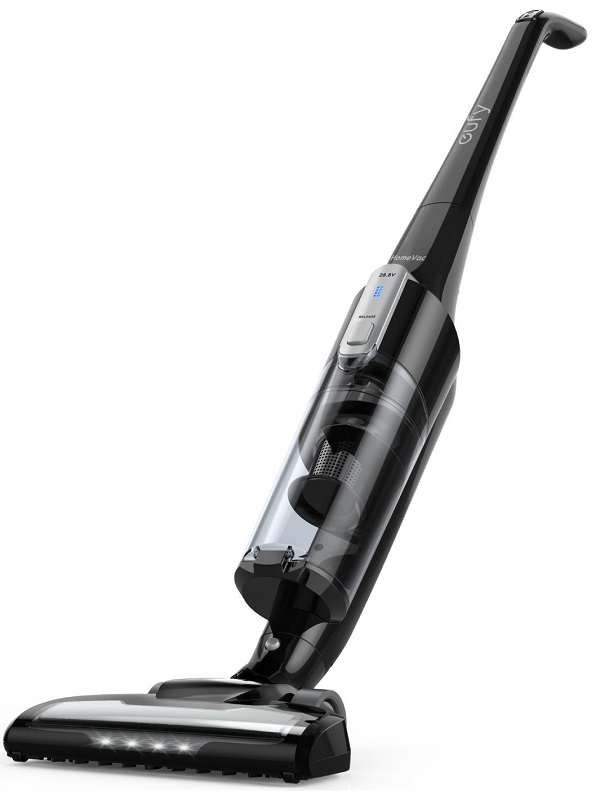 Is it better to buy a corded or cordless machine? I would say it's down to personal preference. A cordless stick vacuum does away with tangled cables and increases your cleaning reach.
There's the convenience of not worrying about finding close plug sockets. The average battery running time of a stick vacuum is between 30 to 60 minutes which gives you plenty of time to get around the house.
With corded machines, you don't need to worry about your vacuum running out of juice halfway through cleaning. There's the benefit of an unlimited power source and corded vacuums tend to have motors with extra oomph.
That being said, the difference in power is not noticeable. Cordless stick vacuums are equally as capable and it's purely down to whether the convenience of a cordless would sway your purchasing decision.
Check out our list of the best stick vacuum cleaners to see which type of appliance you prefer. There's a good selection to choose from.
---
Weight & Portability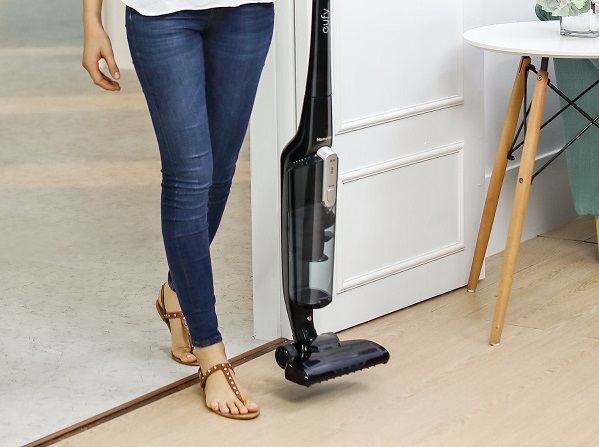 Full sized vacuum cleaners can be heavy. A stick vacuum is light enough to lift between rooms and is portable enough to always be within easy reach. The weight of a stick vacuum is usually between 2 kgs and 4.5 kgs and typically measures 44″ in height, 11″ in length and 5″ wide.
A slim frame lightweight stick vacuum has many advantages such as:
It's easy to keep close by i.e. in the closet. I often keep mine under the sofa for instant access.
The slim design helps you to get in between furniture, under chairs and tables.
A compact vacuum cleaner is quicker to whizz through the house.
You will not strain you back or arms when lifting it up the stairs or over obstacles.
You are more motivated to clean knowing that your stick vacuum is readily available and easy to set up.
Check out our list of the best stick vacuums for all cleaning requirements including homes with pets, carpets and hard floors.
---
Multifunctional
Ideally you should try to buy a 2-in-1 stick vacuum that detaches into a handheld. In addition to vacuuming your floors, this will give you the flexibility to clean above the ground when required.
Areas such as shelves, kitchen worktops, window frames and upholstery are easier to clean with a handheld and can be vacuumed much faster.
Check out our list of the best stick vacuum cleaners
---
Attachments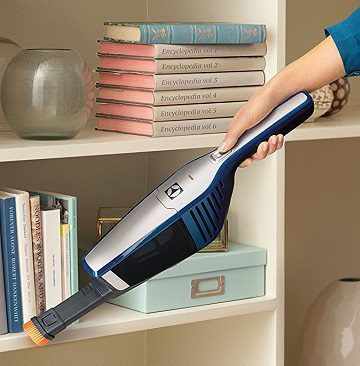 If you decide to get a 2-in-1 stick vacuum, be on the lookout for a crevice tool and dusting attachment which can be attached to the handheld. This makes light work of cleaning small gaps and upholstery.
If your house is mostly carpeted then a stick vacuum with a motorised brushroll is highly recommended. The rolling brush will agitate dirt that would normally stay hidden within the carpet if cleaned with a standard brush.
A motorised brushroll is not as important in a house which mainly has hard flooring. Stick vacuums with cleaning heads specifically adapted for hard floors are readily available. Check out our list of the best stick vacuum cleaners for further details.
---
Filtration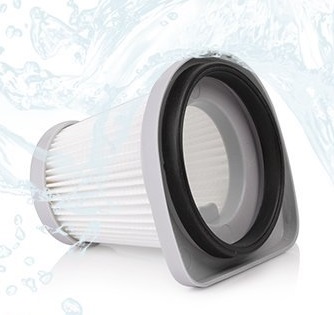 It goes without say, filtration is an important aspect of keeping your home free from dust. The best filters ensure that you can breathe cleaner air and eliminate irritants floating around. I suffer from hayfever so a vacuum cleaner with HEPA filtration is a must.
Not all stick vacuums are created equal and not all of them are fitted with HEPA filters. There's a good choice of HEPA-equipped vacuums on our shortlist of the best stick vacuum cleaners. Find them here.
In addition to the HEPA filter, there should be a pre-filter and both will work together to catch and trap dust. Washable filters are highly favoured. Save money by getting a stick vacuum with washable filters to avoid the extra costs of filter replacement.
---
Dirt Bin
The dirt bins on stick vacuums are normally larger than those found on a standalone handheld vacuum. The largest bin I've tested was almost 1 litre.
We like large bins because they obviously mean fewer visits to the trash can and fewer interruptions part way through vacuuming.
Check out our list of the best stick vacuums best suited for your cleaning requirements including homes with pets, carpets and hard floors.
---
Conclusion
Stick vacuums have come a long way and modern machines are now fitted with more features than ever before.
As consumers, the variety of brands and options swings in our favour because we are given plenty of functionality at a low-cost.
It doesn't matter if you're looking for a 2-in-1 stick handheld, HEPA filtration, motorised tools, there's something on offer for you.
Are you considering getting a stick vacuum cleaner or do you already own one? Please leave your comments in the section below. I'd love to hear your thoughts.
Check out our list of the best stick vacuum cleaners
---
Our List of the Best Vacuums