Affiliate Disclosure: I am grateful to be of service and to bring you content free of charge. In order to do this, please note that when you click links and purchase items, in most cases I receive referral commissions. Eventually, I may earn enough to buy a beer or two 🙂
What Is The Best Black + Decker Hand Vacuum?
Cordless vacuum cleaners are not created equal, it can be easy to buy a cheap unit with terrible suction. I've found a low-cost handheld vacuum that cleans everything from carpets and hard flooring to high reaching areas and tight gaps. The
BLACK+DECKER 20V MAX Lithium Flex Vacs is incredibly versatile thanks to the included stick vac attachment with a floor cleaner head and a four-foot extendable hose. Pet owners will be glad to know that a specialised pet brush is included to eliminate animal hairs.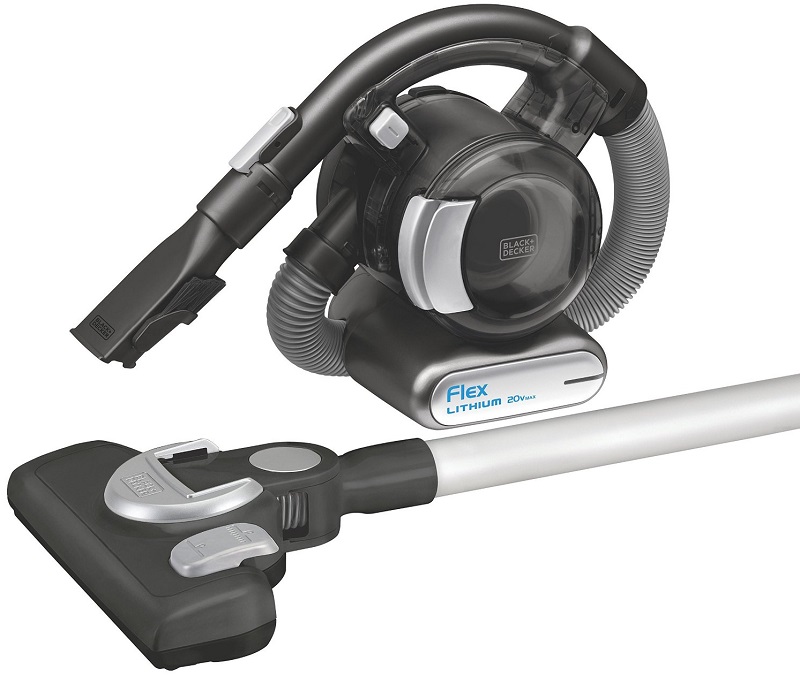 Not only is the Black + Decker hand vacuum portable but it provides a convenient solution for multi-functional cleaning at a fraction of the cost of premium brands.
Use the Flex Vacs to clean the entire house in less time than a full-sized vacuum, and it is a great way to clean car interiors without worrying about plugging in cables.
The unit is lightweight and sports a high-grade 20V MAX lithium-ion battery that delivers great suction power to tackle dust and dirt.
---
Convenience and Maintenance
The latest Flex Vac is equipped with a detachable, cleanable filter and bowl for easier maintenance. The Black + Decker vacuum comes with storage for accessories and a charging station. In addition to the stick attachments and pet brush, you are provided with convenient tools including a crevice attachment and a flip-up dusting brush for furniture, surfaces and drapes. There is a tool for every cleaning task whether it is hard-to-reach areas, stairs or different floor types.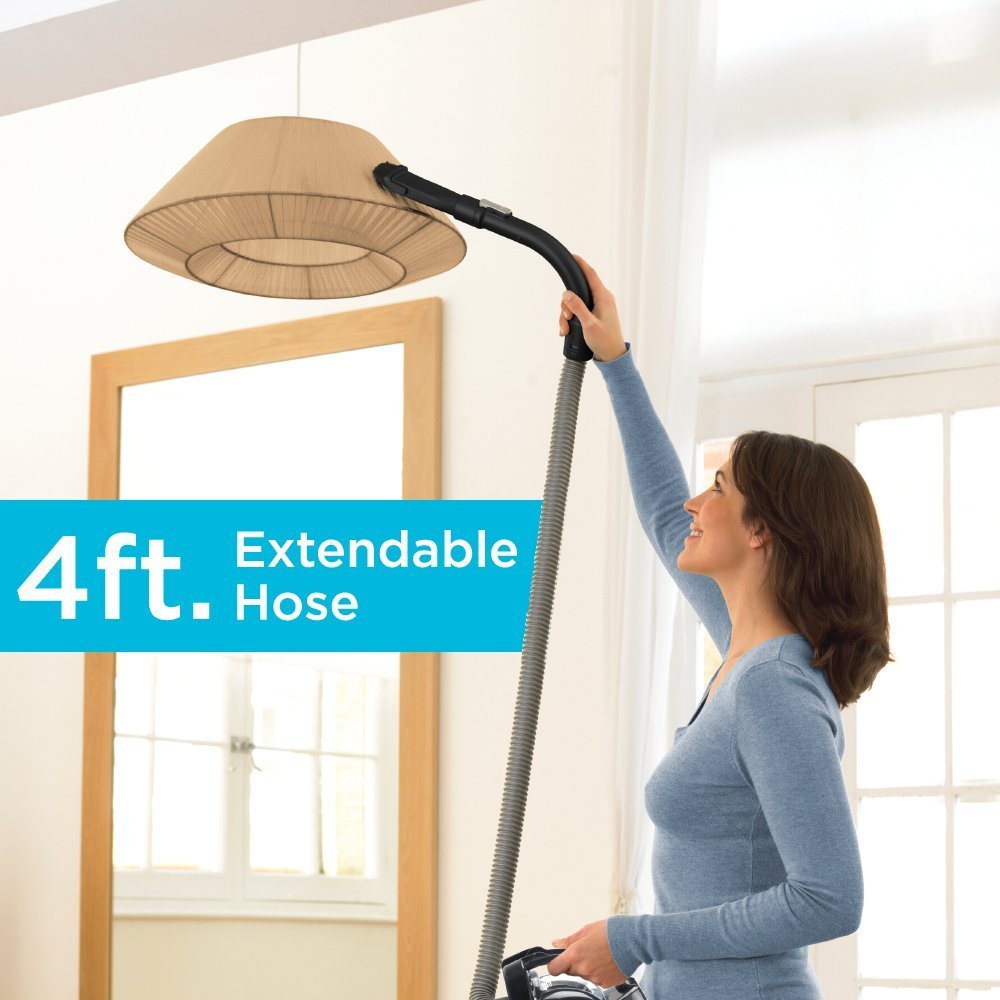 What Does BLACK + DECKER offer?
The Black + Decker brand has been around for more than a century and has established itself as a company that builds dependable market-leading products. Their range of vacuum cleaners are synonymous with the brand's high standards. I've tested various Black + Decker handheld vacuums and I'm always impressed at the balance struck between affordability and multi-functional cleaning.
---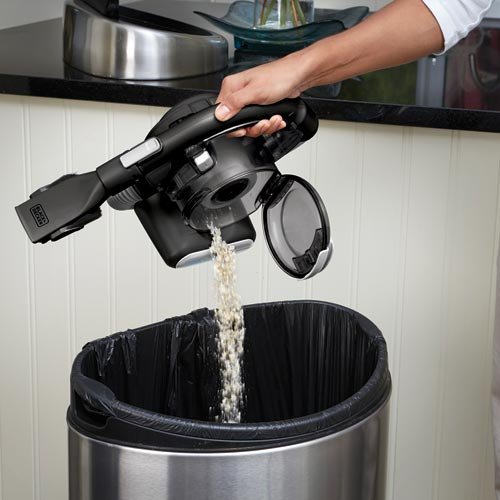 Flex Vacs Feature Summary
The Flex Vacs cleaner is lightweight, powerful and versatile for any household.
The long flexible hose helps to clean high reaching area and awkward compact spaces.
The stick attachment and floor head extend the functionality of this handheld for it to clean any type of floor and bigger cleaning tasks.
Cyclone power drives dirt from the filter to keep the suction at its optimum.
I like that the bowl can be emptied easily and the filter/bowl can be washed.
There's a good variety of tools provided to tackle any type of cleaning around the house.
---
Black + Decker Flex Vacs Performance
The Flex Vacs is in the low price range, which means the possibility of low suction performance that is experienced with vacuums in this price bracket.  Thankfully this isn't the case with the Black + Decker hand vacuum. I was keen to test the floor cleaner head that accompanied the machine, the suction was a lot stronger than I had anticipated and was maintained throughout the job. My house has a mixture of hard floors, carpets, rugs and plenty of awkward spaces that can often make cleaning difficult.
The Flex Vacs performs a lot better than Dirt Devils and Dust Busters and will last much longer. It is handy for cleaning up floors after parties and for bigger jobs such as vacuuming the whole house. I remember using the Black + Decker vacuum whilst my sister was visiting and she was so impressed by its performance that she bought one the next day.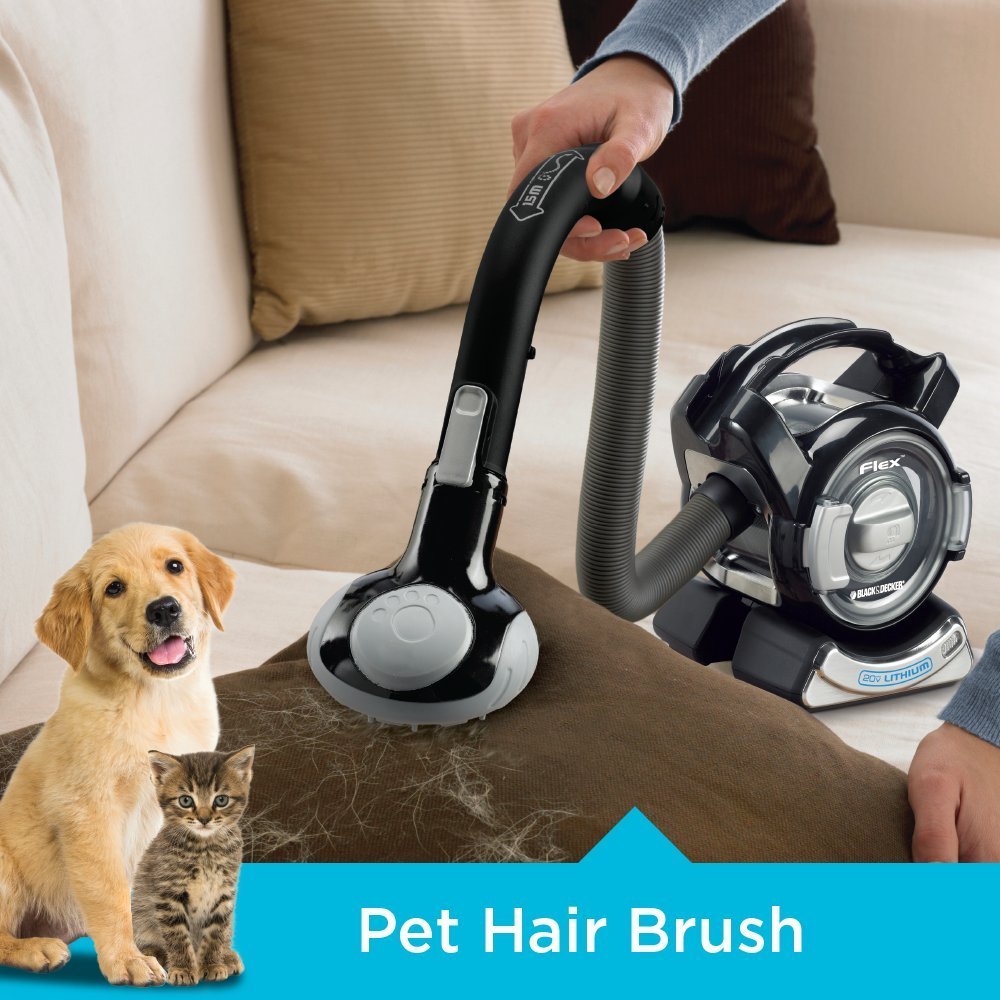 when cleaning I normally use the machine between 20 – 45 minutes and during this time my tasks will range from cleaning stairs, furniture, chandeliers, living room, kitchen, 3 bedrooms, office and a bathroom. The suction never fades and I like that it is instantly available for quick clean-ups. I store it under the kitchen sink for easy access. I've got energetic kids and a pet that sheds a whole bunch of hair and the Flex Vacs is the perfect vacuum to deal with the variety of cleaning demands.
I've used the vacuum several times to clean the car interior and found it to be easier to handle compared to some of the other brands that I've tried. It doesn't completely replace the need for a full-sized vacuum because it won't deep clean carpets but it is great for quick cleanups and topping up a deeper clean.
Prior to owning a handheld vacuum cleaner, I found it annoying when I had to unpack my full sized vacuum to clean small amounts of mess. I'm thankful to own a Black + Decker handheld that takes away the inconvenience of lugging out a big vacuum cleaner.
---
Pros:
It's easy to assemble and attach tools to the main unit. 
The charging station has a convenient design that allows you to slot the vacuum straight on without worrying about plugs. It also doubles up as storage for tools.
Charging is quick and you never need to worry about the battery overcharging thanks to the automatic cutoff switch.
Long battery power that can easily give enough power to clean an entire house. My home is on 3 floors and it usually takes 45 minutes to vacuum all the floors and the stairs. The vacuum didn't lose suction at any point and it provided plenty of power to lift pet hair, dust and cereals.
Tools are easy to attach and remove. The pet hair tool was effective and it eliminated all traces of animal hair.
A large bagless dirt bin that doesn't require frequent emptying.
Great vacuum design that is easy to handle and light enough to avoid wrist strain.
Cons:
The machine is loud because of the high suction power. You can also hear the dirt spinning around in the bin. This is a minor issue when you consider the benefits.
Floor tool is better on hard floors than carpets and rugs.
There's only space for 2 attachments on the charging base.
Emptying the dirt bin is a bit awkward, you need to tilt the whole machine on its side and position it directly over the trash can.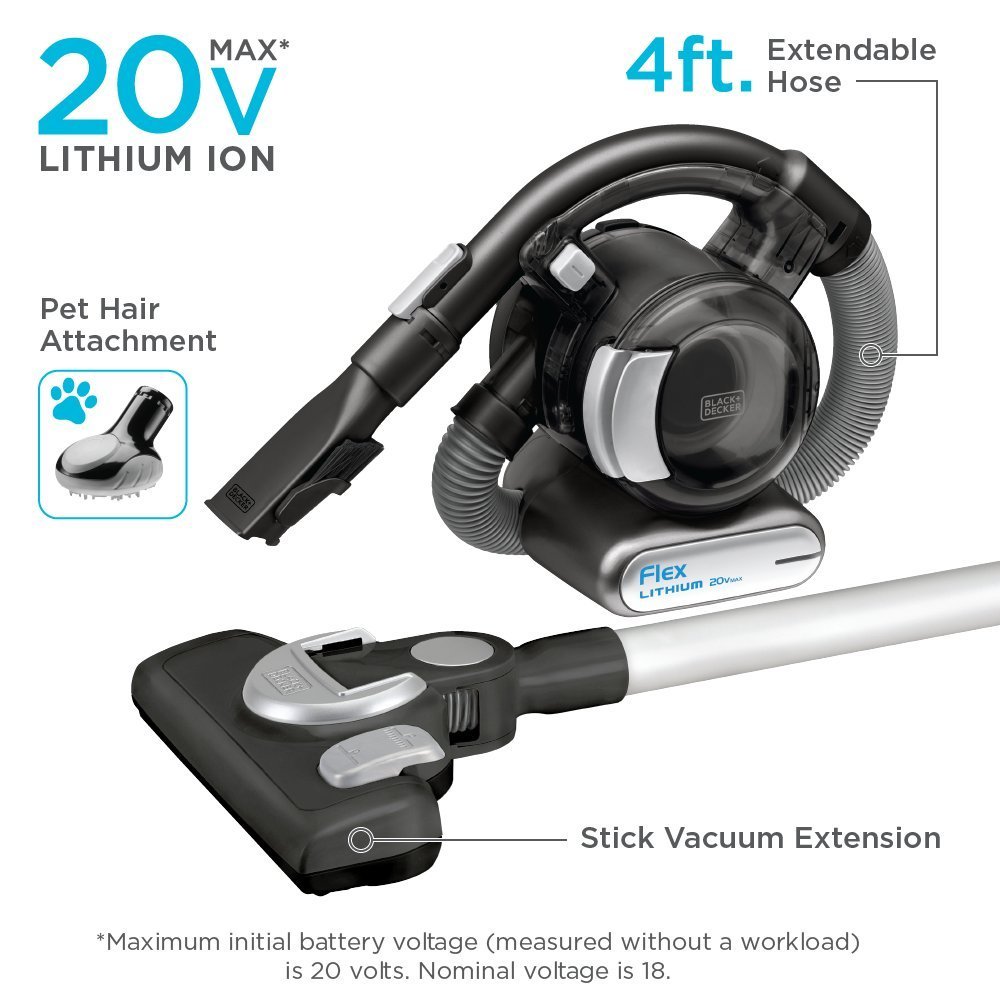 BLACK+DECKER BDH2020FLFH MAX

Product Rating

Excellent cleaning and versatility are what the Flex Vacs is all about. Whether you're a pet owner in a busy household or a singleton in a small apartment, this handheld vacuum will clean anywhere you take it. It is equipped with a great range of attachments to clean all areas of your home and it has received a huge amount of positive feedback from customers.

If you're looking for a portable, affordable and reliable hand vacuum, the BLACK+DECKER BDH2020FLFH MAX is a great addition to your home.

Product Score: 8 /10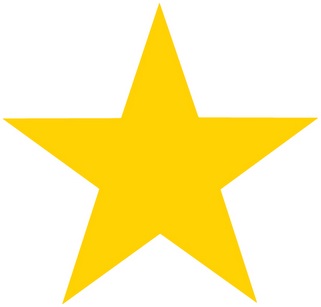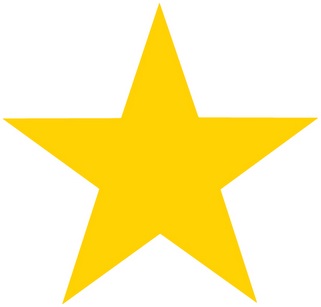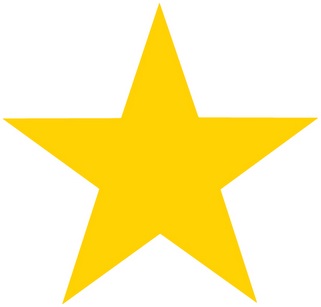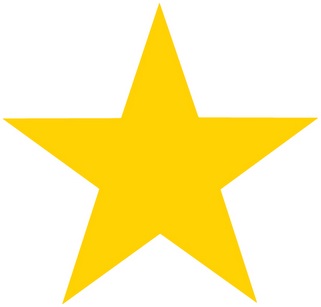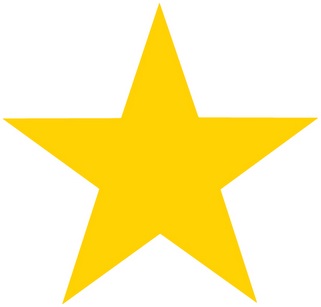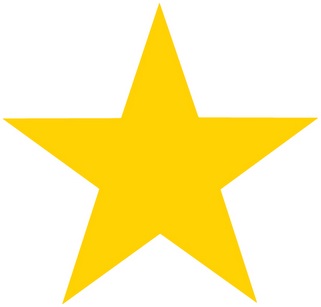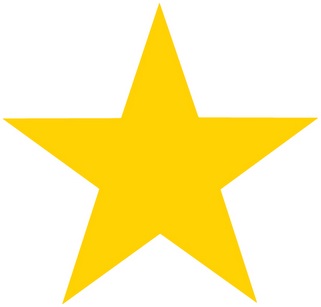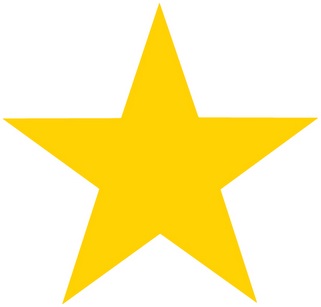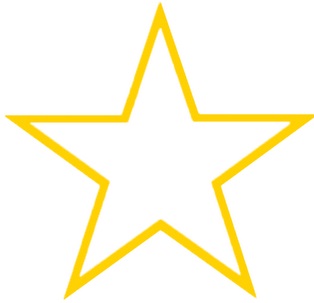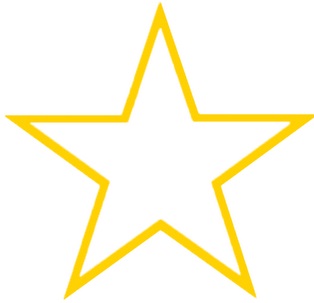 ---
 Where to Buy
BLACK+DECKER BDH2020FLFH MAX Vacuum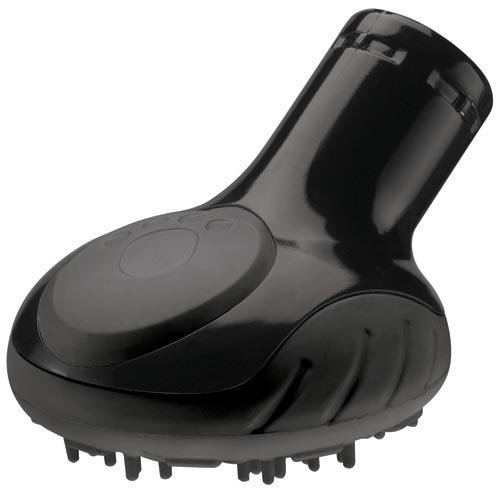 What's included in the Box:
Vacuum with 4 ft. flexible hose x 1
Stick Vac floor head x 1
Pet Hair Brush x 1
2-in-1 nozzle/brush tool x 1
Long crevice tool x 1
Charging base x 1
Washable filter (model PVF110) x 1
---
The Bottom Line
Is Flex Vacs the best Black + Decker hand vacuum? Yes, it is a low-cost vacuum cleaner bundled with multiple tools to make light work of any cleaning task. It is a great buy for anyone looking for a reliable ultra-compact vacuum that isn't constrained by electric cables or poor battery life. Maintenance is also at its cheapest thanks to the washable filter and bagless dirt bowl.
Are you considering buying the BLACK+DECKER BDH2020FLFH MAX Lithium handheld vacuum or do you already own one? Please leave your comments in the section below. I'd love to hear from you.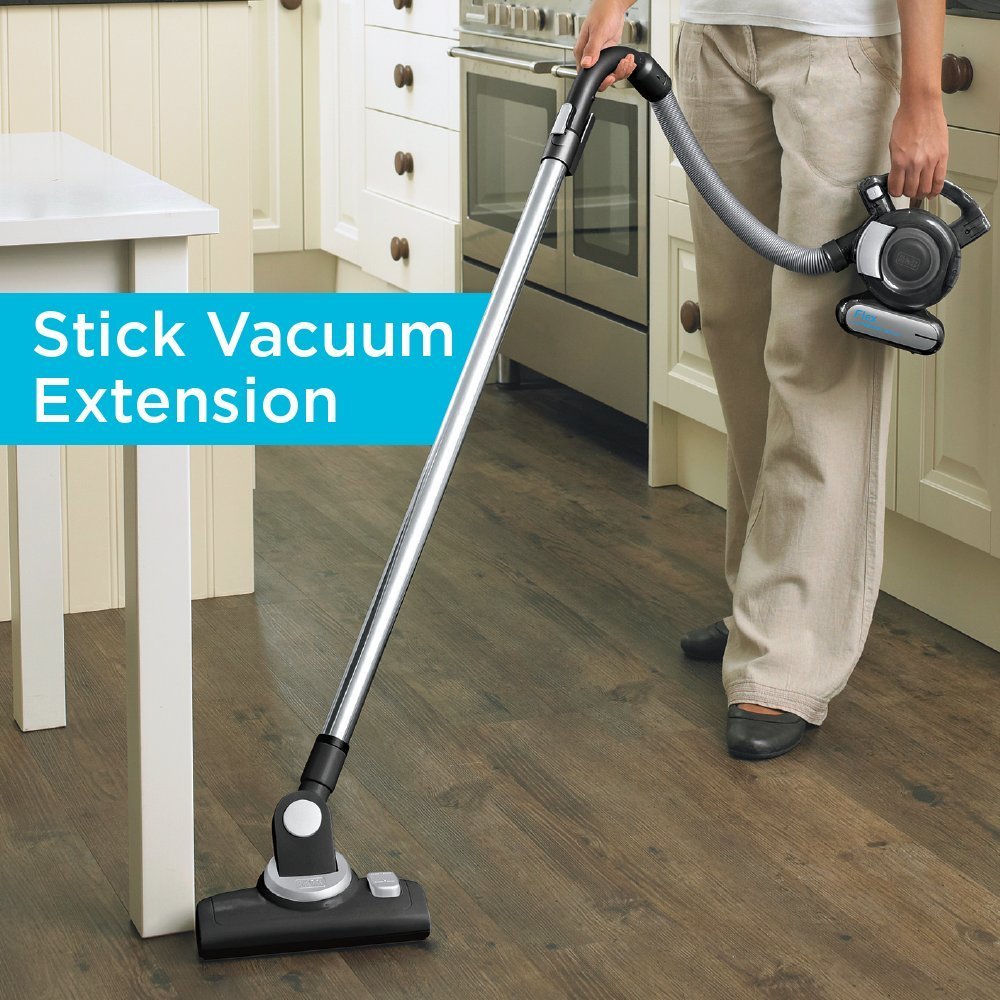 ---
Our List of the Best Vacuums