Affiliate Disclosure: I am grateful to be of service and to bring you content free of charge. In order to do this, please note that when you click links and purchase items, in most cases I receive referral commissions. Eventually, I may earn enough to buy a beer or two 🙂
What is the best vacuum cleaner for stairs? My least favourite task is cleaning the stairs. Thankfully, with the correct vacuum I can get the job done quicker and avoid straining my back or arms. It goes without saying that upright vacuum cleaners are not practical for cleaning stairs unless it comes with an extension hose and compatible attachments.
I would highly recommend a lightweight cordless handheld vacuum for stairs. I like the freedom of a cordless vacuum to avoid tangling wires and looking for the nearest plug socket, but if you prefer a corded machine there's a good selection on the market. I've split the review into 2 sections i.e. cordless and corded.
What is The Best Cordless Vacuum Cleaner For Stairs?
I'll start off with my top ranking cordless vacuum cleaner for stairs. I've picked the Dyson V6 Animal because it strikes a good balance for remarkable cleaning power, adequate battery life and convenient accessories. Dyson V6 has also recently been reduced in price and is considerably cheaper than its big brother Dyson V8.

I've tested other brands but I'm yet to find one that rivals the cordless suction power of Dyson handhelds. There's a noticeable difference when you see how much dust, carpet fluff and animal hair is collected by the Dyson V6 compared to alternative brands.
The battery running time is 20 minutes but I can usually get 2 flights of stairs cleaned in 5 minutes and have enough charge left to clean other areas. The most impressive feature is the max mode which cranks up the suction force for 6 minutes- I accidentally split some candle wax on the carpet and was able to suck it up the dried wax using the mini motorised head on max mode.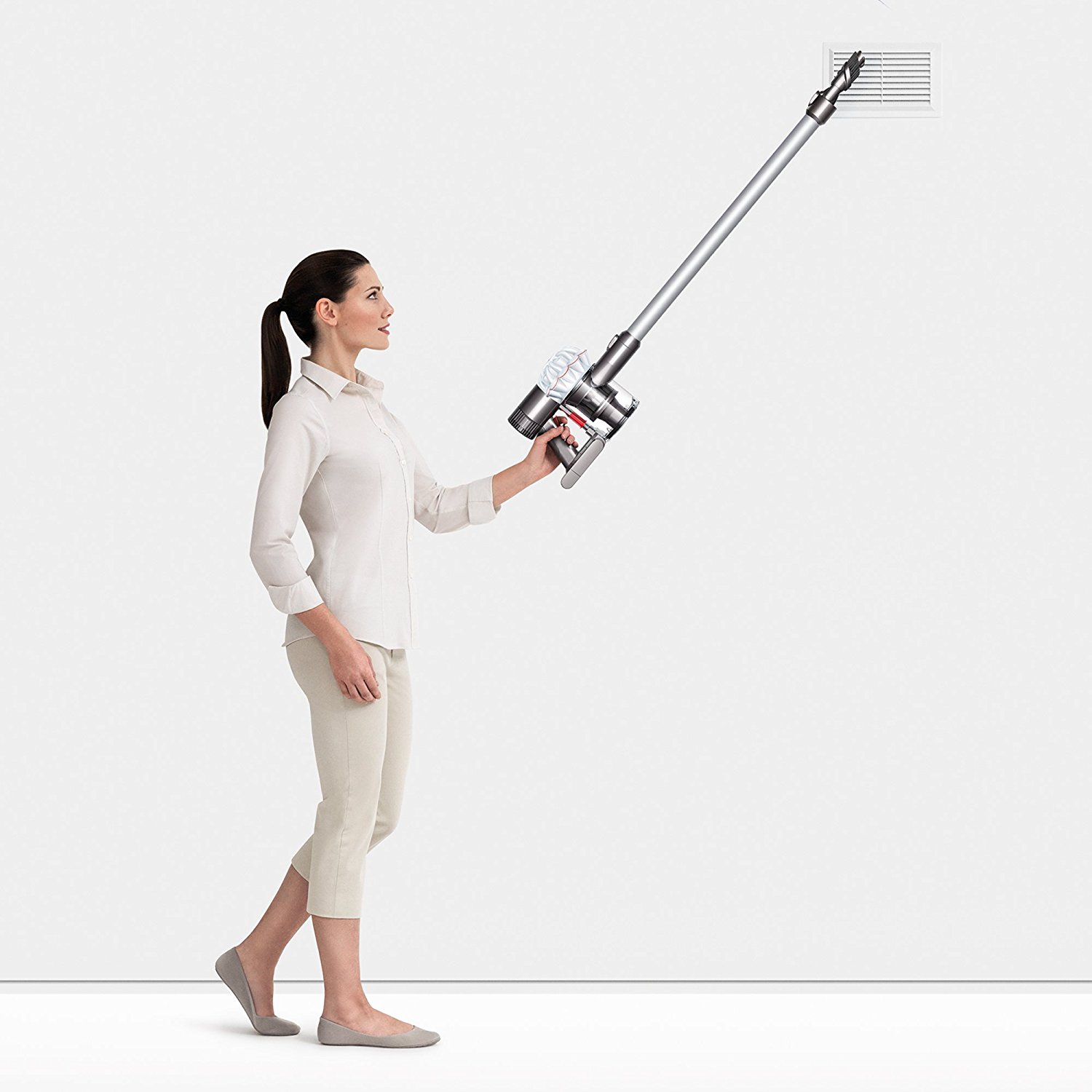 How did Dyson manage to get all that power in such a small machine? The Dyson V6 is driven by a special small digital motor that spins at up to 110,000 rpm to generate incredible suction. You will also benefit from the cyclonic power. The vacuum is fitted with 15 cyclones that generate powerful force to catch dirt and debris.
Bear in mind that the Dyson V6 weighs a meagre 2.3 kgs but often cleans better than some of the full-sized vacuum cleaners that I've used.
You are supplied with a mini motorised head, crevice tool and combination tool. I've found that that mini motorised head is the best attachment to use for stairs because it's fitted with stiff bristles to agitate the carpet and lift up stubborn dirt. The tool has a good width for awkward angles i.e. not too wide or narrow.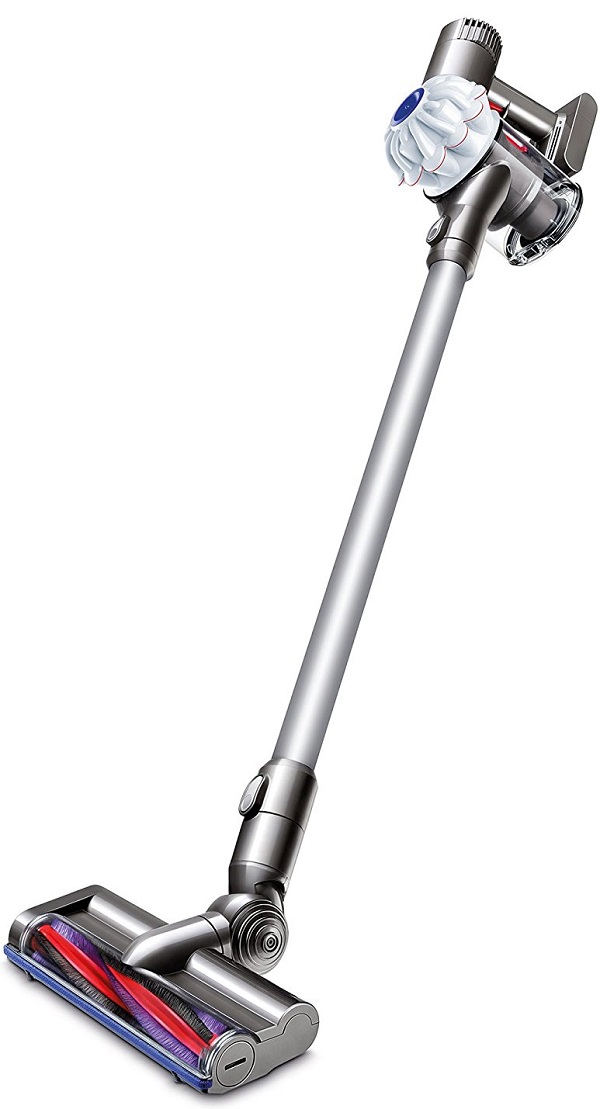 The dirt bin should be emptied regularly but this is made easy using the one-click emptying button that will open the bin lid at the bottom of the machine to dispose dirt straight into your bin.
The advantages of spending a little extra to buy a Dyson V6 Animal is that you are guaranteed many years of reliable performance.
Dysons are built to last, are supplied with strong attachments, lifetime filters and Dyson machines don't break easily. Additionally, the suction power means that you spend less time cleaning because it saves you from going over the same areas.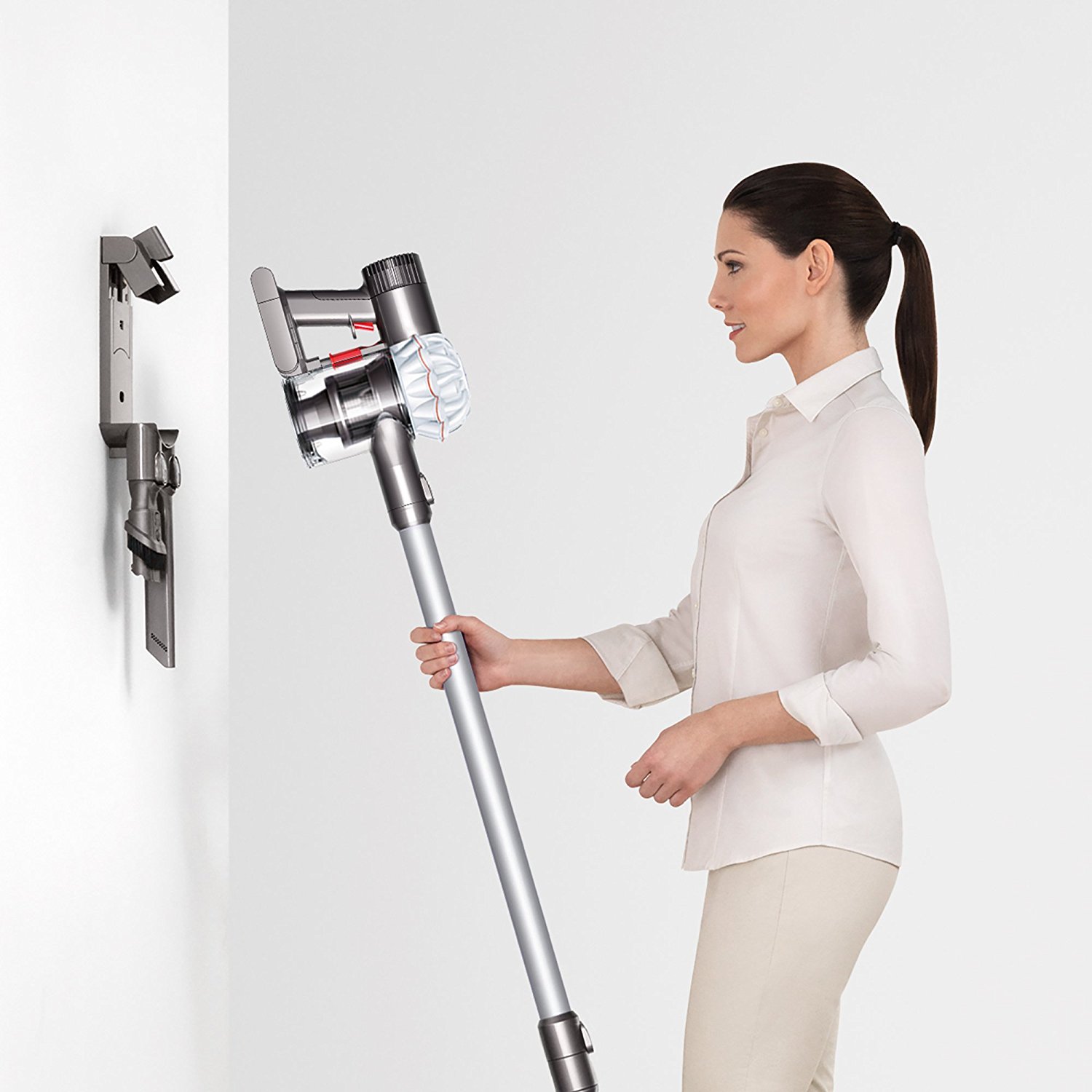 If you are debating which cordless vacuum cleaner to use for your stairs you won't find a better machine for the money.
Where To Buy The Dyson V6 Animal
What is the Best Corded Vacuum Cleaner For Stairs?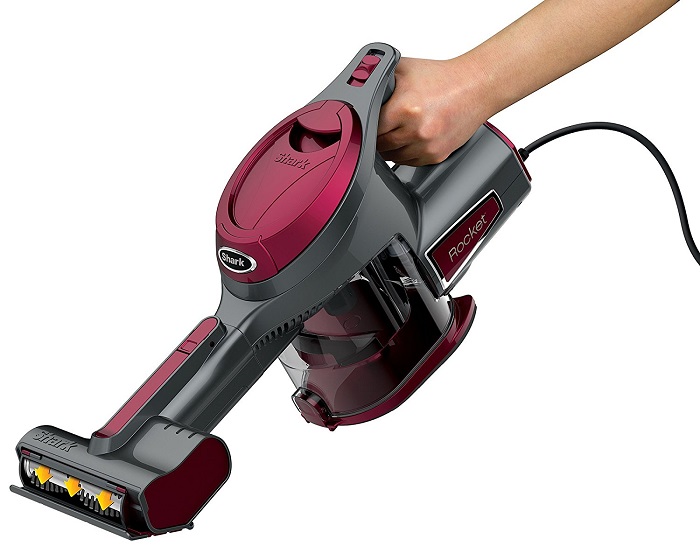 If you'd prefer a corded handheld vacuum fear not. The Shark Rocket Corded Hand Vac (HV292) is a powerful handheld that cleans stairs fantastically owing to the strong suction.
If you're searching for a corded machine to tackle stairs quickly and effectively you won't find a better vacuum.
The Shark Rocket HV292 has a robust body and cleverly designed handle for easier control. The dirt container is simple to empty, the filters are washable and located in their own easily accessible compartments. Similar to the Dyson V6 the dirt bin features a simple dirt emptying mechanism that disposes mess within seconds.
The vacuum can clean up animal hairs with minimal effort and plenty of pet owners favour this vacuum for its brilliant performance at getting their carpeted stairs free from pet hair. You are supplied with a good set of attachments for other tasks as well. There's a flexible extension hose that adds extra convenience when trying to reach small spaces.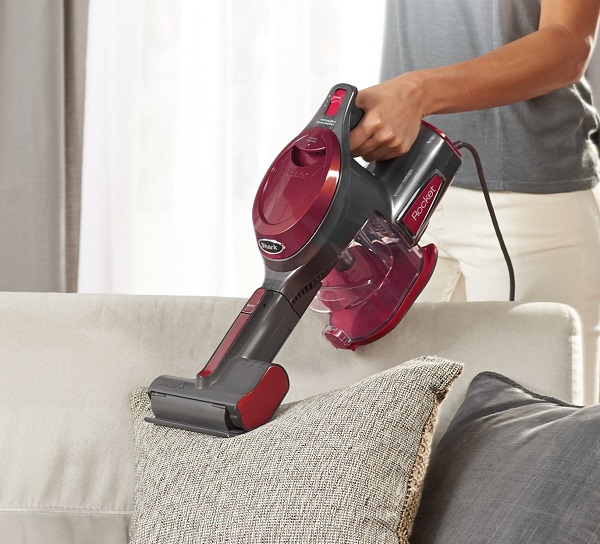 Additionally, the Shark vacuum comes with a 12" crevice tool, dusting brush and TruePet Motorized Brush. The Rocket HV292 is especially handy if you want to benefit from speedy cleaning up of stairs and other areas of your home.
The extra-long cable avoids the need of constantly changing plug sockets although there's nowhere to wrap the cord on the machine when not in use. The absence of cord storage is a minor niggle that shouldn't deter you from buying this great handheld vacuum.
I like that the Shark rocket is bagless to save money on the cost of bag replacement. It's also lighter than it looks and the strong suction is impressive for a vacuum this size. The washable filter should be cleaned monthly to keep the vacuum running at its best. Filter washing should take no longer than 5 minutes and Shark has designed the machine to provide stress-free access to them.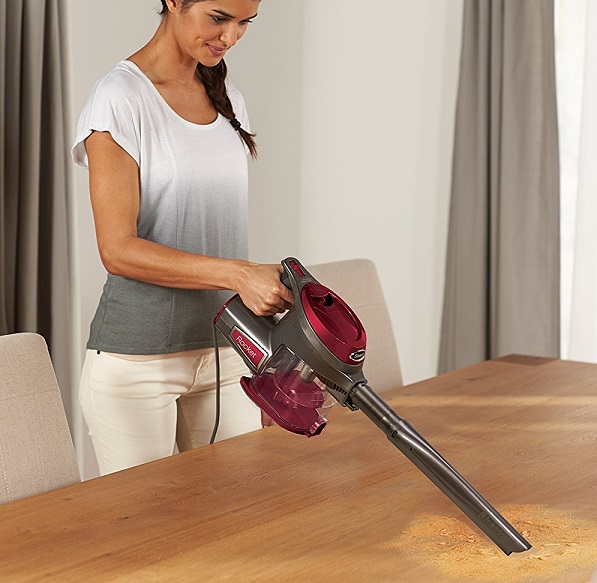 The motorized pet brush works well on stairs but not as good as the mini motorised head that comes with the Dyson V6.
This is because the Shark motorized brush is wider and larger thus making it slightly rigid when working its way through the stairs. I wouldn't let this detract from the vacuum's performance. The tool is more than sufficient when compared to similar motorized brushes except for Dyson.
The Shark Rocket HV292 ranks high for anyone looking to buy a low-cost corded vacuum cleaner to use on stairs and any other areas that are difficult to clean with bigger machines.
The Shark hand vacuum delivers 400 Watts of power and is suitable for multiple surfaces. The cable length is 4.57 meters and the machine weighs just 1.67 kgs.
Where To buy the Shark Rocket HV292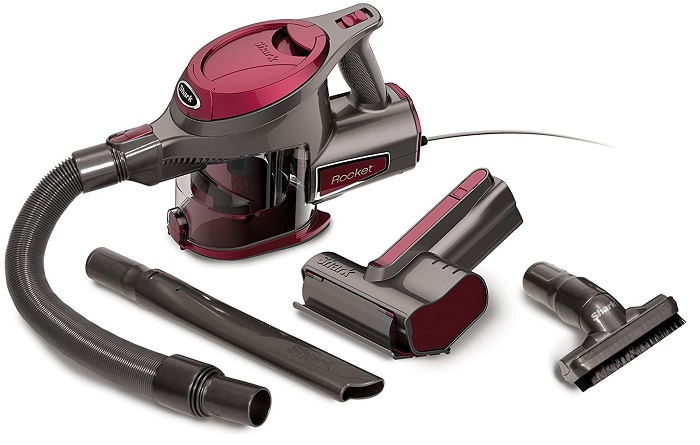 Conclusion
What is the best vacuum cleaner for stairs? The above shortlist should make it easy to choose one that suits your requirements. You just have to decide if you prefer a corded or cordless vacuum. That concludes my summary of the leading vacuums for your stairs.
Are you thinking of buying a convenient vacuum cleaner from the above list? I'd like to hear your opinions, please leave your comments in the section below.
Our Best Vacuum Cleaner Recommendations