Affiliate Disclosure: I am grateful to be of service and to bring you content free of charge. In order to do this, please note that when you click links and purchase items, in most cases I receive referral commissions. Eventually, I may earn enough to buy a beer or two 🙂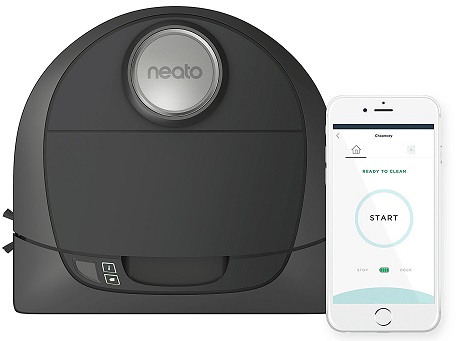 Robot vacuums are here to stay. Arduous vacuuming is a thing of the past and I'm here to help you find the best rated robotic vacuum cleaner.
These machines combine the best parts of vacuuming and sensor technology to deliver hands-free floor cleaning.
If you are looking for a way to get more house cleaning done without adding extra time to your day or if you live in a busy household and can't seem to keep the floors clean, I'd recommend investing in an autonomous robot vacuum cleaner so you don't need to worry about vacuuming.
What Type of Robot Vacuum Cleaner Should You Buy?
After reviewing various brands I would recommend keeping away from cheap makes that are fraught with battery problems and tend to clog up quickly.
You should stick to brands such as Neato, Eufy, iLife or Dyson (if your budget permits it).
Take the Botvac range from Neato which gives a high level of suction power, premium mapping sensors for precise route guidance and a customizable cleaning program that works around your day-to-day schedule.
Robot cleaners provide you with the ultimate convenience giving you time to focus on something else, be it cooking or even just chilling out.
Recommended read: Follow this link to review our list of highly rated robot vacuums
What To Expect From A Robot Vacuum Cleaner
#1 Robot Vacuum Portability:
Robot vacuums are small. The minute dimensions allow the robot to venture further into areas that are harder to reach with a larger sized vacuum cleaner. With its slim profile, you can expect your robot to clean underneath coaches, furniture and bed frames.
Keep an eye out for robots with automatic height adjustment particularly from the Neato brand, which cleverly changes the machine's height to fit between tight gaps or to lower itself if it gets stuck in a narrow space.
Recommended read: Follow this link to review our list of highly rated robot vacuums
#2 Suction Power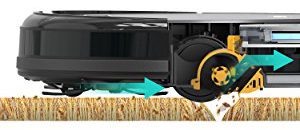 Surprisingly, even though robot vacuum cleaners are small they pack a punch of high suction power. Stick to recommended brands and you can expect enough suction to lift up troublesome dirt and grime hiding in your carpets and rugs.
The latest robot vacuums are equipped with around 1000Pa of suction power which is more than enough to deliver a deep clean throughout your home. Given the compact size of a robot cleaner, I wasn't expecting it to vacuum my floor as good as a larger machine, but walking into the house after a busy day to find immaculate floors couldn't make me happier. Robot vacuums work!
#3 Bin Size & Emptying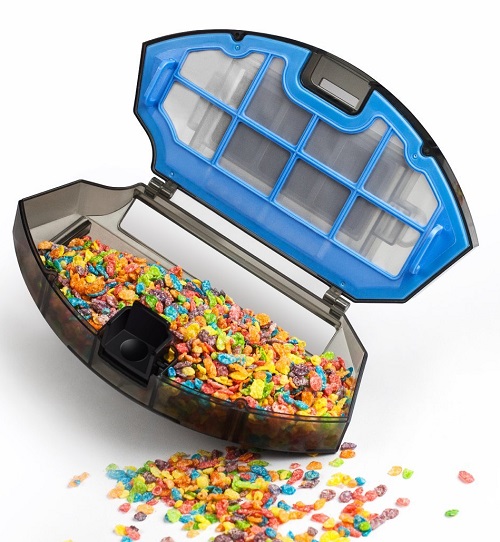 You're probably thinking that the dirt bin inside a robot vacuum is tiny. Earlier robot models housed a modest bin capacity of about 300-400 litres. Fast forward to the present day and the size of robot bins has grown to an impressive 600 litres which are similar to the capacity found on handheld vacuums.
Emptying the bin couldn't be any easier. Models such as Eufy, Neato and iLife are designed with smart emptying systems for quick dirt disposal.
It shouldn't take you longer than a minute to empty out the bin so that your robot can get on with house cleaning.
Recommended read: Follow this link to review our list of highly rated robot vacuums
#4 Battery Life
The battery running time on top-rated robot vacuums is impressive. They can run between 1 – 2 hours between charges. Be sure to look out for robots equipped with high-quality batteries such as Lithium Ion or Nickel Metal Hydride.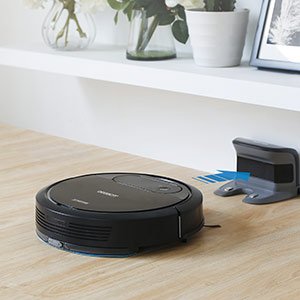 These grades of batteries will last much longer, are less susceptible to damage and require less replacement.
Smart robot vacuums come with charging docks to automatically recharge the battery without needing help. When the robot detects a low battery it will automatically return back to the dock for a refill. Charging takes between 2-3 hours but once complete the robot will return to the area it left off and continue.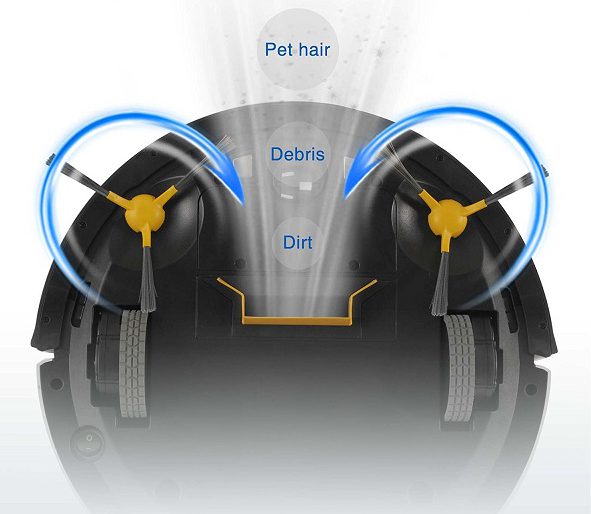 #5 Brushes
In addition to powerful suction, your robot should be fitted with sides brushes to sweep dirt towards the suction inlet. The brushes also help sweep dirt from the corners and edges of the room that would be harder for the suction to reach.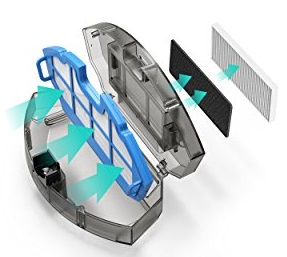 #6 Robot Vacuum Filters
Vacuum cleaner filters are very important to prevent the machine from clogging up and maintains optimum suction power. Some premium robots are installed with HEPA filtration to clean the air as it travels through the machine. Allergy sufferers can benefit hugely from HEPA filters as they get rid of airborne allergens.
Robot vacuums are fitted with different types of filters. The Primary filter traps bigger pieces of dirt such as cereals, pet hair and breadcrumbs. Foam filters trap smaller particles such as dust. The best robots will be equipped with all 3 types of filters.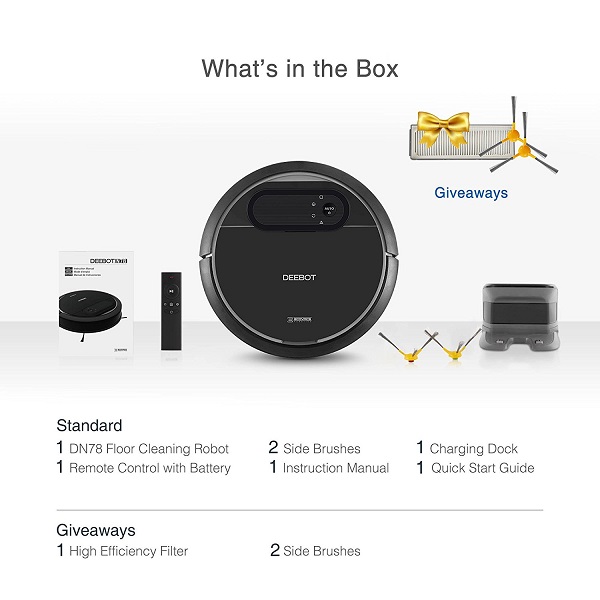 # Robot Vacuum Accessories
What kind of accessories should you look out for when buying a robot vacuum cleaner? A charging dock is a must-have. The dock is a convenient way for the robot to clean and return to the station whenever the battery has to be topped up.
Side brushes should come as standard but some models will be shipped with extra brushes. Spare brushes are an added bonus.
A remote control to program your robot is always a nice touch. You can manually turn on the robot for a random clean without having to get up and you can also program in a daily cleaning schedule.
Robot vacuums such as the Neato Botvac or the Deebot come with a mobile app so that you can control the machine remotely whilst you're not at home. You can also monitor progress and battery power.

Recommended read: Follow this link to review our list of highly rated robot vacuums
Conclusion
Should you buy a robot vacuum cleaner? Definitely! You can reclaim your time back that would have been spent vacuuming. Coming home to a clean house is something that I now look forward to. There's heaps of convenience to be had with an autonomous robot cleaner. Click this link if you want to find high-performance robot vacuums that will transform your home to keep it as clean as it deserves to be.
Our List of the Best Vacuums