Affiliate Disclosure: I am grateful to be of service and to bring you content free of charge. In order to do this, please note that when you click links and purchase items, in most cases I receive referral commissions. Eventually, I may earn enough to buy a beer or two 🙂
Best Robot Vacuum For Dog Hair
If you own a pet but can never seem to get rid of hair shedding on your floors, you should consider getting a robotic vacuum cleaner to clear out your filthy floors. The evolution of autonomous cleaners has resulted in a great range of clever, powerful and portable machines. We are more spoilt for choice than ever before and I'd like to show you my best robot for its pet hair lifting abilities.
Read The Botvac D80 Full Review: Our Recommended Robot Vacuum for Dog Hair
Is a Robot Vacuum Cleaner a Good Buy?
The biggest benefit of buying a robot vacuum cleaner is the time it frees up for you to concentrate on something else. In the early stages of robots cleaners, I wasn't convinced that autonomous could achieve a great level of cleaning compared to full-sized vacuums. I kept thinking that a small machine wouldn't be powerful enough but the results were impressive considering that all I needed to do was schedule a program and empty the bin after the hard work was done.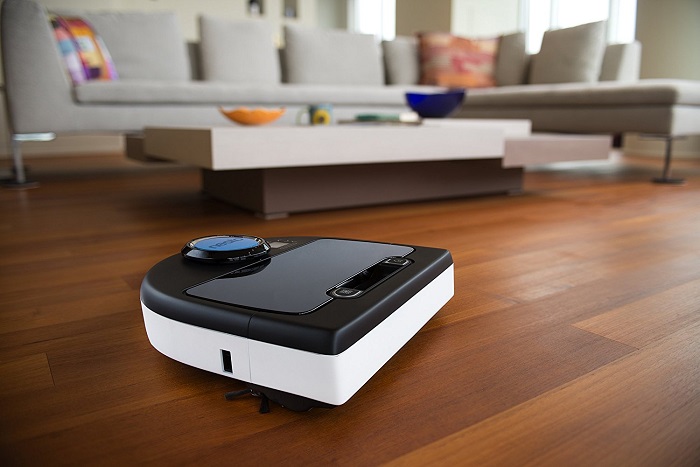 In addition to constantly clean floors, using a robot cleaner in your home means that vacuuming will be one less thing to worry about. I didn't realise the value of this until the first day that I walked into the house after a long busy day to find that my carpets and floors were freshly cleaned and free from animal hair.
Although a robot vacuum can't clean stairs or high reaching areas, I still believe that this is a small compromise to the various benefits which include high powered cleaning, automatic scheduling, reaching underneath bedframes, couches and tables where this would normally be difficult with a larger vacuum cleaner.
Robot vacuum cleaners are some of the smallest cleaning appliances you can buy thus storage is not an issue. They greatly benefit anyone living in a compact apartment with limited space. Typically a robotic cleaner measures a mere 12.7 x 13.2 x 3.9 inches.
Read The Botvac D80 Full Review: Our Recommended Robot Vacuum for Dog Hair
Neato Robotics Botvac D80
The Neato Robotics Botvac D80 is a high-performance robotic vacuum that is suitable for most types of households. The portable body means that it can be used in a variety of homes ranging from small apartments to large houses.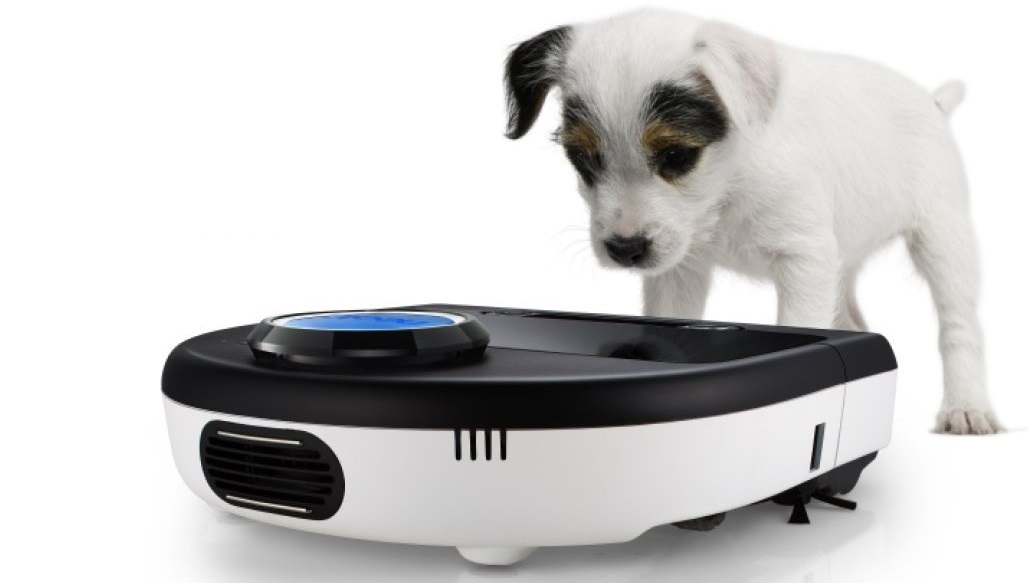 Neato D80 Spiral Blade Brush
The spiral blade brush is specially adapted to vacuum across all types of floors. The combination brush is designed to lift animal hairs with greater efficiency. The problem areas in my house are the living room and the kitchen where pet hair often gathers up due to the high traffic. Unleash the Neato D80 and after half an hour in each room, pet hair is a thing of the past.
Read The Botvac D80 Full Review: Our Recommended Robot Vacuum for Dog Hair
Neato D80 Filtration
The Botvac robot is equipped with a larger filter that captures more dust than previous models. Debris is caught efficiently and cleaning the filter is best done by tapping it against the trash can to loosen the dirt and let it fall freely into the bin.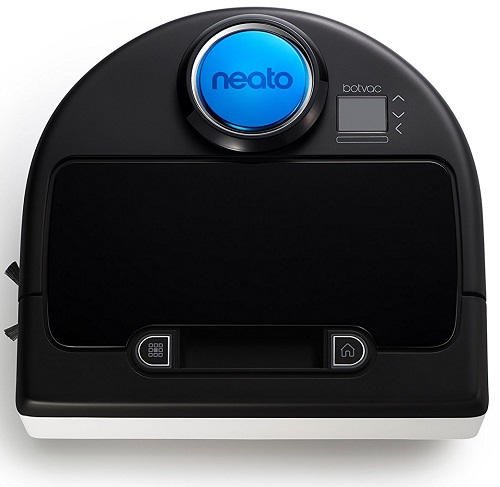 Cleaning Hard To Reach Areas
The D80 robot reaches close to the wall, within 10 millimetres, and travels beneath furniture thanks to the low profile design.
Unlike rival vacuum cleaners, Neato robots are designed with a D-shape body and a brush that is 50% bigger than circular robots.
I struggle to vacuum behind couches, underneath bookshelves and bed frames. The clever route guidance system guides the Botvac to travel to areas that harder to reach with a standard size vacuum cleaner. My floors look cleaner because they are vacuumed regularly i.e. daily compared to once or twice a week.
Botvac Route Guidance
Neato robots are equipped with propriety laser smart mapping technology and an intelligent guidance system that scans the surrounding area and calculates an optimum route to clean in less time. It avoids obstacles and works in a methodical pattern.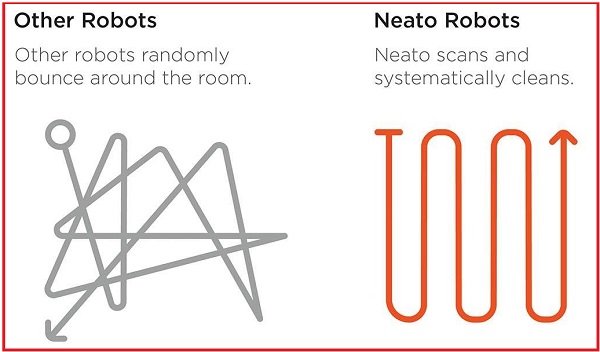 Tackling Pet Hair
Neato Botvac D80 features a powerful SpinFlow system that combines strong suction with brush cleaning accuracy to lift up more pet hair than other robot vacuums. It is equipped with both a combination brush, side brush and blade brush for optimum cleaning ability.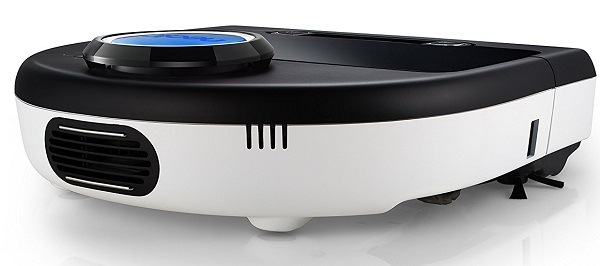 Whilst testing the Botvac D80 for a few weeks I checked the floors periodically for hairs that were left behind but couldn't find any traces of hair. The carpets were actually kept cleaner compared to vacuuming with a larger machine. I noticed that the dirt bin collected a lot of hair after the initial clean but this gradually lessened as the floors were vacuumed often.
Charging the Botvac D80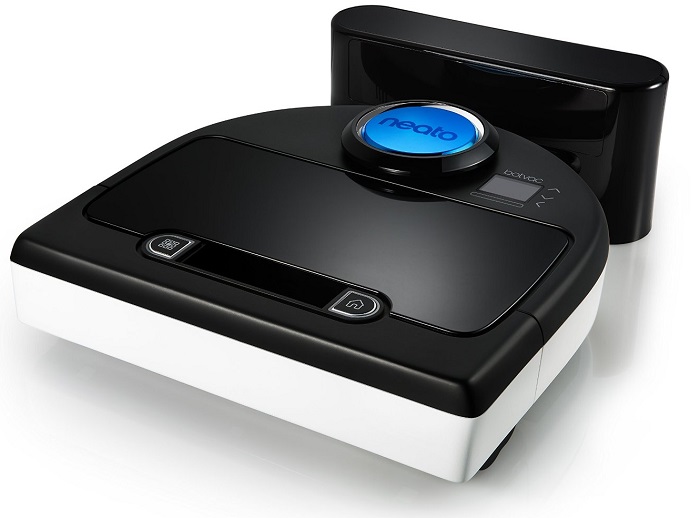 The Botvac is fitted with a high-quality NiCad battery which lets the machine operate for 1 hour 30 minutes.
When the Botvac detects a low battery it automatically finds its way back to the charging station to top up the battery. Once charging is complete the robot can return back to where it left off and continue vacuuming.
Convenient Cleaning Schedule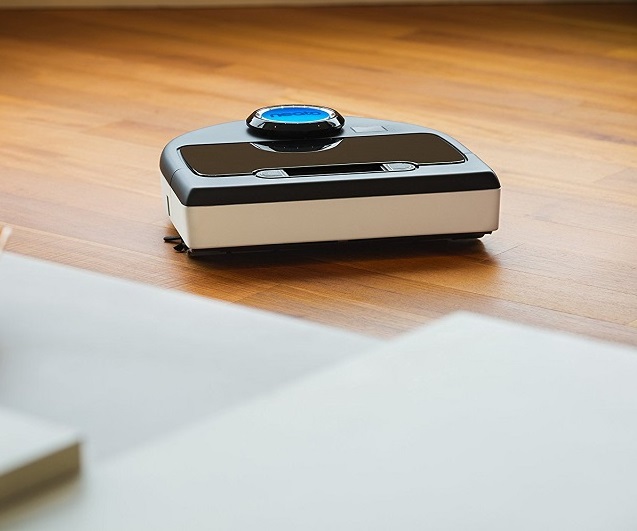 Cleaning a house prone to pet hairs is not easy and requires a regular schedule. With the D80 it is very simple to program a convenient routine that complements your lifestyle.
Use the display screen and onboard controls to set up a routine. If you ever need to do a random spot-clean that is not part of the schedule, simply press the start button and the Botvac D80 will spring to life and get vacuuming.
Conclusion
Robot vacuums are a great addition to the household and make life much easier especially if you are too busy to vacuum regularly, need a helping hand or are too lazy to get on with the job. Why not try an autonomous cleaner to get rid of dog hair whilst you relax or concentrate on something else?
If you would like to find out more about the Neato Botvac D80 I would recommend clicking the link below for a detailed review of the functions and great benefits that can be enjoyed from this robust, powerful robot cleaner.
Recommended read: Follow this link to review our list of highly rated robot vacuums
Our List of the Best Vacuums