Affiliate Disclosure: I am grateful to be of service and to bring you content free of charge. In order to do this, please note that when you click links and purchase items, in most cases I receive referral commissions. Eventually, I may earn enough to buy a beer or two 🙂
Recommended Upright Vacuum Cleaners: We Expose the Best.
Instead of giving you a long list of potential vacuum cleaners, I'll cut straight to the chase. In this review, I'd like to recommend just one upright vacuum which stands proudly above the rest and provides the best course of vacuuming that I've tested so far.
Upright vacuum cleaners are still the most popular type of vacuum and there's a good reason why. If you buy the right machine, the suction power on an upright vacuum is incredibly strong thus achieving all-around fresh carpets and floors in the least amount of time. You need to choose carefully though, as it's easy to get stuck with a bulky machine that is difficult to operate. What's the point of that?
Upright vacuums are bigger than their counterparts but that doesn't necessarily mean that they're less convenient to operate. It's possible to find a lightweight upright cleaner that is built with similar user-friendly functions as a cylinder or handheld vacuum cleaner.
---
Convenience Prevails
Nowadays, there's no reason you should compromise with the type of upright vacuum cleaner to buy. Consider functions such as, ease of steering, weight distribution, bagless convenience, HEPA filtration, integrated accessories to target areas that are more difficult to reach. After trying out numerous uprights I believe that there is an all-purpose solution to address the above needs and more.
Recommended Read: DC65 Full Review
---
Dyson DC65 Upright Vacuum Cleaner
If you've not heard about the Dyson DC65 then you should continue reading. If you have heard of it, I'd like to reaffirm why you should buy this great piece of kit.
Almost everyone knows the Dyson brand, I like that the company's ingenuity continues to break boundaries. They gave us bagless technology and also the Dyson ball which equips your vacuum with steering prowess.
Thankfully the features described above can be enjoyed with the Dyson DC65. So what exactly should you expect from this upright vacuum cleaner?
DC65 Cleans All Floors and Carpets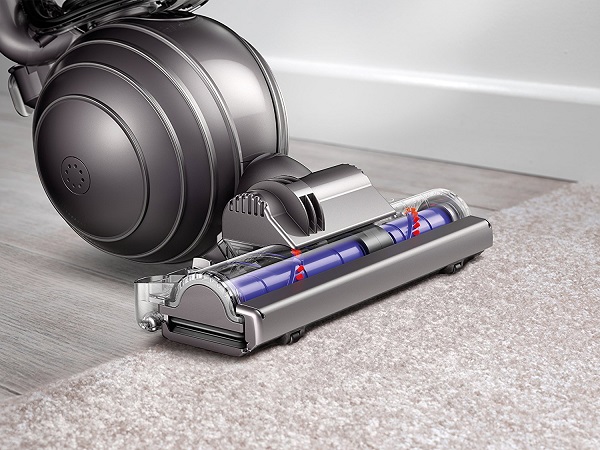 DC65 is equipped with the latest cleaner head that automatically adapts as it moves between different floor types. There are no fiddly controls to adjust which means you get the optimal cleaning settings for every floor.
My home has a combination of low/high pile carpets, tiles, wooden, rugs and I like that I don't need to remember to change the setting when I move between rooms. It's all done for me.
Recommended Read: DC65 Full Review
Dyson DC65 Suction Power
Dyson's leading Radial Root Cyclone suction power is fitted as standard. From the moment you switched on the machine, you will instantly notice the suction power that travels deep into thick carpets and seeks out dirt buried deep.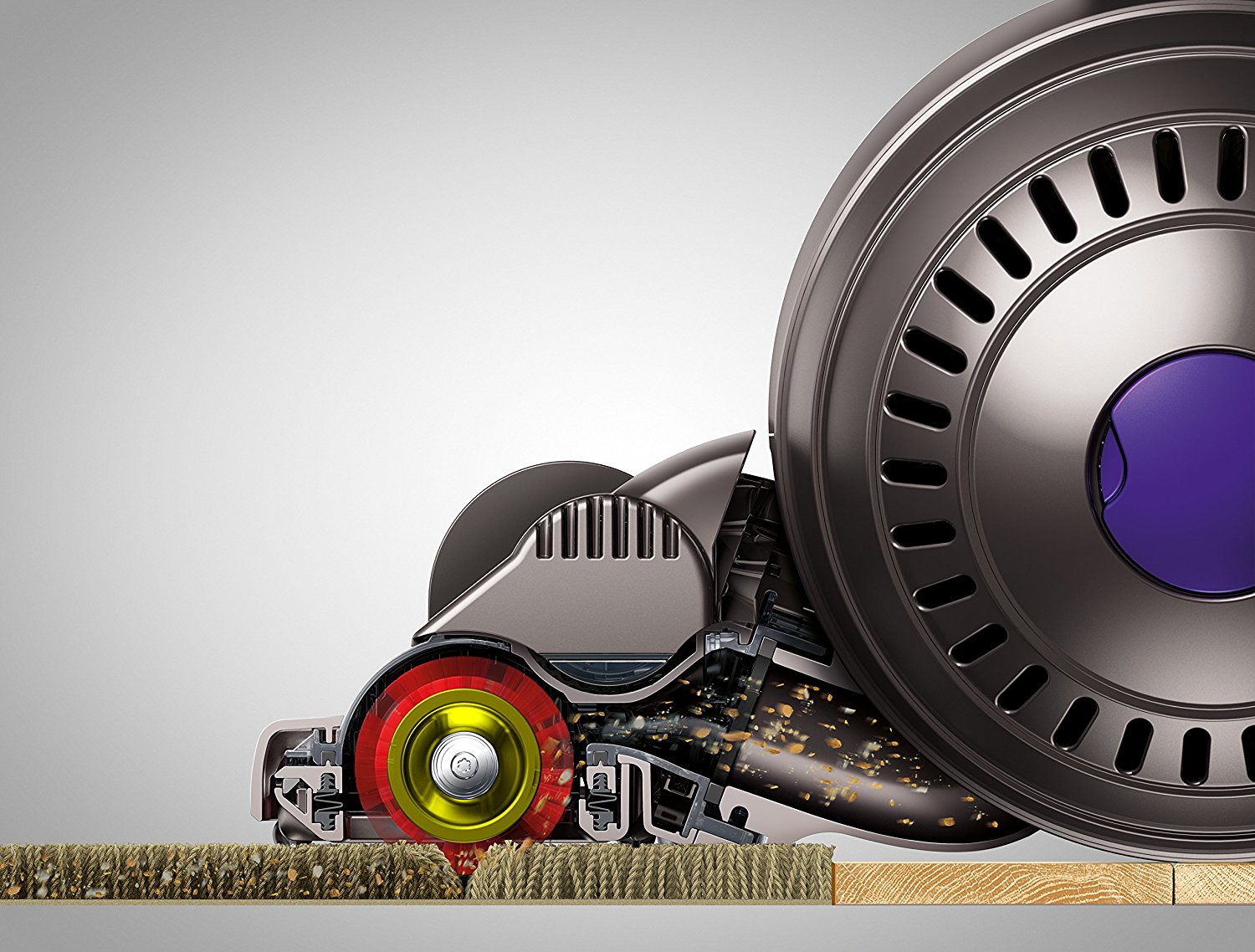 The cleaning power is evident when you see the dust, dirt and carpet fluff that starts to build up immediately within the dirt transparent bin. Nothing gets left behind.
Dyson DC65 Filter System
Dyson has ensured that their machine can address the problem of separating dust from the air as it travels through the machine. HEPA filters ensure than allergens floating in the air are sucked into the machine and trapped inside the sealed system. This is a huge benefit for anyone that suffers from airborne allergies or if you want to breathe cleaner air.
Recommended Read: DC65 Full Review
---
Dyson DC65 Steering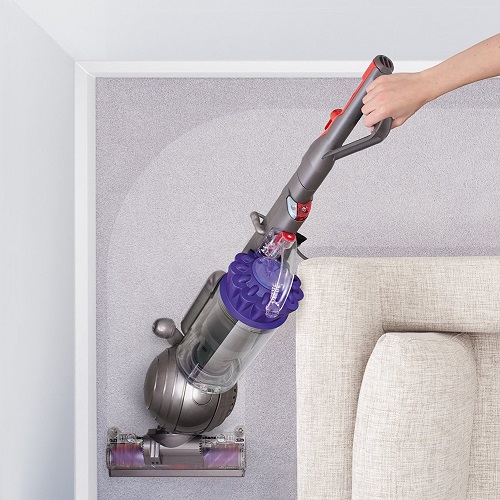 The integrated Dyson ball that sits at the base of the machine is a big bonus for steering the DC65 with ease. Bulky machines with rigid steering are not fun or easy to use, which often means that you are less willing to clean the house.
DC65 can turn around corners with great precision, it can move beneath furniture and tables thanks to the multi-directional tilting angles.
It is so easy for the machine to go wherever you want it to, it instantly responds to a simple twist to change direction.
False Economy
You should try not to buy a cheap upright vacuum cleaner. Cheaper machines are often unreliable and have a shorter lifespan. In the long run, it will be more expensive, to replace a cheap vacuum than buying a durable machine from the onset.
Although Dyson vacuum cleaners are slightly more expensive than competing brands, you will save money in the long run. Dyson machines are extremely hardy, they do not break down (I've owned my oldest Dyson for over 8 years and it still works just good as the first day I switched it on). The combination of lifetime washable filters and bagless bin means there are no extra costs. You will save money.
Recommended Read: DC65 Full Review
---
Dyson DC65 Attachments
Dyson DC65 is packaged with a full set of accessories to ensure that all areas of your home are within easy reach. The integrated extension hose, found at the rear of the machine, is where most of the accessories are attached depending on the area of the house that needs cleaning.

You are provided with a nifty Stair Attachment. When attached to the extension hose it can suck dirt from stairs with impressive results. It will reach into the furthest corners and leave nothing behind.
The 2-in-1 Combo Tool can be adjusted between a dirt nozzle and dusting brush. Use it to suck up dust from tight gaps. There's nowhere that the DC65 won't go.
The Multi-angled Brush is a U-shaped attachment that can tilt into multiple angles to clean high areas that are hard to reach such as ceiling fans, chandeliers, above the closet and so on.
The Tangle-Free Turbine Tool is designed to suck up pet and human hair without it getting tangled up in the attachment. It is ideal for narrow spaces, upholstery and stairs.
Stiff Bristle Brush. The bristles on this small brush are stiffened to work into the carpet, agitate stubborn dirt or mud and loosen it.
The Soft Dusting Brush is an extended soft-bristle attachment that helps to dust furniture, bookshelves and delicate furnishings.
Recommended Read: DC65 Full Review
Final Thoughts
The Dyson DC65 is among our list of recommended upright vacuum cleaners because of its uncompromising performance, great design and all the premium features that can be enjoyed by the Dyson brand i.e. Root Cyclone power, a plethora of accessories, HEPA filtration, bagless bin and a durable vacuum cleaner that will last for many years.
If you would like to read the full review click this link to discover the full cleaning potential that awaits you. Are you considering buying the DC65 or do you currently own one? Please leave your comments in the section below and let me know your thoughts.
---
Our List of the Best Vacuums