Affiliate Disclosure: I am grateful to be of service and to bring you content free of charge. In order to do this, please note that when you click links and purchase items, in most cases I receive referral commissions. Eventually, I may earn enough to buy a beer or two 🙂
Are you sharing your bed with creepy crawlies? It's about time you got rid of them. If you've been considering what is the best vacuum cleaner for bed bugs, we've sourced the perfect one to eliminate unwanted guests living in your mattress.
Mattresses provide the ideal conditions for dust mites. The average bed contains 2 million dust mites- that's a lot of bugs! Each mite produces faeces which become airborne when we move around in bed. This can trigger allergic reactions such as eczema and asthma.
Disgusting facts- Du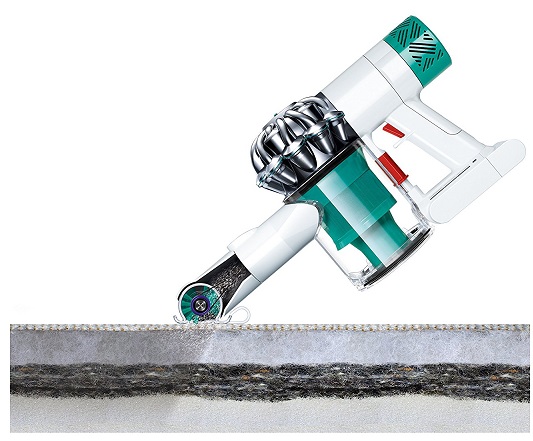 st mites feed on the regular supply of dead skin cells that we shed onto the mattress. Each Dust mite leaves approximately 20 droppings per day.
Powerful suction is the most effective way of removing dust and allergies from your mattress. The Dyson V6 is fitted with a powerful digital motor that reaches deep inside the mattress.
Click Here To See How The Dyson V6 Mattress Performed On Our List of Best Handhelds
---
Certified Asthma and Allergy Friendly:
The Dyson V6 Mattress has been independently tested by the Allergy Standards Limited so that it meets the strict requirements to be certified Asthma and Allergy Friendly.

Allergy Standards Limited is an independent certification organisation that sets the standard to measure if a product is suitable for asthma and allergy sufferers. To meet the criteria, each product is taken through a series of tests conducted by the company's specialist team, with skills in various medical areas specific to asthma and other allergies. The Dyson V6 mattress passed all tests.
---
Mattress Tool: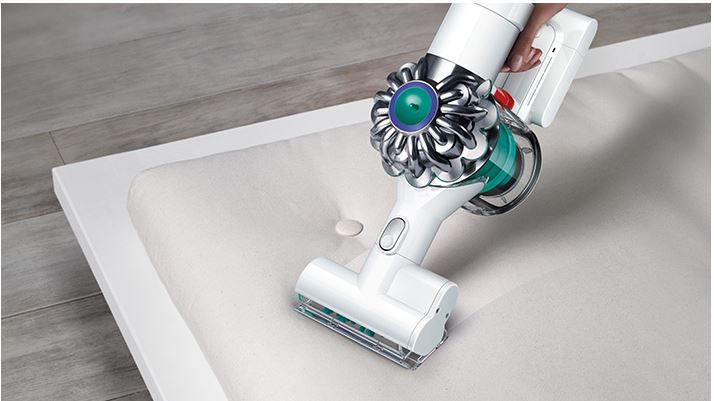 Why is Dyson V6 the perfect vacuum cleaner for your mattress? The specially adapted mattress tool uses a motorised brush bar with stiff nylon bristles to agitate allergens hiding within the mattress fibres.
It rotates to keep a continuous stream of suction that draws out dirt and allergens which are displaced by the stiff bristles.
If you think your mattress is clean you'll be surprised how much dust and lint the V6 handheld will collect when used for the first time. Imagine how much dust mite faeces and skin cells are hiding in there? Buy the Dyson V6 mattress and enjoy a comfortable sleep free from bed bugs and allergens that irritate skin and breathing.
See how the Dyson V6 Mattress performed on our list of best handheld vacuums
---
Suction Power: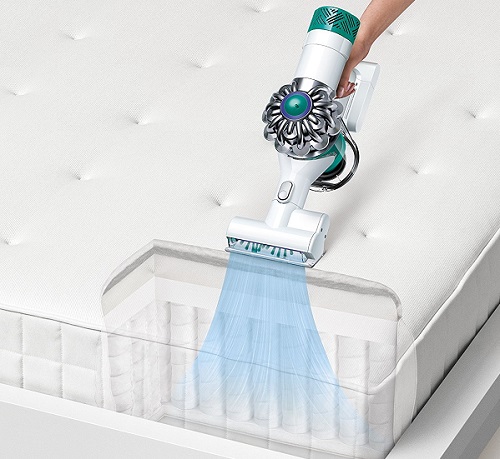 Dyson V6 Mattress is fitted with the pioneering digital motor. If you've not heard about it, the small motor is capable of achieving spins of up to 110,000 rpm which is five times faster than a formula 1 engine. This incredible suction is enough to draw out allergens hiding in your mattresses.
Because you are buying a Dyson you will benefit from the Root Cyclone power that is fitted in all their machines. The Dyson V6 Mattress is equipped with a total of 15 cyclones to efficiently separate dirt and dust from the air as it is drawn into the machine.
The cyclones work hand in hand with the digital motor to deliver the best results. You will notice a distinct difference when using a vacuum cleaner with cyclone power. The suction power on the Dyson V6 Mattress is 28AW on standard mode and 100AW when switched to maximum power mode.
See where the Dyson V6 Mattress ranks on our list of best handhelds
---
Dirt Bin Capacity:
Surprisingly the V6 Mattress has a large bin size despite its compact frame. It houses a bin with a capacity of 0.4 litres which is enough to clean beyond the mattress without requiring emptying.
The bin is also designed with a quick release one-touch button for hygienic dirt disposal.
---
Filters: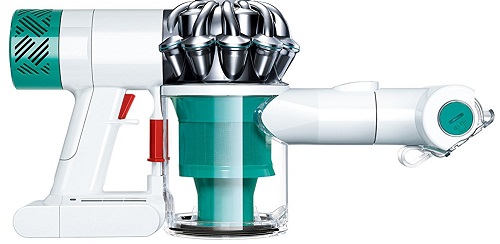 Whole machine HEPA filtration ensures that allergens stay trapped within the sealed enclosure when drawn into the V6 vacuum cleaner. Dyson design and produce the best range of HEPA filters that are rigorously and independently tested to meet high standards.
A post motor filter captures the remaining microscopic particles in the airflow so that the air expelled is cleaner than the air you breathe.
---
Battery
The Dyson V6 Mattress vacuum is powered by a Lithium battery that gives a running time of 20 minutes. You can also choose to increase the suction power for more challenging tasks. The V6 gives 6 minutes of increased suction when switched to Max Mode. The battery charge time is 3.5 hours.
See how the Dyson V6 Mattress did on our list of best handheld vacuums
---
Product Size and Weight: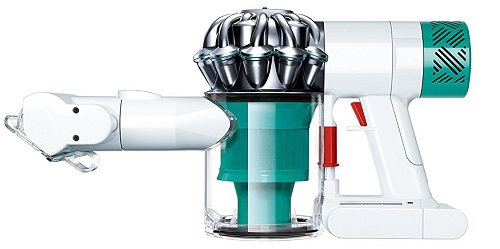 The Dyson V6 is extremely compact and designed in such a way that the weight is evenly distributed for easier handling.
Size: Height 12.7 x Length 31.9 x Width 20.8cm
Weight: the machine weighs 2.04 kg making it one of the lightest powerful handheld vacuums currently available.
---
Accessories Provided:
A rigid crevice tool for small areas that are harder to reach.
A combination nozzle for dusting shelves, window frames and furniture.
A motorised mattress tool that is specially adapted to effective remove bugs from the mattress.
A dusting brush for gentle dusting on delicate surfaces and sofas.

---
Conclusion
Is the Dyson V6 Mattress the best vacuum cleaner for bed bugs? Absolutely. In addition to the great design that is expected from Dyson, this handheld vacuum features cyclone power, a digital motor that is faster than a formula 1 engine and years of research bundled into a lightweight portable machine. Top of the range HEPA filtration and virtually non-existent maintenance costs favours the V6 as a worthwhile investment.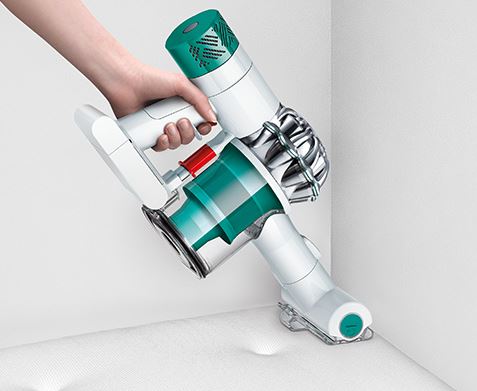 I suffer from eczema and before using the Dyson V6 I never considered that the source of allergic reactions would be on my mattress.
Prior to using the machine, I was on prescription medications which would temporary relieve the symptoms but my eczema would flare up again after a short while.
After using the Dyson handheld vacuum on my mattress for a few weeks, my eczema vanished and has not returned since.
Are you considering getting the Dyson V6 Mattress or do you already own one? Please leave your comments in the section below. I'd love to hear your thoughts.
Click here to see how the Dyson V6 Mattress performed on our list of best handhelds
---
Our List of the Best Vacuums