Affiliate Disclosure: I am grateful to be of service and to bring you content free of charge. In order to do this, please note that when you click links and purchase items, in most cases I receive referral commissions. Eventually, I may earn enough to buy a beer or two 🙂
Owning a pet is a joy but sometimes I'm too lazy to get out my cumbersome vacuum to clean up after them. What Is The Best Robot Vacuum Cleaner For Pet Hair? I tested out the bObsweep robot which combines vacuuming and mopping to give you spotless floors free from pet fur.
Robot vacuums are taking over the world and there are numerous benefits of owning an autonomous cleaning machine including:
Reclaim your time back i.e. less time spent vacuuming.
Your floors are always clean because they're vacuumed regularly / daily.
You can set up convenient cleaning schedules suited to your daily routine.
Unlike a regular vacuum, some robots can vacuum and mop your hard floors.
Your cat can hitch a ride on the robot vacuum for fun!
bObsweep is a popular brand especially with pet owners because of the powerful suction that eliminates any traces of dog and cat hair engrained into your carpets and floors. Why I like bObsweep is because it houses a large 1 litre dirt bin which is one of the biggest dustbin available on a robot vacuum.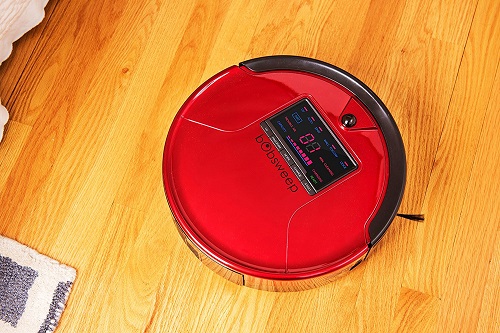 The bObsweep robot can detect stubborn dirt, turn up the brushing power and concentrate on the troublesome area until clean.
The machine works across multiple surfaces and is equipped with a UV light to get rid of bacteria.
The bObsweep robot vacuums any surface type, can mop hard floors and additionally UV sterilizes the floors during cleaning.
HEPA filtration is fitted as standard and helps to remove airborne allergens that can cause irritation with allergy sufferers.
You can customise the cleaning program to fit in with your daily life and the machine automatically returns to its charging dock when the battery is running low.
What can you expect from bObsweep PetHair
It goes without saying that the bObsweep robot prioritises the elimination of pet hair as its primary task.
Sweeping, vacuuming and mopping are what this machine knows how to do best. It adapts to your home and adopts a practical solution to ensure that these tasks are carried out exceptionally.
Vacuuming
The motor fitted into the bObsweep robot churns at a staggering 7500 RPM. At this speed, the motor can extract stubborn dirt and hairs buried deep within your carpets.
Sweeping
Sweeping dust and mess from floors is done with a combination of rotating brush and squeegee dust sweeper. The dual performance of sweeping and vacuuming is what makes the bObsweep robot vacuum very efficient at cleaning multiple floor types.
Mopping
The added bonus of vacuuming and mopping is unlike anything else found on a typical vacuum cleaner. Simply fasten the included microfiber cloth to the robot cleaner and Bob will sweep and polish hard flooring at the same time.
UV sterilizing
I've yet to come across a vacuum cleaner that uses a 400 NM ultra-violet lamp to sterilize floors as it cleans. Vacuuming with a dose of sterilisation is a first for me but another welcome addition to a robot cleaner that already excels itself.
Lithium X-AMPlified Battery
The bObsweep robot vacuum is fitted with a high-grade quad cell lithium-ion battery that ensures long continuous cleaning of 1 hours 15 minutes. A 2-Year Warranty is included to cover machine faults and defects.
Large Dustbin
Given that bObsweep is a portable vacuum cleaner, the dirt bin is huge. There's a generous 1 litre of capacity for less frequent emptying. You'll also find a 3-layer filter system that traps tiny particles and dust from being released back into the surrounding air.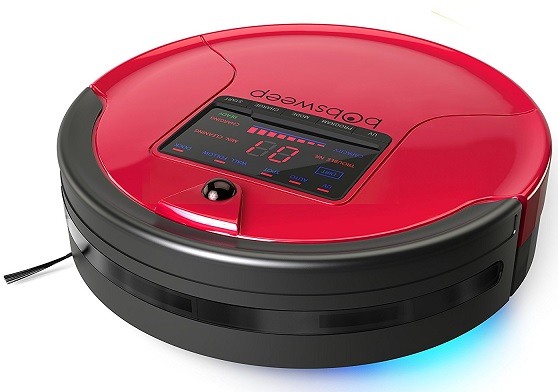 Remote Control
The infrared remote control allows you to control bObsweep's features and routines. Various cleaning functions can be programmed to fit in with your lifestyle. The biggest advantage of a robot vacuum cleaner is setting it up to work around your daily routine so that it never feels intrusive.
bObsweep Vacuum Cleaner Features
A cleverly designed side brush ensures that the robot can clean awkward spaces and sweep floor edges and corners.
The robot can distinguish and avoid stair edges thanks to the edge sensors.
bObsweep is fitted with infrared sensors to detect objects in its path, it will calculate an optimum route and manoeuvre around them.

Unlike other robot vacuums, bObsweep is equipped with dirt sensors that can seek out stubborn dirt areas that require more cleaning power. It will concentrate on those areas until clean.
A unique On-Board Diagnostics system keeps the machine working at it best by checking all parts for faults and alerting you to errors or maintenance requirements.
As mentioned earlier, the machine automatically detects a low battery and returns back to the charging dock when the battery power is less than 15%.
A big LCD screen provides vital performance information at a glance and keeps you up to date with cleaning performance.
bObsweep Robot Vacuum Has 3 Cleaning Methods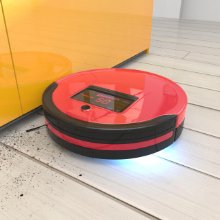 The bObsweep robot vacuum adapts to its surrounding area and navigates the terrain using cutting-edge tracking technology named Waffle TrackTM, Wall TrackTM, and Spiral TrackTM.
Robot / Auto Pilot- navigates through various surfaces to deliver a deep clean and returns to the charging dock when the battery power depletes to less than 15%.
Quick Clean- the machine will clean a medium sized space in a minimum amount of time and will return to standby mode after half an hour.
Touch Up-The machine will efficiently clean a small space and will return to standby mode after a quarter of an hour.
What Do You Get In The Box
Charging Dock and Adapter (110V/240V compatible).
Inbuilt Lithium-Ion 2200 mAh Battery.
Remote Control.
2 Microfibre Mopping Cloths and Mop Attachment.
2 Side Brushes.
Extra Main Brush (Blue) is included at no extra cost.
2 extra HEPA Filters are thrown in.
Blindfold and Bumper Stickers.
Maintenance Tools (screws and Phillips head screwdriver).
Cleaning Tool to keep your machine running at its best.
Owner's Manual and Quick Start Guide.
Warranty Card (2 Year Warranty included).
bObsweep Robot Vacuum Overall Performance
When comparing bObsweep robot vacuum to robots such as Eufy or Neato I would say it isn't as smart. The bObsweep robot is similar to the Roomba in that the cleaning patterns are random and the machine always starts somewhere different. Nonetheless, my carpets and rugs are always clean even if it takes the bObsweep a bit more time to get the job complete.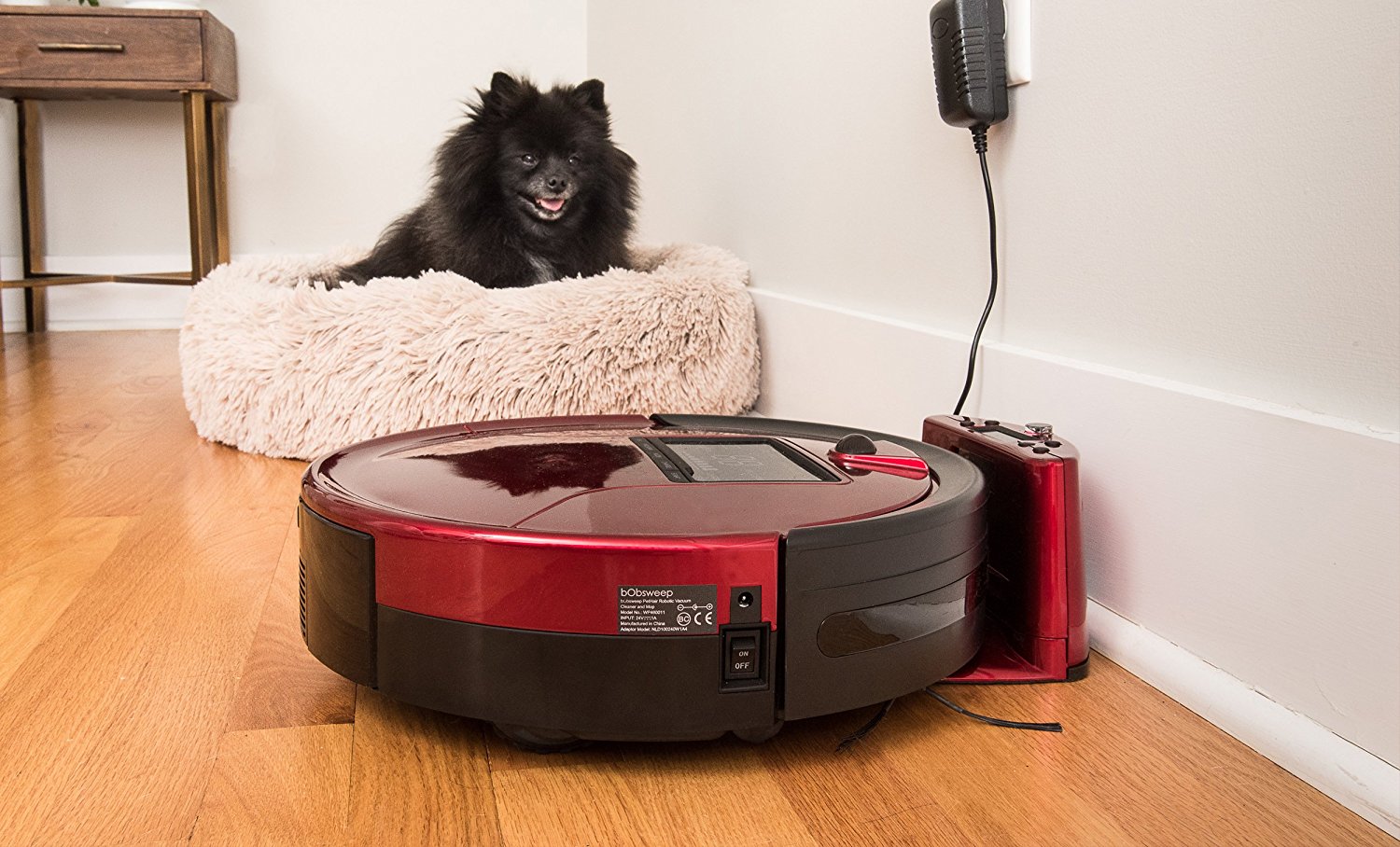 If the machine gets traps underneath or between furniture, simply pull it out and reset the error code to continue the cleaning cycle. Place the bObsweep robot vacuum wherever it left off and it will continue its journey. The robot has a lower profile at the front of the machine to help it manoeuvre underneath furniture easier.
Thankfully the bObsweep robot vacuum is less noisy than its rivals. There's the benefit that bObsweep can clean without being a disruption to the household.
I used the remote control much more than originally anticipated. With the remote, you can direct the bObsweep robot to concentrate on specific areas. Convenience at your fingertips. Although the remote is described as an IR remote I found that I didn't need to point it directly at the machine to give it a command.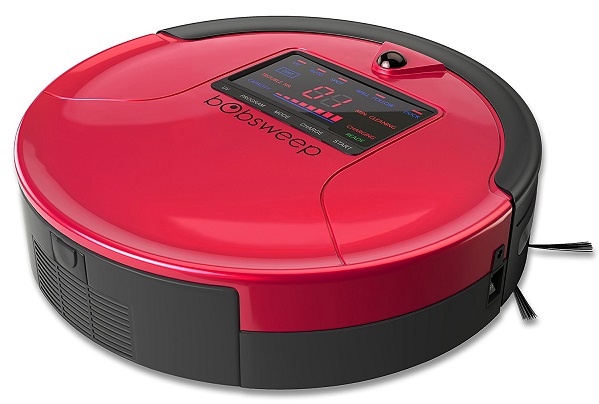 The mop function works really well but the bObsweep robot can occasionally get stuck when it attempts to manoeuvre over wet floors, the wheels tend to lose their grip and spin around.
Despite the traction issue, I was impressed with the results of the areas the machine managed to mop.
I like that the bObsweep robot vacuum cleaner costs much less than its premium rivals. You would pay double or even triple for the same functionality found on Roomba robots. The bObsweep robot vacuum is also portable and lighter than it looks.
Is this the best bObsweep robotic vacuum cleaner with a mop? Yes, it is. I would highly recommend the bObsweep PetHair robot for its thorough cleaning cycles and ease of use.
The large dirt bin avoids the inconvenience of the robot stopping halfway through a clean whilst it waits for you to empty it. If you are thinking of buying bObsweep or already own one please leave a comment in the section below. I'd love to hear from you.
Where Can I Buy The bObsweep Pet Hair Robot Vacuum?
Our Best Vacuum Cleaner Recommendations