Affiliate Disclosure: I am grateful to be of service and to bring you content free of charge. In order to do this, please note that when you click links and purchase items, in most cases I receive referral commissions. Eventually, I may earn enough to buy a beer or two 🙂
If your pond is looking mucky and you're wondering how to get it clean, we've got a list of the best pond vacuum cleaners for 2021. Our reviews and buying guide will help you choose the recommended machines to breathe some new life into murky lagoons and pools.
Before you buy a new pond vacuum cleaner there are a few factors to take into account. After all, you want to get the best performance for the money that you're willing to spend. Thankfully there is a great selection of brands to choose from.
What is a pond vacuum? In a nutshell, a pond vacuum is a suction machine that clears the muck from a lagoon without needing to drain the water. Most pond owners swear by their pond cleaners as it takes away the hassle of removing water from the lagoon and purifying it every year.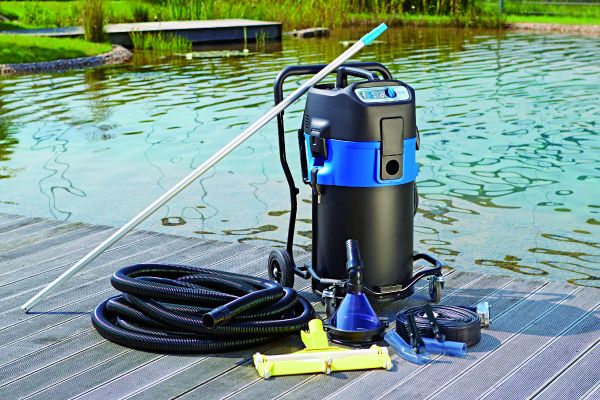 How Does a Pond Vacuum Cleaner Work?
Pond vacuums work in the same way as a regular vacuum cleaner. Suction is provided by the motor, however, the system is specially adapted to collect algae, sludge and any other type of muck and separate it from the water. Additionally, you can recycle the collected muck and use it to fertilise plants and vegetation.
The advantage of a pond vacuum is its capability to pick up and break down sludge and muck. A regular vacuum cleaner excels at lifting lose dirt, however, it can't collect 100% of the dirt that is embedded in the carpet fibres. This is why manufacturers have designed standalone carpet washers and steamers that are capable of dampening and loosening stubborn dirt which is then easier for the machine to suck up the dirty water.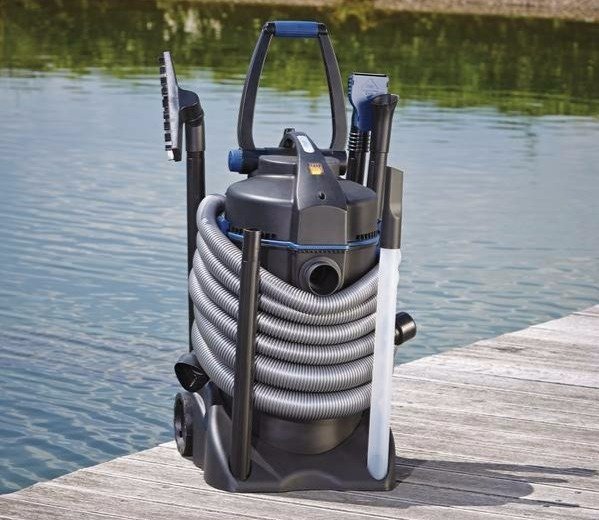 A pond vacuum cleaner combines all of the above, therefore, it performs similar to a wet vacuum by breaking up the dirt and lifting it into the collection bag. It uses a pump to move the water which is then filtered back into the lagoon. The benefit of this is that you don't need to interrupt the fish when cleaning the lagoon. You can leave the fish in the pond and avoid the stress that they experience when moved out the water for the annual maintenance, with a pond vacuum you no longer have to disturb the fish.
Without further ado, let's take a look at the best pond vacuum cleaners available to buy today.
1. The Oase Pondovac 4 Pond Vacuum Cleaner: Recommended dual-chamber suction design
If you're after a robust pond vacuum cleaner that is low maintenance then this is it. The Oase Pondovac 4 comes with a 2-chamber design that delivers non-stop suction power to collect muck from all areas of your dirty pond.
Clearing sludge from your pond can easily become a tough task if you use the wrong equipment. Save yourself the hassle!
Without the right tools, you could easily end up spending a lot longer cleaning the pond and at the end of it all, still find remnants of stubborn muck lurking at the bottom of the lagoon.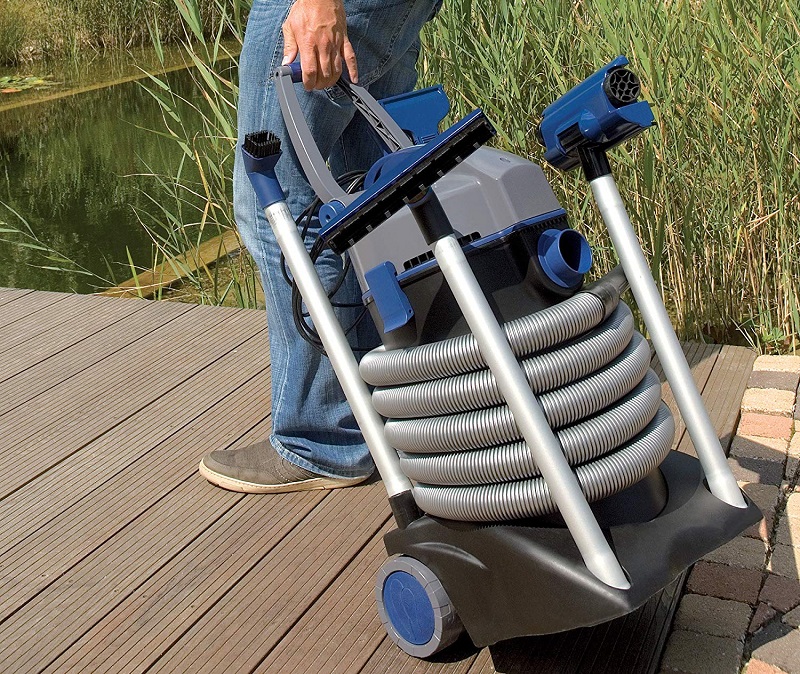 The Oase Pondovac 4 easily gets rid of sludge thanks to the built-in powerful motor that whacks out 1800 watts to agitate dirt and ensure that it gets dislodged from the bed of the pond. You also get a variety of tools to help reach every crevice.
In addition to cleaning ponds, this nifty machine can also be used to clean swimming pools and as a wet vacuum for the home interior.
Pros
Dual tank system for the efficient collection of sludge.
It reduces pond cleaning times and simplifies maintenance.
It's easy to put together and clean out.
The machine is equipped with self-emptying technology.
Cons
The hose has a tendency of getting blocked.
The suction power could be slightly stronger.
Occasionally turns off after prolonged use.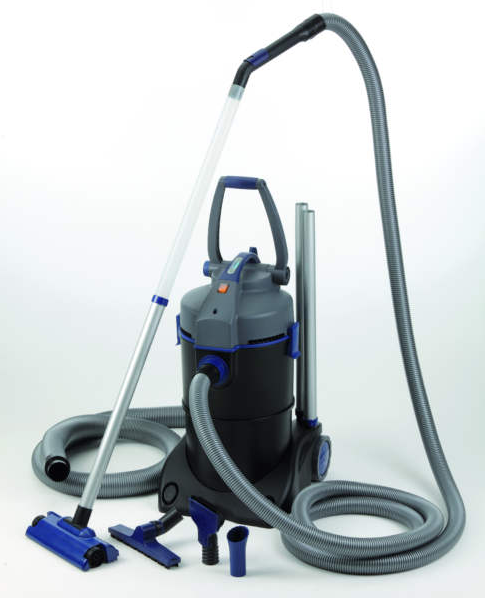 Where can I buy the Oase Pondovac 4 Pond Vacuum Cleaner?
2. The OASE PondoVac Classic: Recommend Compact Pond Vacuum
Now you can address your pond cleaning requirements with this portable Oase machine. The PondoVac Classic is fitted with a 1200-watt motor that provides fade-free power to see you through any job. There are multiple attachments that help deliver the best possible cleaning of your lagoon.
The ease of use from a vacuum cleaner is only as good as the attachments that come with it. Without the correct attachments, a quick job could end up taking considerably longer.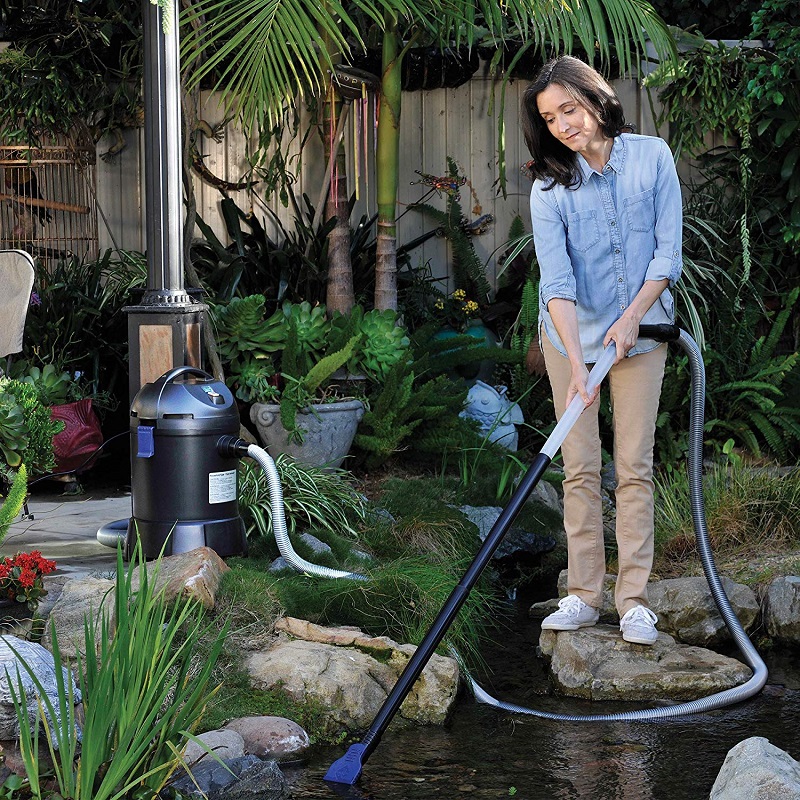 It's good to know that the PondoVac Classic is supplied with an arsenal of great tools to help you get on with the job of sludge collection and even cleaning inside the house if needed. Investing in one of these vacuums provides you with the benefit of both outdoor and indoor cleaning.
The unit is cleverly engineered with a sole chamber that combines the task of picking up muck and draining the water back, therefore, you don't need to drain the body of water before you can clean.
Pros
Completely cleans a standard sized pond in just 3 hours.
Great suction power eliminates algae to a high standard.
The secure collection bag stays put.
It's capable of picking up sludge up to a depth of 3.5 feet.
Cons
The collection bag could do with being a bit bigger.
It occasionally turns off temporarily partway through cleaning.
The hose could be larger.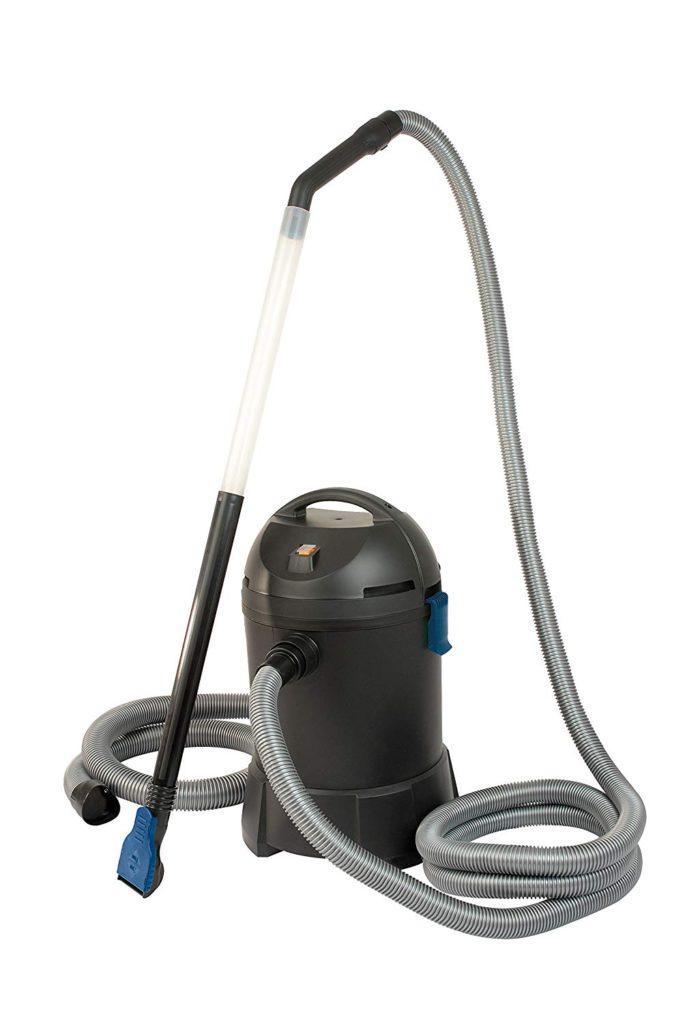 Where can I buy the OASE PondoVac Classic Vacuum Cleaner?
3. The OASE 37230 PondoVac 3 Pond Vacuum Cleaner
The OASE 37230 PondoVac 3 comes with two chambers and is designed to deliver constant usage. The advantage of a machine with more than one chamber is that it reduces cleaning times considerably by allowing you to collect sludge quicker and it takes away the need to empty the machine part way through the job.
Algae can be disposed or recycled into nutrient-rich fertiliser for plants. The PondoVac 3 machine doubles up as a pool cleaner and it filters the water that is collected. If you are looking for a robust machine that can stand the test of time and is user-friendly then this is the best pond vacuum to get. A convenient set of wheels provide seamless transportation to different sides of the pond.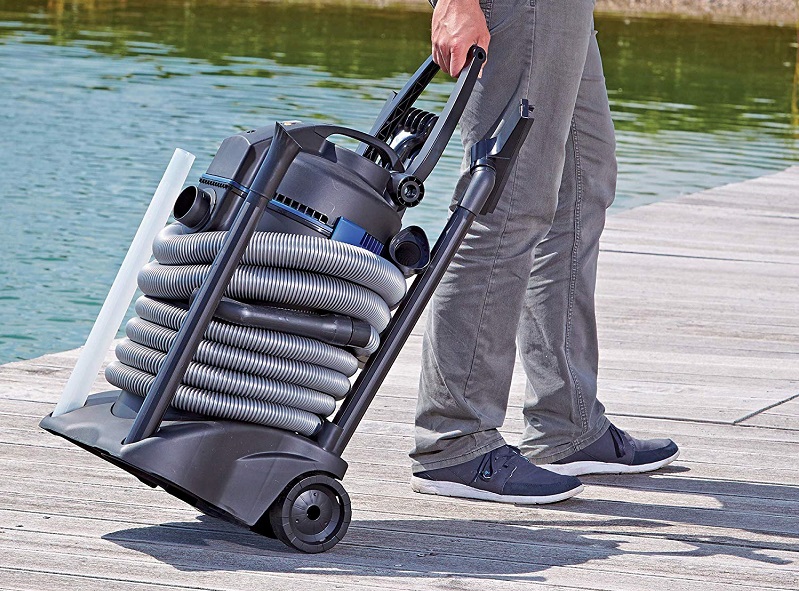 The PondoVac 3 is supplied with various nozzles and a tube that extends to 1.6 inches. Utilising the attachments provided ensures that you can efficiently assess progress to make sure that nothing mucky is left behind.
Pros
Competitively priced yet it offers plenty of great features.
The unit is built from high-quality materials.
The transparent tubes improve the cleaning experience.
Cons
The cleaning results are not as thorough as alternative machines.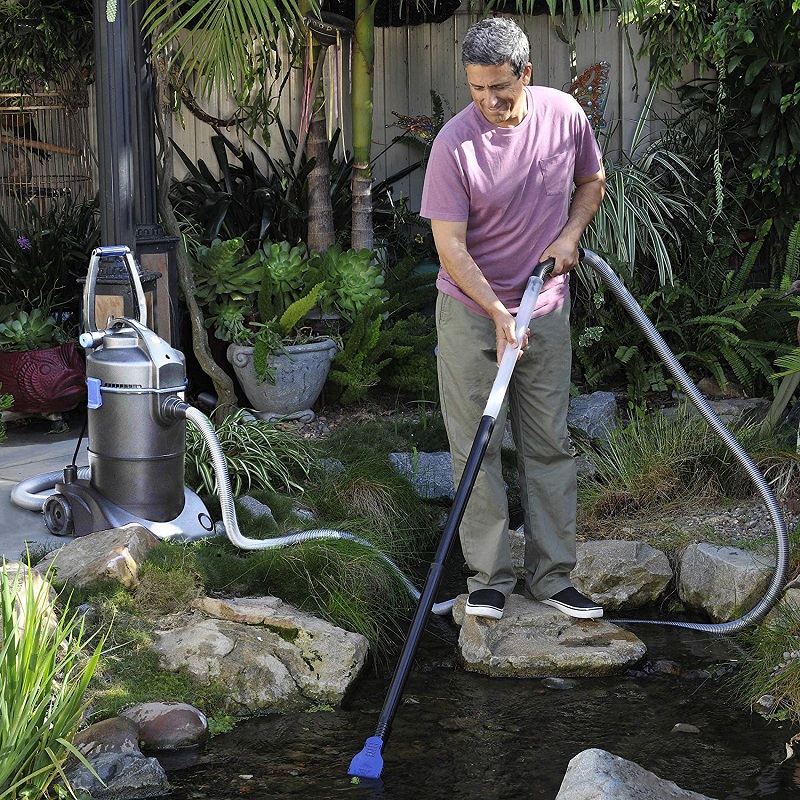 Where can I buy the OASE 37230 PondoVac 3 Pond Vacuum Cleaner?
4. The Matala Pond Vacuum II Muck Vacuum
If your pond has a capacity of 3000 gallons or less then the Matala Pond Vacuum is perfect. The unit has been dubbed the Muck buster and the title is highly appropriate. The Matala cleaner diligently gets rid of debris, sludge and algae nesting at the base of the pond. It will also pick up tiny pebbles.
The cleaning action is simplified further with the auto fill and drain cycles and as a result, water is recycled back spontaneously. The machine is designed to simultaneously vacuum and self-empty thanks to the latest suctioning technology.
The Matala unit utilises its time efficiently, therefore, in every minute it will vacuum for 40 seconds and drain for 20 seconds. Clever huh? It comes with 5 extending tubes measuring 15 inches each to give a combined length of up to 6 feet. There is a suction hose measuring 16 inches and can be extended to 16 feet. An 8-foot long draining hose is supplied together with a mesh collection bag.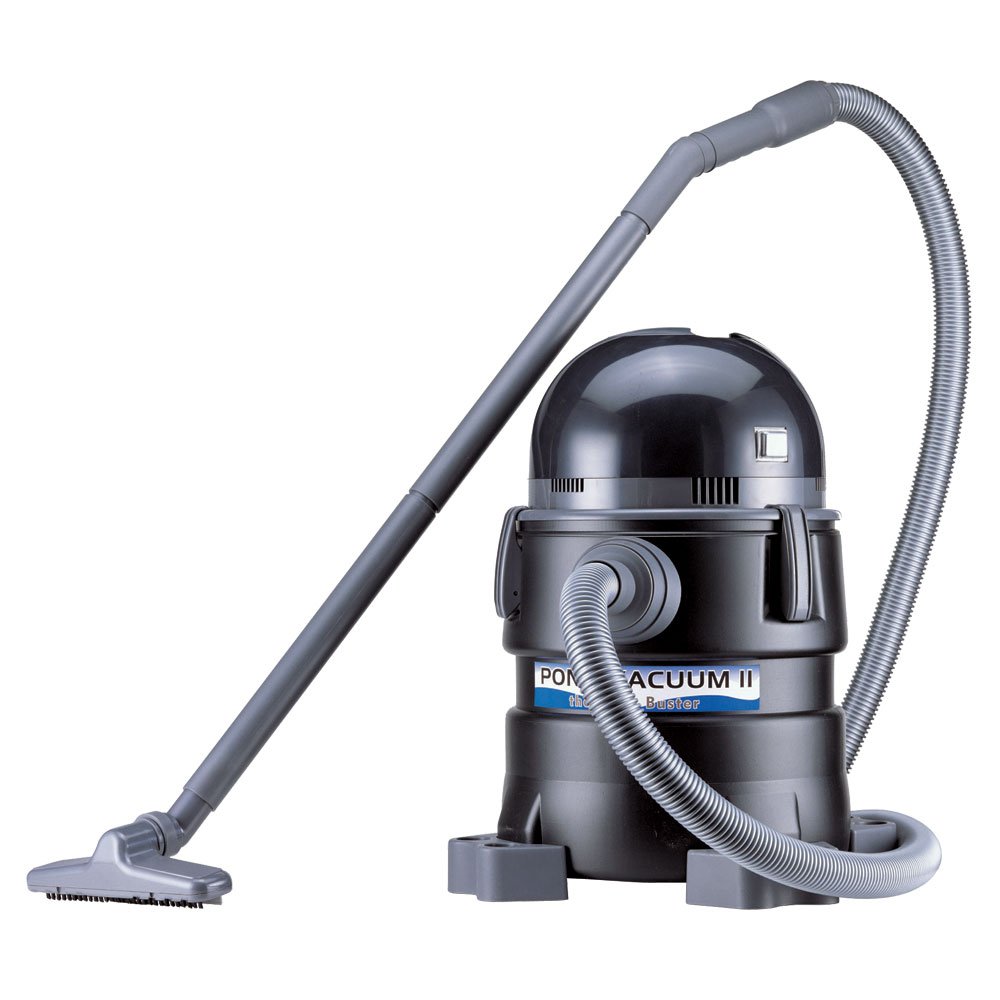 Pros
The unit is supplied with multiple pipe extensions.
You will find 3 separate attachments to improve reach and accessibility.
Great suction to eliminate algae and sludge in less time.
The Matala vacuum is ideal for cleaning and draining your lagoon.
The machine is highly durable.
Cons
The outlet hose can be temperamental and takes a bit of practice to connect just right.
It has a tendency of turning off whilst draining.
Where can I buy the Matala Pond Vacuum II Muck Vac Vacuum Cleaner?
5. The Matala Power-cyclone Pond Vacuum with Dual-Pump System
If you're searching for a powerful pond vacuum for difficult jobs then the Matala Power-Cyclone pond vacuum will not disappoint. The machine can clean for long sessions without stopping for air, therefore, it minimises disruptions.
The Power-cyclone machine is equipped with well-founded dual-motors and it houses a pre-filter bag that optimises the cleaning process.
The pump evenly distributes its power to help utilise the available performance, therefore, you get consistent suction and uniform results throughout the job.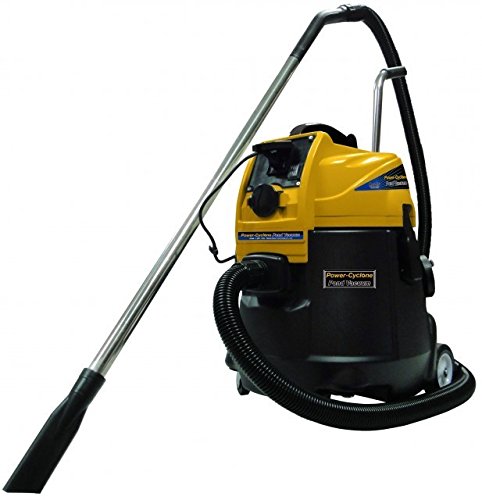 The unit is fitted with an extension pipe made from durable plastic and a suction hose with a reach of up to 26 feet. The outlet hose that is provided measures a decent 32 feet in length. The Matala Power-Cyclone has a much higher capacity of up 13 gallons of muck and blows the competition out of the water. If you've got a big pond then this is the perfect device for you. The integrated pre-filter bag traps large debris to stop it from getting into the collection tank.
The standout feature of the Power-cyclone vacuum is the 32-foot outlet hose which allows you to pump mucky water with greater efficiency making the recycling process much easier.
Pros
High-performance suction comes as standard.
Robust motors are designed to help collect sludge hiding between rocks.
See-through pipe aids with visibility.
Cons
You will have to turn off the pump to cool it down.
Cleaning a big pond takes a while.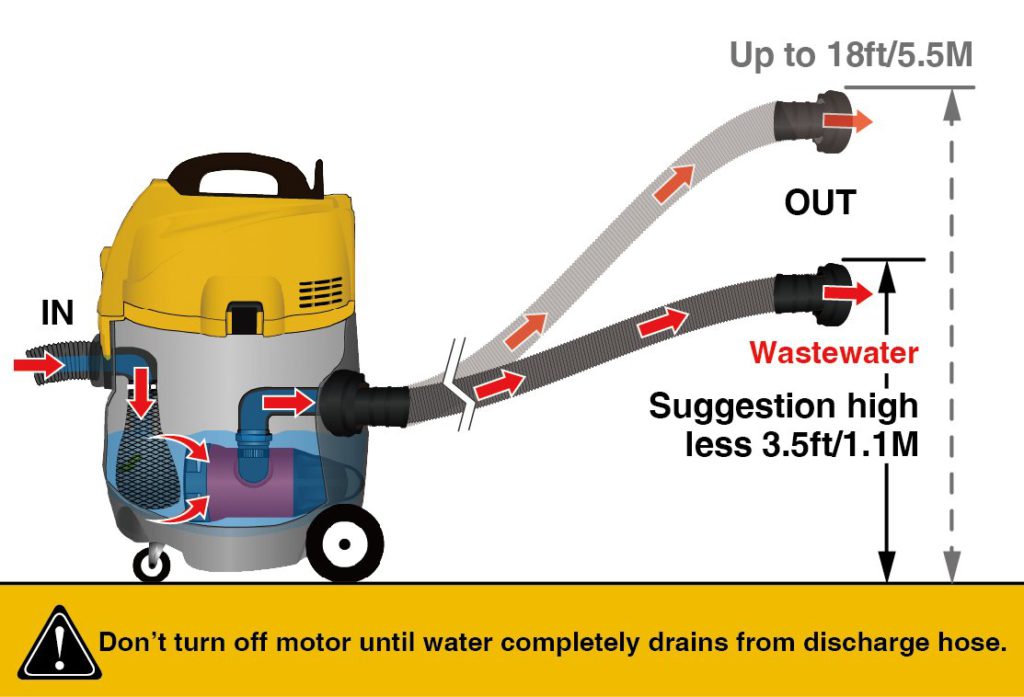 Where can I buy the Matala Power-cyclone Pond Vacuum Cleaner?
6. OASE Pondovac 4 Vacuum for Ponds and Water Gardens: Recommended All-purpose vacuum
The OASE PondoVac 4 is engineered to tackle both pond and swimming pool cleaning. The all-purpose unit is equipped with multiple attachments that simplify picking up algae, sludge and other types of dirt.
The PondoVac 4 is built with longevity in mind. It is made from rugged materials that can withstand demanding scenarios, therefore, this machine is designed for the long haul.
The aluminium design can be seen throughout the machine and it comes with more tubes than its rivals to amplify its suction range.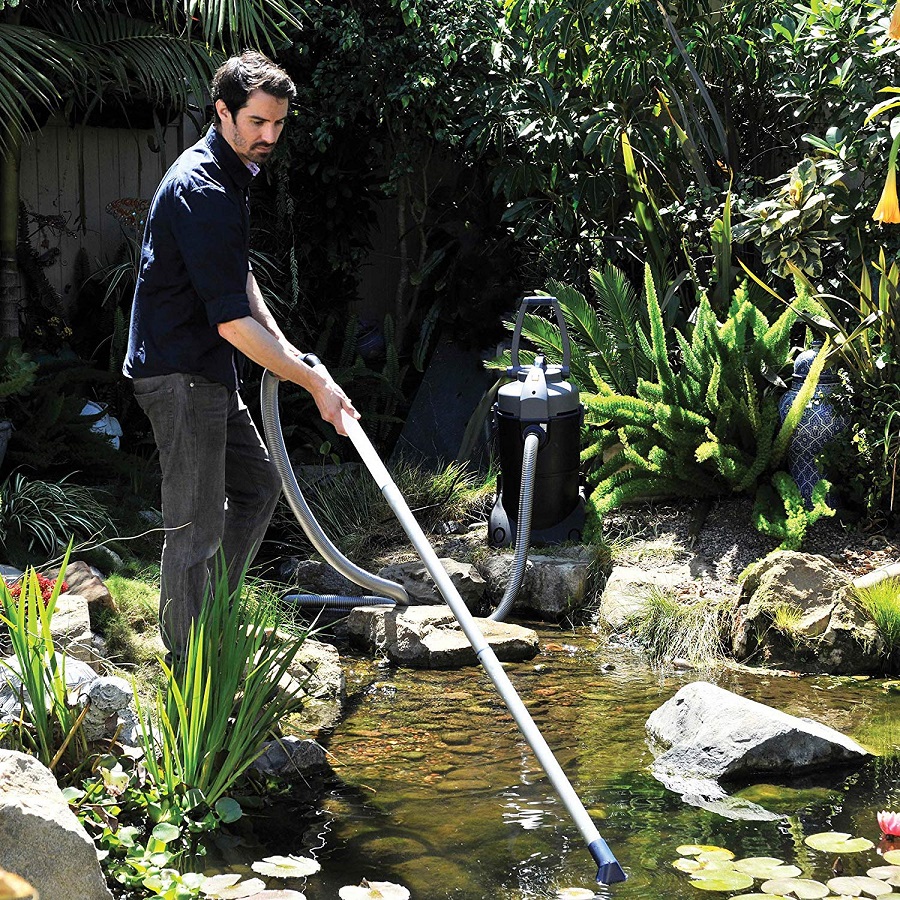 If you're searching for a reliable and user-friendly pond vacuum then you should consider the OASE PondoVac 4.
Pros
It gets rid of sludge and algae in less time than the competition.
It excels at cleaning between rocks.
The suction is one of the best that you will find on a pond vacuum.
Cons
The hose is a bit narrow therefore it is susceptible to clogging.
Where can I buy the OASE Pondovac 4 Vacuum for Ponds and Water Gardens?
7. Oase Pondovac 4 Professional Koi Pond & Water Garden Vacuum
The Oase PondoVac 4 Professional vacuum is designed for commercial applications. It comes with 3 functions making it one of the most adaptable pond vacuums available. You can use it to clean ponds, purify your swimming pool and as a wet vacuum indoors.
This machine is incredibly robust compared to its predecessors and it is equipped with a powerful 1800-watt motor and a dual chamber design for speedier dirt collection.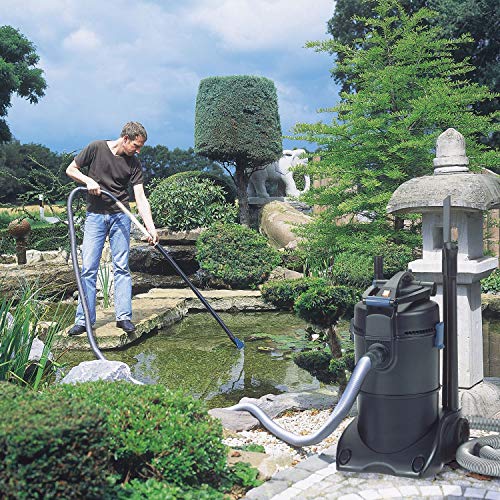 The suction power is consistent even when you reach the deeper depth of your swimming pool or pond. You will not be disappointed.
In the box, you will find 5 different nozzle accessories specially designed to eliminate debris, algae and sludge lurking in your pond. You also get 4 aluminium tubes to extend its reach. A transparent pipe is supplied to help assess cleaning progress.
Moving the machine from one side of your pond or pool to the other is a doddle thanks to the clever wheel and user-friendly handle. In addition to this, the handle can be used a caddy, therefore, simplifying storage. The machine collects up to 2.6 gallons of muck.

Pros
One of the easiest pond vacuum to operate.
It removes larger debris, such as leaves, effectively.
It operates quieter than other machines.
Cons
Performance isn't great in bigger ponds.
Where can I buy the OASE Pondovac 4 Professional Koi Vacuum Cleaner?
8. Jebao EC-1 Pond Vacuum Cleaner

The Jebao Pond vacuum delivers stronger suction that speeds up the entire process of cleaning your pond.
Cleverly, you can use the machine from the comfort of your home and control it with the supplied remote that lets you activate and switch off the unit.
The machine is equipped with an extendable telescopic handle that can be lengthened up to 8 feet long.
The Jebao EC-1 houses a reliable motor that provides 120 watts of performance combined with a hose measuring 20-feet to access areas that are harder to reach.
Pros
Great suction power, provided that the water pressure is adequate.
The machine is portable and easy to store.
Unique design allows for hands-free use.
Cons
It struggles to pick up larger items of debris.
Suction fades if water pressure is low.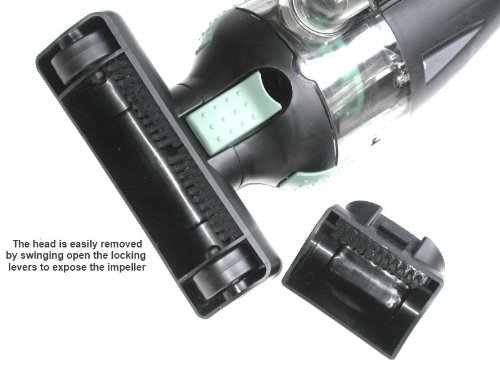 Where can I buy the Jebao EC-1 Pond Vacuum Cleaner?
9. Oase Pondovac 4 Pond & Muck Vacuum Cal Ponds Exclusive Pond Cleaning Bundle Package
For the ultimate pond cleaning experience, you should think about buying a package. Within this bundle, the PondoVac 4 provides you with the assurance of better results over earlier models and you will also get a set of gloves but that's not all. This cleaning system combines ponding cleaning with indoor usage as a wet vacuum as well as pool cleaning.
The machine takes advantage of the 1800-watt motor to eke out the best possible performance. It comes with 5 professional tools that target stubborn sludge and algae.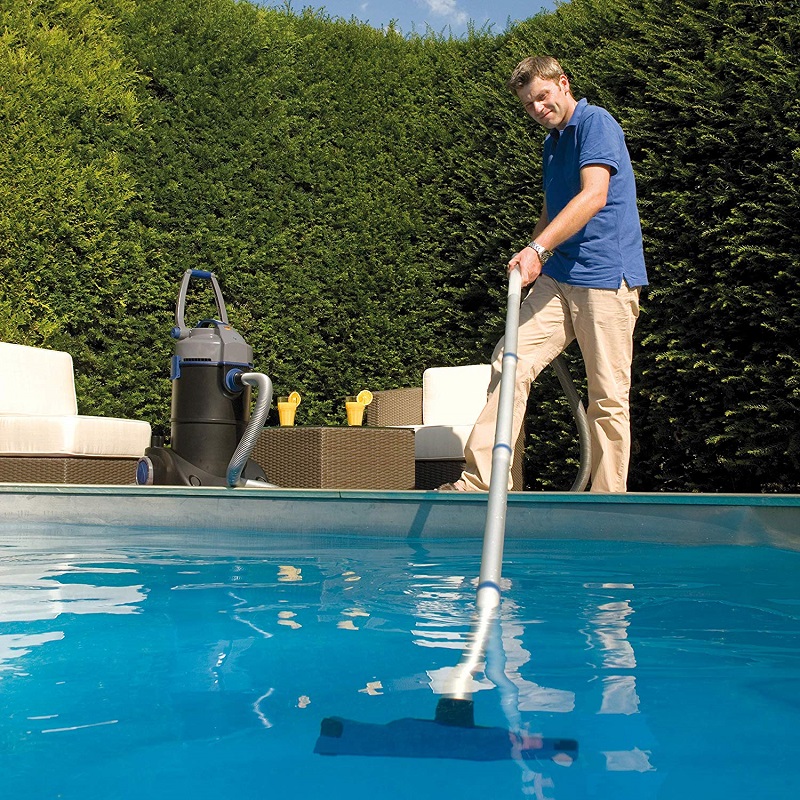 Within this package, you will also find a clear pipe that provides 10 feet of range and visibility as well as 4 aluminium extendable tubes. The machine is compact and is fitted with a set of wheels and handle that makes it easier to transport and store. It can collect up to 2.6 gallons of debris.
Pros
It rapidly cleans sludge in just one session.
Efficiently gets rid of algae that have accumulated over the year.
Cons
The holding capacity is a bit low.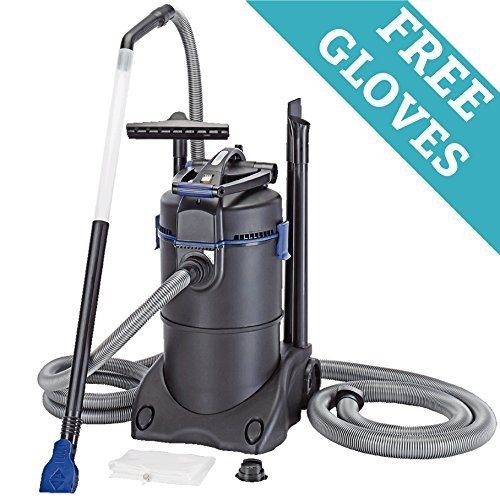 Where can I buy the Oase Pondovac 4 Pond & Muck Vacuum Cleaner?
The Pond Vacuum Buying Guide
In many ways, a pond vacuum works very similarly to a regular vacuum cleaner but it's specially adapted so that you can clean sludge from your pond without the need to remove water from the lagoon. It's a godsend for anyone that owns a pond but doesn't want the hassle of periodically draining it to clean it.
How Does a Pond Vacuum Work?
These units use the same system suction system as a conventional household vacuum, therefore, the suction power is produced by the motor and the machine uses a unique mechanism to separate muck from water. The pond vacuum will pick up various types of debris including algae and sludge which can be used as plant food in the garden.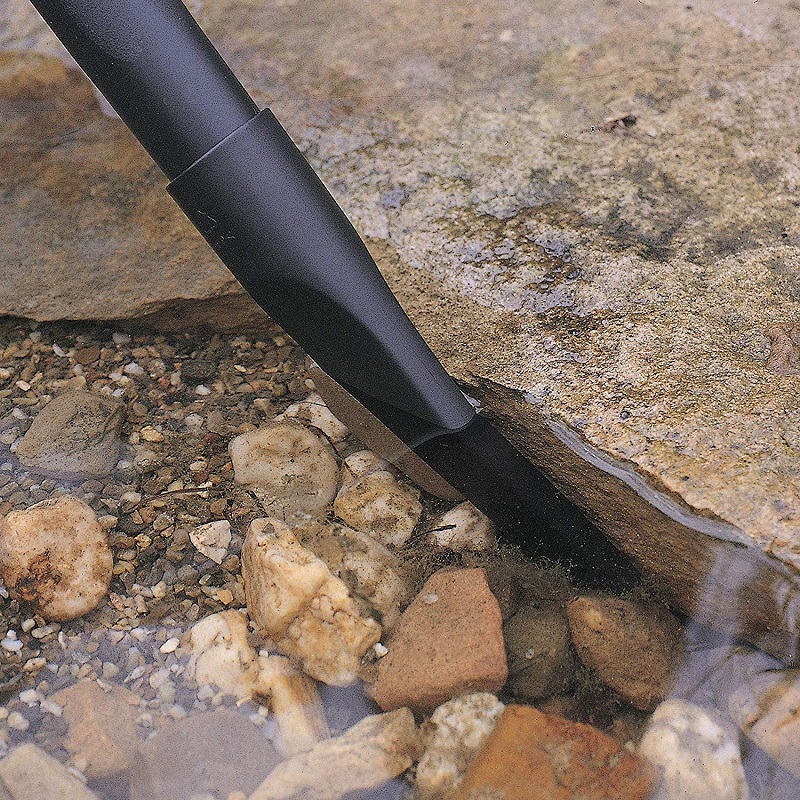 A pond vacuum incorporates the function of a wet vacuum by extracting dirt and sending it straight to the collection bag. The difference is that a pond cleaner uses a pump to move water through it and filters out the muck before the water is expelled back into the pond. The benefit is that you don't need to move fish from the pond to clean it.
Now you can clean with the peace of mind that you don't need to transfer fish to a temporary home to clean the pond. The fish are therefore less distressed and can remain in their sanctuary thanks to the pond cleaner that makes this viable.
Things to Consider in a Pond Vacuum
The type of pond cleaner you decide to buy will depend on how big your pond is and how often you intend to clean it. If you own a small body of water and clean it every half year then you can opt for the smaller standard machines. If your lagoon is a considerable size and you intend on cleaning it every fortnight then you will require a robust powerful cleaner that seeks out stubborn muck.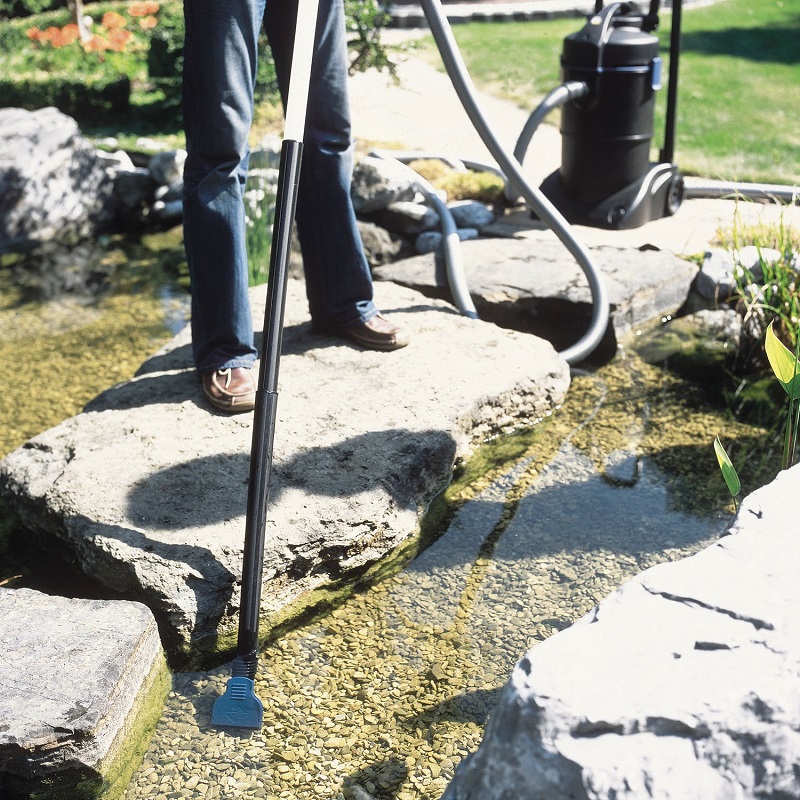 The majority of pond cleaners will turn off momentarily partway through a job to allow the motor to let off some steam. This isn't really an issue for owners of small ponds, however, it may become a bit of an annoyance for bigger jobs when the machine has to take regular breaks and as a result might end up elongating the cleaning session. If you own a sizeable pond that requires regular maintenance I would recommend that you buy a commercial pond cleaner that can operate for longer periods without overheating the motor.
Your new pond cleaner should come with handy nozzle accessories. These attachments are absolutely necessary to aid with dislodging debris, sludge and algae from the pond's bed and rockery that has been building up for many weeks or months.
Most leading pond vacuums come with a minimum of 4-5 nozzles which are handy for different cleaning scenarios. The best machines will come with attachments uniquely built to use between rocks, a favourite hiding place for algae.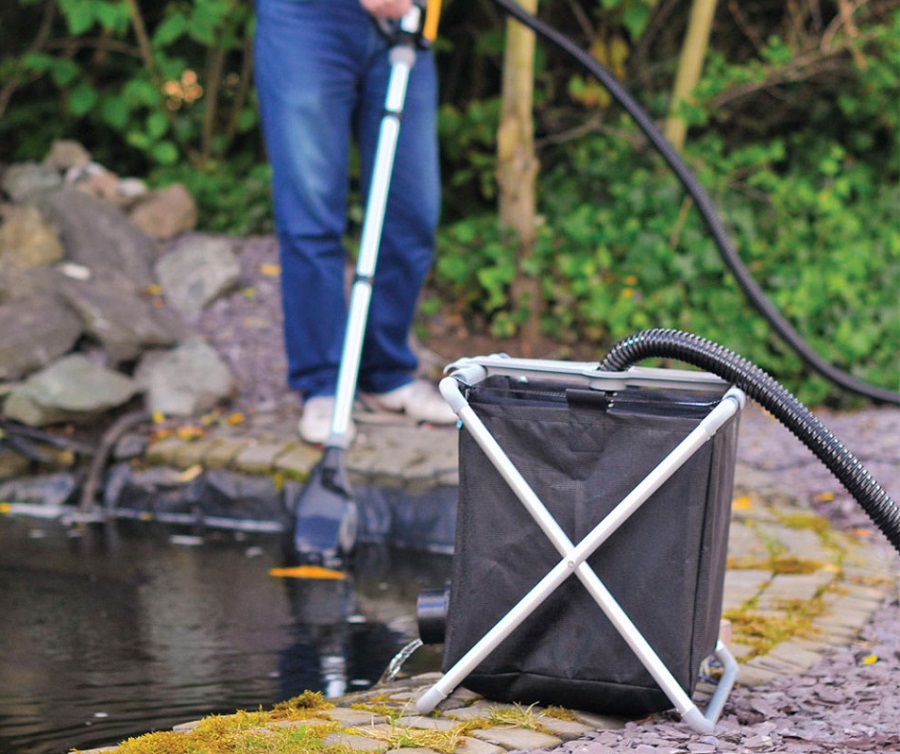 High-performance pond cleaners come with a set of extending tubes as standard. You will find that these machines often have the dual function to clean ponds and swimming pools. But even if a machine is powerful, it's only as good as the supplied accessories, the more the better!
Extending tubes are vital and help to deliver a comprehensive clean by getting to the furthest reaches of your pond or pool and picking up muck. If your pond is deep you will need to ensure that your new machine comes with the lengthiest tubes. A standard pond vacuum comes with an average sized pipe that might not be able to get to the floor of big ponds.
A transparent tube is needed to give you a visual indication of water quality whilst cleaning it. The water should gradually turn from murky to clear. Our recommended pond vacuums come with transparent pipes that allow you to see debris as it travels into the machine.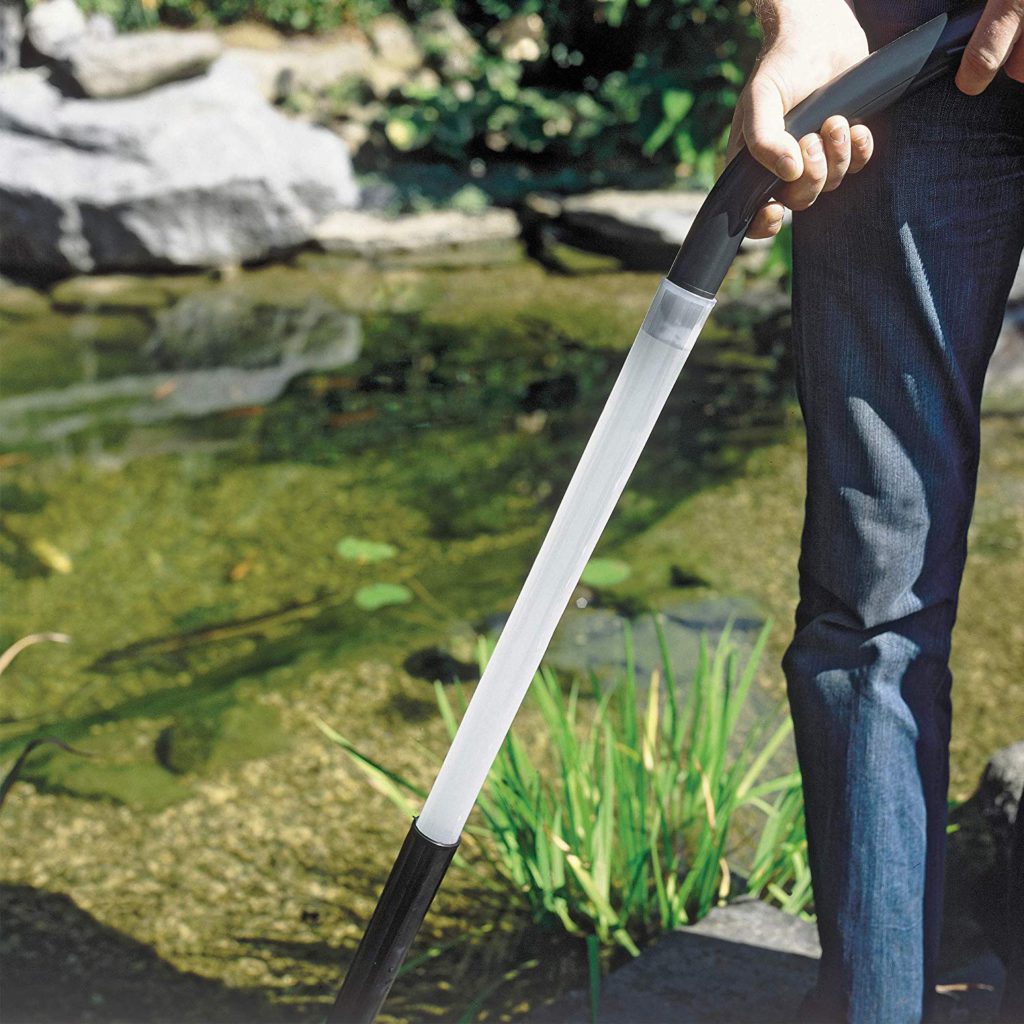 Clear water travelling into the pipes is a good indication that the section you are working on is now clean, therefore you can focus on another area of the pond. It might not seem like much but a transparent tube is important and you will soon see its benefits once cleaning begins. It reduces the job's time as it stops you guessing whether a section is clean or not.
Make sure that you opt for a pond vacuum with strong blades. Doing so will pay off in the long run as it will eliminate the risk of your machine's performance suffering when it picks up a heavier rock. Your machine should be capable of coping with pebbles or harder pieces of debris and break them up if they get in the way of suction.
Conclusion
That concludes our handy guide and reviews of the best pond vacuum cleaners in 2021. Cleaning your lagoon annually is important because it helps to maintain a healthy body of water. Pond cleaners offer a solution to remove muck, sludge and algae from the lagoon without interrupting your fish or draining the entire thing to clean it. Why not choose an easier life and let the machine do all the hard work for you.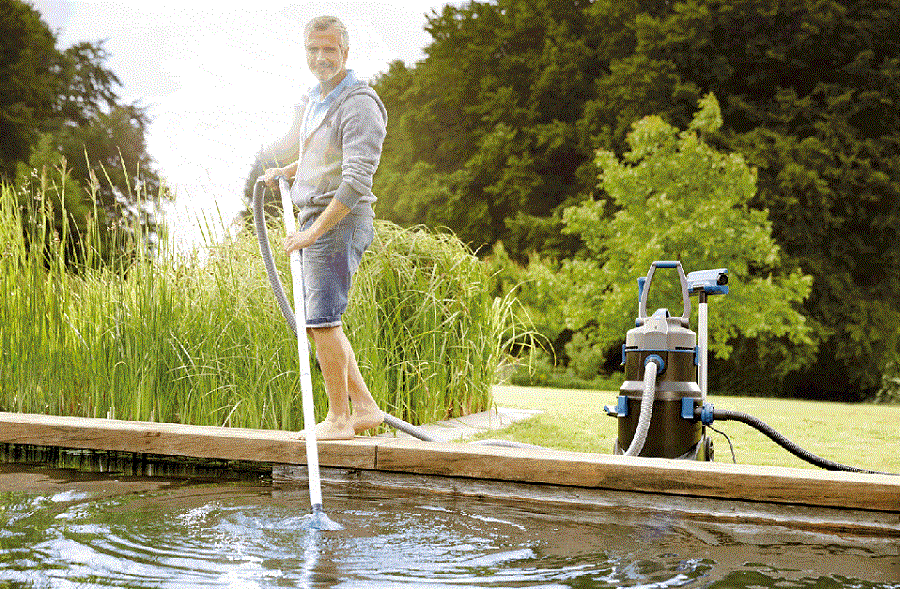 Are you considering buying a pond vacuum cleaner from our list or do you already own one? Please leave your comments in the section below. I'd love to hear from you.
Our List of the Best Domestic Appliances