Maintaining your garden can often be a drawn out task especially if you're not equipped with the right tools. One of the biggest and most time-consuming gardening chores is clearing leaves from paths and lawns. It's a task that has to be done or else you will end up with slippery or waterlogged areas.
Thankfully a leaf vacuum blower can take care of this mammoth task in very little time and with the right model you can even turn those leaves into nutrient-rich mulch to fertilize your plants. Win-win. Why should you rely on a manual tool such as a rake when you can make your life much easier with a garden vacuum? These handy tools perform impeccably to restore your garden or yard back to its former glory.
Most modern leaf vacuums allow you to switch between the vacuum and the blower function. This way you have the choice of blowing the leaves to a designated location or vacuum and collect them as you go along. Don't forget that some of the available models are equipped with a mulching feature that cuts the leaves in smaller pieces, therefore, reducing their volume considerably.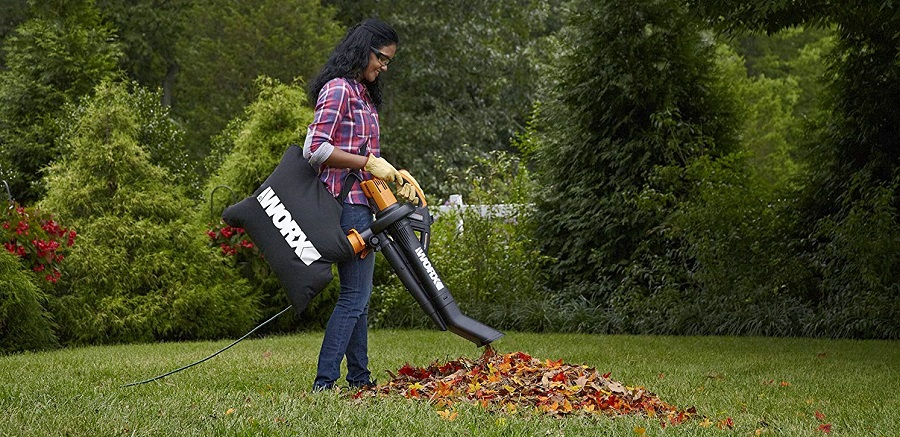 The Benefits of a Leaf Blower/Vacuum
If you're fed up of sweeping up leaves with your rake and are trying to figure out how to dispose of huge leaf piles, it's time you considered investing in a leaf vacuum blower. Our buyers guide will highlight the essential functions to look out for as you search for the ideal garden appliance. Do you need a leaf blower, a leaf vacuum or a combination of the two?
Think of a standalone leaf blower as a motorised rake that assists you to shift leaves into a neat pile in an area of your choosing. This tool can help clear up driveways and pathways much easier than using rake. Leaf blowers are perfect for small to medium sized gardens; however, you still need to figure out what to do with the gathered leaves which is where a leaf blower vacuum comes in.
A leaf blower vacuum does all the same things as a standalone leaf blower with the additional benefit of actually collecting the leaves in a bag for disposal. The ultimate leaf-elimination tool is a combination leaf blower vacuum mulcher which cuts up the leaves as it picks them up and reduces them into a fraction of their original size. The best units can reduce the equivalent of 18 bags of leaves into just 1 bag.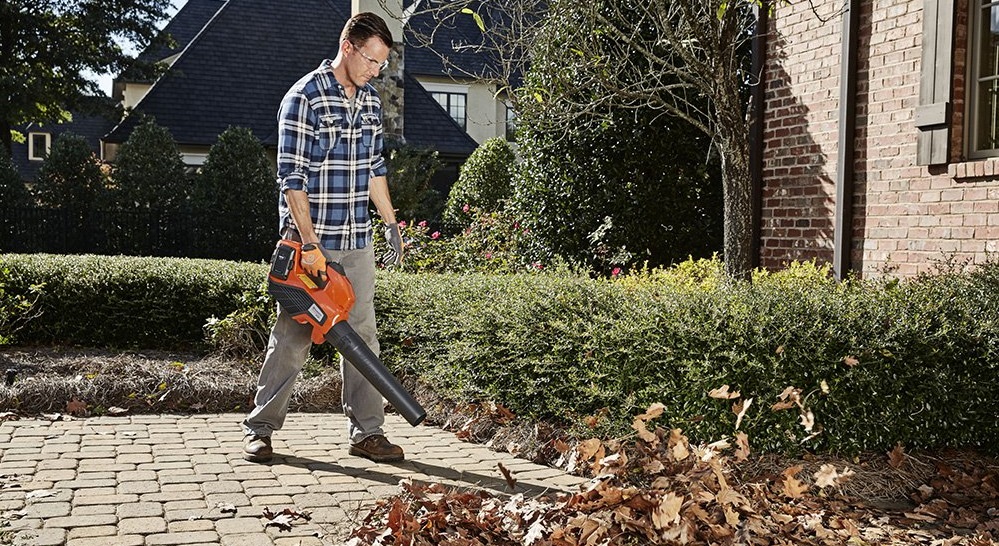 The best advice here is to opt for leaf blower vacuum at the very minimum and if your budget permits it, you should go for a leaf blower vacuum with mulching abilities. You'll be amazed at the time and effort that it saves you and in addition to this, you can actually end up saving money by creating your own compost instead of buying it from the garden center.
Helpful advice: For optimum performance I'd always recommend using your leaf blower vacuum in dry weather when the leaves have dried up. This way you will avoid clogging your beloved machine and reduce the chances of rust forming inside of it.
Recommended Reading: Best Leaf Blower Vacuum Mulchers Available Right Now
What Type of Leaf Blower Vacuum Should you buy?
Corded Type
Its worth considering the power source of your new leaf blower vacuum because each one performs differently. First up is the electric variant which is an ideal option for frequent garden upkeep- simply plug it in and off you go. These units usually weigh less than the alternative types, however they are better for smaller areas depending on the length of the cable.
When working outdoors it's essential to use a safe power source that is fitted with an RCD i.e. a residual current device, which is a life-saving device designed to stop you from getting electrocuted. Always check how long the cord is prior to purchase as the length varies between models. Naturally, bigger yards need longer cords. Alternatively, you could plug the machine into an outdoor extension cable to widen its reach.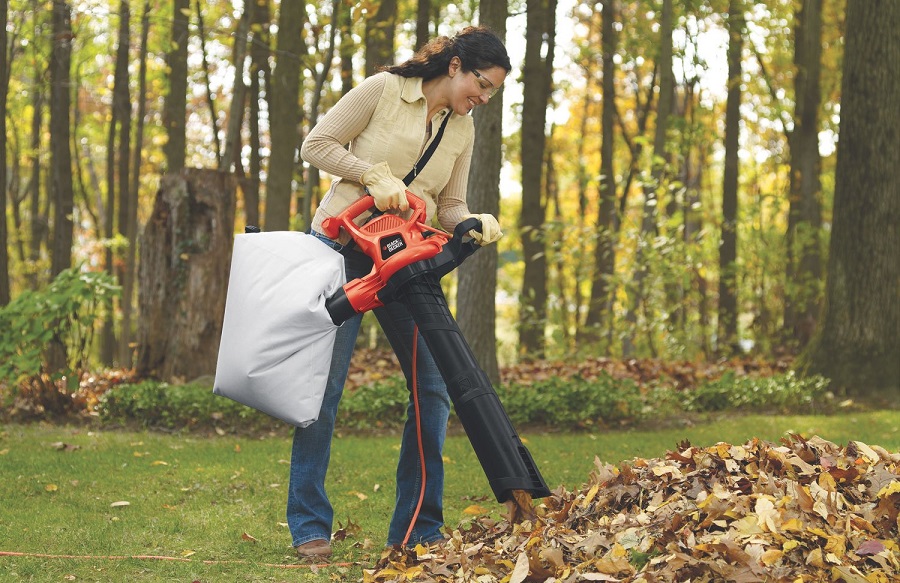 Petrol Types
Petrol leaf blower vacuums are fitted with a 2-stroke engine that utilizes an oil and petrol mixture and are a practical solution for huge gardens with a lot of plants. These models are the strongest option, therefore, make large jobs easier to complete in very little time.
If you decide to buy a petrol-powered leaf blower vacuum, you should note that they require more maintenance than alternative models and you will also need to factor in the fuel expense. You also have to empty the fuel tank when storing the machine for extended periods. Ensure that you've always got a supply of fuel readily available to use the machine. Make sure you get yourself a well-made fuel can and funnel to simplify fueling up and avoiding spillages.
Cordless Type
If an electric cable seems restrictive then a battery powered leaf blower vacuum is a great solution. These models weigh a bit more than the corded types, however, they are still much lighter in weight than petrol units. Cord-free garden vacuum blowers do away with the limitations of cables and can be used in bigger gardens or areas that lack a power source.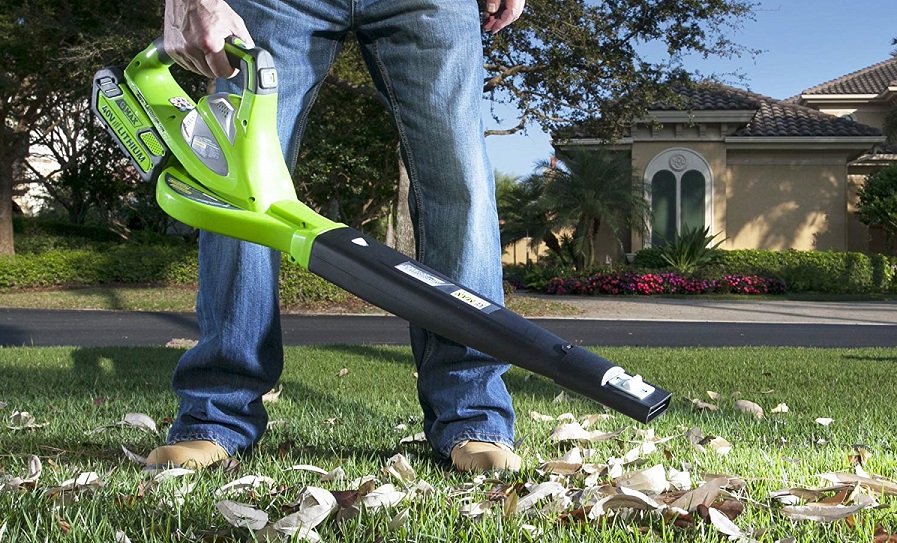 Wherever possible, search for units with high quality Lithium-Ion batteries for better performance. These battery types also hold their charge whilst not in use and provide the benefit of longer running times.
Recommended Reading: Best Leaf Blower Vacuum Mulchers
Important Features to Consider When Buying a Leaf Blower/Vac
Whether you are buying a leaf vacuum for the first time or upgrading your old one, these important features will give you a clearer picture of the type of machine that will meet your gardening requirements.
Should You Buy a Battery, Electric or Corded Unit?
As mentioned earlier, gas leaf vacuum blowers are usually fitted with 2-stroke engines, however, you can also get a 4-stroke engine and I'll explain the difference between the two. A 2-stroke engine uses a specific blend of oil and fuel mixed together. You should always refer to the machine's instructions to ensure that the correct mixture is poured into the tank.
4-stroke engines are kinder to the environment than the 2-stroke variants. The advantage of a 4-stroke engine is that it doesn't require a blend of oil and fuel, therefore, it expels less exhaust fumes. The drawback of a 4-stroke unit is than it weighs a bit more than a 2-stroke and it requires oil changes frequently.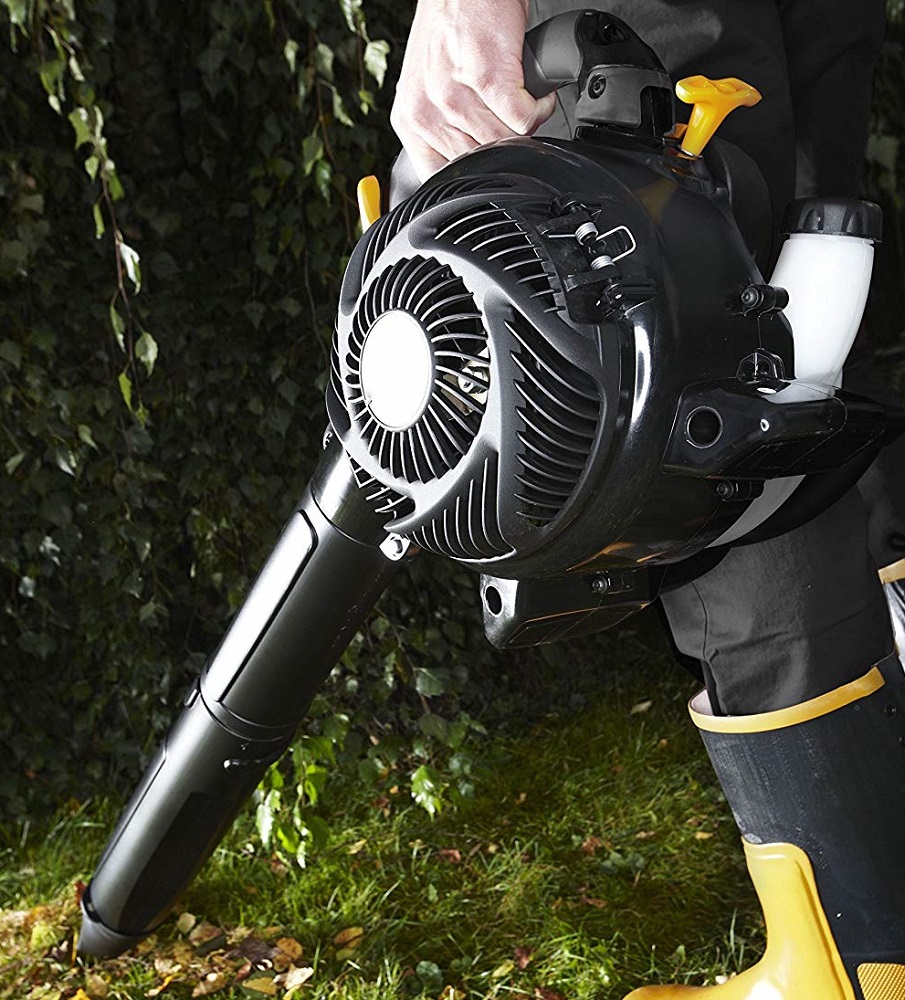 A gas leaf vacuum blower packs more of a punch than other models making it a favoured choice for bigger spaces and professionals. Corded models suffer from range limitations and are only as good as the length of cable unless you intend to plug them into an outdoor extension lead.
Corded leaf vacuums are greener to the environment than petrol-powered units and emit less noise which means you won't annoy the neighbours come autumn. They are easier to handle owing to their lighter weight.
Battery-powered leaf vacuum blowers are the perfect balance between movement freedom and efficiency. You don't need to worry about cable restrictions or the cost of fuel to run the appliance. If your unit comes with an extra battery, then you are never short of power.
Recommended Reading: Best Leaf Blower Vacuum Mulchers Available Today
Should you buy Handheld or Backpack Leaf Blower Vacuum?
A backpack leaf blower vacuum eases the strain that can result from prolonged usage because the weight of the machine is distributed across your back and shoulders. Padded straps increase the comfort and protection of your shoulders.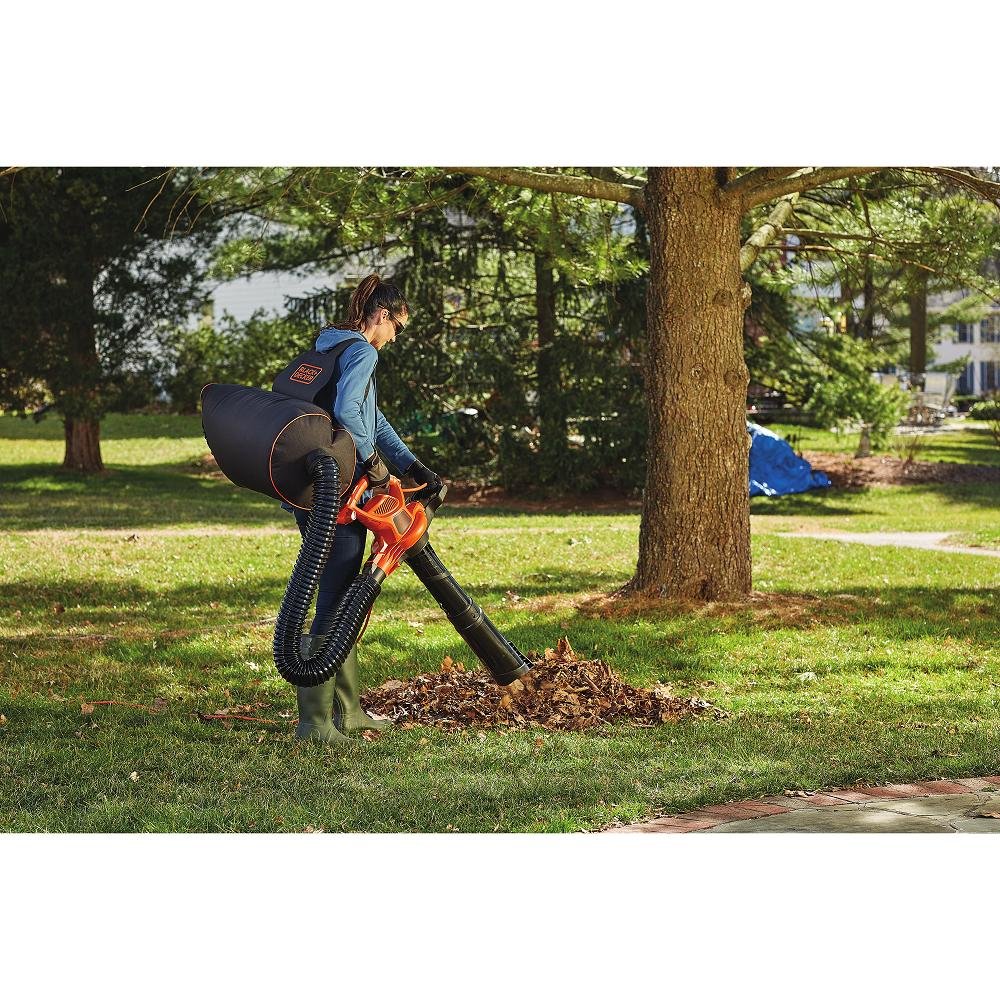 Handheld leaf blower vacuums are the most popular choice for domestic use because of their portability. Backpack units are normally used by professional for commercial applications.
Backpack models are highly efficient and come into their own when undertaking mammoth tasks and it's for this reason that they were initially made for landscapers. They clear up leaves in less time and are fast becoming a popular choice for domestic use as well. We'll help you find the best machine for your needs whether you prefer a handheld or backpack unit.
Noise Guidelines
The noise that a leaf vacuum blower emits can be very loud depending on the type you decide to buy. Some areas even limit their use due to noise levels, therefore, it's important to know the rules for your area before purchasing your new leaf blower. Below are a few restrictions that might be in place:
Time limitations– there could be seasonal restrictions on the times and days that you can use your leaf blower.
Sound limitations– the loudest decibel level permitted at specific times.
Model Type– Gas leaf blower vacuums are the loudest and are banned in certain areas. Always check the regulations in your area.
Distance limitations- Local rules may stipulate the maximum distance that you can operate your leaf blower vacuum from your property.
How many can you use? There might also be restriction on the number of leaf blowers that can be used simultaneously. This won't usually be a problem for domestic owners, but could be an issue for landscapers and professionals that might work in teams on bigger jobs.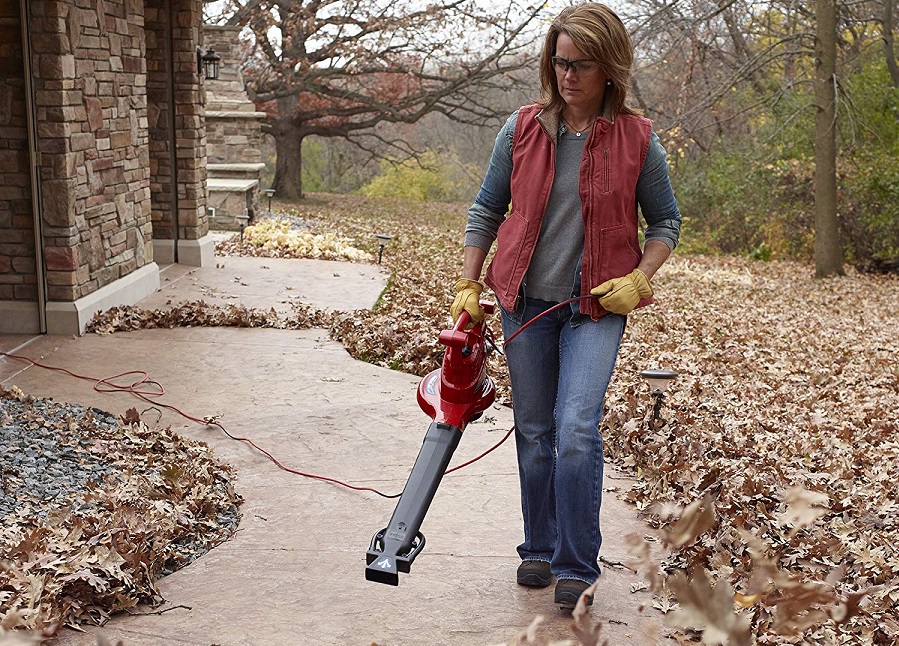 Typically, Corded and battery powered leaf blower vacuums emit considerably less noise than gas-powered units. Electric motors are quieter than combustion engines when producing the equivalent power output.
Safety Measures
Twigs, stones and other types of debris could shorten the life of your leaf vacuum, therefore, you should use the blower function to move leaves to a suitable area, free from other types of debris, before vacuuming the leaves.
I'd recommend wearing overhead ear muffs to protect your ears from loud noises, specifically when using a gas-powered leaf vacuum blower. Don't forget eye protection to shield your eyes from stray objects.
Some models are equipped with features to minimise vibrations, therefore, reducing the effect on your hands, wrists and arms. A lower vibration provides better comfort which is essential for bigger spaces that will see you using the machine for longer periods.
Safe practice is important when operating garden appliances, this will reduce chances of injury or damage to the machine. Make sure that you wear robust footwear and protective garden gloves to guard you against debris and vegetation that should scratch or cut you.
For gas-powered leaf vacuum blowers, you should use a basic choke to start up the motor with ease.
Recommended Reading: Best Leaf Blower Vacuum Mulchers
Clearing Speed
The rate at which you can clear the area is important. For the best speed you should choose a leaf blower vacuum instead of a standalone unit with just one function. A unit such a blower/ vacuum with a combination of features means that you can move the leaves into a convenient pile where they can be vacuumed all in one go. This technique is the most efficient and fastest way to get rid of leaves.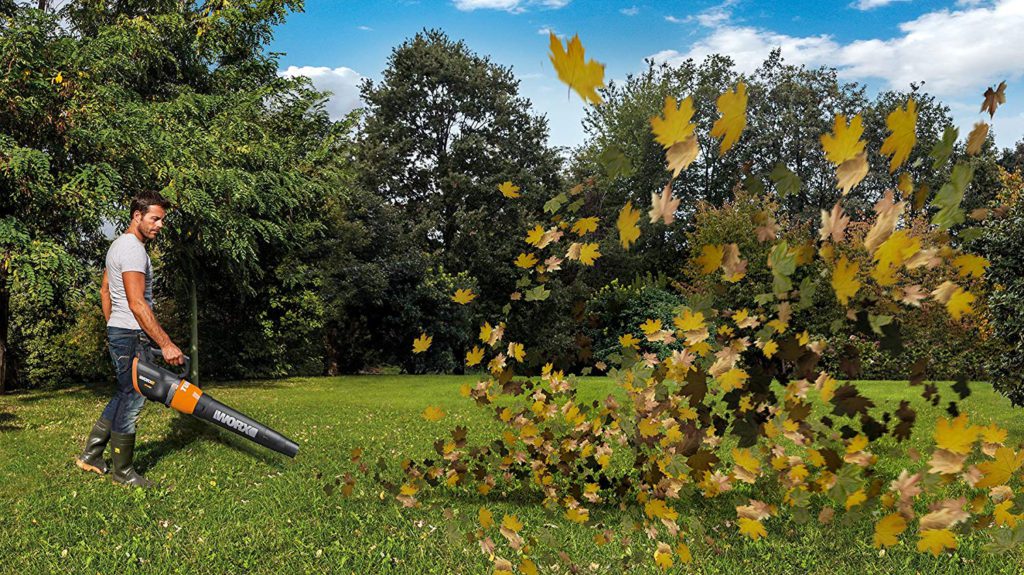 Power and Efficiency
If you intend to clear large areas or operate your garden appliance for extended times then you should think about the power inside the machine's engine. The power ranges between 2500 – 3000 Watts (W). Powerful leaf vacuum blowers will come with more wattage and as a result, you can work faster.
If you're thinking about composting fallen leaves, then a leaf blower with a mulching feature is highly recommended, however, you need to think about the mulching ratio as previous mentioned. The leaves are shredded as they are vacuumed into the machine. The best units come with a minimum mulching ratio of 16:1. You want a unit that shreds leaves to the smallest possible size to help them compost faster and take up considerably less space than their original size.
When choosing a leaf blower vacuum you should also consider the size of the collection bag. A bigger bag means that you have longer intervals between leaf emptying, however, a larger collection bag will be heavier to carry as it fills up.
Some appliances come with wheels fitted at the end of the blower tube to ease the manoeuvrability of the vacuum whilst working. The dimensions of the appliance i.e. height, length and depth, are important not only for ease of use but for storage purposes as well, especially if the space in your garage or shed is limited. Most units are detachable; therefore, you can separate the blower tube from the main body.
Compost
Have you considered turning your garden waste into compost? If you decide to compost then you will need to buy a compost bin. Once your leaves are mulched and thrown into the compost bin, they will transform into nutrient-rich fertilizer that can be used on soil beds and borders in spring. Making your compost is the greenest way to get rid of garden waste and a cost-efficient way of acquiring fertilizer.
Leaf Blower Vacuum Warranty
The length of the warranty is different between brands and models. For example, you might get a lengthy conditional warranty that lasts up to 5 years or shorter comprehensive 2-year warranty that covers any type of repair. Be sure to check the duration of your warranty and what it entails.
Motor Speed
The most important elements that influence the efficiency of a leaf blower vacuum are volume and speed. The machine's speed will define the rate at which it can vacuum and blow leaves and debris.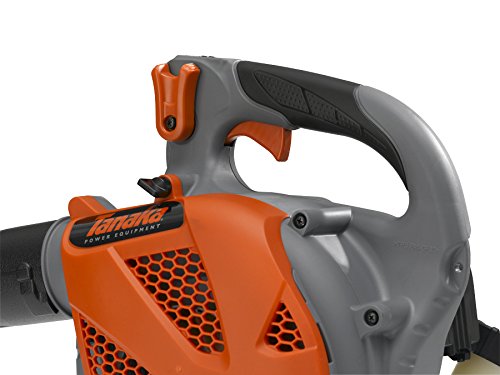 The rate of airflow is calculated in miles per hour and the majority of leaf blower vacs will produce a speed that ranges between 110 to 180 mph with higher-end models producing up to 250 miles per hour. You can also buy leaf blowers with an adjustable speed, therefore, a lower speed can be used in areas with delicate plants.
The volume of the machine will give you an indication of how easy it will be to clear the area from debris and leaves. The rate at which air moves through the vacuum tube is calculated in cubic feet per minute or CFM. This measurement demonstrates the true power of your chosen appliance.
Typically, the CFM in leaf blower vacuums will range between 150 to 600 cubic feet per minute. Ideally you want to buy a unit with at least 400 CFM which is suitable for most tasks in gardens of various sizes. Bear in mind that a leaf vacuum with a volume that is too big could end up picking branches that could block the machine.
Recommended Reading: Best Leaf Blower Vacuum Mulchers
Collection of Mulch
The collection bag on a leaf blower vacuum tends to get full very fast and as a result, emptying the bag is a frequent occurrence. If you opt for a machine with mulching capabilities this would mean that the inner blades will shred the leaves and vastly reduce their size. The mulcher will also improve the quality of your compost.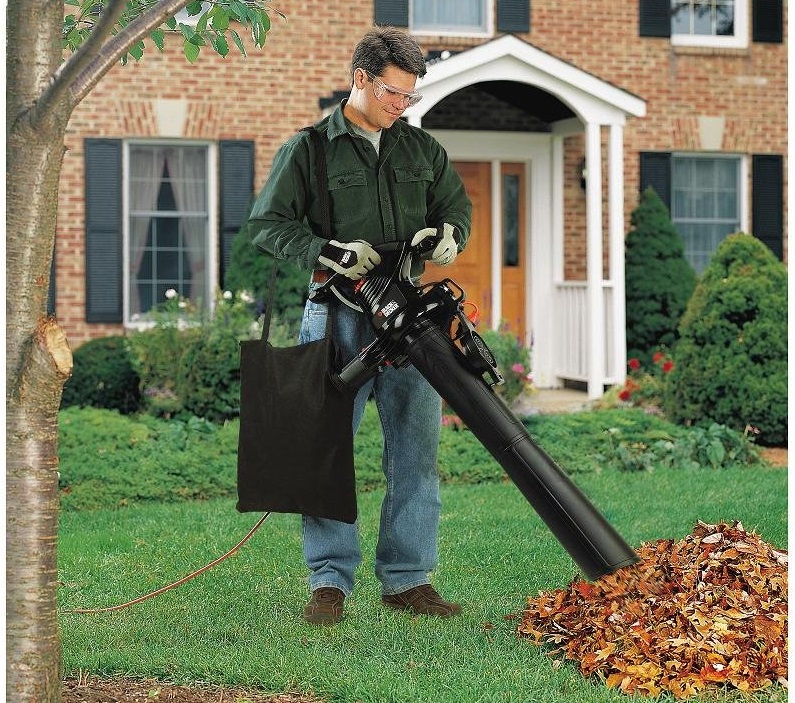 Whilst the description might state a reduction of 12:1 or 18:1, it is usually less than that in reality. Damp leaves and debris can hinder achieving the optimum results that occur in dry conditions. As mentioned earlier the reduction rate is the amount of leaf bags that the machine can reduce into a single bag.
Whether you choose to use the mulch as a fertilizer or not, the convenience of lessening the disposals is a great advantage. Depending on where you live, you might be allowed to burn the leaves but it's always best to check the regulations around this.
Another handy feature to look out for is a leaf blower vacuum with a refillable collection bag that is lined with disposable bags, therefore, you don't need to wash the primary bag every time it's used- instead you can just throw away the disposable bag and keep your main collection bag from collecting bad smells that result from leftover leaves.
How To Choose The Best Leaf Blower Vacuum
Choosing the ideal leaf blower vacuum will mostly depend on your individual requirements and the size of your garden or yard.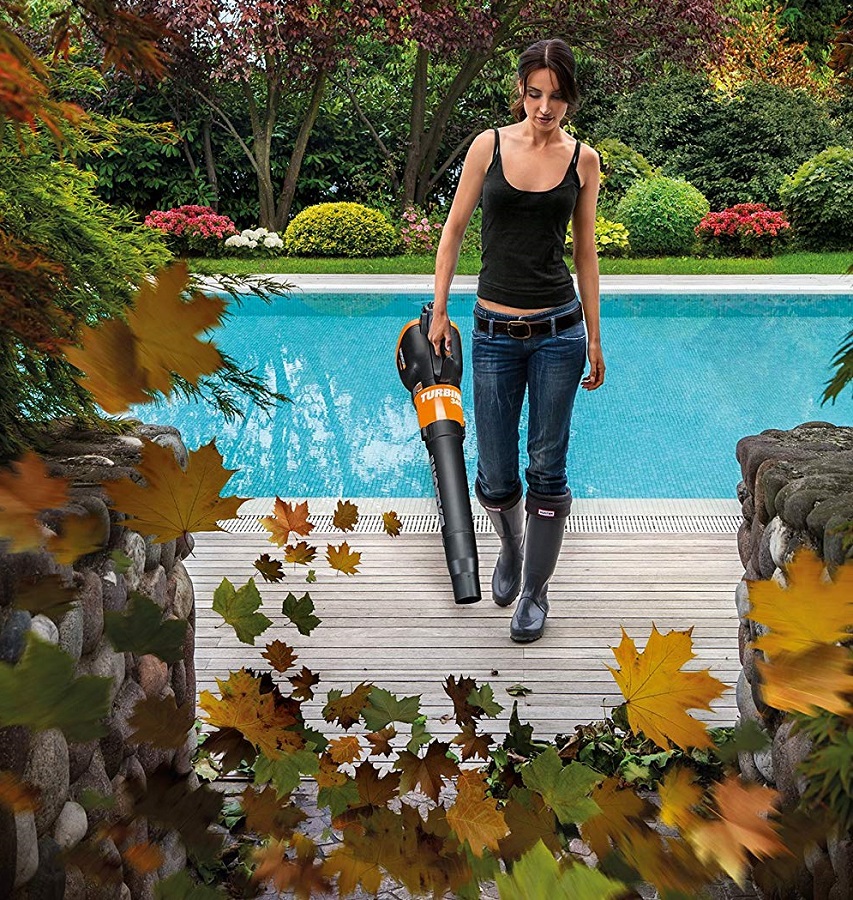 Small versus Large Gardens
Always choose a model with adequate power for larger spaces but not too much power to render it useless in smaller yards.
For smaller yards always go for either a battery powered or electric model.
If your yard is more than 1 acre in size, then it's advisable to buy a backpack leaf blower vacuum to cover more ground without causing strain to your arms and hands.
Small yards measuring ½ acre or less can be maintained with a machine that houses a 30-cc engine.
Small yards will require an airflow between 150-200 Miles per hour.
Countryside versus City
Putting aside the drawbacks of a gas-powered leaf blower vacuum, it still remains a firm choice for big countryside yards.
Cord-free battery models are the best choice for big gardens in urban areas.
You will want a leaf blower vacuum with adjustable speeds for gardens with delicate flowers in urban areas, therefore, you can reduce the airflow to avoid damaging your beloved flowers.
Noisy leaf blower vacuums are a nuisance to neighbours which is why I'd always recommend a quieter electric model rather than a gas model for gardens in the city.
Tackling Exceptionally Leafy Areas
For yards that prone to excessive leaves, I would always recommend to buy a Leaf blower vacuum mulcher. The 3-in-1 functionality will help to minimize huge piles of leaves in less bags with the help of mulching.
By now you will have a good understanding of the benefits that comes with a mulcher. It saves time and space by shredding leaves into a fraction of their initial size.
A slower speed is recommended for big leaf piles to avoid the machine from clogging up. Ideally, you want a mulcher with adjustable settings for different scenarios and pile sizes.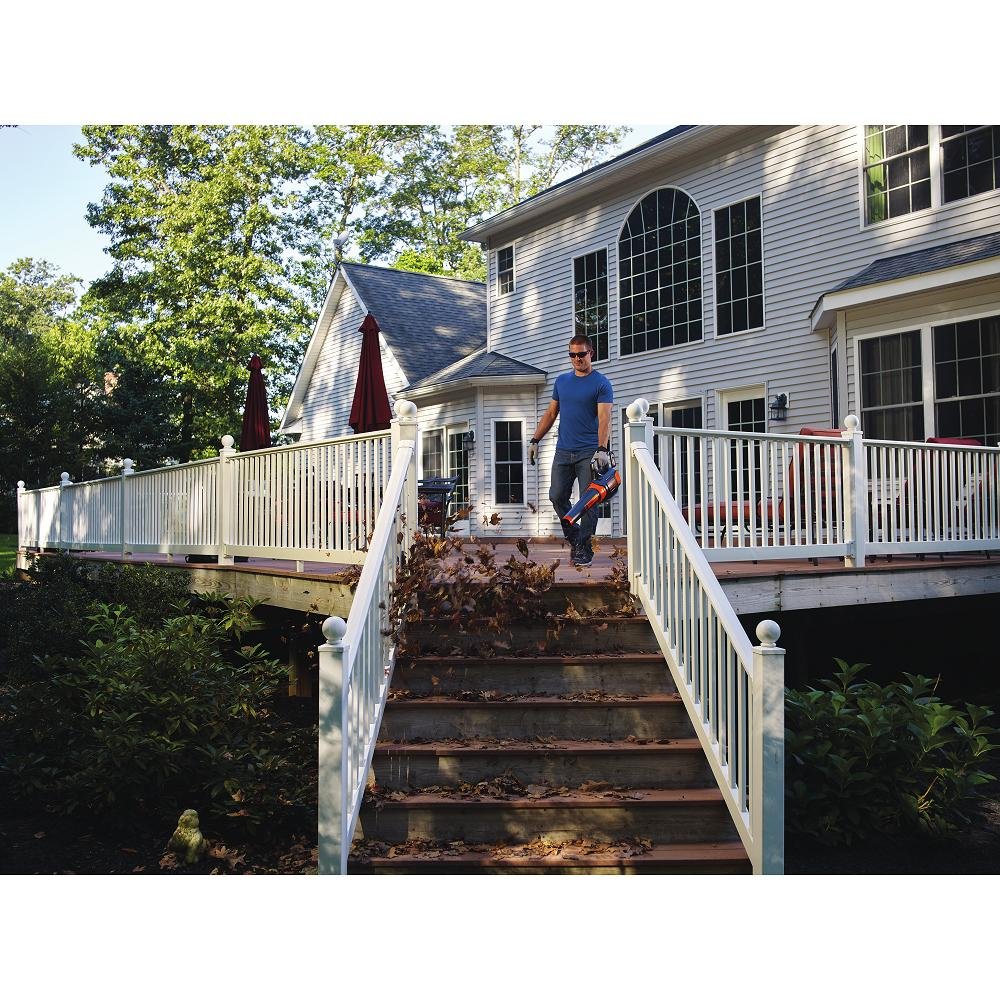 Recommended Reading: Best Leaf Blower Vacuum Mulchers
SUMMARY
We've reached the end of our leaf blower vacuum buyers guide for 2021. Hopefully, by now, you should be confident about the type of model that best suits your requirements. There are various elements to ponder over when choosing a suitable garden appliance to get rid of leaves in the most efficient and hassle-free way possible.
If you're after a gadget that will enable you to meticulously clear small to medium sized spaces, then your best bet is an electric unit. If your requirements are more robust and you need a machine that can clear larger spaces, then a gas-powered appliance would be better suited for this.
Are you thinking of buying a standalone leaf blower, a combination unit or do you already own either of these? Please leave your comments in the section below. I'd love to hear from you. If there is something that we've not covered that you are unsure about feel free to get in touch. We'd also like to know what you consider to be the most significant feature on a leaf blower vacuum.
Our List of the Best Domestic Appliances