Best Ash Vacuum Cleaners for Charcoal Barbecue Grills 2021
Grilling is definitely one of the best ways to cook your food especially when the sun comes out. It also gives us something to do during isolation whilst we've been told to stay at home. Grilling using charcoal brings a special aroma and flavor to your food and makes meat extra tasty.
My mouth just waters at the thought of seared steaks and barbecued chicken. Yum! Grilling is popular in most households but the problem we have to face afterwards is the ash from the charcoal used. In this review, we have put together the best hot ash vacuum cleaners for charcoal barbecue grills in 2021. 
These vacuums might look like an ordinary vacuum cleaner, however, they serve a distinct purpose which is to pick up warm and cold ash around your household as well as outside- a task that would almost certainly damage a standard vacuum cleaner.
The warm ash vacuum is designed to remove ash from fireplaces, pellet stoves, barbecue grills, or an old-fashioned pizza oven. It has a heat resistant metallic case to withstand high temperatures.
There are a few important things you must remember before choosing the perfect hot ash vacuum cleaner for your needs.
Material
The first thing is the material. It must be heat resistant since we are dealing with fire here. The material must be made fireproof since glowing embers can stay hot for days. This is the most important part because if the material is made of plastic or rubber this may cause fire or even an explosion to your vacuum cleaner. To avoid accidents we have to make sure that even the hose is heat resistant and hard-wearing because we might collect warm, cold or even wet ash.
Size, Weight & Capacity
The second thing is the size, weight & capacity. The size matters here because if you are living in a household with limited storage you would fare better with a compact ash vacuum for added convenience. Also, most grills are in the backyard therefore you have to carry your ash vacuum from one place to another so the weight also matters.
Lastly, who would want to add to their workload by constantly disposing of ash from their vacuum due to full capacity? No one right? So you must also consider an ash vacuum with decent capacity, therefore, minimizing trips to the trash can. 
Filtration
The third thing is the Filtration. A good ash vacuum must filter even the smallest bit of dirt. Having excellent filtration provides you lesser maintenance costs and maximizes the lifespan of your Ash Vacuum to its fullest by keeping it running at an optimum level.
Budget
The fourth thing is of course the budget. There are a lot of great ash vacuums out there but we must also consider what is the most economical. Why spend thousands of dollars when you can get something much cheaper but with excellent quality?
There are still a few things that we must consider when buying a hot ash vacuum cleaner like the power cord, hose and suction power but these are some of the features we will look at for each model on our shortlist as we go along.
So here is the top 7 list of the best hot ash vacuum cleaners for charcoal barbecue grills in 2020. Take a seat and choose your best option in the list below.
1). Cougar+ Ash Vacuum Cleaner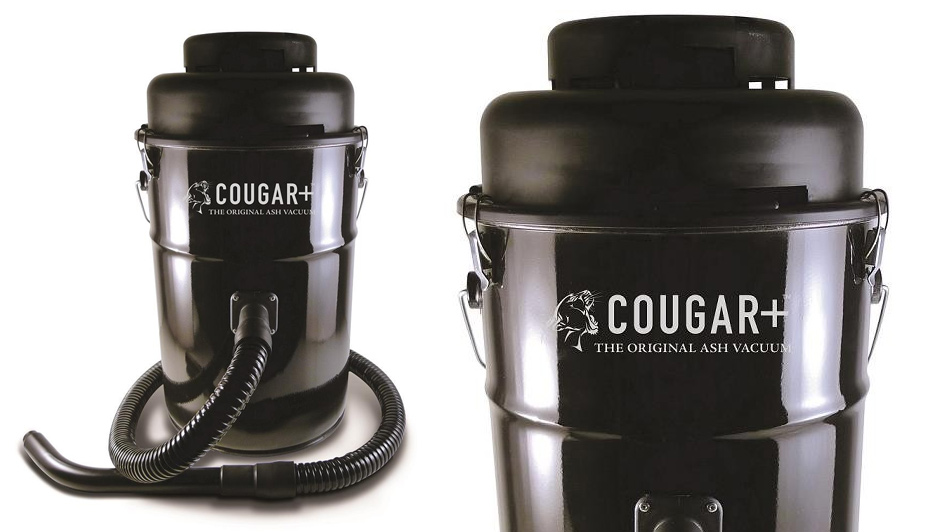 If you're looking for the highest performance ash vacuum you should seriously consider the Cougar+ vacuum. This model is the best performing ash vacuum currently available. With this model you can clean ash from barbecue grills, multi-fuel stoves, fireplaces as well as pellet stoves. The patented filter system is designed to suck up micro-particles of ash without causing damage to the motor.
The filters are coated with a fibreglass material that keeps the motor shielded from fine ash particles and also prevents the ash from blowing back into the room or the surrounding air. The device feels robust and is hard-wearing for tough tasks.
The Cougar+ ash vacuum comes with a sealed system inside its metal exterior and as a result, once the ash is picked up it's not coming back out. A big advantage of this machine is that it can simultaneously suck up warm ash as well as wet ash without needing to swap filters. The machine weighs around 17 pounds and is equipped with a 5-ft hose.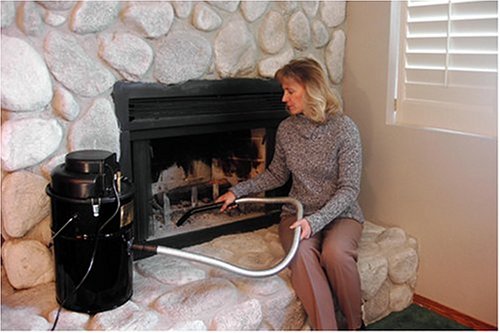 The motor is designed to deliver an energy-saving airflow speed of 90 CFM with a water lift capacity of 55" to make light work of ash removal without causing further mess. The machine is user-friendly and doesn't need to be opened to clean the filters. It comes with a generous set of accessories including a crevice tool, mini extension wand, mini round brush tool, horse hair brush, mini oval brush tool, vented cuff & pellet hose, bent metal nozzle and a kit bag to store your accessories.
The manufacturer is so confident about the reliability of the Cougar+ vacuum that they provide a 10 year limited warranty as standard. If the machine breakdowns or encounters motor problems or product defects then all you need to do is get in touch with the customer services team and they'll arrange a replacement or repair.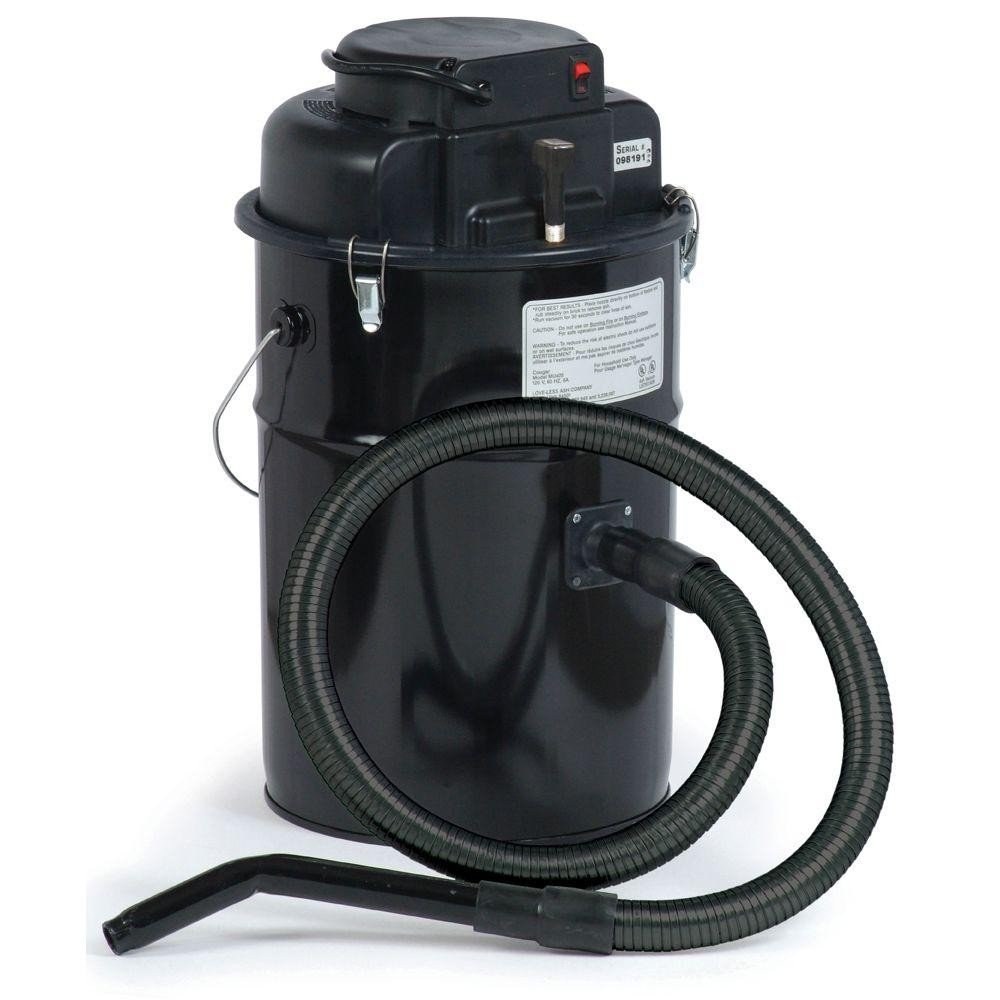 Where Can You Buy the Cougar+ Ash Vacuum?
2). PowerSmith PAVC101 Ash Vacuum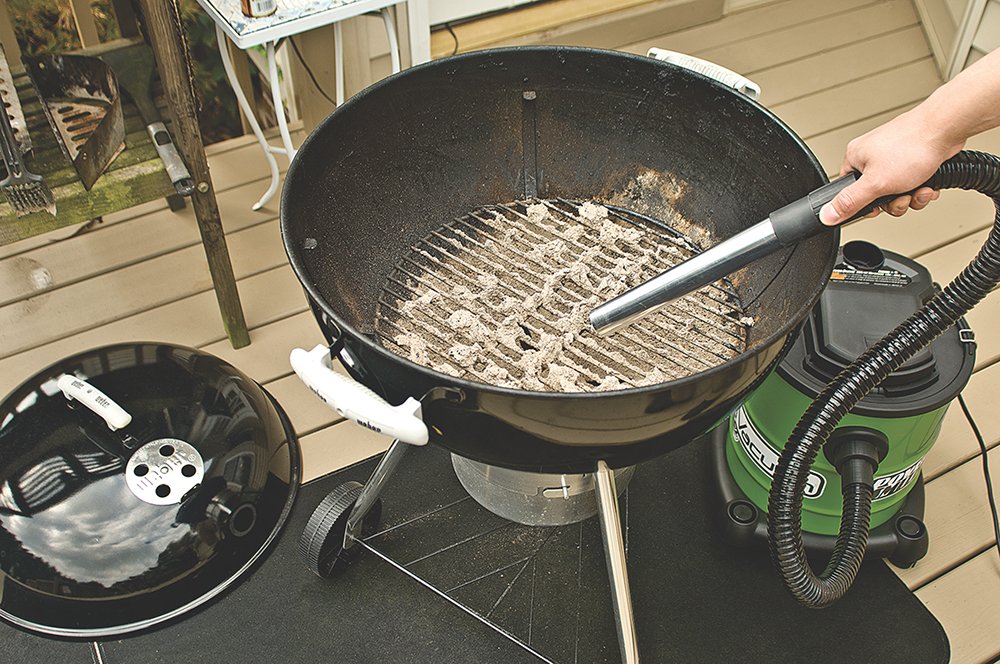 Second on our list is the PowerSmith ash vacuum cleaner. This model delivers a thorough clean and is versatile enough to clean all types of ash from wood stoves to fire pits. It has a wheelbase that makes it easy for you to move it from the house to your grilling area outside. It contains a washable filter, which cuts down the cost of purchasing replacement filters. The filter can handle warm and cool ash, and it filters even the finest particles.
One advantage to the PowerSmith is that it comes with additional user-friendly features such as casters and a 16-foot cord. It can also be used indoors. The motor provides 10amps of power, but it still makes less noise than other models. The PowerSmith never exceeds over 79 dB meaning it is powerful, yet it operates at a lower noise level. It has an ash capacity of 3 gallons.
It is also capable of being converted into a leaf blower to blow away messy leaves from your garden or backyard. The Powersmith can handle any task, whether you are cleaning up the charcoal ash from your grill or the dust in your garage. This ash vacuum rates among the best of the best, and is priced affordably to suit most budgets. It also comes with a 2-year warranty.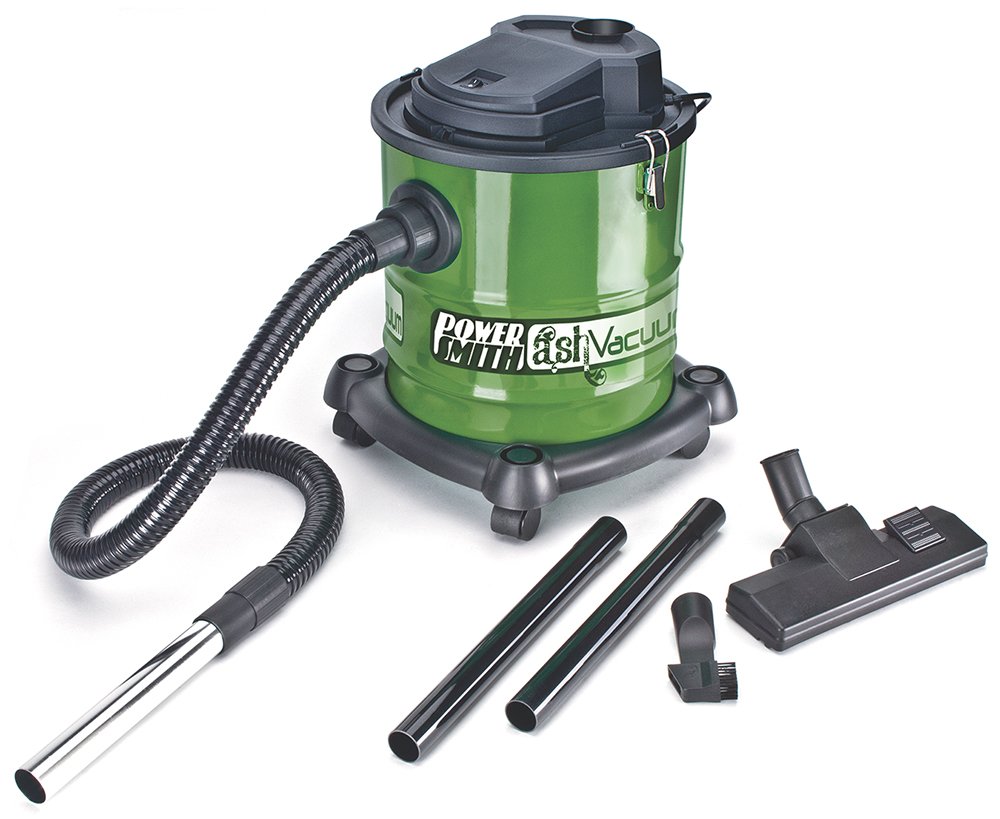 Where Can You Buy the PowerSmith PAVC101 Ash Vacuum?
3). Shop-Vac 4041200 Ash Vacuum Cleaner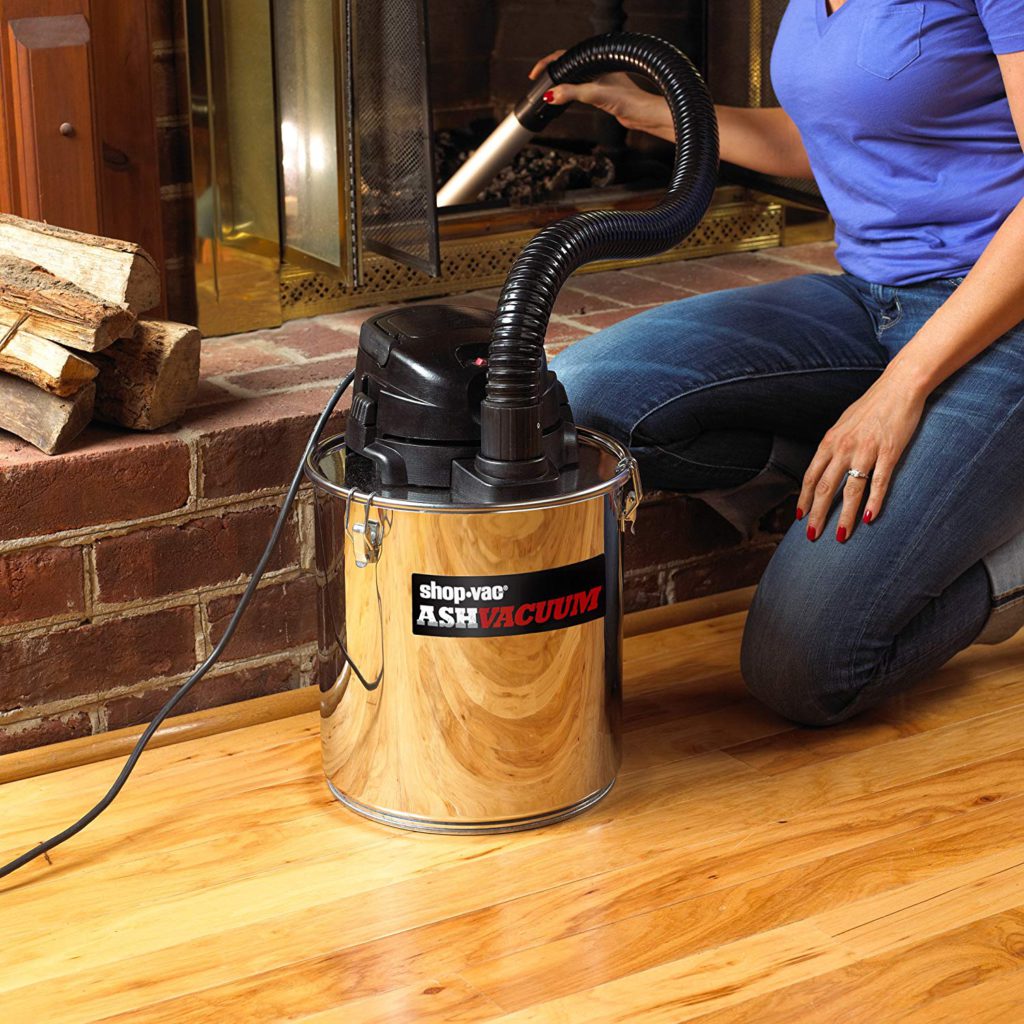 The third on our list is the Shop-Vac ash vacuum cleaner. This model is ideal for the messiest jobs including cleaning ash from your multi-fuel stove, fireplace, barbecue or fire pit without spreading dust. This shop-vac vacuum can only pick up cold ash but it does this task extremely well.
Whenever you're considering to buy an ash vacuum always think about the safety element. A benefit of the Shop-Vac 4041200 it that it's fitted with a thermal protective device. The main unit attached to the robust vinyl covered flexible lock-on steel hose with a metal intake nozzle, which is very important. It is also installed with an aluminum deflector.
For the filtration, it is installed with an efficient HEPA cartridge filter that stops ultra fine dust and resists clogging. The best part is, it has a 2 stage filtration system that stops ash from discharging out the exhaust. The machines weighs 13 pounds and the capacity is 5 gallons. It has a corded power source with 120 volts. I like the fact that this model is budget-friendly and comes with a 2-year warranty.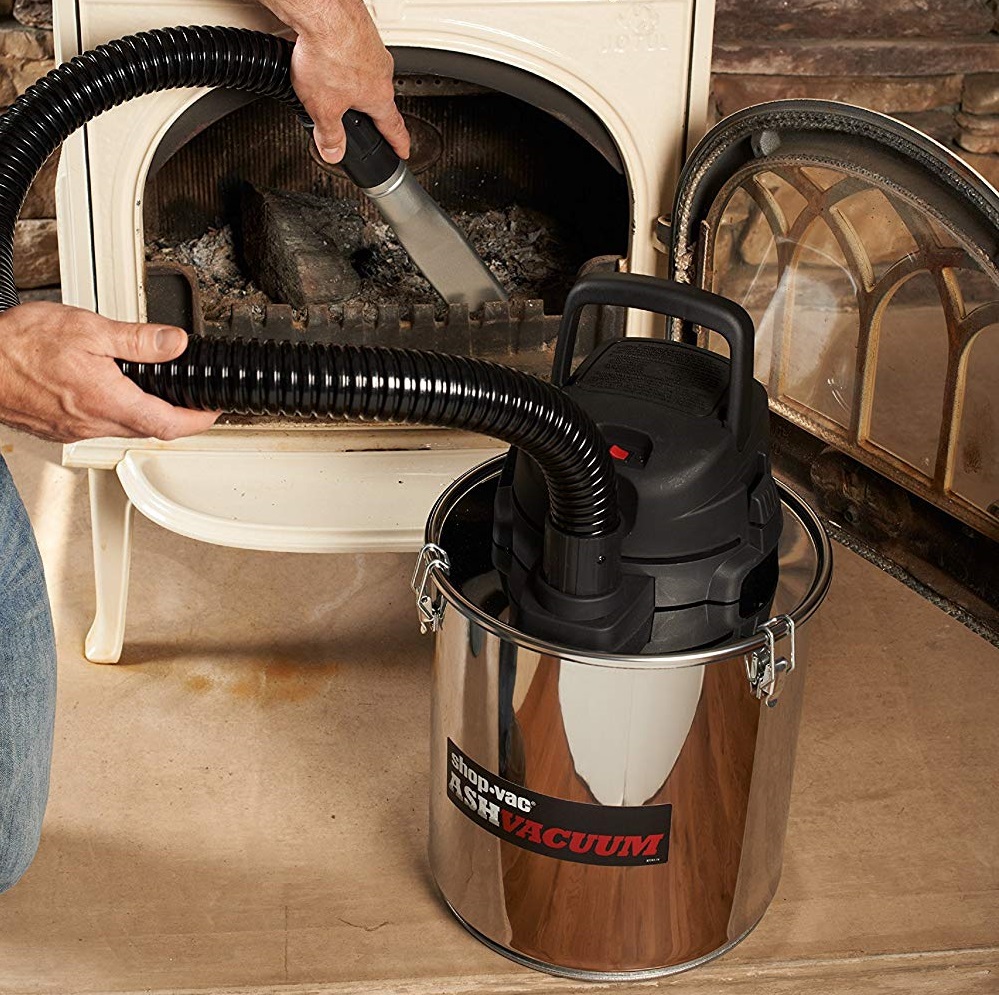 Where Can You Buy the Shop-Vac 4041200 Ash Vacuum?
4). Snow Joe ASHJ201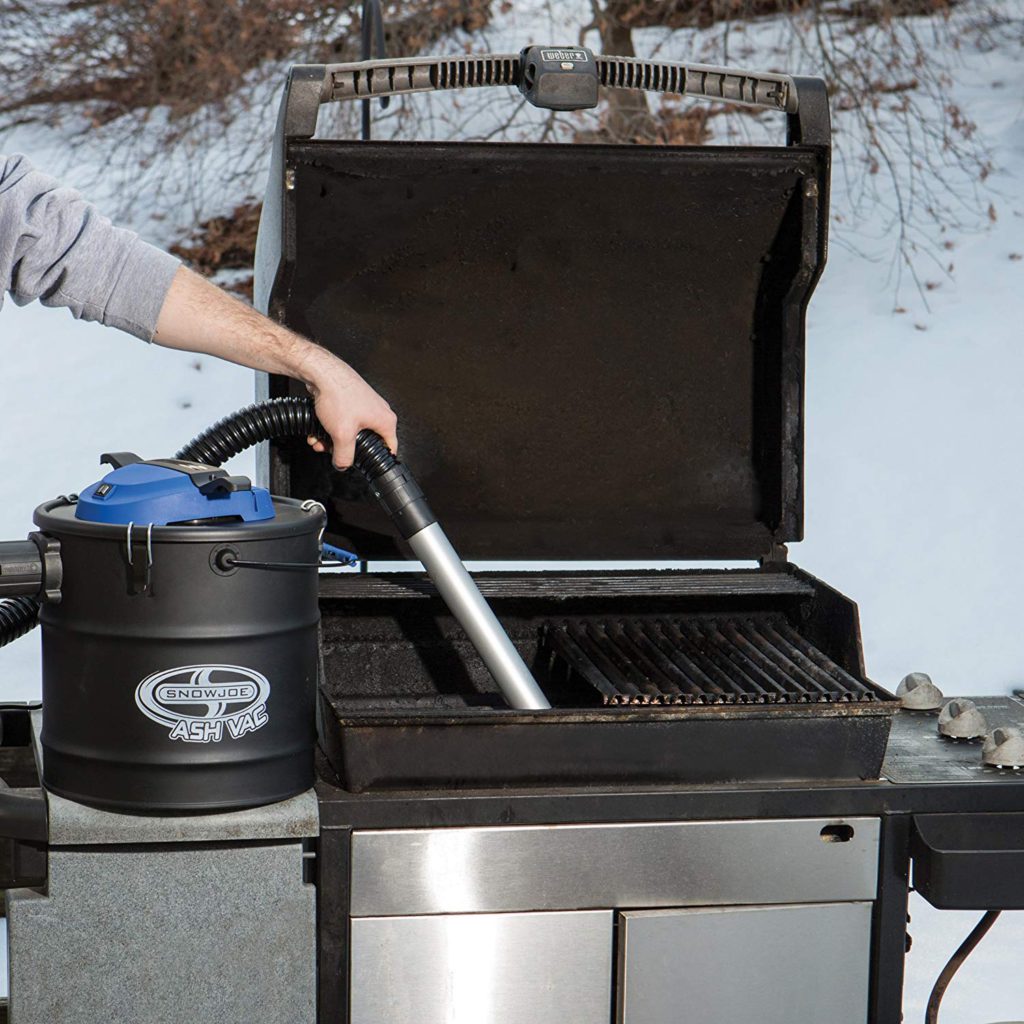 The fourth on our list is the Snow Joe AshJ201. This ash vacuum has a 4.8 gallon capacity designed for cold ash from wood and multi-fuel stoves, pellet stoves, fireplaces, fire pits and BBQ grills.
The Snow Joe Ash J201 is very easy to operate. All you need to do is place the vacuum's aluminum intake nozzle into the pile of cold ash then turn on the appliance. The 4-amp motor is powerful enough to deliver up to 500 W of strong suction power with an airflow of 42.3 cubic feet per minute. That's a lot of power!
As we have discussed earlier, the machine's dirt-holding capacity is also one of the most important aspects of choosing the perfect ash vacuum which is why the Snow Joe Ash Vacuum is one of our top contenders. It comes with a bigger metal canister that's capable of containing up to 4.8 gallons of ash. This provides you with plenty of uninterrupted cleaning time without frequently stopping to empty the container. The machine weighs 8.8 lbs.
Another good thing about the Snow Joe ash vacuum is its efficient filtration system. It is designed with a dual filtration system and you get your money's worth as the system comes with a fine-dust filter and a coarse-dust pre-filter. It successfully catches dust each and every time and traps it inside the sealed canister whilst sucking up the ash. The benefit of using Snow Joe is that it stops ash from escaping back into the atmosphere once it's drawn into the machine..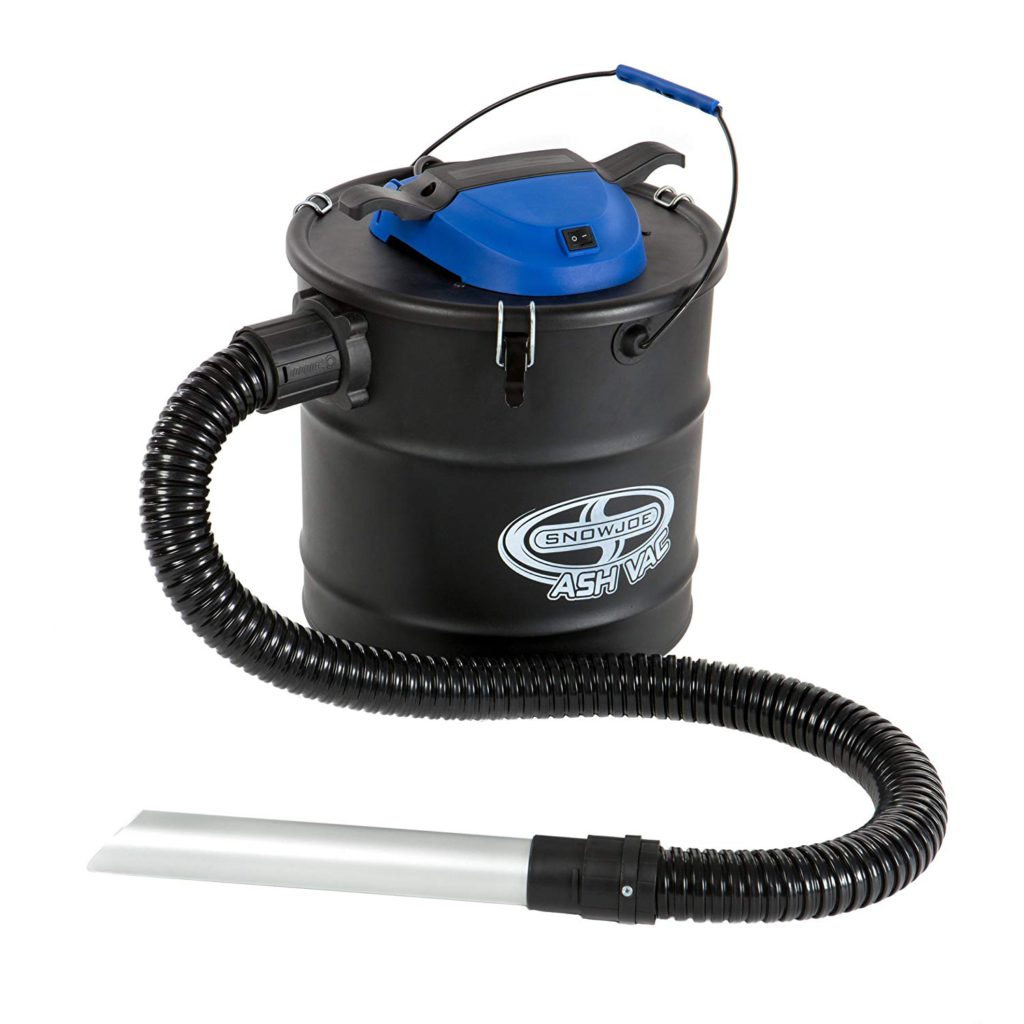 Not only does the Snow Joe put a stop to dust circulating around your household but it is also a solid cleaning tool for outdoor areas including your barbecue grill. The machine comes with a 2-year warranty with customer assistance.
Where Can You Buy the Snow Joe AshJ201 Ash Vacuum?
5). Stanley 6 Gallon Wet Dry Vacuum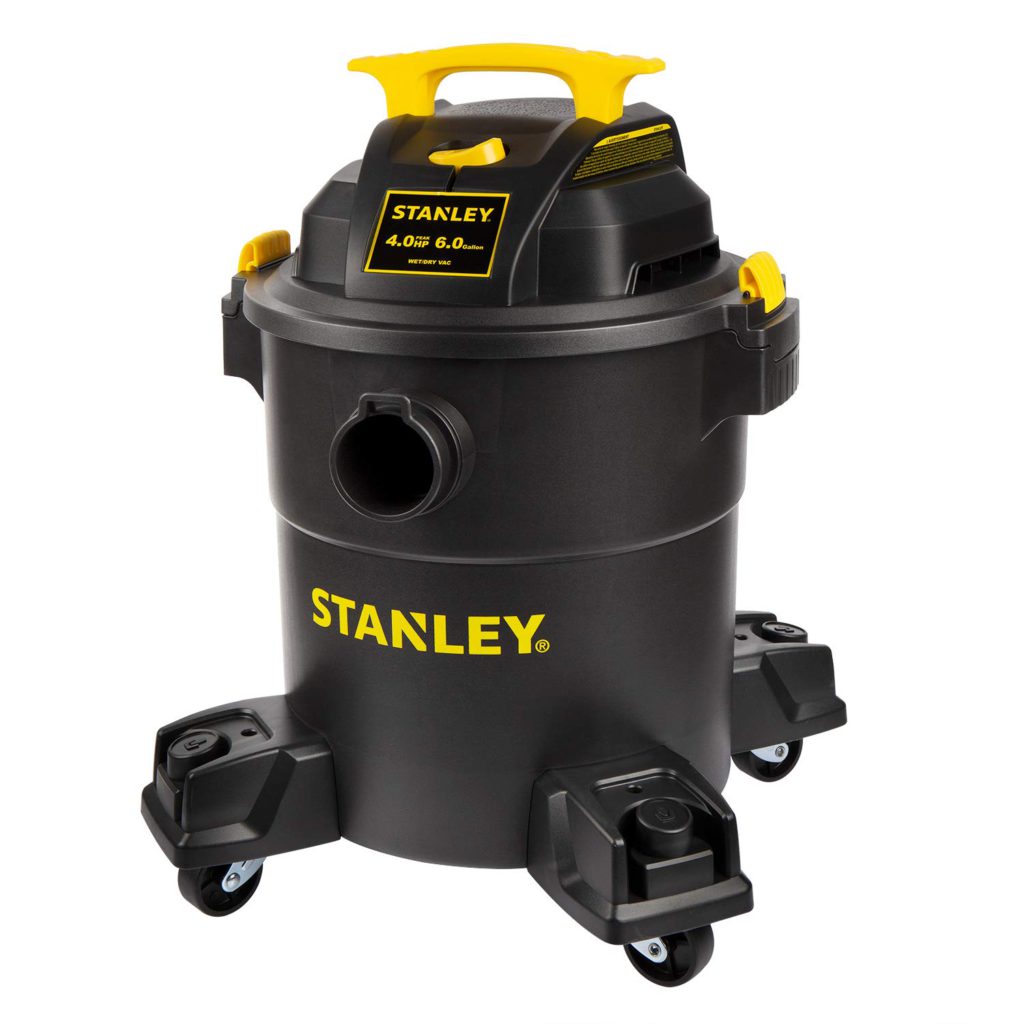 The fifth on the list is the Stanley 6 Gallon Wet Dry Vacuum. If you're in the habit of hosting large barbecue parties (like me) then this is the perfect machine thanks to it's larger capacity for bigger cleaning jobs.
The robust motor is on par with commercial appliances for large-scale challenging jobs. Not only do you get heaps of power at your disposal but you also get the benefit of the machine's versatility to perform different types of jobs including picking up wet mess. The appliance might appear to be heavy but it's actually very lightweight and easy to maintain. You will find a sturdy handle to carry it from one area to the next. You can easily lift it from indoors to outdoors to clean that messy grill.
In addition to cleaning dry and wet mess it can also transform from a vacuum to powerful blower. That's good value for money. Assembling the machine for first-time use is simple and takes less than 5 minutes. There's a huge user-friendly power switch and waterproofing to ensure safer usage.
The Stanley SL18116P Wet/Dry Vacuum has a 14-kPa with airflow at 75-CFM. It comes with a good range of accessories such as a 1-1/4 inch wide by 6 foot long hose, two extension wands, a crevice nozzle, 10-inch floor nozzle, cartridge filter and dust bag. There are plenty of tools to help with virtually any task, however, the downside is that the machine is a little bit loud according to other users. Although it may be louder to operate than it rivals it is still an ideal high-capacity vacuum that's priced affordably and it also comes with a 1 year warranty.
Where Can You Buy the Stanley 6 Gallon Wet Dry Vacuum?
6). BACOENG 5.3-Gallon Ash Vacuum Cleaner with Double Stage Filtration System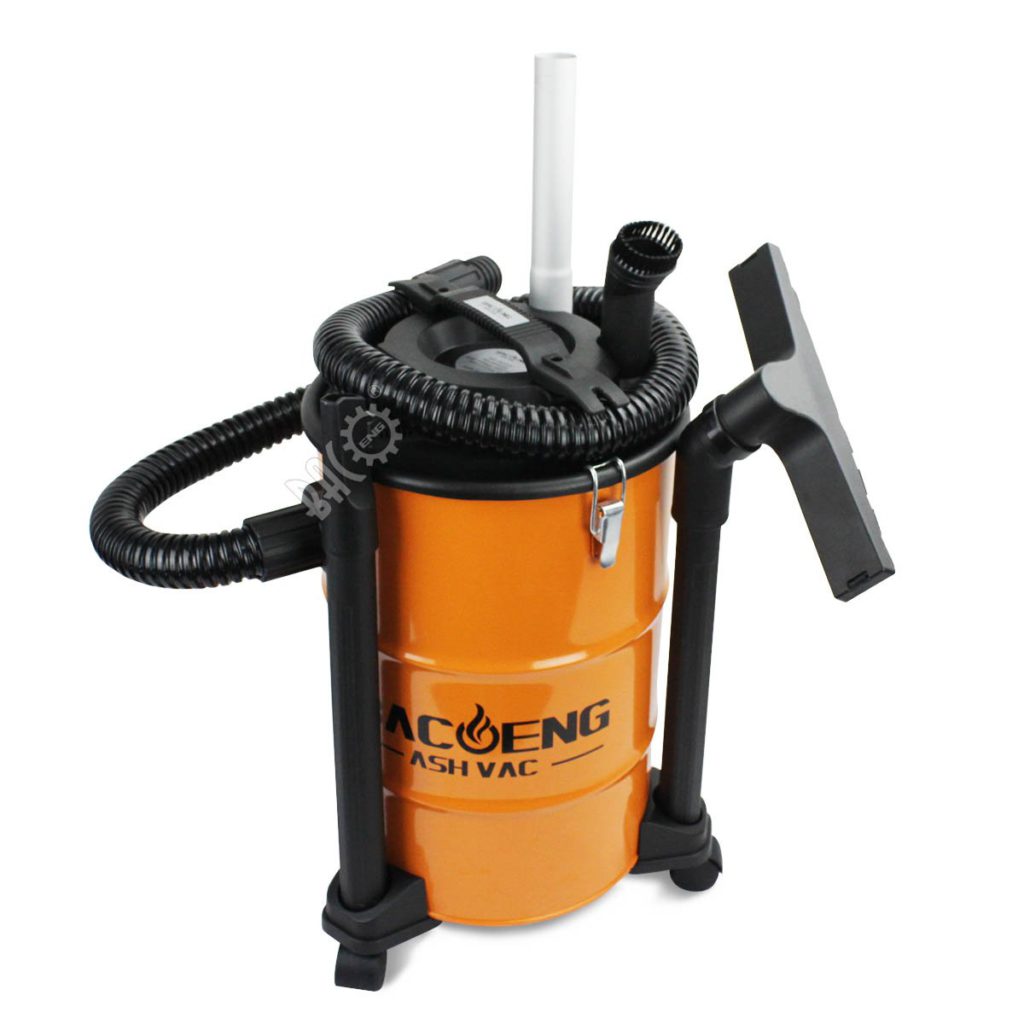 Next up is the BACOENG 5.3-Gallon Ash Vacuum Cleaner which features double stage filter technology for a comprehensive ash cleaning experience. The machine can vacuum cold ash from your outdoor barbecue grill, multi-fuel stove or fireplace and it completes tasks to a remarkable standard. To catch the smallest dust particles the appliance is fitted with a reusable HEPA filter as well as a washable filter bag.
The benefit of using the BACOENG ash vacuum is that the filtration technology found inside the machine operates at a fast speed so that the motor is protected from clogging up with ash or dust. The HEPA filtration also help to purify the surrounding air and helps you to avoid breathing in dust particles. I'd highly recommend this model for those with asthma or dust allergies.
The tank houses a 10-amp motor equipped with a mechanism that prevents overheating which is a great benefit for intense ash cleaning tasks. The canister is also big enough to clean big areas without needing stop frequently to empty the tank or change the filter.
The long 15-foot cable length found on this ash vacuum is perfect for using it around the house or outside without using extension cords. The hose is also made from metal to increase durability. It has onboard storage to hold the provided accessories such as the 3 extension wands, a crevice tool, and an upholstery nozzle.
Overall, the BACOENG 5.3-Gallon ash vacuum cleaner is perfect for those that are after a user-friendly appliance that delivers quality and performance at the same time.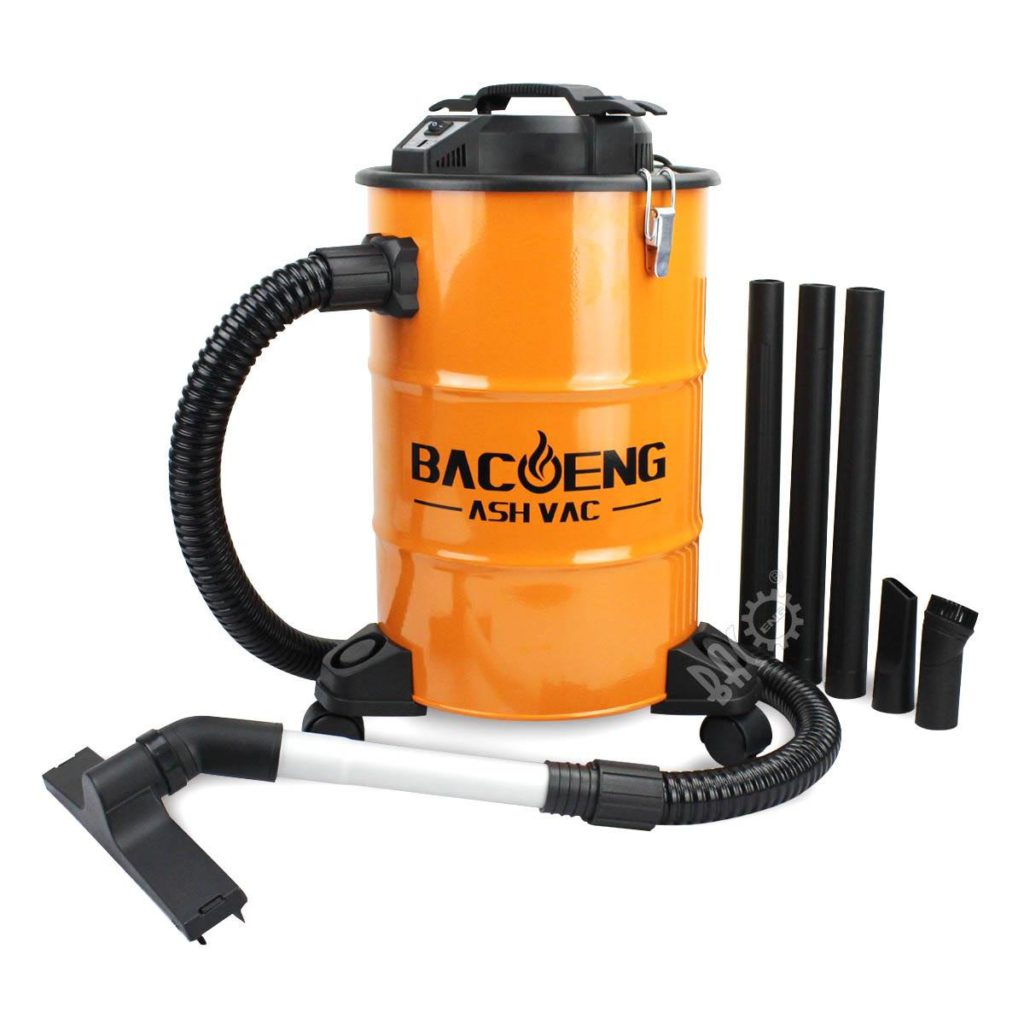 Where Can You Buy the BACOENG 5.3-Gallon Ash Vacuum Cleaner?
7). TACKLIFE 800W Ash Vacuum Cleaner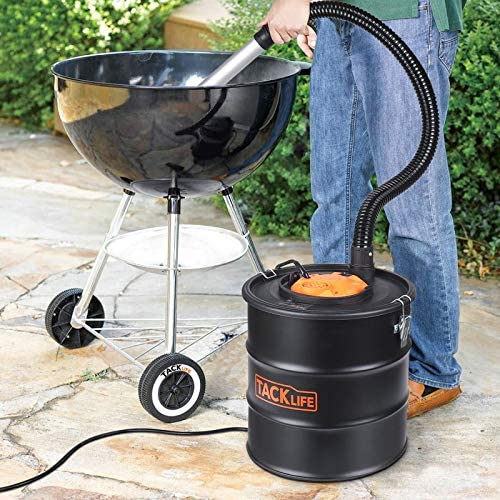 Last but not least is the TACKLIFE 800W ash vacuum cleaner. Although this model is at the bottom of our list that doesn't it compromises on performance. You will benefit from a reliable machine at an affordable price. It comes with a dual filtration system designed from a non-woven filter belt to prevent clogging.
In addition to vacuuming, the TACKLIFE ash cleaner can also be used as a blower to clear away debris from the garden. The machine can also pick up warm ash and can sustain temperatures up to 104°F(40°C) thanks to the metal canister and metal hose which are both heat resistant.
It is also quiet to operate and powerful at the same time. You can use this ash vacuum to pick up cold ash from wood burners, multi-fuel stove, fireplaces, wood stoves, pellet stoves, and barbecue grills.
Lastly, it has a flexible hose, that makes the vacuum easy to reach awkward corners of your fireplace or stove, as well as making it more accessible to clean the remnants from ash trays and underneath grates whilst avoiding the spread of dust.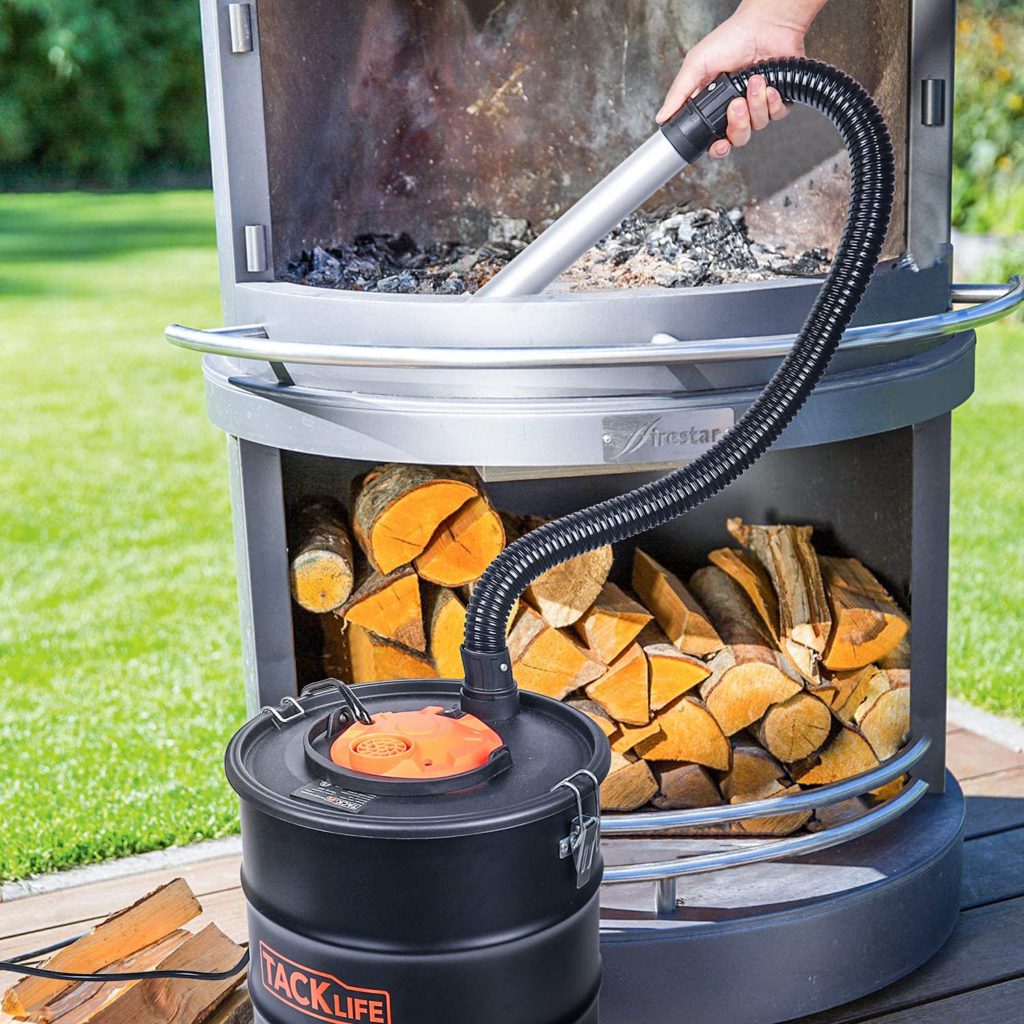 Where Can You Buy the TACKLIFE 800W Ash Vacuum Cleaner?
Summary
| | | | | | |
| --- | --- | --- | --- | --- | --- |
| Best Ash Vacuums | Dry ash | Wet ash | Cold ash | Warm ash | Hot ash |
| 1. Cougar+ Ash Vacuum A0500 | Yes | No | Yes | Yes | No |
| 2.PowerSmith PAVC102 Ash Vacuum | Yes | No | Yes | Yes | No |
| 3. Shop-Vac 4041300 Ash Vacuum | Yes | No | Yes | No | No |
| 4. Snow Joe ASHJ201 Ash Vacuum | Yes | No | Yes | No | No |
| 5. Stanley 6 Gallon Wet Dry Vacuum | Yes | No | Yes | No | No |
| 6.BACOENG Ash Vacuum Cleaner | Yes | No | Yes | No | No |
| 7. TACKLIFE Ash Vacuum PVC03A | Yes | No | Yes | Yes | No |
Ash Vacuum Cleaner Buyer's Guide
Choosing the perfect ash vacuum cleaner shouldn't be difficult now that we've provided you with our leading recommendations. To simplify things even further I've put together a guide that is easy to follow. It will answer any of the questions that you might have.
There are a few important things to consider before settling on your choice of an ash vacuum cleaner and we've also got some recommendations of how to recycle your ash and put it to good use.
​​​​​Don't Worry About Complicated Terms
HEPA Filtering
What is a HEPA filter? It means High-Efficiency Particulate Air filter but has been abbreviated to HEPA filter. For a filter to reach the HEPA standard it needs to meet some strict filtration requirements. To be given the HEPA seal of approval, the filter needs to be able to extract more than 99.7% of particles that are larger than 0.3 micrometres. Overall, a HEPA filter's performance is superior to a standard filter.
I'd recommend an ash vacuum cleaner with HEPA filtration because ash particles are smaller than ordinary dust, however, HEPA models, tend to be pricier than standard models.
What is Peak Horsepower (PHP)?
The term "horsepower" inside a vacuum should not be confused with a car's horsepower. PHP is a common term that you'll come across when looking at various vacuum cleaners and is used to calculate the output of the machine's motor but this should not be confused with the operational horsepower. Don't worry too much about this as it's more of a technical term than a performance benchmark.
Things You Should Know About Before Choosing An Ash Vacuum Cleaner
Before buying your new ash vacuum cleaner it will help massively to know the kind of features to look out for. We've briefly discussed some of the features earlier on in this review. It's always tempting to go for some of the more familiar brands, however, they might not always offer everything that you need or might even be surplus to your requirements. To help you decide, here are a few things to consider.
Capacity versus Portability and Storage
The models that we've shortlisted come with a good amount capacity, therefore, you can use them multiple times before emptying is required. Certain models have a lower capacity in favour of portability, but the trade-off is that you'll need to empty them more often.
If you buy a machine with a larger capacity, you be sacrificing the conveniences of a compactness, therefore, you might struggle moving it around between different rooms or from your indoor wood stove to the outdoor grill. You will need to find a happy medium between capacity and portability, however, if storage is not an issue and if you're happy to handle a bigger machine then going for a larger capacity shouldn't be an issue.
What About Power?
There's no doubt that the power of an ash vacuum is a key requirement to consider when deciding which one to get. Vacuuming ash comes with its challenges and it's important to buy a machine that can carry out the task effectively. As a rule of thumb, you should look for models with a 5-10 amp motor. I'd stay away from appliances with less power than that.
Length of Cord & Hose
Let's suppose that you find and buy your perfect ash vacuum cleaner. It gets delivered and you unbox it to find a shiny new machine with all the capacity and power that you need. You promptly connect the machine to the power socket only to discover that the power cable and hose are not long enough to reach your wood stove or grill. To avoid this, be sure to check that the hose and power cord are long enough for your room dimensions.
What About The Noise Level?
Ash vacuums tend to be noisy to operate and that includes some of the popular brands. It's worth thinking about the noise level so that you don't annoy the neighbors when cleaning your grill outside.
Obviously, the last thing you want is to be stuck with a vacuum cleaner that is too loud. The good thing is that ash vacuum cleaners are being constantly improved by manufacturers to operate at a lower noise level.
A good example is the Bacoeng ash vacuum which has been designed with noise-reducing technology, therefore, providing the convenience of listening to music or chatting to people without the interruption of a noisy vacuum cleaner.
Your ears will thank you for a choosing a quieter ash vacuum cleaner.
Cold or Warm Ash?
It's never recommended to vacuum ash immediately after a fire has gone out. Doing so could potentially damage the internal mechanisms of your vacuum cleaner and could even burn the appliance's filter.
We've looked at ash vacuums that are capable of picking up warm ash because of the robust canister and hose that are made from metal, however, most models are designed to pick up cold ash only.
You will need to wait for a while after the fire has extinguished to give enough time for the ash to cool down before you can take out your ash vacuum to clean the stove, fireplace or grill.
Warranty
Don't underestimate the importance of a warranty even if you're purchasing a reliable product. You want the peace of mind that comes with a warranty just in case something goes wrong.
The majority of ash vacuums come with a 1-year warranty, therefore, support and aftercare are at hand whenever they're needed as long as it's within the 1-year time frame. Sometimes it might not even be a problem with the machine but with a defective accessory. Either way, you want to make sure that you're covered.
I'd recommend choosing a model with a 2-year warranty at the very least. It should cover any problems that could be a result of a faulty appliance. A good level of warranty means that you will save money in the long term by avoiding expensive repairs.
Can I Recycle Ash?
Before you rush to the bin to empty out the ash from your canister, did you know that ash can be put to good use? There are several things worth keeping the remnants of ash for. Surprisingly , ash can be handy inside the house as well as outdoors. Below are several reasons why you shouldn't feel guilty to host another barbecue party:
Enrich Garden Soil
Did you know that ash remnants from logs can enrich soil and certain plants with various nutrients and boost their health? The nutrients found in ash can accelerate healthy growing, however, this doesn't apply to all plants. Be sure to research whether your plants are ash-lovers before scattering ash on them.
Yes, You Can Clean Your Glasses with Ash!
When I heard that ash could clean glasses I found it hard to believe until I tested it out for myself. What you need to do is sprinkle some ash to a damp cloth or mix it into a bit of warm water to form a paste. This will work wonders and is a cost-effective way of keeping your glass ware clean. In addition to glass, ash can clean cutlery as well as oil stains.
Get Rid of Slugs
Did you know that ash is a great deterrent for slugs? If you've got a persistent slug problem simply sprinkle some ash to the problematic areas. It's as simple as that.
Conclusion
That concludes our review of the best ash vacuum cleaners for charcoal barbecue grills. Our selection of ash vacuum cleaners ensures that there's a choice to suit all budgets and cleaning requirements no matter how challenging the task might be.
When choosing the right equipment for your needs always remember the four qualities that we must consider before buying one i.e. your budget, filtration, quality of materials as well as size, weight and capacity. My top choice is definitely the Cougar+ model thanks to its sheer power and speed of cleaning to get tasks completed in record time.
However, your choice will entirely depend on how you intend to use it and whether its cold ash that you need to clean or if you need the machine to pick up wet or warm ash as well. I hope that we've helped to narrow your search. If there is any further clarification needed please do not hesitate to let me know in the comments section below.
Our List of the Best Domestic Appliances