Affiliate Disclosure: I am grateful to be of service and to bring you content free of charge. In order to do this, please note that when you click links and purchase items, in most cases I receive referral commissions. Eventually, I may earn enough to buy a beer or two 🙂
The cold weather is here and most of us have turned to our fireplaces, but regular use equates to a build-up of ash. Use this guide to find the Best Fireplace Ash Vacuum Cleaner in 2021. If you use pellet stoves, fire pits, wood burners, barbeques, ash will soon become a nuisance to get rid of.
There's no getting around it, ash needs cleaning up regularly, but doing this with a brush and dustpan is very messy as the ash tends to fly everywhere. It's also hazardous to breathe the dust caused by sweeping ash, but don't despair as there's an easy fix. You should buy an ash vacuum cleaner.
Reasons to use an Ash Vacuum Cleaner
From a safety point of view, if you intend to vacuum ash then this is the safest way to do so, if hot embers got inside a regular vacuum cleaner they could melt the plastic material. If you use coal or wood to warm up your house, you will need to clear the resulting ash often. An ash vacuum will help to keep the fireplace area tidy so that the wood can burn efficiently and minimise smoky smells.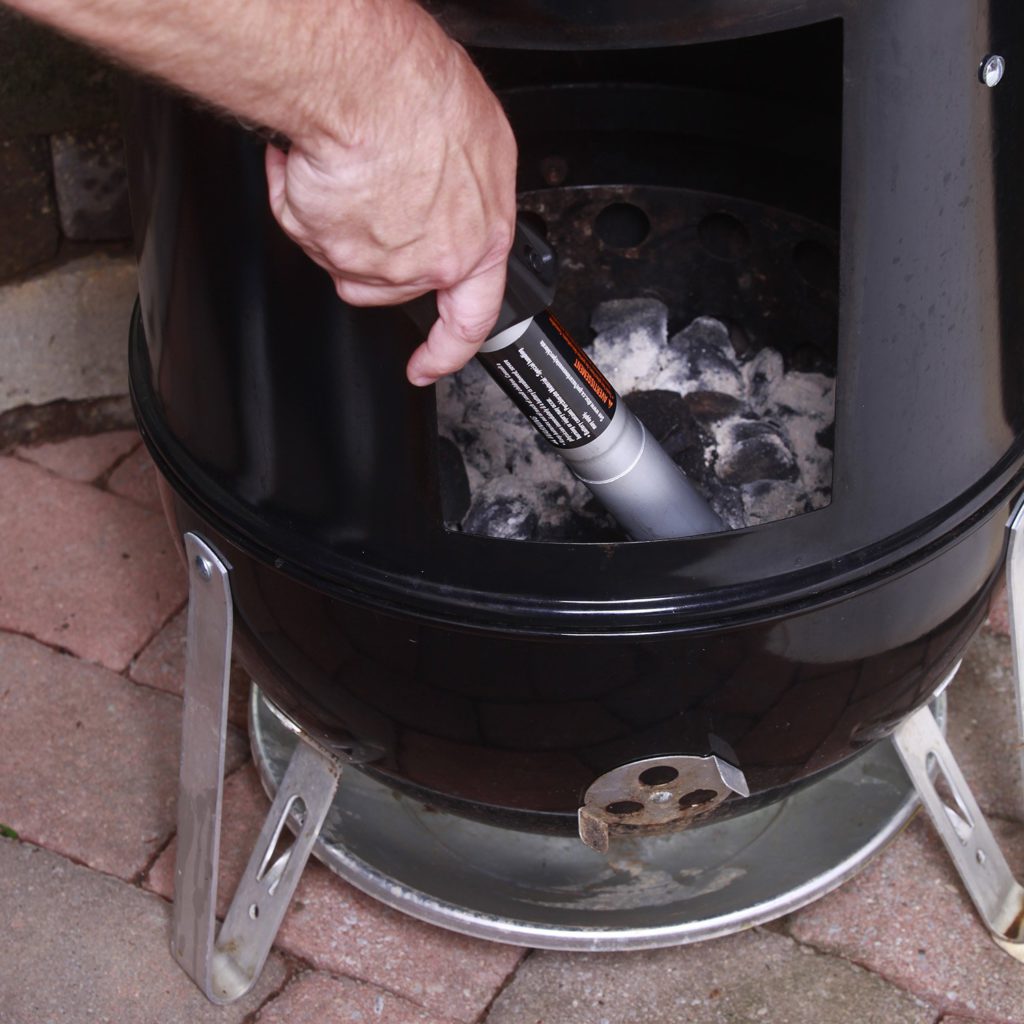 The best way to clean your fireplace easily and quickly is by using an ash cleaner. Here is a short summary of the reasons why ash vacuums are the best method to clean out soot and ash-
These machines are safer to use when dealing with ash. The metal body is designed to cope with hot ash.
It eliminates the risk of an accidental house fire.
Designed to capture the dust caused by ash and contain it.
Extremely easy to assemble and operate.
Ash vacuums are budget-friendly and virtually all of them provide excellent performance.
Extremely durable with a tough body that handles warm/hot embers instead of a standard vacuum made from plastic.
In this guide, I will give you plenty of handy tips to buy an ash vacuum cleaner that will suit your requirements. I will also shortlist our top recommendations based on performance, handling, affordability and durability.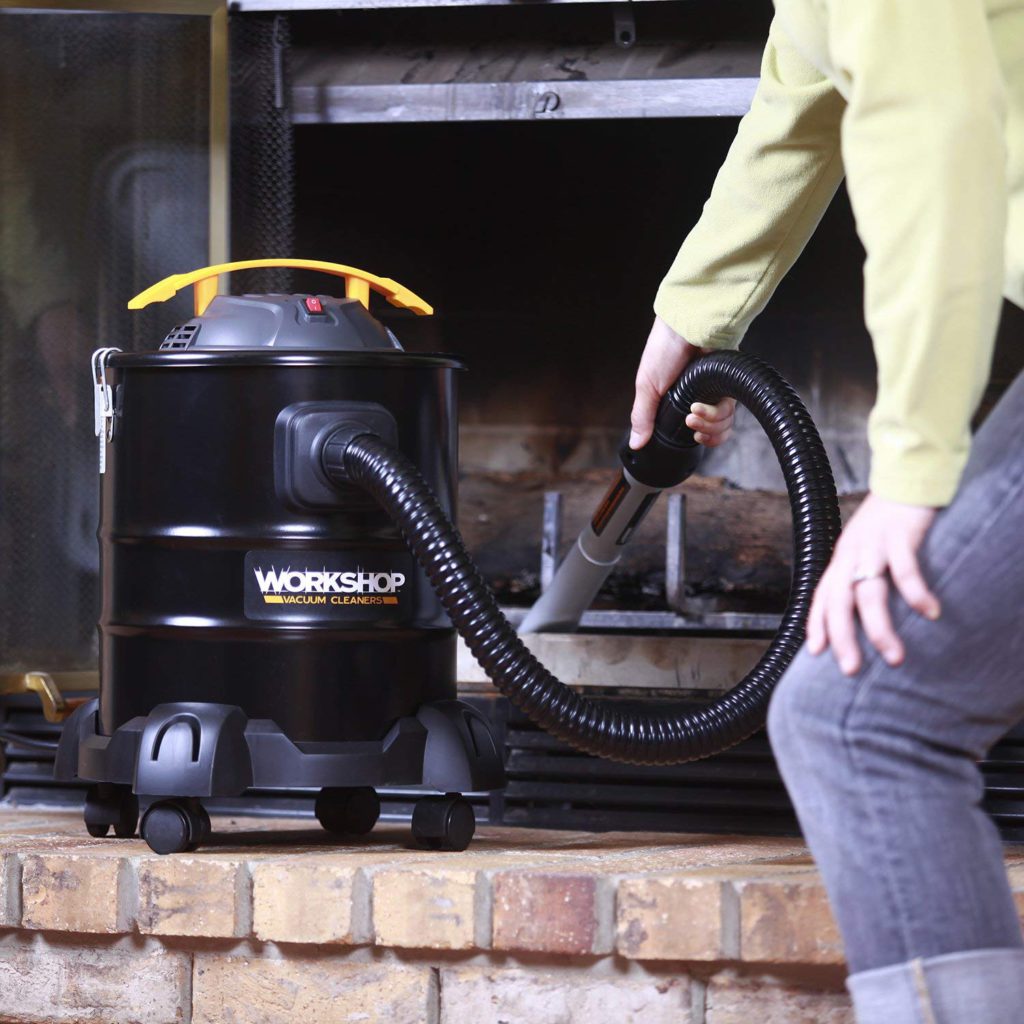 Why shouldn't you use a standard vacuum cleaner to clear up ash?
Using a standard vacuum cleaner, made from plastic, to get rid of ash is a bad idea. Here are a few points why you should avoid doing this:
As already mentioned, a normal vacuum cleaner cannot handle warm or hot ash, which would melt the plastic.
The risk of fire increases when a normal vacuum is used to clean ash because the plastic could melt if hot ash is present.
You'd also need to be careful when cleaning ash that appears to be cold as it might be hiding embers that can remain hot for many hours after the fire was extinguished.
A standard vacuum is not equipped with adequate filtration made to contain ash. Ash is different from dust and other dirt because it is very fine and travels to the machine's motor very fast. A special type of multi-layered filter is built into ash vacuums so that it can deal with these finer particles.
Things to lookout for when buying an ash vacuum cleaner
Be sure to check for the following features when considering an ash vacuum.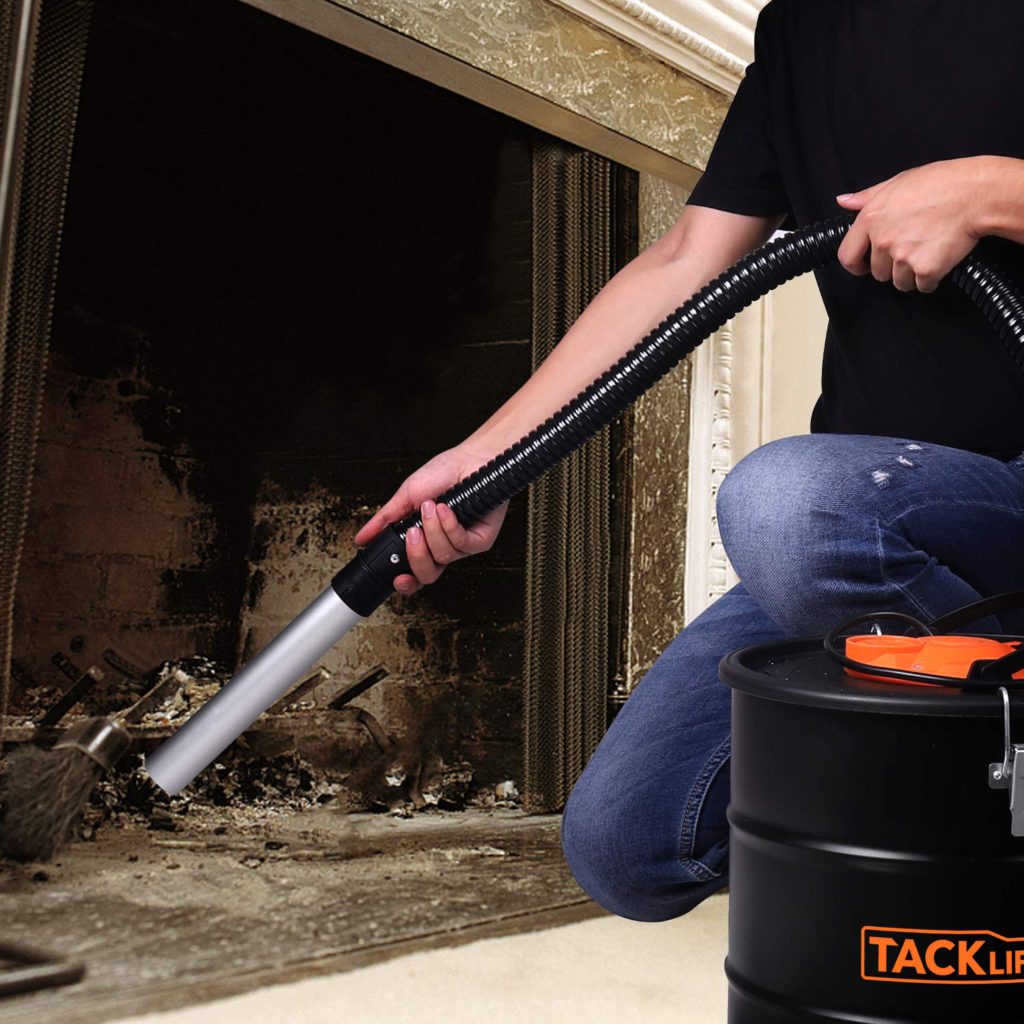 Lengthy power cable
If you're purchasing an ash vacuum you should make sure that it comes with a long electric cable. You'll have to move it about to get into all the nooks of your fireplace and the last thing you need is a short cable that stops you dead in your tracks. Preferably you should opt for a machine with a retractable cable so that it can be extended to the desired length.
It should be heat-resistant
This feature goes without say and is essential to the integrity of an ash vacuum cleaner. The machine should be lined with metal to withstand any hot coals drawn into the canister. The majority of ash vacuums are made from metal but I've come across cheap models that come up short. I'll keep you away from inferior units and steer you to the best performing ash vacuums- keep reading to see our shortlist further down.
A Lengthy hose
A long hose is equally as important as a long electric cord. A hose with good length will make tasks easier as you'll be able to reach better into corners and small gaps. A shorter hose is harder to work with and it can't easily access areas that are difficult to reach such as the gaps behind the wood-burning stove.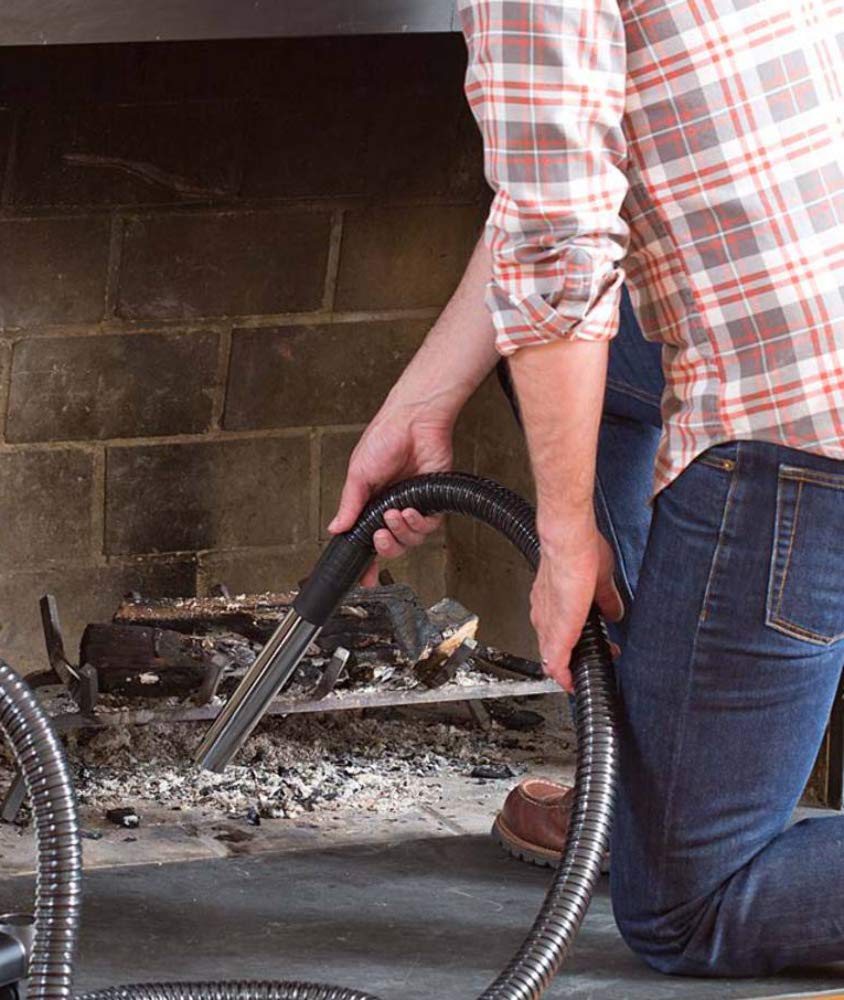 Robust crevice tool
Ash can be troublesome to clean effective owing to the fine particles that can easily float away into the air, for this reason, you should ensure that your chosen model is supplied with a strong aluminium crevice tool that can get into corners and confined spaces.
Easy to handle
A machine that is easy to move around is the keystone to cleaning ash effectively, especially when trying to vacuum it from confined areas. Ensure that the machine can be lifted with ease and has a comfortable handle.
How big is the canister?
A sizeable canister is much more convenient as it reduces frequent trips to the garbage can to empty out the ash. I've summarised a list of ash vacuums with decent sized canisters that can collect plenty of ash without requiring you to stop partway through cleaning.
Strong motor
A powerful motor makes sure that nothing is left behind. It delivers strong suction that is needed to catch the fine particles as well as lumps of coal. The sweet spot is an ash vacuum with a strong motor that runs quietly.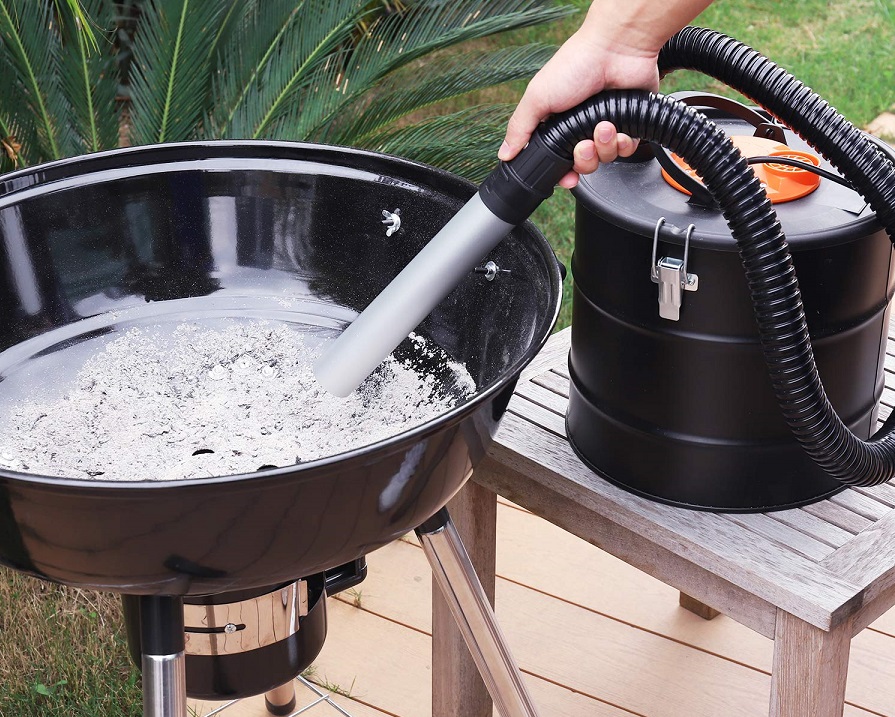 Manoeuvring
Some ash vacuums don't include wheels or castors, so wherever possible you should get one that includes them. When it gathers inside your canister, Ash can become heavy thus, it's a good idea to choose a model with wheel for easier transportation and disposal.
Canister level indicator
Once the canister is filled up to the max, the machine should indicate when it requires emptying. There's normally an LED indicator to show the canister's capacity without the need to open the machine and check.
Filtration system
Ash vacuums are equipped with the highest grade of filtration available. You should go for a model with double or triple filtration and a HEPA filter. The first stage is a metal filter that catches ash dust, the second stage is a cloth filter housed at the top of the canister to trap dirt. The third stage is a HEPA filter that catches allergens and fine dust particles and keeps it from getting to the motor.
It's also worth looking for a model with filters that can be cleaned with ease and preferably are washable. Ash is incredibly messy and you always want your filters to perform optimally.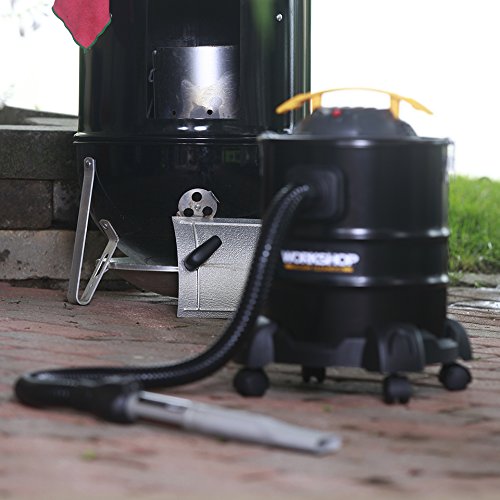 The convenience of an Ash Vacuum Cleaner
Once you buy an ash vacuum you'll find it incredibly useful especially if you regularly burn wood and charcoal on the barbeque, fireplace or log burner. It will extract ash residue quickly and is vastly better than trying to use a brush, broom or shovel. During use, the vacuum is designed not to stir up the dust.
How much Ash needs cleaning?
It's important to gauge the amount of ash that you need to remove on a regular basis, this will give you an indication on the type and size of ash vacuum to buy. For example, if you need a machine to clean your barbeque grill and nothing else then a smaller model would be adequate. You can even get away with using a compact ash vacuum to clean your pellet stove.
Bigger machines are required for jobs such as cleaning ash from log burners and fireplaces as they tend to accumulate a large build-up of ash and bigger pieces debris. A smaller unit might struggle to clean effectively or even clog up if tasked to remove large pieces of debris and embers. For these bigger jobs, you should buy a robust ash vacuum with a sizeable filtration area.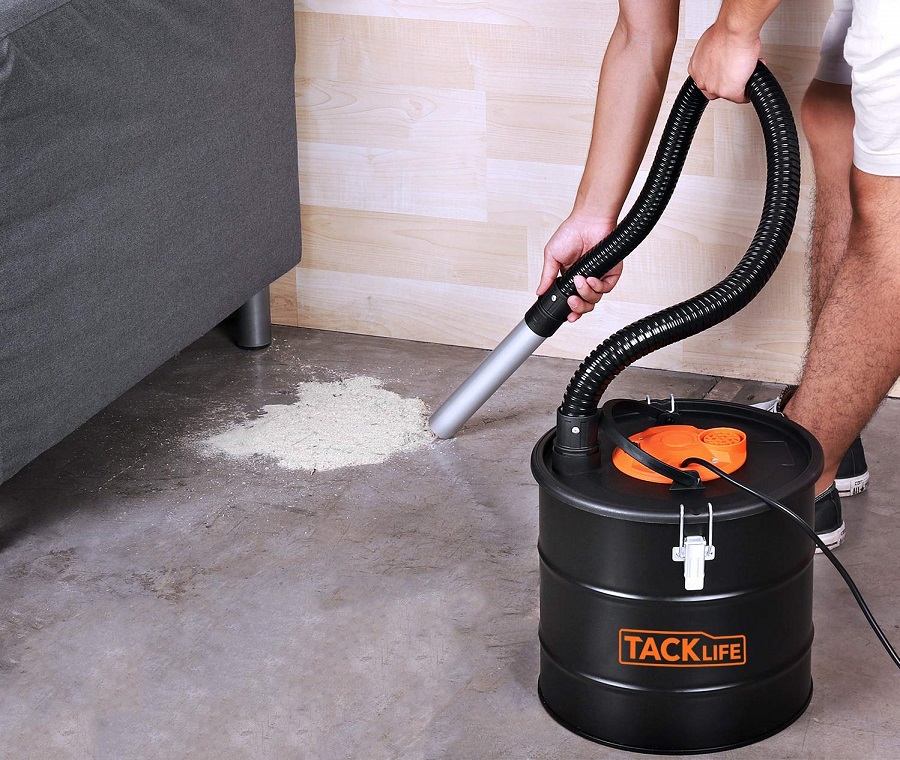 So without further ado let's take a look at our favourite ash vacuum cleaners available right now. I've summarised the features and the benefits for each unit to give you a clearer picture of what to expect from your chosen product.
(1). COUGAR+ ASH VACUUM
The Cougar+ Ash Vacuum takes the top spot and is the crème de la crème of ash cleaners. This model is designed to remove ash from pellet stoves, fire pits, log burners, fireplaces and barbeque stands. The unique filtration system extracts and traps minute particles whilst keeping the motor free from clogs. This unit is extremely hard-wearing and can cope with challenging tasks and hot coals.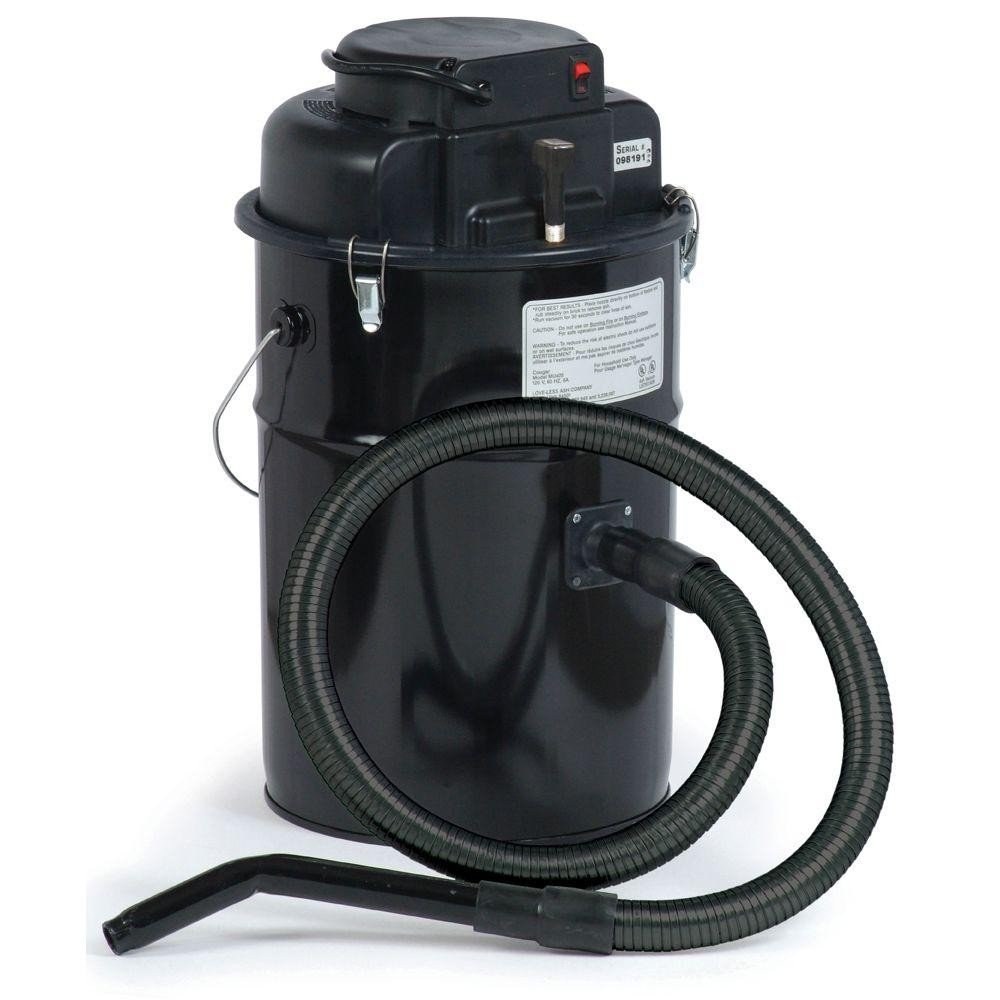 The metal material is lined throughout the machine and, once shut, is 100% sealed to ensure that ash doesn't escape back into the atmosphere. It can lift warm and cold ash and can even extract wet ash using the same filter. The hose measures 5 ft and provides enough length to get right around your wood stove and fireplace. The machine weighs 17 pounds / 7.7 kg and is surprisingly easy to manoeuvre
The motor is incredibly efficient and delivers a powerful airflow (90 CFM) to remove ash at a rapid rate. The Cougar+ cleaner is made to pick up fine ash flawlessly. It does exactly what it says on the tin and performs impressively without letting a single ash particle escape into the air. If you want a unit that captures and holds all the ash inside its canister then this is the best ash vacuum that you can buy. There isn't a better vacuum out there that removes ash like this machine.
PROS
Quieter to operate than alternative models.
It can pick up warm, dry and wet coal in one go.
It's easy to assemble and clean.
It has the best filters that money can buy. There's an inner and outer filter.
The machine is energy efficient and utilises lower power (6 amps).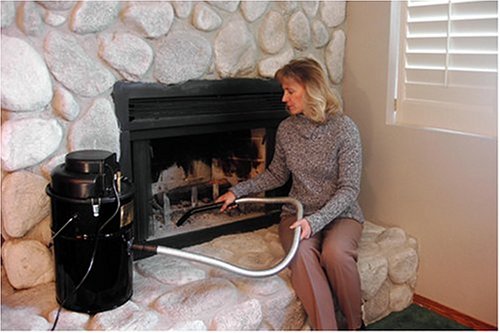 CONS
It doesn't have wheels or castor which isn't ideal for big clean ups
The electric cable could be a bit longer.
Where Can I Buy the Cougar + Ash Vacuum Cleaner?
(2). SHOP-VAC 4041200 ASH VACUUM CLEANER
Shop-Vac is a strong brand that has been manufacturing heavy-duty vacuums for many decades. Their Shop-vac ash vacuum cleaner is no exception. It has a minimalist design for stress-free usage. It's so easy that you won't really need to look at the instructions to use it.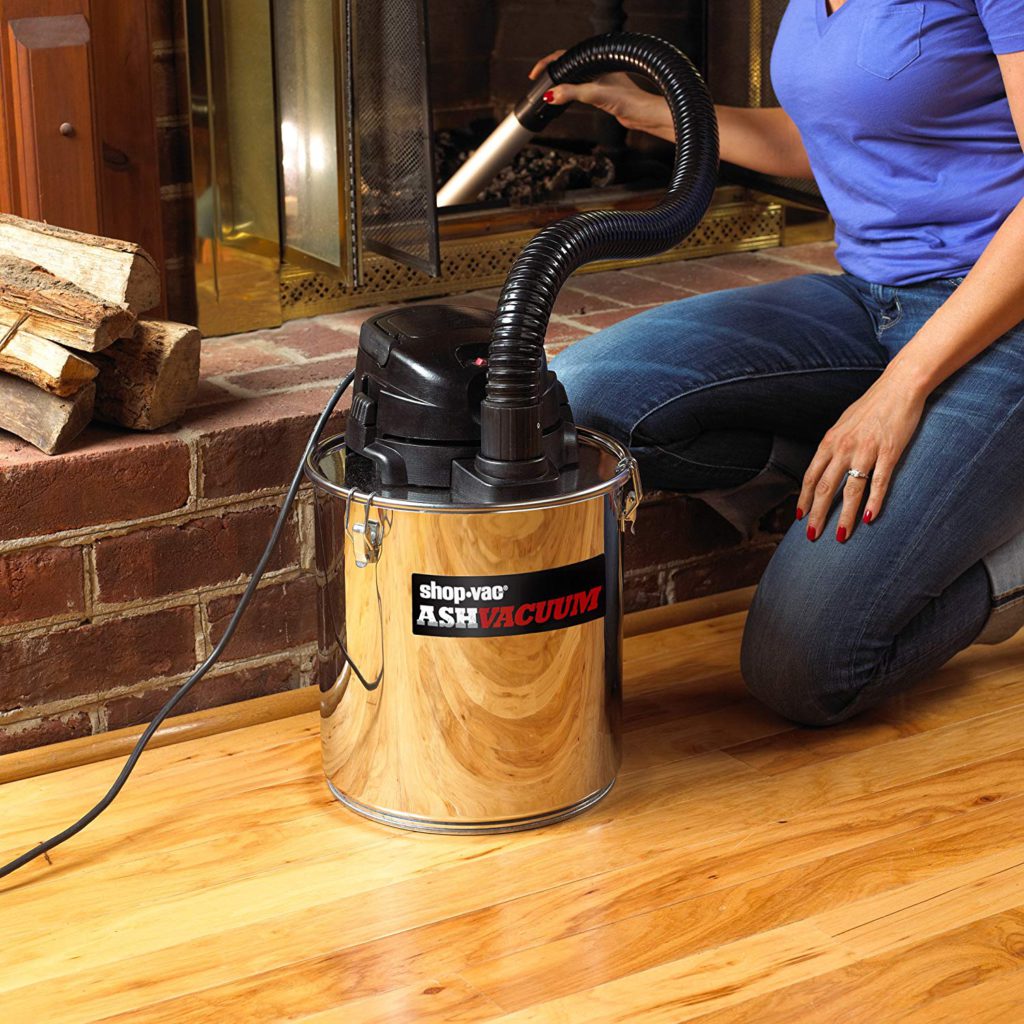 HEPA filters are fitted as standard and provide an extensive dirt capturing system for the tinniest ash particles. The machine is equipped with a thermal protection system that extends the lifetime of the unit and a stainless steel body that is long lasting.
You will find a metal hose measuring 4-ft as well as a metal crevice tool and nozzle attachment. The compact body holds a surprising 5-gallons of ash making it the perfect machine for big tasks.
PROS
The Shop-Vac and its accessories are made with durable materials
It can vacuum dry and wet ash particles.
HEPA filters come as standard.
Large 5–gallon capacity for bigger jobs.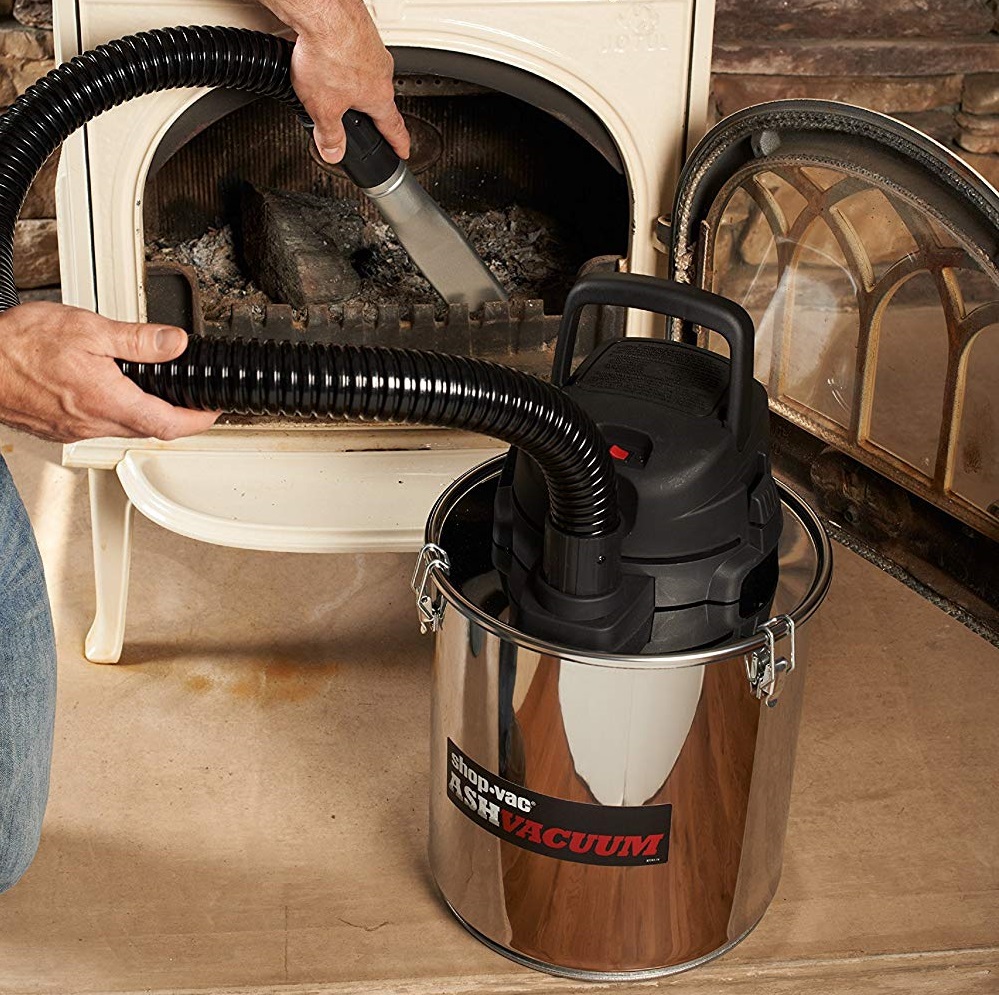 CONS
It doesn't have castors or wheels so you will need to lift it around.
Where Can I Buy the Shop-Vac 4041200 Ash Vacuum Cleaner?
(3). POWERSMITH PAVC101 ASH VACUUM
The Powersmith Ash vacuum excels at clearing up your fireplace, pellet stove, barbeque and any other areas plagued with ash. Thankfully, the machine is equipped with wheels for convenient manoeuvrability. It can be used a regular vacuum cleaner around the house as a result of the well-thought design.
The machine can pack a decent amount of ash inside the canister, 3-Gallons to be specific. The Powersmith vacuum has got another hidden trick up its sleeve. The powerful motor is rated at 10 amps and as a result, it can be transformed into a leaf blower and the long electric cable measures 16-ft so that the machine can be used outdoors.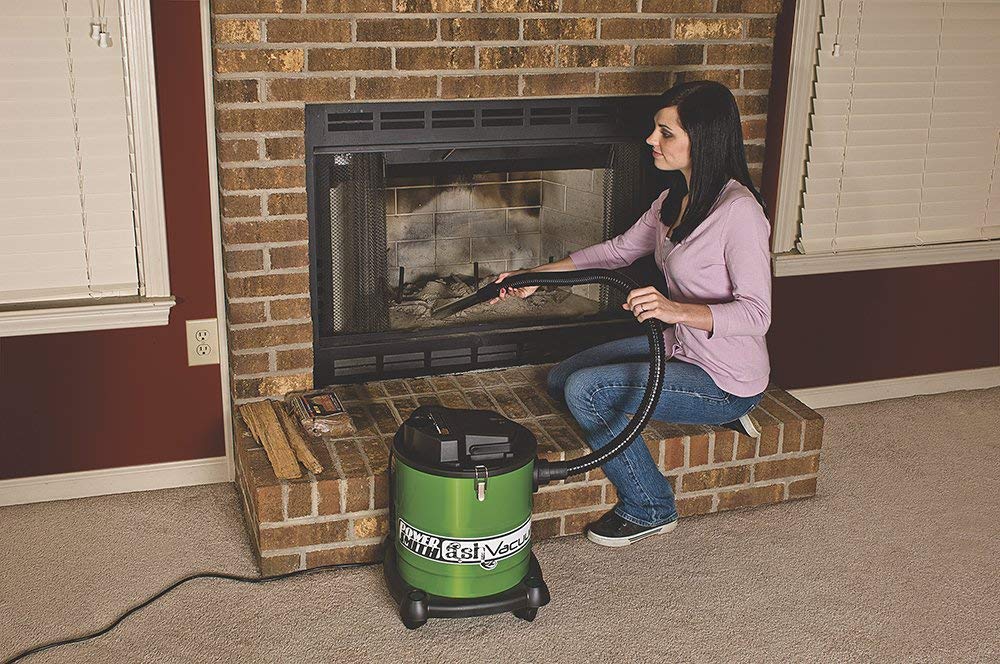 This unit is a great all-rounder, not only does it clean ash but it also comes with attachments for regular use to clean other areas of your home. The filter is washable for repeated use and lower maintenance costs.
There is a lot of power inside the Powersmith ash vacuum. Don't worry if the machine stops suddenly during use, this is just the thermal protective function kicking in so that the motor doesn't overheat. This shouldn't happen often and is likely to happen if the machine is running for prolonged periods of time when using attachments because they restrict the airflow, which then heats the motor quicker. When the unit cools down to a sufficient level it will be ready to continue. The thermal protection is also there to protect the motor from the hot airflow caused by warm ash which heats up the machine faster. This is completely okay and will ensure that your ash vacuum has a longer lifespan.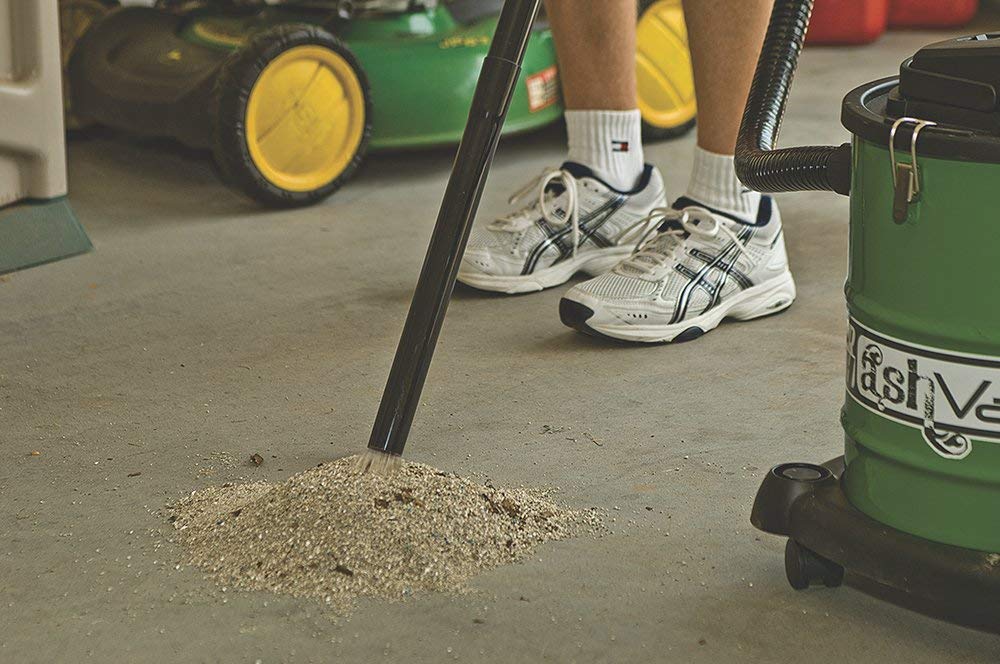 PROS
The machine can be transform from vacuum to blower.
Convenient long 16-ft electric cable
Lightweight unit weighs just 9 lbs.
Powerful 10-amp motor provides better suction.
CONS
The hose length could be longer.
Not as energy efficient as alternative ash vacuums.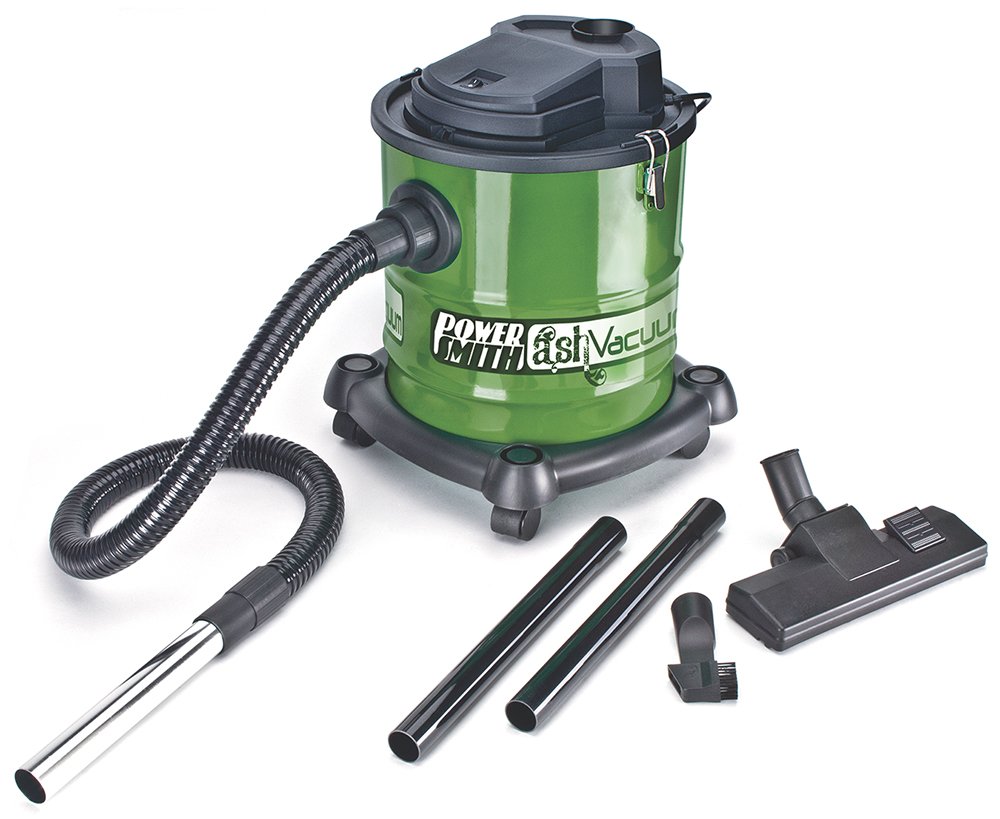 Where Can I Buy the PowerSmith PAVC101 10 Amp Ash Vacuum Cleaner?
(4). SNOW JOE ASHJ201 ASH VACUUM CLEANER
The Snow Joe Ash cleaner is an unassuming vacuum perfectly designed for smaller tasks. The dual filtration system guarantees proficient picking up of ash. The minimalist design is similar to a bucket and the machine can be stored conveniently in your garage or garden shed.
This is one of smallest ash vacuum cleaners on our shortlist and is easy to lift between rooms thanks to the ergonomic handle. It can cope with vacuuming ash on a regular basis and cleaning up after the family barbeque. The filters can be cleaned with little hassle and are reusable.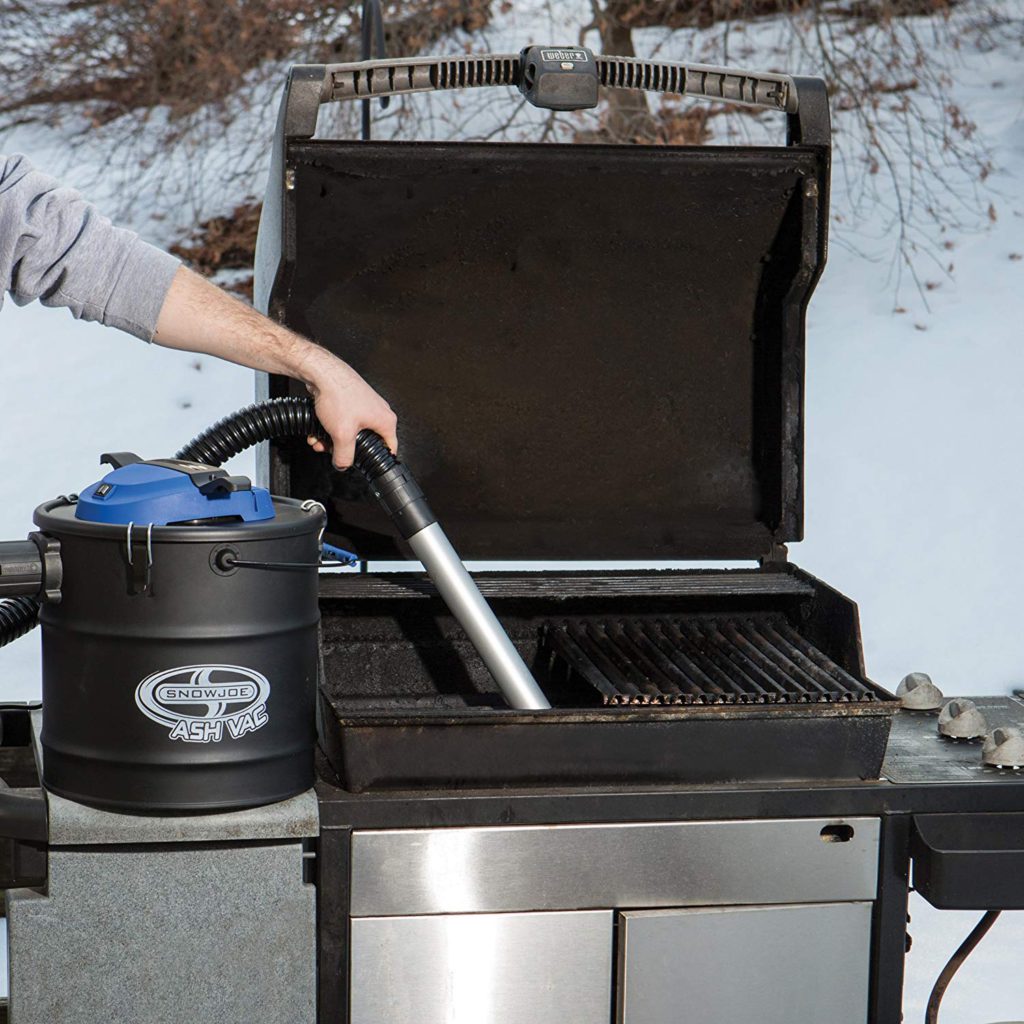 Despite its compact body, the Snow Joe ash vacuum can pack up to 4.8 gallons of dirt inside its canister. It can be used for longer periods without the worry of constantly emptying it partway through cleaning.
The 4-amp motor isn't as powerful as the models further up this list but it is more than sufficient for minor routine tasks. There is a small window to assess the airway and ensure that it remains free from blockages. There is enough power to clean your pellet stove without fuss and the cable and hose are long enough to reach awkward areas.
Though the suction isn't as powerful as alternative machines there's enough there to deal with ash and clean it up thoroughly. The filters capture ash extremely well and none of the residue escapes back into the air. The Snow Joe cleaner is a distinct machine that is ideally suited for pellet stove owners who use their stove daily, its certainly a vacuum cleaner to consider.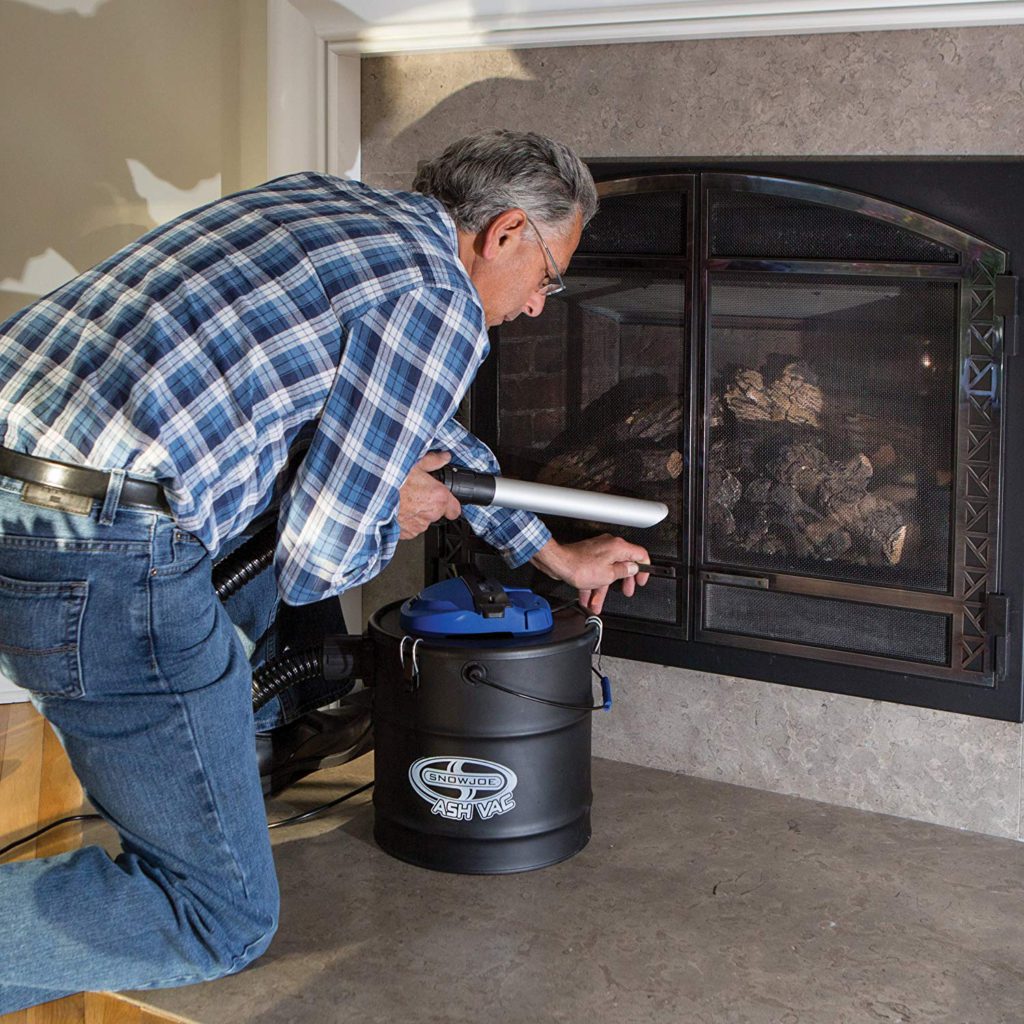 Even just keeping the machine turned on, whilst the nozzle is aimed at the stove, will catch plenty of particles floating around. It's a doddle to empty the canister but be sure to do this in the trash can outdoors. Overall, the Snow Joe ash vacuum cleaner is an affordable unit with a great capacity and dual filtration system.
PROS
Minimalist design for hassle-free use.
Has a convenient window to check for clogs.
The dual filters trap more ash and dust.
CONS
Lower suction power than the alternatives.
No wheels at the base of the machine.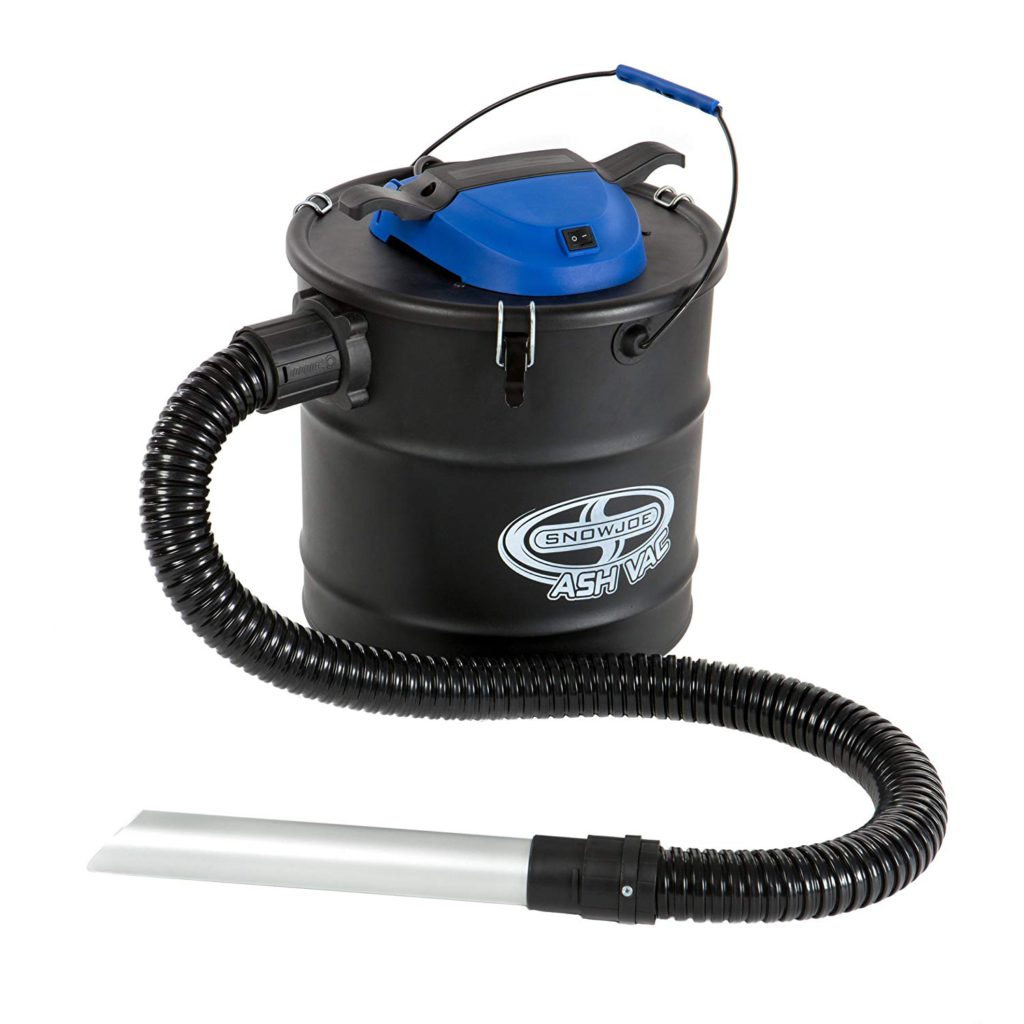 Where Can I Buy the SNOW JOE ASHJ201Ash Vacuum Cleaner?
5. BACOENG 5.3-Gallon Ash Vacuum Cleaner
The BACOENG ASH200L ash vacuum provides you with a budget-friendly solution to clean cold ash from log burners, fireplaces and other areas that ash accumulates. It comes with a strong motor and a range of nozzles and accessories to make sure that easier cleaning is carried out thoroughly. Seamlessly use the machine inside your home as well as outdoors to remove ash from barbeque grills and fire pits.
HEPA filters are fitted to catch the tiniest ash molecules and an additional filter bag that can be washed. The BACOENG vacuum collects small ash particles and sucks any surplus dust wandering in the air. The filter works quickly to keep the motor clean and free from blockages to ensure a longer lifespan.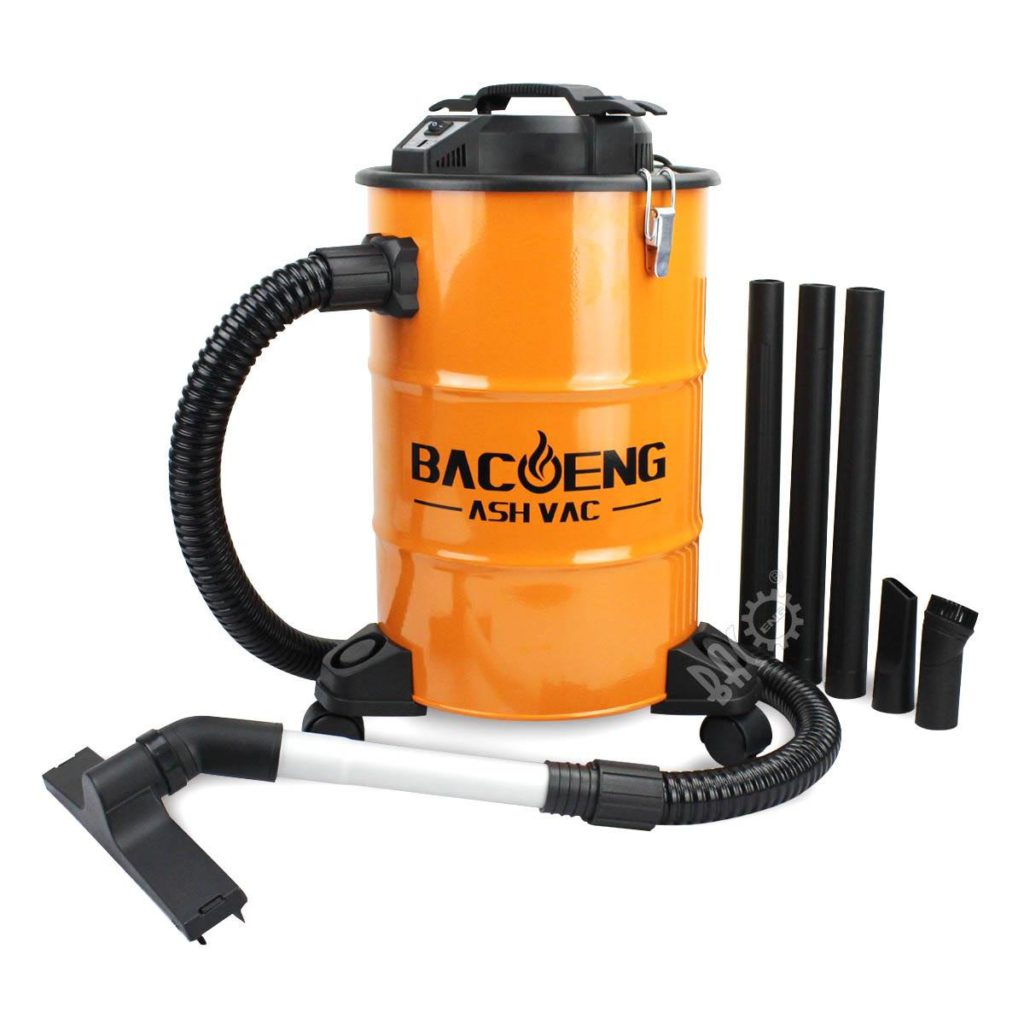 If your flu is in need of clearing out and has built up years of ash and soot then it's time to consider buying the BACOENG ash vacuum to take care of the mess. This unit is generously powerful and will leave nothing behind. The appliance is easy to assemble and even easier to use, simply fit the wheels at the base and you're good to go!
Here is a quick summary of the handy features included with the BACOENG ash vacuum-
This model can be used for a variety of cleaning tasks in addition to ash cleaning you can use it for regular vacuuming throughout the house.
The 2 stage filter stops fine ash particles from travelling back into the air and protects the motor from clogging up with dirt and ash.
There is an indicator that shows you when the canister is full and needs emptying.
The unit is powered by a 10-amp motor with inbuilt heat protection to protect the machine from damage and keeps you safe.
The hose is lined with metal for added durability and it measures 5-ft / 1.5 metres. The electric cord is an impressive 15-ft/ 4.5 meters so that you can benefit from an extended cleaning range.
Amongst the accessories, you will find an aluminium suction tube, extension wands, a bendable metal suction hose, and a crevice and upholstery nozzle to help eliminate ash speedily.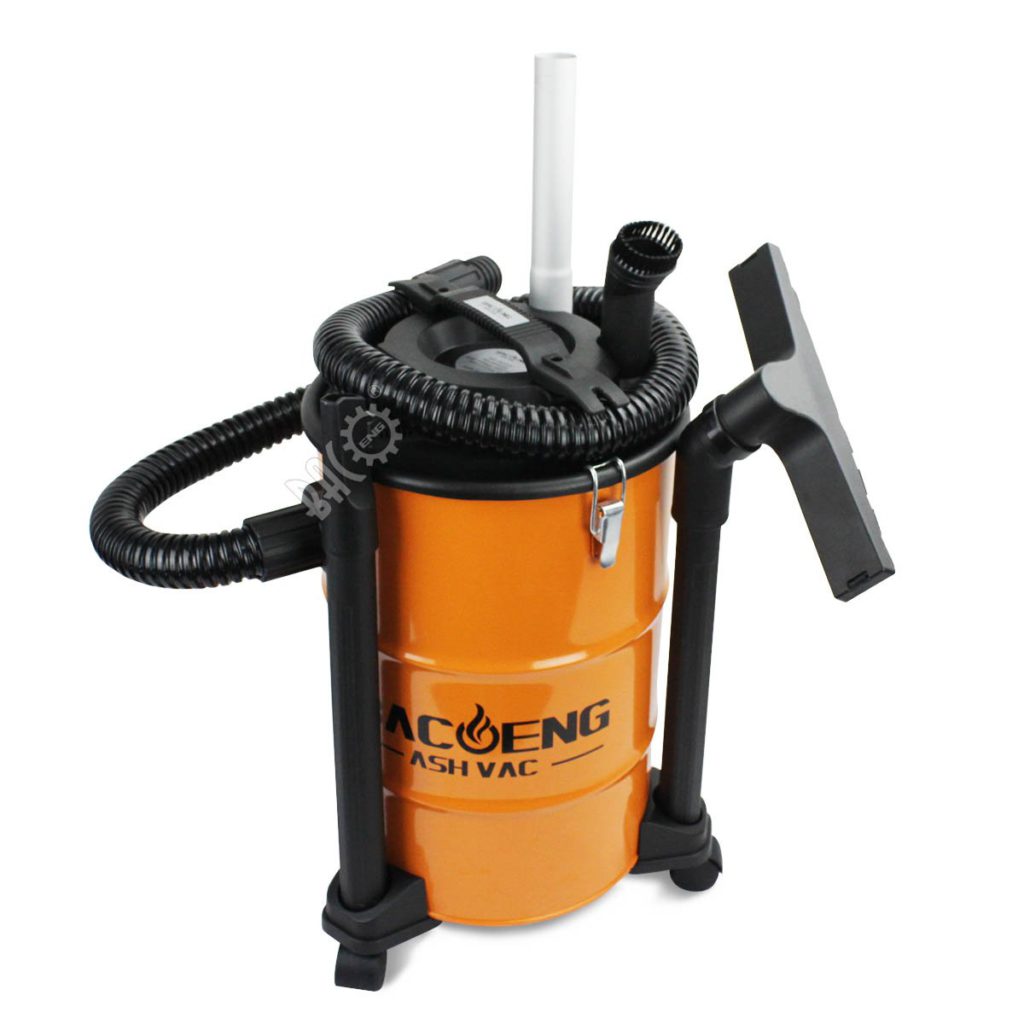 Where Can I Buy the BACOENG 5.3-Gallon Ash Vacuum Cleaner?
(6.) Vacmaster – Ash Vacuum 6 Gallon 8 Amp (EATC608S)
If cleaning ash seems to be a never-ending battle then maybe it's time that you got yourself the Vacmaster Ash vacuum which is equipped with a powerful 8 Amp motor for great suction. It runs quieter than rival appliances and is fitted with wheels for better handling.
You'll also find integrated holders to store your hose and attachments conveniently. The Vacmaster is best used to eliminate tiny ash grains and cold ash from pellet stoves, fireplaces, barbecues and any other areas that accumulate ash.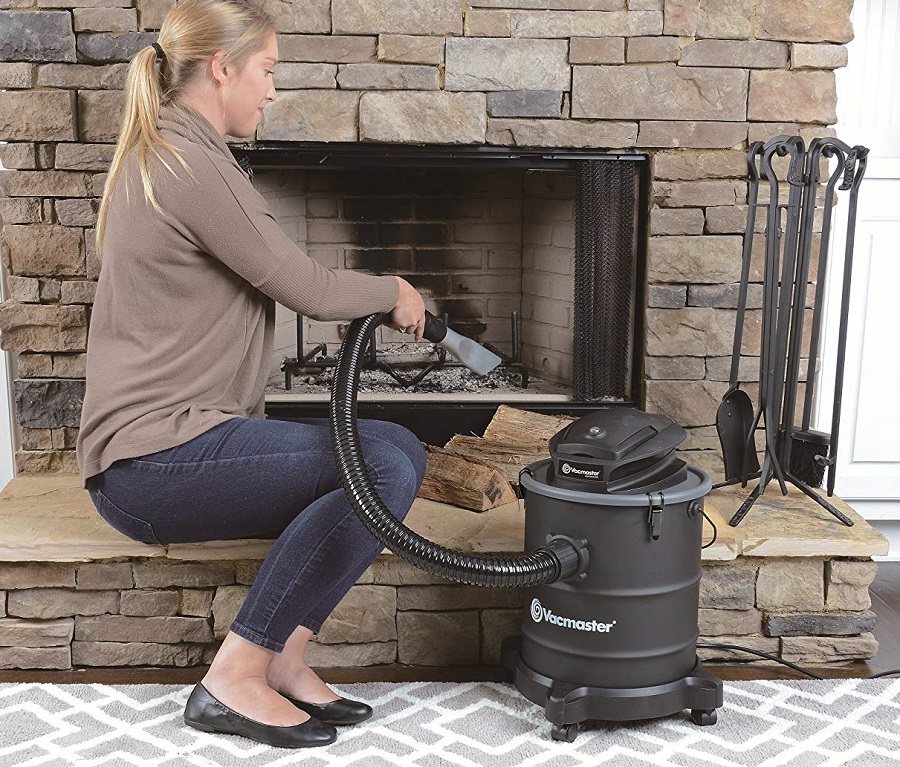 What sets apart the Vacmaster ash vacuum from the competition is the LED light that is provided. The light can be clipped onto the wand or nozzle to brighten up the dark corners of your fireplace and clean it better. It comes with a bendable aluminium hose measuring 4 ft to improve the reach into awkward areas. The metal canister is hard-wearing and designed to cope with up to 6 gallons of ash.
If you're looking for a low cost ash vacuum that performs better than the alternatives then the Vacmaster cleaner might just be the machine for you. It is made from high quality materials and feels like it will provide many years of happy ash cleaning and with a dependable brand such as Vacmaster I'm confident that performance will never fade.
Below is a summary of the benefits to be expected from the Vacmaster Ash vacuum:
It's equipped with an 8-Amp motor which provides adequate power to remove ash efficiently.
The motor is comfortably quieter than alternative models
Unlike other ash vacuums the Vacmaster is fitted with wheels at the base to improve the handling.
Integrated storage for the hose and attachments so that ash cleaning is never slowed down or delayed.
An LED light that can be attached to the wand or hose to give you better visibility of dark areas.
The crevice tool and wand are made from aluminium and are extremely durable.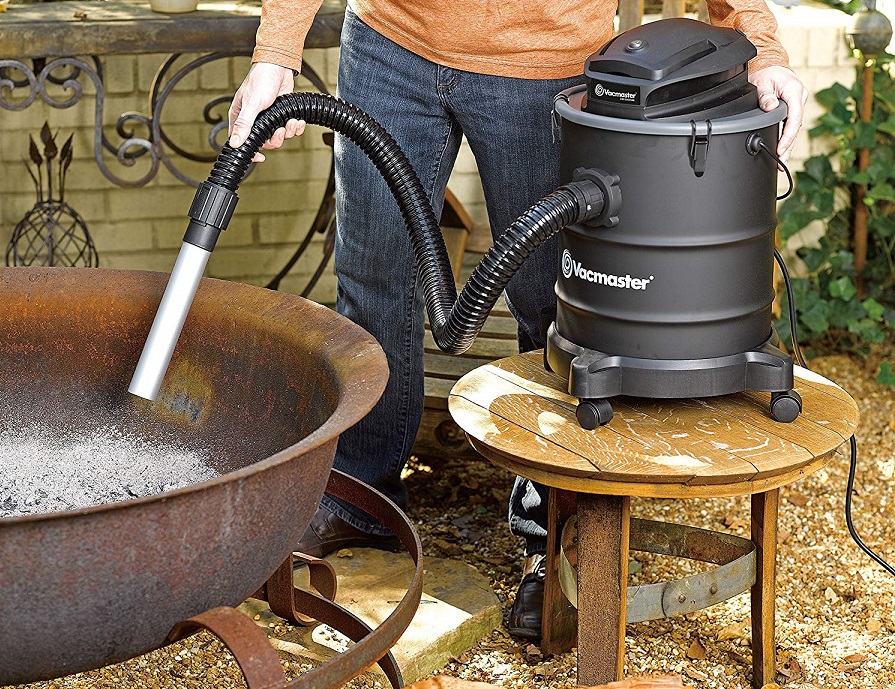 Where Can I Buy the Vacmaster Ash Vacuum (EATC608S)?
(7). Porter-Cable Wet/Dry Ash Vacuum
The last model on our list is the Porter-Cable ash vacuum cleaner. This portable machine can pick up to 4 gallons of ash and houses a 4 peak horsepower motor suitable for collecting cold ash. Its compactness makes it the perfect unit for regular use throughout the seasons- use it in winter to pick up ash from fireplaces, wood burners and pellet stoves or use it in summer to clean up the outdoor grill after family barbeques.
The Porter-Cable ash vacuum can lift wet or dry ash without fuss and performs remarkably when considering its portable size. It comes with 2 filters- a cartridge filter and pre-filter to catch minute ash particles that are a nuisance to clean. You'll also find a long metal hose and extension wand to improve cleaning efficiency.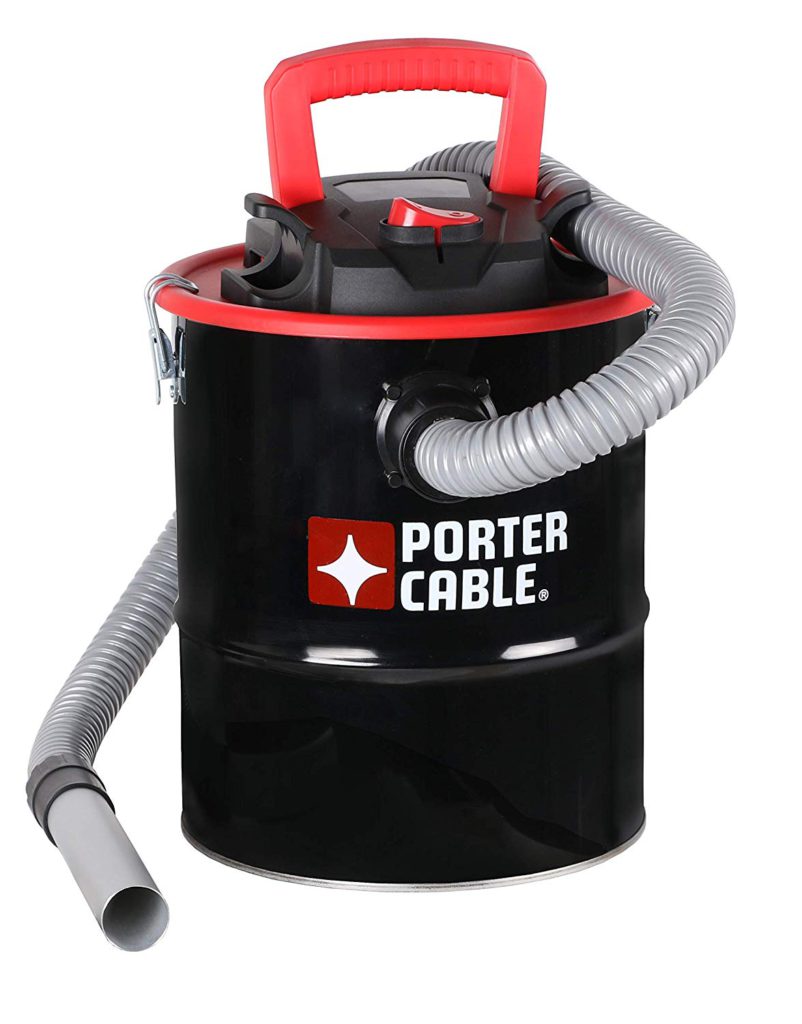 This model will thoroughly extract soot from the fireplace without the risk of ash residue escaping back into the room, to make this possible the unit utilises a sturdy bag that effectively traps dust inside the canister once caught. You won't have the problem of dust flying everywhere during use.
If you use a pellet stove, primo grill or a smoker regularly and want to get rid of the resulting fine ash then you'll want to consider the Porter-Cable ash vacuum, it's the ideal solution for removing cold ash.
Overall, the Porter-Cable unit is a great affordable ash vacuum that is compact enough for homes with storage issues. It delivers brilliant suction and is lightweight to move around with ease. I also like that it runs quietly (I hate loud motors).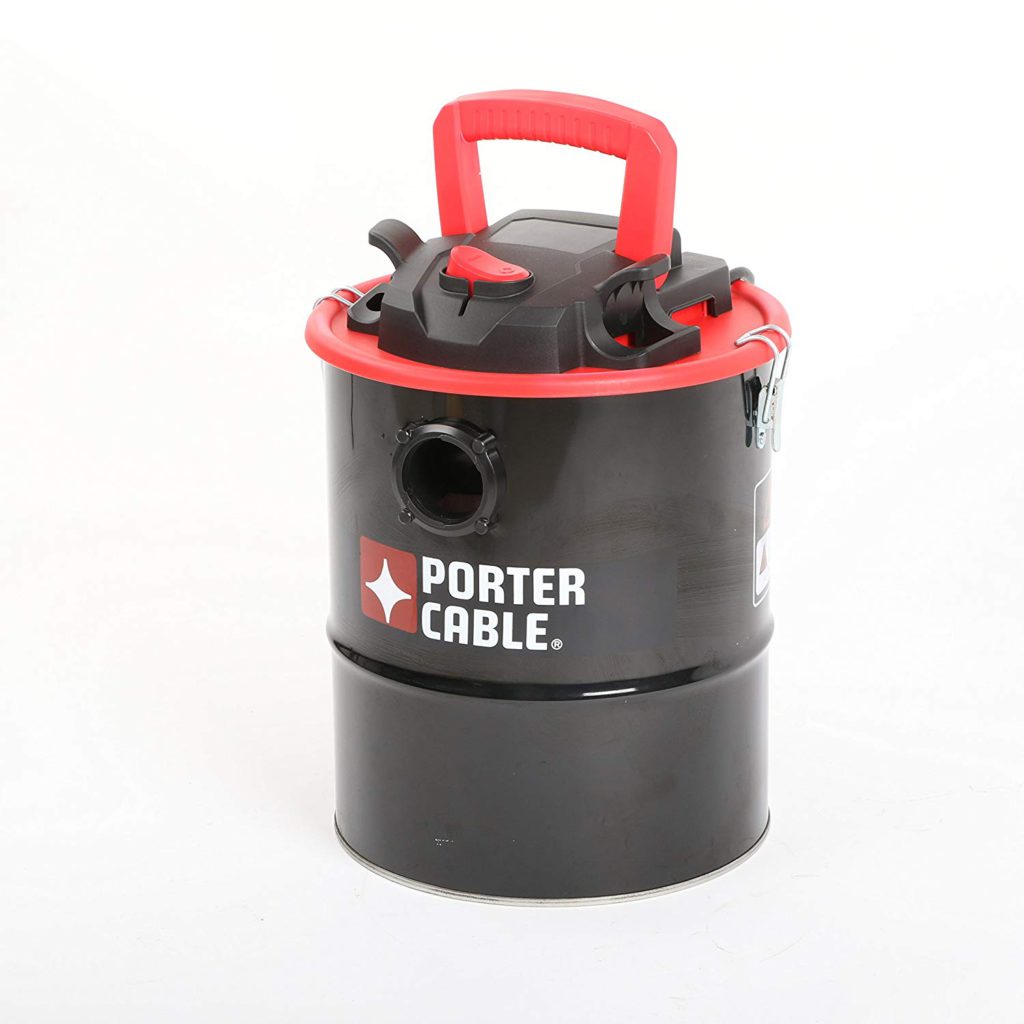 Benefits of the Porter-Cable Ash Vacuum Cleaner:
Ergonomic flip-up handle to lift the unit with ease.
There is onboard storage for the hose.
The 2-stage filter effectively traps dust and ash grains and prevents them from escaping back into the air.
Where Can I Buy the Porter–Cable Wet/Dry Ash Vacuum?
KEEPING YOUR FIREPLACE ASH-FREE
Hopefully our shortlist has given you a clearer picture of the right type of vacuum cleaner to buy for ash. If you want to keep your pellet stove or fireplace free from ash I'd highly recommend investing in an ash vacuum. Make sure you clean the new appliance and filter regularly to guarantee longevity.
I've put together a few tips to keep your fireplace tidy the stress-free way: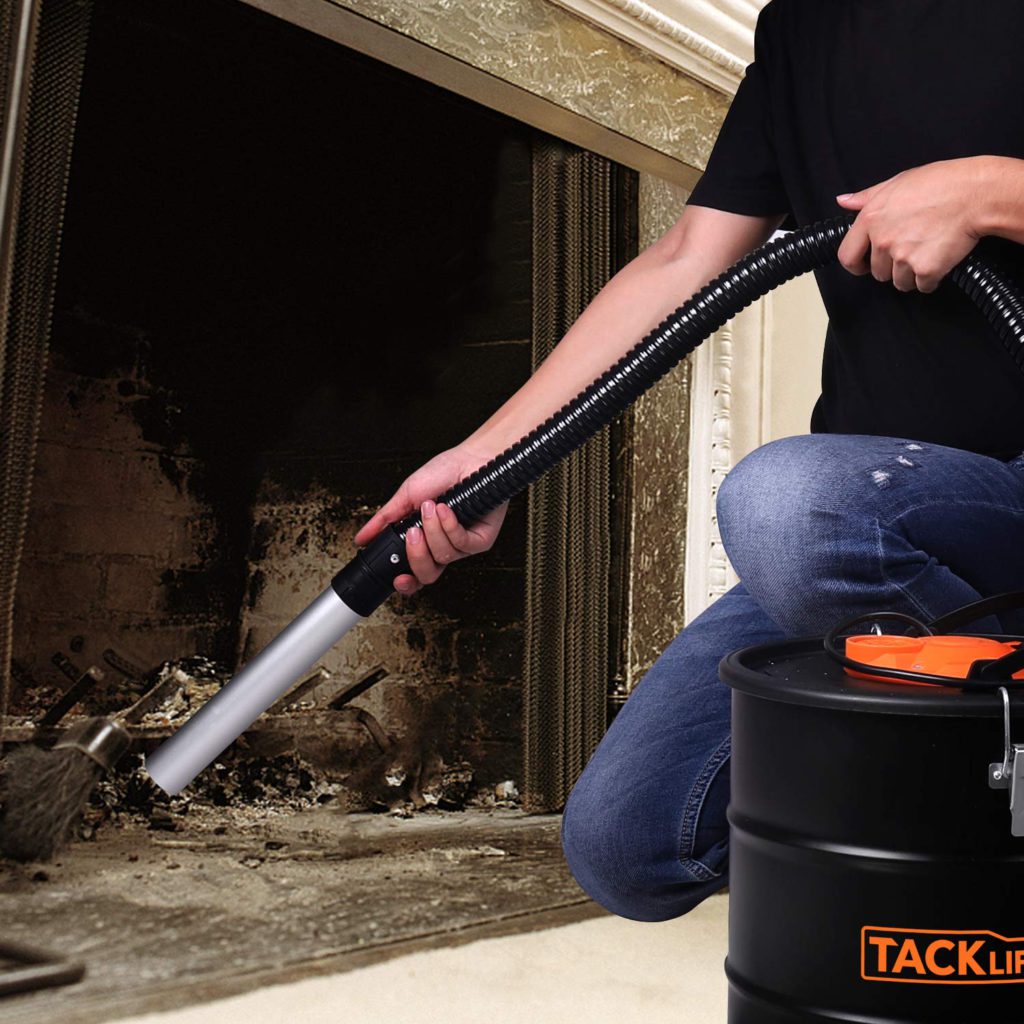 Burn the correct fuel
Burning green wood isn't the best choice because it doesn't provide a clean burn. It's not healthy because it results in a lot of smoke. For a cleaner fireplace you are better off with seasoned wood as it ignites better and produces ash that is easier to clean up.
Clean the fireplace often
Don't wait until the fireplace looks dirty before cleaning because by then the ash would have accumulated and will start sticking to the fireplace- it is harder to clean when it gets to this stage. Keep on top of the mess and you'll achieve a clean burn much easier. In addition to cleaning the ash, make sure that you clean the log grates and the inward chambers of the firebox.
Mix liquid hand wash and salt for stubborn dirt
Your ash vacuum will do a good job removing virtually all of ash lurking in your fireplace but it might not be capable of removing ingrained ash deposits. There is an easy way to deal with this stubborn mess though, simply mix some regular hand wash with salt and stir until it creates a thick paste, spread the paste over the ash deposits and let it work for a minimum of 15 minutes, then scrub it off easily.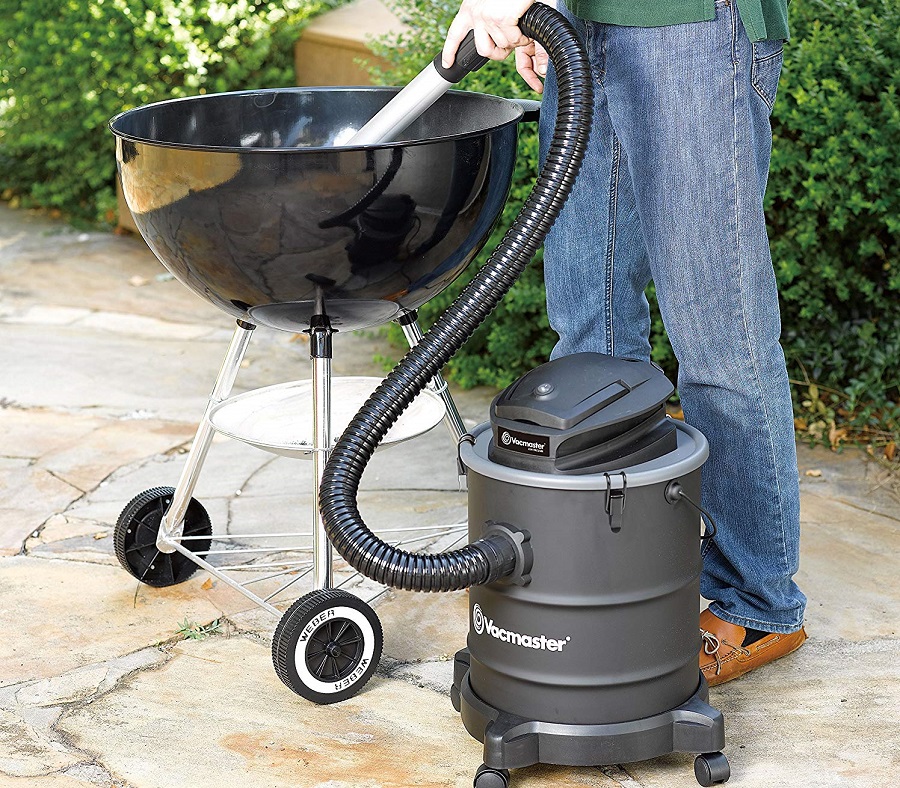 SUMMARY
I hope this guide has bought you closer to finding the best fireplace ash vacuum cleaner for 2021. You will notice that ash vacuums don't generally come with wheels or castors, but we've managed to source a few models that include a wheelbase.
Our selection contains the highest performing vacuums with filtration that captures the smallest ash grains without spreading dust to other parts of the room. Ash is a powdery mess that becomes a challenge to remove with the wrong tools, buy an ash vacuum cleaner to take the hassle out of this task.
Are you considering buying one of the fireplace ash vacuum cleaners from our list or do you already own one? Please leave your comments in the section below. I'd love to hear from you.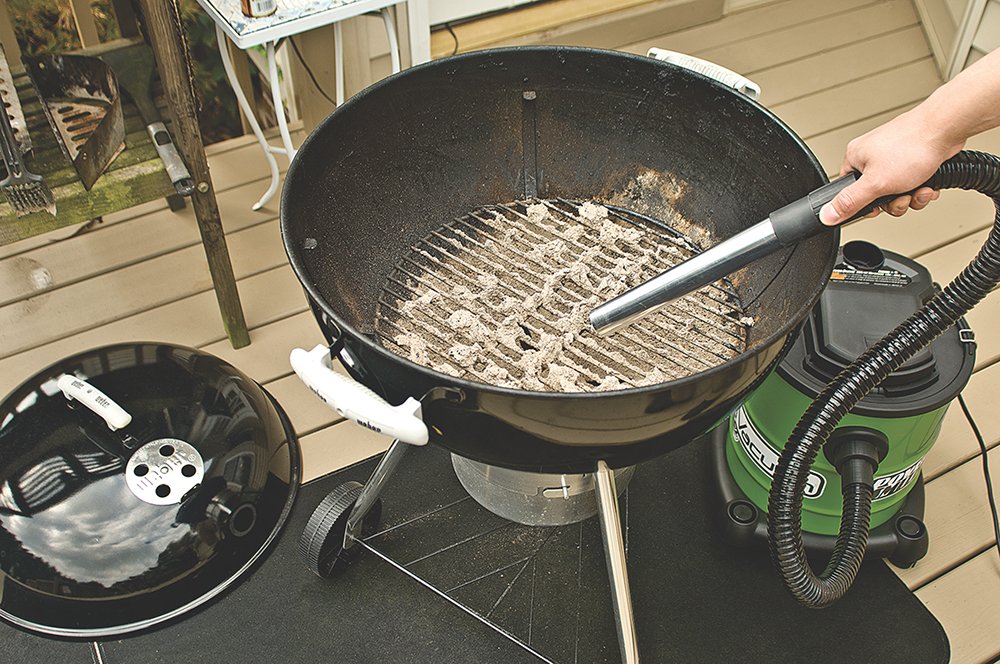 Our List of the Best Domestic Appliances